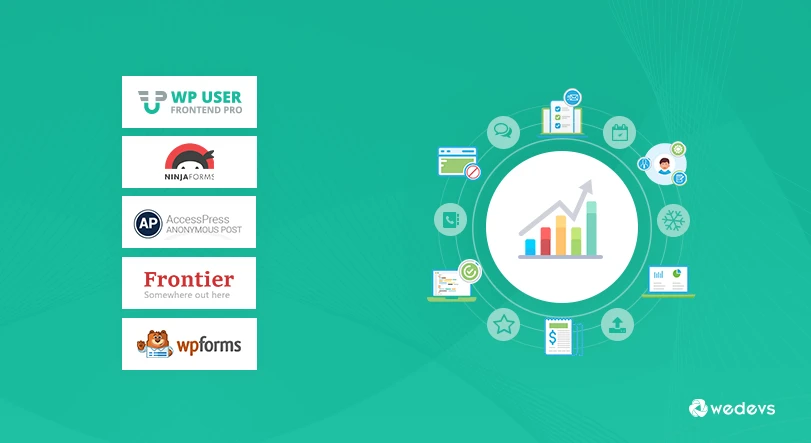 Best Frontend Plugin for WordPress – Feature Review
Backend editing has always been a hassle for general users. Besides that, it causes uncertainty, security, and privacy issues in many cases. To overcome these limitations, Frontend editing and also posting have become very popular these days.
It may seem very common to you, but Frontend Posting has proved to be a wonderful concept especially for WordPress. It's very effective because collaborative work keeps your website active.
If you are planning to create a site where your users can submit their content without accessing the WordPress admin panel, frontend posting and editing is a must.  Apart from that, there are many use cases of frontend posting solutions including registration, profile editing, contact forms, content restriction etc.
Today, we are going to introduce you to the Best Frontend Plugin for WordPress. In addition to that, we will prepare a comparison between these solutions so that you can easily choose the best one for you.
This comparison post will give you detailed insights on the best frontend plugin for WordPress. But first, we need to identify the most important features based on which we will prepare the comparison. Let's get started!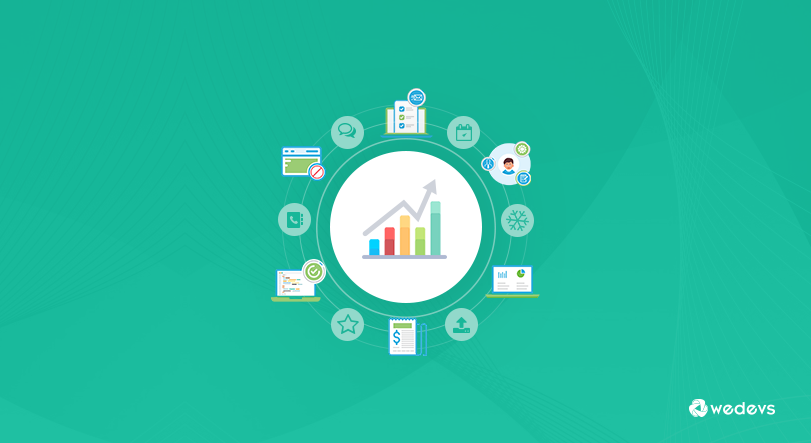 Most Important Frontend Features
Frontend Posting
Isn't it obvious that a frontend solution should have frontend posting, editing, and publishing features? This gives users to publish or post content without accessing the backend of your website. However, they will still require you to log in if you are not allowing guest posting on your site!
Post Form Building
This is another important feature for a frontend solution. Without excellent and easy form-building capabilities, we cannot say a plugin is good enough for frontend posting. If it doesn't have advanced drag and drop form building, at least it should have a basic builder. In today's market, there are many solutions with advanced form builders and settings.
Guest Posting
If your aim is to let your users post without registration and minimal information, you should consider guest posting. It is a great feature for a frontend solution. There are many users who earn a handsome amount from guest posting.
Custom Post Type Support
Using custom post type, you can do almost anything on your front end. Different post types, taxonomies, and custom field support allow to you create any kind of frontend form and integrate it with other applications as well.
Registration & Profile builder
This is a significant feature. With it, your users will be able to create their profiles from the front end. Most importantly, they would be able to edit their profiles without accessing the admin area as well.
Subscription
This is a must to have feature if you are planning to earn from frontend posting. With a subscription, you would be able to create and manage subscription packs for your users (customers).
Payment
While you are creating subscriptions, you need to accept and process payments. PayPal and Stripe are the most popular payment service providers. Thus, your frontend solution should have payment capabilities for operating properly.
Pay-Per Post
This gives you the capability of earning from every post on your site. This is a great feature for people who wants people of all types to post on their sites.
Restrictions
Content restrictions is a handy feature when you are allowing guest posts, subscription packs, and pay-per-post. With it, you can restrict content from different types of users based on their individual roles.
WooCommerce Products
WooCommerce is the most popular eCommerce solution for WordPress. You will hardly find a WordPress eCommerce store that isn't build using WooCommerce. Thus, posting WooCommerce products from the front end is a basic requirement for online store owners.
Different Types of Forms
Powerful frontend solutions have built-in templates and also support different types of forms. This gives the users ease and better usability while creating frontend forms for their website.
Best Frontend Plugin for WordPress
Here we are listing the most popular frontend solutions for WordPress. We will describe each of the plugins at first and then compare them based on the above features.
WP User Frontend Pro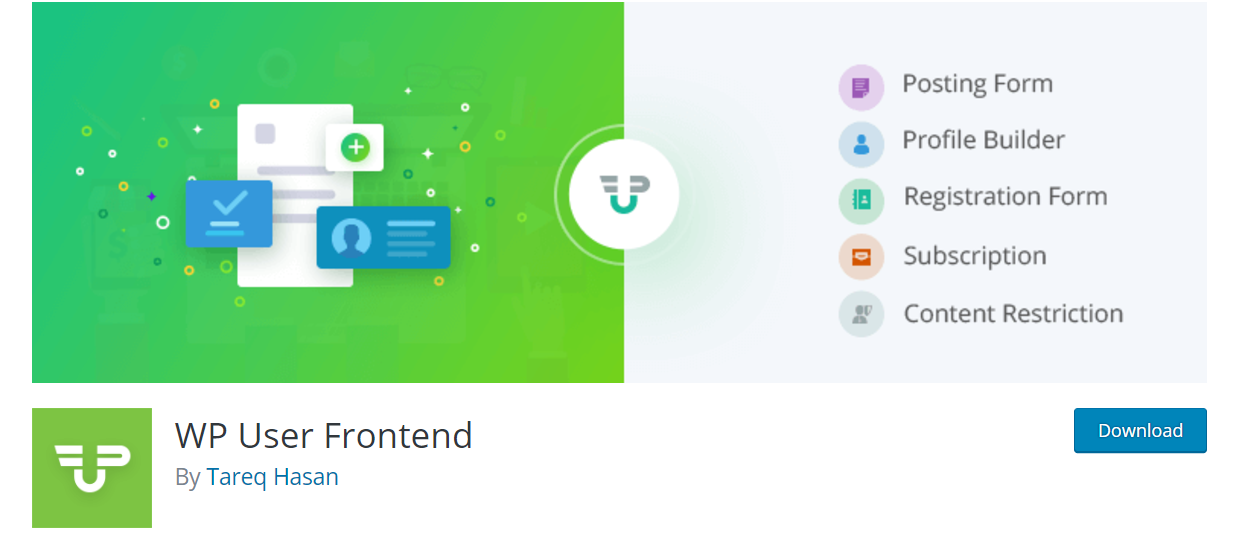 It is the best frontend solution ever made for WordPress. Using this solution, you can easily create new posts and edit them from the frontend. However, there are live preview features and drag and drop form builder, which makes it one of the most resourceful solutions for the frontend.
You can create a custom dashboard from where you can view your pages. Besides that, it allows your users to edit their profiles easily without giving them access to your backend. Another important feature is to restrict both WordPress backend and also selected the content for any user level. WPUF also makes it easy to upload attachments including feature images easier from the frontend.
It also has WooCommerce Product upload, form templates, subscription, guest posting, custom post type, pays per post, and many useful features to give you a better front-end experience.
WordPress.org Rating: 4 Stars
Price: FREE & $49 (Pro)
There are also amazing modules that help to achieve much more including collect payment, create email lists, private messaging, BuddyPress integration etc. All these premium modules come free with the pro versions.
Learn More About WP User Frontend Pro
Ninja Forms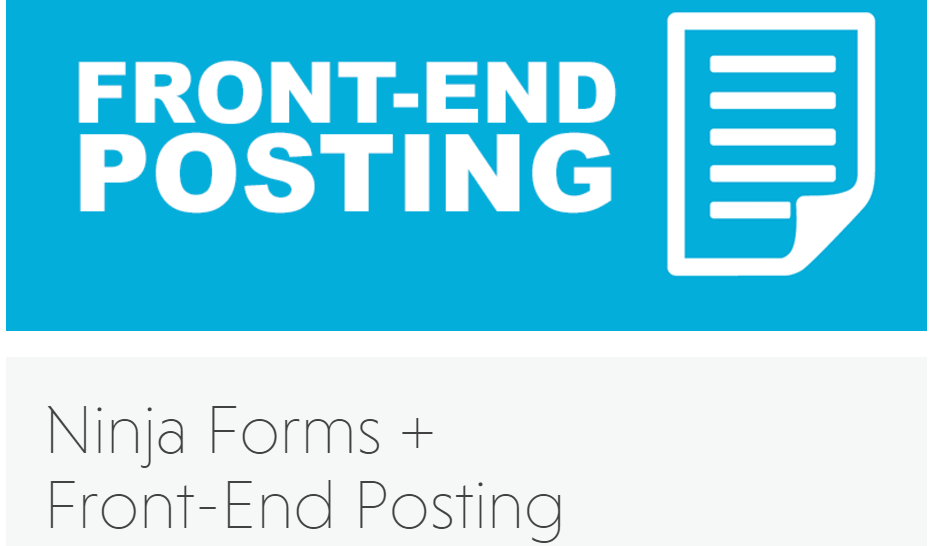 Ninja Forms is one of the most popular form creation tools out there for WordPress. However, they also have paid extensions to provide frontend posting and editing support. Using this plugin, you can allow your users to create content, assign it to any publicly available post type, taxonomy, and meta fields.
You can add images, feature images, additional fields, and options including saving as draft and publish immediately.
This solution helps to create pages, posts, set and allow users to choose categories and tags. You can also enable guest posting for unregistered users.
WordPress.org Rating: 4.4 Stars
Price: $39 (Pro only)
Learn More About Ninja Forms + Front-End Posting
WPForms – Post Submissions Addon

WPForms is another best frontend plugin for WordPress out there. It provides a set of quality features. You can also get its post submission addon for posting from the front end. Submitting user-generated content becomes easier using this plugin.
But you need to install the contact forms first to use this addon. It provides guest posting, collects information, manages them, custom fields, and registration. It also has a drag and drop form builder with live preview options.
Please note that- you need to buy the pro version in order to use this add and this solution bundle is very costly.
WordPress.org Rating: 4.9 Stars
Price: $199 (Pro only)
Learn More About WPForms Post Submissions Addon
User Submitted Posts Pro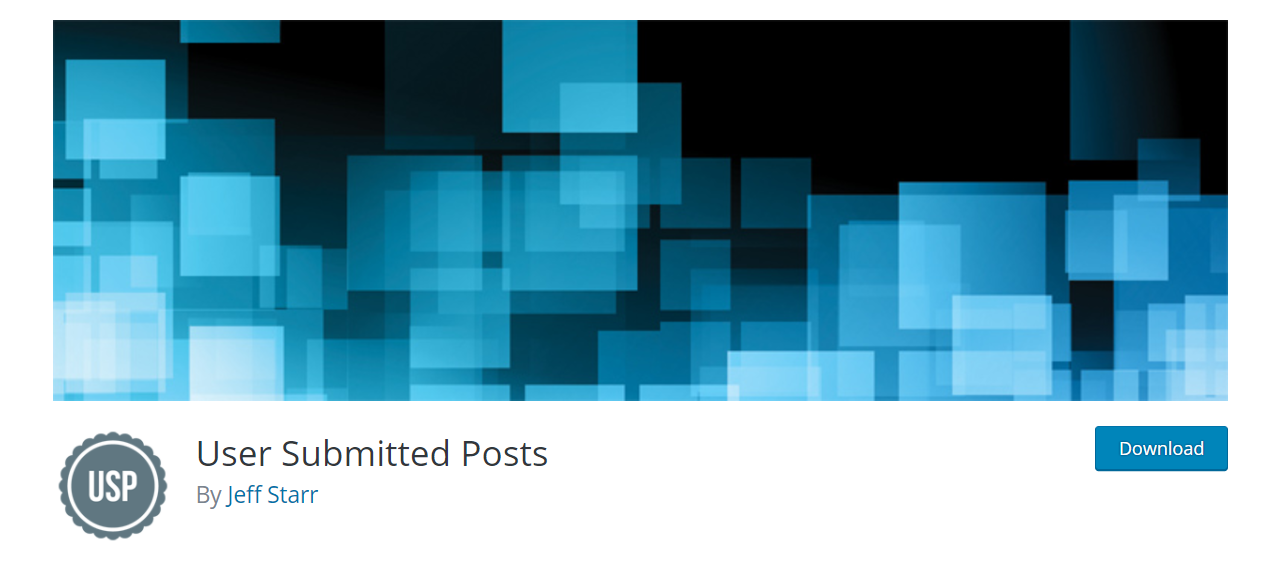 Another powerful plugin for user-generated content, User Submitted Posts, lets you create custom posting forms. Your users will be able to submit content, upload media, and also register.
It has features including Recaptcha, HTML markup, translations, inline doc, filter hooks, custom fields, shortcodes, image uploads, customization and many more.
WordPress.org Rating: 4 Stars
Price: FREE & $40 (Pro)
Learn More About User Submitted Posts
AccessPress Anonymous Post Pro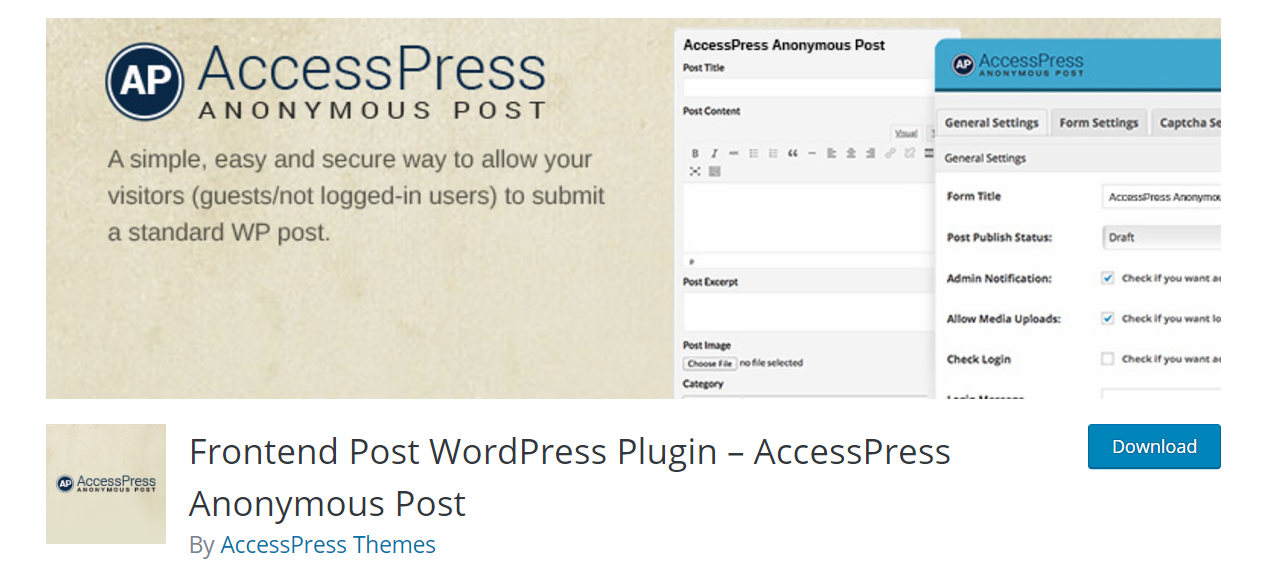 This plugin allows you to post anonymously on your site directly from the front end. Thus, it makes it a good guest posting plugin. It has powerful media options for submitting images, videos, and many more. It has good customizable options and settings.
You can add tags and categories from the front end as well. It has email notification, post submission message, shortcodes to display submission forms, captcha support, drag, and drop form builder, custom post type support, and form templates.
WordPress.org Rating: 4 Stars
Price: FREE & $25 (Pro)
Learn More About AccessPress Anonymous Post
Frontier Post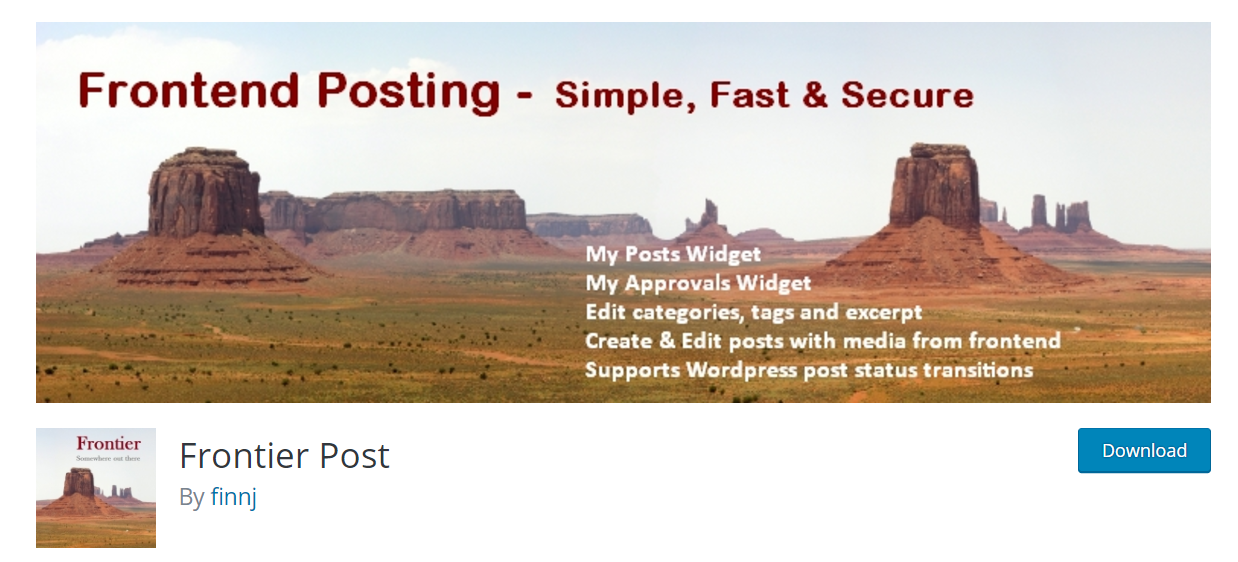 Another plugin out there in the market that enables simple management of posts from the front end for all WP user roles. It has the ability to edit text, links, and images. You can also add feature images with it.
Most importantly, it works with posts, custom post types, and also images. However, they don't have support for adding categories and tags. You can configure its settings and be familiar with the WP editor interface.
You should also note- there is no live preview and no options to create restrictions. Your users won't be able to access the media library and also the backend admin panel.
WordPress.org Rating: 4.8 Stars
Price: FREE
Learn More About Frontier Post
Wrapping Up
In this review, we have introduced the 6 Best Frontend Plugin for WordPress with their pros and Cons. Our review will help you to find out the best solution for you. Don't forget to share your opinion when you identify the best solution with most of the features that we have discussed and also at a reasonable price.