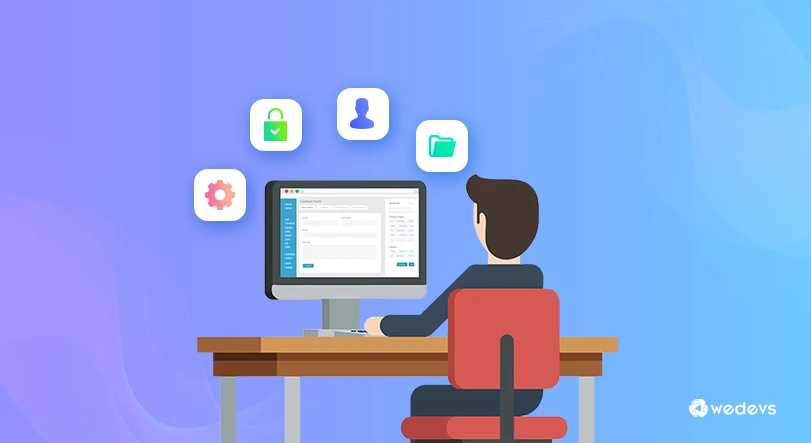 7 Game Changing Practices for your WordPress Contact Forms
What do we usually consider when creating a website? The contents, images, gifs, animations, writing, hosting and domains, copywriting, AdWords, and so much. However, a colorful webpage with all the right elements, features, architecture, and copywriting would still fall apart without a well-structured and designed contact us page. That's right. Most websites underestimate the value of contact forms.
Whether you have a business website or a personal blog, it is incomplete without contact forms. Because it helps your users reach out to you at any time while visiting your site.
Why you need contact forms:
it enriches your website look,
saves your inbox from spam mails,
ensures your users that you are reachable and will receive their query even during off-hours,
you get to prevent your potential clients from drifting away to competitors,
your users don't have to resort to email,
understand your users better, and therefore, serve them efficiently.
Thus contact forms can be a great source for generating leads, provided they are created well and optimized for conversions.
The contact forms market in WordPress is already a saturated one. But they are essential. Contact forms enhance your website, and as a consequence, your business too. You can use them in multipurpose ways.
Below we have come up with some tips for best practices to maximize the use of your contact forms:-
1. Ensure your contact forms are your audience-specific
No matter how good another website's contact form may look, it may not be ideal for you if it's not applicable for the consumers, users, and products or services you are working with. Since you know your products, services, and customers' needs and preferences better than others, you would be better able to know what elements are required for your contact form.
Source: HelpScout
You can start off by thinking of ways to:
guide your users to the appropriate channels
ensure that support is efficient and up to the mark across all channels at all times
gain customer confidence even before they have reached out for support
Therefore, design and add questions that are relevant to your business and to the users your serve.
2. Add appropriate structure so the queries are re-directed to the right team
Categorizing problems department-wise and issue-wise will save you a lot of time.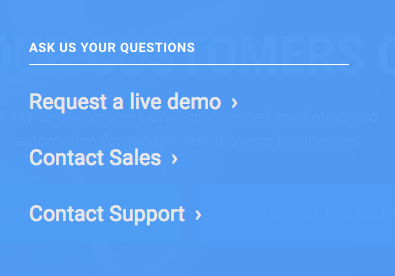 Adding drop downs with predefined statements and/or categories would help customers and users select their precise problems. This would send the right queries to the appropriate place – sales team for prospects, recruitment or HR team for job-related queries, and customer service team for product or service-related queries.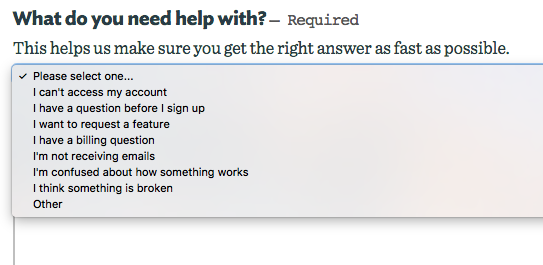 Apart from issue type, you can also add product and product areas to the predefined categories. Doing this ensures that the queries you receive are more organized, easy to sort out for you, and specific. It also lets you create more precise reports.
3. Allow uploading files and images
Make sure you add a field for uploading attachments. Consider if your user is facing a technical problem with the website or with your product. Let them attach a screenshot to illustrate the problem.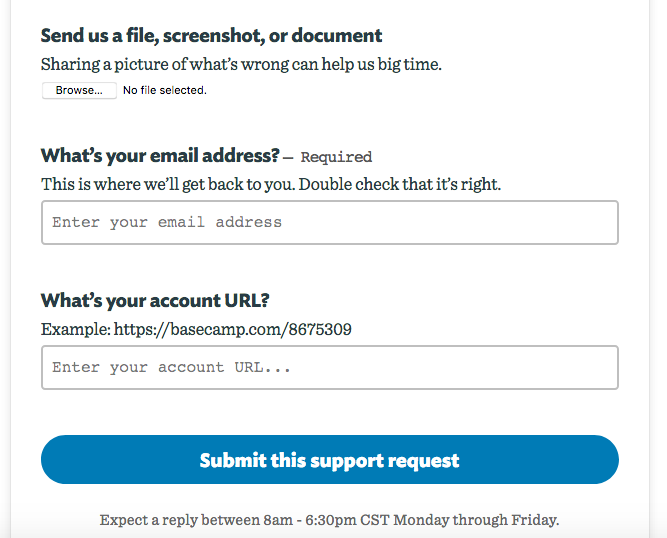 This will also help to shorten a conversation, and save time on both sides.
4. Cross-linking all contact options
If you are getting a separate landing page for a contact form, you can also consider linking with attractive buttons to your other communication channels, such as social media (Facebook, Twitter, Google+). In this way, you are ensuring that whatever kind of help customers need they are able to find out immediately. Whether it be giving feedback, for a technical, general, or presales query, or giving suggestions, they will be accessible to your users.
Examples of other support platforms or features include your FAQ page, email, and link to Documentation. Adding these to the Contact Us page will help users looking for any product/service-related query that has already been answered by your support team in detail. It will all be on one page, so users can navigate easily.
You can also add buttons for your forums, tutorials, and training videos.
If not everyone, at least alert users will be able to find their way to a solution.
5. Give your users an idea about waiting time
Add a timeframe to your contact page. Don't make customers guess how long they have to wait for your response. This reflects that you care about customers' good will and satisfaction with your service.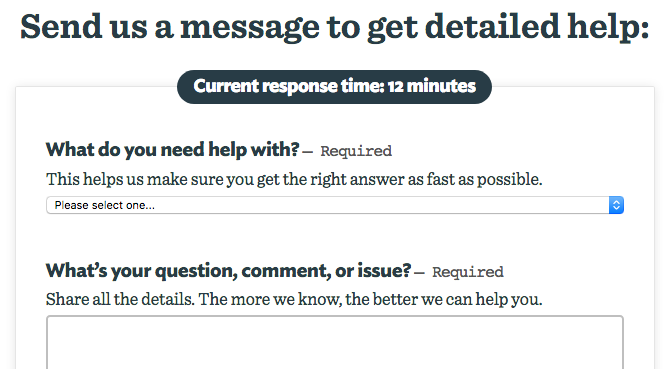 Add office hours to your contact us page, and the duration in which users can expect a reply, e.g. "Expect a reply between 8am GMT – 6:30pm GMT Monday through Friday."
Ensure that the wait time is reasonable and acceptable to your users.
6. Consider the length of your form
Avoid excessive and unnecessary fields by adding radio fields and conditional logics. These features are some of the best your contact form can have. Your clients and users can choose the kind of support they need. The form will change according to the support the user needs.
Also, try to include only as many fields as is required to get the information from the client and understand his/her query.
7. Make it colorful and engaging
Add team photos and pictures of your office. But most importantly, add photos of the customer service team. This would add the human element to your contact form and make your clients and users feel that they are communicating with a real person, and not a robot!

By using the available themes on WordPress, you can be colorful and design your form in creative ways.
A Promising Addition to WordPress Contact Forms
Contact forms provide another communication source for customers to reach you out. Like social media, but it's more accessible and convenient for your users as they don't have to sign in to another platform to contact you. Contact forms keep it private, are easy to use, and accessible. But only if you make it the way it should be. A well crafted contact form page directs people to get the help they need. It helps them ask their questions more effectively and significantly improves their experience on your site.
If you are looking for an easy-to-use and fast contact form plugin, we recommend weForms. weForms has recently been introduced to the WordPress contact forms market. It's also customizable and extensible, just like most WordPress plugins. The pre-built form templates allow users to get started with weForms easily. It even provides form submission management for free, which cannot be seen in many popular contact form plugins.
The basic package of weForms is not only more reasonably priced than other popular solutions, it's free version is also more feature-rich than other forms.
User feedback, client queries, event registration, customer support, initiating an order or proposal, engaging in corporate communication & much more can be done from the back with weForms seamlessly.