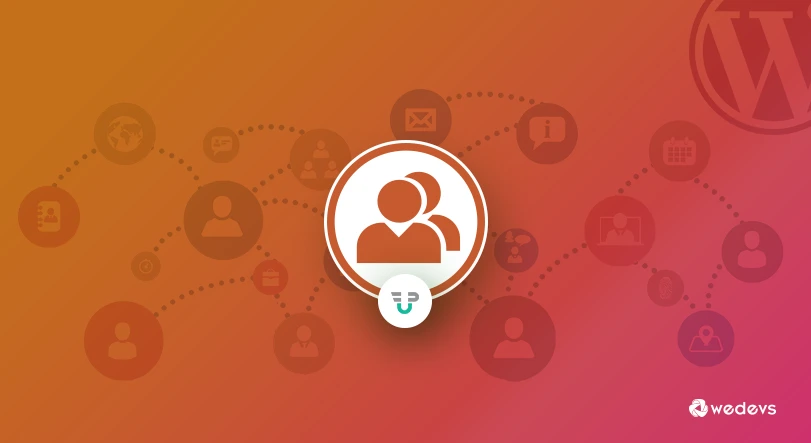 Create a Social Networking Site with WordPress for Free
A social networking or community site is very popular among internet users. They can create their own profiles and communicate with their friends easily from a single place. Apart from that, it provides a great experience to the users.
For a developer or a person who wants to help people to get connected, building such a website can be a great thing to do. It allows him or her to control their users, increase traffic with manageable SEO and also create a happy coexistence between several users.
Benefits of Social Networking or Community Site for WordPress
WordPress is the most popular open-source CMS solution with a huge amount of possibilities. Currently, it is powering up almost one-third of the world's websites. With proper knowledge and dedication, it is possible to do almost anything using WordPress.
Thus, creating a community site is also possible in WordPress. For this, you will require a community plugin like BuddyPress. It is one of the most popular and powerful plugins that allows you to build any social networking or community site with user profiles, activities, groups, discussion forums, registration forms, private messaging, and much more.
Why Create a Social Networking Site Using BuddyPress?
In WordPress, BuddyPress is known as the 'Social Networking in a box'! With this powerful plugin, you can turn any WordPress site into a social network, no kidding! Apart from that, you get full control over your site. Here are some amazing features that you get with BuddyPress –
Allows your users to create their own social profiles
Users can send friend requests (common for any social networking site)
They can join and create specific groups
Activity streams for groups
Private message feature for all your users
Sends notifications
Rich email settings and much more
Here's another big thing- It's FREE!
Yes, BuddyPress is free and still, it can do a lot. It provides the users with the latest update of their network and all over the community that you have built.
BuddyPress has a big community and they help each other out. You can always ask them for help if you want to do more!
But, there is one constraint!
You cannot customize these profile and registration forms! You will need a profile builder plugin that can easily integrate with BuddyPress and customize its profile fields. WP User Frontend Pro is a powerful front-end plugin with profile-building capabilities. Most importantly, it has BuddyPress Profile Integration that can effectively map its own custom profile fields with BuddyPress.
Now, without any further ado, let's find out how to create a community site using WordPress.
You can also consider using BuddyX theme to give your site a professional look.
Steps to Create Your Own Social Networking Site with WordPress
Before starting to create a social networking site with BuddyPress, you need to install these plugins-
Requirements
WordPress
Now, let's see the steps to create a social networking site using WordPress-
Domain & Hosting Setup
While creating a website, the first thing you need to consider is a domain name and suitable hosting. You can buy any domain that is available from popular companies like NameCheap, GoDaddy etc. They also have hosting solutions. You will need about $20 per year to host a single domain. This cost covers both domain and hosting for your social networking site.
WordPress Installation
Now, you will need to install WordPress on your website. WordPress is an open-source and FREE CMS that you can use for almost anything. As mentioned before, WordPress is easily manageable and can prepare a social networking site within few minutes thanks to BuddyPress.
Installing WordPress is very easy. Here is a detailed tutorial that will show how to install WordPress on your site.
Installing and Configuring BuddyPress
You can simply install BuddyPress just like any other WordPress plugin. Login to your WordPress site's Admin Dashboard and navigate to Plugins. Click on the Add New and search for BuddyPress. Click Install and Activate.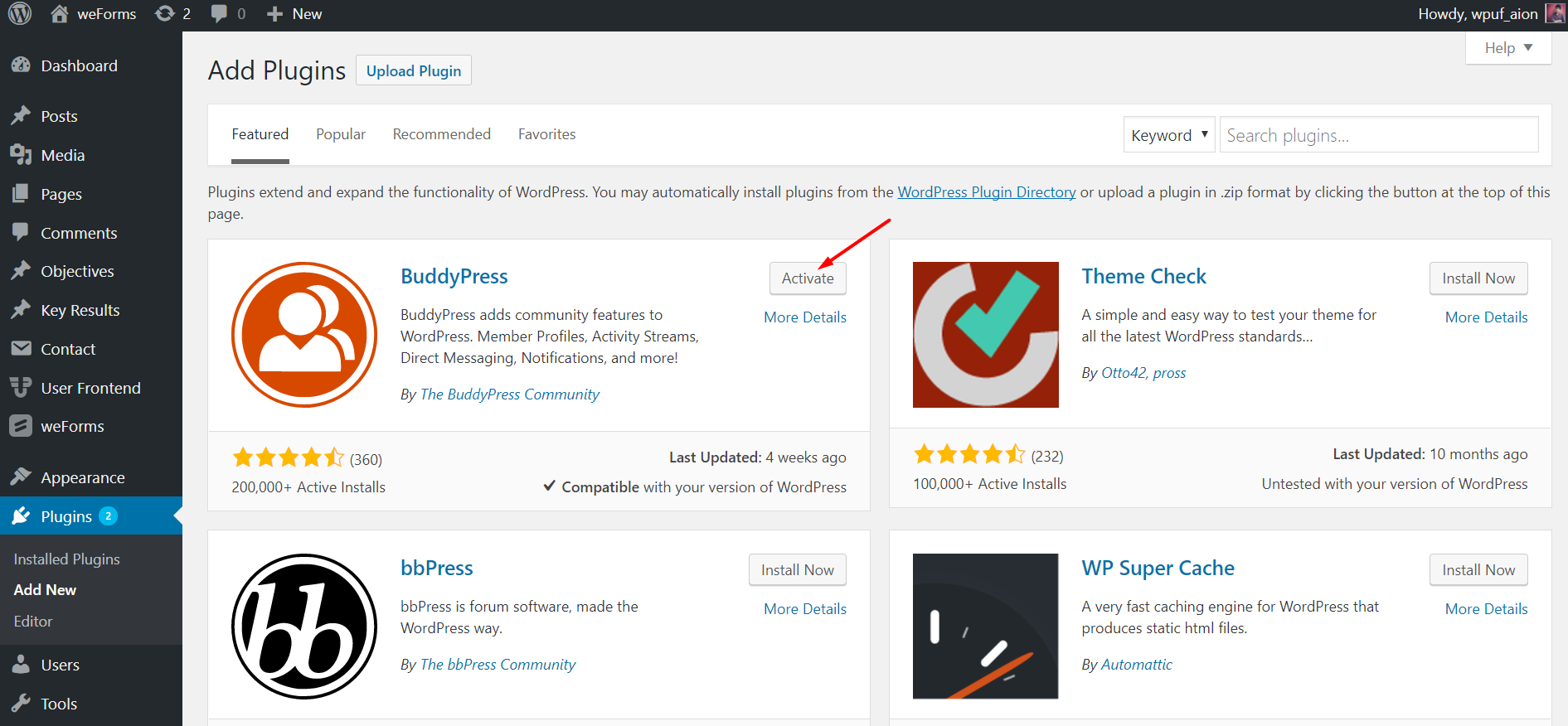 After successful installation, you will get the following welcome screen.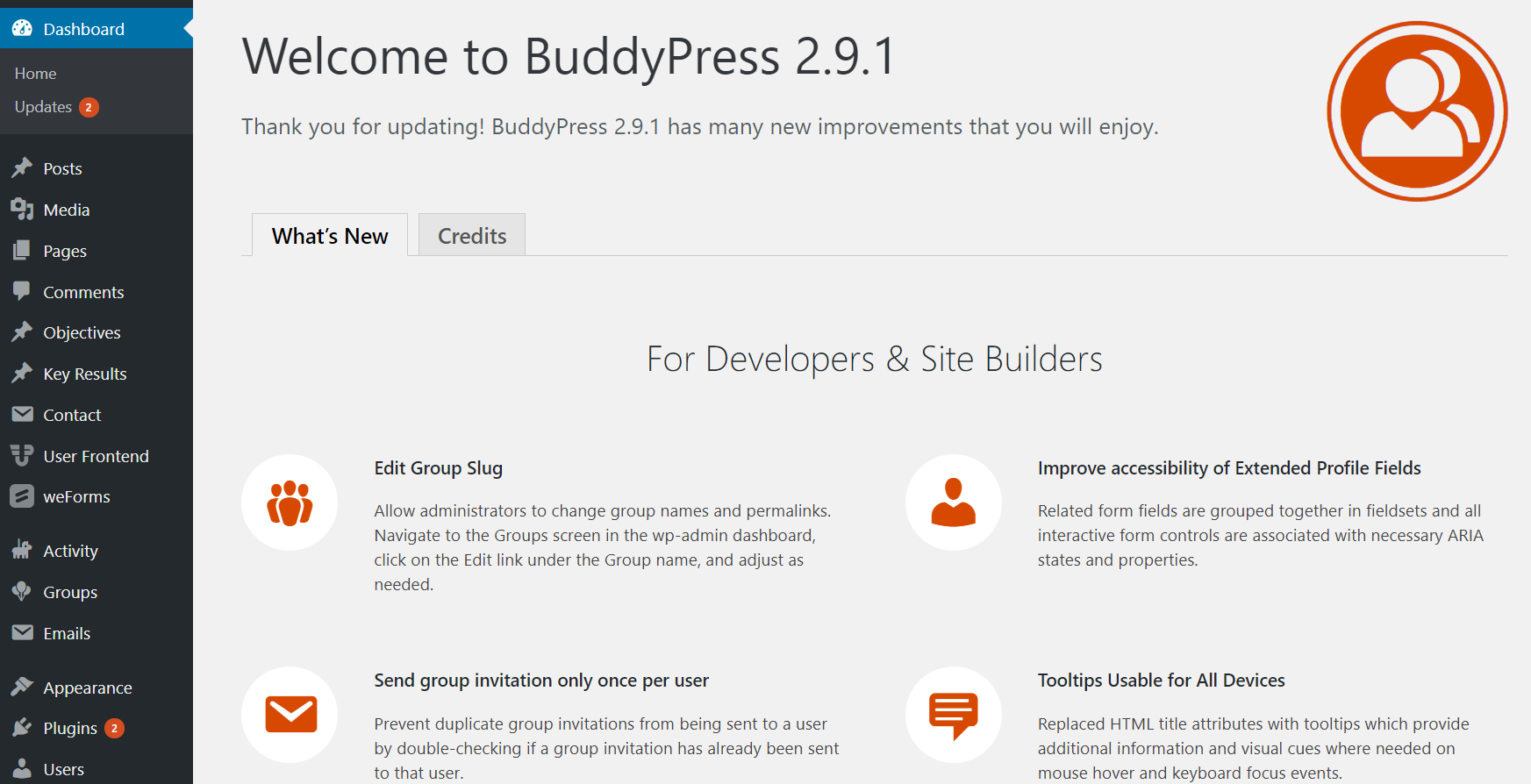 You can easily configure BuddyPress from the Settings tab. Navigate to WordPress Dashboard → Settings → BuddyPress. You will find many components for your site. Enable or disable the components you want.
Setting Up Pages for Your Social Networking Site
This is one of the most important parts of BuddyPress. You can easily set up useful pages from here. Navigate to – WordPress Dashboard → Settings → BuddyPress → Pages.
You can specify Member, Activity Steams, and User Groups pages. These pages are important as your users will get a detailed member list with whom they are connected. They also get to view all their activities from the activity streams. Besides that, the user groups contain the list of groups they belong to.
There are two other important pages that allows users to register and activate their social profiles. Thus, you need to specify these pages as well. However, BuddyPress creates these pages by default, but you can specify custom pages as well.
There are more options..
You can customize many settings from the Options tab under BuddyPress Settings. You can set up a toolbar, allow users to delete their profiles, and choose templates. Besides that, you can customize profile settings including profile pictures, cover images, and profile syncing. Similar settings are available for groups too.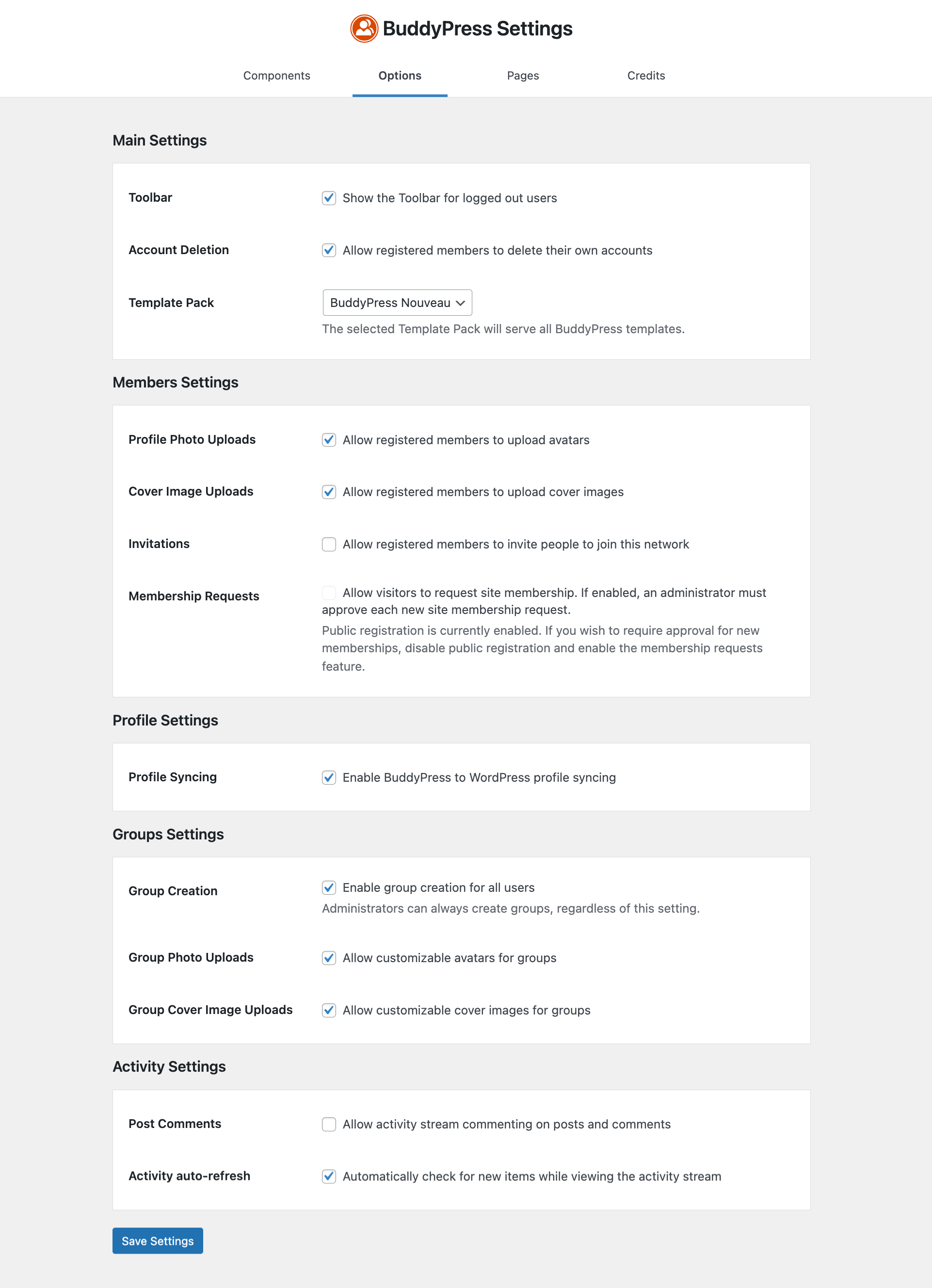 Select A Suitable Theme
WordPress has many themes both Free and premium. You can either use the free ones or buy a premium theme from different marketplaces. Simply add the theme from the Appearance → Themes menu. You can also upload the theme that you have bought. Later you can customize it the way you want.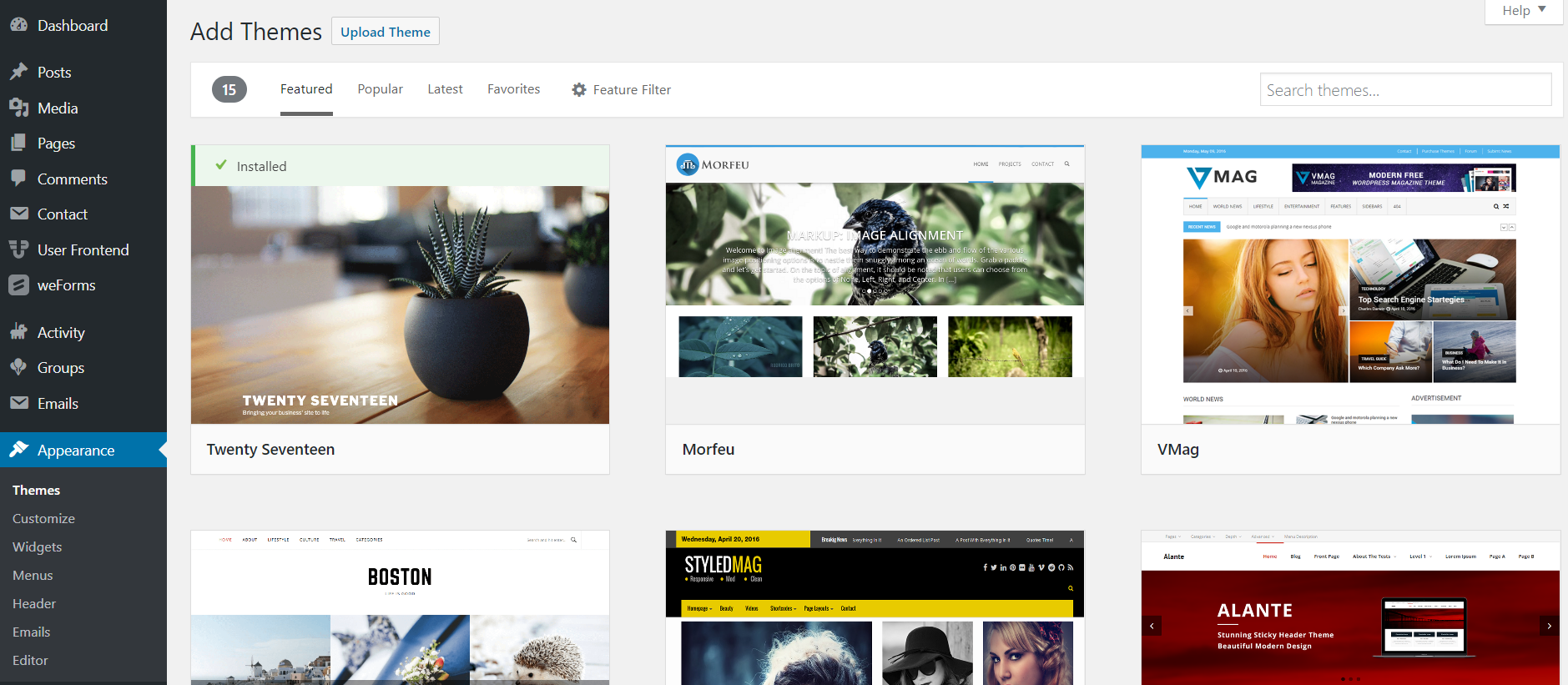 Create a Menu Bar for Easy Navigation
Now, you must let your users find the pages that you have created with BuddyPress. You will need to create or customize your existing menu bar and add those pages there. You can read this user guide to learn more about creating and editing menus.
Add Some Useful Widgets
BuddyPress has built-in widgets for your social networking site. You can use them to make the site more attractive. You should remove the default WordPress widgets and replace them with the ones you require.
Simply drag the widgets you want from available widgets and drop them to the Main Sidebar or First Front Page Widget Area. All the available widgets have descriptions of what they show.
Enable Social Network User Registration
This is a common task. WordPress disables website registration by default. So, you have to enable this from settings. Navigate to Admin Dashboard → Settings → General and enable anyone can register option. Save changes.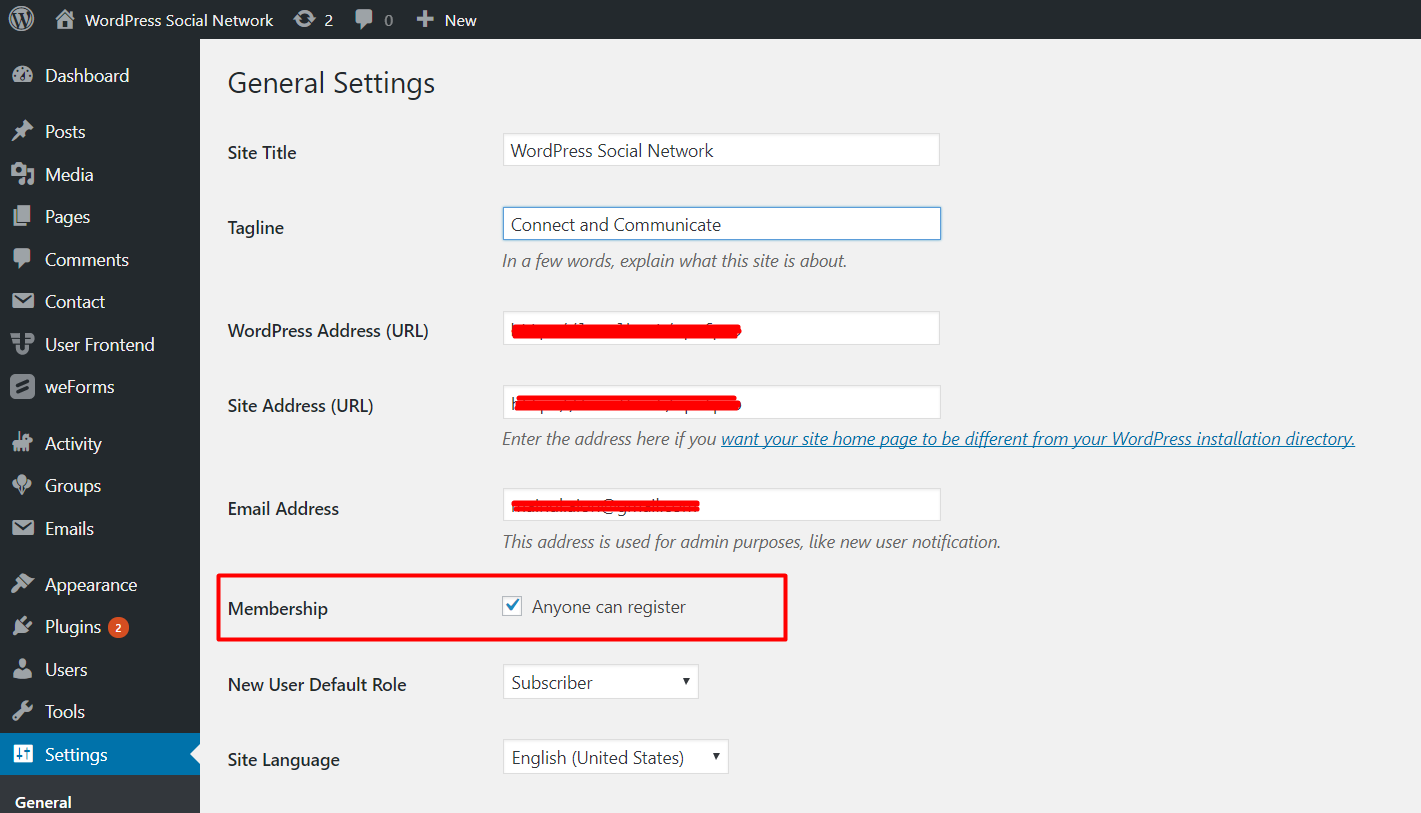 Setup Homepage for Your Social Users
Now, you have successfully created your own Social Networking website using WordPress. All you need to do is set up the front home page for your users. Navigate to Setting → Reading. In the front page displays, select A static page and select the one you want from the dropdown.
Here's How Your WordPress Social Site Looks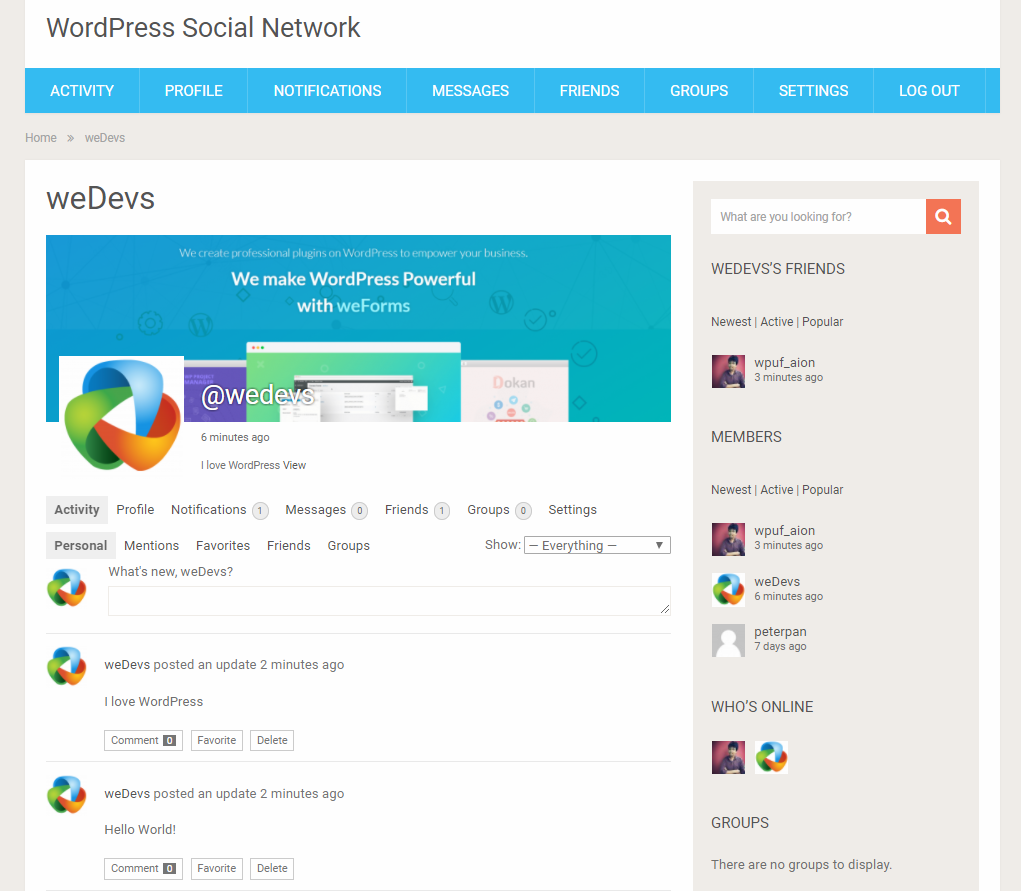 Do Even More with WP User Frontend Pro Profile Integration
If you are planning to create separate forms for the Profile fields of BuddyPress or let your users submit data while registering, you can easily do that with WP User Frontend Pro's BuddyPress Profile Integration. It allows you to use the profile fields in the frontend registration form. All you need to do is assign the fields while making the registration form. The updates are automatically synced with BuddyPress profile fields.
Here is a step by step process of using WP User Frontend Pro with BuddyPress:-
Navigate to – WP Admin Dashboard → Users → Profile Fields. Create the BuddyPress Profile Fields you want.

Install and activate WP User Frontend Pro. Here is how to do it.
Navigate to – User Frontend → Registration Forms → Add Form

Create your form with the fields you have created for BuddyPress

Click on Settings → BuddyPress and map each form fields with BuddyPress profile fields

Save your Form and publish it as a page or post. Here's how to publish registration forms.

View saved data using User Frontend registration form.

This integration will help you to create attractive registration forms with all the profile fields you need. WP User Frontend Pro has more 30 advanced fields that will surely help you to build the perfect social profile.
Final Thoughts
BuddyPress reduces the work and time for you when you are developing your own social networking site using WordPress. However, installing the plugin and configuring the site is still time-consuming work as it is a long process. WordPress is an open-source and friendly community where everyone helps each other out. We are also always ready to help if you face difficulty while going through this tutorial.
Send us your questions in the comments section and we promise to answer you promptly!