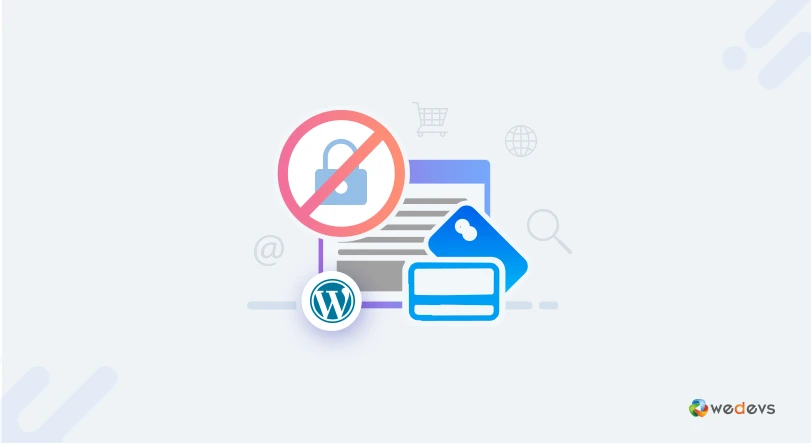 Restrict Contents in WordPress Using These Powerful Plugins
If you have a blog site with high traffic and user engagement, you can monetize it easily. All you need is to turn your open website into a membership site. Membership Site is a relatively new concept. By creating one, you can effectively control the access of your site's resources.
How Are Membership Sites Operated?
Membership sites follow a user subscription model to allow access to the contents. If you buy the subscription for the blog, only then you will be allowed to view the contents inside. There is no hard and fast rule for subscription pricing. It can be a monthly, yearly or one time membership fee.
You can create different subscription packages to monetize your website. You can segment your contents and let the subscribers consume it accordingly. Suppose, you have a cooking blog and you publish cooking related articles and video tutorials. A good way to monetize from it can be creating two different subscriptions for the members. The silver members will pay a certain amount to enjoy the articles. However, they will not be allowed to watch the video tutorials. On the other hand, the gold members will pay a higher subscription fee and get access to both the articles and videos. Simple idea but really handy, isn't it?
Why Will Readers Become Paid Subscribers In Your Blog?
Now, that is a very relevant question. It is true that membership sites give you some obvious benefits. But what is there for the readers?
One thing you must make sure that your contents are exclusive and provide timely values to your readers. What do I mean by that? Your contents must not be replicated. If the readers can get the same resource elsewhere for free, they will definitely not pay for it.
Updated and timely contents are important. Readers these days prefer paying for contents that give them a competitive edge in terms of resources. If you fail to ensure these two criteria, your blog is not ready for paid membership packages.
Once You Are Ready, What Do You Do Next?
Let's think you have chalked out an excellent content plan to make your blog stand out. You have the right contributor team, right kind of web resources and all. You feel geared up to make money out of your blog. Now you should focus on these two things-
Create different subscription packages for your readers
Restrict contents based on the subscription packages
If you are worried about doing these two things, DON'T! You can use some highly effective membership plugin for this purpose, thanks to the awesome WordPress community. I have hand-picked top 4 membership plugins based on their feature effectiveness and pricing plans. Take a look at them and decide which one you are going to use to make your lives easier:

This is a very popular membership and content restriction plugin developed by Pippin Williams. He is the same author who wrote amazing plugins like AffiliateWP and EasyDigitalDownload. With the free version of Restrict Content, you can restrict posts and pages to different user roles. For example, there can be a contributor's lounge which must be kept hidden from the subscribers. You can do it easily with Restrict Content.
The pro version offers a lot of additional features to the users. You can create unlimited subscription packages and restrict your contents to desired member group. Different payment options like PayPal, Stripe, 2CheckOut etc are also integrated into the pro version. Finally, it comes with advanced reporting tools and dashboards for the users.

MemberMouse is another membership plugin reputed for its easy usability. It allows you to create membership groups, set up a password protected member's area, automate customer servicing activities, track important KPIs and many more.
The plugin is not free, but they give you a 14 day trial period to test the plugin. You can choose from three pricing packages based on the number of members in your website. Let me give you a brief idea about their pricing packages:
Starter Pack: For websites with 1,000-10,000 members. It will cost you $19.95 per month.
Advanced Pack: For websites with 50,000 members. You will get to use some extra features like advanced reporting suite, lifetime value reporting, churn & retention reporting and social login. This package costs $99 per month.
Premium Pack: This is the most exclusive package that lets you add up to an unlimited number of members. It comes with user voice integration, CRM integration, phone support and so on. You need to pay $299 monthly to avail the premium version.
S2Member is another plugin that allows you restrict contents for different purposes. With the variety of features, it has quickly been able to book a place in the list of top membership plugin.
Apart from the restriction based on subscription package, S2 Members lets you add few other restriction methods as well. You can restrict specific URL fragments, BuddyPress profiles and specific portion of the content with S2 Member. Not just that, you can control who can stream media and download files from your site.
But there is a catch. The free version does not allow to create customized membership levels. You have to work with 4 default levels that come with the plugin. The pro version for single site costs $89 and unlimited site costs $189. A good thing is you need to make the payment for only once.
WP Members is a free one stop plugin to create a membership site. It is suitable for restricting contents, creating private blogs, sending newsletters and so on.
With more than 100 extensible action hooks, the plugin allows you to fully customize your site. You can create a personalized login widget for your users in line with the content. The admin will be automatically notified about the new registration. In addition to the features, you can use the addons from their support site rocketgeek.com. You need to keep one thing in mind, the plugin does not automatically hide everything from the users. It provides a teaser view instead. If the members are interested in the resource after going through the teaser, they opt in to become premium members.
Final Summary
Turning your blog into a membership site can be one great way to earn money. But before planning to do that, you need to make sure your blog can deliver some great values to the customers. Once you have taken care of it, do some research and select a suitable membership plugin for the site. As you already know, it will allow you to restrict contents as per membership criterion. It is better to select the one that gives you payment and customer servicing features as well.
Well, obviously it needs to deliver great value for money too.
Do make sure you evaluate all the available options before you make the final call. If you face any problem along the way, don't hesitate to ask. We will help you as much as possible with our expertise.