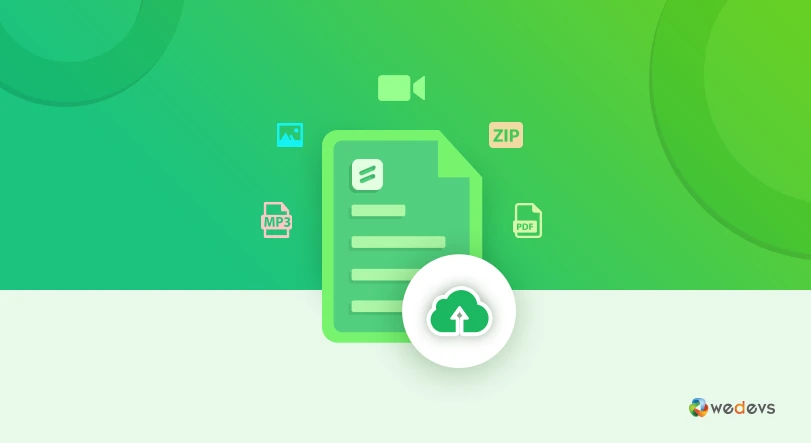 How To Easily Create File Upload Form In WordPress With weForms
If you own a business website with offerings of different products and services, chances are high that you will receive queries from visitors now and then. You may even attract large traffic from time to time especially during a new product launch or an ongoing sale. To avoid being overwhelmed in such scenarios, you need a well-built support form.
weForms comes with a pre-built template for support form that you can customize as you desire. But there's a particular field that you need the most – the option to upload attachments and documents!
Why you need a file upload feature in your WordPress forms
A file upload option is extremely crucial in a good form because it lets your users, readers, and clients upload needed information. These are often concrete information that cannot be described in text or numeric format. For example, a customer may be facing a glitch in his/her system due to a bug. With the WordPress file upload option, the user can send a screenshot of the problem to the team. Doing this saves your users from unnecessarily explaining things in detail.
When you allow users to add file attachments to your WordPress forms, you also make it easy for yourself to collect the information you need.
Other scenarios in which you may need users to upload a file through your WordPress form are:
Job Application Forms where applicants can attach their CVs and other autobiographical information.
Customer Services Form where prospective clients can upload their requirements for a solution.
Partnership Forms where potential affiliating businesses and companies can attach their partnership proposals.
User Submission Forms where users can submit their blogs, posts, images, and other content that your website receives in the form of user-generated content.
Contest Forms where participants can attach various submissions.
With weForms, you can upload both small and large files and of a variety of formats.
Adding a WordPress File Upload Form
The very first step is to install and activate weForms on your WordPress dashboard. This is how you install weForms.
Once you have activated the plugin, start creating a new form by navigating to weForms→All Forms→Add Forms. Choose a blank canvas or a template.
For demonstration purposes, I'm choosing the Support Form template of weForms.
The Support Form comes with ready-made fields. But you can add or remove fields as you desire simply by clicking on the fields in the right column or with the drag and drop feature of weForms.
weForms File Upload Field Options
From the menu, easily click on or drag and drop the file upload option on the form builder.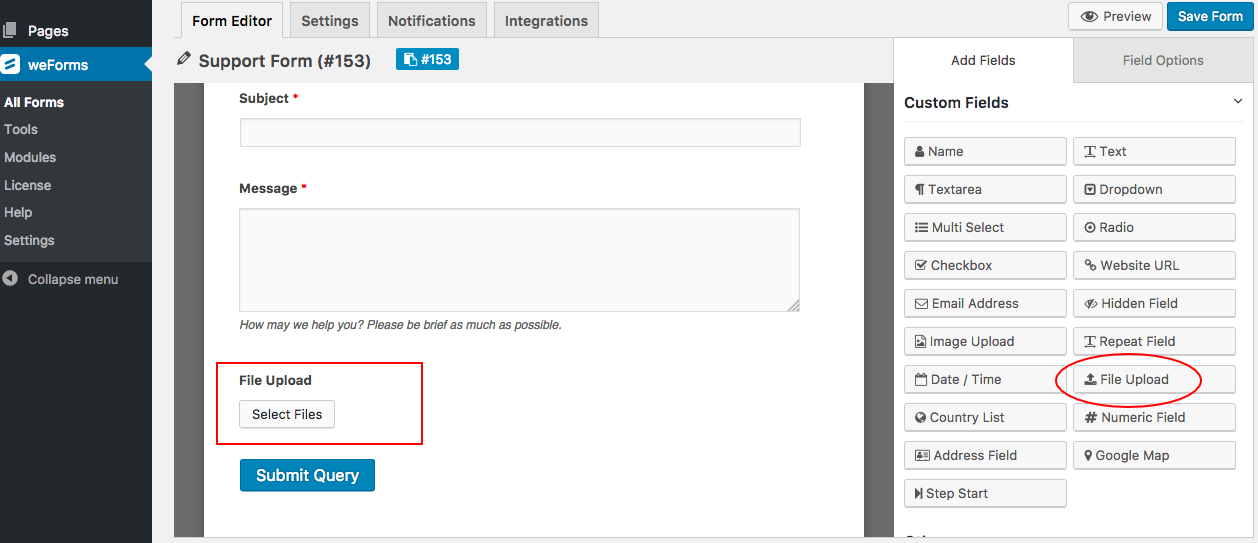 To rearrange, simply use the Cross to drag and drop the field where you would like it to be.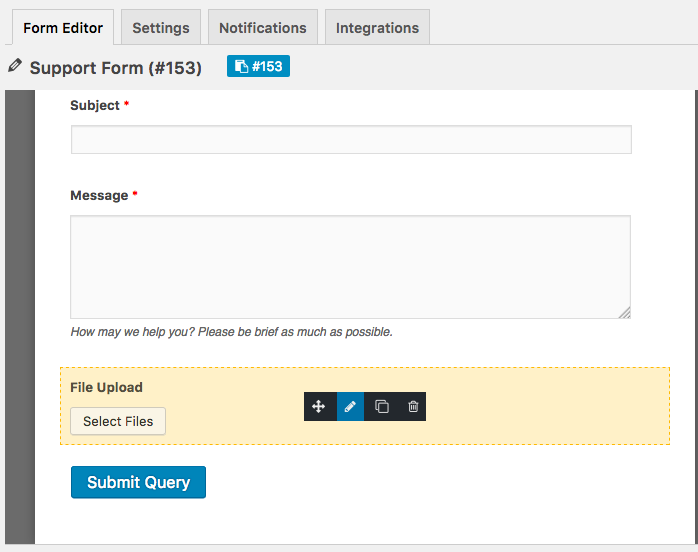 By clicking on the Edit button, you can view the Field Options for File Upload.
The Field Options are really helpful. You can change the Name of your field, Meta Key, and add a Help Text for your users from here. You can also specify if you require your users to upload a file in the form or not, by simply selecting Yes or No.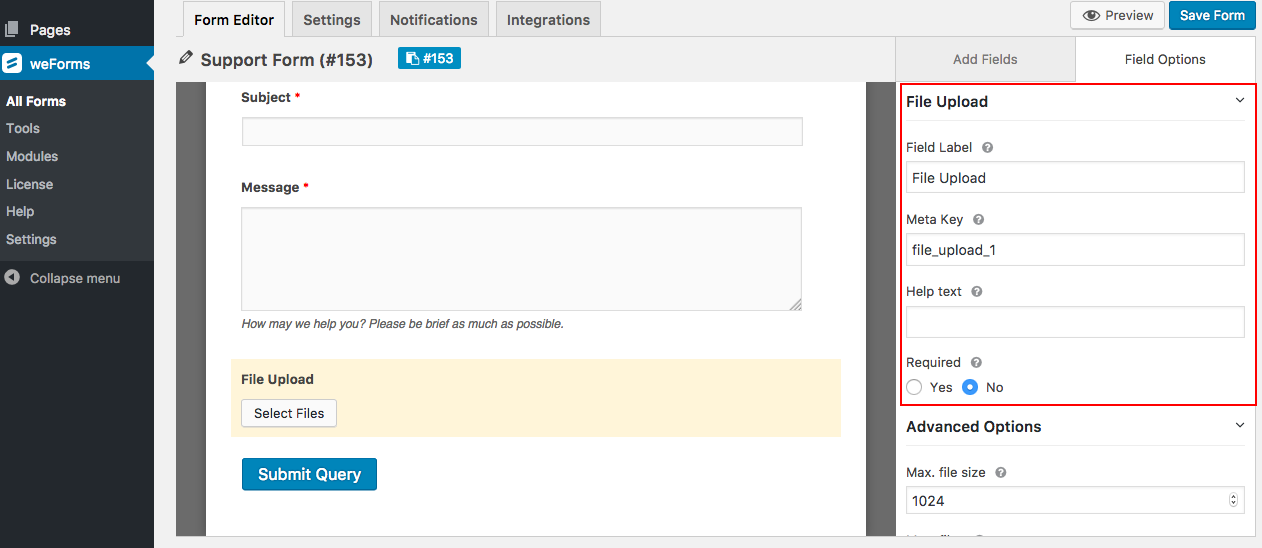 As you rename your Field Label, Help Text, and Required options, you will see your form builder changing and updating accordingly. That's the weForms live preview at work!
The Meta Key is automatically generated according to the field label you provide. And you can also customize it, just like all the other weForms functions and fields.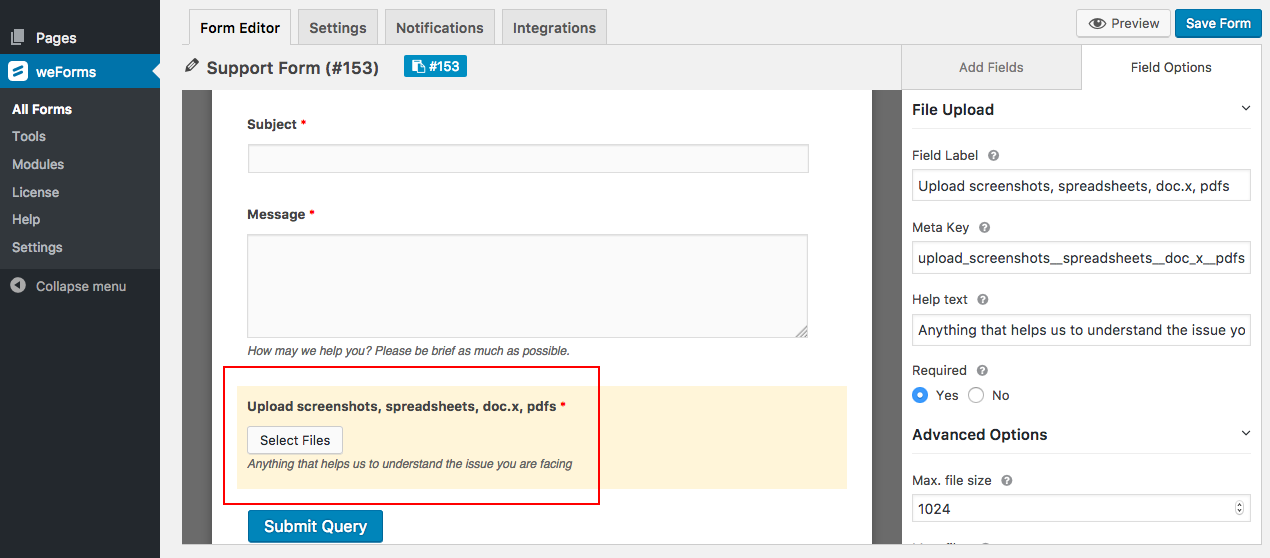 File Upload Advanced Functions
With weForms' Advanced Functions you can choose the Max. file size you are ready to accept.
The icing on the cake! You can even allow your users to select multiple files if they want to. Define this with Max. files feature. This gives more freedom to your users who are able to interact better with you. Also, you are able to collect more information from a single submission.
With the CSS Class Name feature, you can modify the default visual appearance and style of the file upload option by adding custom code. In other words, you are not restricted to use the inbuilt outlook of the weForms' fields. If you know custom coding, you can easily alter the theme and design of your fields as you desire!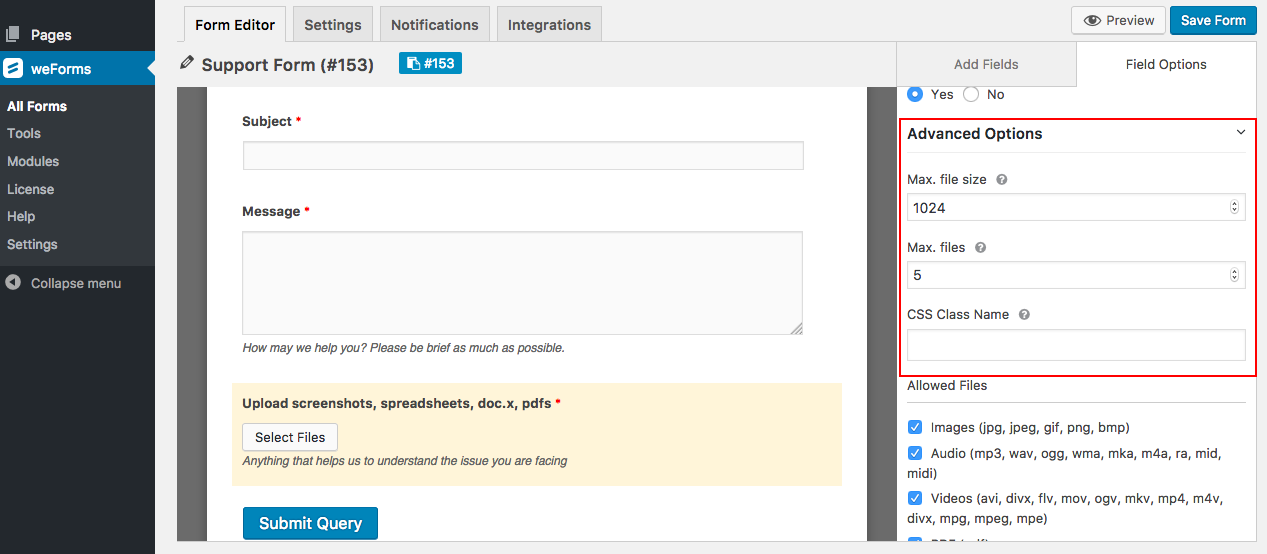 Here's an example of a custom CSS.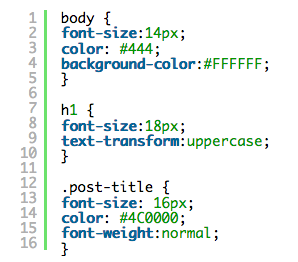 You can also choose what kind of files you want to allow your users to submit with the Allowed Files option.
weForms provides you with a huge number of inbuilt file formats. More than 50 to be a little precise!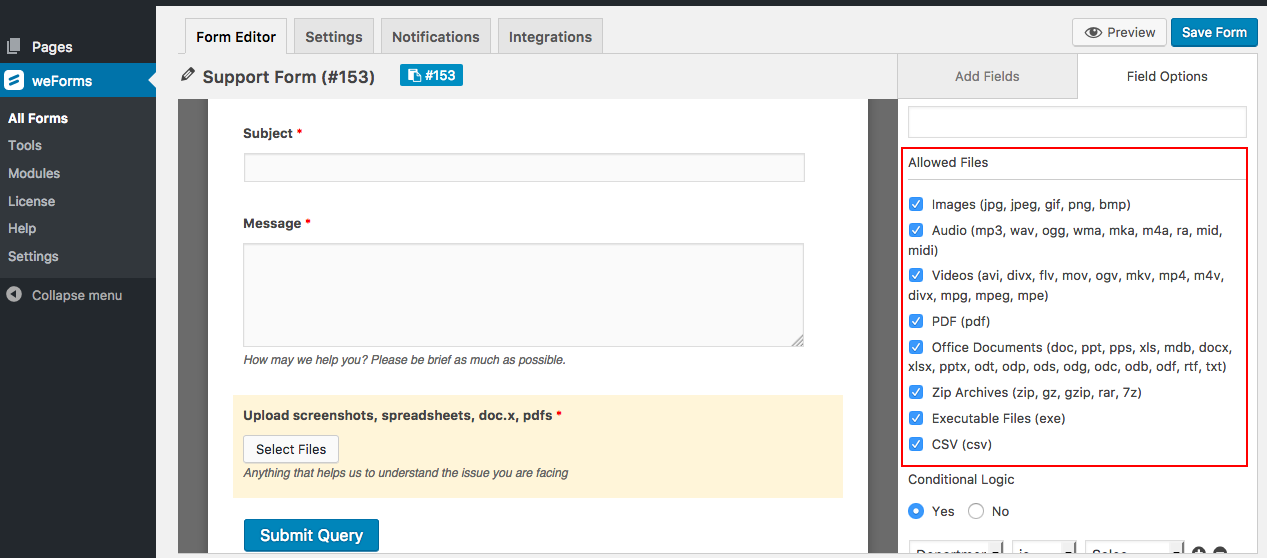 The Advanced Options also allows you to use Conditional Logic to define any criteria. For instance, if you want the file upload option to only be available for users seeking some support in certain Departments you can set the logic in that manner. And the same applies if you don't want it to apply to a certain Department, then you can change the condition accordingly.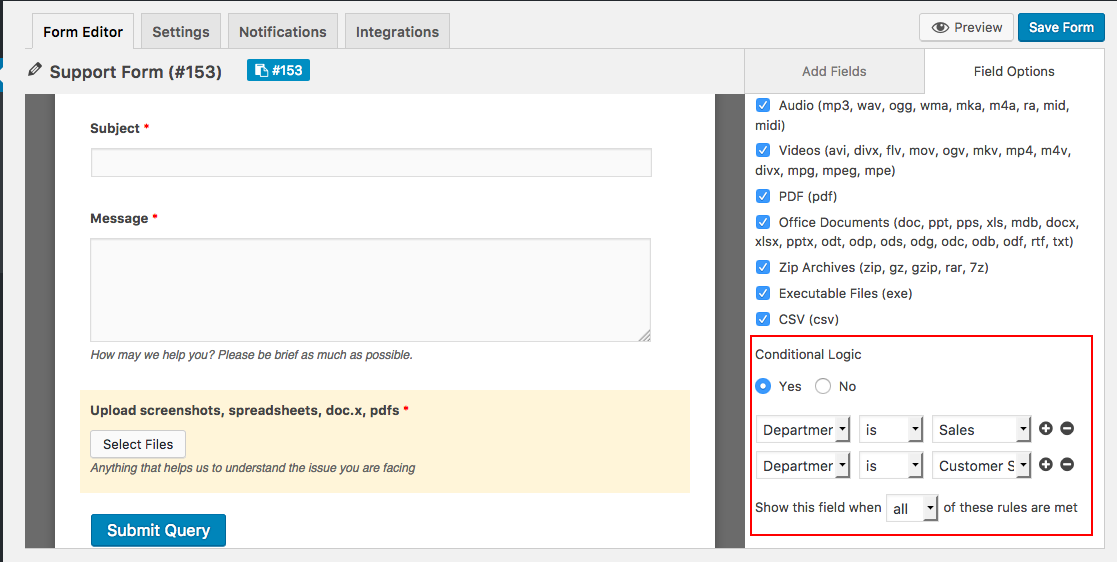 The dropdowns make it seamless for you to choose your categories and options.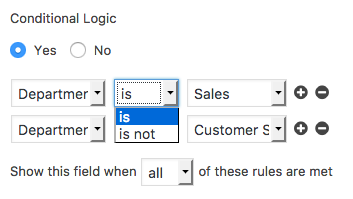 You can define as many categories as you like with the help of Radio Fields. It doesn't have to be just Departments.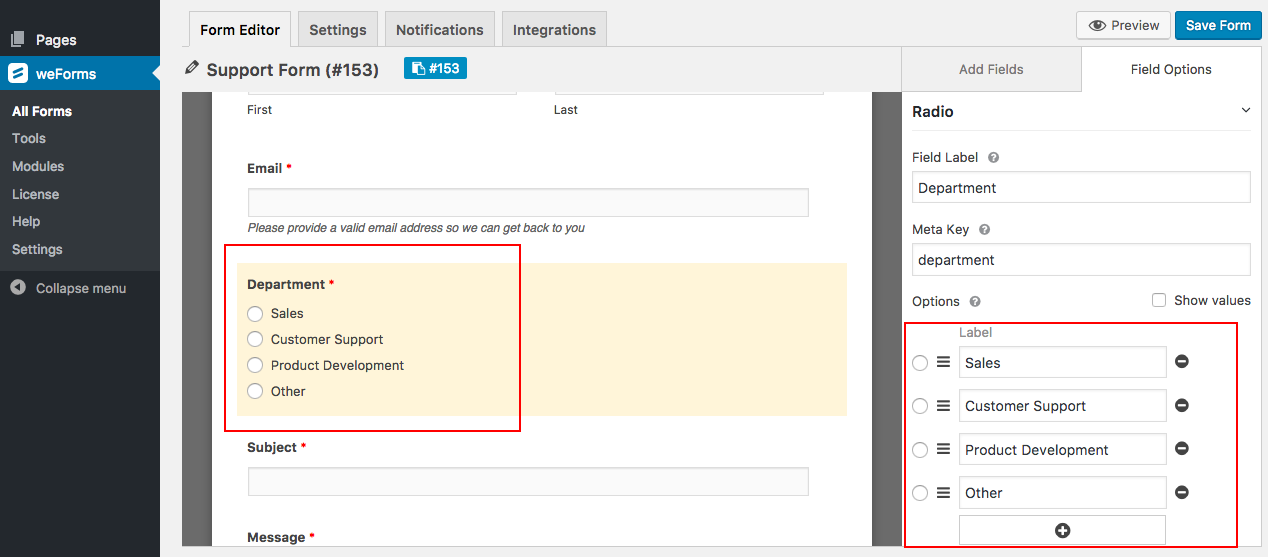 And that's it! You are done creating a WordPress form with the file upload option. After you are done editing, just click on Save Form on the top right corner.
How to Publish a File Upload Form
To embed a form, simply copy the shortcode placed above the form by clicking on it, and paste it in the body of a new Page.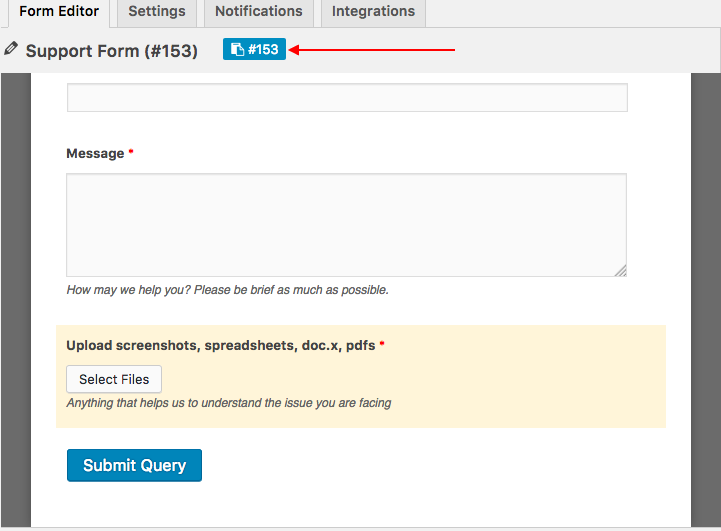 Publishing forms only takes a matter of seconds!
This is what your new file upload form will look like from the frontend on the default WordPress theme.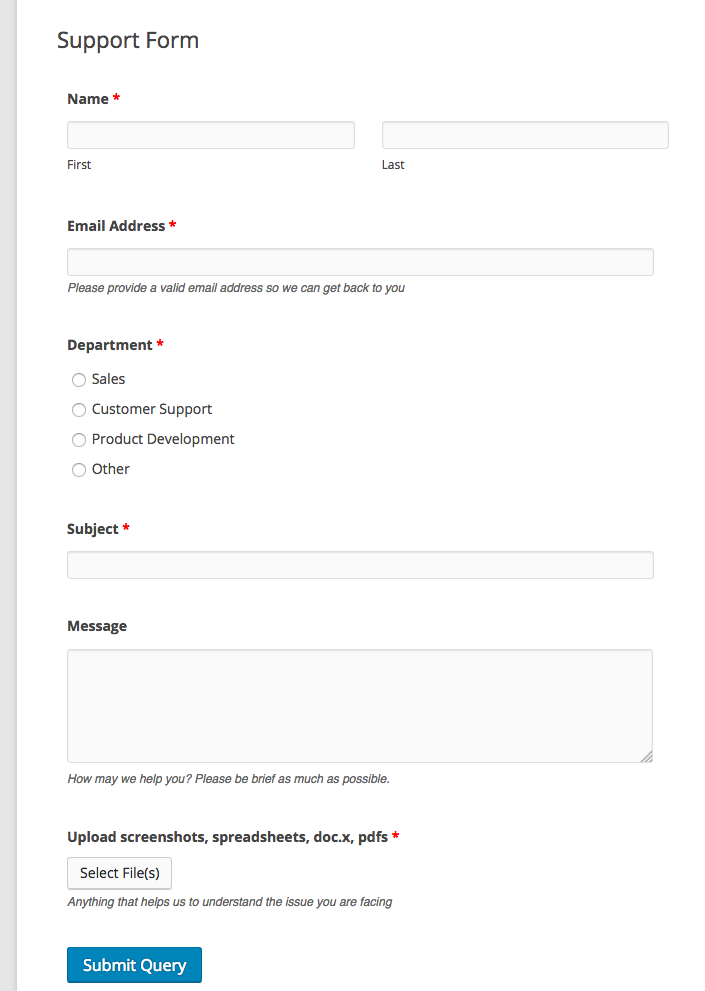 The files that are submitted will be uploaded with each Entry along with all the other information the user inputs. And you will be able to view the uploaded files and attachments right from the dashboard.
The file upload option is only available with weForms Pro. But that's not all. The PRO versions of weForms are loaded with advanced functionalities and integrations that make form-building on WordPress a piece of cake. And the advanced features don't take away the minimalistic and beginner-friendly user interface of weForms. That's what makes it a favorite plugin among its users!
weDevs is giving out the Personal Pro Package on a mega grand offer for free for 3 months. This makes it a great opportunity for you to avail of all the goodies that weForms has to offer!
Wait no more.