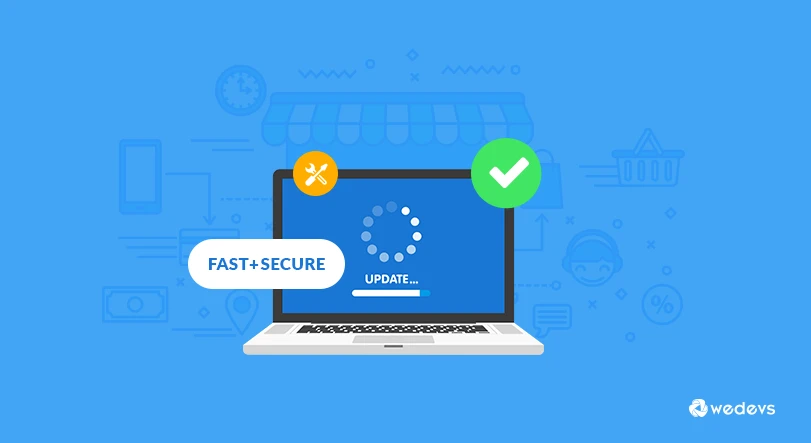 Why It's So Important To Keep Your WordPress Store Updated
Are you someone who has about 10+ plugins with pending updates on your WordPress site, and too lazy to update them? Don't feel bad, because that's what majority users do! But just like with any other web apps, operating systems, apps, and smartphones, your WordPress too needs to be updated to the latest running versions. It's not just the software itself but also its plugins, extensions, and themes that require updates on a regular basis.
So here are the main reasons why you should update:
Increase security
Fix bugs
Add features and functionality
Speed
Most of the time the updates involve around bug fixes and security vulnerabilities.
Hackers and other malicious attackers are constantly on the lookout for vulnerable websites. And because WordPress powers around 27% of all websites worldwide and occupies about 70% of the CMS marketshare, it's quite well-known. This makes WordPress sites a primary target for data thieves and spammers.
An outdated version means you are prone to attacks. Updates to WordPress core, plugins, extensions, and themes patch vulnerabilities in the old coding to prevent the software against attacks. Therefore, to stay safe from being hacked, taken down, or compromised, you need to update!
Why do most users get uncomfortable with updates?
Because sometimes it involves unfortunate incidents, such as your WordPress site breaking down.
When an update does not coordinate well with the existing coding of the site or another plugin, theme, or extension, it can break your WordPress site. This incompatibility issue can arise if one or more WordPress plugins weren't following the best practices and coding standards. It can also happen due to conflicts with other plugins or extensions. It also happens when you run an old version of the plugin with a new version of the site, or vice versa. For example, if you run Dokan 2.6.8 on an old version of versions of WooCommerce older than 2.3.
But let's come to something specific for the purpose of this write-up: WordPress store update. An out of date eCommerce store plugin is not only bad for your eCommerce, it also makes your the vendors' data of your store vulnerable.
Not updating your WordPress Store is risky business
Because developers can't foresee every possible feature, use case, and compatibility for the store plugin. Developers usually work on customer feedback to update a product's performance. They gradually take it towards something that closely fulfills the clients' needs. When users report bugs and request new features, developers take necessary actions to correct its performance. This is also how they achieve customer satisfaction of current users and work on gaining new ones.
In the case of a WordPress store/eCommerce plugin, such as the popular Dokan Multi-Vendor, it is essential to keep the plugin up to the mark with regular maintenance, security updates, and bug fixes.
Updates keep the store reliable, stable, and fast. It also keeps you and your clients safe and secure.
When you look at the changelog on GitHub or WordPress.org, you are able to view the features and fixes that are coming with the new version of your WordPress eCommerce. The Dokan Multi-Vendor update 2.6.8 version, for example, has added new features, indicated as [new], like better email configuration and display options for canceled customer withdraw requests. At the same time, it also included bug fixes, indicated as [fix], such as, date-time format and saving product prices.
Similarly, the Dokan 2.6.6 version included a couple of bug or security fixes, small and major. 
With each new update applied to your store, the chance for a new type of conflict arising remains. Developers are continually working to assess new security threats and bugs to release a newer version.
The threat of being broken into by hackers multiplies when your store and its extensions are several updates behind. Especially if these are crucial and major updates. And when someone is able to break into your WordPress store, they can have access to everything. Attackers are able to steal and harm you and your customers' important data. You can imagine this having a potentially major effect on your business.
An outdated site is also harmful for your users
Losing customer data can potentially have a detrimental effect on your reputation and the way you do business. Moreover, it can result in loss of customer trust and faith in your business. This can also deter prospective clients and vendors from using your eCommerce store. The loss caused in sales and customer satisfaction can sometimes be irreparable.
Your WordPress store has 4 parties involved – you, your vendors, visitors to your eCommerce, and your shoppers. The data involving all these parties can be at great risk when your WordPress store is not secured.
Think about all the important data stored in your backend:
credit card information of your vendors and shoppers
personal information of your vendors and shoppers, such as location, phone, and email addresses
your sales invoices and reports
confidential business details
details of owners, admins, and other people involved in the business
There is also the risk of running a slow eCommerce site. At some point, this will negatively impact visitor and customer shopping experience, and can even make users drift away to competitor stores.
Many tech users are now knowledgeable enough to catch if a store is not working well, is slow, has bugs or seems insecure. And most users are not likely to wait too long. Your bounce rates are likely to increase for this reason.
Therefore, to ensure the best user experience and safeguard customer trust – UPDATE!
Your Next Step
Updates are extremely vital for your WordPress store. But how can we ensure a steady and routine way of doing it?
WooCommerce says:
The key to success here is following an update process for your store that is consistent, repeatable, and relatively easy for anyone following the steps….
These are some of the ways WooCommerce recommends for keeping the plugin updated. We feel the same applies to any other WordPress store:
Have a staging site for your WordPress store.
Back up the entire store before major updates.
Update all extensions and themes to reduce chances of incompatibility.
Test your store. This is best done when average, non-developer persons, browse through your staging site like an ordinary shopper in an eCommerce store. Whether it be in the navigation, product pages, or checkout process, a general user can spot problems in the WordPress store much better and quicker than a developer.
Keeping your WordPress Store updated is easy!
There are several ways you are notified of updates and can update your software within a couple of minutes or even seconds:
WordPress and its plugins come with built-in update notifications that will directly take you to the update when you click. So you can see all available updates right from your WP dashboard.
Turn on automatic updates for major and minor releases of your installed plugins and themes.
You will get email notifications when updates of your WordPress eCommerce plugin is released. A helpful plugin to get timely email notifications for all kinds of updates (core, plugin, extensions, and themes) is the WP Updates Notifier plugin.

Some premium versions users receive email newsletters when a new version of the plugin is released. This is an example of a Dokan Pro newsletter announcing the release of its latest updates:
The maintenance of your store is a priority for both the short and long term. But you should schedule your completion of updates and backups in a way that it doesn't interrupt your other important and regular work
Keep growing your sales, revenue, and brand by keeping your store safe, secured, stable, and speedy with updates.
Have any concerns or comments about updating your WordPress store? Share with us in the comments and we will get back to you soon!