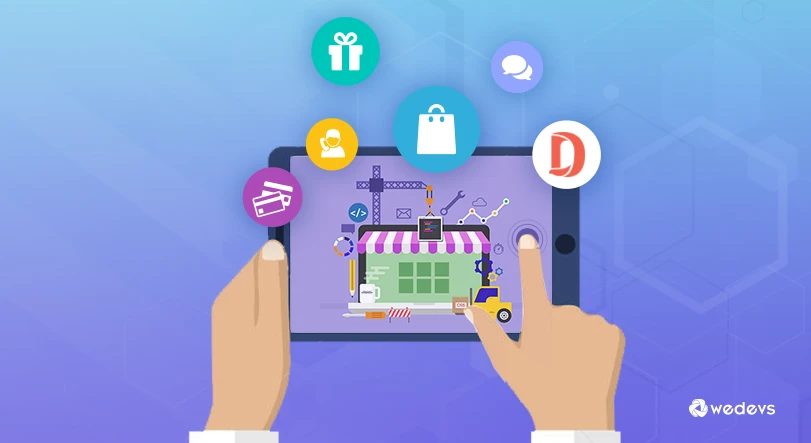 Build A Free eCommerce Marketplace Using WordPress
Online eCommerce marketplaces are taking over the world like a storm. Analysts estimate that Amazon's revenue for 2017 will reach $107 billion, up 21% from 2014 whereas Macy's just closed 100 of its bricks & mortar stores. So it is clear that if your product business doesn't have an eCommerce marketplace platform, you will be at a disadvantage.
But there is also some upside to living in the internet era. Trying something out for FREE before investing any money is truly a blessing only possible in today's world. You can even create a complete, functional, profitable eCommerce marketplace without spending a single dime. Considering prior you already own your domain & hosting of course.
In this post, you will learn how you can create a completely FREE e-commerce marketplace using only three things.
Earning money when spending no money, how easier can it get!
NOTE: You need to have domain & hosting. Prices depend on the service provider.
WordPress Multi Vendor Marketplace
WordPress is the most popular Content Management System (CMS) out there. 30% of the world's websites run using WordPress. Among them, there are many online stores that use WordPress as there base. So, eCommerce business using WordPress is becoming more and more popular these days thanks to WordPress eCommerce software.
If you are not familiar with WordPress you can know more about it from their official website. But if you are well known about the ecosystem you might know that you can create a store with WordPress, not a multi vendor marketplace.
The difference between a store and a multi vendor is that a store sells product from a single person whereas multi vendor marketplace sells from multiple.
This problem gives the perfect time to introduce Dokan Multi Vendor Marketplace plugin.
Dokan
Dokan is a WordPress plugin that is powered by WooCommerce. It extends the functionalities of WooCommerce and converts your website to a multi vendor marketplace.
Dokan gives the admin a front end panel for both customers and sellers where they can sign up which secures the back end. It also comes with a free eCommerce ready theme. Making Dokan, WordPress Marketplace at it's best.
You can download Dokan for free from WordPress plugin store. It is the lite version of the plugin which has all the basic feature you would need. If you ever need to extend your marketplace you can add Extensions for Dokan.
Necessary tools
For you to have your very own free eCommerce marketplace you need to have at least have 4 things.
Your own domain name & hosting
WordPress
WooCommerce
Dokan
Step 1
After making sure that you have your own domain and hosting service from your respected provider you need to install WordPress on your server. This is different for every web hosting provider out there. If you are facing any trouble configuring WordPress you can always visit their official website for more information.
Step 2
When you have WordPress installed on your server you need access the back end to install the necessary plugins. To access the back end just go the URL of your page and add /wp-admin at the end. This will take you to the back end login page.It should look something like this.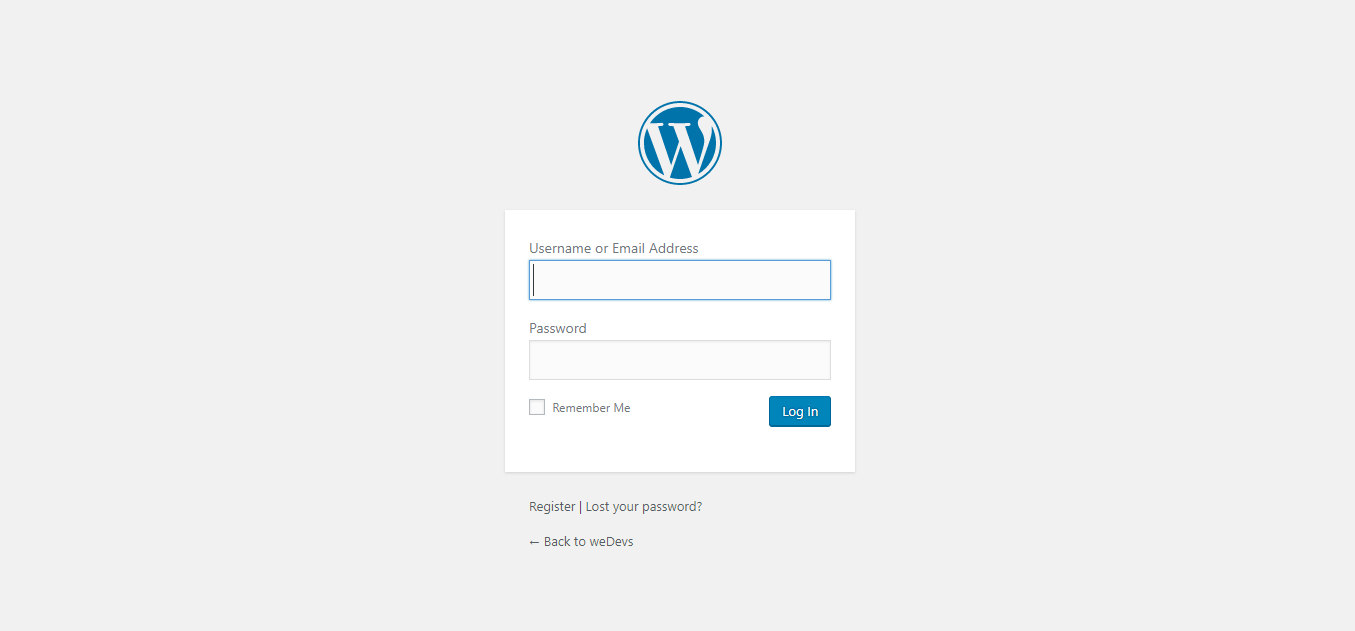 After logging in with your personal credentials that you set at first you will be redirected to your WordPress dashboard.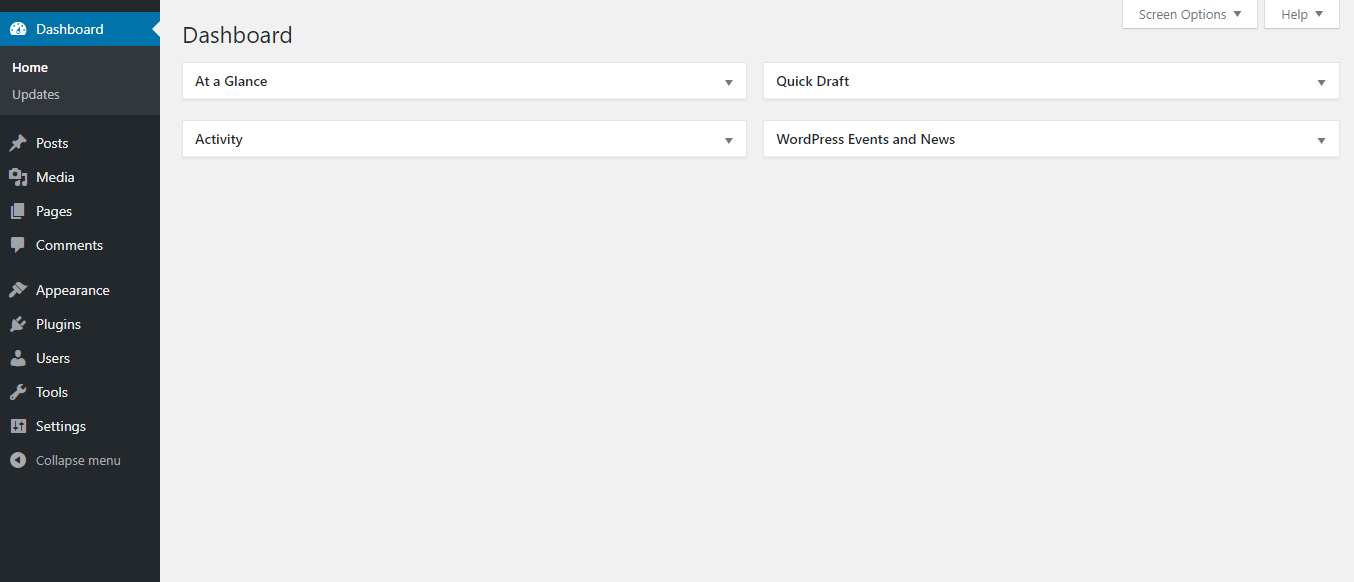 Step 3
Now comes the part to install all the necessary plugins for your eCommerce marketplace. Af first you need to install WooCommerce plugin from WordPress store. To download WooCommerce you need to go to
wp-admin→Plugins→Add New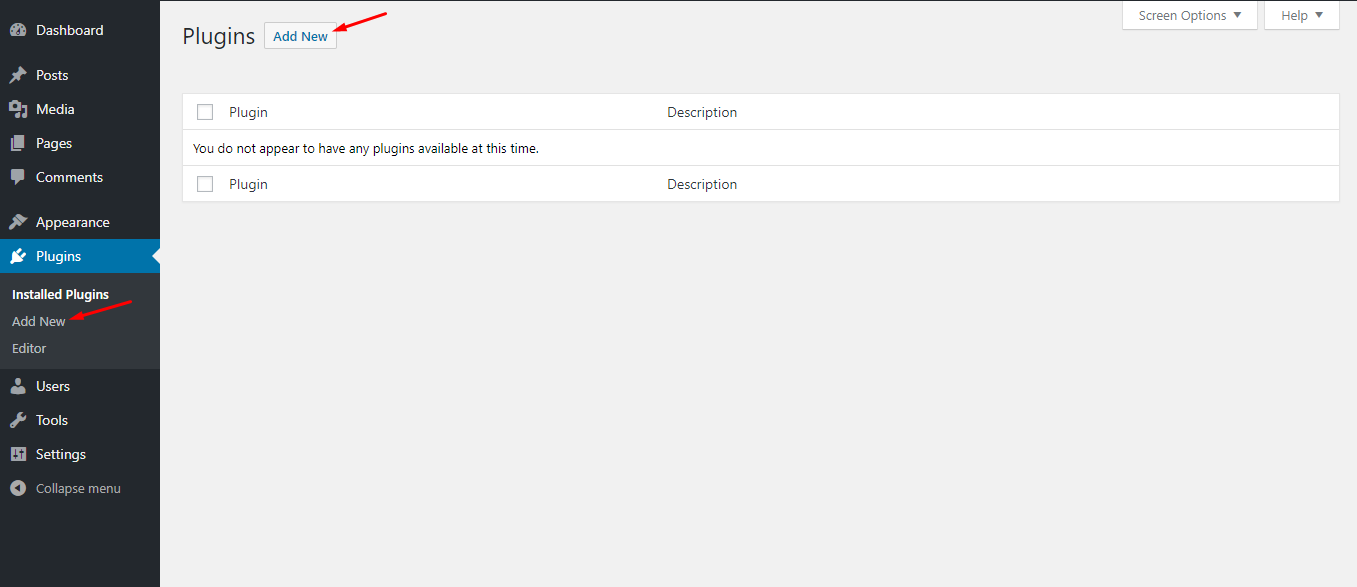 After going to the Add plugins page you need to go to the search option and search for WooCommerce. The result will show the WooCommerce plugin with an install now button. Clicking it should do the trick. Then activate the plugin.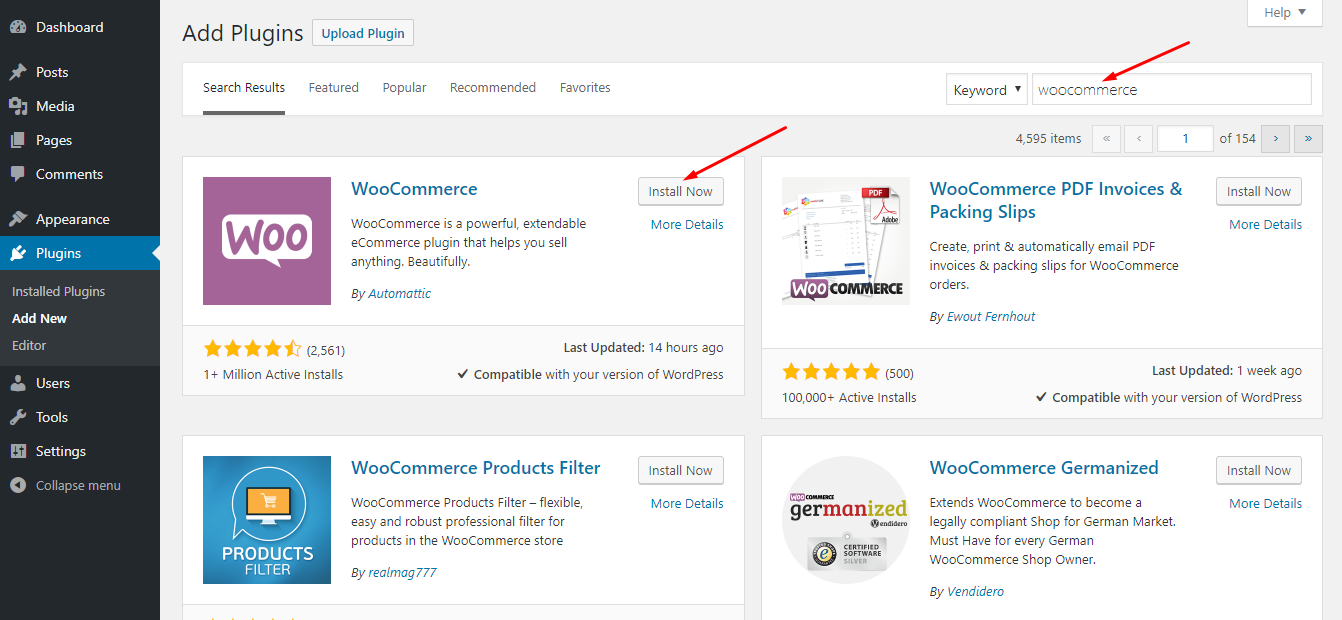 Now to install Dokan you have to again search for dokan. Dokan Multivendor Marketplace by weDevs will show in the result. You need to click on the Install now button and activate after that.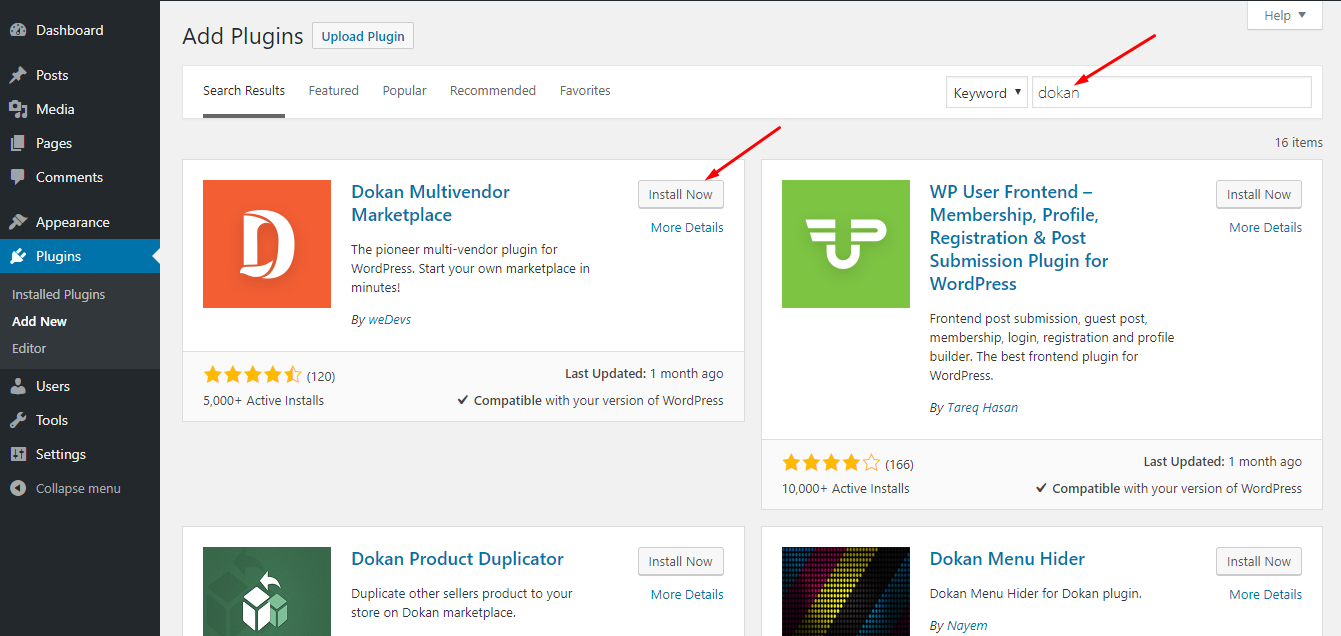 Step 4
You will now be able to see a menu named Dokan. The Dashboard section shows an overview of your marketplace. There are also different subsection menu that gives you options to customize.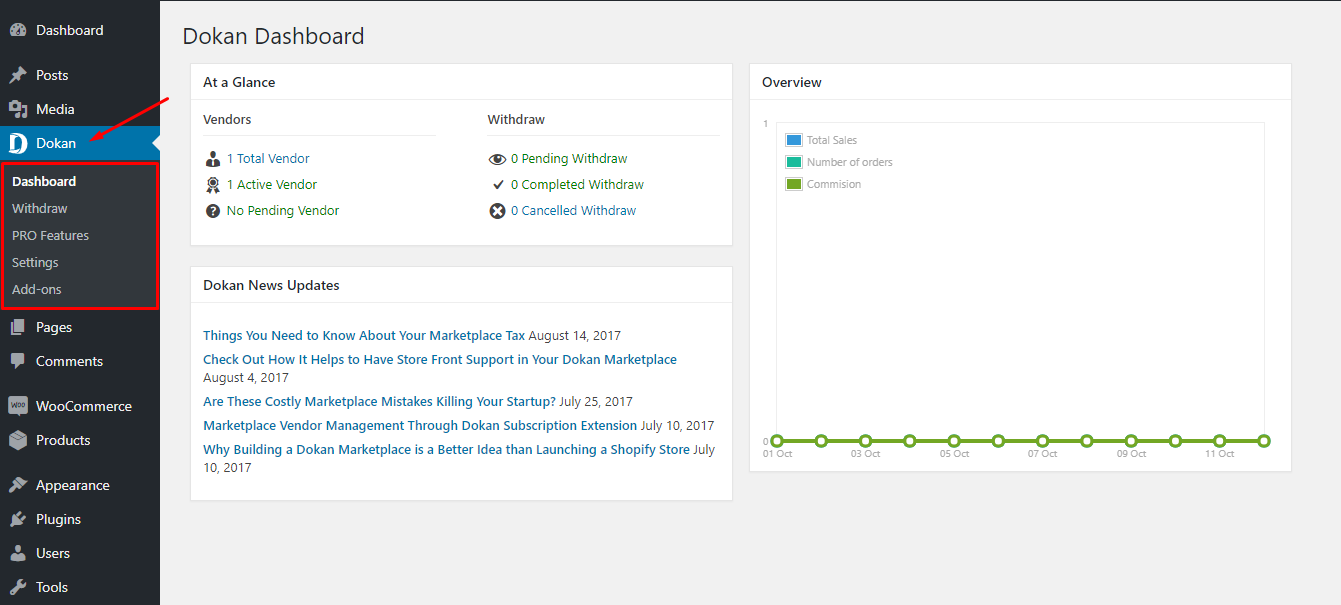 Now you need to enable membership registration to start adding vendors. To do that you need to go to
wp-admin → Settings → General
there you need to check the "Membership Anyone can register box" then click save.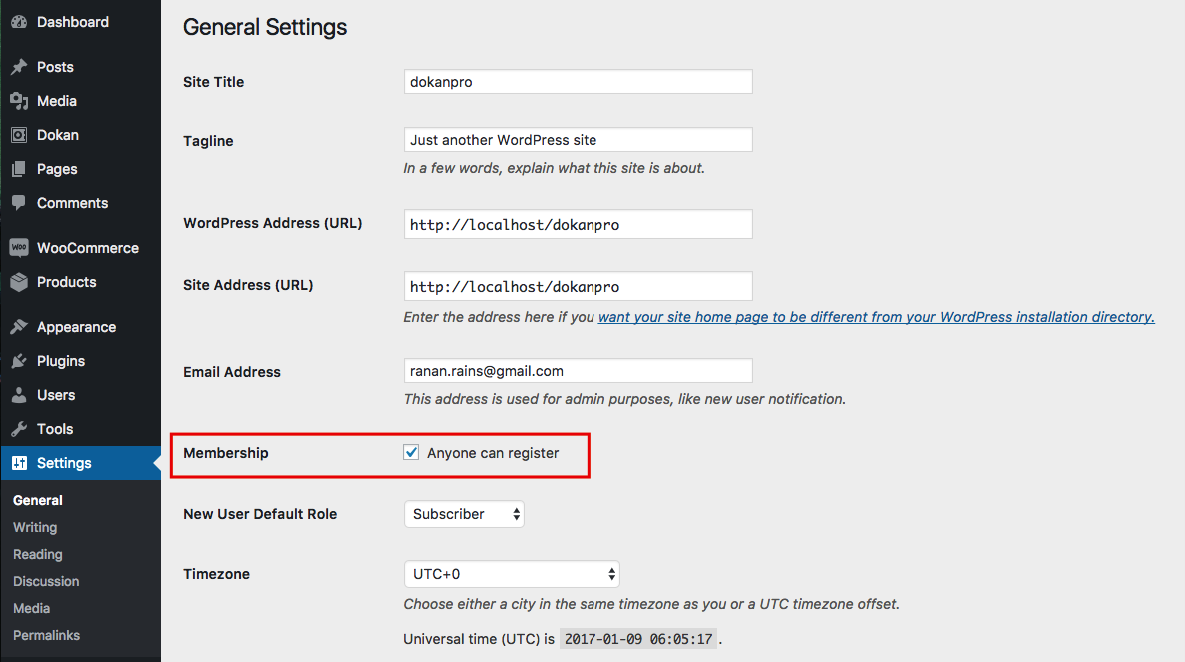 Step 5
Now to see the front end page of a vendor you need to add a vendor user. To add vendor go to
wp-admin→Users→Add New
Fill up the form with the needed information and select role as Vendor. Then hit save. Your vendor will be created.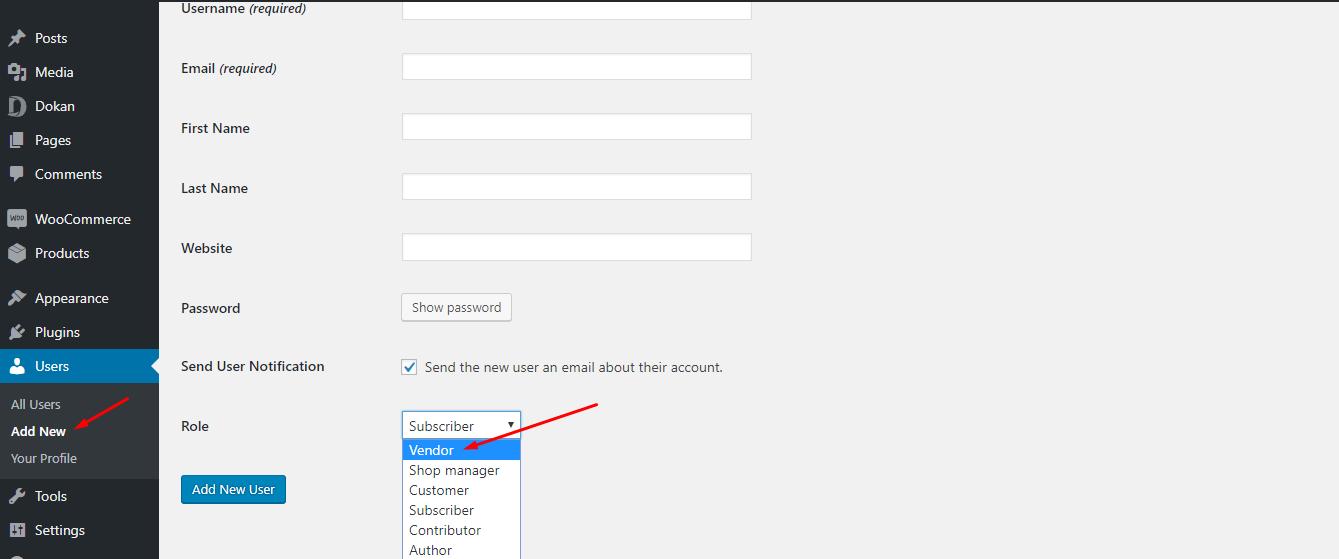 To see vendor store page add /store/vendor to the last part of your URL
If you fill up all the necessary information for your vendor and add products it should look something similar to this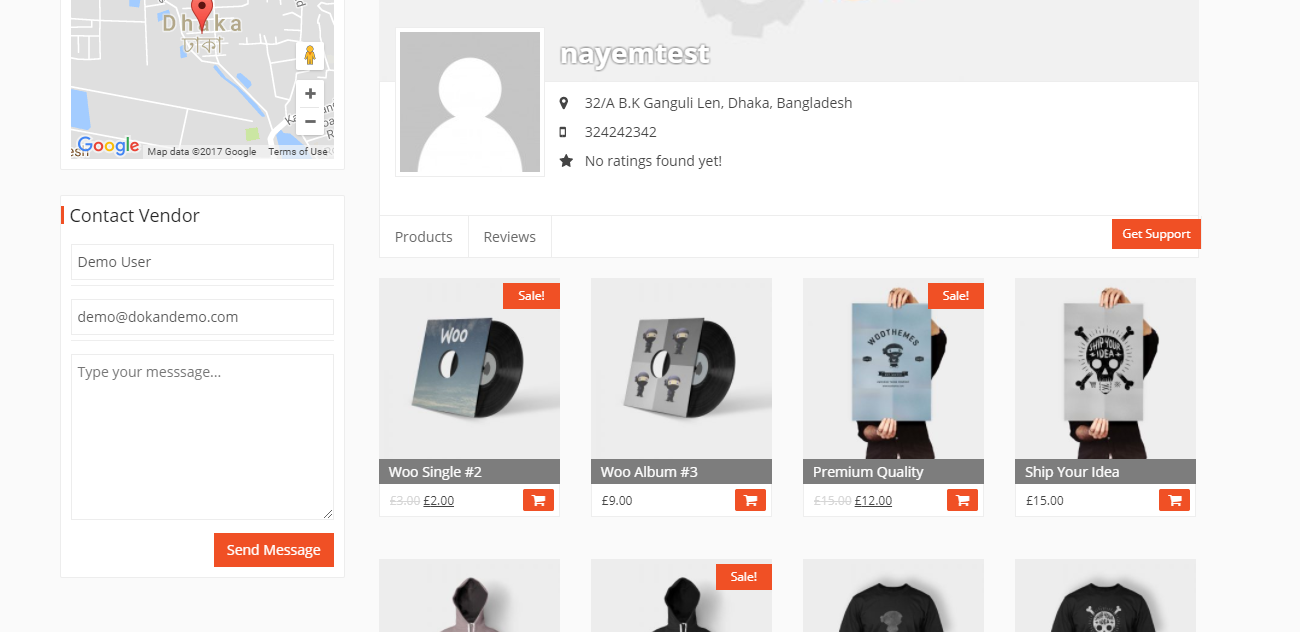 Getting started with Dokan
Congrats! You have successfully installed Dokan and set up a vendor page. You can now play with all the features and customize it the way you like. If you find it interesting you can always know more about Dokan from here.
A complete fully customized Dokan Multi Vendor Marketplace should look something like this.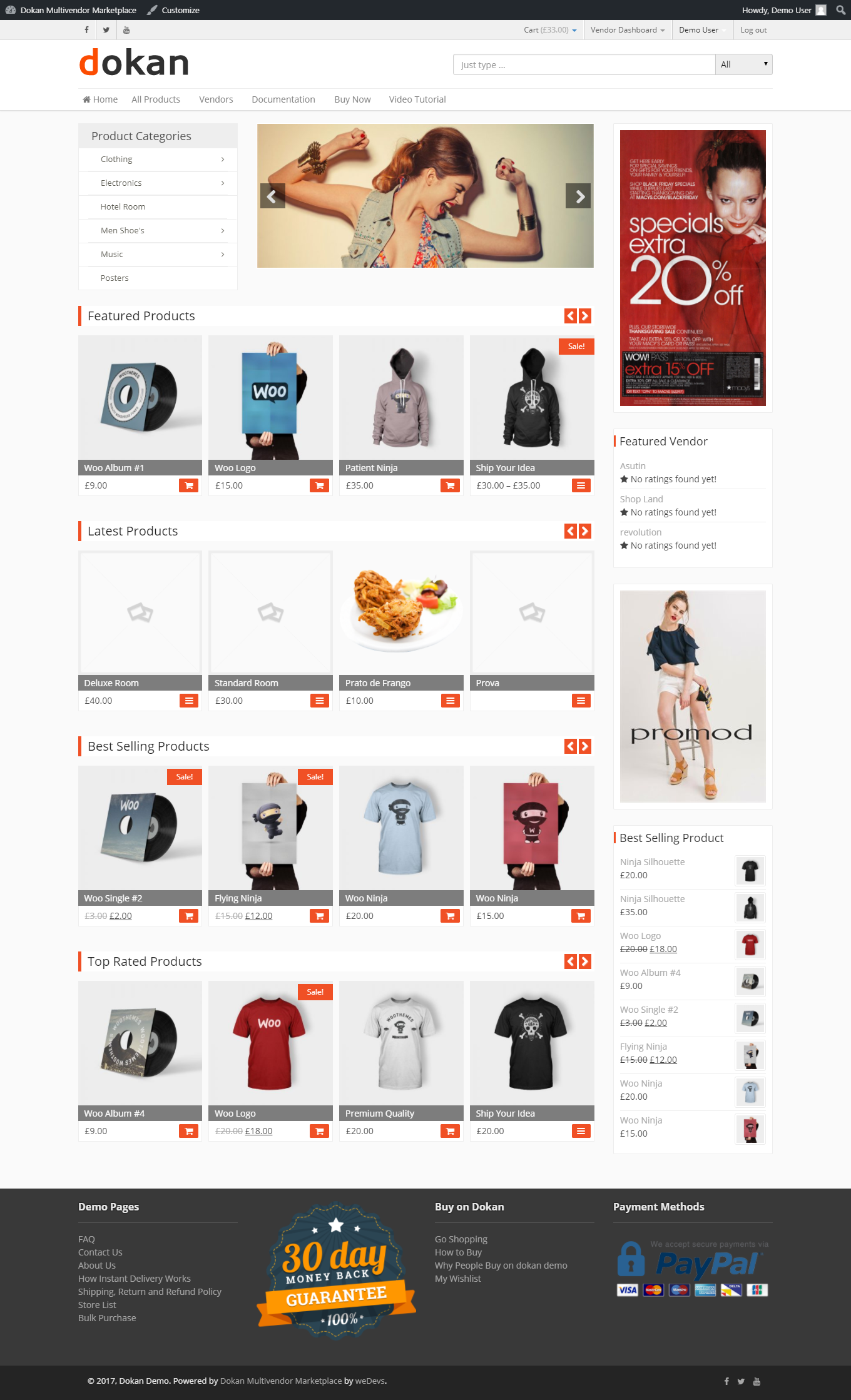 Benefits of Dokan
With free updates, community support and all the basic feature available in the FREE version it is impossible to find a better alternative. It even gives you unlimited vendor support in the free version as well.
Dokan lite version is totally usable for a small eCommerce marketplace but if you want to extend some functionalities it also provides many paid options.
This is should bring much greater structure to your business so that you won't have opt-in for another service in the middle of expanding the business.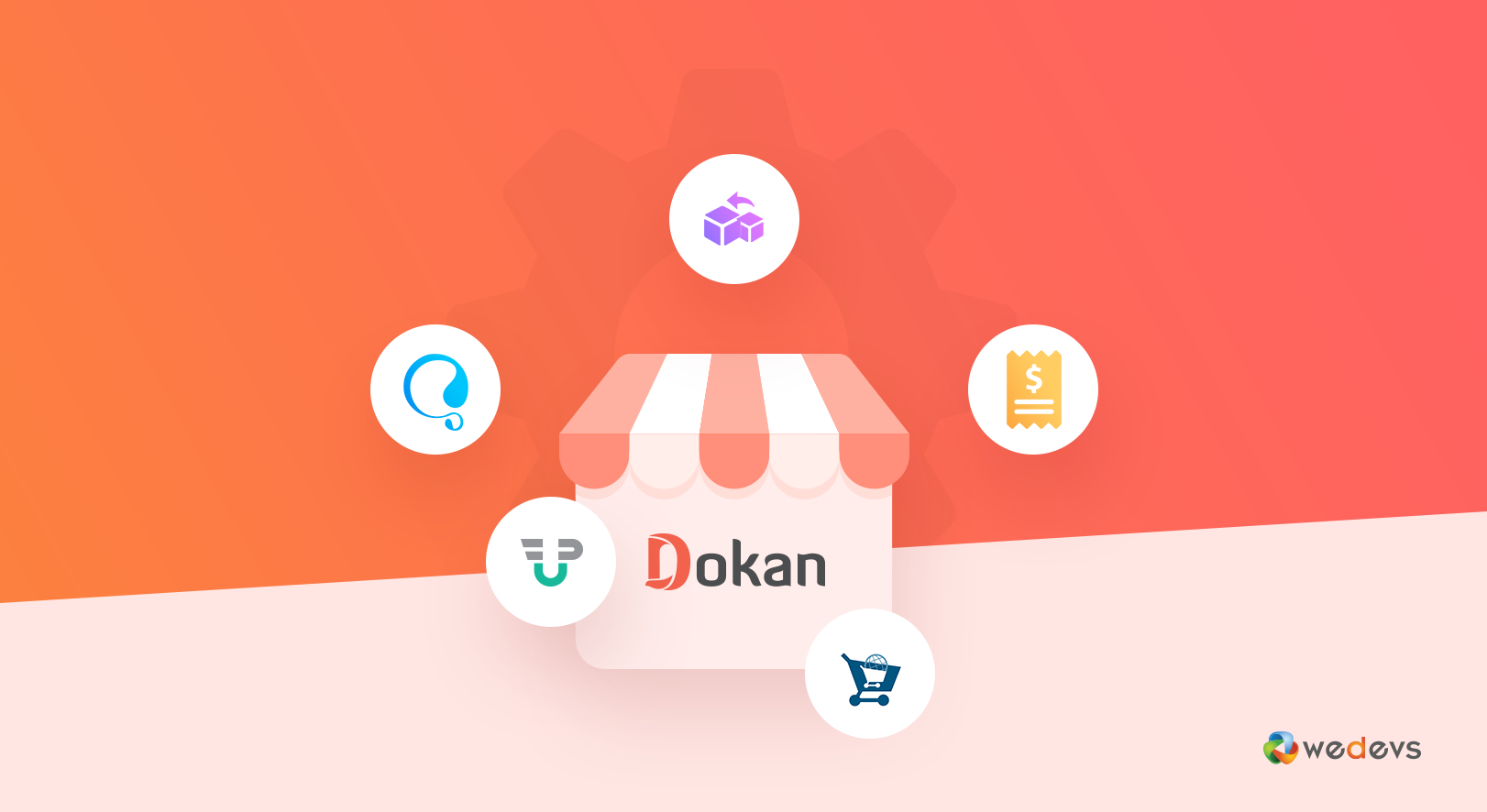 Bonus Tips
As you are building an eCommerce marketplace using WordPress, you must have plans to start your own business. To help you with that, here's a complete eCommerce marketing plan for 2018 that can help you achieve higher goals and become successful in the competitive eCommerce industry.
Complete eCommerce Marketing Plan for 2018
Conclusion
As people's time is becoming more & more valuable, the direct to consumer approach is increasing on an unbelievable scale. The old ways of doing business might not be obsolete yet but just as their name suggests "old". Amazon, eBay, Etsy all these eCommerce marketplace giants are just tip of the iceberg. A research conducted by BI, Business Insider's premium research service predicts that in US alone people will spend $632 billion on online in 2020.
Whether you are new in business or have been at it for a long time not having a web presence is one of the worst things that can happen to your business.