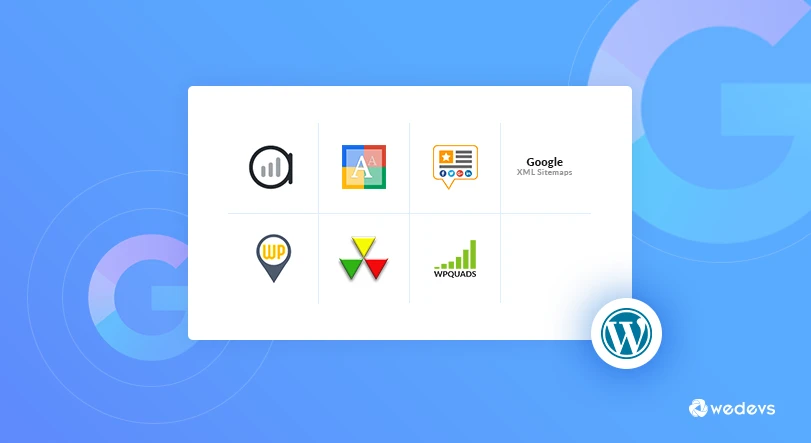 Useful WordPress Google Plugins to Integrate with Your Website
Who doesn't know about Google, the search engine giant that helps us find any information we want!
It provides amazing features besides searching over the internet. You may know about its other services – Google Drive, Google Analytics, Sitemap indexing, Google Fonts, Adsense, Google Reviews, and much more.
What if you could use those services directly from your WordPress site? It's not impossible!
Integration between WordPress and Google service plugins can play a very vital role in enhancing your WordPress website. There are many plugins that offer Google's services for WordPress sites. These WordPress Google plugins provide a wide array of tools for your business or individual websites.
These WordPress Google plugin services can make your website look more updated and easily findable on the web. Starting from Analytics, Calendar, Interactive maps, Review system, Advertising, and much more, the WordPress Google plugin service simply gives an unparalleled lift to your overall website usability experience. So in this column, I will be referring to some of the very best and useful WordPress Google service plugins for your WordPress-powered website.
Top WordPress Google-Based Plugins for Your Website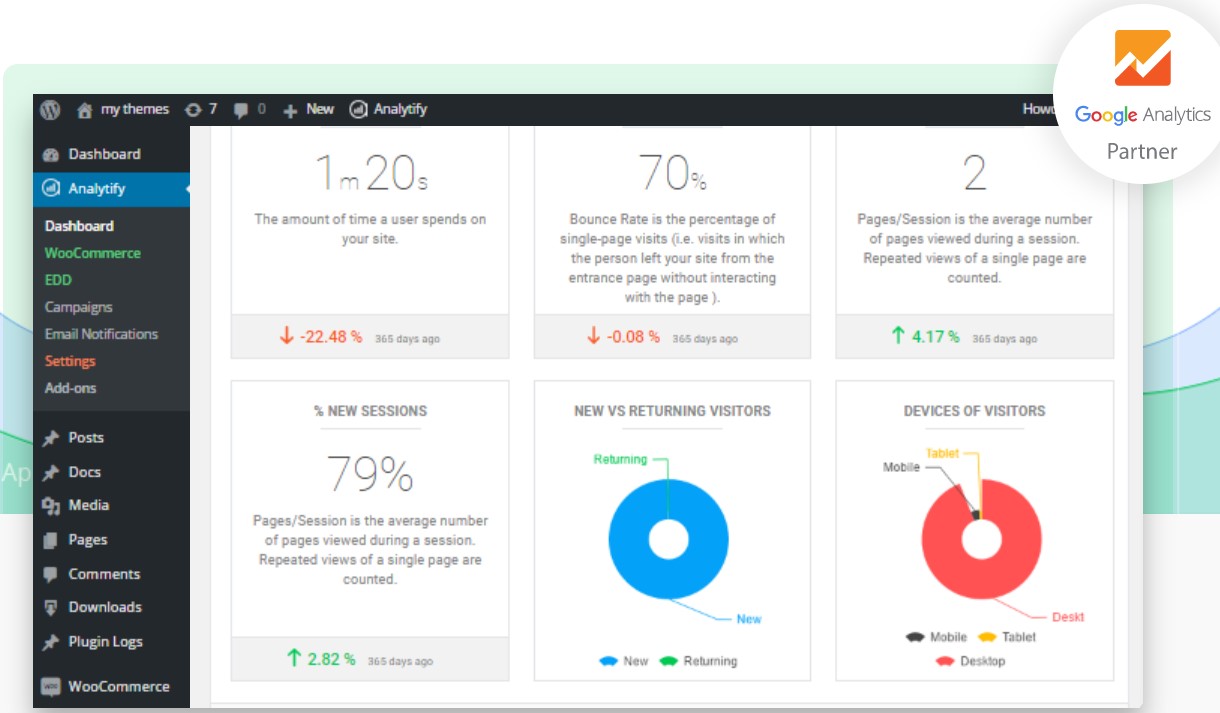 Almost in all cases, the analytics of a company is too complex to handle. And relying on guesswork to analyze your site's overall statistical information can be dangerous as you require precisely detailed analytics about your site to make certain decisions to make any changes required. So to get accurate and detailed analytics, Analytify could be your ultimate solution to fulfill your site's overall statistical analysis needs.
A statistical representation of your site holds a very key role in knowing the overall progress of your website. So Analytify demonstrates the statistics related to your website in a very simple & organized way. This can be very useful for your overall understanding of your site's growth. This popular WordPress analytics Google Plugin is the ideal solution for any bloggers, E-store owners, Entrepreneurs, Site Managers, etc.
Analytify generates complete statistical analysis details of your website to help grow sales & conversion rates. Building your audiences with valuable insights and improving your site's rank is just too exciting & simple with Analytify. Even with some good competition in the form of Google Analytics by MonsterInsights and Google Analytics WD in the market, this cutting-edge WordPress Google plugin stands out tall in keeping you well informed, satisfying every analytical specific related to your WordPress website.
Stats & Figures
Total Downloads: 110,995
Active Installs: 10,000+
Average ratings: 4.8/5 stars
Key Benefits
Significant growth in sales & conversions
Easy to integrate with WordPress and to use.
Simple and organized real-time statistical representation of your website.
Improvement in On-page ranking.
Universal tracking feature for managing marketing campaigns.
Social media statistical reports right from the WordPress dashboard.
Enhancement of your Ecommerce tracking.
Viewing posts details from front end without logging into your dashboard.
Setbacks
The detailed feature list is overkill if all you want to do is set up basic Google Analytics tracking.

Search engine index for blogs was always a major concern till Google XML Sitemaps plugins came on board. For any website getting ranked by the popular search engines such as Google, Bing, etc was always a top priority area to look into and it is made better and easier with the help of Google XML Sitemaps plugins.
These fast, interactive and popular, Google XML Sitemaps plugins primarily creates sitemaps of your website making it easy for the search engine to better index your site. The plugin is supported on all types of WordPress generated and Custom URLs. More importantly, after you create any post about any content, it instantly apprises it to all the leading search engines about it to index that content.
Stats & Figures
Total Downloads: 21,130,159
Active Installs: 2+ million
Average ratings: 4.9/5 stars
Key benefits
Stress-free indexing of your site.
Listing of your site pages to make it easy for search engine to find.
Automatic detection of new content on your site.
Easy adding of your posts, categories, products and other custom post types into the sitemaps.
Fast and better display on the result page of your site index.
Setbacks
It might not work very well with Nginx servers.

Attractive and easily readable fonts hold a very important part of branding your e-commerce or business websites. The integration of the Easy Google font plugin adds fonts to your WordPress theme to make it very eye catchy to the site visitors.
With over 600 google fonts to choose from & compatible with all WordPress themes, the Easy Google Fonts plugin simply complements each other to give your website a very professional look. It enables you to have total control over the typography and you don't lose any customization of your website when you decide to change or update your theme.
Stats & Figures
Total Downloads: 1,634,244
Active Installs: 300,000+
Average ratings: 4.7/5 stars
Key benefits
Showing google fonts in real time right in the WordPress Dashboard
More than 600+ GOOGLE FONTS to choose from including some default system fonts.
Compatible with any WordPress theme
Automatic updates of the google fonts list with the latest fonts.
MO and PO files are built-in for translation purposes
Control over Custom WordPress Customizer.
Setbacks
The open source might have some quality issues.
The library is quite limited and you might need to substitute fonts between print and online projects.
If you don't know what you are looking for, then finding typefaces can be very clunky.

Having a compact review system integrated into your business or e-commerce website can prove to be quite fruitful for your future business developments. Nowadays most people just want to know or judge the standard of any products or services by user experience and this is where the WidgetPack Google Reviews plugin could corroborate to be pretty handy.
Gaining the trust of customers is always been one of the most important objectives of an e-commerce business. And so WidgetPack Google Review service just makes the reviewing process quite a lot easier boosting the overall traffic and faith of the customers. The plugin is also very mobile friendly making it easy to read & post reviews on your mobile or portable devices.
Stats & Figures
Total Downloads: 1,146
Active Installs: 100+
Average ratings: 4.2/5 stars
Key benefits
Option of Social and guest login
Get idea of Pros and Cons
Very responsive overall design
Review replies of users
Add any star colors
Sorting capacity for most recent, most helpful, highest score and lowest score.
Voting facility for reviews
Email Notifications of reviews from customers or users.
Option for YouTube and Vimeo embedding, uploading images
Full time real-time and powerful admin panel
Protection of spam via Google reCAPTCHA 2.0
Setting up specific moderator roles
The option of User ban, IP ban etc.
Setbacks
Less powerful shortcode builder support
No minimum rating filtering.
Priority service unavailable.
If you have the goal of being professional & earn bucks through your blogs then having Adsense Plugin WP for your blog site is the right choice to add it to your posts or pages. You can simply insert it into your posts, pages or sidebars and earn money.
In your site's content, any website owner can display ads using this Google Adsense Plugin WP. So that you can make money each time any site visitor clicks on the ads that are added to your site's page. This Adsense plugin from Google is made with very solid code. Thus, it regularly updates it to keep it compatible with any future version of WordPress.
Stats & Figures
Total Downloads: 606,757
Active Installs: 70,000+
Average ratings: 4.9/5 stars
Key benefits
Limitless amount of ads can be added to your website.
The feature of adding ads on your AMP page.
Separate AdSense sizes for Desktop, Phone and Tablet devices.
Select & control the visibility of AdSense on mobile, tablet and desktop devices.
Automatic Detection of optimal ads sizes for all devices.
Well-developed plugin to maintain a high performance and speed of your site.
Setbacks
Free version has unresponsive ads unlike before.
503 security error may arise.
Even after saving data, widget says no code

This plugin from Google enables the site admin to upload media files directly to their google drive giving them direct access to the google drive from their WordPress dashboard. Hence, this is really handy when you are required to remotely manage your files on your WordPress sites.
With this Google drive WP plugin, uploading and sharing your files from your WordPress to Google drive and vice versa just requires a few simple clicks from your WordPress website dashboard. So you can also add files from your google drive to your posts or pages. With the facility to also create folders to store your files, this new age plugin from google is indispensable to increase the available storage of your WordPress site.
Stats & Figures
Total Downloads: 49,751
Active Installs: 3,000+
Average ratings: 4.2/5 stars
Key benefits
Button for the shortcode, shortcode insertion to embed Google Drive file straight from your post editor.
The option of auto Google Drive files insertion into your WordPress Media Library.
The feature of attaching your Google Drive files to your posts.
The option of uploading files from your WordPress Administration to Google Drive.
Folder creation option to store your data or files.
Enable/disable attachment of any files to posts.
Setbacks
Backup storage issues.
Vulnerability in the security of your accounts.

Being the best WordPress Google plugin in the maps category isn't enough, it needs to be user-friendly too. So this Google Maps WD plugin satisfies both and is currently one of the best and most user-friendly Google maps solutions out there that integrate with your WordPress website. With an intuitive and cutting-edge interface design, the Google Maps WD plugin is simply the most responsive and simple-to-use plugin that is available on the market.
So this plugin user doesn't require much prior knowledge of coding or complex functionality to maintain it. Showcasing any location & coverage areas, displaying related or categorized locations made simple with this easy-to-use WordPress Google plugin service. Moreover adding the option of a contact page map or any sort of custom google maps is done absolutely hassle-free.
For its user, it also resolves the trouble of adding different plugins for individual Google maps related features such as store locator plugin, marker maps plugins, WP location highlighting map plugins. All of these comes with the same package as this Google Maps WD plugin.
Stats & Figures
Total Downloads: 262,887
Active Installs: 20,000+
Average ratings: 4.7/5 stars
Key benefits
Fully responsive design compatible with all portable devices.
Localization and language support for Google maps
Intuitive and user-friendly interface.
Instant live previews of the changes made on the back end of Google Maps WD.
Limitless maps for posts & pages
Road, traffic, satellite, terrain and hybrid support for different Google Maps styles.
Maps with an unlimited number of markers (Map point or Placemarks).
Custom animation support by drag and drop feature for markers.
Setbacks
Sometimes it freezes on getting locations.
Does not read speed limit anymore.
It does not have an offline version.
Wrapping up
In conclusion, Google offers many convenient and remarkable services to its users. So summing up only a few WordPress Google Plugin that lets you use Google's capabilities within a small list like this is never going to be easy. As a result, the list of WordPress Google plugin that we have addressed here is only some of the best available on the market. So, it is very likely that we may have missed out on some good WordPress Google plugins. But, using these plugins to your advantage will only make your WordPress website easier to use.
If you think there are any other plugins that should be enlisted here, then share them in the comments below.