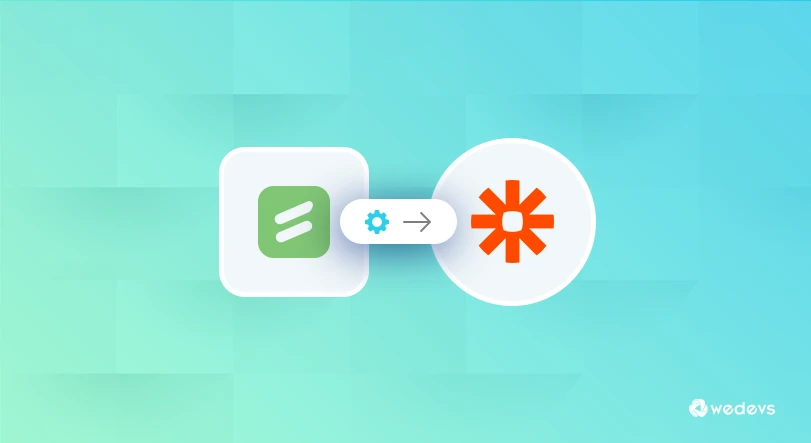 Why We Love weForms Zapier Automation (And You Should, Too!)
Freeing up time to do more productive work is important in today's world. So how do you manage all those mundane and repetitive tasks? How do you get to transfer data more effectively and streamline your communication?
You can do it now with automation!
This sets in motion the rise of popular "Task Automation" type services offered for the busiest of people. Here at weDevs we always try to make our products work for you in the best possible way. Following that value, we integrated the Zapier workflow automation service with our fastest contact form builder weForms.
weForms, our all-in-one form builder is already packed with features adequate for all type of users. But we wanted to provide an experience more than just the most expected functionalities. In that quest, we added Zapier integration.
Trusted by some of the biggest brands in the business, Zapier integrates all your web apps. You can then share data between them and trigger certain tasks for certain conditions. They call it Zaps.
Note: You need weForms Business or Developer version to use Zapier integration.
How to Integrate weForms with Zapier
With weForms plugin and Zapier integration, you will be able to connect weForms with more than 750+ web apps. You will be able to transfer data between popular services like Google Sheets, Google Contacts, Trello, and much more. Create trigger-based tasks without hassle.
Really the possibilities for you are endless given that Zapier adds a new web app every week.
Things You Need
A Zapier Account: They provide a free account with limited features
weForms Business or Developer version
Find more about how to integrate Zapier with weForms step by step from here.
You can also watch the video!
A Simple Google Sheets Zap
One of our favorite Google services is Google Sheets. Not only is it feature-rich but also comes free with a Google account.
Through Zapier integration for weForms, you can easily retrieve the data gathered through a contact form and automatically input them in a Google Sheet.
First, you need to go to the Form that you want to integrate with Zapier. You can use the tutorial above to do so.
Then you have to connect your desired Google sheets to Zapier and create a Zap. You can do that by
Choosing Google Sheets as Zapier Action App
Then select your desired Google Sheets Action. Here we chose to Create Spreadsheet Row. You can choose the way you want your data to add.
After continuing to the next step select your Google Sheets Account that you want to connect.
Then set up your Google Sheets Spreadsheet Row(or what you chose when selecting your Google Sheets action). This option lets you modify your template where your data will get stored.
After setting up your Zap you will see a successful message.
Now you need to enable your built Zap.
You will now be able to export the data from your built form in weForms to your Google Sheets, using Zapier integration.
Front end view of your form
Submitted data on your Google Sheets. All the data will get exported to the Google sheet following their row name.
Possibilities
The possibilities of weForms with Zapier are endless. We have shown only one integration of weForms with Zapier on a very small scale. There are still 750+ more to go. How you use this integration is only left to your imagination.
weForms might just be the only contact form builder you ever need.
Final Thoughts
Time is becoming more valuable for your business even more than money itself. With automated workflow systems, such as Zapier becoming more popular, you cannot even think about not using these tools. They don't just save you time and money, but also make you more efficient in your business in the long run. You can then engage in work that matters more for your productivity.