You may have heard and know what Google Forms is if you ever tried to make an online survey or take any event booking. Google Forms is the most popular free online tools to create and analyse surveys or event booking form.
What can Google Forms serve for you?
You can create a customer feedback campaign of your business, taking applications for the reservation of your next event, creating pools for online voting, creating quizzes and taking their answers and so on.
The features of Google Forms are:
Creating custom survey forms.
Getting instant results.
Scheduling form publication.
Custom survey/form page header for users.
Embedding images & videos in forms.
Moreover, google forms is useful enough but it would be a very wise idea from google if they add logical fields and few integrations like: MailChimp- One of the most popular email marketing solution in the market.
Just say, after every successful submission of a form, you want to take your visitors in a certain category subscription list to your email newsletter. How to do it in Google Forms? No way at all!
However, if you have a website built with WordPress you can create those things easily through your website too. In that case, you don't have to give your customers an external link to fill out the form. You can create any custom form fields as you need and there have a huge number of form builder available to create any custom form.
How Can You Make Custom Forms in Your own Website?
As we said, there are plenty of free WordPress plugins out there for creating custom forms. weForms is one of them. Its attributes like- easy implementation, drag & drop form building facility, advanced custom field, customisable notifications & integration facilities made it one of the most feature rich plugin in the WordPress plugin industry.
weForms features-
Extremely fast

Drag & Drop form builder with live preview

Advanced custom form fields

Shortcode based forms to publish in the frontend

User & admin notification for form submission

Customizable email templates with shortcodes

Single click forms export/import

Responsive form

Slack integration (completely FREE)

Tons of available modules to integrate with
We'll discuss how you can create a custom form using the above features of weForms for any kind of survey, pools or taking applications to book your event.
Creating Custom Forms using weForms
Creating custom forms is easier in weForms as it has drag & drop feature. All you need to do is just- drag a form field and drop it to the form builder.
First of all, you need to create a page. Here we're creating an event registration form as an example.
Please navigate to wp-admin→ weForms→ Add Form.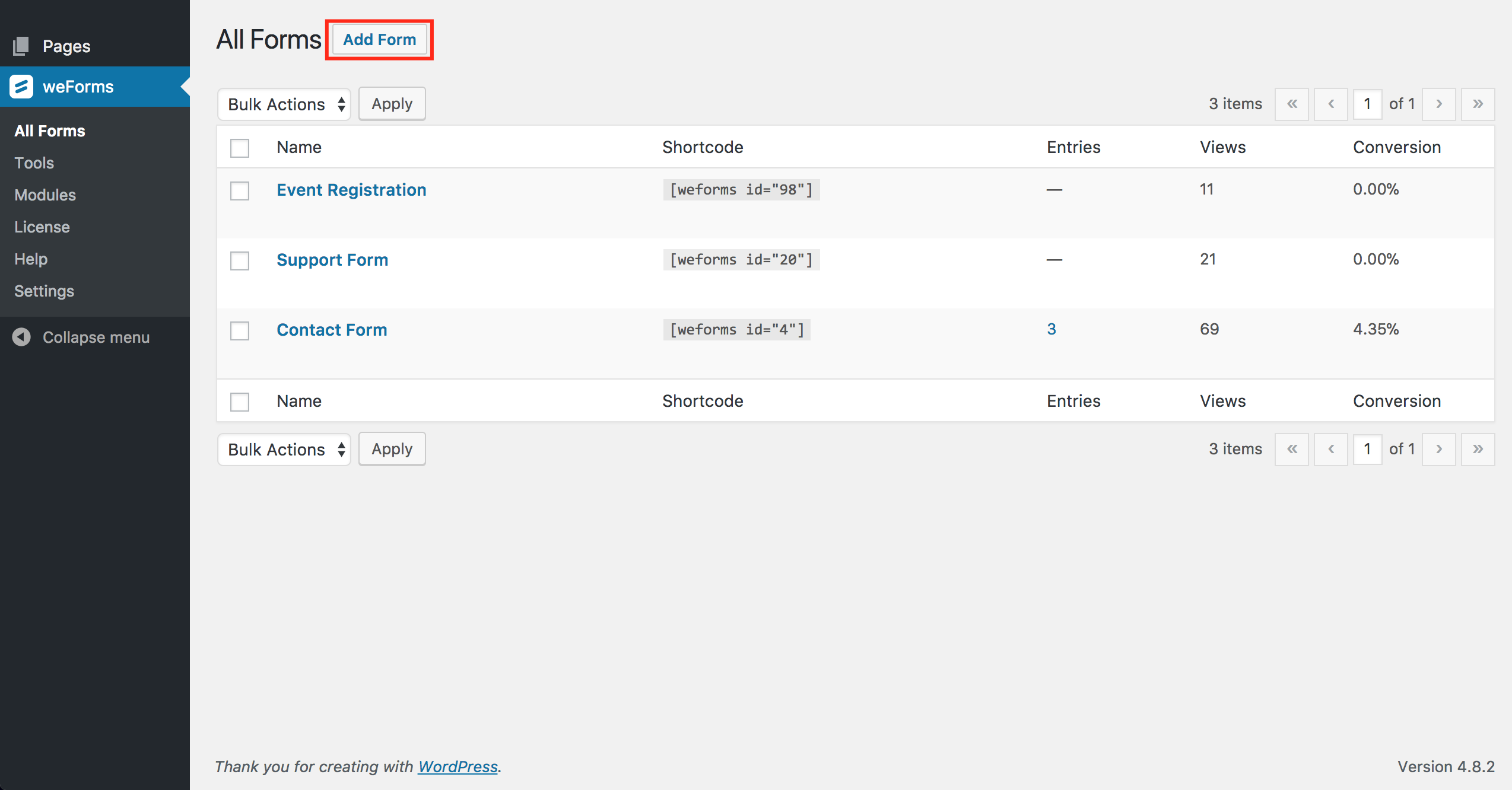 Then, click on the (+) Blank Form to create a new form.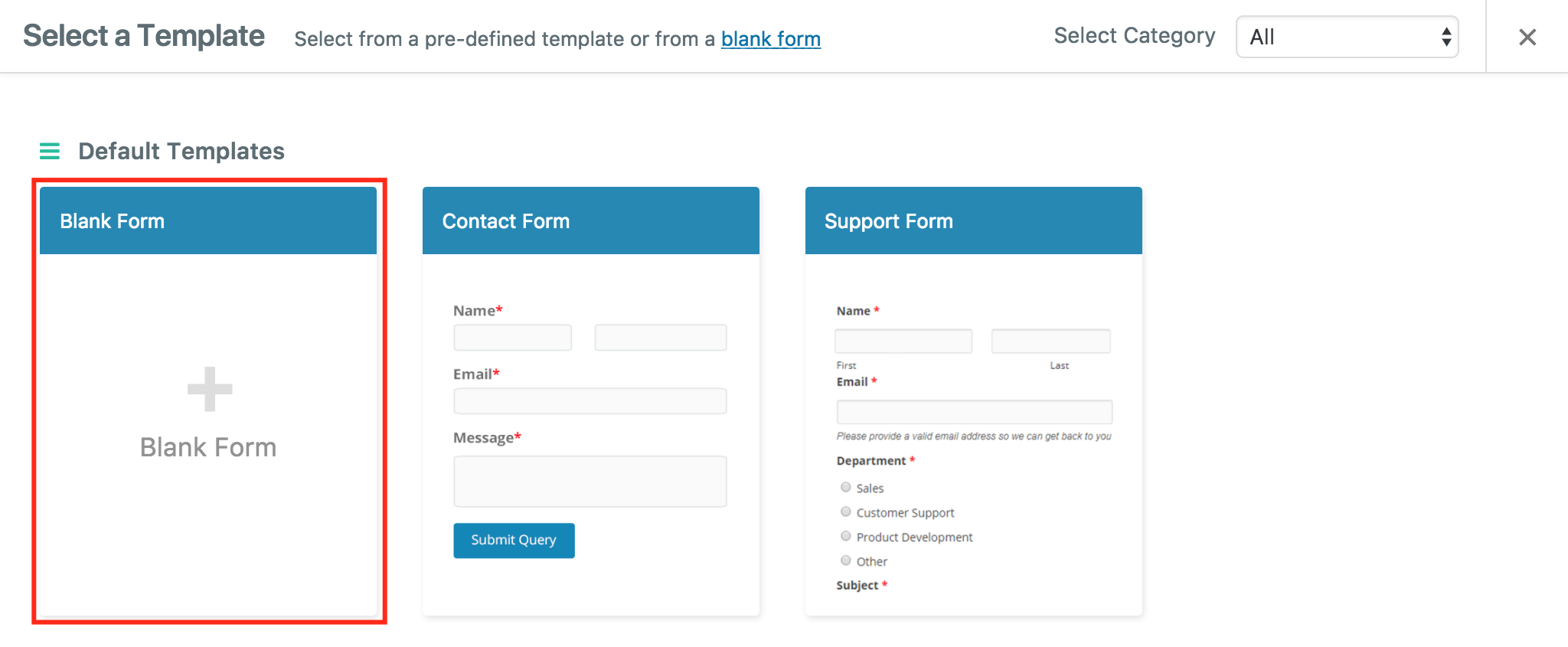 It's better to give an appropriate name of your form!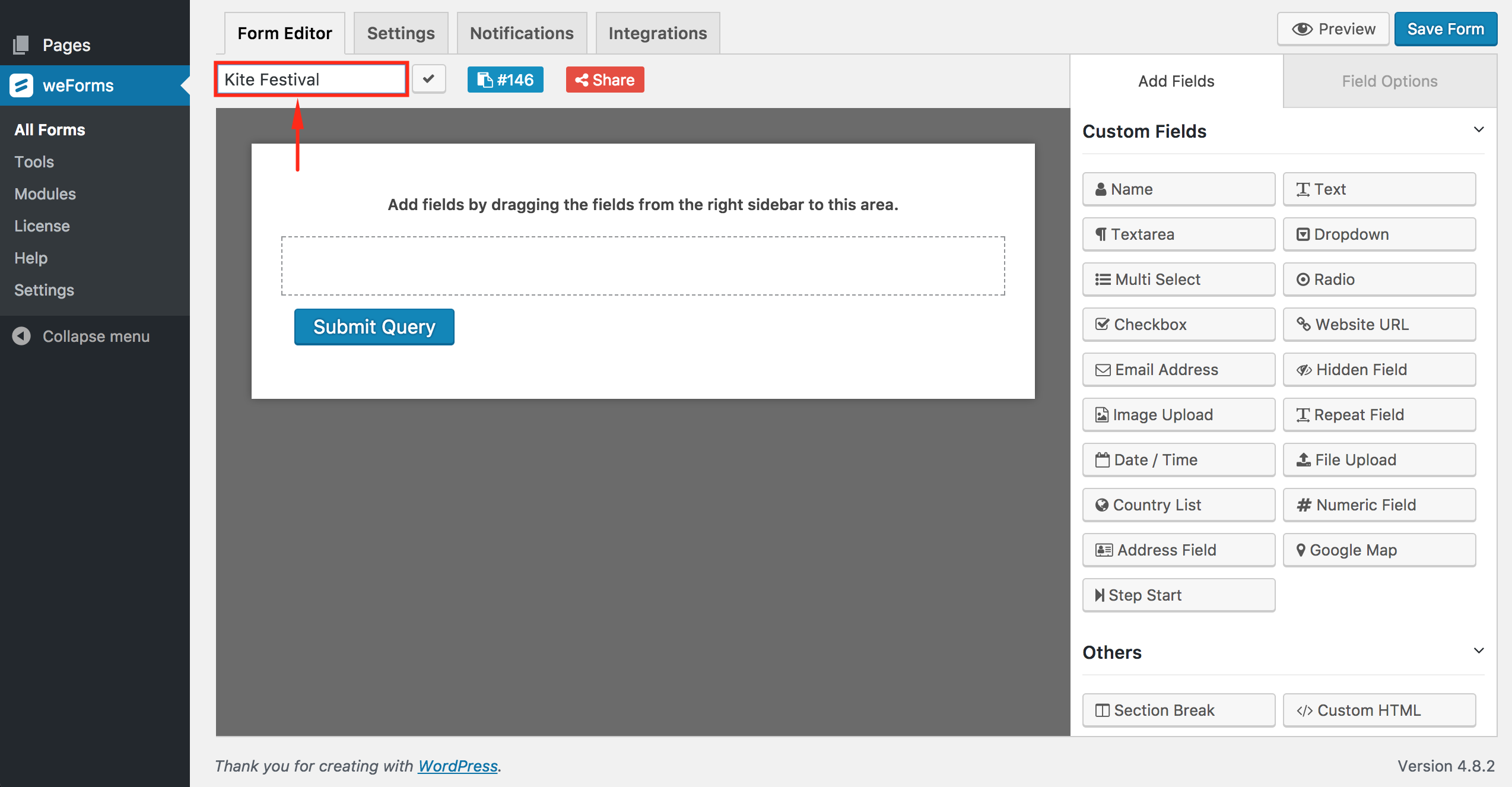 Drag & Drop a form field on form builder that you need.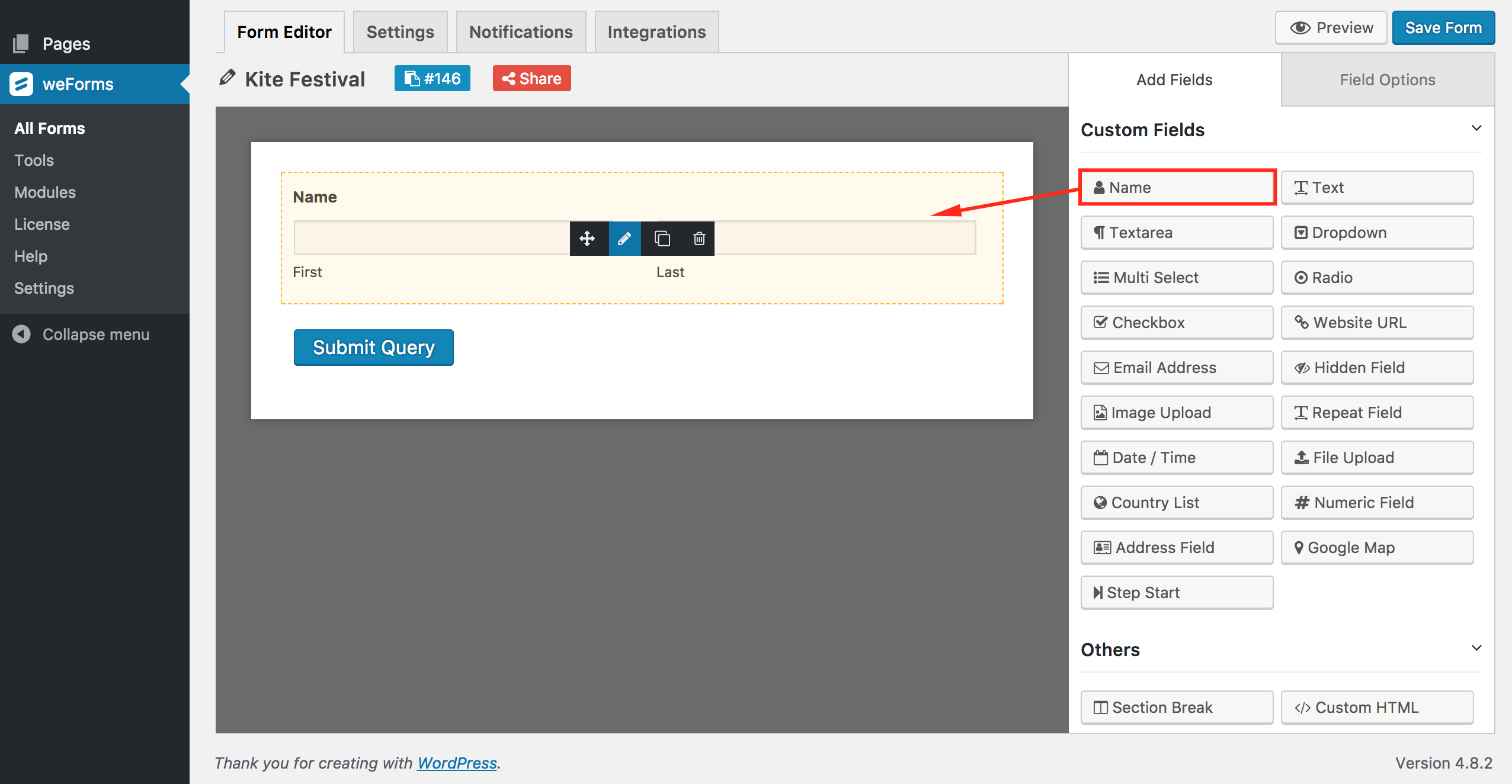 Click on the indicated icon to edit the field options. Enter the filed levels as your requirements but most importantly, don't miss the 'Required' section as marked in the screenshot below. Select Yes if you want to keep the form must be required to full from the user, otherwise select No.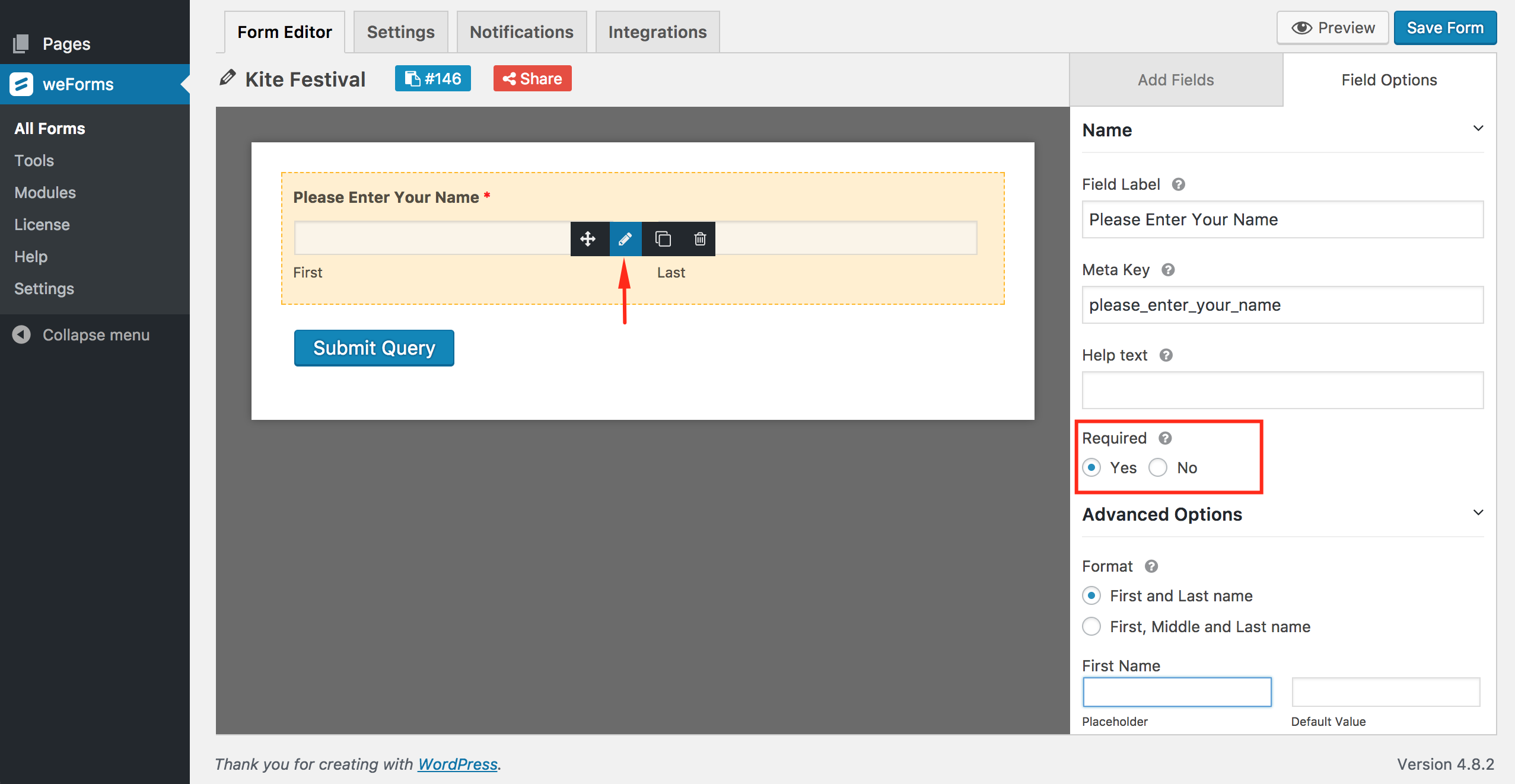 Now, you can add as many fields as you need. Just add them using drag & drop and add your own fields label, if required.
Here you can see the form preview we just created. Yes, building custom forms is such easy with weForms.
Speciality of weForms
Though weForms is a newly launched custom form builder plugin, which can create survey forms as well. Some of its attributes like- easy implementation, drag & drop form building facility, advanced custom field, customisable notifications & integration facilities made it one of the feature rich plugin in the WordPress plugin industry.
weFroms is also being said as a survey form plugin for WordPress. It lets you to know the public opinion of your business easily, which can be a BIG fact of your business movement.
Additionally, weForms gives the opportunity to integrate the plugin with some useful available modules. At this moment, weForms have 14 available module to integrate with but a huge number of modules will be added to this list soon.
Related: See how modules work and how to configure them
As we said, MailChimp can be a big fact sometimes. You can miss a chance to make all of your visitor to your subscriber unless your forms are integrated with MailChimp!
But the good news is, weForms has MailChimp integration feature. You can easily integrate any form created with weForms and pass the users to MailChimp subscriber list. Here how it works.
Not only MailChimp, other modules like Payment, Google Analytics, Zapier, Trello, HubSpot and all others available modules made weForms a simple yet better form builder plugin than others.