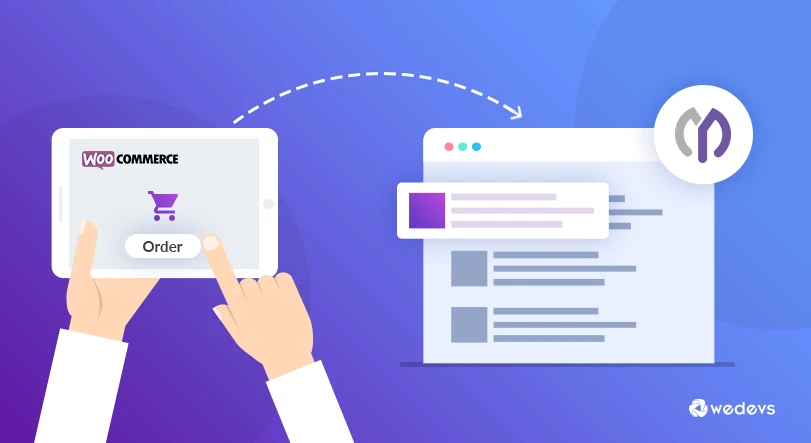 Create Project Automatically for Your WooCommerce Order & Save Time
If you are a virtual service provider and take bookings for Hotel/Resort or Events online then it's time to save your time by creating projects automatically and empower your service/business with the "WooCommerce" plugin,  "WP Project Manager Pro" plugin and the "WooCommerce Order" add-on.
Managing a Store or Business is just like managing a big sized project! If you are a store owner who provides services or takes bookings/ reservations online, then each of your orders is a separate project. When a customer submits an order for your product or service, your team need to work fast to deliver the product on time. So, how can you do that properly?
Suppose, you are using your WordPress site with WooCommerce plugin to deliver your products/services. You have a separate team for managing your orders. It is natural that you won't want to give access to your WooCommerce plugin's backend access to your team. Thus, you might require a project management solution. WP Project Manager Pro is the best project management solution for WordPress.
Now, your team has access to your projects but not your WooCommerce dashboard. So, you have to manually check your orders and create projects for it. It would turn out to be a great pain for a busy business owner like yourself. In this scenario, you can easily automate the whole process using WooCommerce Order add-on for WP Project Manager Pro.
When a customer submits their order, the add-on will automatically create a project for that. Your team will be instantly notified and you will be able to deliver the product on time!
In today's article, we will show you how you can automate this process and save your time. Let's find out how.
Prerequisites
As the name of the add-on includes "Woo" that means you must have the WooCommerce plugin installed. We can assume that you have already installed WooCommerce and set up your shop and services.
If not, then navigate to your WordPress Admin Dashboard and click on the plugins menu. Now, go to the Add New Plugin page and search for WooCommerce. Click on the install button and activate. 
You will also need WP Project Manager Pro plugin and WooCommerce Order add-on installed. If you didn't install Project Manager Plugin previously, you need to install it before going any further.
So, the whole thing is you need to make sure the following:
Installed and configured WooCommerce.

Created a store and some products.

Installed and configured WP Project Manager PRO.

Created minimum 2 projects with or without todos.

Have WP Project Manager Pro – WooCommerce Order.
That's all you need right now.
How it Works Altogether?
The "WooCommerce" plugin, "WP Project Manager Pro" plugin and the new add-on "WooCommerce Order" duplicates a pre-defined template upon a product purchased in WooCommerce and gives you the power to create projects automatically while an order is created or processed.
Admin Settings
After installing/activating the plugin/add-ons you have to set the following settings.
At first, you have to specify when to create a project. Navigate to – wp-admin → Project Manager → Settings → Integration.
You will find an option – project duplicate criteria. From the drop-down menu, select either after the order is created or after the order is complete. Select the one that suits your requirements.

Now just navigate to wp-admin → Project Manager → Woo Project
Click on the + Add new button to create a new order project. You can select the Actions for your products.  Choose your action and the product for which you want that action to be triggered.
You can also choose team members from Co-workers field. Set the manager, co-worker, and client for the project.
After setting up, hit the Save Change button.

That's all! You've successfully completed all the steps for installing and configuring WP Project Manager Pro – WooCommerce Order. Now each time the assigned product is ordered, a project will be created automatically according to your previous instructions. You can create separate actions for each of your products and automate the process easily.
Customers or Clients View
Just like any other WooCommerce store, the customer will buy a product and proceed to checkout. After submitting a successful order, the system will automatically create a project for that particular product.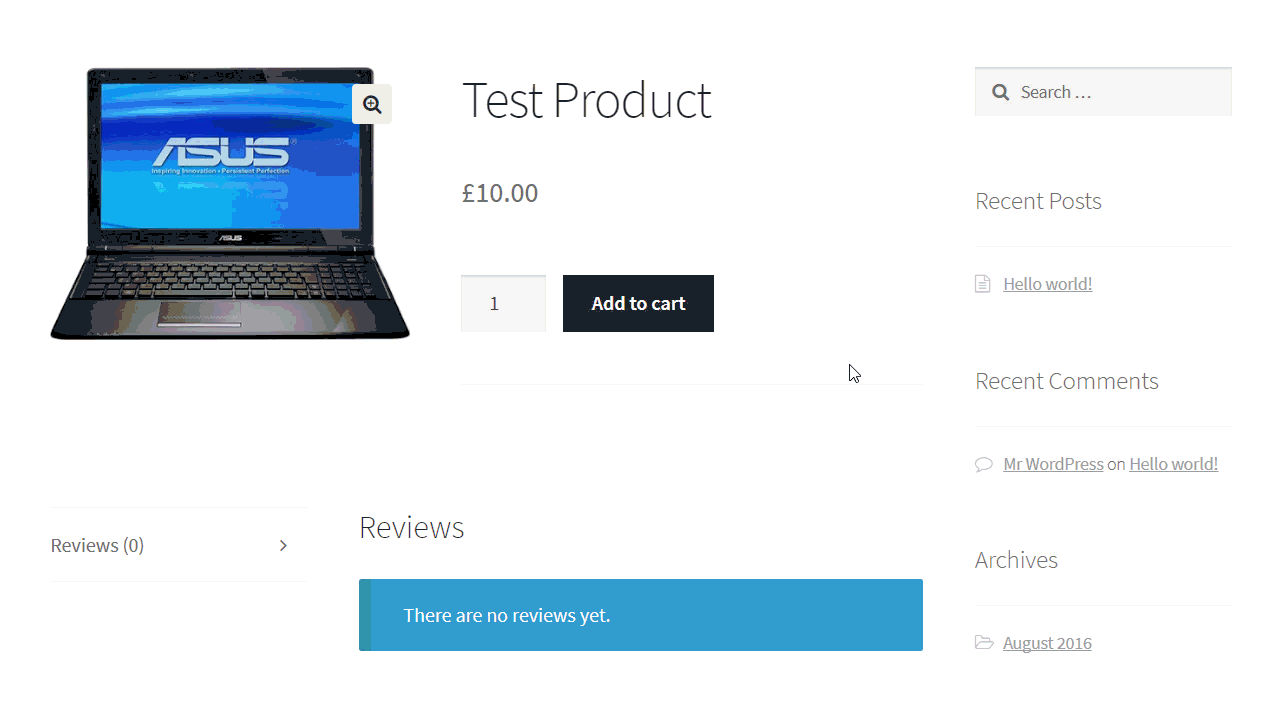 This is how the project looks like after it has been created.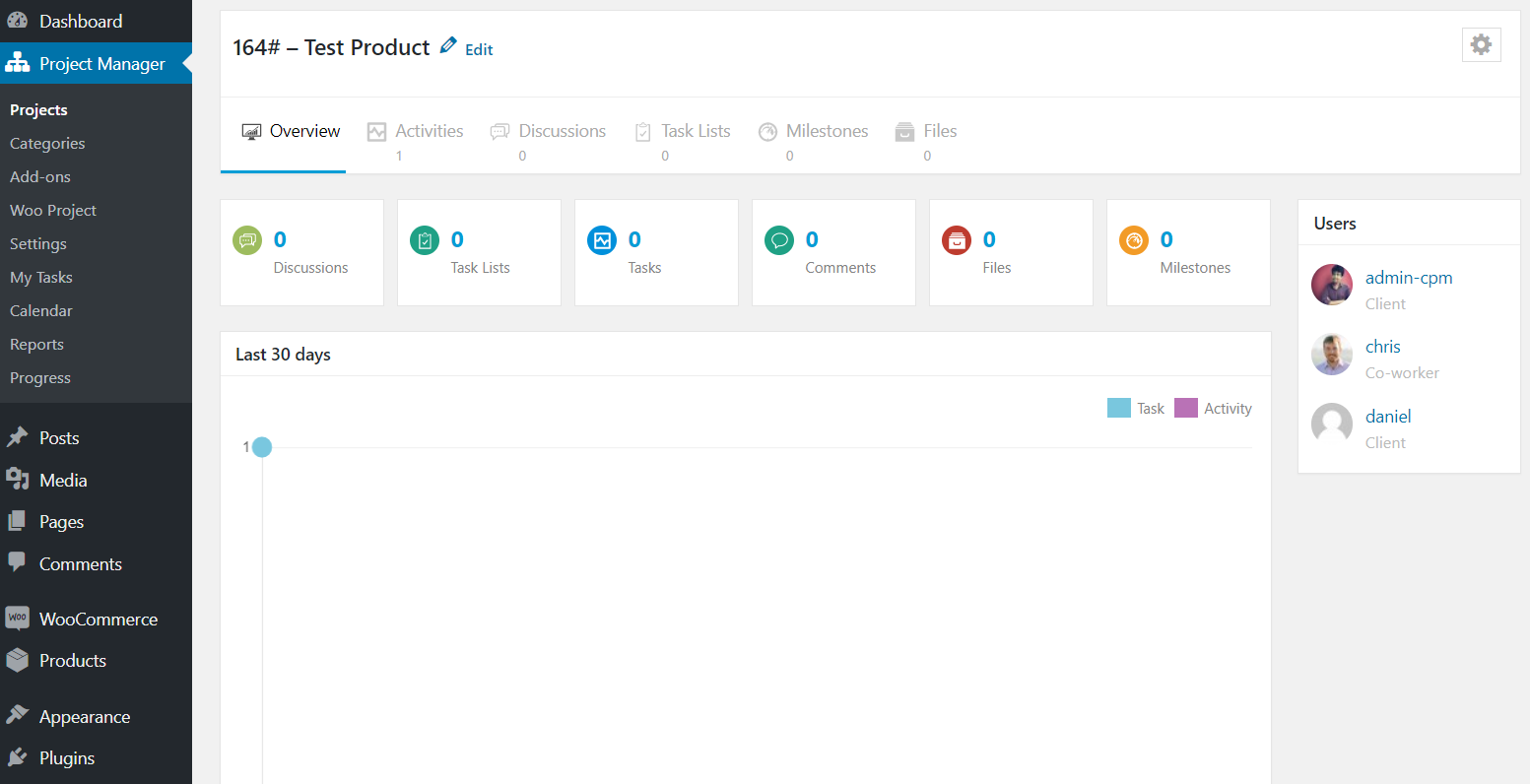 Wrapping Up
It is true that the more streamlined your work process is the more you will achieve. This means when you have everything set up properly, you can easily pay attention to other important tasks. Being a store owner, you have many other productive tasks so you can automate your ordering system and let your team members take care of things for you. For this, WP Project Manager with its WooCommerce Order add-on can help you big time! To test the effectiveness of the system, you can always give the demo a try.