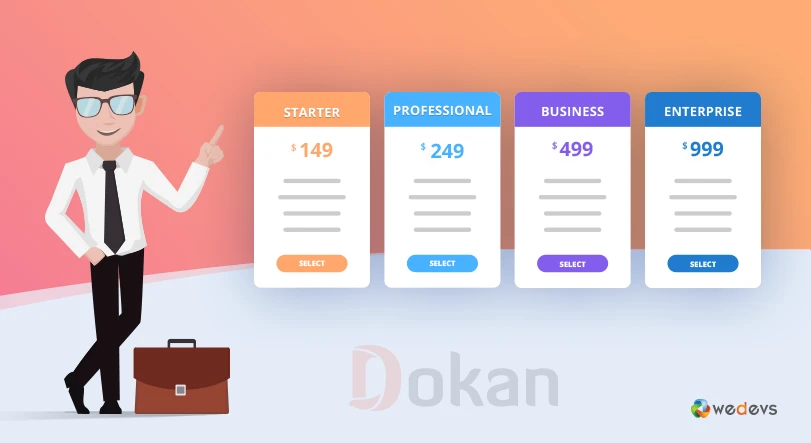 Dokan is Getting More Affordable: Price Reduction & Changes in Packages
Back in the days when we released the first version of Dokan, it was actually a Premium Theme. If you know Dokan only for a year or two, I know how ridiculous it sounds. But, that's how it all got started. Soon we realized Dokan could do more, and to be able to grow we need to change dramatically, we evolved to a fully functional Plugin. Later we created many addons that adds even more functionality. Currently, there are over 18 official and 3rd-party addons. But the current process is – you have to buy a Dokan Pro license and buy Addons separately. We are changing this to help you, the Dokan user (the most important segment) grow, at the same time, we (weDevs) could push Dokan to new heights.
Dokan Pricing Before? 
Currently, there is a free core version of Dokan available at WordPress.org, that will remain the same. You get all the awesome feature, which is even comparable with other premium solution (you could look at this comparison if you have not yet). If you want to upgrade now you have this packages for you to upgrade –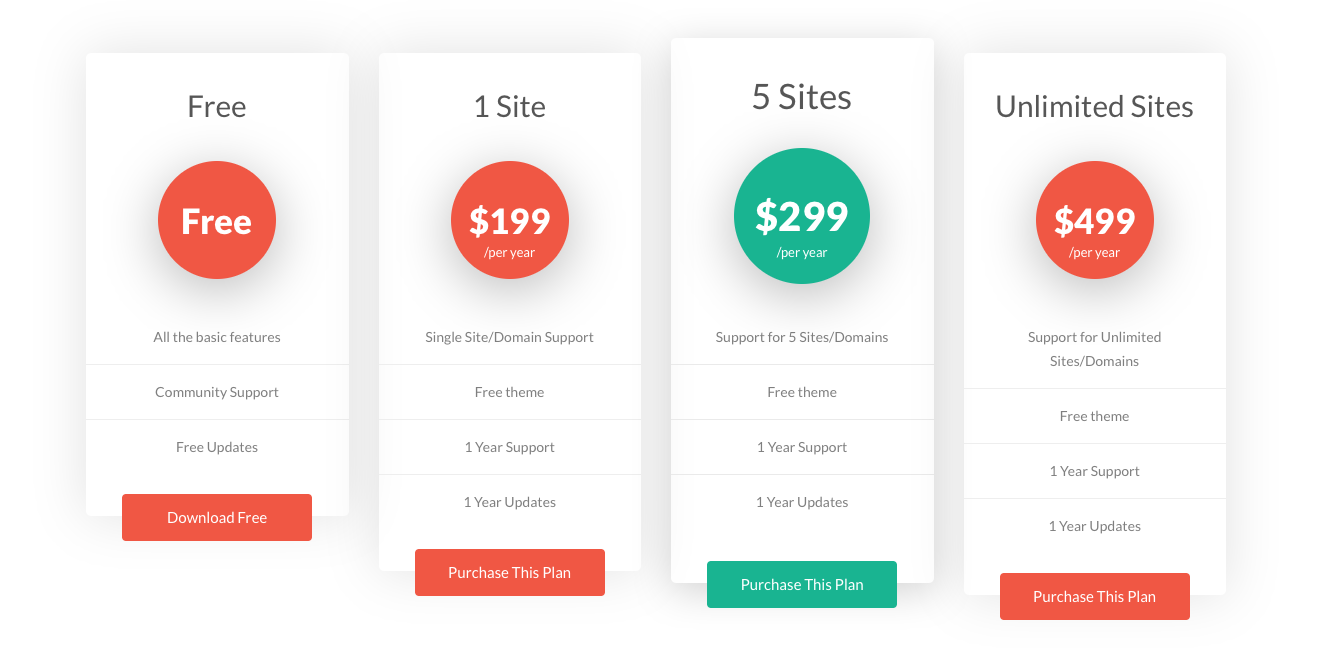 And after that, if you want to have more feature you could have purchased any or all of the addons below –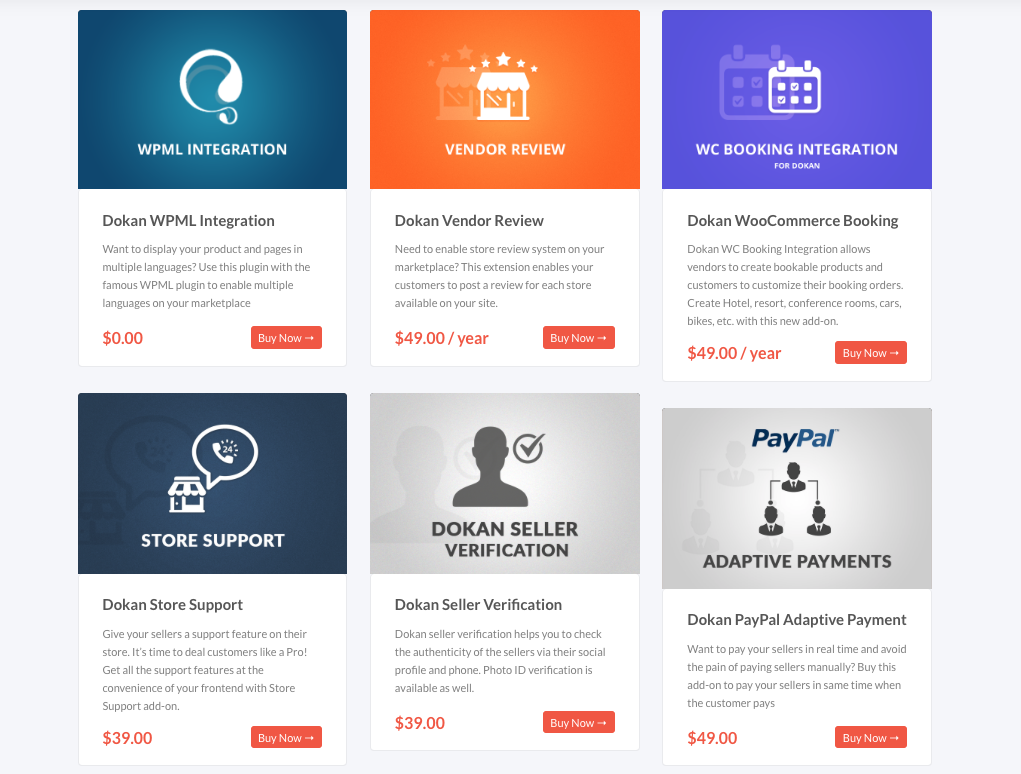 What Is Changing?
In short, we are combining Dokan Pro and our addons. So, now you don't have to buy Dokan Pro & Addons separately, we are packaging it together. And our pricing is getting simpler as well. And the entry package in Dokan Pro is now cheaper, and we are announcing Live Chat support for the Enterprise Package.
Dokan is Now More Affordable Than Ever Before!
It's like a present from Santa before the Christmas even started!
Yeah, now Dokan is available at a reduced price. It's not an offer! From now on, you can buy Dokan Multivendor Marketplace Plugin for only $149. This means we have reduced the price by $50! Here are the new Pricing and Packages at a glimpse –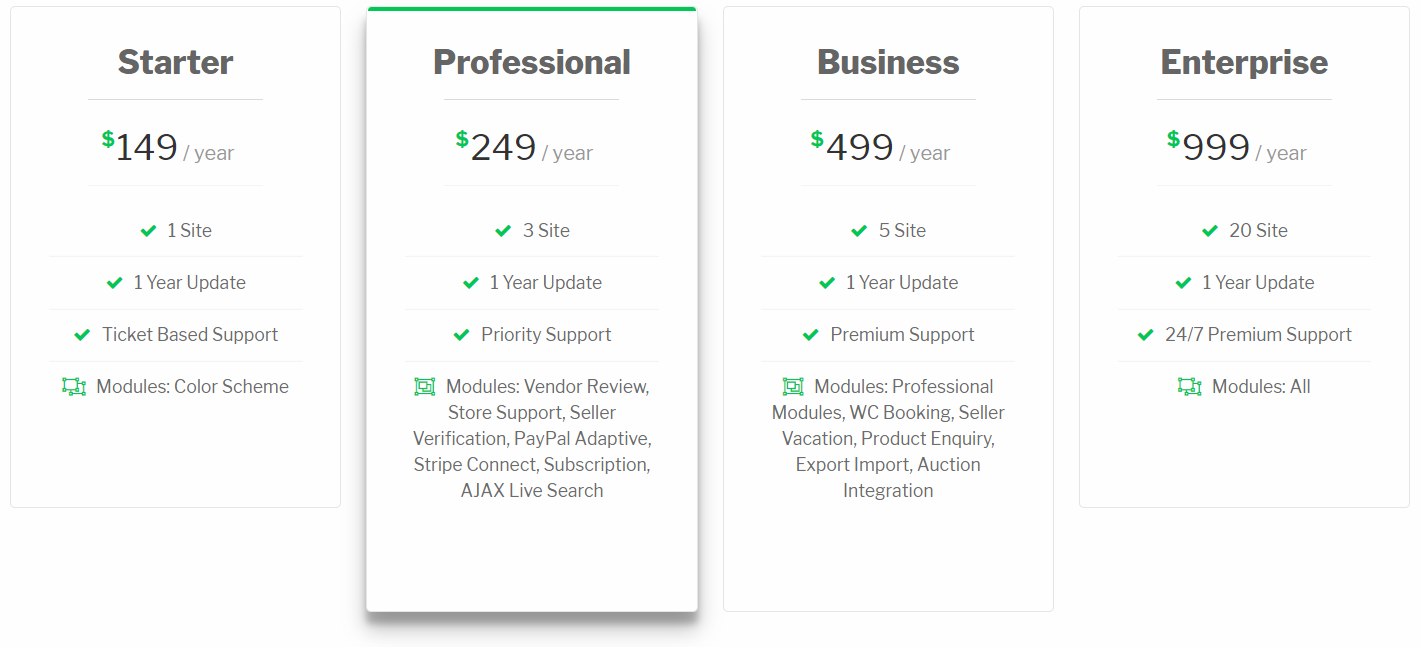 Not only that, we have also added all our existing add-ons as modules in premium packs so that you get what you need at a reasonable price. We are making things easier for you and helping you to decide what you really need.
You don't have to worry about premium add-ons and calculate how much it will cost after you have bought the Pro plugin for $199.
Starter & Professional Package
The Starter package is now only $149 and it provides you all the features that were available on the previous Dokan 1 site license. If you spend $100 more, you get amazing useful modules with the Professional package –
Professional package gives you handy modules to –
Vendor Review worth $49: Manage the way your vendors interact with the customers
Store Support worth $39: Provide support to each user
Seller Verification worth $39: Verify real vendors
PayPal Adaptive worth $49: Most popular payment gateway
Stripe Connect worth $49: Stripe integration for your marketplace
Subscriptions worth $39: Create subscription system for your vendors
AJAX Live Search worth $19: Advanced search features
As you can see, all these awesome modules are worth $283 and it saves you $183!
Business & Enterprise Package
Here at weDevs, we want our users to get all the important features at a reasonable price. Thus, we have decided to give whats best for you.
So, we have curated the whole pricing and package to provide different types of solutions to different types of users. Our Free plugins provide you all the basic features that you need to run a multivendor marketplace.
The Starter & Professional package gives you advanced features that make your multivendor marketplace whole. You get amazing features to grow your business and earn the way you want.
With the Business package, you get even more powerful modules like WooCommerce Booking Integration, Seller Vacation, Product Enquiry, Export-Import, Auction Support. Most importantly, you get –
1-hour basic installation of Dokan to your website
1-hour theme compatibility support
Premium support from our excellent support team
Live Chat etc.
So, no more Addons?
No, we won't sale addons separately, now we call those modules, depending on the package you purchase, you will get those modules pre-activated, in the new Module menu. You could activate and deactivate depending on your use.
What Happens to the Existing Add-on Users?
It will keep working as it should, but you will have the choice to upgrade to Higher Pro package with 50% discount if you have an active license for Dokan Pro.
Why are We Doing this?
As I explained at the beginning Dokan is growing, so as the Marketplace ecosystem. We did not create all of our addons in one day, it was created over the year, and the way we see it extends Dokan functionality to a height that we are very proud of. But as you have to buy each and every addons separately, and it's very much possible that you don't even know that Dokan offers a function, which costs maybe just $19 bucks. We feel here pricing should not be a burden, the function discovery process should have been more straightforward. If Dokan has a certain feature, we want our user to use that, we know from our user that those features are helpful, the extra addon should not bother now, now you have very easier choice, you buy once, pay once and you have access to all the functionalities that are useful to you for a whole year.
What's New in Dokan Multivendor  V 2.7.0
Introducing All New Modules for Dokan
Say bye bye to previous add-ons, which were very difficult to manage. From our new update, we are going to transform all our add-ons into modules. Guess what, you will be able to manage all of them from a single place. So, we have added a new menu called 'Modules' and removed the old 'Add-ons' menu. This is how the new page looks like.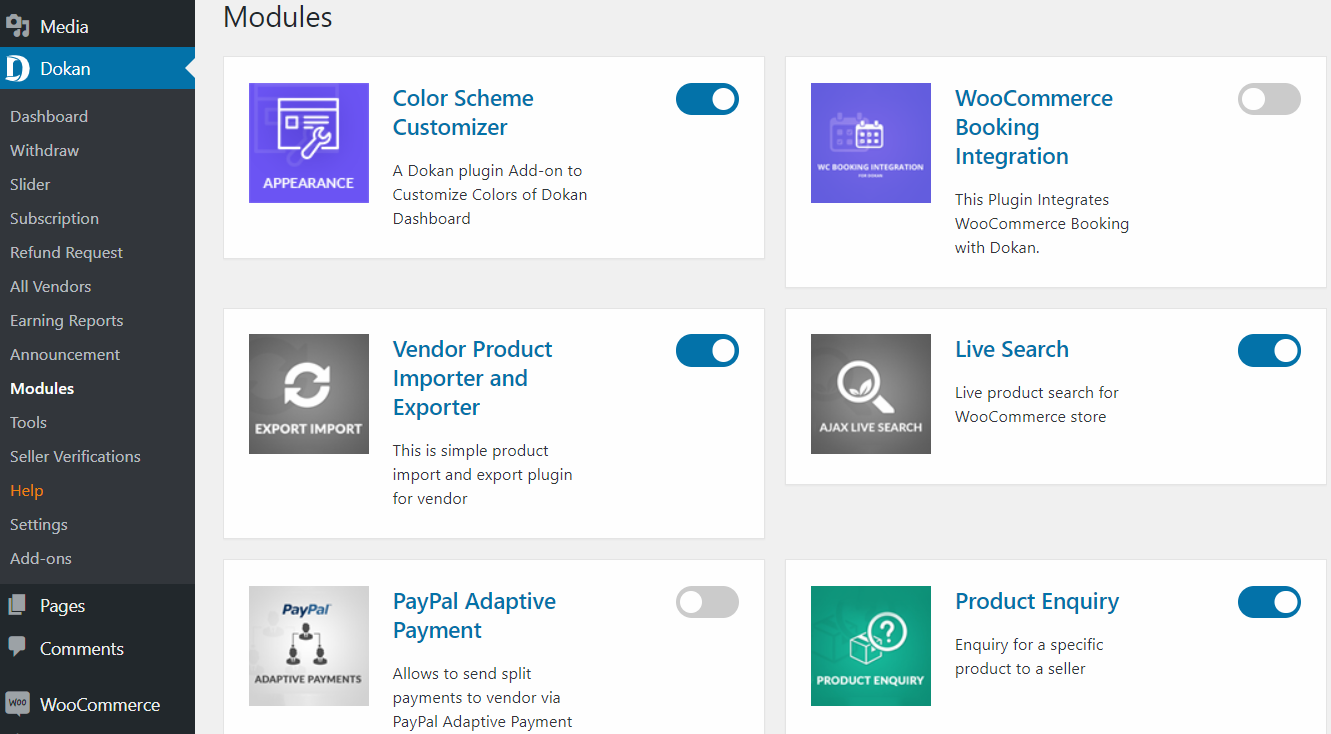 You get all the previous add-ons as modules. They will be available on a single page so its easier for you to manage. This means you don't have to install separate plugins to use the features. Now, you can simply click on a toggle button and activate or deactivate any module you want! Neat, right? 😀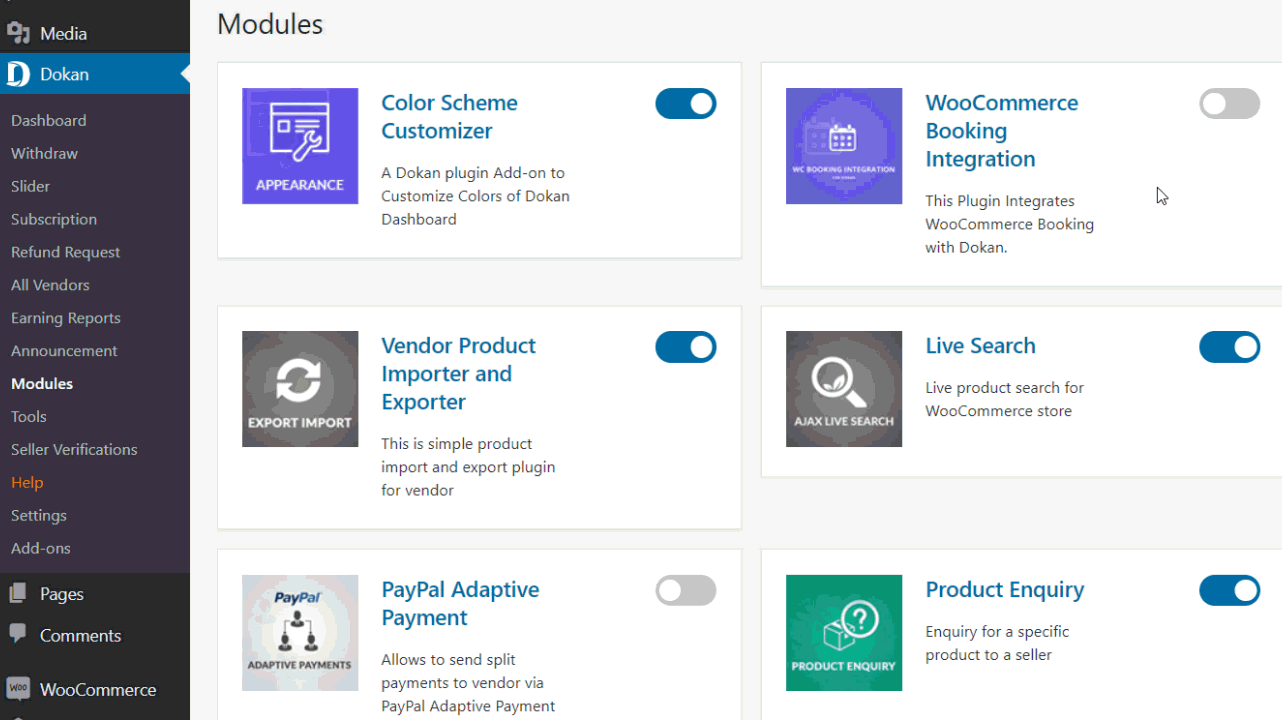 Automatic Updates for Modules
Previously, you didn't get a live update for any of the Dokan add-ons. Now, you can manage them from a single place as well as get live updates directly with Dokan plugin. So, no more manual updates! You don't have to download each add-ons and install them separately every time you get an update.
Interactive Settings Page to Manage it All
Dokan now has better and improved settings page where you can easily configure everything for your Dokan Multivendor.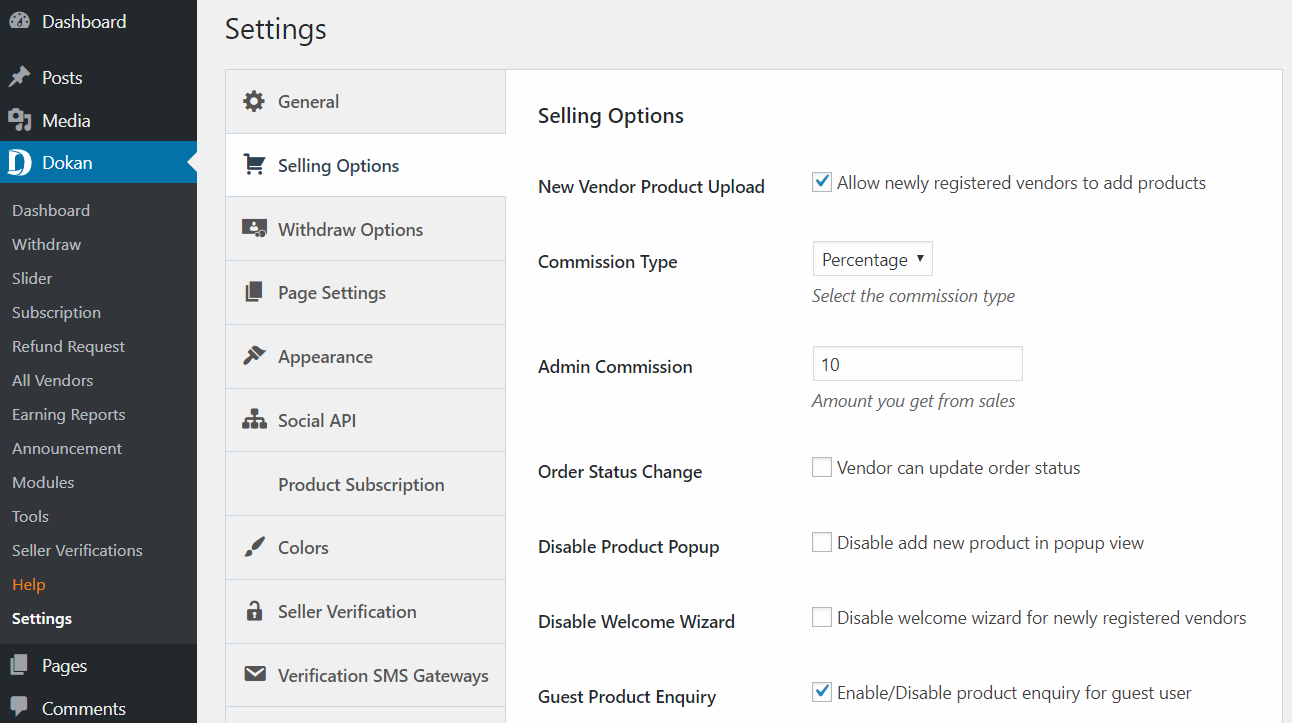 Our Advise to You
Keeping your WordPress site updated is very important. The latest version of WordPress 4.9 brings so many useful features, you could check the all amazing feature in this article. And if you want to know in details why you should always keep your Dokan Store updated and use the latest version of WooCommerce, you should check this article.
If you are currently using Dokan Pro $199 package with 2 paid addons and wondering what will happen to you, we will update you to Professional Package for free, just contact our support. In the same way, if you are an existing paid user with an active license and using any paid addons, please also contact our support.
If you are were using Dokan Lite Free version with any addon it will continue to work, all free addons will keep working. The only thing you won't be able to do is buy just one addon anymore. If you are already using any Premium Addon with our Lite version, you won't get any update, but our addon update process was manual before anyway. And we will offer 50% discount to any free version user with any paid extension or expired license user to upgrade to desired Pro package.
Again we want to express our gratitude to all existing Dokan user, and we promise Dokan will grow even faster from now on, we are very excited about many new features we are currently working on, and this new structure will help us grow faster.