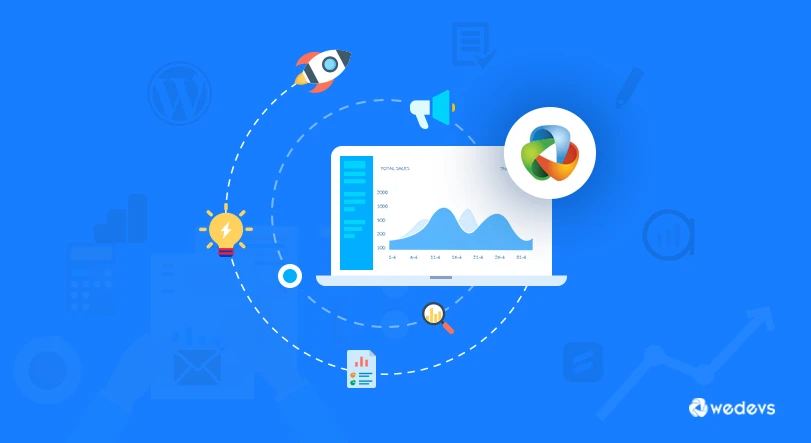 How weDevs is Doing Content Marketing and Reshaping Strategy
Here at weDevs, we work with WordPress plugins. Simply stated digital products. So, we prefer online marketing instead of traditional ones. To be precise, we follow growth hacking/ growth marketing and inbound strategies. Thus, content marketing is one of our core assets in the competitive WordPress industry.
Evolution of weDevs Since 2017
You may already know, weDevs initially started as a web blog where we published PHP tutorials, WordPress basics and how to develop plugins.
After launching our famous products (Dokan, WP User Frontend Pro, and Project Manager), we only published product related tutorials, new release, and updates as blog posts. This indicated that we were not pushing enough.
However, here are the results of our hard work –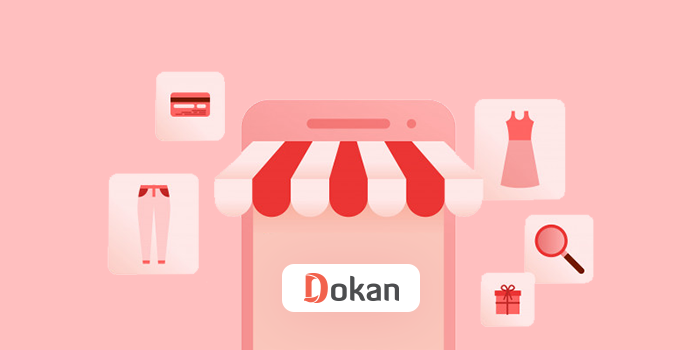 Dokan Multivendor is a robust solution to make an online multi-seller marketplace with ease. 10,000+ high performing marketplaces worldwide are successfully using it with 99% user satisfaction rate.
All-in-one frontend solution for WordPress that lets you create registration forms, membership sites with subscription feature, accept guest posting and much more. You can restrict particular access from users, allow users to edit their profiles, or publish their posts from the frontend. 20,000+ active installations show it's popularity among the users.
Being the first and complete enterprise resource planning solution in WordPress, WP ERP is trusted by 9000+ small and medium businesses. It comes as a modular solution with HR, CRM, and Accounting.

Project management right inside your WordPress site. This plugin will make sure you won't need any other tool to reach the milestones for your projects. Currently, 4,000+ teams are actively using this robust solution.
There are also more than eight modules that will help you better improve your project management efforts.
The easiest and fastest contact form builder with drag and drop feature for WordPress that lets you unleash your creativity and create amazing looking forms with minimum efforts. The numbers will amaze you with a 10,000+ active users and a 100% satisfaction rate.
A WordPress solution to make retargeting easier than ever. It tracks conversions happening around your WooCommerce store and send those data to ad platforms like Google Ads, Facebook, Twitter, Perfect Audience etc. to
How We Changed Things Up
In 2017, M Asif Rahman became the CEO of weDevs and reshaped the whole company till 2018 including content marketing since.
We initially started content marketing as a priority task. With the help of our new marketing team, we worked together to bring results.
After a few months, we noticed a significant change in our web traffic and sales. The number of monthly visitors was increasing. So, we decided to prepare a monthly content calendar to make the whole process easier. We also started using some tools to help us analyze and strategize our game.
weDevs is mainly a data-centric company. That is why it's very important for us to compile and utilize data as much as possible. All of this has brought growth to us.
From then we started blogging to the fullest. Now, we publish regularly and if you are a regular reader, you already know that very well. All because we love content and also data.
Content Marketing of weDevs – Making A Difference
We have shaped our content marketing strategy using various types of content and guess what, they do add value and grab the attention of our audience. However, content marketing requires strong planning and strategies to stand out in the crowd.
Every single WordPress company we know about has their very own version of content marketing.
So, how does weDevs differ?
We don't create content for sale.
Instead, we try to educate our readers, try to raise awareness and create values. Not only that, we even develop engagements with our readers. Thus, we become successful converting our audience to subscribers. This is how we market with intent.
Content Marketing is not about blog posts only. Every piece of gist and message that is prepared for the readers by the company is considered as content.
Generally, our content developers, marketing executives, and writers prepare different types of content. We do brainstorming sessions and discuss with each other regarding every single content we intend to publish.
Being a successful WordPress Product company, we draw a significant amount of traffic from content marketing. According to our data, we gained 3 times more traffic than last year!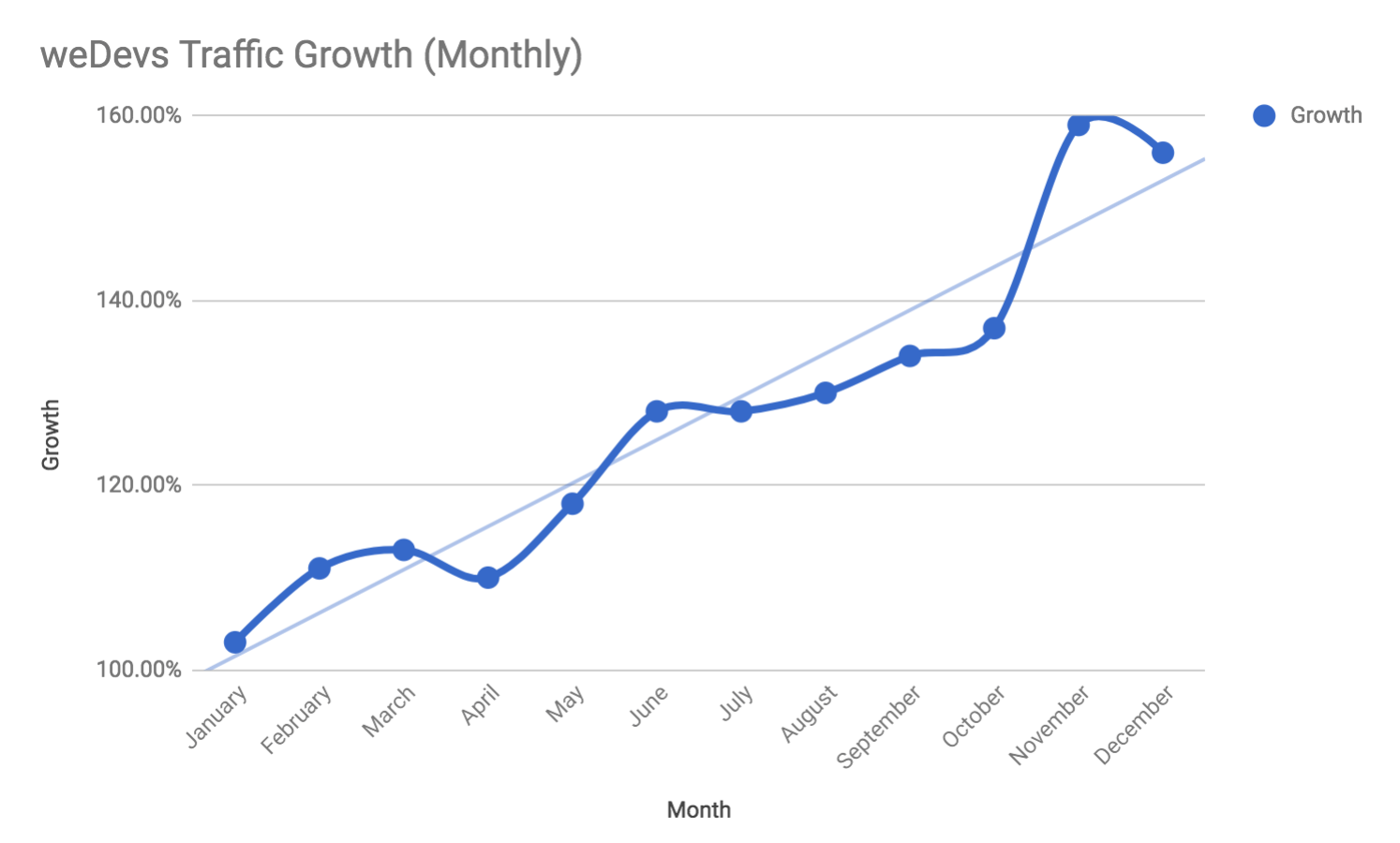 Also, the growth of our monthly unique visitor count increased 4 times. Moreover, our overall traffic is increasing every month on an average of 118%.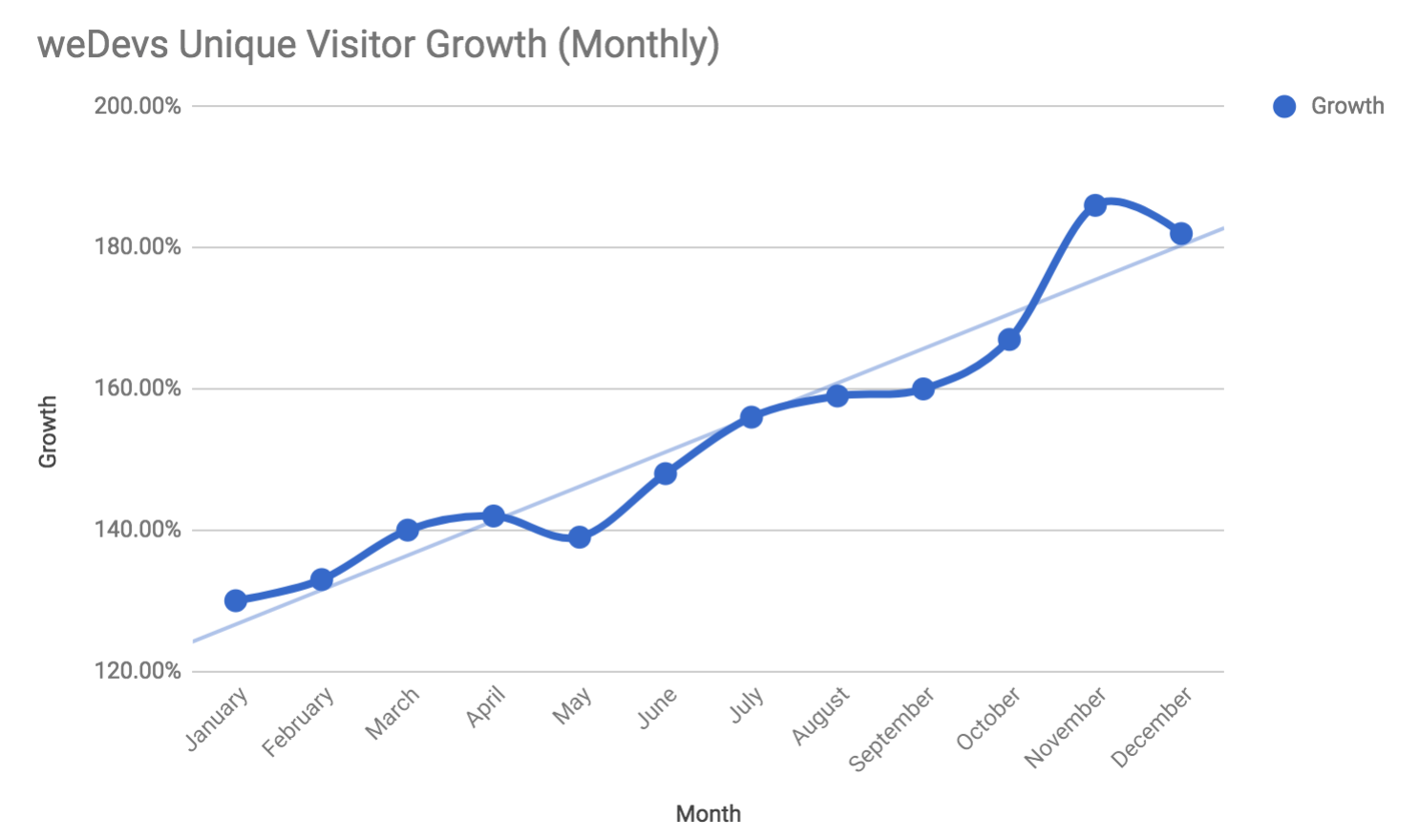 This growth was possible thanks to the overall changes in weDevs and content marketing was also a part of it.
So, it's very crucial for us to optimize our internal content every week so that we can draw as much traffic as possible and keep the growth rate intact.
Tracking & Strategizing Content with Awesome Tools
In this world of modern technology, automation tools and advanced analytics are a must to keep up with the trends. Thus, we need to use several powerful tools for our content creation, management, and distribution. Besides that, content distribution is an important factor. This helps a lot to make sure, the content you are curating, reaching out to the world of readers.
WordPress
WordPress is the ultimate blogging platform and we use it to the fullest. We consider it as our building block and get benefitted with its awesome features and plugins for content curation. We also use simple SEO tools to shape our search presence.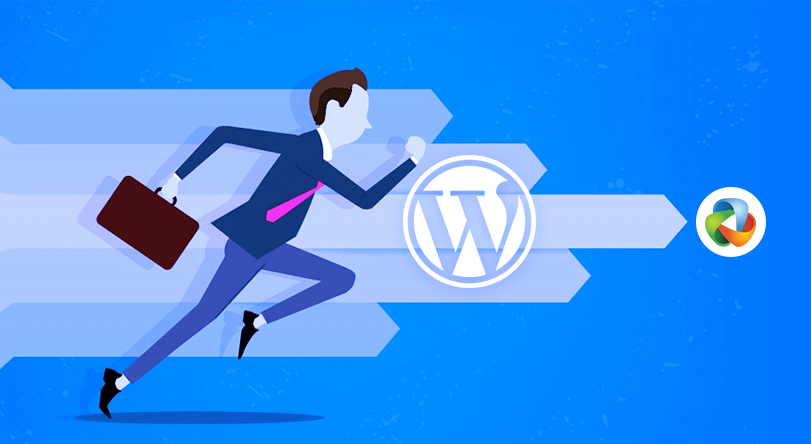 Our team feels very comfortable with WordPress because of it's easy to use interface and enriched text editor. That's why we are serious when Gutenberg will be replacing the default editor in WordPress 5.0.
Documentation – The Ultimate User Guides
Without proper instructions and guides, it would be really difficult for anyone who wishes to use any system. Thus, documentation is very important for any product company. We consider documentation as a knowledge platform from where our users get to know more about our products.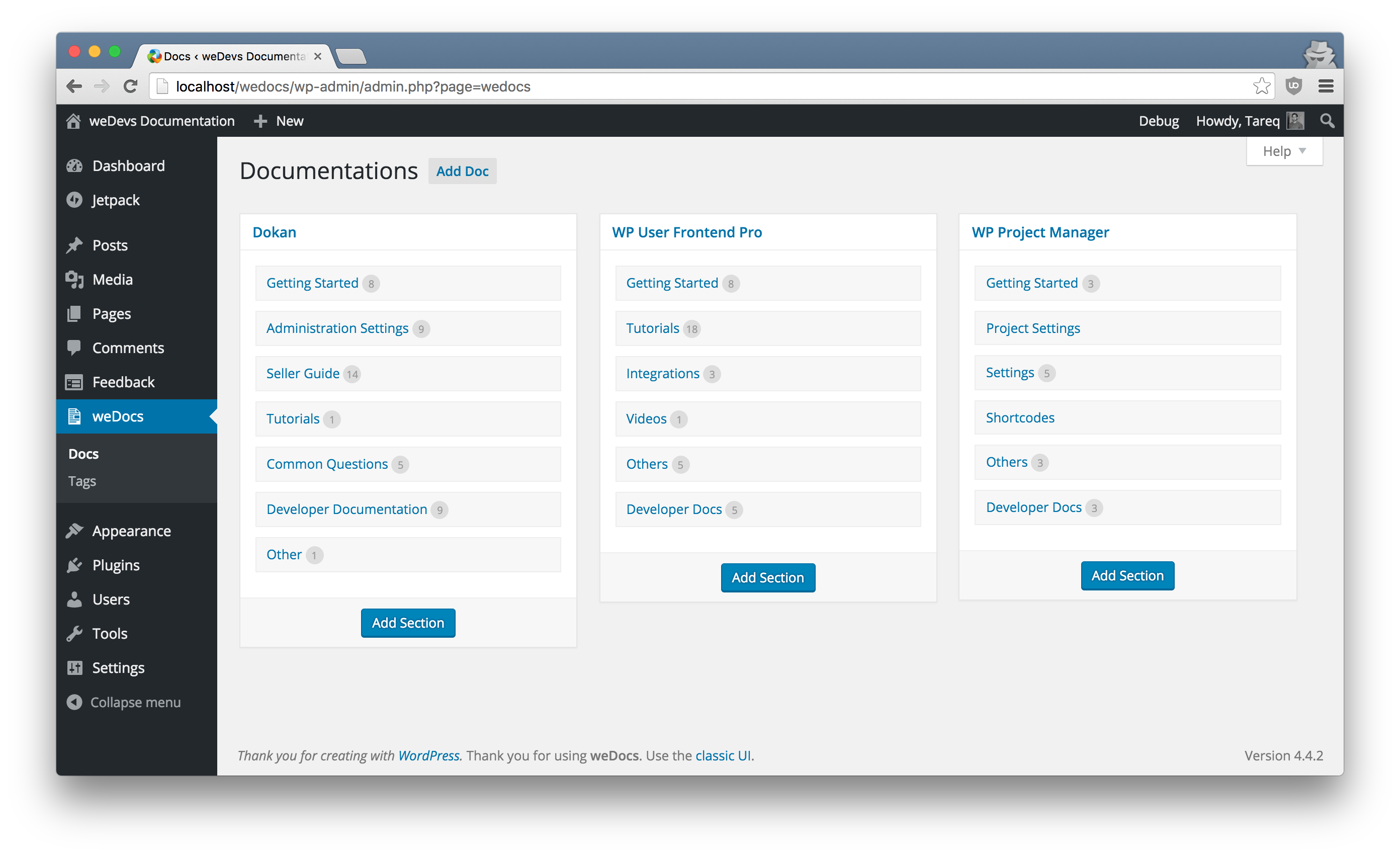 For documentation, we use our very own Free plugin weDocs. Our CTO, Tareq Hasan, has developed this amazing tool for us so that we can write, edit and publish docs in an organized way.
Google Analytics
Google Analytics is the ultimate tool for us that helps to track, analyze and understand whats happening on our website.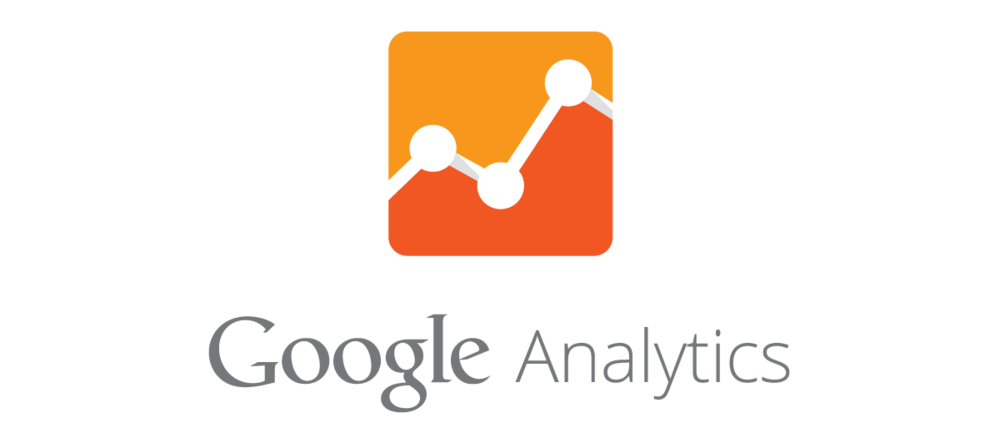 However, Google Analytics is very powerful and also complex. Not everyone understands how to use it because of its difficult user interface. It has everything, but you will hardly understand the terms, settings and their location!
Due to this, our content team, often face difficulties and also gets lost in lots of data that they don't understand. You know the feeling, right?
To minimize this problem, we encourage our team members to complete the Google Analytics Course and get certified. And every member of our content and marketing team is Google Analytics certified. Still, exploring Google Analytics takes a lot of time.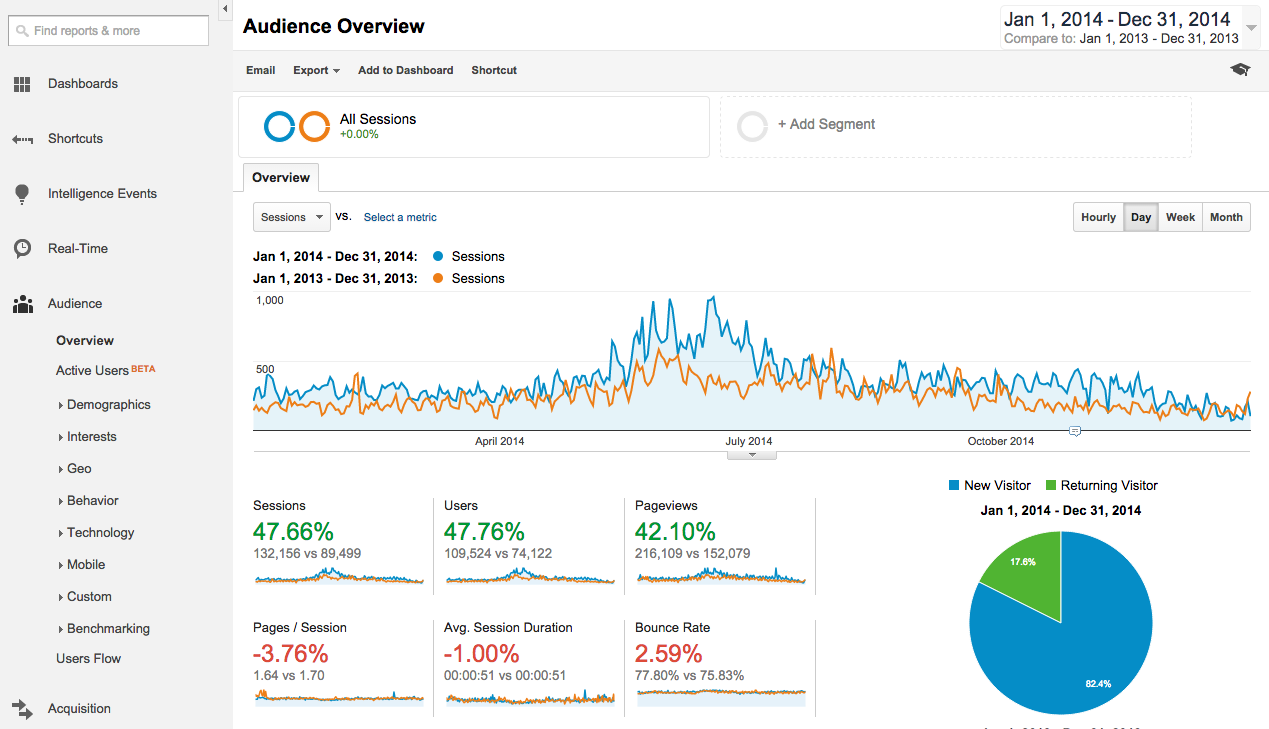 Besides that, getting a bird's eye view of the different page level statistics including page views, keywords, sources, demography etc. for specific post or page is very hard to generate inside Google Analytics.
You may already know about Analytify. It is one of the popular Google Analytics Dashboard Plugin. Although it's not the most popular one, it is the most useful one. It creates an organized, meaningful and interactive dashboard right on your WordPress site so that you don't have to wonder around complex Google Analytics environment.
We generally, provide our content and marketing team the access to a customized dashboard where they can view only the data they need and also in a meaningful pattern. And Analytify allows us to do so. There are other similar plugins, but we prefer using Analytify because it makes things easier for us for its easy to use and also easy to understand dashboard.
Why We Care about Data for Content Strategy
We all know that Google Analytics is the ultimate content and traffic tracking tool available in the world. It has everything you will ever need to understand your position and strategize for future planning.
As I mentioned before, all these data are scattered around the interface and very complex to find. Besides that, providing access to analytics could void privacy and confidentiality. This is where content marketing tools help us to make things easier.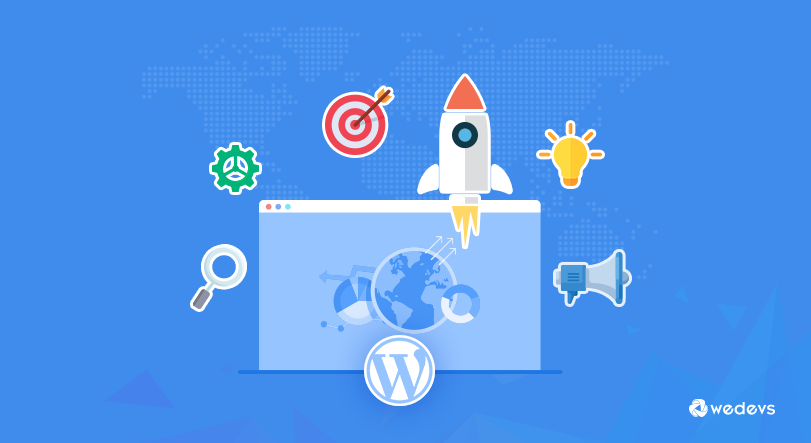 We generally use Google Analytics data for creating amazing dashboards right inside WordPress for our content team. This saves a lot of time and makes things way easier for us. Let's find out how we utilize these data for reshaping our content marketing strategy.
Providing the team with the sufficient data that they need
Converting Google Analytics data charts into a more readable format
Organizing all the information into a general overview format
Tracking campaigns using UTM parameters, to figure out the sources for the traffic and take necessary actions.
Preparing statistics to restructure & reshape our SEO strategies.
Making sure that we use those keywords and find out the ones which are working best
Identifying the user demographic details including their country, language, operating systems, devices etc so that we cater with content related to them
Showcasing social media stats and performance.
Generating reports that our team members can use, right from the frontend.
How We Use These Data for Shaping Our Content Strategy
Data is a blessing in the 21st century. The amount of data that different tool can track is very helpful for any company. So, we want to take the full advantage of it.
Our content team loves to write. However, we need to provide them with the resources that they need to complete their campaigns.
This is where the marketing team comes in. The content developers should also know how their campaigns are doing.
So, we have enabled Google Analytics Dashboard inside WordPress. They can view general statistics including –
how many visitors are exploring our site
total traffic
visitor count
popular pages etc.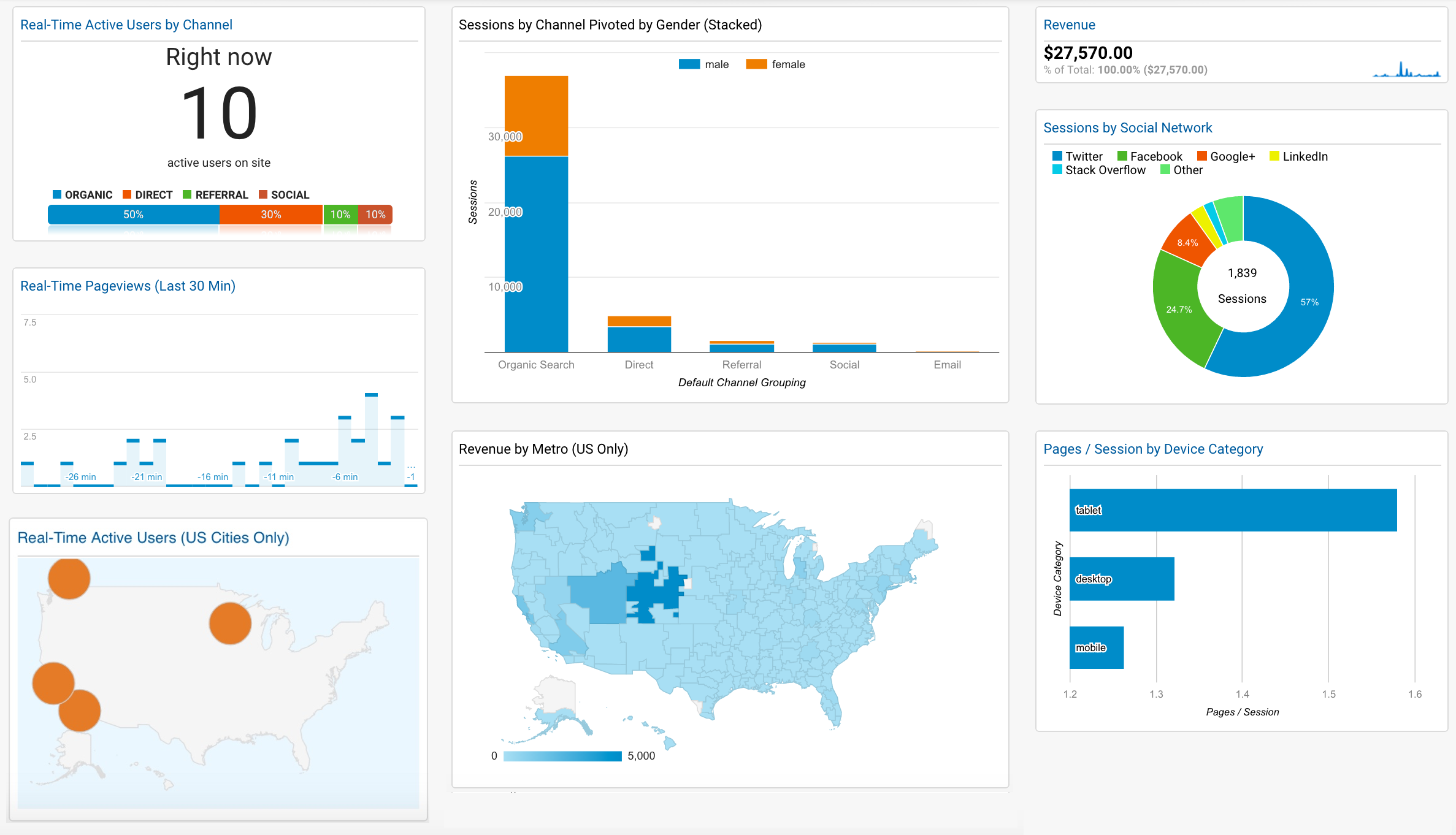 Useful Data & Frontend Reports for Content Developers
Our content team uses the page level dashboard that shows important stats like visitor counts, sessions data, average time on page, keywords, sources, campaigns, demography (country, language, location, the technology used), social media stats etc.
They write contents but the truth is the quality of a content is subjective to eyes of people. We want the readers to feel convinced that they didn't waste their precious time.
So, they are on an ongoing process of tweaking, redesigning the format of their content. This greatly helps them to tailor the content towards the type that our readers read and most importantly need.
They can find out important data directly on their posts and view this report any time they want from the frontend.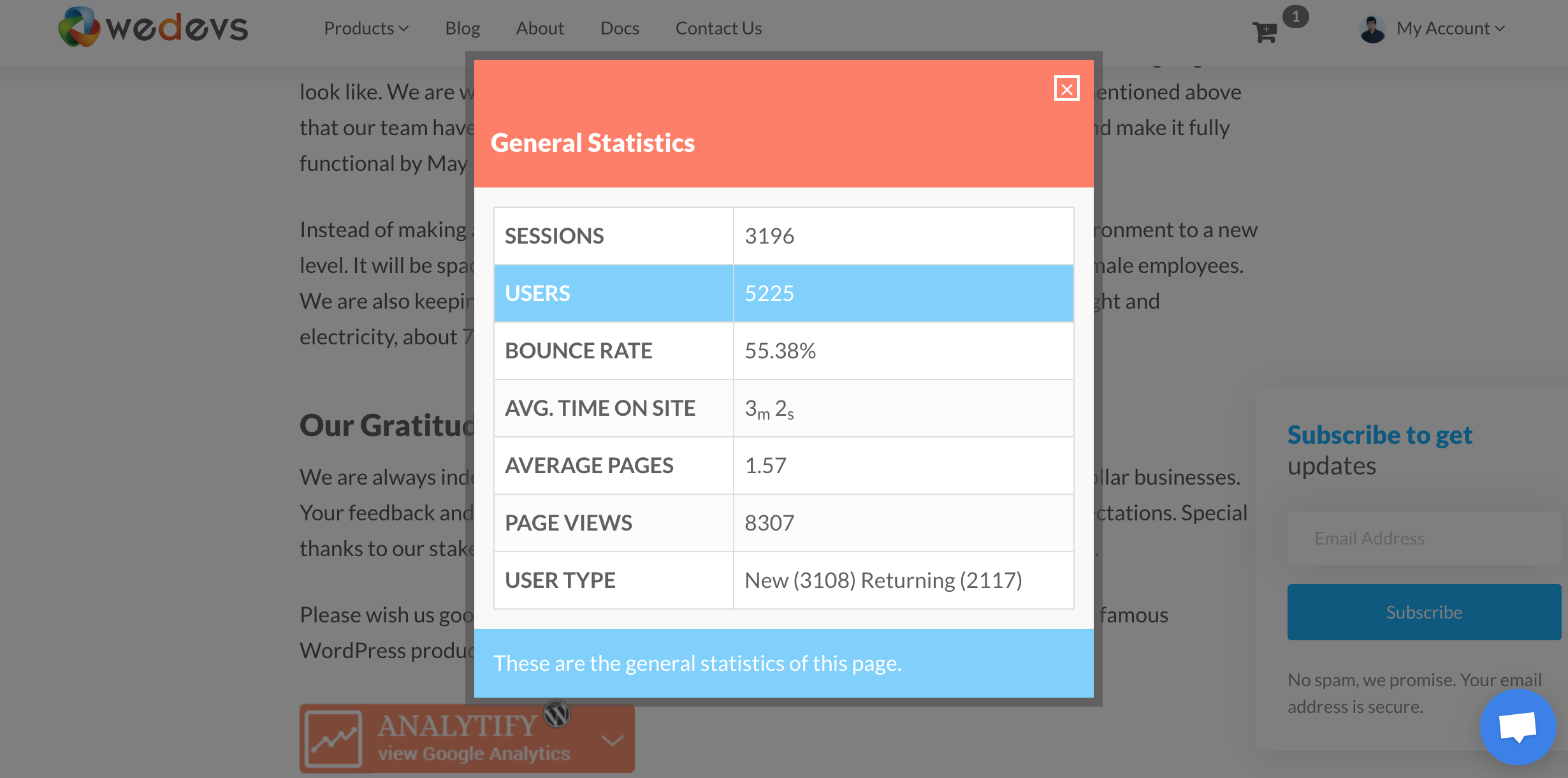 At the same time, the results that they get after working on a content is also accessible. They can easily track the important information that they need of the post or campaign that they have worked on.
This allows them to measure their efforts and results. They even take motivation from the fact that their hard work paid off when it comes to giving the readers the most value.
Training The Content Team
We are a family here at weDevs. So the future of each and every member of the team is of the utmost concern.
The world is changing rapidly. Even what was known to have worked a year is invalid now. That's why to keep up with the evolving world and also the disruption phase we want our team members to be prepared.
We encourage them to take courses from some of the most popular online platforms out there even with any support they ask for. We have our own library enriched with famous books on various topics that help to polish their knowledge any time they want.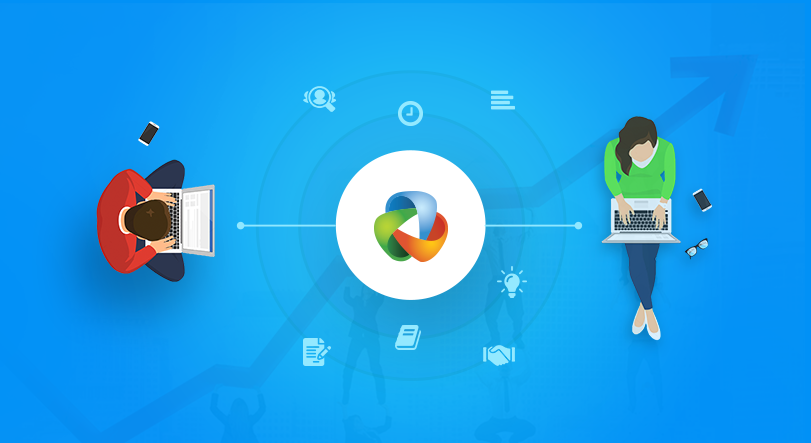 Social Media & Campaign Tracking
This is the age of the Social media and WordPress. We tried to combine them both to our own advantage.
No matter how good the content is the number one factor that makes it discoverable is it's distribution.
For that, we share all our content on social networking sites. We collect that data and generate simple reports for our team showing from where the traffic is coming from. It segments the source showing accurate values for each social networking sites.
Also read: How weMail is Applying Content Marketing Strategies
What We Look Forward To
Things have changed a lot in weDevs since April 2017. Apart from product development and support, everything has turned out to be content-centric. The good thing is this has brought better results. As I have mentioned before, we use multiple types of data and they are being used every day within all the operational departments of weDevs.
Our developers use this data to give our users the features they want, the support team can provide better support and content team can curate resourceful content for the users. Last but not least, the marketing team delivers the message to everyone.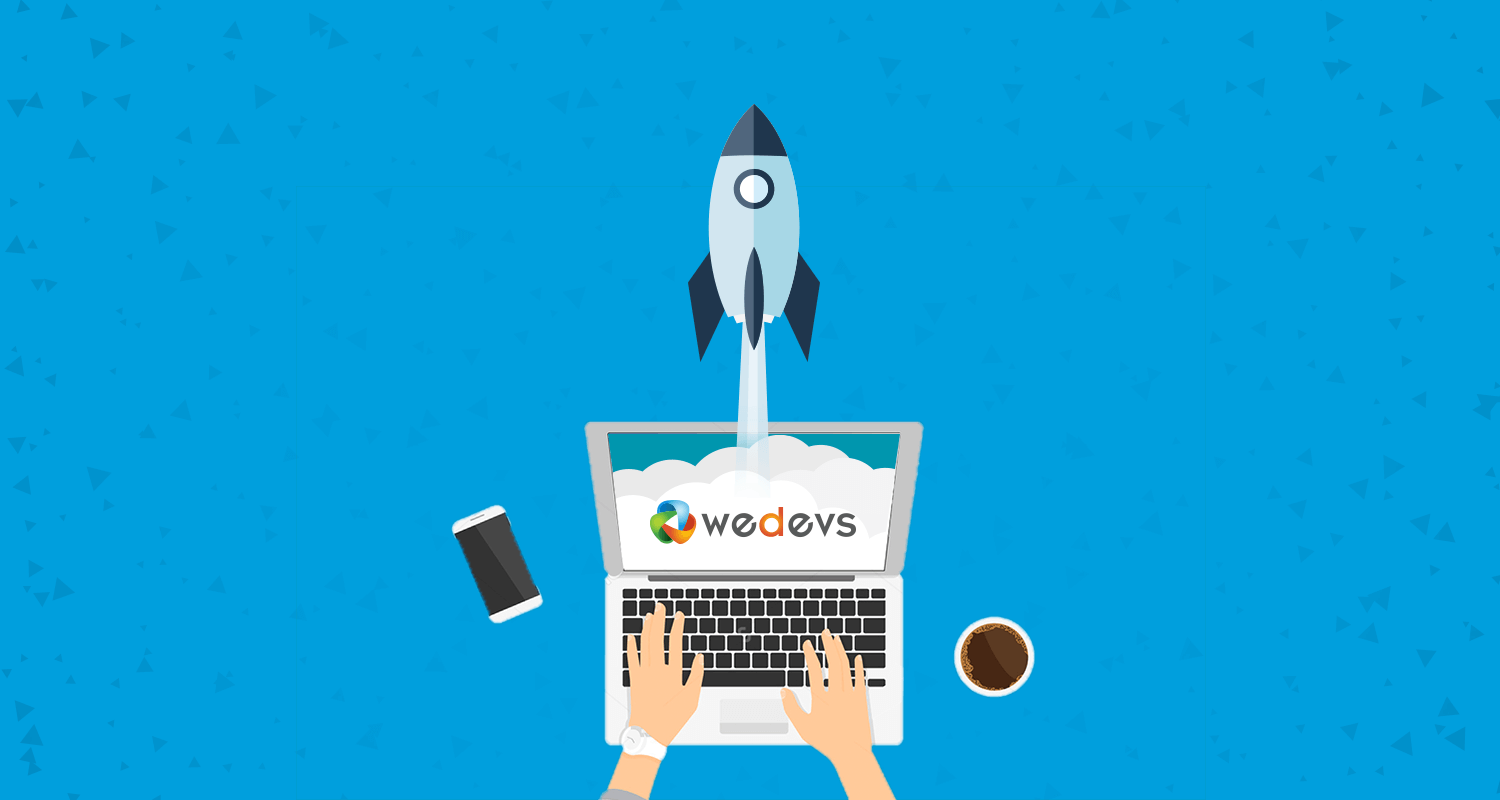 Being the Head of Content & Marketing, I, personally think we are doing our best to bring the results. Its been almost 1 year since I took over the content team. With the help of our CEO and COO, I am trying to reshape the whole content curation structure. From establishing a content guideline to building strategy, I have worked with my team with endless effort. The people I work with are really talented, eager to learn, try new things and most of all friendly. Till today, the content team has around 10 members and we all work together to bring out the best results possible.
The whole content team is being able to do all of this because weDevs empowers us and gives us the opportunity of doing Growth Hacking so that we can go beyond the borderline.
Because of that, we are always learning, doing A/B testing and changing our game. And now, we are getting a glimpse of all our effort of making the whole content curation process organized. All team member of weDevs were a part of this success. We have gained 3 times more traffic and 4 times more unique visitors than the previous year thanks to our focus on various types of content and marketing efforts. Our aim is to achieve more and want to showcase our content to the world.
If you have any content marketing hacks that you have implemented and got results from, do share with us.