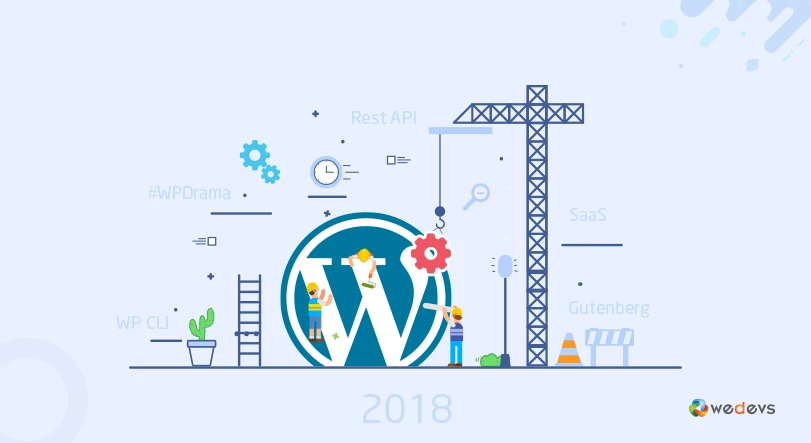 Significant Changes and Expectations from WordPress in 2018
WordPress is a rapidly growing technology.
You may not be aware of the changes that are being adopted unless you are hardcore WordPress enthusiastic. With version 4.8, WordPress has brought many noticeable changes. Also, the 4.9 version made major improvements. These are groundbreaking.
Guttenberg, a revolutionary project of WordPress will bring massive change in how WordPress works. This will be the most significant change that will either make you love WordPress or, dislike it!
Basically, 2018 is going to be a long year for WordPress as many changes will appear. In today's post, we will talk about the changes that might happen in WordPress this year, 2018. As a dedicated WordPress user, both you and us do care how things will work out. So, without further ado, let's find out the changes in WordPress!
Changes & Expectations: WordPress in 2018
1. Gutenberg
People at WordPress are working heart and soul over the last few years to develop a new revolutionary content creator/editor. They call it – Gutenberg. The good news is – it will be released in April 2018 along with WordPress version 5.0. It will be added to the core of WordPress replacing the existing classic editor.
Gutenberg is mainly a block editing system something like the editor of MailChimp, WIX, and Medium. This upcoming WordPress out of the box core component will be integral to WordPress. It is expected that Gutenberg will make the content writing and editing process lot easier and modern than before. You will be able to drag and drop elements on the canvas and create blocks, where you will create your content. This will also make the process of adding images, videos and other media files easier.
Basically, Gutenberg is the all new editor that will give you the same experience that you get on Medium on your favorite CMS, WordPress.
2. Classic WordPress Editor
The rise of Gutenberg is like saying goodbye to the familiar 10 years old WordPress Classic Editor.
But there is hope! The people who like the classic content editor can still use this feature on WordPress. You may wonder how?
Well, The Classic Editor will become a plugin so that anyone can use it whenever they want. So, if you are feeling bad because of the removal of the editor from WordPress core, you can install and activate it as a separate plugin anytime.
As the editor is not dead yet, you will still have the opportunity of coping with the new Gutenberg system, accommodate your existing projects and also keep your work ongoing with the old Classic Editor.
3. WP CLI in Action
The command-line interface for WordPress (WP CLI) is going to be extended in the way it would be used to create things. It is inevitable for many companies and individuals as well.
Most of the developers would agree that WP CLI is the best tweak going to happen to WordPress. It would be much easier for the users to –
Set up new WordPress sites
Control WordPress with CRON
Manage plugins
Quickly test code
And a whole lot more other tasks which can be easily and swiftly completed via the CLI or a shell script.
4. Rest API will be more enhanced
A few things such as custom applications will be added to the WordPress dashboard. What's more – you will be able to get the Admin panel on Rest API.
The good news is that you can use WordPress as a Framework to manage content for any web application. The REST API is simply a set of codes which help you send and retrieve data from WordPress applications that you possess.
We are thankful for the WordPress developers of the future due to all sorts of great possibilities. Putting the weight of Rest API behind, you can create mobile apps on WordPress like creating websites which means you will be able to get the iPhone or Android apps run on your WordPress website.
5. JavaScript will Power More Apps
It's been a long time since JavaScript comes in a bundle with WordPress. Using different useful JS libraries, WordPress has made it's fundamental operations like creating and editing menus or widgets, installing or updating plugins, using the customizer etc., a lot easier than before. Thus, JavaScript will be more prevalent in WordPress applications this year.
In this regard, the most emerging and promising thing is Vue 2.0, as its syntax, are very simple. More importantly, it is simple and more into a "template" to build fast web apps. A lot of modern themes and plugins are using Vue.js to power up their plugins to a whole new level. This has opened a new door for WordPress in terms of user experience, fast loading and many more.
So, in 2018, we are expecting to see a lot more plugins and themes using Vue.js and other JavaScript libraries. Besides that, React is another amazing framework of JavaScript is being used in WordPress core and plugins, which will bring a massive change. Most importantly, this will be a really wonderful experience for the users as it will bring a new era of using WordPress.
6. Changes in Theming Industry
Tons of free themes abound in WordPress.org ranging from basic layout themes to customizable ones. But, lately, we have seen that there is a massive surge of themes using drag and drop builders at varying price points. Whether these drag and drop builders are complex or simple, they don't require any coding know-how.
Thus, it is expected that theme & theming industry will shift due to changes in page builders & block builders in 2018. We have already experienced how drag and drop page builders like Elementor has changed the way of creating amazing WordPress pages. Anyone without a single line of coding knowledge can easily create wonderful pages on their  WordPress sites. This has become possible thanks to block building plugins. We already told you about Gutenberg and interestingly, it is also a block builder for writing WordPress posts. 
Tide project for WordPress is a medium that benchmarks the code quality of the themes and plugins. The non-developer users accept codes irrespective of their quality. But, developers could check a rough score of every plugin and theme's quality from now on. Although Tide project won't be a panacea for security issues it's pretty cool for the developers!
7. Rise of SaaS in WordPress
WooCommerce's recent move to an automatic renewal suggests there is an ongoing trend for more SaaS plugins to come.
SaaS (Software as a service) has been a buzz word nowadays. This is based on server computing via the personal computer's access. It goes without saying that this method of computing has exploded in popularity among the WordPress netizens. For example, Imagify from the WP Rocket team, BlogVault backup and security plugin etc.
A lot of popular plugins will emerge as SaaS solutions in 2018. Besides that, new WordPress plugins might pop up being SaaS and would provide greater features that were unimaginable inside WordPress.
8. Extended Use of WordPress
In 2018, WordPress will become more open to all. New people and companies will start using WordPress. Due to the amazing features and applications (plugins) of WordPress, people around the globe will realize how easier and reasonable these solutions are. This will effectively increase the number of total WordPress users.
For example, ERP (Enterprise Resource Planning) solution is already available in WordPress. And it costs way affordable than regular ERP systems around the world. If companies can find a better, scalable, customizable and efficient solution that costs less, they would definitely turn to such solutions.
It won't be any surprise if WordPress takes up 1/3rd of the total number of websites of the entire universe. If we take a look at its exponential growth in 2017, it is clear that it extends its possession from 27.3 % to 29.3 %. If WordPress can retain this trend, by the end of 2018 we are going to see 31.5% market share. Its consistent increase indicates it's stability and durability for sure.
Moreover, WordPress is becoming accessible even more. Thanks to applications that suitable for blind and disabled people, the accessibility of WordPress would be extended in the upcoming years. A good example would be WP Accessibility.
9. WooCommerce Serving Enterprises
E-commerce, more over WooCommerce will be more ready for enterprises in 2018. Better scaling will be available and it would be a lot easier for users to adopt the solution. This means larger companies and enterprises would use WooCommerce for their eCommerce operations and for that WooCommerce has to make their solution scalable for serving such users. 
Over the years, we have seen a prolific growth in themes and plugins for WooCommerce which is a much-needed thing for the e-commerce sites. Moreover, WooCommerce, being open source, has already won the heart of its users for increased Data Control, Security and affordability of Launch/Maintenance.
Now, in 2018, it's expected that the improvement of inclusive design for Sellers and Buyers will be available on its development pipeline. Frankly, there is no sign that this trend will disappear soon.
10. #WPDrama – More Controversies
Lots of controversies will take place in 2018. People might fork the core version, some would not upgrade to version 5.0 and prevent others to do so. Thus, it will become problematic for some people. 
WordPress has always given emphasis on backward compatibility. It has autonomously left its codebase outdated and large having lot of technical debt. To cite an example, it allowed its plugins and themes to run on PHP 5.2.4 which is literally unsupported by PHP since 2011. Though developers raised this issue a good number of times, WordPress remains unchanged on its decision.
Having said that, though WordPress is very stiff to its decision of backward compatible, it has surprisingly made changes to its codebase by adding the Gutenberg Project. WordPress has started to push forward with newer technologies. Their stance of backward compatibility has already changed and it is expected to experience changes to its codebase even further in 2018.
11. Importance of Security and GDPR
Cybersecurity is very important for the IT industry. WordPress is no different. Many people assume that their website will not be targeted as they are not significant enough. But, that is not true in some cases. Hackers always target the vulnerable ones first. Although WordPress has a good security framework, hackers are also improving their game as well.
Thus, ignoring security will not be an option for 2018. Various security tools are already available in WordPress market and users should consider using them for better protection.
Another important thing that is prone to happen in 2018 is General Data Protection Regulation (GDPR). It concerns the data protection of users on various websites including the ones developed using WordPress. Generally, how long a website keeps the data of a user is regulated using GDPR. We are hoping that it would show significance. So, you should consider creating a plan for this.
12. Virtual Reality Plugins
Virtual Reality (VR) is already a trend. In 2018, we are hoping to see a lot of plugins providing VR experience.
Do you know that – WordPress already supports virtual reality content?
360° images and videos are the proof of it. You can also find many plugins available that provide such experiences on WordPress. Some of the plugins are – 
13. Video Headers
There is no doubt that videos, one of the most important contents these days, can create a difference in terms of design, marketing, advertisements and so on. WordPress has also realized this and provided support for video headers with looping features with version 4.7 Vaughan.
In 2018, the video headers will turn out to be more popular. Also, video first approach will be adopted by most of the websites. So, WordPress will add more features in terms of video headers. Besides that, video streaming is becoming popular on the major social media platforms. So, it wouldn't be any surprise if there is a live streaming feature added to WordPress in 2018.
14. Mobile Friendly Themes
The use of mobile, smartphones to be precise, is rapidly increasing. So, mobile supported themes and plugins are a must for WordPress. There are already many themes that fully supports mobile phones, but still, there are many available that doesn't.
In 2018, we can expect to see more mobile-centric designs that would rule over smartphones and tablets. This will make mobile browsing a lot easier. It would be no surprise if Google starts to penalize websites with outdated themes. Thus, all the excuses for neglecting mobile friendly designs should be avoided in 2018.
Wrapping Up
What's going to change in terms of WordPress in 2018?
It's really hard to give an accurate answer to this questions. However, we can always assume and predict something from data, examples, trends, and events happening around. This post focuses on such trends, examples, and events that were significant in 2017.
But we can truly expect that Gutenberg, the new Core WordPress Block Builder will change how WordPress works. Depending on its nature and characteristics, a lot of other plugins will have to change their structure and functionality. This will create controversies when WordPress releases the version 5.0 with Guttenberg as the default post editor. This will be the most significant event for WordPress in 2018.
This post contains a lot of information and we are hoping that will help you to prepare plans for adopting the changes that might happen.  Do you think it will bring positive or negative changes for you? Feel free to share your opinion on this probable changes and how you feel about the Guttenberg project.