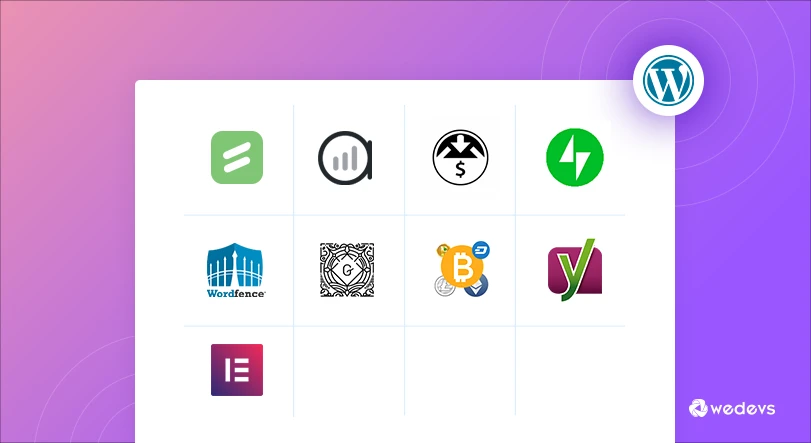 WordPress Plugins That You Can't Afford To Miss Out In 2023
So the year 2022 has just ended. And for WordPress enthusiasts and users, it was indeed a year full of surprises. In 2023 many WordPress plugins have already made a name for themselves and some has started their journey last year.
Whether you want to upgrade the functionality of your WordPress website or online store features, a reliable plugin is always on our search list to help us do all this. The best part of WordPress is that it is very much possible to extend the functionality and core software. And this too without the need of changing the code yourself or hiring developers to do it for you.
Though, it is the kind of website that determines what plugins you need to use for your WordPress website. Not all website requires same plugins to use for them. And determining the right plugins always adds extra value to your overall WordPress website. So today, we will be discussing some of the most promising WordPress plugins that will rock in 2023.
Plugins to watch out for in 2023
Elementor Page Builder

Page builders are getting popular each day and why won't it be, who wouldn't enjoy being able to design their own web pages without any hassle? So now with Elementor, even without being a developer, the desire for wanting to design your own web pages is very much a reality. This free and open-source web page builder can set up some beautiful sites without any coding knowledge.
Some theme comes with a built-in page builder but it is not the case for Elementor. It is a separate page-building plugin that operates all alone by which you can create some fantastic web pages on your own. With Elementor, the days of editing your web pages in the backend and then guessing how it looks like in the frontend are over.
Now you can edit your webpage and view it side by side to find out how it looks like in real-time. Its feature like live editing and instant page load function is one of the main selling points. As a result, the speed of Elementor as a web page builder is quite unmatchable right now compared to others.
weForms

weForms made building any type of contact form simpler. It claims to be a complete form generating solution that enables a user to quickly create a fully-featured contact form. With weForms generating leads, taking feedbacks, onboarding visitors seem like a walk in the park. It is also one of the fastest free contact form plugin for your WordPress-based website right now.
With a number of pre-built in form templates, a user can choose and create their desired forms according to their needs and requirements with just a few clicks without even having the need to touch a single configuration. So with weForms, it is said that creating forms faster is just one click away and everything gets set up within a blink of an eye. It is often said, you can't get anything for free but it is not in the case of weForms.
As weForms is loaded with features that can only be found in the premium version on other platforms. Even with the free version of weForms it is possible for a user to get started with a fully operational contact form plugin for WordPress. Being a new contact form plugin, weForms is already making a place for itself and has shown promise to go a long way.
WordFence

Security issues of your website are never a matter of joke. And WordFence as a security plugin always takes the matter of your website's security seriously. This is a 100% free and open-source security plugin for your WordPress website. Providing some of the positive security features to its users, it has already made a strong place for itself in the WordPress market.
With the WordFence security plugin, the overall security of your website will be in safe hands. As this security plugin will help you protect your website from complex and brute force attacks. Now you can block IP addresses, control security login & authentication, manage firewall and get alerts in an event of any security concerns. Not only that, you can gain valuable insights in case of any security breach or hack attempts taking place on your website. This robust plugin is packed with advanced functionalities which makes it ideal for both beginner and pro users.  The easy user interface and no code involvement are what make it quite a user-friendly plugin for even an amateur user. So it is indeed one of the most comprehensive WordPress plugins to watch out for in the year 2023.
Jetpack

If you are eager to keep your website secured and want to significantly improve your site's traffic engagement then this is the plugin you are looking for. Now quickly check out your site's stats and analytics with this powerful traffic generating plugin. This plugin includes a number of advanced features that most certainly set this plugin apart from its competitors.
Some of its amazing features comprise tools for search engine optimization, website backup & security, visitor engagement, and content creation. Also share items on social media platforms like Facebook, Twitter, LinkedIn, Tumblr, Reddit, and WhatsApp automatically with Jetpack. This all-in-one website optimizing plugin indeed boosts the performance of your site. Though some of these advanced features don't come free with it, yet this is a plugin worth using. As it makes a lot of difference in improving the overall appearance of your website in terms of social media & traffic management platform.
Analytify

Analytical representation of your site holds a very vital role in knowing the overall development of your website. And this useful plugin Analytify demonstrates all the statistics related to your website in a very simple & organized way. This can be very useful for your overall understanding of your site and business growth. This useful analytical plugin is already becoming the ideal solution for any bloggers, E-store owners, Entrepreneurs, Site Managers etc.
Not just that it also generates complete statistical analysis details of your website to help grow sales & conversion rates. Building your audiences with valuable insights and improving your site's rank is just too exciting & simple with Analytify. Even with some good competition in the form of Google Analytics by MonsterInsights and Google Analytics WD in the market, this cutting-edge WordPress Google plugin stands out tall in keeping you well informed, satisfying every analytical specific related to your WordPress website.
Yoast

Now, this one is quite a powerful plugin for all WordPress users. Nowadays, Search Engine Optimization (SEO) being one of the most important entities of any website, the usefulness of Yoast has increased massively. This is indeed a fabulous set of tools if you are looking to enhance your ranking in the search engines. It makes your pages SEO friendly giving them more visibility on the internet through search engines.
Not just that, this advanced SEO plugin lets you optimize your posts nicely with meta descriptions and tags. It also allows you to add XML sitemaps and Open Graph data. It can significantly improve your page SEO score increasing your page ranks. You can also manage RSS and export/import settings with Yoast, making it the ultimate post/page analysis tool right now on the market.
Easy Digital Downloads

This plugin is one of the promising plugins to perform digital downloads easily. Whether you want to download unlimited files, create discount codes, monitor product download activities, or allow your customer to purchase multiple downloads at once, the Easy Digital Downloads will take care of all those things hassle-free.
A business is incomplete without its regular auditing trail but with Easy Digital Downloads, you can generate full data reports using its built-in reporting platform. Not only that you can extend its functionality by integrating it with add-ons like PayPal, MailChimp, Stripe, and many more.
Cryptocurrency All-in-One

As the name suggests this plugin takes care of all the cryptocurrency-related issues fast and smoothly. If you are looking to improve your website and make people aware of cryptocurrencies to make it popular then this is definitely the plugin for you. It consists of a number of notable features that will come in handy to get your cryptocurrency-related job done.
This plugin displays a candlestick chart of any cryptocurrency, displays prices including exchange rates, and has an inbuilt cryptocurrency calculator. Moreover, it is very much possible to accept donations with this plugin.
On top of that, the plugin is absolutely free, open-source, and supports almost all fiat and cryptocurrencies. Some of the supported cryptocurrencies include Bitcoin BTC, Litecoin LTC, Ethereum ETH, Namecoin NMC, Novacoin NVC, Peercoin PPC, etc. It is even planning to make it a high-level plugin that will require no coding for software owners to allow webmasters to integrate cryptocurrency.
Some words of wisdom for 2023
Getting the ideal plugin for your WordPress website becomes quite challenging when you don't know which one is better suited for you. We hope our little arrangements of highlighting some of the most promising WordPress plugins of 2023 will help you choose the right plugin for your website.
Our sole intention of this post was to get you well-informed about some of the interesting plugins to look out for in the year 2023. We hope through this blog we were successful in doing so. If you are already using some of these plugins, then feel free to share your feedback on them in the comments below.
By the way, if you enjoy reading interesting blogs related to the WordPress industry and our products, then do pay a visit to our blog page. We publish fresh blogs regularly just for you.