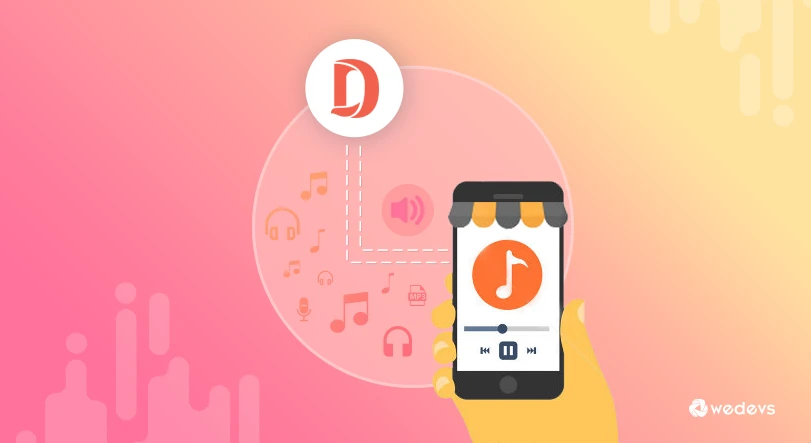 How to Create Your Own Online Music Store with Dokan
A flurry of surveys has found music to be the most popular form of art. In fact, connoisseurs of all sorts of arts often admit that music is not just the most popular form of art, but might even be the most desired 'thing' to people of all walks of life, in general.
This enormous popularity widens the horizon for the ever-growing music industry too. As the industry is growing consistently throughout the world, songwriters, composers, singers and music producers often seek for the best solution to sell their valuable art. Fortunately, it can be sold online in the form of digital formats such as MP3, MP4, MKV, AVI, AAC, AMR, and so on.
If you are passionate about music and want to sell it through an online music store, this article is going to be your guide to create your own online multi-vendor music store with the power of WooCommerce and the magic of Dokan even on a small budget.
If you're a brand new user, don't worry. You'll quite likely find it under your belt very soon if you properly follow the instructions.
Step:1 Buy Web Hosting, Domain Name, and SSL Certificate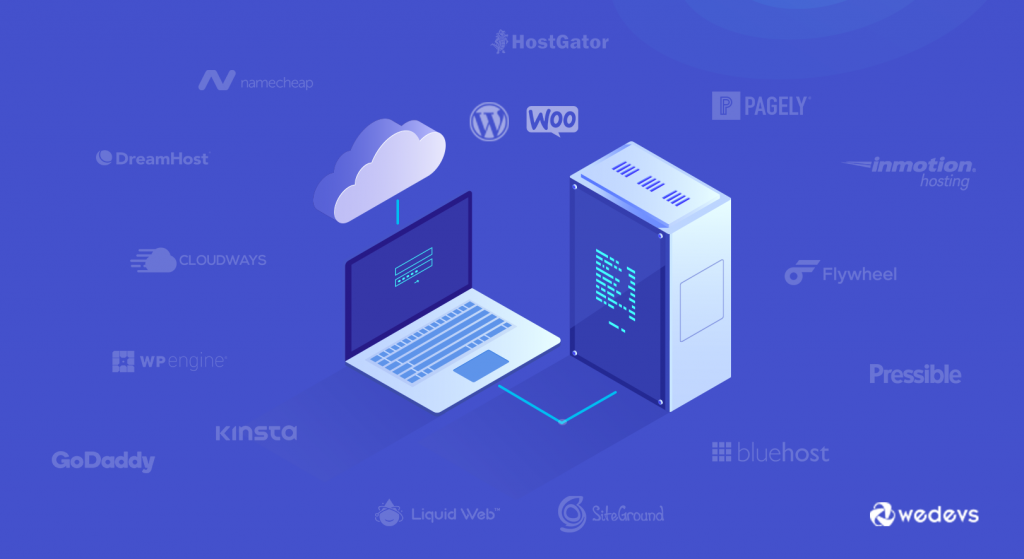 These two are the most fundamental things that you need to get started with. Unlike a brick and mortar store, every online store requires a digital form of storage which is known as web hosting. This is where you will keep everything on your website. A domain name is also required to locate and navigate your online music store on the internet.
To establish a trustworthy online store, you should also consider an SSL certificate for your website. Customers often tend to avoid websites lacking SSL certificates.
To lower your Web Hosting and Domain name costs, you can read this article on "How Much Does It Really Cost To Build A WordPress Website?"
Step:2 Install WordPress on Your Web Hosting
Who wants to build a website from scratch these days while there are Content Management Systems or CMSs available out there? Note that WordPress is by far the most popular and free CMS to date. So, we will be using this CMS to build an online music store.
If you don't know how to install WordPress on a live server, you can see a video tutorial on YouTube. It should not take more than a few minutes to learn. Another thing is that WordPress is very easy to use. Once you get the hang of it, maneuvering your website with WordPress will be just a matter of fun.
Step:3 Install WooCommerce
Now, it's time for kitting your site out with the power of WooCommerce! Although it is very much possible to create an online store with other marketplace builders, most of the alternatives of WooCommerce are expensive and not lucrative at all when it comes to the world of features.
In addition to that, if you want to enhance the functionality of WooCommerce, there are hundreds of plugins available to do that. Luckily, WooCommerce is completely free of cost!
However, if you do not know how to install WooCommerce, check this WooCommerce Tutorial for quick start.
Step:4 Install Dokan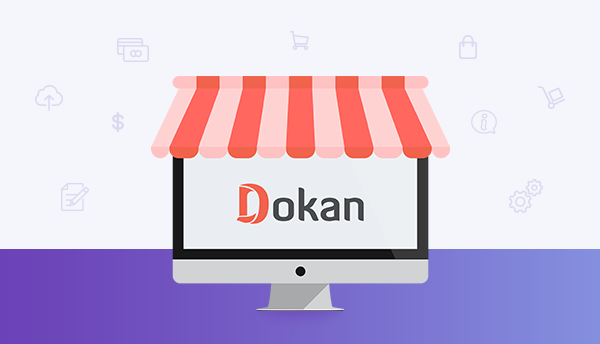 If you are yet to feel adventurous, the time has come! Yes, Dokan is really important for extending the feature of WooCommerce. It is a neat tool that will let you sell other's music together with yours. Any person who wants to sell their music through your store will just have to register as a vendor on your website. What's more, you can enjoy commissions from your vendors for each and every sale that will take place within your site.
However, if you do not install Dokan, you won't be able to build a multi-vendor website and so you will not get the opportunity to earn extra money.
Here Are The Reasons Why You Should Consider Dokan for Your Online Music Store:
To create a multi-vendor store.
Your vendors can manage everything from front-end dashboard. So, you don't have to give them access to the back end of your store. This is really important for the security and privacy of your website.
It is compatible with any WooCommmerce theme.
You can enjoy extra money in the form of a commission from vendors.
Installation
The installation process is very easy. Read this documentation to learn how to install it or the following video will show you the right path:
After installing Dokan now it's time to do some basic configuration to personalize your marketplace functions and activities.
Go to Dashboard→Dokan→Settings. Check this documentation to learn how to configure Dokan step by step.
Following we show the basic setting options, have a quick look indeed: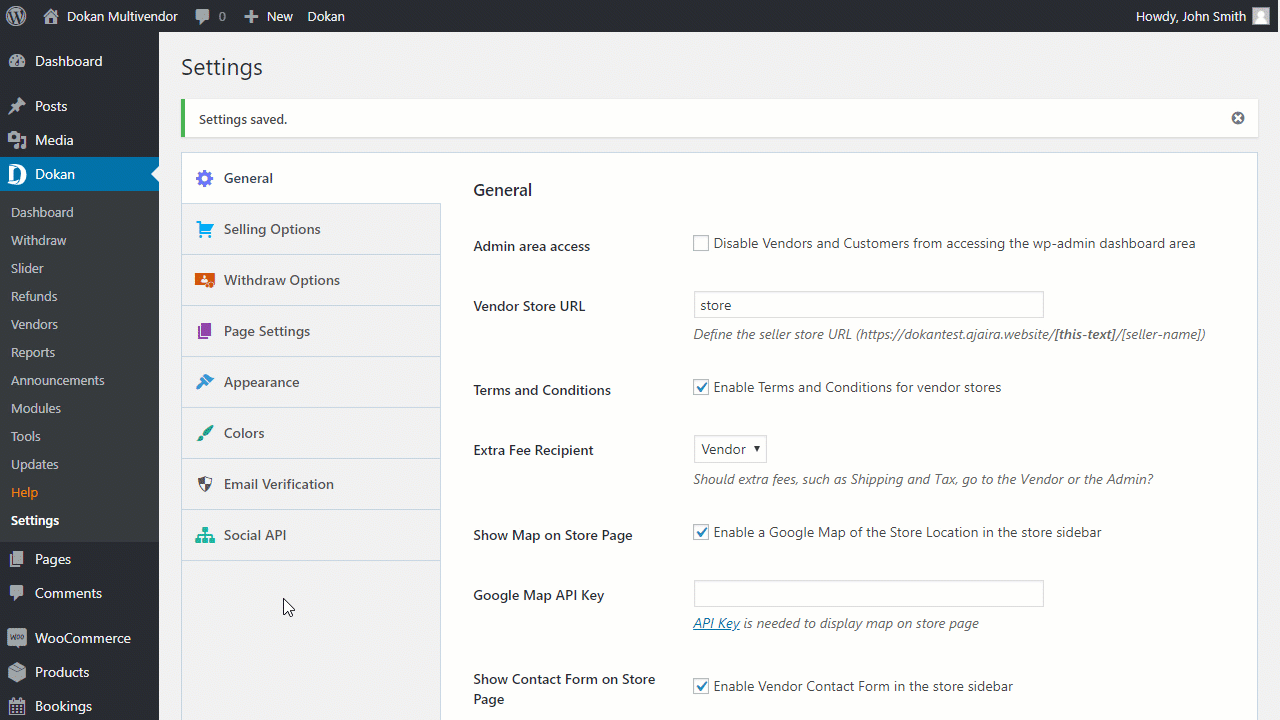 Let's proceed to the next step in terms of customizing your online music store and earn money from commissions.
Install an Appropriate Theme for Dokan
Even if there are thousands of free themes available in the market, we always recommend you to buy a paid one. Because the paid themes are usually rich in features and they look more professional than the free ones. Moreover, you will get lifetime support for any technical issues.
The Dokan theme can be the right partner to shape your shop in an attractive way. It is a fully responsive WordPress WooCommerce theme.
However, initially, you can try out the free themes to avoid budget over-run. Later on, when your website begins driving traffic to your store then you can replace the free theme with a paid one. Though Dokan is compatible with all of the WooCommerce themes, we have featured these themes that will help you get the most out of WooCommerce and Dokan.
How Your Vendors will Upload their Music in Dokan?
Supposing that your website is up and running, now it's high time that your vendors uploaded a few pieces of music. To add music to the store, your vendor needs to register to your store and update his/her account. Here is the Sign-Up button.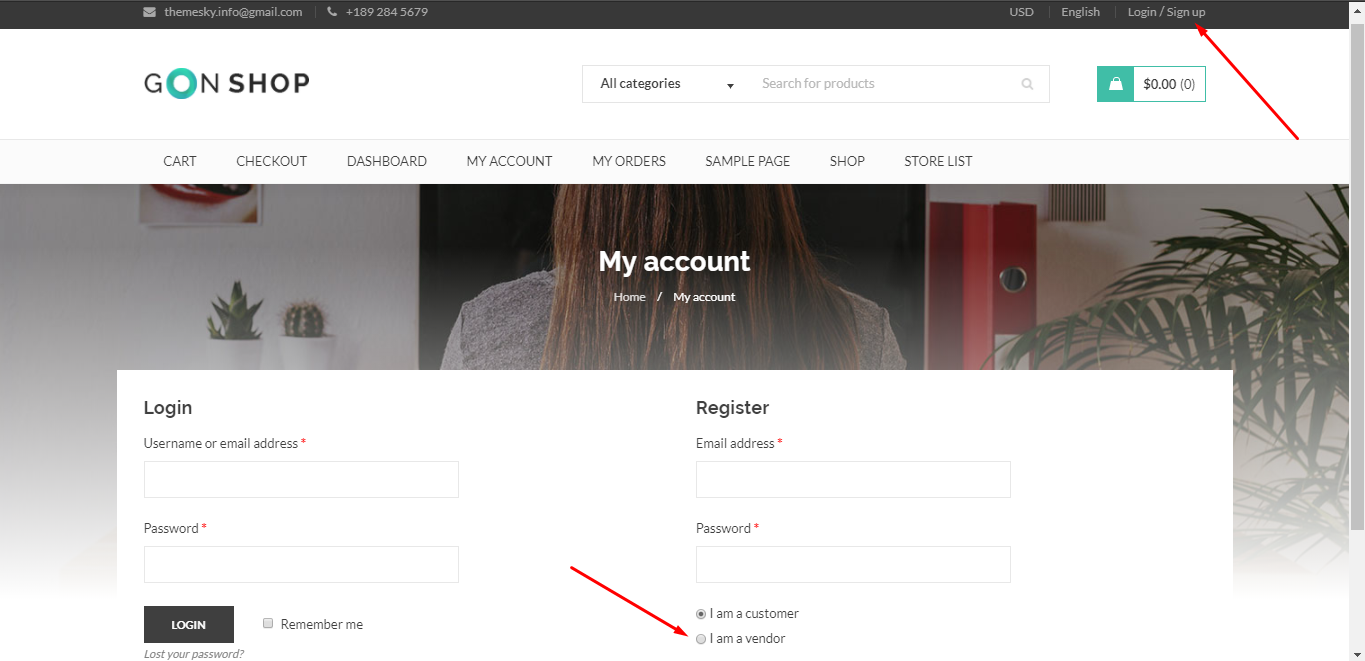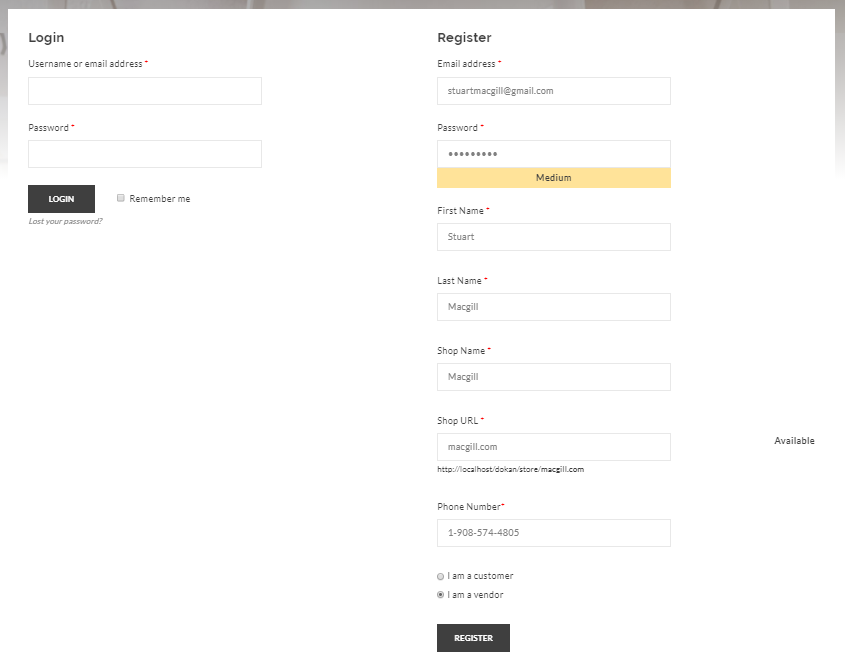 Here is an example of registration:
After hitting the Register button, your vendor will see the following success message including basic settings which are optional. Your vendor can also set it up later.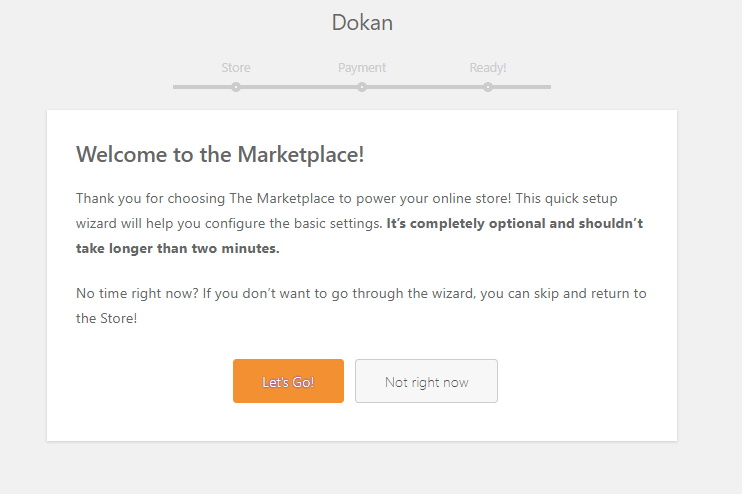 If your vendor clicks on Not right now button, then he will be redirected to his/her store's Dashboard. He can still set up all the basic settings for his/her store from here: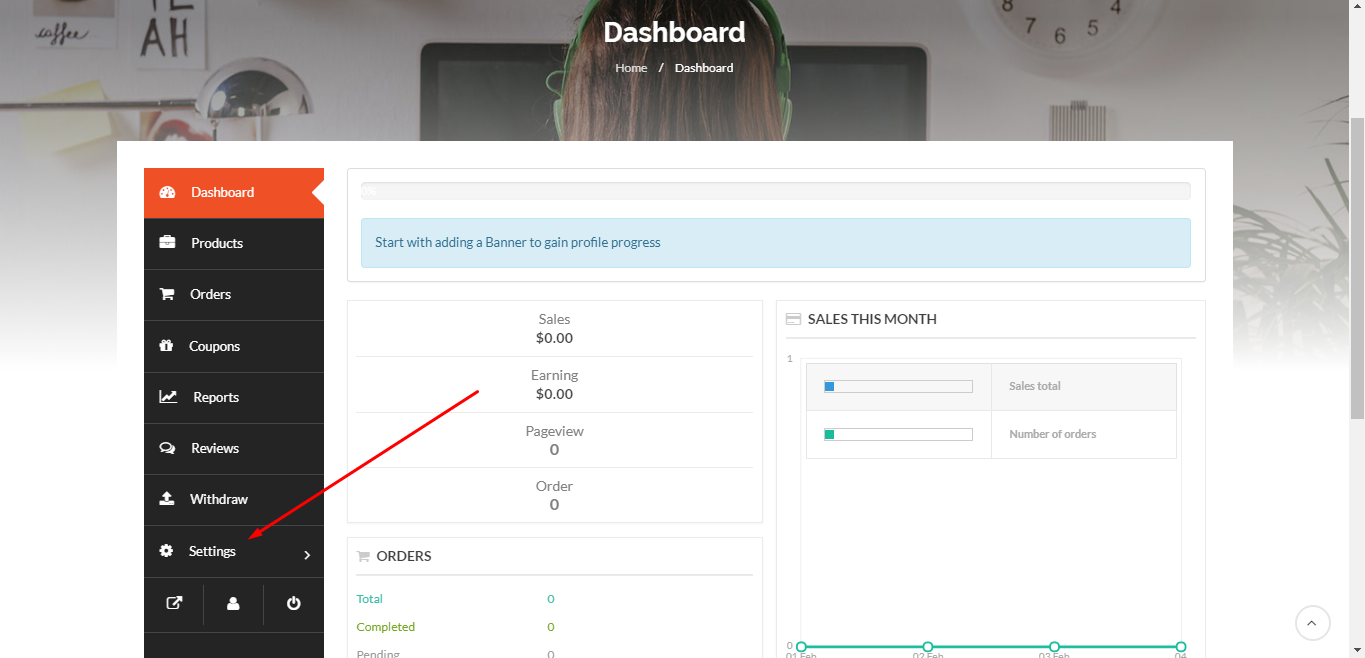 In order to make the store attractive, your vendor can add a relevant banner image to it: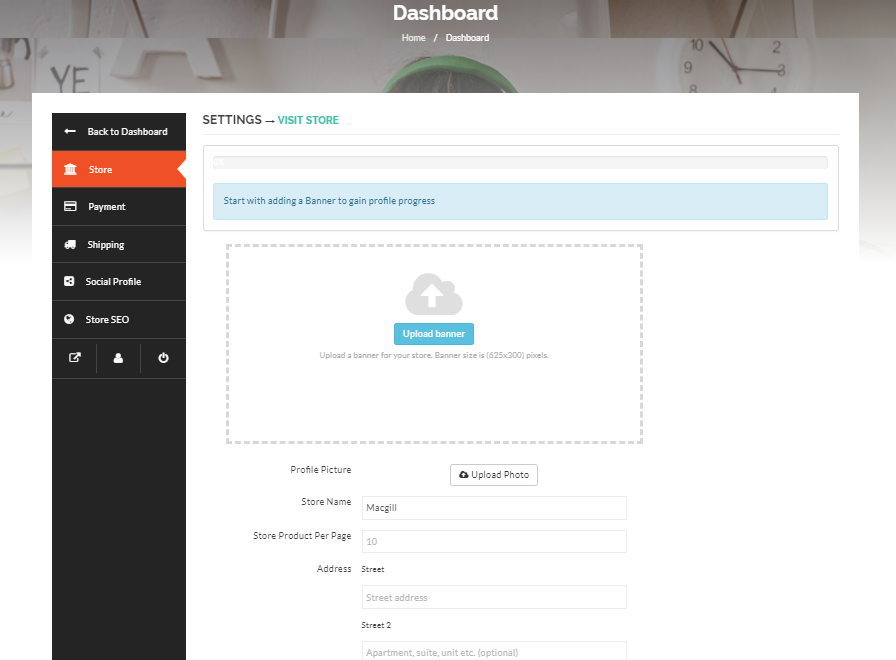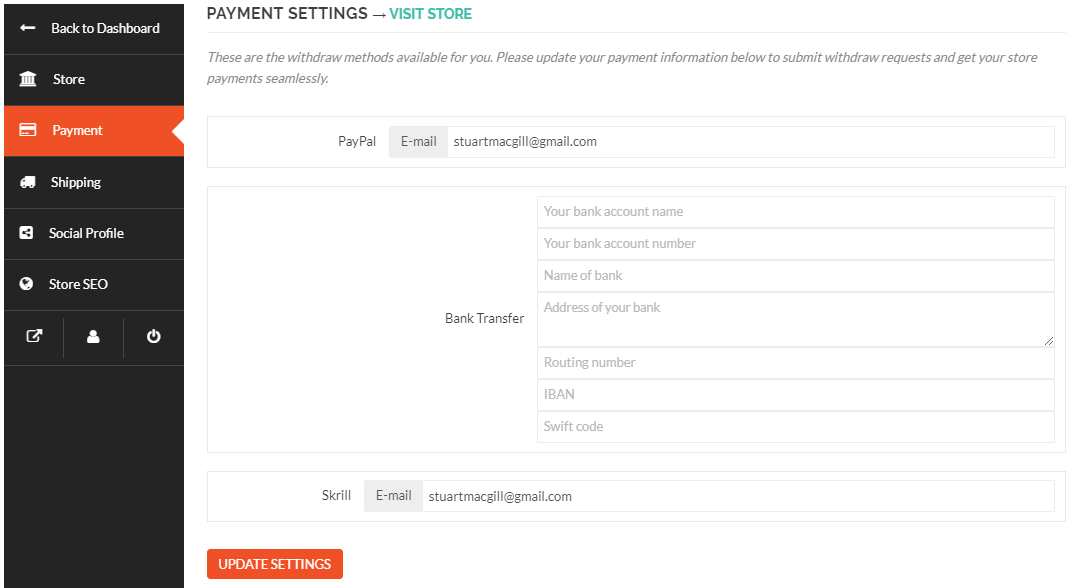 Your vendors can update their payment settings by selecting the Payment option:
They can also link their Social Profile to get more potential customer traction: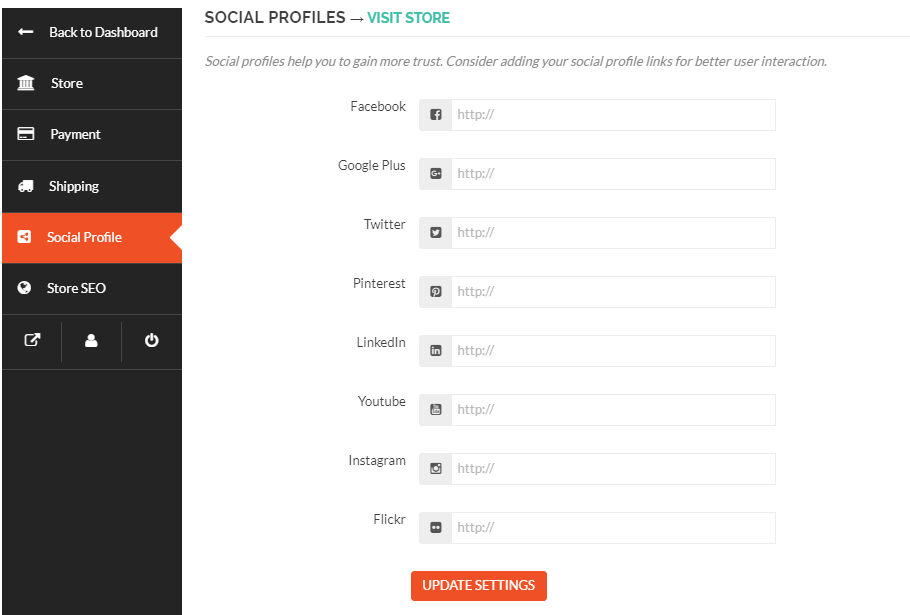 After setting these basic stuffs up, he/she needs to select the Product option from the sidebar menu to add the product(music) that he/she is willing to sell: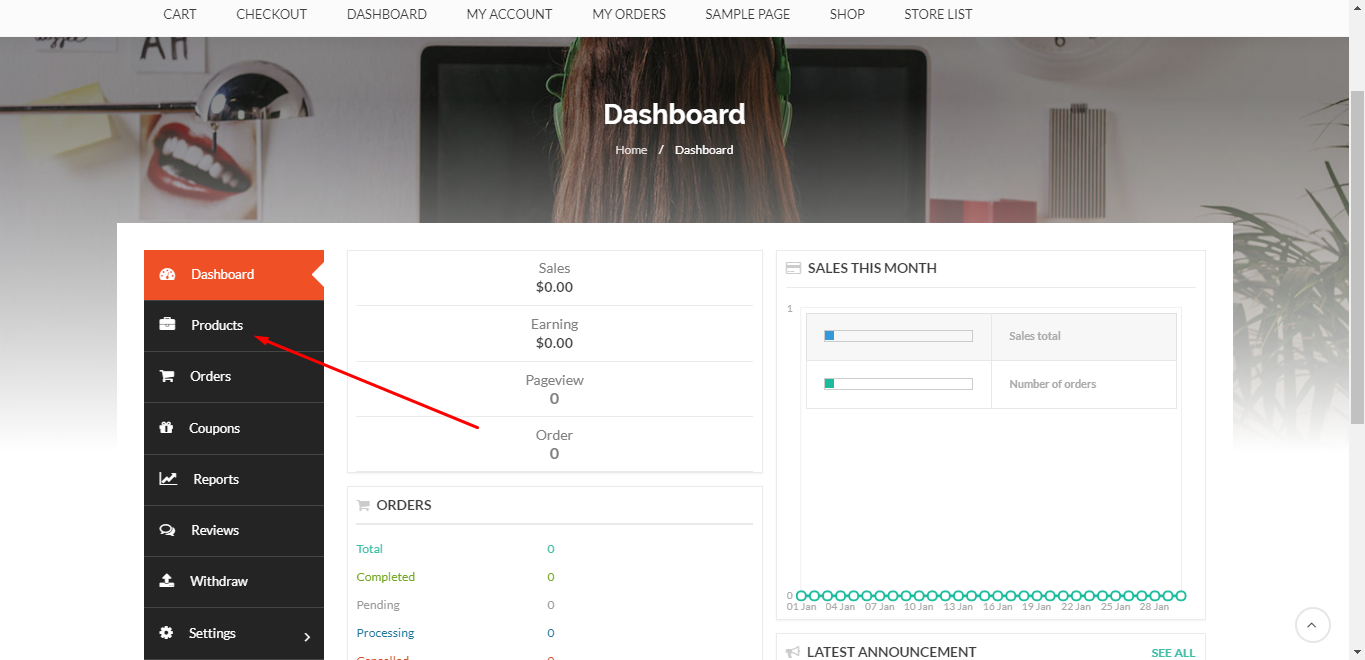 Next, your vendor has to select the Add new product button: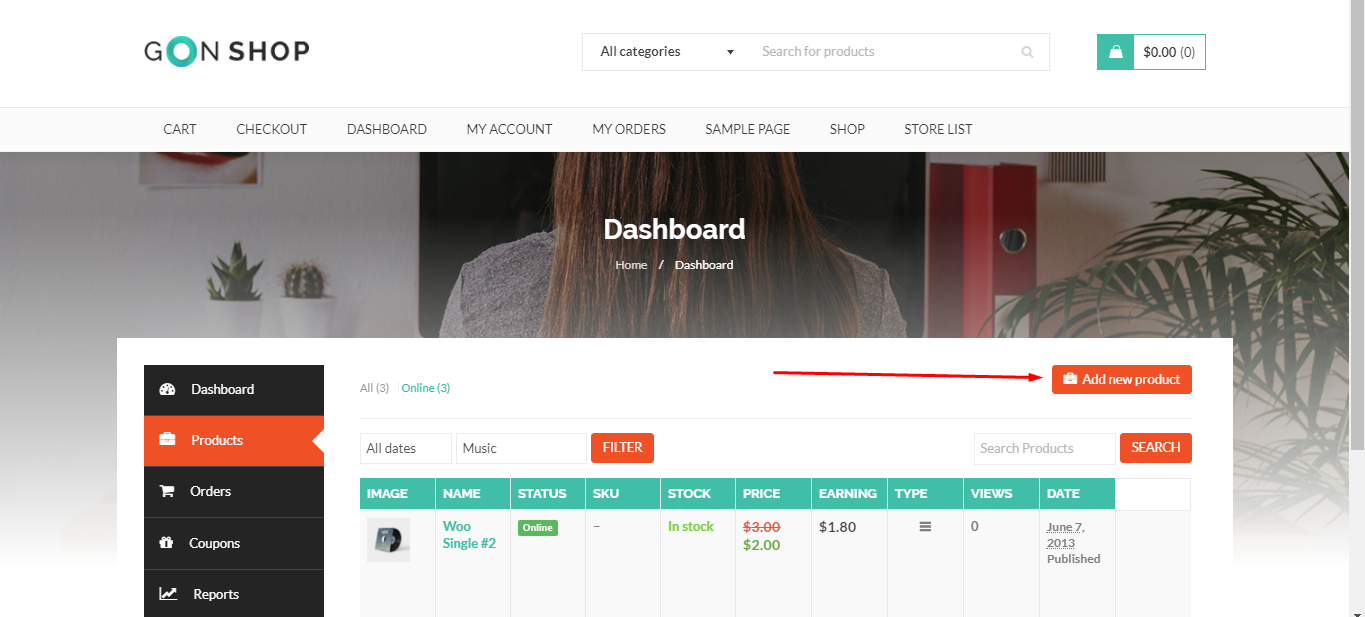 Once your vendor does that, he/she will get a number of options. Your vendor should upload a relevant Cover image and give a suitable Description, Product Name, Price, Category, Product tags for the product. Tags are important for a product to be found easily by the customers in the store.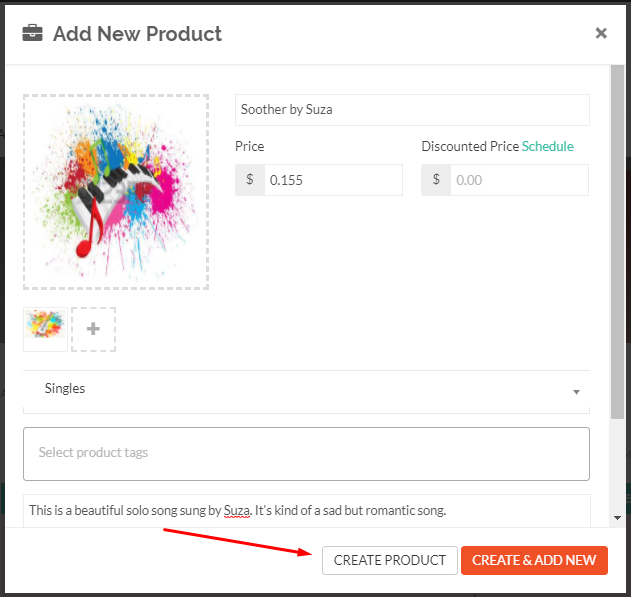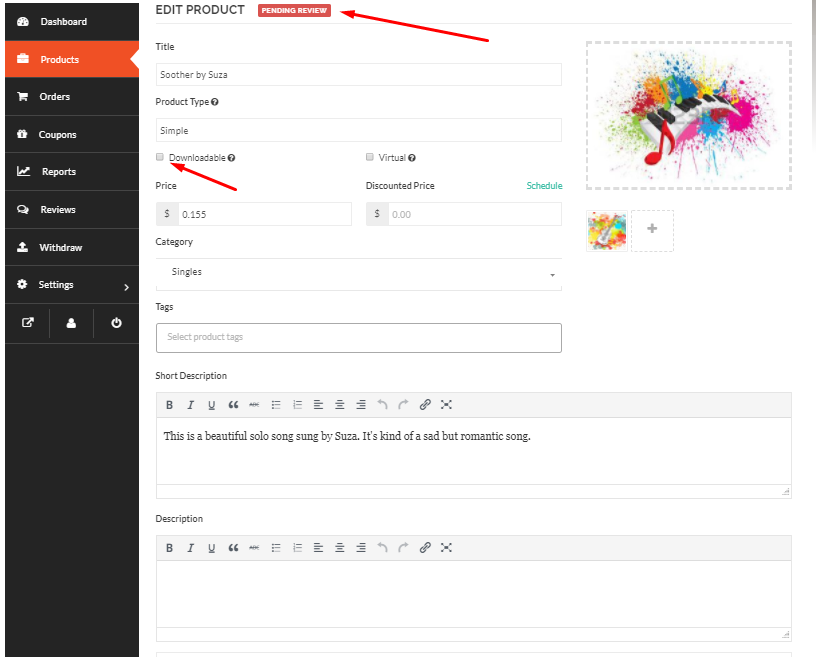 Next, after filling out all the necessary fields, your vendor has to hit Create Product. Then your vendor will see the following screen: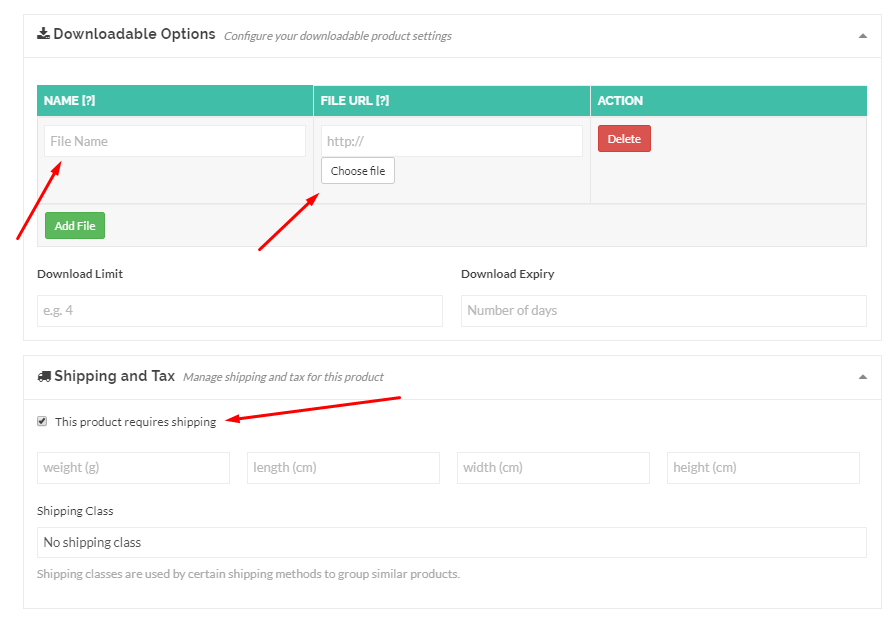 The product will not be published until you approve it. By the way, your vendor must check the Downloadable option since he/she is dealing with digital products. As music is a downloadable product, your vendor has to uncheck the shipping option. Finally, your vendor needs to click on Choose file to upload their music (product) to your store. Note that there is an approval (Pending Review) option to moderate your vendors' products to prevent scams. Once the vendor uploads his/her music, a success message will appear on the screen: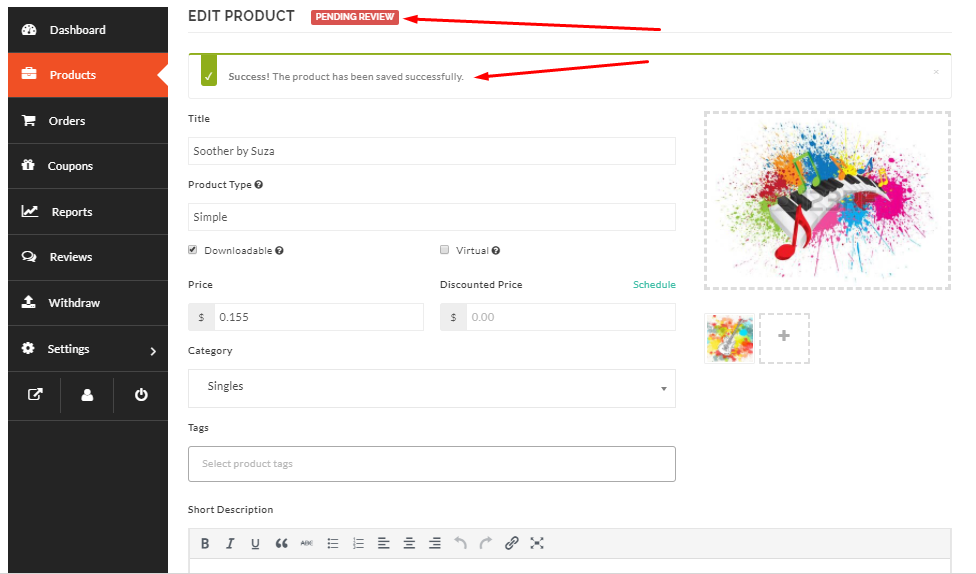 As an Admin, you can go to the Dokan selling option to approve the pending product.
How Will the Customers See the Product?
If any visitor or any potential customer visits your vendor's site they will see the product(music) much like this: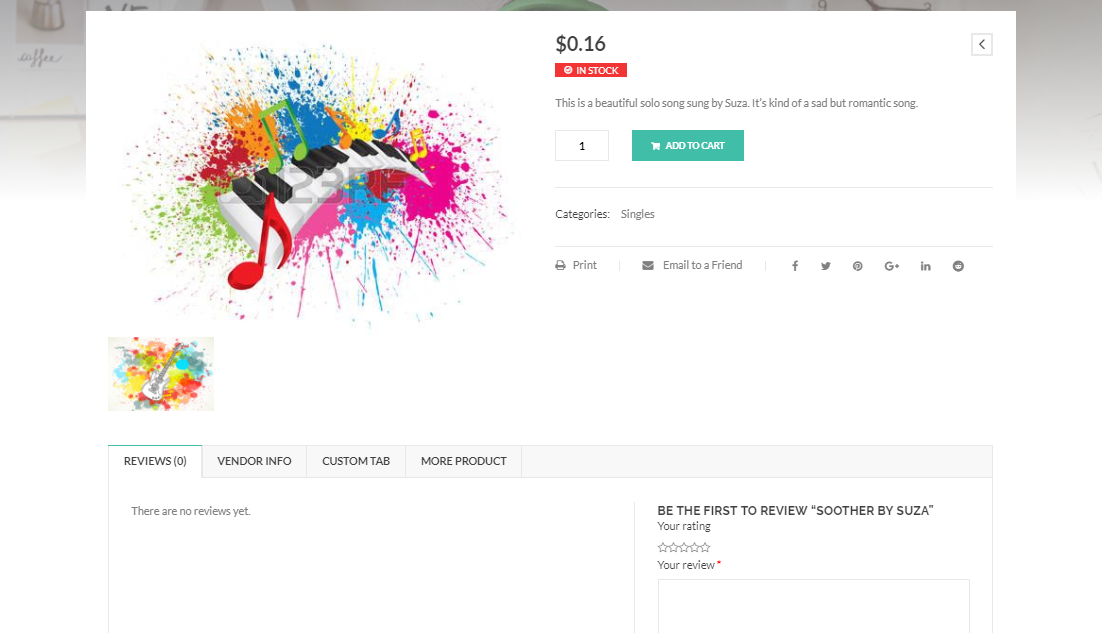 A customer is even entitled to leave a comment or write a review about the product.
Good News!
The success of your store depends on many factors. Search Engine Optimization or SEO for your store is one of the most important factors. You will get built in Store SEO functionality in Dokan which will help your music store get more exposure. It is very useful when you are sharing on social media like Facebook or Twitter.
Reading material: Increase Visibility & Boost Your Online Marketplace Using Dokan Store SEO.
However, you might face difficulties in payment method. Luckily, Dokan supports PayPal, Stripe and many more. Thus, you don't have to face any hassle.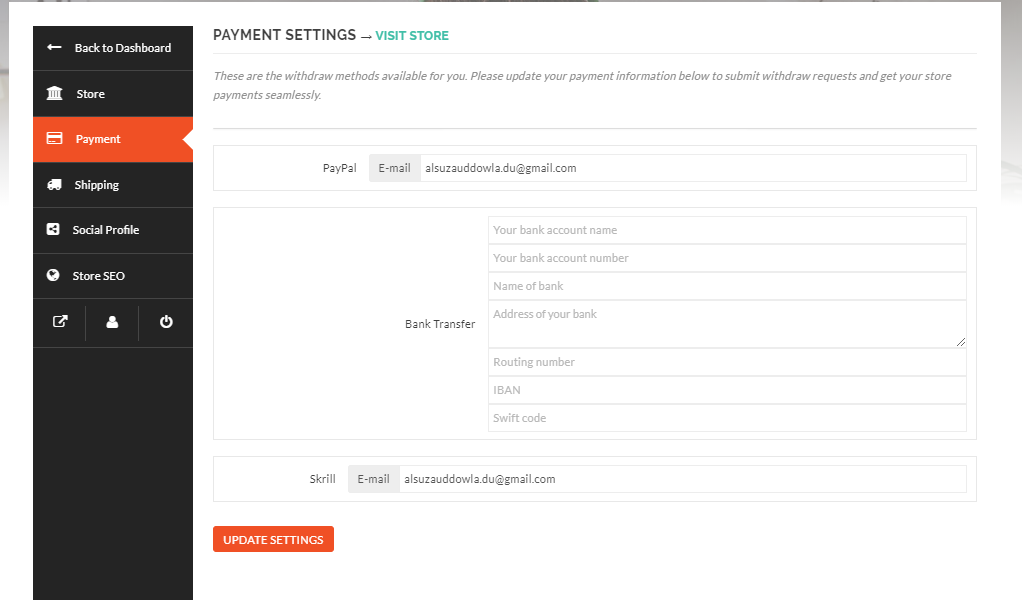 Reading Material: You can read this blog post on the payment method of Dokan.
Bonus Tips for You!
Once your newly created website begins running in full swing, don't forget to follow these hacks:
Writing Contents on Songs or Albums
This will create a great enthusiasm for some visitors' mind and who knows – they might become customers from mere visitors. Writing unique contents will also make your music store stand out from the others.
Sprucing up with Important Pages
It depends on your choice though. However, A standard music store website usually does have pages like Home, Songs and Videos, About, Blog, Gallery, Shop, Contact. Make sure that your store has these pages so that your visitors can navigate to their destination with ease.
Track and Utilize Data
Don't forget to employ Google Analytics to monitor your visitors' behavior. With this tool, you will be able to know how many traffics have come to your site over time, where they have come from, how long they have stayed on your site and so many more!
Use the Feedback Form and Respond to Your Visitors
Collect feedback on a regular basis with weForms and respond to your visitors' queries. This is very important for improving customer relationships. This relationship works as the cornerstone of every business's success.
Round-up
Thanks for reading this article. This is how you can make an online Music Store with the help of WooCommerce and Dokan. If you follow the steps it would help you keep the upfront costs as low as possible. If the process seems technical to you, our support team is always with you. So, don't feel alone!
The mind-boggling thing about WordPress and WooCommerc is that they are absolutely free which is very important to keep your startup capital as low as possible. What about Dokan? It has different pricing plans ranging from free to paid ones. Choose a plan that suits you best.
If you create an online store using Dokan, do not hesitate to share your experience right here in the comment section.