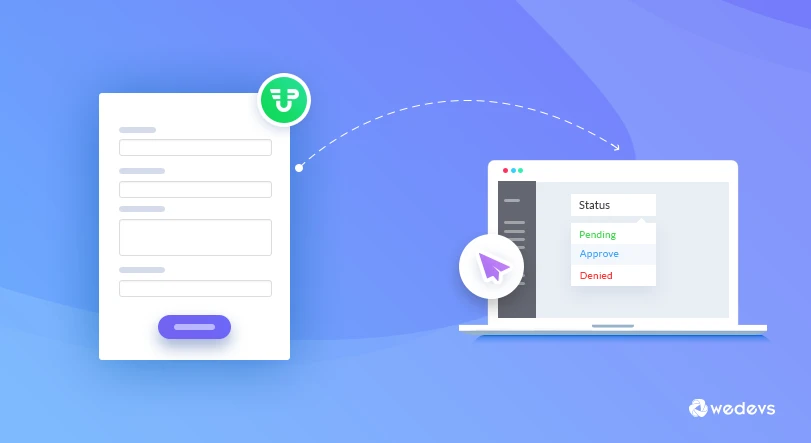 Set New User Registration Status In WordPress Easily Using WP User Frontend
Some of the biggest media sites in the world rely on user-generated content. Facebook, Twitter, Youtube are some of the biggest examples of this.
User-generated content has a different atmosphere as it is generated on the basis of what the community of people wants each other to see, hear or to share their emotions with. Thus, it is important to make sure the community stays spam-free and only real-relevant people are available on the site.
If you are starting out your own content site, you should definitely take advantage of the user-generated content and also make sure you are filtering out an unwanted group of people.
Besides that, frontend solutions for registration, profile building, etc are a must for starting a website centered around content. For that, you will need expert providers who can help you in this area.
Especially if you are hosting your site on a WordPress foundation, very few will give you the vast list of features that WP User Frontend offers.
How WP User Frontend Pro Helps to Keep Your Site Safe
WP User Frontend is a WordPress plugin, that will give you a complete solution for all the frontend needs that you might have.
Whether you want people to register to your website using a proper form with all the right information, create a product form for your WooCommerce store, or any kind of form you have in your mind, WP User Frontend can cater to it all.
Going back to the user-generated content subject, you have to always remember that not everyone is going to bring value to your site.
WP User Frontend brings a very clever solution to this trick – the New User Approval Status feature.
What Is New User Approval/ Status?
The biggest players in the world of content use multiple types of authentication methods so that they can make sure their platforms remain a genuine source of user-generated media.
They use SMS authentication, email authentication, and much more to validate their user.
WP User Frontend also handles registered users' approval from its side very effectively. You can use Social Login to let someone register/login to your website using their social profiles and use Email Verification to verify.
This time around WP User Frontend added another step to that process. Now, you can easily filter newly registered users on your site depending on several user statuses. This is a kind of user approval system that you can easily adopt on your site. You can approve or deny any registration you want.
If we were to put it on a list, it will help you to
add a layer of validation to authenticate your newly registered users
keep away all the spammers you might encounter on the web
make your user-generated content as genuine as possible by filtering the users
review profiles to see they are going to bring value to your site
How Does It Work?
It is a simple drop-down menu option in the registration forms that you create. Simply go to
wp-admin→User Frontend→Registration Forms→Add Form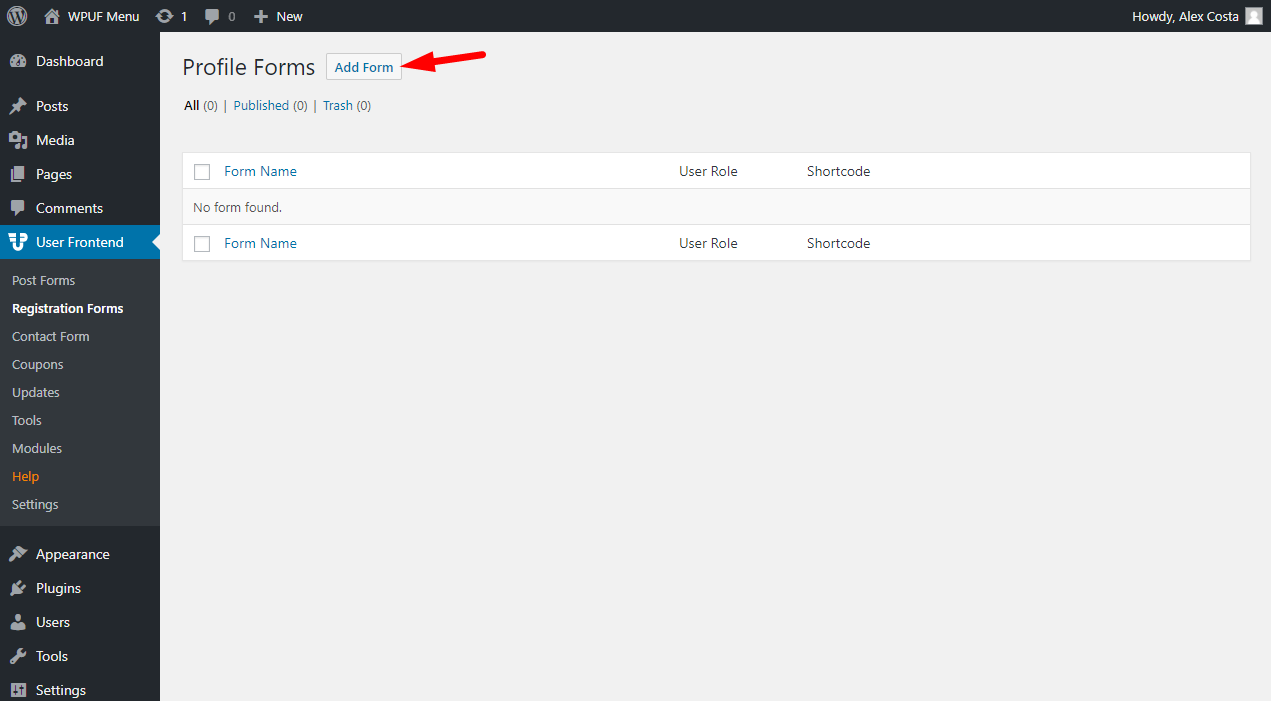 After creating a form you will find settings for a new user status in the general settings menu. There are 3 options you can choose from.
Pending: After registration, the user will have to wait till the admin approves or denies it
Approved: The user won't need any validation from the admin side
Denied: This option will deny registration from that selected form(you can use it for special circumstance)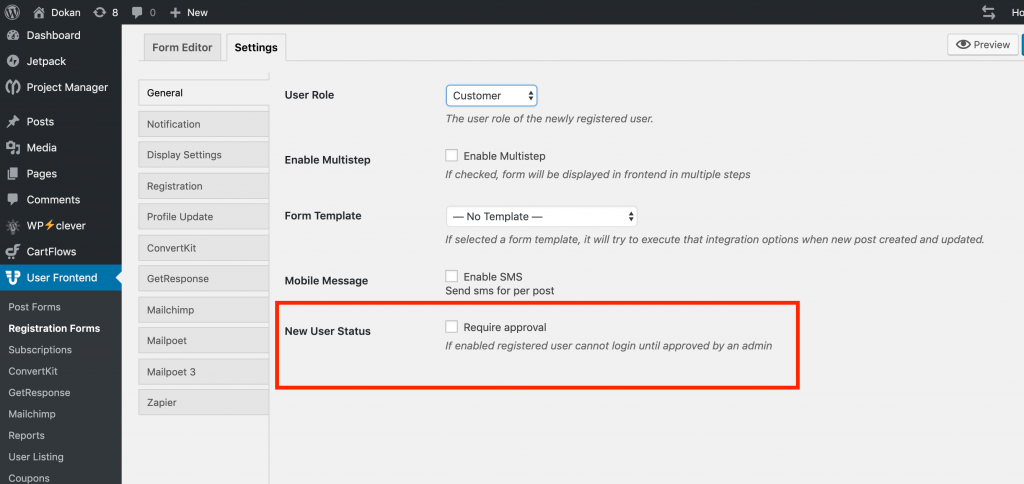 If you select pending from the settings menu after a user registers using that form he/she will have to wait until the admin approves or denies it.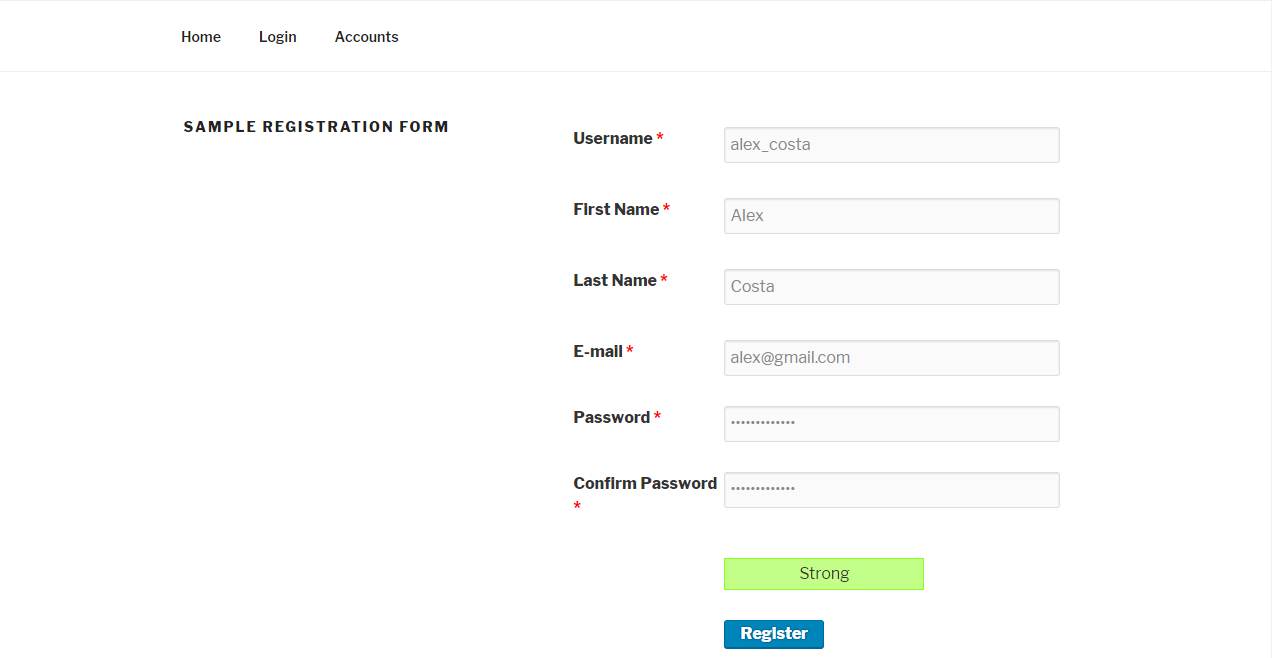 The admin of the WordPress site will see a list of users from the User→All Users menu. There in the status column, they will find the status as Pending for the recently registered user. Hovering over it will show the Approve or Deny option.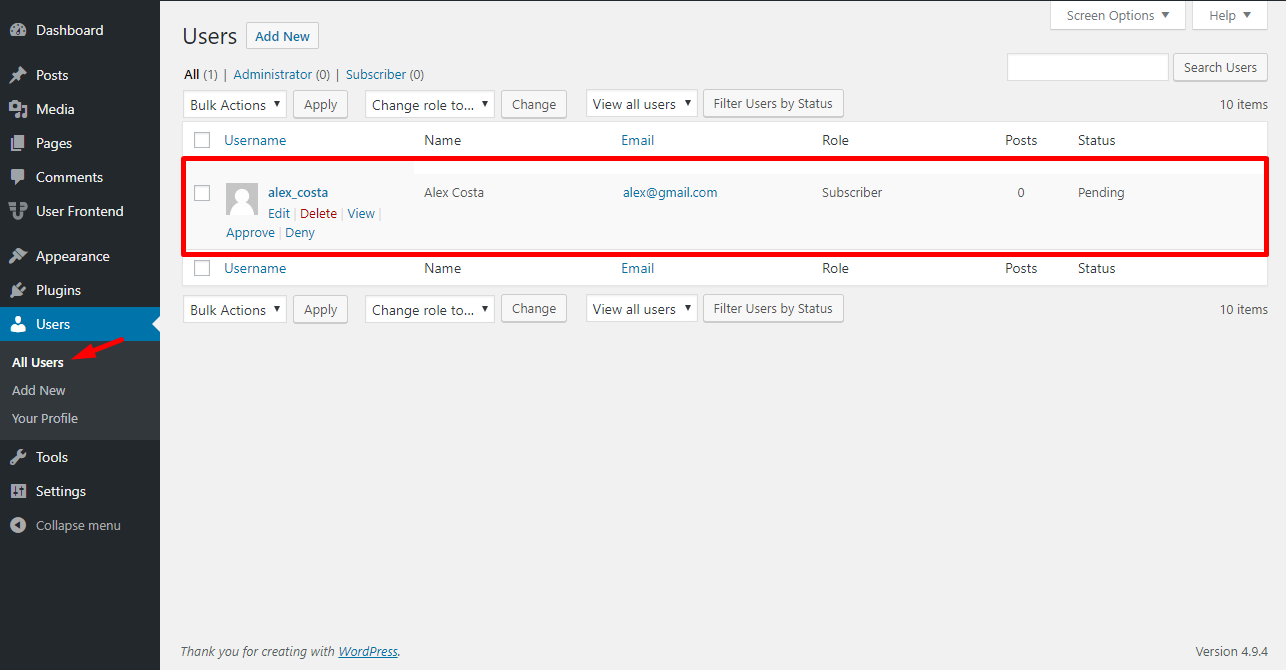 You can see the in-detailed documentation for more information.
Bonus
Apart from approving/denying users, in WP User Frontend you even have the option to send a customized email to the registered given the situation. There are mainly three types of email templates you can set for three types of new user status.
You can use template tags for user name, user email, display name etc so that you don't have to write them individually for each one.
An email that will be sent when the user registers by a form whose New User Status has been selected pending

The one that will be sent if the admin approves registration

An email that will be sent if the admin denies registration
Learn more from our documentation.
Interested to Learn More?
If you are in the WordPress ecosystem and looking for the User Approval feature it is almost certain you would need a separate plugin.
Whereas WP User Frontend gives you that option built in along with more extended functionalities.
If you are interested you can check out the official demo
Also if you are planning on using WP User Frontend, for your WordPress website you can