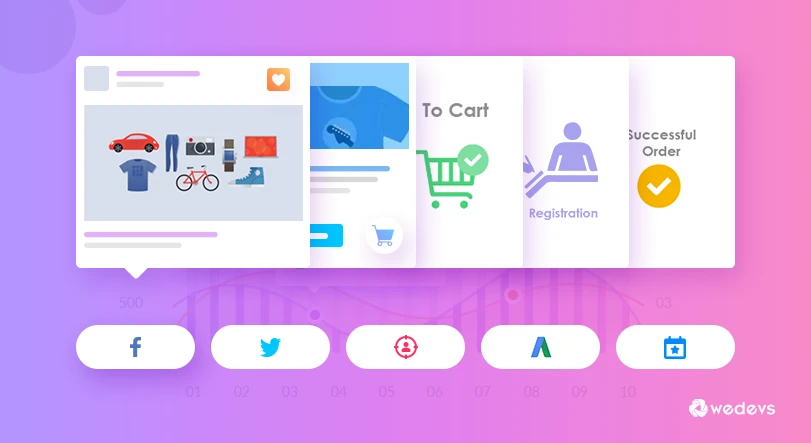 How to Track & Use Your WooCommerce Conversion Data
Conversion tracking, especially for your WooCommerce store can give you the competitive edge you need over your competitors.
In a given scenario, suppose you are a large WooCommerce store owner and having difficulty expanding your business in the way you like it to be. Everything is being done by the book. Still, the business is being held back and is not growing anymore.
You are using various pixels on the site as well as advanced analytics to get an overview of all the customer and for all remarketing and reporting needs. But it isn't enough. People who just accidentally stumbled upon your website without the intention of buying anything are not the potential customers you need, do you?
Enters Conversion Tracking for WooCommerce stores. What it will do is very effective. It will further segment the data into much more tangible variables. Pieces of information you can really use. Previously you were only retargeting and generating reports of those who have visited the store from any source. But with WooCommerce Conversion Tracking you are getting the best out of reports with advanced data sets and paid media investment.
Because you are targeting the right people!
Why Typical Solutions Are Not Enough
Most of the conversion tracking solutions for WordPress out there only show you data that are not the ROI positive in terms of remarketing for your business. You won't be able to sell any product to the person who mistakenly visited your site from a simple Google search result. Retargeting them using ad platforms like Google AdWords, Facebook Ads, and so on will only waste your precious money.
But what if you could segment them to detailed information about
people who added your products to their cart
viewed a particular product page
searched for something on your store
those who went as far as the checkout page but didn't complete the process
and more
Wouldn't this kind of data bring the most value to your business?
That's exactly what WooCommerce Conversion Tracking does. Simply put
The WooCommerce Conversion Tracking plugin for WordPress sends user-triggered events from your WooCommerce store to your chosen ads platform. This lets you create better retargeting campaigns through those channels.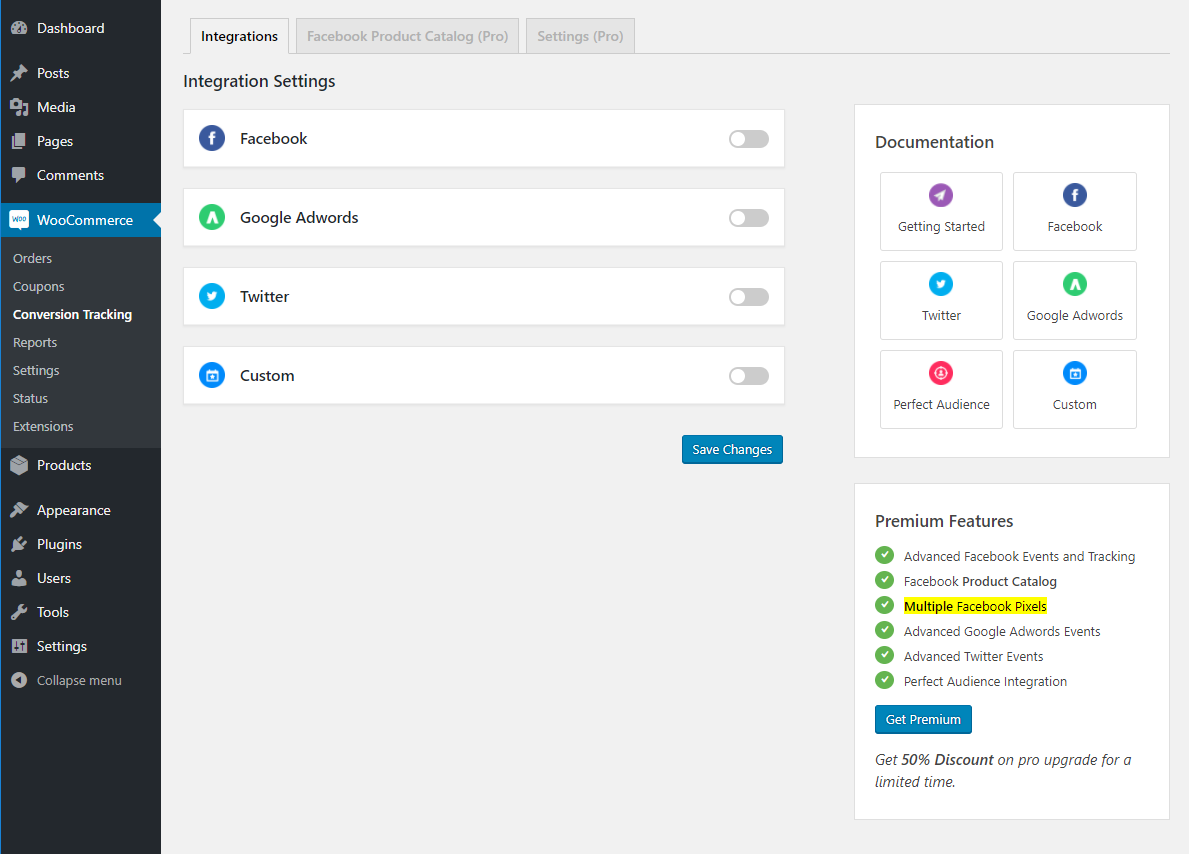 Some of the competition of WooCommerce Conversion Tracking do come very close in term of functionality but it becomes a really big mess when setting them up for your store.
It is a single plugin that incorporates all your pixels and events under one roof. Whereas others do this by implementing pixels for each page(what if you update a page later on!)
At the same time, other solutions do not offer the simple UI & UX that WooCommerce Conversion Tracking offers.
It can even help you to generate enhanced WooCommerce conversion data reports Made. What can it not do?
You really need to generate a report for your business if you want to expand it further than. This plugin can help you to enable advanced datasets you will need to get a more in-depth overview how everything is going on for your site.

You can learn more about WooCommerce Conversion Tracking & how it solves all your conversion tracking problems from our previous blog.
WooCommerce Conversion Tracking Premium Released
What is better than the already capable FREE version of WooCommerce Conversion Tracking. The premium version that offers more components for better-remarketing results than you are already getting.
The free version comes with offerings that are already great.
But if you want to achieve the best product remarketing possible for your WooCoomerce store nothing comes close to the detailed data that the premium version will give you.
List of extra that you get with the premium
More Facebook events tracking than ever before
Ability to add multiple pixels(for when working with an agency)
Facebook Product Catalog support(For all those Dynamic Product ads)
Google AdWords results made better with more targeted options
Advanced Twitter ad retargeting with much more curated data
Support for Perfect Audience (The all-in-one solution for retargeting needs)
These pieces of information will provide you the opportunity to target the right people for the most ROI of your business.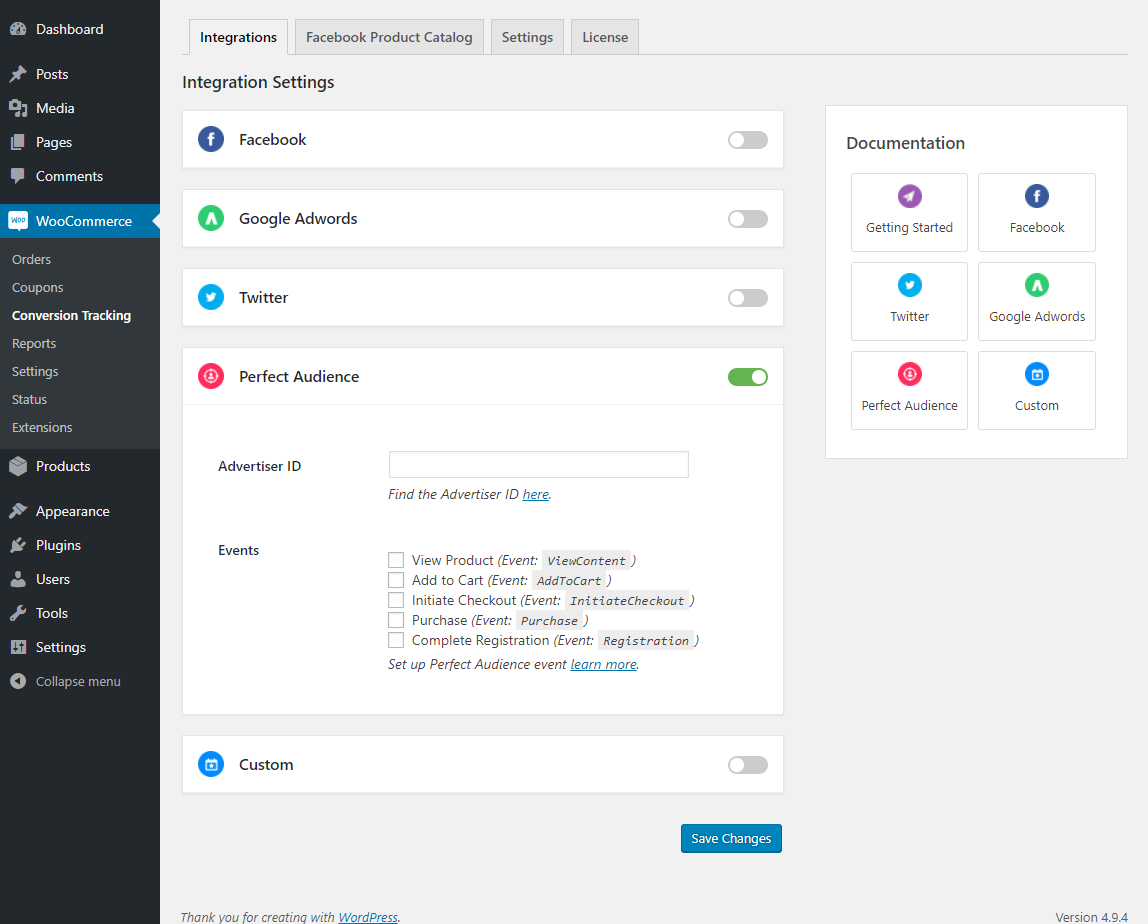 If you are interested you can learn more about the pricing and features comparison different packages from here.
Ad Platforms Capabilities Extended With Advanced Data
This is the age of the information and whoever has the most data about their customers are the clear winner. Because they are gonna have the upper hand over their competitors when connecting to them later on.
If you are a WooCommerce store owner wanting to better the remarketing results that you are getting WooCommerce Conversion Tracking premium is the one for you. It offers greater extended information than the free version. Plus with more added benefits.
More Facebook Events And Features
In the premium version, Facebook events have been multiplied by 2 times and more features for the end user has been added. You can send information about the following events apart from what you get in the free one.
View Product: Track those who have viewed your product
View Product Category: Even those who viewed the product category
Search: If someone comes to your site and searches for something you can keep track of them
Add to wishlist: If someone added a product to their wishlist and you want to track them this one is for you
Multiple Pixel Support: Add multiple pixels to your site. Especially useful when working with a marketing agency.
Add Product Catalog: Show Facebook Dynamic Ads/Collection Ad formats using this feature
Google AdWords Events Added
Complete Registration: With the premium version you can now track people who completed registration on your website so you can target them later on with Google ads relevant to them
More Conversion Data For Twitter
For your Twitter remarketing to have the most value, we have added more events than what you get in the free plugin.
Add To Cart: Now you can retarget people who added a product to their cart and market to them using ads on Twitter
Registration: Registered customer holds the most potential. Track who they are and retarget them using Twitter ads.
Support For Perfect Audience
"Perfect Audience" the all-in-one solution for retargeting needs is now supported in the pro version. You will be able to track multiple trigger-based events and send that data to Perfect Audience's remarketing platforms. All the data will be shown in the powerful dashboard of Perfect Audience. Events include
View Product: Anyone who viewed any product in your store
Add To Cart: Added a product to their personal cart
Initiate Checkout: People who initiated checkout can be now tracked
Purchase: Track who purchased a product from your store and show them ads to make recurring buyers
Complete Registration: A user who created a profile in your store surely want to buy something. Track who they are.
User Permissions
You don't want other people to mess up your pixels settings for conversion, do you?
For that, we have added a user permission role in the settings menu which is as easy the WordPress permission settings that you get. Simply check mark the name of who you want to share the privacy of the plugin with and you are good to go.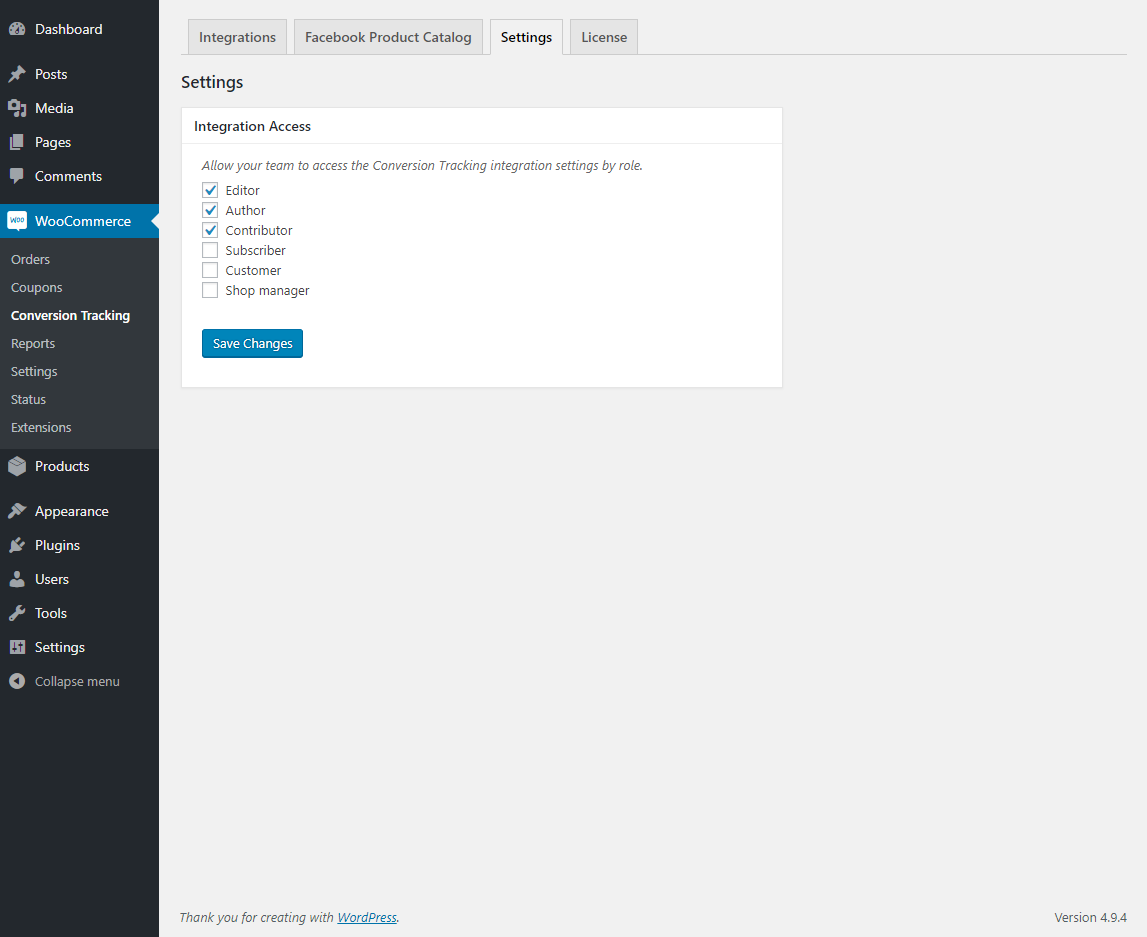 Interested To Learn More?
If you are still around and want to try out WooCommerce Conversion Tracking you can from here.
Or if you are convinced that it is the right plugin for your WooCommerce store's remarketing needs, you can consider the premium version for better retargeting and results.
Limited Time Offer: 50% Discount on WooCommerce Conversion Tracking Pro
As more than 10,000 people are actively using the WooCommerce Conversion Tracking FREE plugin, we are celebrating this milestone by releasing the Premium version. Also, a promotional offer is going on for a limited time.