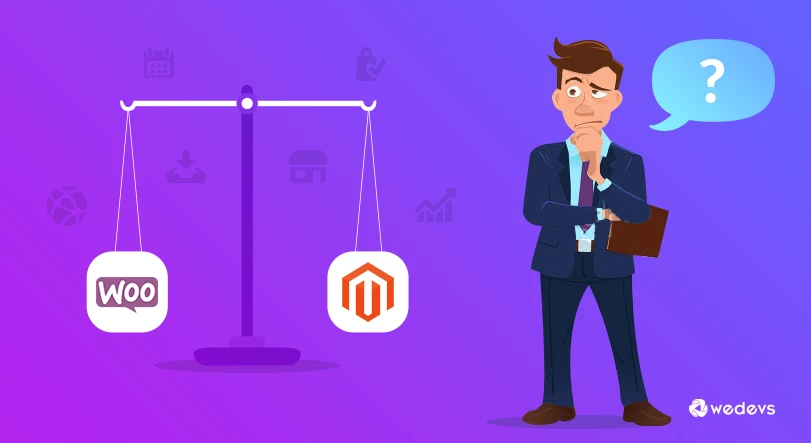 WooCommerce VS Magento: The Battle Of Best eCommerce Platforms in 2023
If you are planning to start your own eCommerce business and couldn't decide on the platform to get started with, you are really in a difficult situation. Do not worry, we are here to help you out with that.
You may already have done some research and found the big names in the eCommerce software industry. However, there are some other big players including Shopify, BigCommerce etc.
But, if you look at the total market share of the eCommerce platforms, you will notice that WooCommerce is leading with around  47.3%, and in second place, there is Magento with 13.1%. That's how prominent and popular these two E-commerce platforms really are. (wappalyzer, April 2017)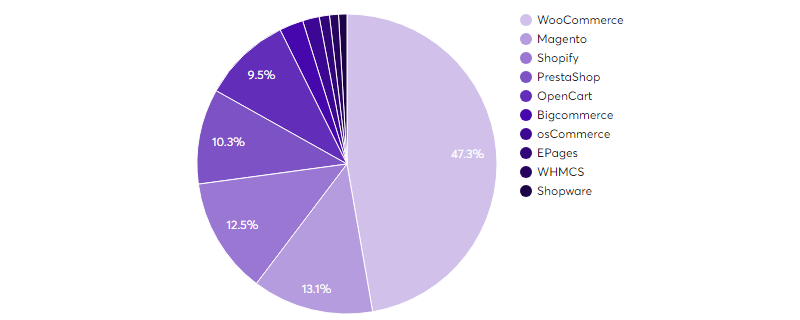 So, it's natural that you are struggling to choose between WooCommerce and Magento.
While planning to launch your own E-commerce site and in the dilemma of choosing the right plugin for it, this blog will probably help you a great deal. This post will cover the in-depth comparison of the features, pricing, security issues, performance, user ratings, setbacks, and everything else related to WooCommerce & Magento.
The Overview: WooCommerce Vs Magento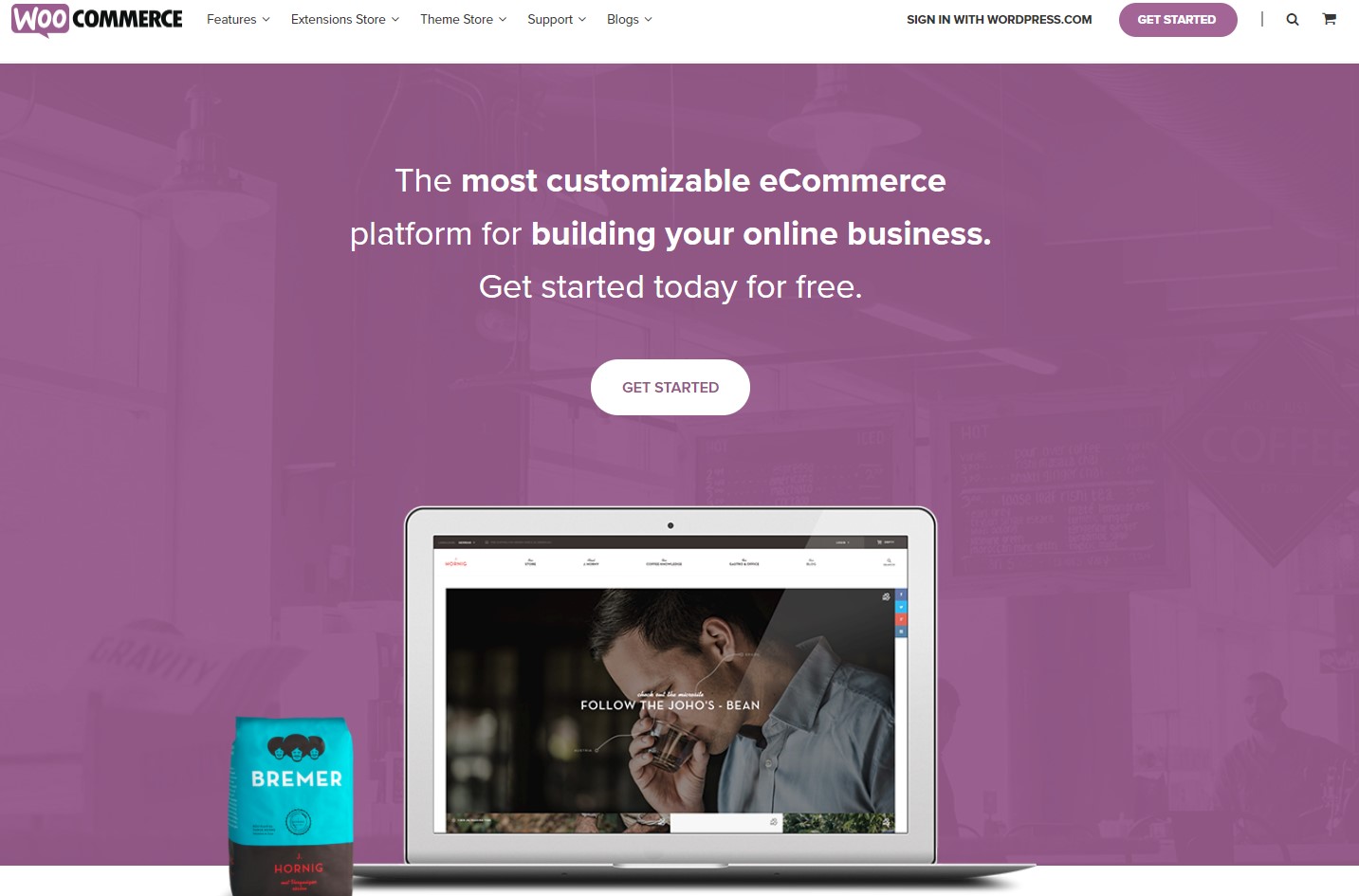 Officially founded in the year 2011 by Woothemes, WooCommerce has begun its journey to conquer the WordPress industry with its cutting-edge E-commerce features. It is said to be one of the most technically sound e-commerce software to come out for its users. Powering up almost 30% of the whole E-Commerce market, WooCommerce now has almost 1o million+ active users worldwide.
In ThemeForest, WooCommerce has over 1144 themes. In the directory of WordPress.org, it has over 1000 WooCommerce Themes and in mojo-themes, there are almost 240+ WooCommerce themes available. That makes it over 1800+ themes in total. So there is no shortage of themes for WooCommerce when it comes to redesigning your E-commerce websites.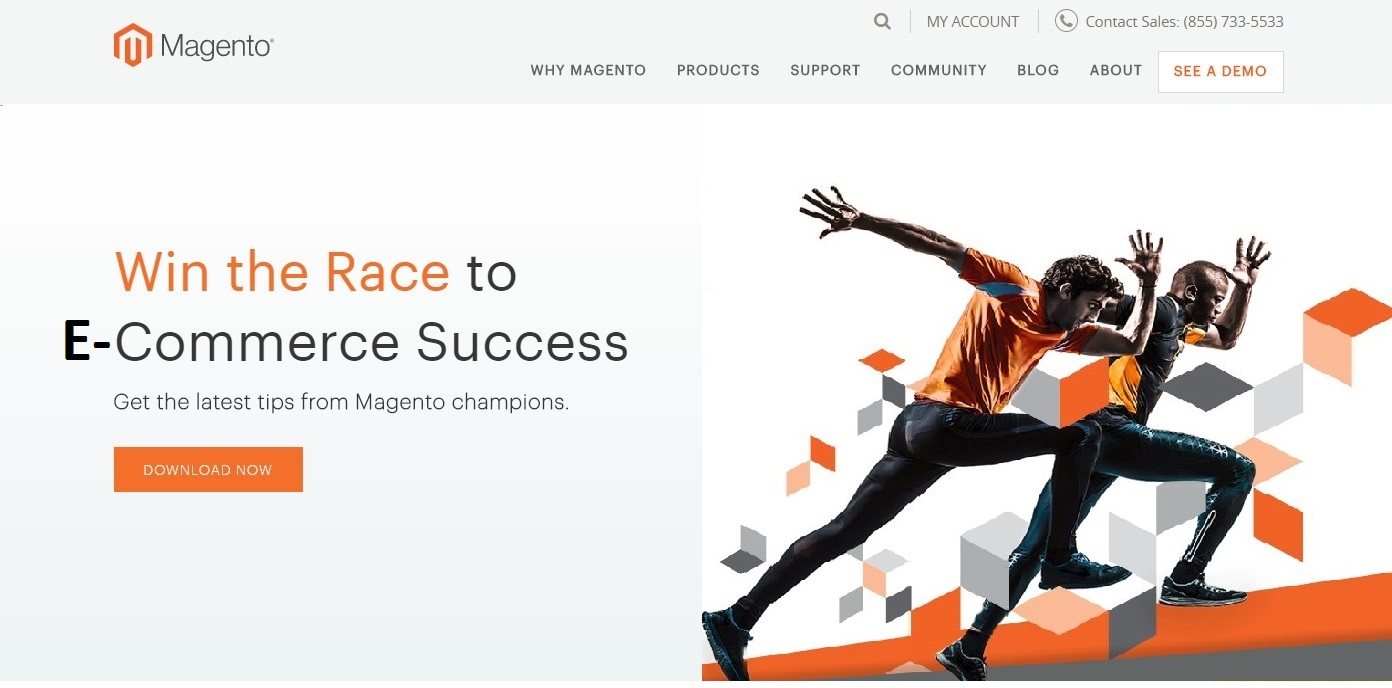 Magento started its journey in the year 2008, developed & founded by Varian, Inc. They are currently ruling over 8% of the total E-Commerce market, Magento is one of the vast & robust E-Commerce applications available in the market. Presently its active user has reached 25,0000+ with a yearly transacted gross merchandise volume of over $50 billion.
Magento also has a good number of themes to decorate the website. There are over 890+ Magento themes in ThemeForest, giving its user complete freedom to design the e-store their way.
What's so special about WooCommerce & Magento?
Most suitable for all kinds of E-business, WooCommerce is currently the best open source E-commerce platform available for WordPress users. It is a WordPress plugin and allows its user to sell anything and take a full toll on its open-source benefits in WordPress. It provides the best easy-to-use options for its users. User-friendliness is probably the unique entity of this powerful WordPress E-commerce plugin.
On the other hand, Magento is one of the uniquely designed platforms mostly based on user needs. The application mainly consists of two plans Magento Community and Magento Enterprise. The community plan is open source and free to download and the enterprise plan is loaded with advanced features with mostly premium services. The application suites the best for the development professionals of e-stores with high aspirations.
Current Trends
Here is graphical statistics of WooCommeerce & Magento in Google trends in the past 12 months:-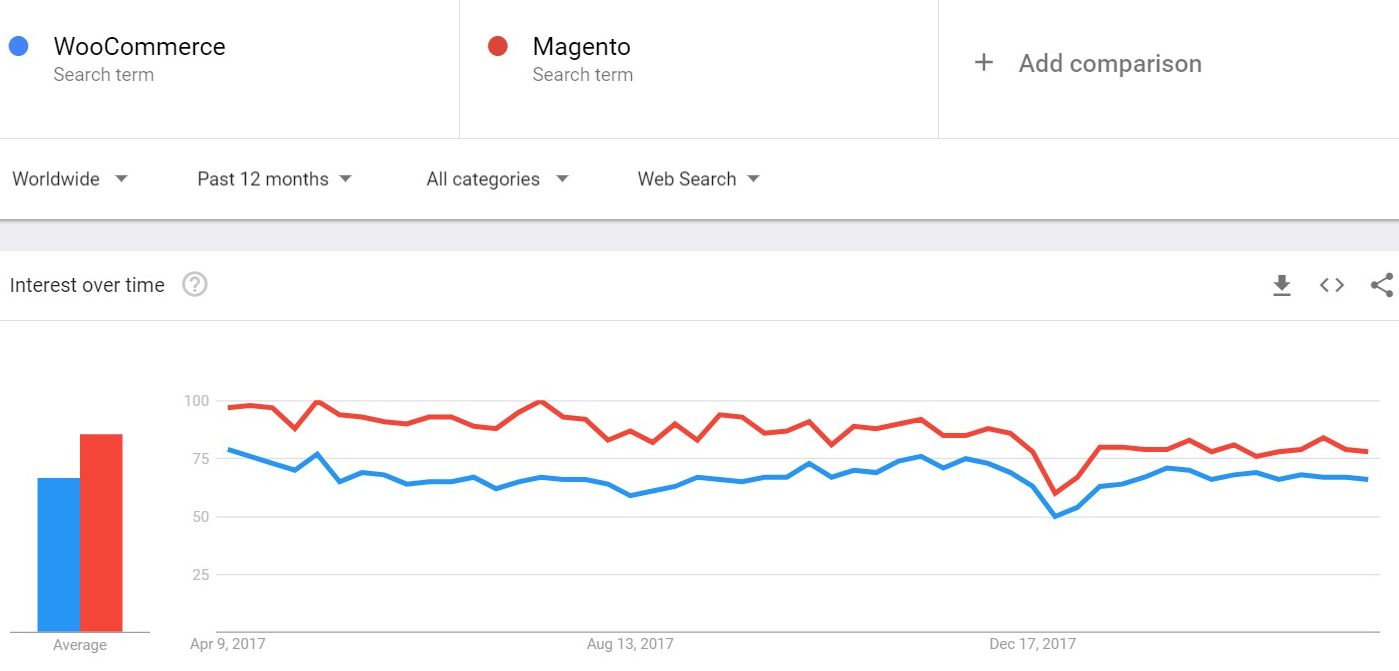 The above stats show the public interest for both WooCommerce and Magento over the last one year time. Magento is slightly ahead in this regard compare to WooCommerce.
Trends over the past 5 years of WooCommerce and Magento –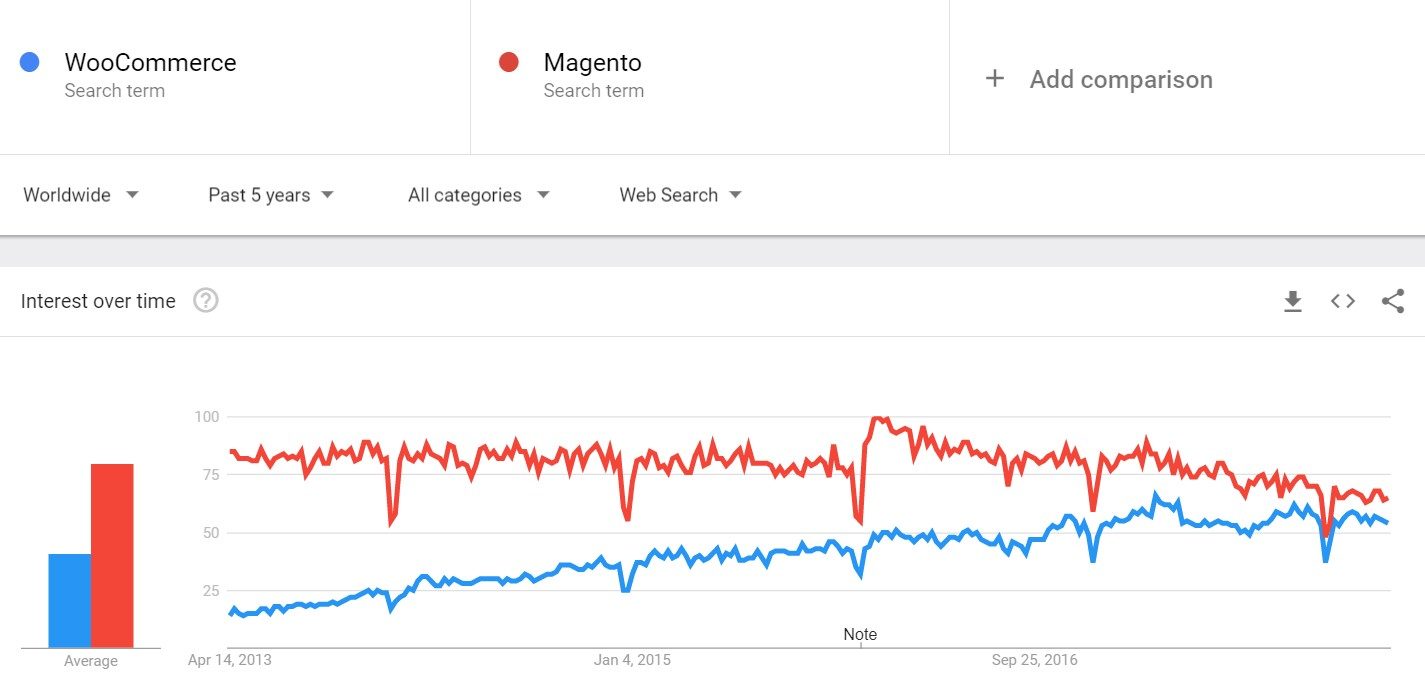 Here is a look at the market trend for WooCommerce & Magento in the last 5 years. As it can be seen, Magento is clearly ahead in terms of public interest even though WooCommerce is catching up to it faster.
Trends since the beginning to present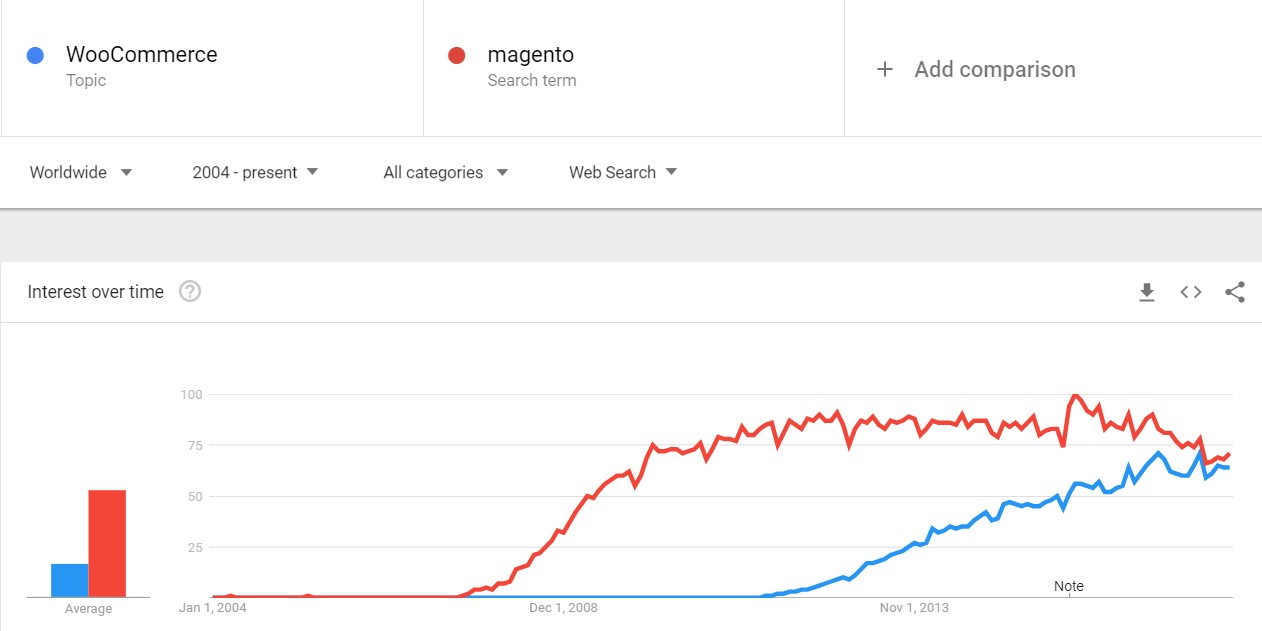 The graph shows the statistical change in market trends between WooCommerce & Magento since the beginning of time. Both the platform started off slow and took time to make their place in the market. Being a free & open-source platform for WordPress, WooCommerce sure caught up really well with Magento in the last 8-10 years.
The Outright Comparison Between Two Popular E-Commerce Platforms
Before going into the comprehensive comparison, let's have a look at a few of the common entities of WooCommerce & Magento that will help you decide which is best suited for you.
According to CodeinWP, WooCommerce gives all the core and important features of an eCommerce store for free and you can also include more advanced functionalities including booking, auction, subscription, PoS, etc. using paid extensions. On the other hand, the free version of Magento doesn't do much. If you want a full-fledged eCommerce store, you will have to pay around $18,000/year. In terms of usability, WooCommerce is ahead of Magento as it is easier to use and even non-coding people can use it to the fullest.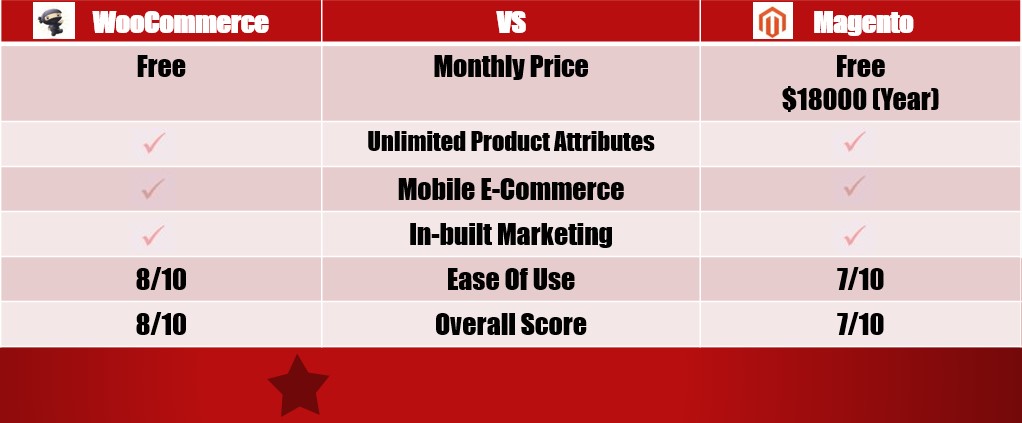 So if you are in a hurry and not too keen on getting into the detailed comparison and want just some basic info on these two most popular E-Commerce platforms, then the above chart with some of the essential information, might help you decide in choosing the right one for you.
WooCommerce Vs Magento: Main Features

WooCommerce
Being a WordPress plugin, it has the ability to manage all E-commerce related issues from the WP-Admin dashboard of your site.
Supports marketing campaigns such as discounts, coupon codes, usage limitations etc.
Has advanced reporting facility of sales income, level of inventory, overall store performances, product and customer reviews.
Supports a number of popular payment gateways, Paypal, Cash on delivery and Stripe for credit card payments.
Capabilities to set free or flat rate shipping for product delivery.
Options to control tax settings with local tax rates including tax classes.
Magento
Use templates to get an exclusively customizable design e-store.
Ability to perform target marketing, customer segmentation and merchandising.
Options to set more than one wish lists.
A highly portable device responsive application.
Facility to add countless product attributes.
Privacy feature in selling a product to a specific customer.
Integrated content management system.
WooCommerce Vs Magento: USP

WooCommerce
Zero transaction fees.
Full control over code base customization.
Thousands of free and paid themes & extension options available.
A lot of helping hands available to contribute from the open source community of experts.
Easy to use & learn.
A huge number of helpful resources and documentation available.
Has a way better CMS capabilities compare to other contemporaries.
Magento
Highly scalable and flexible E-commerce application.
Catalog and product management facility.
Extremely professional looking web design option.
Has core functionality of highest order.
Business to Business E-commerce facility.
A number of useful integrations available.
Can handle multi-website/multistore on the same installation.
WooCommerce Vs Magento: Limitations

WooCommerce
Vulnerable to security concerns if not maintained well.
Chances of plugin conflicting with one another.
A number of severe developer risks.
Requires self-hosting & constant updates of core plugins.
Usable only on WordPress hosted platform.
Magento
Complex system and development knowledge required to operate.
Expensive to use and maintain.
Themes & third party apps are difficult to implement.
Requires constant software updates.
To overcome higher developer risks it requires highly skilled developing personnel to manage and maintain the application.
WooCommerce Vs Magento: Pricing

WooCommerce
As a WordPress plugin WooCommerce is free to download and use.
Magento
Magento's community plan is free to use and download, but its enterprise plan requires around $18000 per year.
WooCommerce Vs Magento: Ease of Use

WooCommerce
To be honest, WooCommerce has a pretty straightforward and easy-to-use interface on your WordPress. Anyone familiar with using WordPress even without any developing knowledge can easily learn to use and maintain this plugin. The platform is easily customizable from your WP-Admin dashboard.
You can quickly test the site, make several changes until you are satisfied with it as well as long as you are used to a WordPress site. It makes the life of a WordPress user a whole lot easier when it comes to creating their own E-commerce site. So overall the plugin works great even with all the helpful features making it one of the most easy-to-use E-commerce platforms.
Magento
For anyone new, it does require a little bit of time to get used to the system of Magento. It is certainly said to be built under a complex method of usability. People not familiar with such kind of application may find it quite challenging to manage it. Even getting to the admin area of Magento might look to be tough for some people in the beginning.
So the software itself comes with a difficult frontend to maintain. Makes it even tougher for people without much tech knowledge as well. So overall, Magento is a platform that is said to be not so user-friendly for beginner user. But for a more advanced user, it does offers all the useful features in making it a large and formidable online shop.
WooCommerce Vs Magento: Site Performance

When it comes to the performance of your E-commerce site, you can't afford to have a website that takes too long to load. This makes the customer leave your site quicker resulting in a substantial loss of your online business. So the performance of a site depends largely on the hosting provider and the volume at which you are loading files to your website.
For both WooCommerce and Magento, the performance of it will have different results considering its functionality and size. So regardless of the platform, the performance of your E-Commerce site mostly rests on several other factors such as your web hosting provider, whether your posted images are optimized or not, and whether you are using a Content Delivery Network (CDN) or not.
WooCommerce Vs Magento: Level of Security

No online store is complete without the effectiveness of its security measures. The importance of security cannot be unnoticed by any means. So even for WooCommerce and Magento handling the security issues plays an important role in their overall ratings.
Both WooCommerce and Magento allows its user to enable a number of advanced security measures, but mostly through extensions and manual process. Even though it is well-known fact that no site can be 100% safe from security attacks. But in order to ensure advanced security to its clients, Magento offers dedicated security patches.
And since these patches aren't that easy to apply so, therefore, most new users might not even care about doing so. This might result in a number of Magento stores being outdated in terms of security coverage.
Having said that, if having the best of security is your top priority and you don't mind spending on it, then Magento is definitely your bet in this regard.
WooCommerce Vs Magento: User Group

WooCommerce
Since it is a WordPress plugin hence, it is safe to say that its preferred user base will most likely be of WordPress background. Unless they totally want to change their web hosting platform to use Magento. But if you already own a WordPress site, then all you will need to do is to download the WooCommerce plugin and install it to set up your own E-commerce site. Yeah that how simple it is for WordPress users.
Magento
It consists of some complex set of settings, making it ideal for the user group from larger companies or enterprises. People who are willing to spend big bucks in wanting to develop and grow a big business are certainly the suitable user base for this. In order to maintain Magento, you need to have developing knowledge as well, therefore people from tech backgrounds might also find this platform suitable for them.
WooCommerce Vs Magento: Level of User Convenience: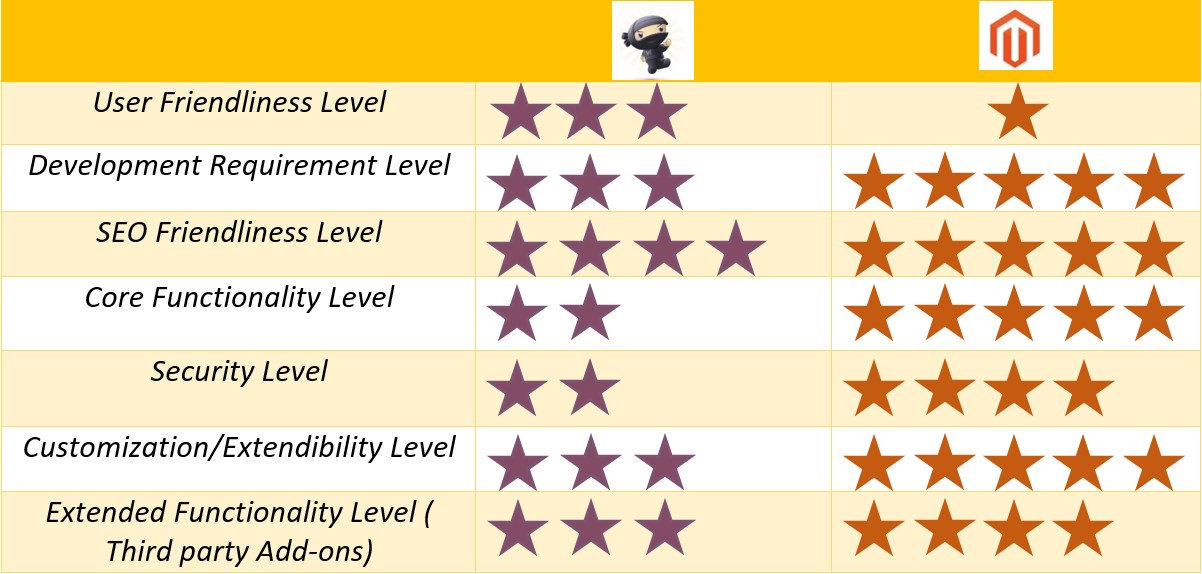 Source: Trellis
The number of stars above might make Magento look to be an outright winner in terms of user satisfaction level but the reality is different. Development requirement level with a high number of stars means a user needs to have basic development knowledge to control and use this platform.
Core functionality level with more stars also means the system is loaded with complex operative options which might not be user-friendly for most E-commerce site owners. And the price at which Magento uplifts these satisfaction levels, even the five stars might look very ordinary in eyes of many.
Having said that, both WooCommerce and Magento offers its user a great deal of user satisfaction. WooCommerce ensures the highest level of satisfaction to most small to medium size businesses and Magento to very high-end E-Commerce business projects.
WooCommerce Vs Magento: Extensions
Both WooCommerce and Magento allows its user to add & activate advanced functionalities through their extensions. In Magento, you get most of the extensions built-in with its enterprise plan of $18000 per year. Whereas for WooCommerce you are required to buy extensions individually for the advanced functionalities that you are willing to use.
For example, the booking feature of WooCommerce hasn't been included in the free version of WooCommerce but in Magento, it is already present in its Enterprise Plan. But there are other premium extensions for Magento, that you can buy from Magento Marketplace.
You can check out the price and other details of WooCommerce add-ons from the WooCommerce Extension Page.
The Verdict: Which One Should You Choose?
Well, looking back at the side of the main feature by side that these two platform supports may help you choose and decide which one would be the best fit for your E-commerce shop. So here are the significant attributes in a chart side by side for your convenience.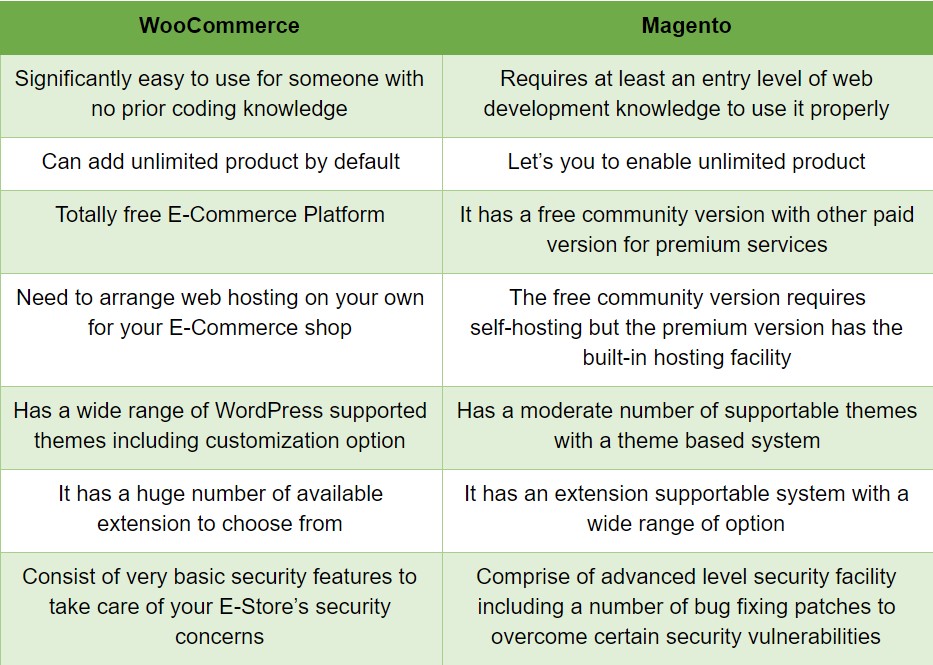 After learning about all the above features, benefits, drawbacks, and other relevant comparisons, it is not going to be easy to pick the best E-commerce platform. One platform outperforms one another in several different entities of its features. And it is a wise idea to find out which one is better suiting and fulfilling your E-commerce business needs.
When it comes to WooCommerce, after analyzing its above attributes, it is quite evident that it is an ideal E-Commerce platform for all E-Commerce sites starting from small to medium/large size businesses. So those who are planning to launch a robust & scalable E-Commerce store using WordPress can probably choose WooCommerce over anything else even with their eyes closed.
On the other hand, using Magento is not a cheap deal at all. Moreover, to use it hassle-free, a user requires having basic development knowledge as well. Also using the Magento system is quite complex and vast. So if you are running a big project and have the budget to spend more than $15000-20000 per year, then there can be no better e-commerce solution than Magento.
The Final Pick
Both WooCommerce and Magento have some of the most advanced and innovative features. But their user base might be very different from one another. So picking just one of these two great E-commerce platforms won't be justified simply due to the fact of its variant user base.
Read: How to Migrate from Magento to WooCommerce
In the end, it's quite evident and safe to say that WooCommerce is an application mainly designed for all types of businesses. It simply does the work of selling products and once it grows bigger, it can include more functionalities by adding extensions to satisfy its customers. And for WordPress users, it is definitely the ideal platform to go for. So pick WooCommerce if you already have a WordPress site set up and want to own a small budget E-commerce business to sell products through it. In case you want to start big, you can include all the premium extensions of WooCommerce.
On the other hand, Magento is a platform more popular among big business companies and corporations. Please note that WooCommerce is 6 times more popular than Magento. However, Magento is highly scalable making it ideal for people with bigger plans or with other large successful online ventures. It works brilliantly once you install it by a specialist developer. The extensions are quite impressive and high-end as well. So pick Magento if you have the mindset to go big right from the beginning with no shortage of funds as setting up an e-store with Magento requires a huge budget and a proper development team.
If you have any experience with WooCommerce or Magento then do share your thoughts on these amazing E-commerce platforms. It will certainly help us in our future posts to compare the E-commerce software better.
Leave us a comment, if you have any queries or suggestions regarding our blogs or services.