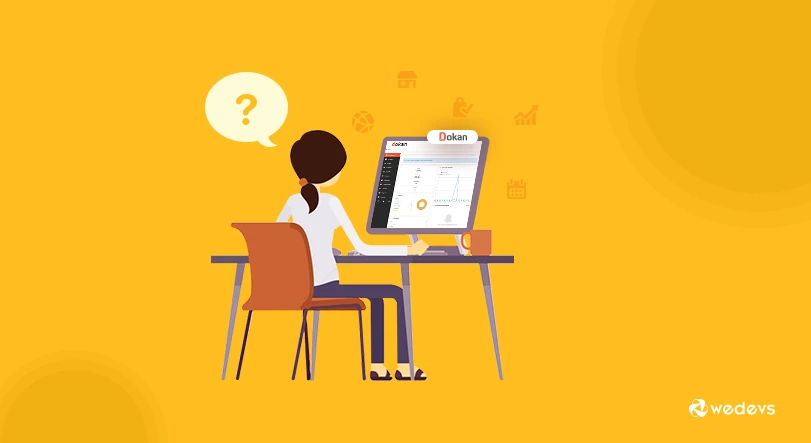 Do You Really Need A WooCommerce Frontend Manager for Dokan?
Frontend is the most important element of a website. Your visitors get to see the frontend while you control everything from the backend and this is the natural process of a website. However, a website owner/admin might want to bring certain parts or features to the web front.
When we are talking about eCommerce stores or marketplaces using WooCommerce, we might want to add and manage products, orders, coupons etc. from the frontend. So, how can you do that?
Well, WooCommerce does not have frontend features by default. However, there are other plugins that can make this happen. If your plan is to create a multivendor store or a marketplace, there are also plugins that can do such things.
Dokan is one of the most popular multivendor plugins out there for WordPress and guess what? It has frontend features for vendors by default!
So, the ultimate question is – Do you really need a frontend manager for Dokan Multivendor Marketplace?
Let's find out from today's blog.
Frontend Features of Dokan Multivendor Marketplace
With Dokan, you can easily turn any WooCommerce store into a full-featured multivendor marketplace. At the same time, you can allow new vendors to register on your marketplace and let them create their own individual stores.
Vendors can manage their stores as if they are running an eCommerce site. However, you can restrict certain capabilities of WooCommerce for them. Vendors cannot view the backend of your site. They can only view their settings from the frontend.
Dashboard for Vendors
By default, Dokan creates frontend dashboard for vendors. From there, they can view everything that they need to know about their stores.
The vendor dashboard gives an overview of the store and sales. Vendors get a summary of their page views, orders, sales, and earnings. There also sections for products and announcements.
Basically, vendors get a bird's eye view of their store and certain important information.
Read the detailed documentation of vendor dashboard

Store Management
Dokan provides each vendor their own individual stores. They can choose the name and change the URL as they want. Besides that, they can add store banners and profile pictures. There are options for setting up address, shipping, payment, verify store, social profile, store SEO and many more.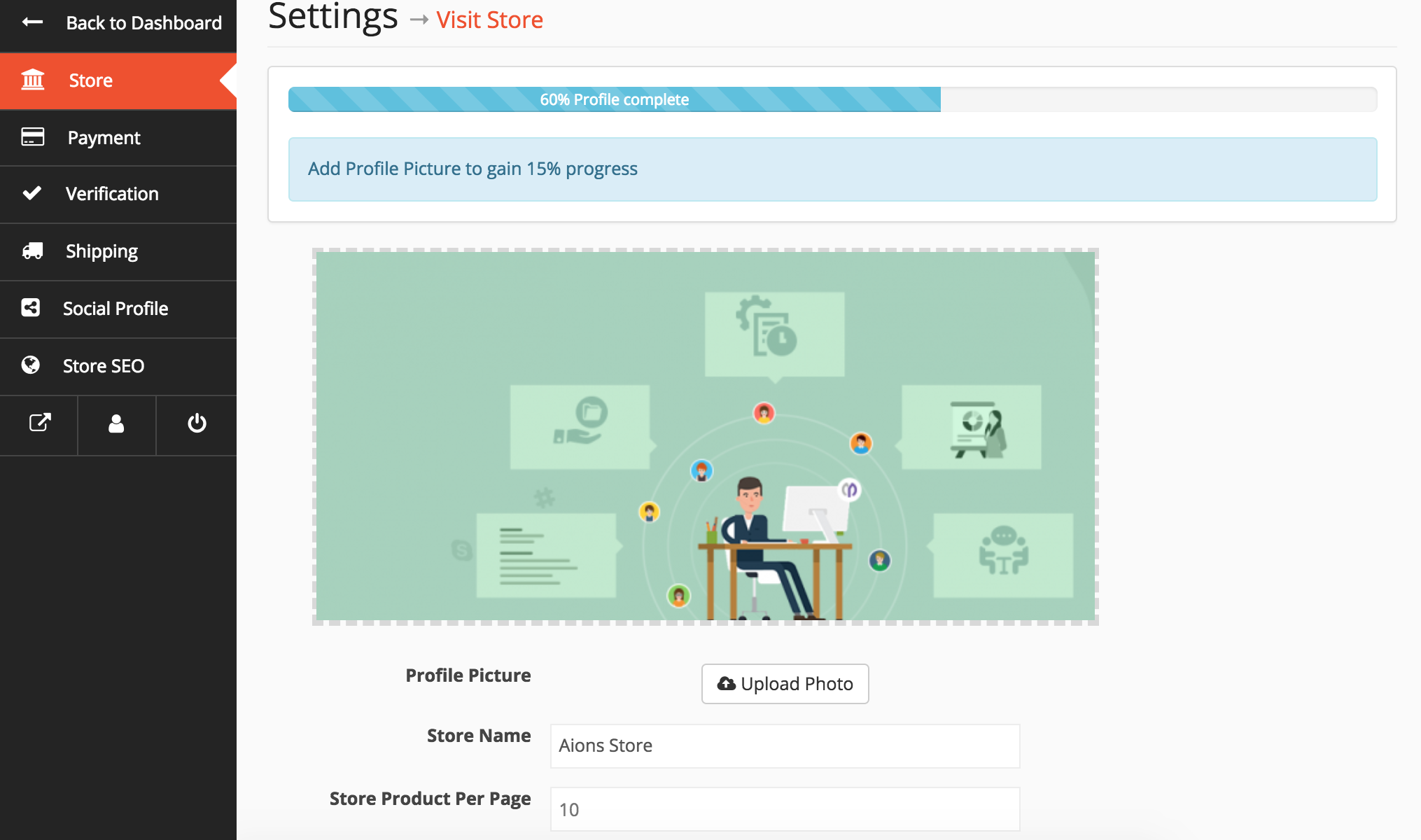 Product Manager
Vendors can create their own products from the frontend. Not only that, they can even edit them whenever they want!
Dokan allows a flawless product creation process just for vendors. They can simultaneously create multiple products with the most minimum information possible.
Marketplace owners can give vendors permission of publishing their own products. Also, can publish products by themselves when vendors submit them for review.
Most importantly, vendors can create simple products, variable products, group products and even digital products as well. Basically, vendors get all the options related to products that are available for admin in the backend.
Order Management
Dokan provides frontend order management system for vendors so that they can monitor all their orders with detailed information. From the order management dashboard/ list, vendors can take quick actions like viewing details of the order, marking the order as done or keep it on hold.
In the detailed view of the order, vendors can get all important information related to the order and can add order notes. Besides that, there are options to include tracking number and process refund requests.
Shipping Management
Dokan is the only multivendor plugin for WordPress that allows frontend shipping management (zone wise) for vendors. Dokan introduced this advanced shipping system for individual vendors.
The vendors can utilize shipping zones, shipping classes and shipping methods from the frontend.
Related: New Zone Based Vendor Shipping for Dokan Multivendor
Coupon Creation
Vendors can create coupons for their own stores. The vendor dashboard contains coupons menu that allows coupon creation and management.
Reports
While running a marketplace, you need to take certain decisions and this also goes for your vendors. So, reporting is an important feature that all marketplaces require. Keeping that is mind, Dokan provides advanced reporting for both vendors and admin.
Vendors can generate multiple reports based on different criteria and time period directly from the frontend. Most importantly, they can view statements where all their earning is broken down into smallest segments. This helps them to get a better understanding of their store.
Withdrawing Earnings
Dokan Multivendor allows different types of commissions. Thus, vendors get a handsome amount of earning that they need to withdraw. Luckily, Dokan has built-in earning withdraw system for vendors. They can request withdrawal from frontend and also can choose payment methods. After admin's approval, they get their earnings swiftly.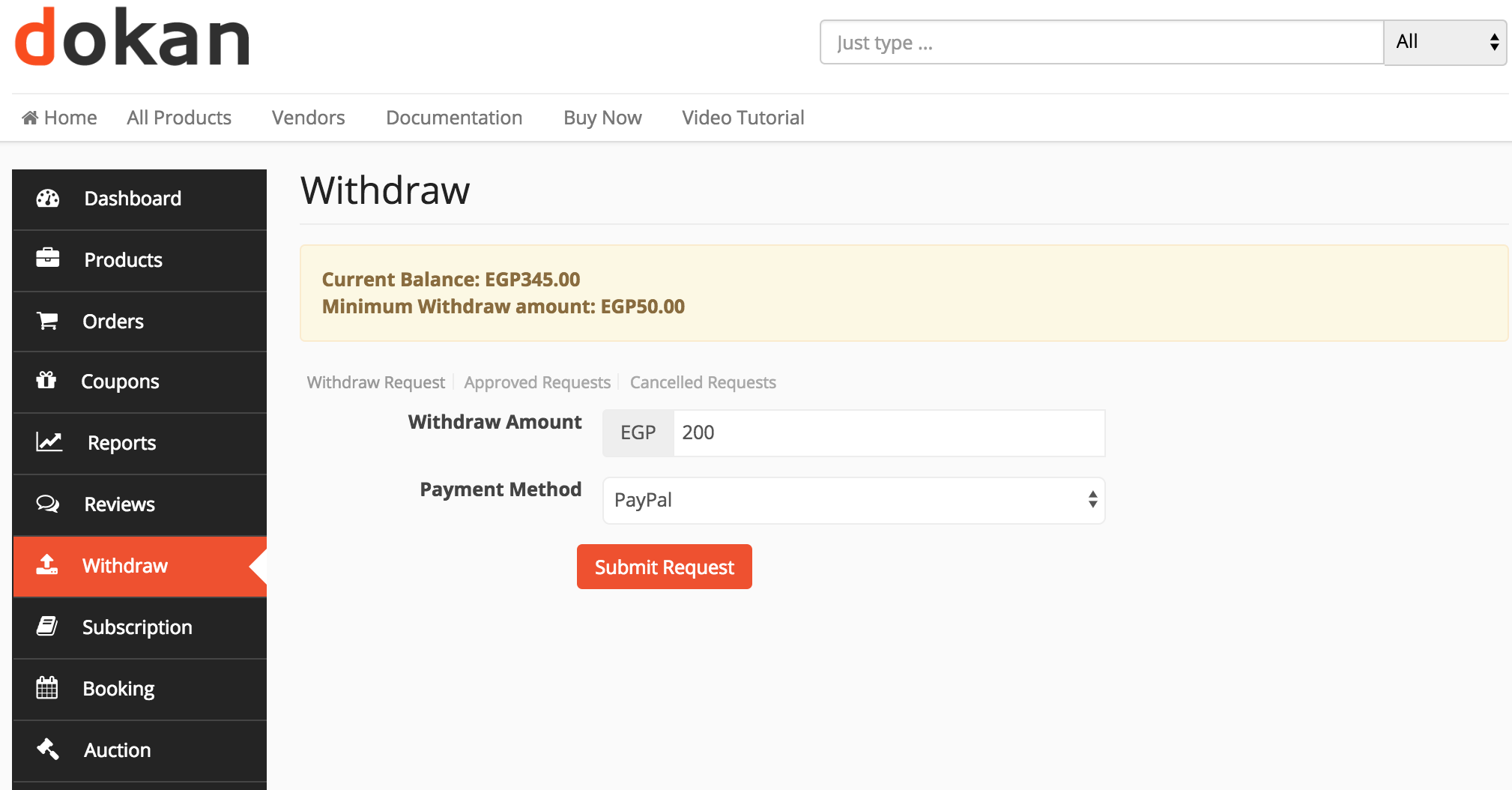 What About Admins?
Well, vendors have their own frontend dashboard that has all the important features they need to run their store in a marketplace.
However, Admin or marketplace owners have the final say. So, it's crucial for them to have all the options and settings that they need to manage the whole website i.e. their marketplace.
Dokan has an interactive admin dashboard for the marketplace owners in the backend. From there, they can manage everything related to their store.
Besides that, admins get another exact same dashboard that is available for vendors in the frontend. But, admins cannot sell their items from there. They can create another vendor account for themselves and start selling from there if they need to.
You may think why there is no Admin Dashboard in the frontend?
Well, the answer depends on the scenario, but mostly Admin's don't require frontend dashboards.
Here's why –
Security & Privacy
Basically, the backend of a website contains sensitive data that only the site owner or admin has the right to access. While taking certain data to the frontend, the security may become vulnerable and privacy voids in some cases. So, it's always preferred to keep important data and options on the backend of your website. The same goes for a marketplace.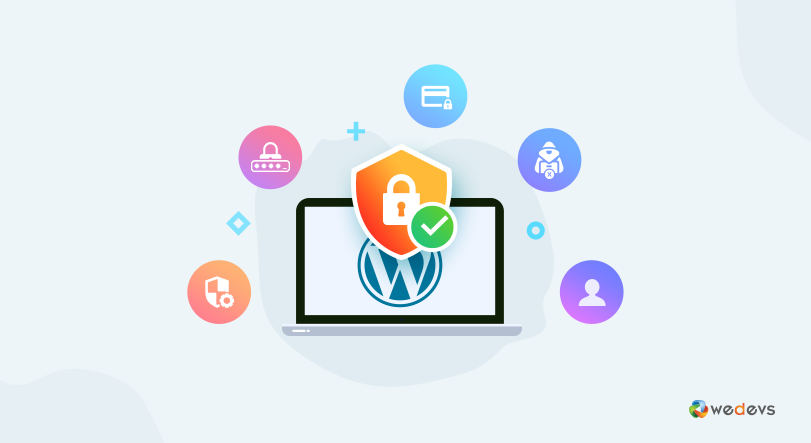 That is why the Admin Dashboard should be in the backend as it potentially increases the security and privacy of your multivendor store.
Familiar Backend Environment
Site Admin can get familiar backend environment while using Dokan Dashboard that is actually in the backend of your store. From there, admin gets the full control over their marketplace. They can manage the vendors, review orders, process refunds, activate important modules that are necessary for an eCommerce marketplace.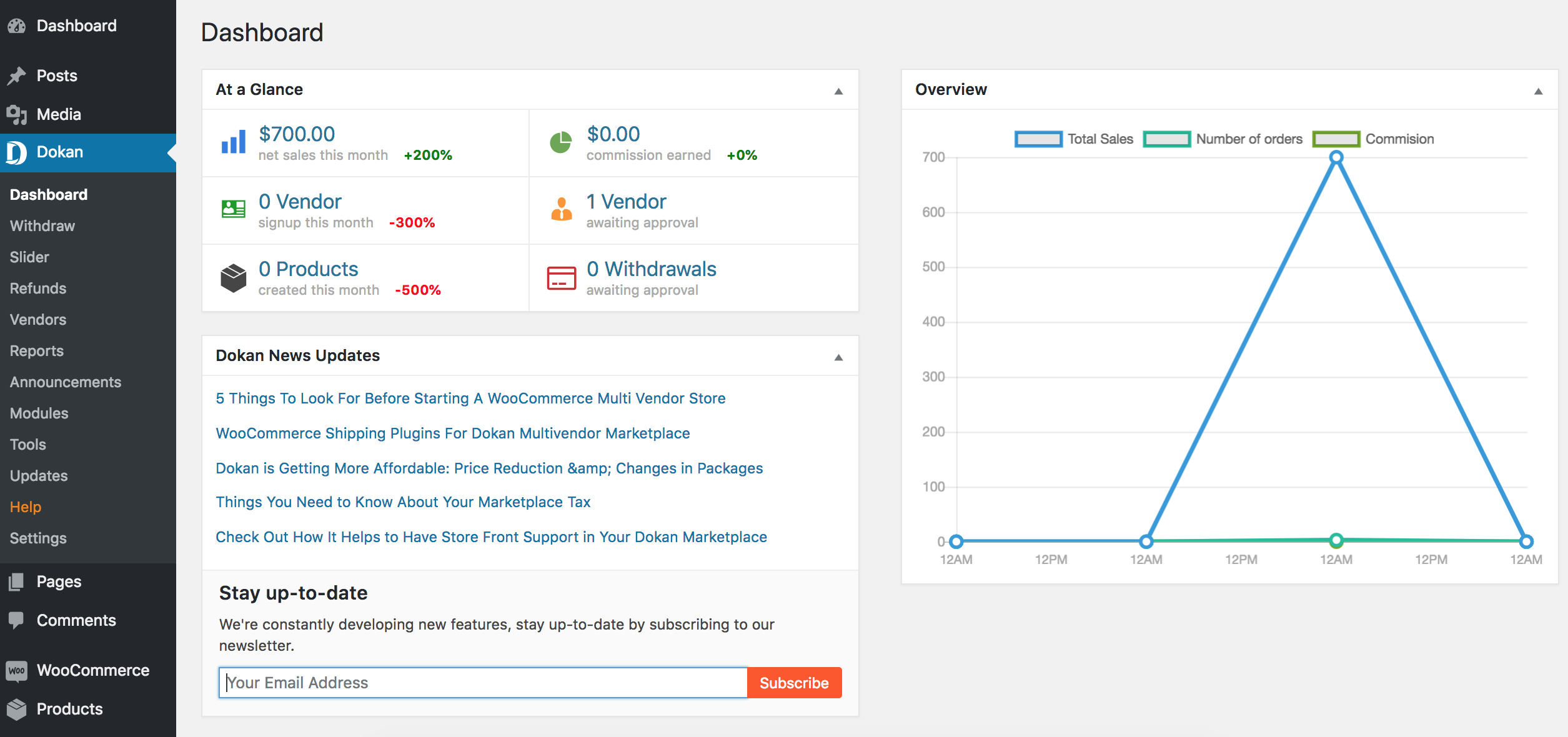 Complete Website Management From A Single Place
As a site admin and marketplace owner, you have many other things to take care of besides multivendor functionalities. From updating your site to back up, all these tasks need to be done from the backend. So, keeping important settings and functionalities in a scatter way – is not a good idea at all. You should keep all the options related to website management in a single place for a fast and effective process.
Frontend Should be for Regular Users
If you think rationally, the frontend is developed for the end users. For a multivendor store or marketplace, end users are both vendors and customers. Thus, the frontend should be for vendors to control. Admins play a vital role that maintains the harmony of the site.
So, admin having a dedicated dashboard for managing vendors has less significance. However, in a different scenario, admins might get their own frontend dashboards, but the possibility of that case is very low.
Are Third-Party WooCommerce Frontend Manager Plugins Required?
While managing a WooCommerce store (not a multivendor), frontend dashboard might become necessary. However, when you are playing the role of marketplace owner or admin, the necessity of frontend admin dashboard is less significant.
There are some third-party WooCommerce Frontend Manager claiming to provide frontend dashboard for Dokan multivendor marketplace.
However, Dokan itself provides frontend dashboard or frontend manager for vendors. So, there is no need for a third-party plugin.
Admins should keep their stuff organized and secured. Having an efficient backend with all the features to manage your website will turn out to be a great asset to you.
So, you can consider third-party frontend managers for WooCommerce stores to make things easy for you. However, for a multivendor store, bringing all important data to the frontend might become risky and makes things complex for you while managing the whole website.
It's not like we are saying that there is no need for a WooCommerce Frontend Manager for your store. For a multivendor store, the necessity is low. However, we have plans to bring a frontend manager for the admins as it might be required in some cases. When we do, we will surely let you know.
Wrapping Up
To make things easier with your multivendor store, you should maintain the code of conduct and security. For that, keeping things clean in the backend is a good thing to do. On the other hand, your vendors can rule the frontend using their own individual stores. Remember that, vendors are the ones who earn money for you and you get commissions in the process. So, the much liberty you can give them, the more you will gain. For that, giving them ease of access through frontend is the best way to do. While you can manage the whole thing from the backend and maintain the harmony of your multivendor marketplace.