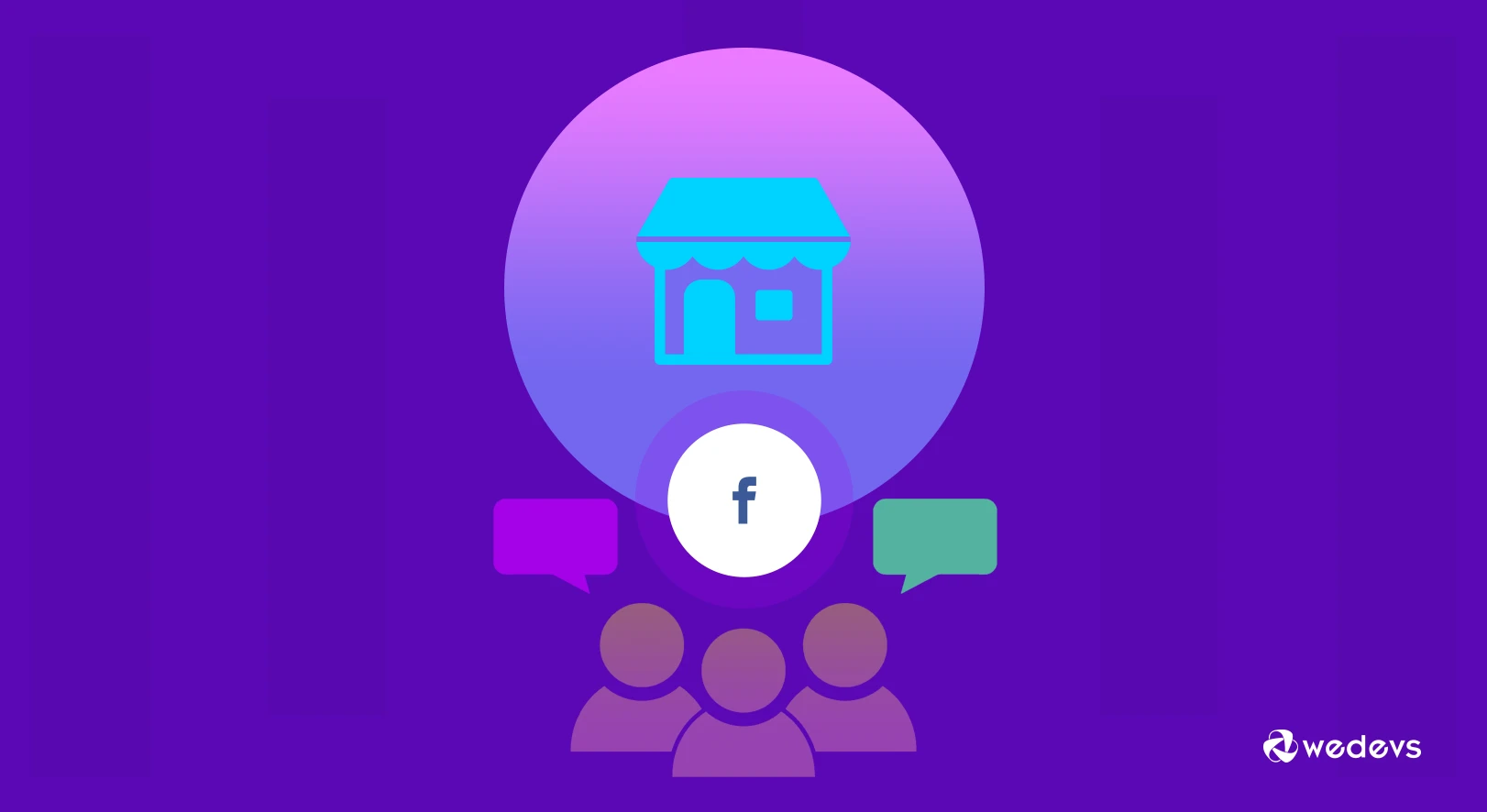 Benefits of Maintaining Facebook Groups for Your Small Business
We all know that Facebook is an online social networking platform that brings people together in terms of sharing and communicating individual tastes and thoughts as well. And the benefits of Facebook for business have seen enormous growth over the last decade. With such power of Facebook, entrepreneurs can also uphold their brand with this system.
However, having a personal Facebook account is a prerequisite to creating Facebook groups. In addition to Facebook groups, you should have a Facebook page with which you can promote your brand to your preferred audience's news feed as much as you can.
Unfortunately, Facebook users these days consider every business page as an advertisement and so they often avoid these pages. This is exactly where the Facebook groups come to the rescue! Today based on our own Facebook group (Dokan Community) experience, we will walk you through the benefits of maintaining Facebook Groups for your business and the ways to create a group.
Benefits of Facebook Groups for Your Small Business
Facebook users are increasing like never before. Here is a graph on the growing users: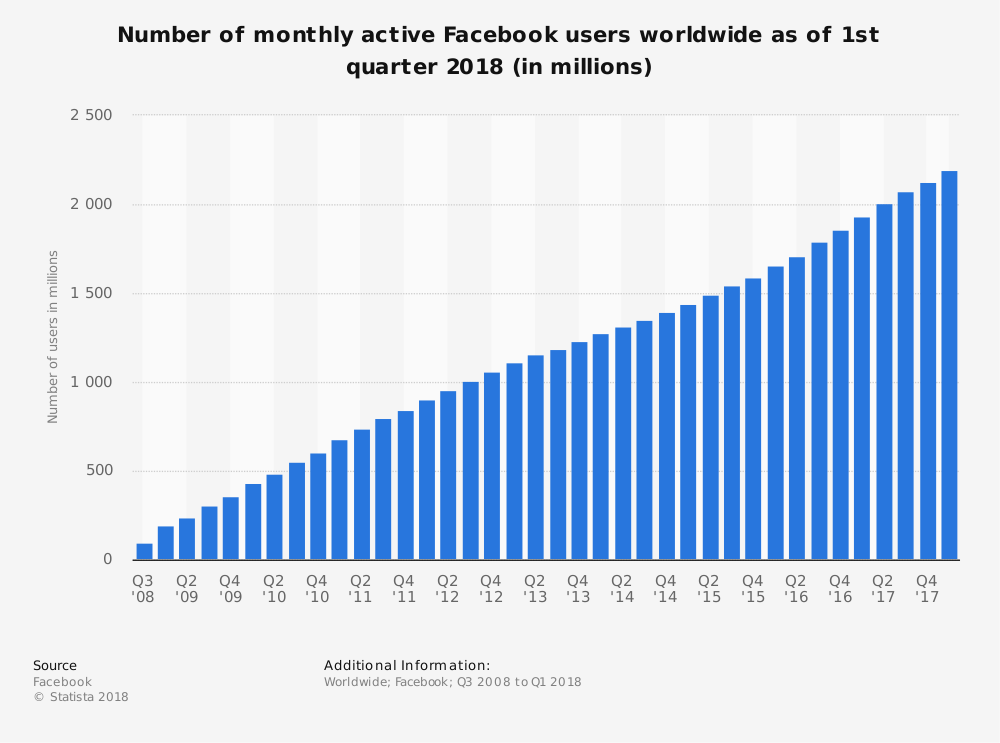 Even Mark Zuckerberg himself said on 31st December 2019:
We're going to onboard millions of more businesses that people can interact with.
This statement shows that Facebook will be an inevitable weapon for business expansion. Moreover, the benefits of Facebook for business are bound to give a solid push in any type of business.
It is a foregone conclusion that the popularity of Facebook will never be on the wane in the upcoming days. It means that investing time and money on Facebook for the marketing and sales strategy will be an amazingly wise idea.
Here are a few Facebook benefits that you can get:
1. Utilizing Call to Action in the Announcement AKA Pinned Post
We are the members of a number of Facebook groups and we have seen a lot of group timelines showing a pinned post(announcement) containing a CTA. Facebook groups have a lot powerful algorithm that fuels its each and every post to stick around the timeline of its members.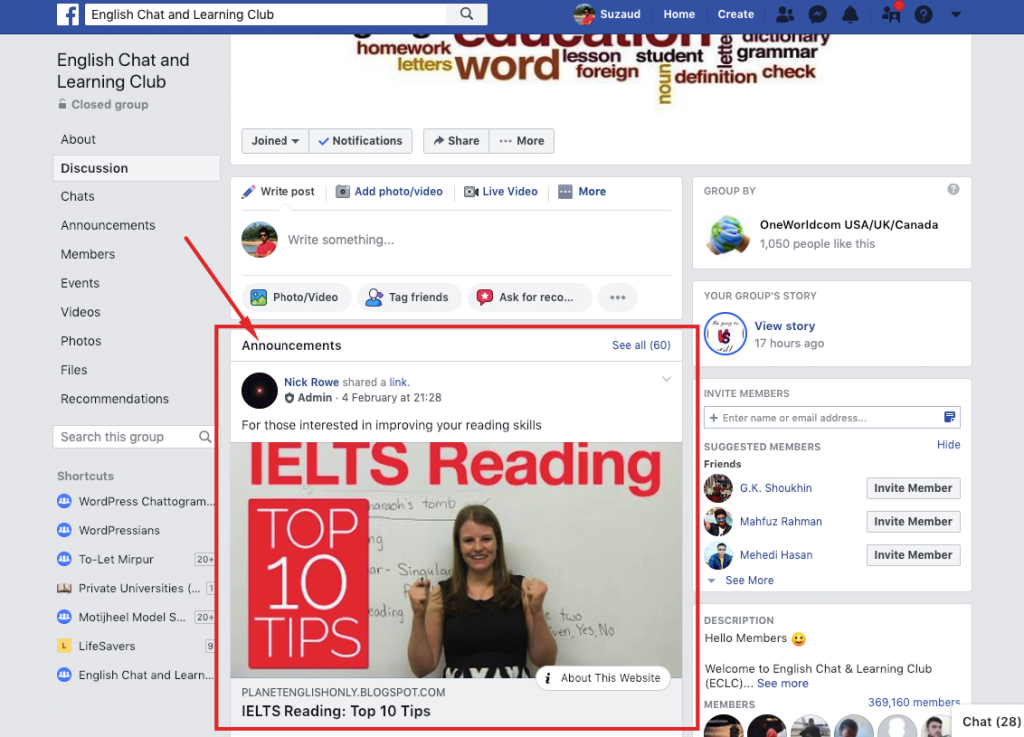 But a pinned post or an announcement can really thrive the click-through rate of your preferred CTA due to its prolonged visibility on the top of the group timeline. This is also a great practice to prevent spammy content and focus on the most crucial ones.
2. Creating Polls Quicker and Take Feedback Immediately
No matter what type of business you are operating, if you can create a group focusing on your niche from all along then it can act as an asset later on.
You can create polls on the group to take valuable feedback or opinion from your fanbase. On top of that, you can create a conversation thread centering around any topic related to your business.
You can get all but honest customer suggestions and experience during the development phase so that you can roll out the customer-centric products only. Be it consumer brands or B2B business, this high quality, and raw feedback is the most valuable thing from a business owner's point of view.
3. Announcing Offers with More Visibility
If you possess a group that aims at your potential customers, you will be able to confer them with various offers. However, this might also be possible using the traditional email marketing approach but offering in the group cuts cost and ensures an added amount of reach to your fanbase.
4. A Great Way to Interact within the Community
We created our e-commerce focused group so that the entrepreneurs who build their business can share their ideas, ask, and answer their queries to each other within the group. What's more interesting when people interact with each other by bouncing ideas back and forth?
5. Being Trustworthy to the Community
As you can have the opportunity to answer the questions of your customers by commenting in the group, you can build a sense of trust in your customer's mindset. Without creating a mutual trust you can not expect a sound relationship.
What's More Important of the Two – Facebook Page vs Group
Realistically, the benefits of Facebook for business is immense. Facebook has been one of the biggest marketplaces across the world. The following data will bewilder you: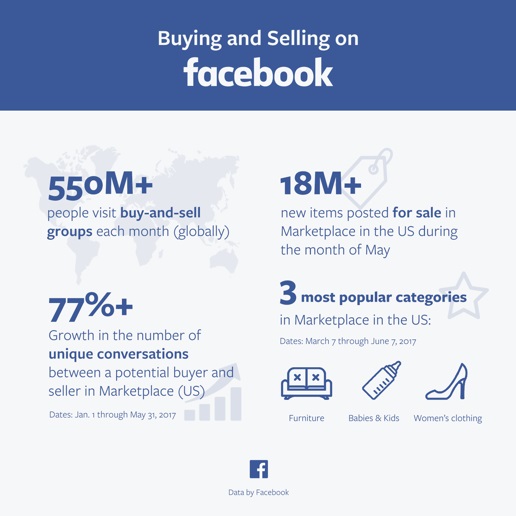 See? All you need to do is to feel this buying and selling data over Facebook.
If you are on the thought that you have a group and so you do not need a page then you are most likely to be wrong. Why? That's because they are completely different.
Why You Need Facebook Pages
First of all, Facebook pages are aligned to run your business ad campaigns, get reviews of your business and generate a huge number of user-generated content, share blog posts and videos of your website on a large scale audience exposure where there is practically no limit.
Secondly, Facebook pages also allow your audience to send you messages directly.
Thirdly, Facebook pages also appear in search engines, gives the viewer valuable information like maps and other contact information.
Why You Need Facebook Groups
Whereas, Facebook groups are intended to communicate among a comparatively lower number of audience who are on the same horizon with more personalized reach. For example, you can send a message to each and every one of the group with just a couple of clicks.
Unlike Facebook pages, when a user posts something, it does not get tucked away in the community tab of a Facebook group which enhances more exposure of user-generated posts.
This Is Why
You should create and maintain both the Facebook page and the Facebook group to get the most of them for your business.
Facebook Group Types
When creating Facebook groups, you will find three types of groups. They are:

Closed Groups: Everyone can search, find, and request to join the group but needs to wait for approval from the group admins. The posts are not shown privately in this group. Meaning that only members can see the post.
Public Groups: Anyone can search and find this group but in order to get a notification the user has to request to join. One can see the posts of this group even though he or she is not a member. In public groups, anyone can accept join requests.
Secret Groups: Only the group members can search and see this group. Thus, no one can send a join request to the admin of this type of group. This is really useful if you don't want to show your group's existence to others. Only the admins can accept the join requests to this group.
From a business perspective, the closed groups are more suitable for their optimized moderation and visibility control.
How to Create a Facebook Group?
To create a Facebook group you need to login to your Facebook profile. Then click on the drop-down icon to get to the group option: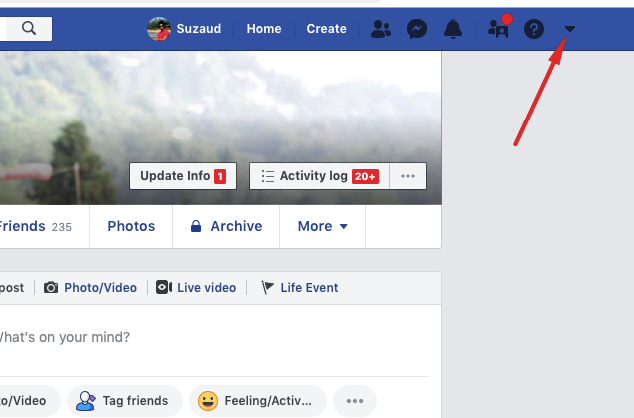 After that, click on the New Groups option.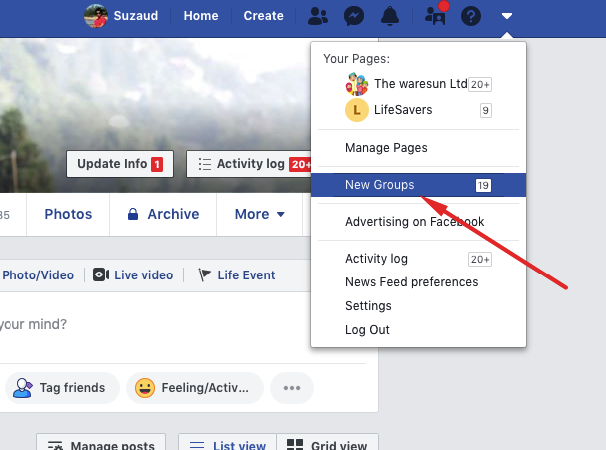 Next, click on the "Create Group" button.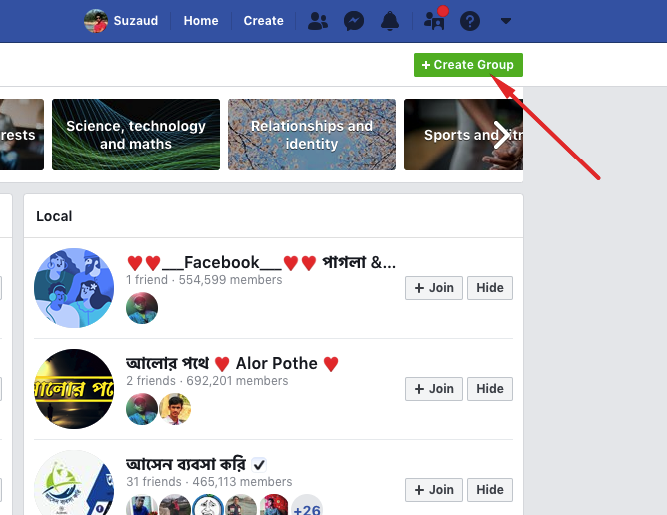 In this step, you need to give a Group name, add some friends to it and select the group type (Closed or Public or Secret). You can also write an optional note to the people you add to.
Finally, click on the Create button and you are done with creating your first Facebook group.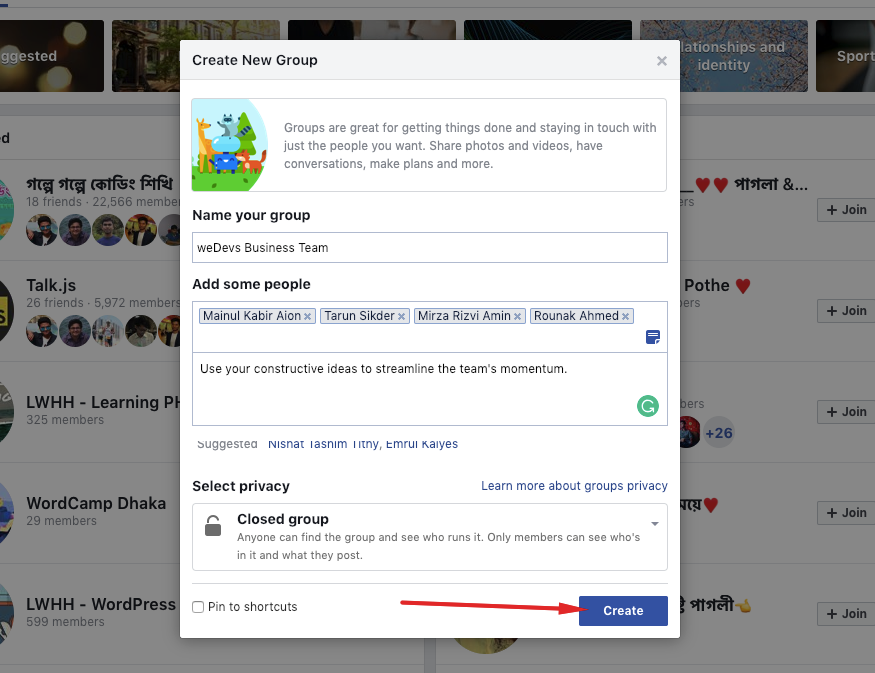 On hitting the 'Create' button, you will get your first group created: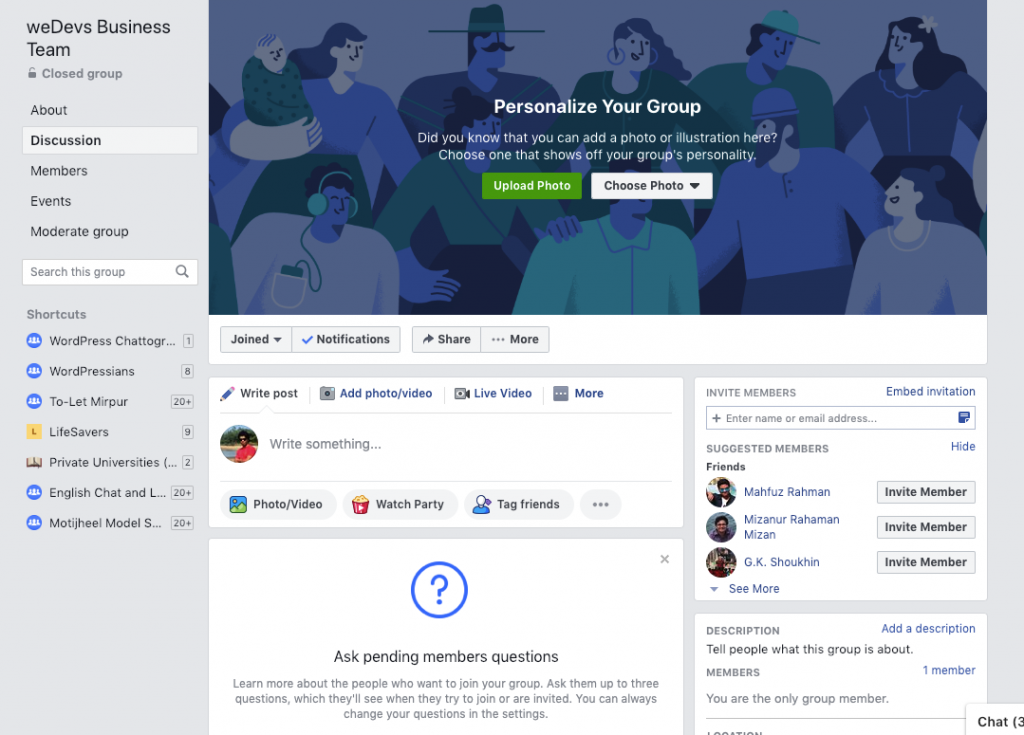 Now, you can personalize this group according to your wish like adding a photo or illustration for this group.
What Are the Important Aspects of a Facebook Group?
Now that you have set up your first Facebook group, you need to know some specifically designed options to utilize it.
To use these options, click on the three vertically aligned dots(…) with the 'More' label.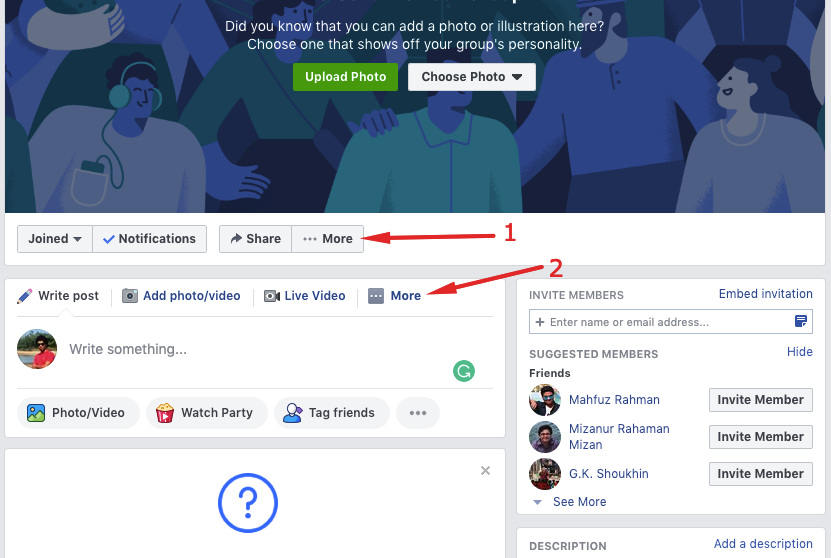 Options in More(1)
If you click on this button you will get the following options: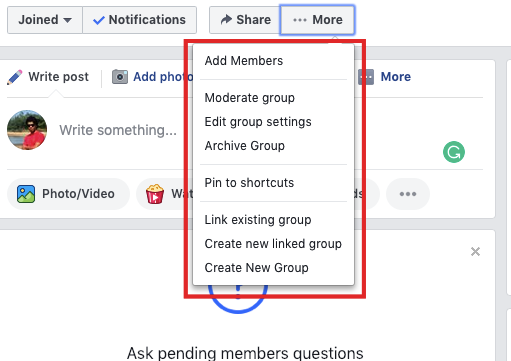 Add Members
Moderate Group
Edit group settings
Archive group
Pin to shortcuts
Link Existing group
Create new linked group
Create New Group:
Options in More(2)
If you hover on this button you will get the following options:
Add File
Sell Something
Create Photo Album
Create Doc
And Create Event
And here are your posting options: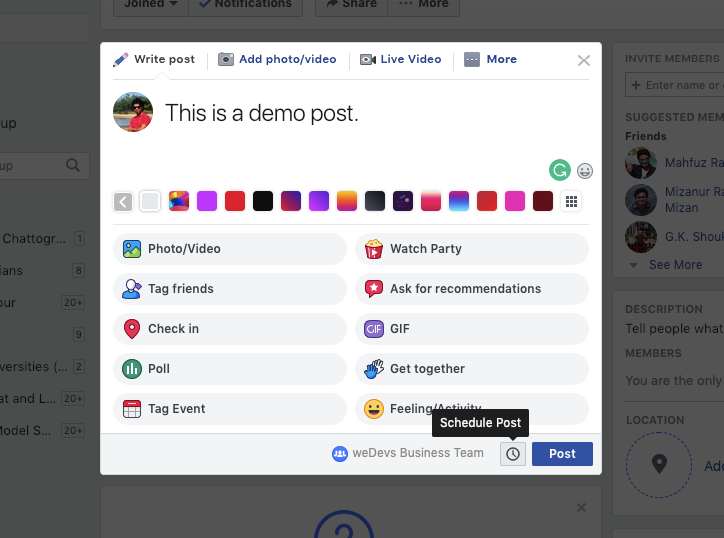 Photo/Video
Tag Friends
Check-in
Poll
Tag Event
Watch Party
Feeling/Activity
Get together
GIF
Ask for recommendation
Is There Any Limit in Adding Members?
No there is no limit. You can add as many group members as you want. But after reaching 5000 members you will lose to controls immediately. They are:
As an admin, you will no longer be able to invite to an event organized with the help of Facebook.
You will not be able to send a single message to all the members at a time.
What Is the Best Time to Post on Facebook Group
This is a frequently asked question which is the best time to post on Facebook. Here is a roundup data, given by Sproutsocial: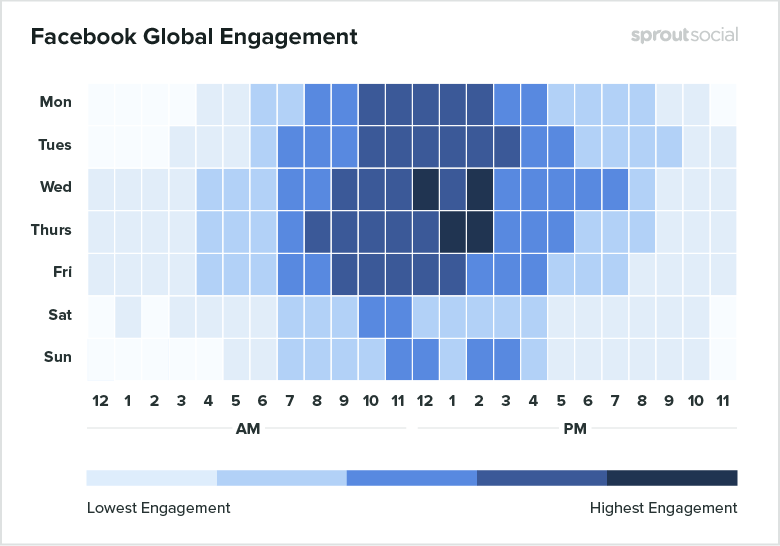 The best times to post on Facebook are Wednesday at noon and 2 p.m. and Thursday at 1 and 2 p.m.
Thursday is the best day to post on Facebook in the week.
The safest times to post include weekdays from 10 a.m. to 3 p.m.
Saturday has the least amount of engagement for Facebook in the week.
Evenings and early mornings have the least amount of engagement in the day.
Things to Keep in Your Mind While Posting in the Group
Posting Strong Photos
Write a Good Description
Being Honest
Keeping Prices Reasonable
Setting Rules for the Group
Final Thoughts
If you are a business owner then you can not do away with the Facebook group due to its lucrativeness. As the data mentioned in this article demonstrates that soon there is no chance that the engagement of your potential customers on Facebook will decline, you still have the chance to skyrocket the promotion of your brand.
If you don't have any Facebook group, then it's high time that you created a group and boosted your brand awareness in there with your community.