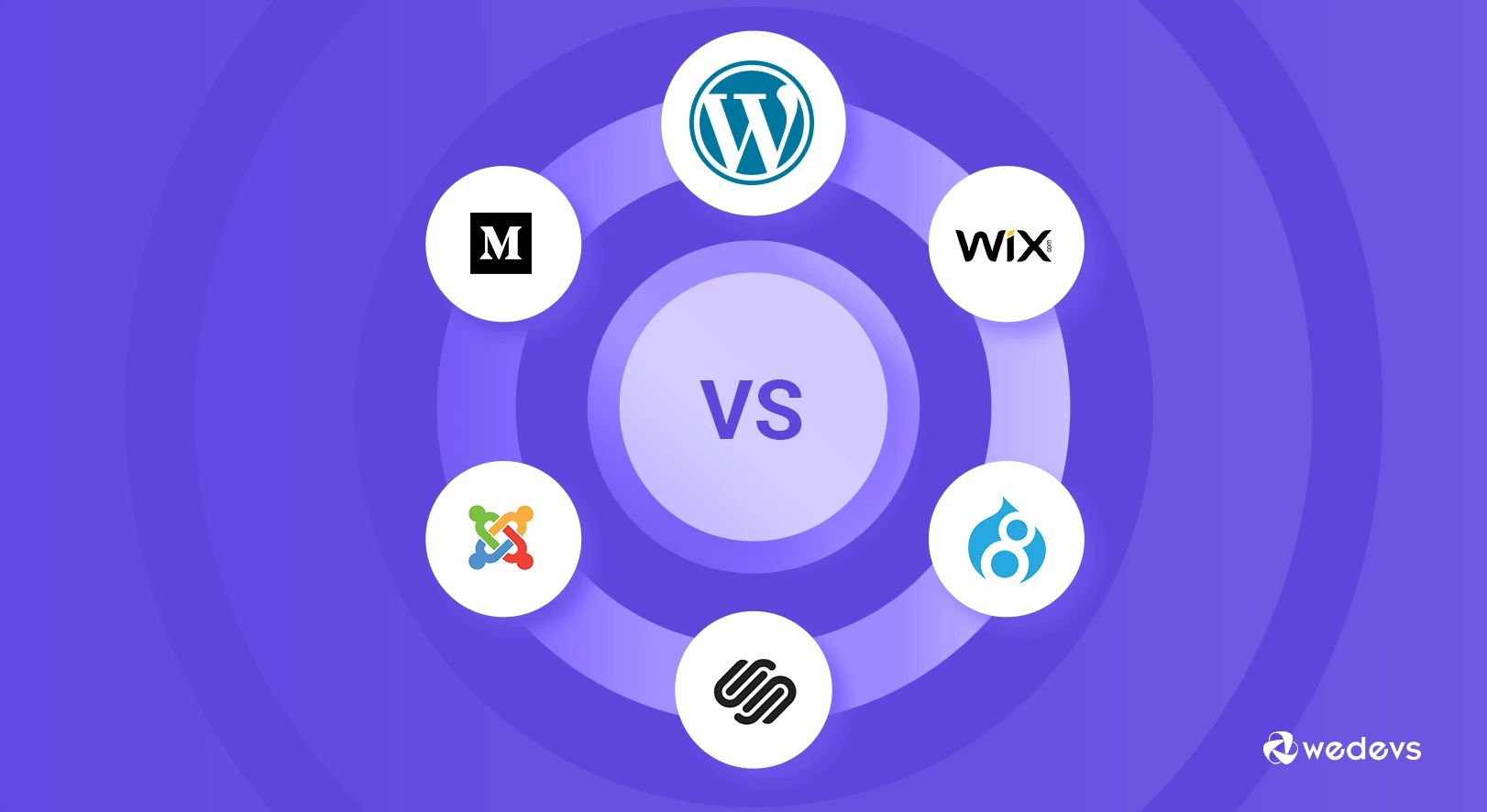 Best CMS Platforms in 2023 [WordPress vs Joomla vs Drupal vs Squarespace vs Wix vs Medium]
Selecting a perfect CMS platform in 2023 is really a challenge. Lots of platforms are waiting out there- how will you decide about the best one?
Back a few years, we had to struggle for finding a CMS platform for blogging, doing business, or other content publishing. But the situation is totally different now. You can see close competition among the CMS platforms and that's almost like a war!
So, how would you choose the best CMS platform to start your content marketing? Which criteria would help you meet your needs ?…Don't worry, we're here to help you.
In this article, we have covered almost everything you need to know about CMS Platforms- definition, a short introduction, features, pricing, top platforms for 2023, detailed comparison, and more. Let's have a look.
CMS Platforms and Their Outputs

The number of total websites is increasing rapidly. Around 2 billion websites are live now. Thanks to CMS (Content Management System) for making it possible to start and manage a website with ease. So, what are the cms platforms?
A CMS is a software that allows users without programming knowledge to create, edit, and publish web content, such as text or multimedia elements, collectively via a graphical user interface.

– Digital Guide
To perfectly manage your content marketing, you need to decide about your content strategy and set up the goal. There are basically three types of content marketing solutions in the market.
Web content management solution
Blog or news publishing solution
Social publishing solution
When you're going to build your own site, you should consider certain facts. This will help you perfectly design and customize your site.
Web Content Management
If you're going to start a classic content publishing site rather than blogging, news publishing, or social networking; you would need to have the capability of multiple editors' access to the backend, the optimized process of multimedia content publishing, user role management, full-text search option, multilingual support, etc.
The requirements of a classic web content management site are quite larger than a blogging or community publishing site.
Blog or News Publishing
If you want to build a blog or news publishing site, find a solution that offers easy content preparation templates, a simple way to engage with readers and content categorization, the ability to allow and manage guest posting, link building, and a powerful social sharing option, etc.
Social Publishing or Community Building
It requires much more functionality than a blogging site. On a social networking site, you need to deal with a community that is active, live, and not passive. So, with your own content, you have to manage their content too. It's called user-generated-contents.
So the performance, speed, and flexibility of your social networking site need to be better and stronger.
In general, you should look for these features when you build a website.
Core functionality like speed and user-friendly interface
Customization ability
Easy editing
Setting up User Roles
Custom content management applications
Easy search option
User interaction
Multiple site support
Multilingual support
24/7 service etc.
Cloud vs Open Source CMS Platforms (Commercial vs Free Software)
Most of the CMS websites today are available on open source. You may listen to some different solutions like cloud or SaaS. SaaS or software as a service is just a special form of cloud service. So, basically, there are two different solutions in the market- cloud and open source.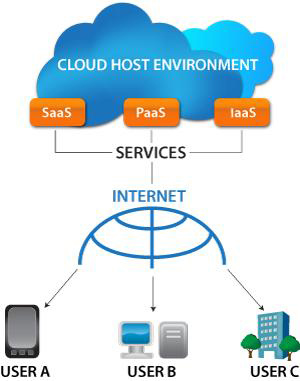 The basic difference between a cloud and open-source service is their licensing. Open source comes from such a license with which you can change, customize, and improve just as you want. You're free to do almost anything with this free solution.
On the other hand, in the cloud services with proprietary software, the CMS is developed by a particular firm and shared as a commercial project. The source code is not available to users. So that the users can't make changes on their own. Moreover, third-party applications aren't allowed in cloud services.
The solution offered by the open-source providers is more attractive to the entrepreneurs in the viewpoint of budget, freedom, flexibility, a built-up community, and so on. That's why open source-based CMSs are the unbeatable king in today's market.
6 Best CMS Platforms for 2023
In the software industry, things are changing every day. So making a content management system comparison and preparing the list of best solutions isn't an easy task. We make this list considering the number of active installations, live sites, cost, ease of use, functionality, performance, SEO, security, support, etc.
Hope this CMS comparison will help you narrow down your options and choose the best one.
WordPress
Joomla
Drupal
Squarespace
Wix
Medium
Now, let's dive into the details.
1. WordPress- Best Open Source CMS of All Time

WordPress started its journey in 2003 as a simple blogging platform. It became so popular both to users and developers within a short period of time. WordPress develops itself as a fully functional CMS platform and now it powers over 43% of the web.
Powerful features of WordPress
Customizable design
Easy and user-friendly interface
Responsive mobile support
SEO friendly
High security
Powerful media management
Multilingual support
WordPress Usage Statistics
Issues You May Face with WordPress
Frequent security updates are really a significant matter with WordPress
Sometimes plugins have security issues
Some of the themes contain unnecessary generic code
Limited durability with high traffic
Small-medium or big, WordPress is the perfect solution for all. In this tight competitive era, when other platforms are struggling with their places; WordPress is the single winner in almost every aspect. Not us, data is telling this. All the recent states are witnesses to this statement.
So, you can keep it (choosing WordPress) on your mind when going to start your online journey.
2. Joomla- Best CMS Platform for Developers

Joomla is one of the award-winning CMS platforms that help you easily create websites and powerful online applications. The first version of Joomla was released in 2005 and got name and popularity within a very short period of time. After WordPress, Joomla is the biggest platform for others.
Joomla has a dedicated community just like WordPress, plugins, and templates to color your site as you want.
Powerful Features of Joomla!
Unlimited design
Flexible and extensible
SEO-friendly
Mobile support
Multiple language support
Joomla Usage Statistics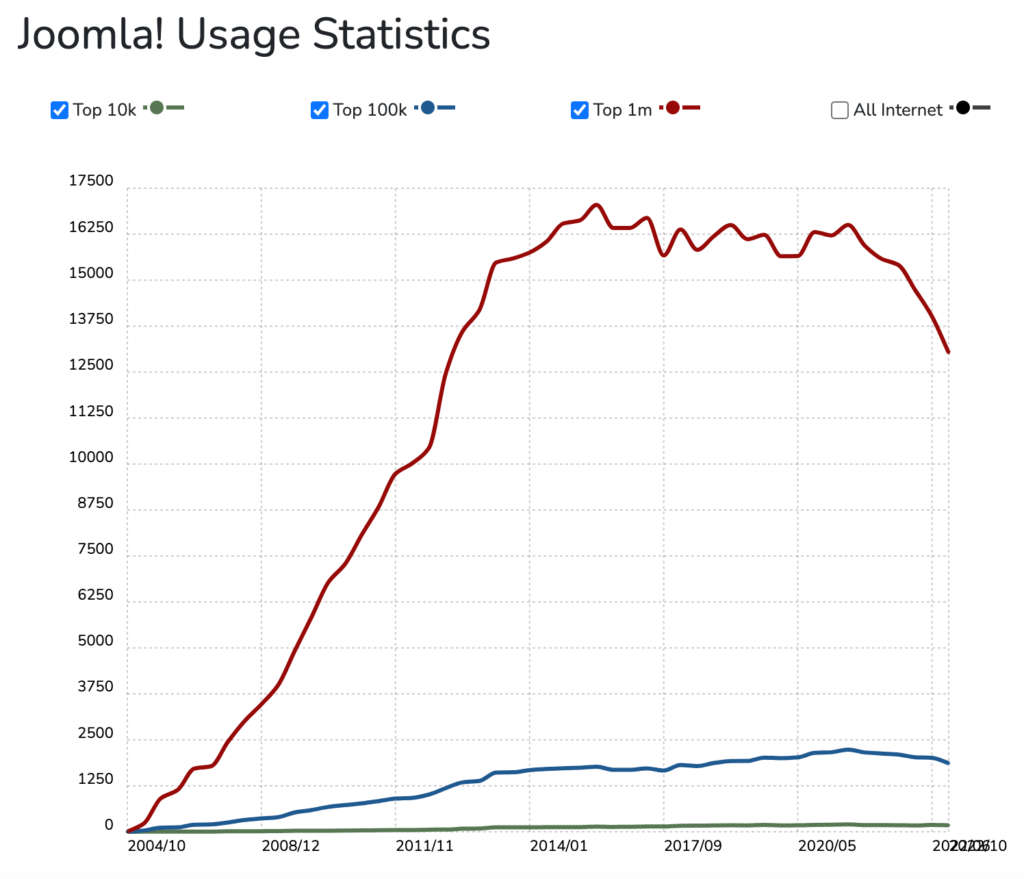 Market share: 5.4% of CMS and 3.0 of all web
The number of live sites: 1,343,820
The number of sites in the top one million: 18,793
Most popular sites: Harvard University, Linux, etc.
Issues You Can Consider with Joomla
Slightly Complex regarding WordPress
Premium extensions are pricey
Small Module Marketplace
Extensions often require manual implementation
If you are sure you'll need extra features on your website, Joomla may not be the best CMS choice. The Joomla community offers lots of modules, but they are hard to get and harder to manage.
But for developers or people who have the technical knowledge, Joomla could be the best CMS solution.
You can read a part-by-part comparison on Joolma vs WordPress to get a clear picture.
3. Drupal- Top Enterprise CMS Platform

Drupal was first developed as a student community solution but is now available as a fully customized open-source CMS, flexible and highly scalable. The software comes to a far wider range of features out of the box than other alternatives. Drupal offers an extremely easy basic installation.
Powerful Features of Drupal
Very flexible, user-friendly interface
Useful for producing highly advanced sites
It has more than 36,000 modules
Good choice for community platform sites
Drupal Usage Statistics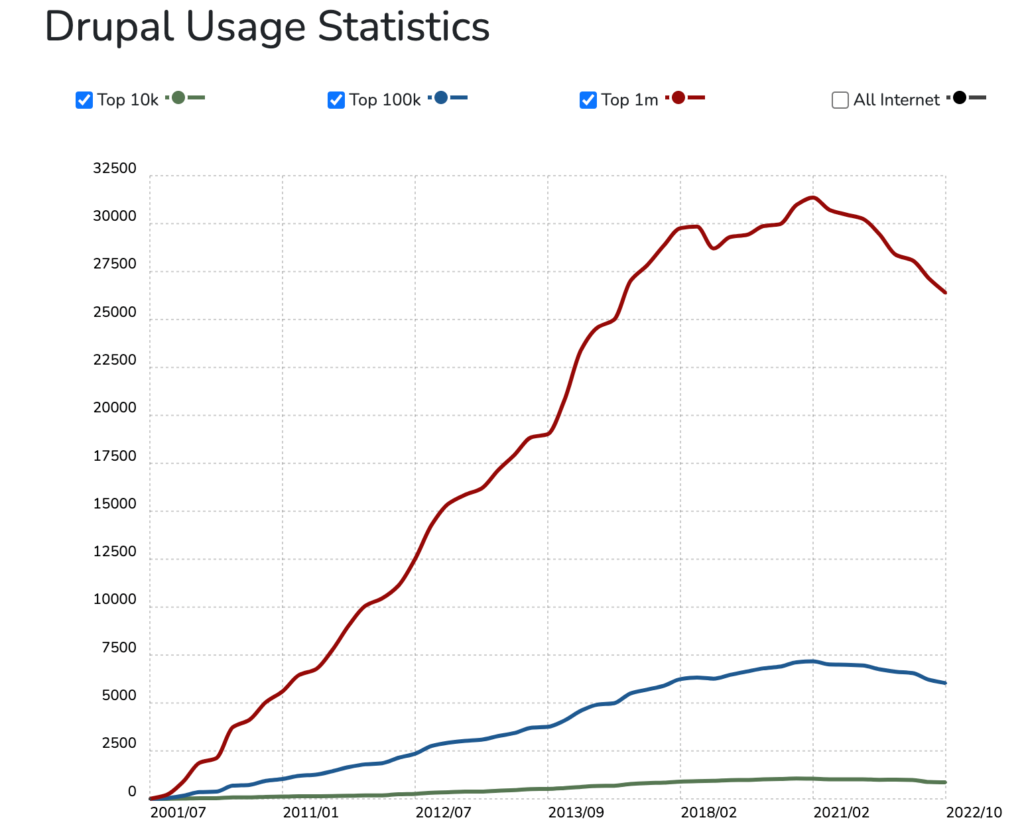 Market share: 3.5% of CMS and 1.9 of all web
The number of live sites: 583,328
The number of sites in the top one million: 30,341
Most popular sites: EntertainmentWeekly, Box, etc.
Issues You May Face with Drupal
Complex configuration for the normal users
Basic installation requires lots of extra installations
Module installation only possible via FTP
With its focus on social publishing, Drupal is especially perfect for small and medium-sized community plans.
4. Squarespace- Best SaaS CMS for Entrepreneurs

Squarespace is the all-in-one solution to create beautiful websites. It was launched in 2004 as a basic drag-and-drop website builder. Today Squarespace has over 1 million users, which is proof of its durability and care for customer satisfaction. One of Squarespace's unique strengths is its exceptional analytics.
You have the opportunity to collect actual data just from the moment you start.
Powerful Features Squarespace
Great-looking templates
Best quality features
Full customization control
Squarespace Usage Statistics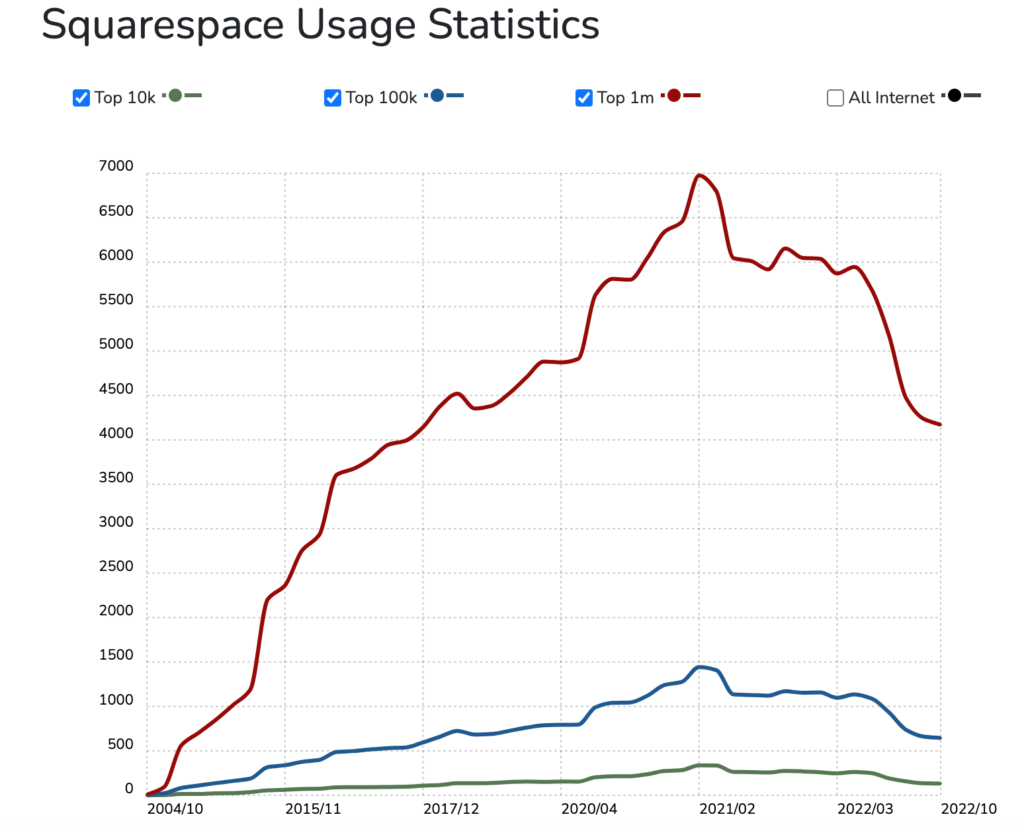 Market share: 2.7% of CMS and 1.5 of all web
The number of live sites: 2,983,826
The number of sites in the top one million: 11,036
Issues You Can Consider with Squarespace
Expensive price plans
Not so beginner-friendly
Processes are lengthy
Squarespace is great for photographers, artists, designers, and any individual who prefers the design for their contents.
5. Wix- Best CMS for Small Business

It's another big player in the CMS market. Wix shines with its combination of user-friendly publishing. If you have coding expertise, Wix could be a better alternative for you. Wix is also known for its outstanding support and quick maintenance.
Powerful Features of Wix
Easy, intuitive drag and drop builder solution
Bundled solution to get a site up quickly
Full functional backend and overall design
A perfect selection of modern themes
Amazing Speed & Security
Wix Usage Statistics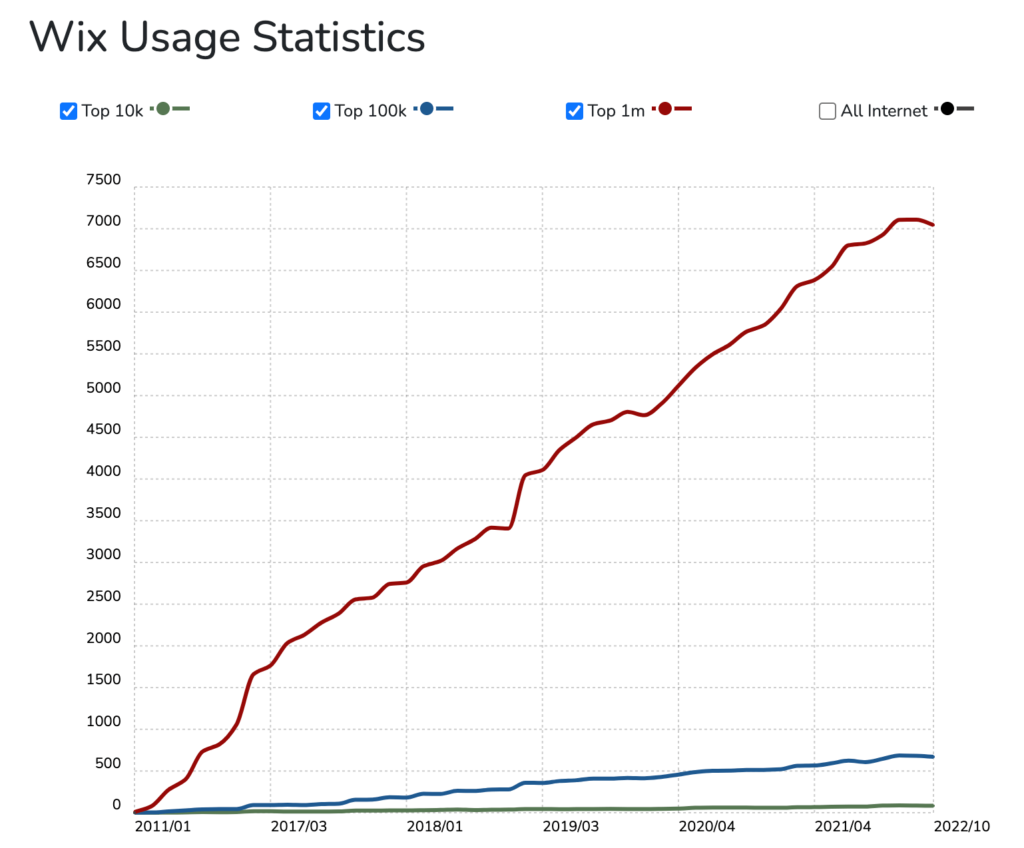 Market share: 1.8% of CMS and 1.0 of all web
The number of live sites: 8,251,201
The number of sites in the top one million: 3,389
Most popular sites: GoodFeelingGood, Vintique, etc.
Issues You Can Consider with Wix
Long-Term Pricing
Complexity in Editing & Design
Limited and false apps collection
Weakness in SEO support
Wix promises 100% convenience with built-in solutions for DIY (Do it yourself) website owners and they're trying to keep the promise. So, you can consider using Wix for especially your startup projects.
6. Medium- Best Free CMS for Blogging and News Sharing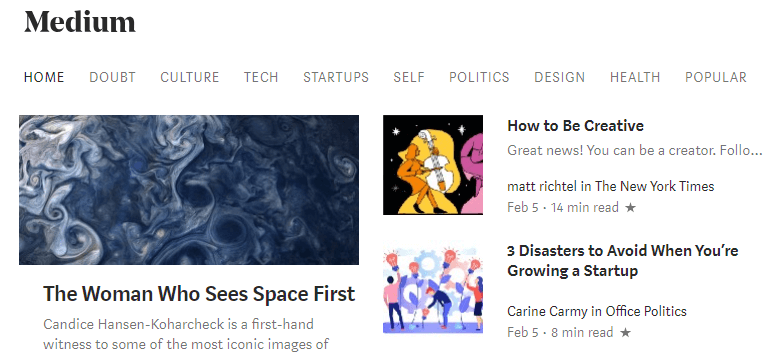 Medium is famous as a blogging and content-sharing platform. If you want to create a blog or news publishing site, Medium could be one of the best CMS solutions. Not only that, Medium was selected as the top 3rd blogging platform in a survey of the Slant community.
Powerful Features of Medium
Reader-friendly interface
Minimalist pages
Easy setup and easier publishing process
Stats on views, complete reads, shares, etc.
Medium Usage Statistics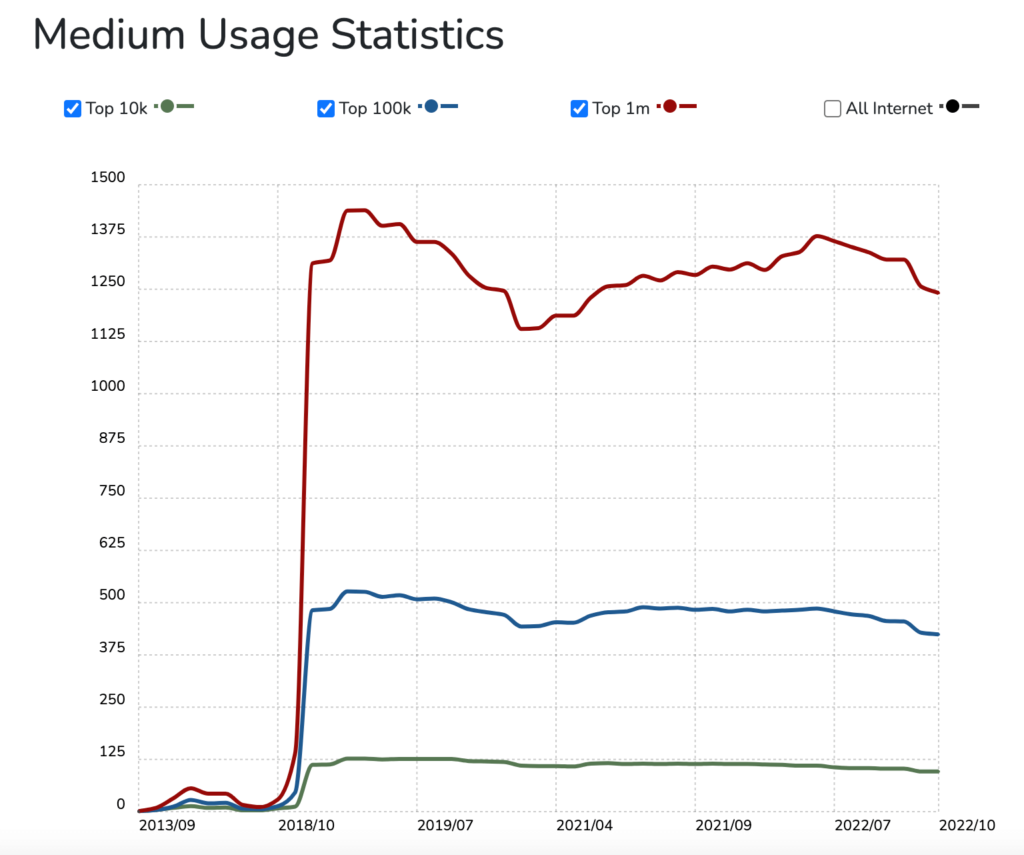 Total site: 31,833
The number of live sites: 20,201
The number of sites in the top one million: 1,398
Most popular sites: Reverb, Dollarshaveclub, etc.
Issues You Can Consider with Medium
Limited editing with WYSIWYG
Poor commenting system
User interface isn't so good according to some experts
Medium is perfect for bloggers who just started their journey and for those who want to increase the site's traffic. Is Medium better than WordPress too?… Check our in-depth comparison post.
A Quick Comparison on WordPress vs Joomla vs Drupal vs Squarespace vs Wix vs Medium
Now, take a close look at this short CMS comparison infographic. This will surely help you make a decision with ease.
Now, it's your turn to move on with analyzing and making a final drive!
Wrapping Up on Best CMS Platforms 2023
CMS made it easy to build a website and manage your content. But you need to find the best CMS platform for your content's structure. In this post, we covered almost all the necessary fields of the top 6 CMS platforms that you should know.
Take a close look, and consider your present capability and future needs. You will surely find yourself in a winning position at the end of the day.
What do you think- is our selection perfect? Compare CMS platforms and share your opinion including which CMS platform you're using now or going to start with!