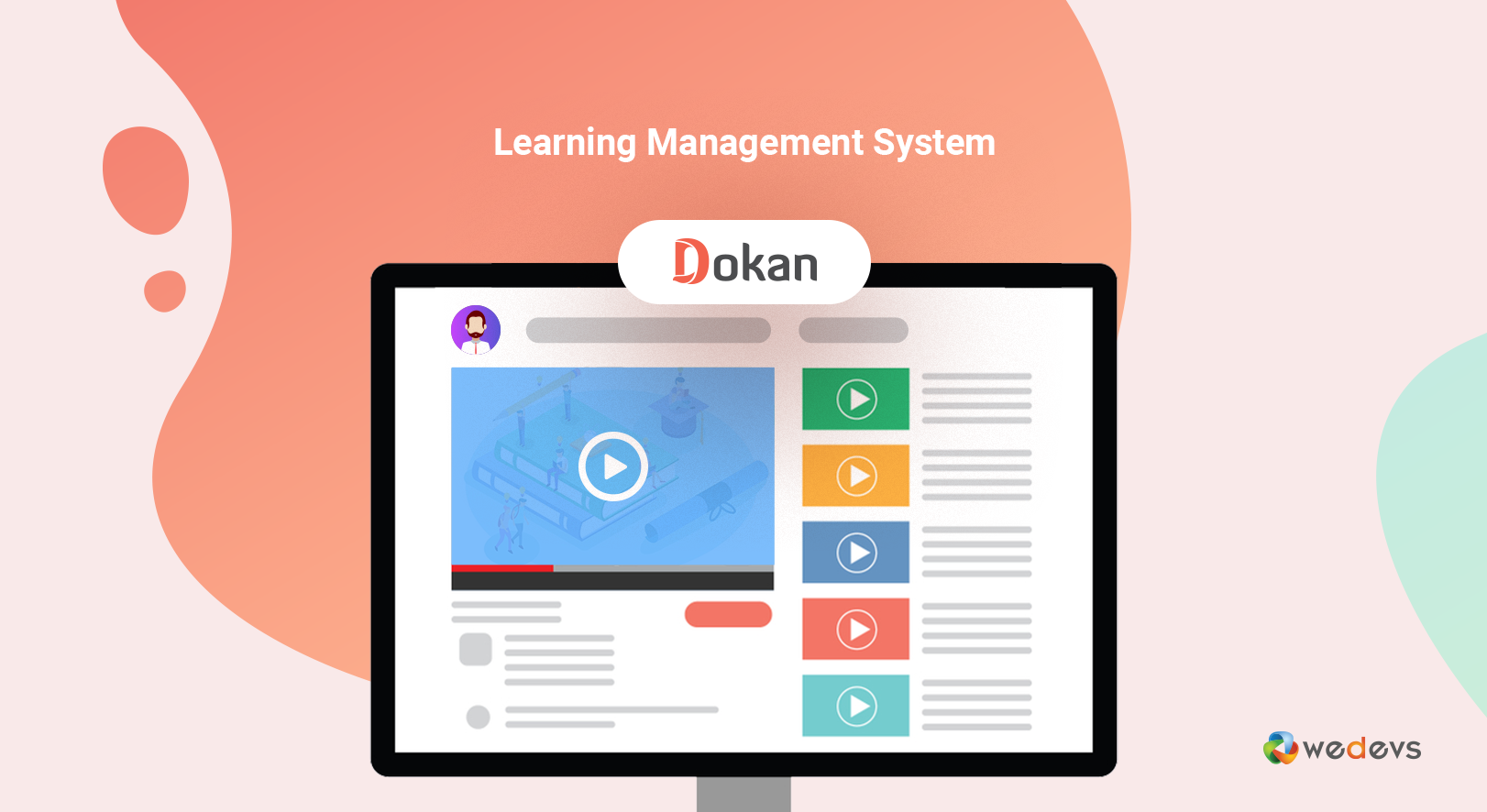 Sell Digital Courses Online with Dokan & WooCommerce for Free
We know how hard it is to create good learning instructions and materials. But when it comes to selling, it becomes even harder. In fact, if you can not sell your course then there can be nothing more frustrating than this.
Fortunately, if you are using a WordPress website, then you can do it very easily and for free. With some WordPress plugins like LearnPress, LifterLMS, CoursePress, Edwiser Bridge, you can not only build your sites but also can gamify and monetize your courses.
In this tutorial, we will walk you through the way of selling online courses using the multivendor marketplace Dokan. Once you finish this tutorial you will be able to transform your WordPress website into a digital course selling site.
Reasons You Should Sell Courses Online
Reaching more students
Documenting everything is much easier.
Getting more business exposure through effective digital marketing.
Free promoting if the website is optimized properly for the search engines.
Not paying too much monthly maintenance costs like the SaaS-based eCommerce platforms.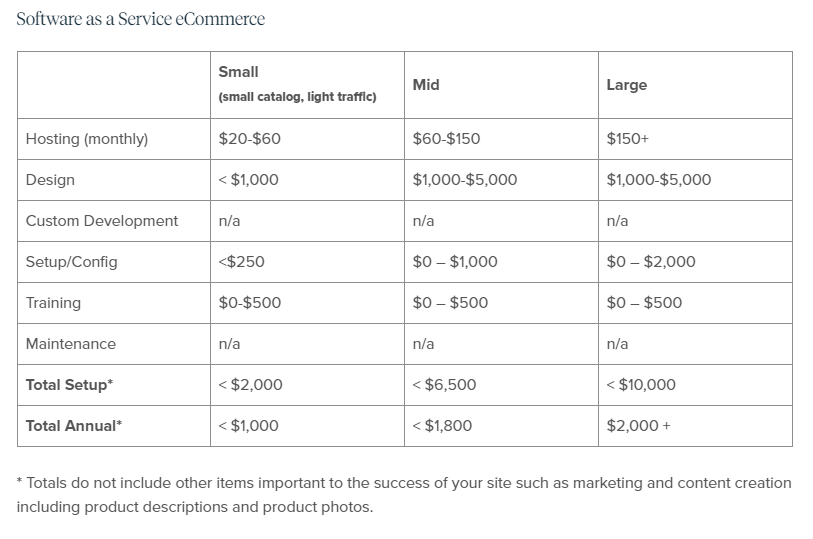 This data shows how much expensive to sell downloadable products on a SaaS-based eCommerce platform. Therefore, if you are on the thought to create an educational website to sell online courses then it would be wise to create the site with the self-hosted platforms such as WordPress.
This is because WordPress is not only free but also customizable. Besides, you won't need to pay any extra charge to enhance its functionality. With the duo combination of the free plugins like WooCommerce and Dokan, it will feel a piece of cake for you to build your own digital course selling site.
How to Showcase and Sell Digital Courses for Free with Dokan?
Showcasing and selling online courses in WordPress require the following:
Requirements
Everything is free apart from the Domain and Hosting. Before buying a domain and hosting you can read our guide.
For Admin
As an admin, after you have set up Dokan and WooCommerce for your site, you can let your vendors sell any courses. Since Dokan has a built-in feature for adding downloadable products, you will have to configure nothing for this purpose.
However, in the product category of WooCommerce you should create two categories. They are:
Navigate to Products > Categories > Add New Category to create new categories. Here we have created those two categories.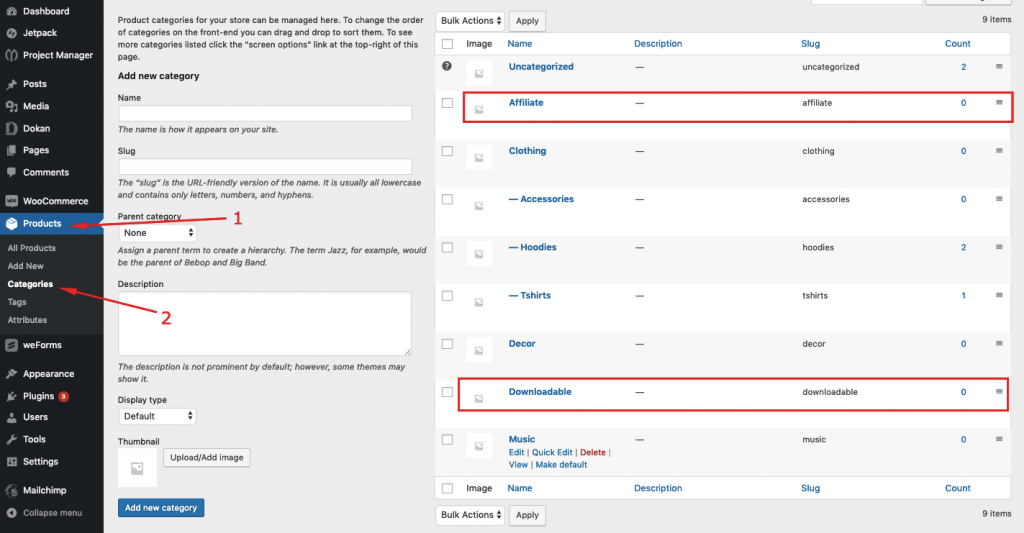 These categories will help your vendor categorize their courses easily.
For Vendor
As a vendor, one can sell the digital courses using two methods with Dokan. They are:
Uploading the course contents
Using affiliate file links
Uploading the Course Contents
After logging in, as a vendor you should be able to add products.
Step 1
To add products, you have to go to your Dashboard > Add New Product.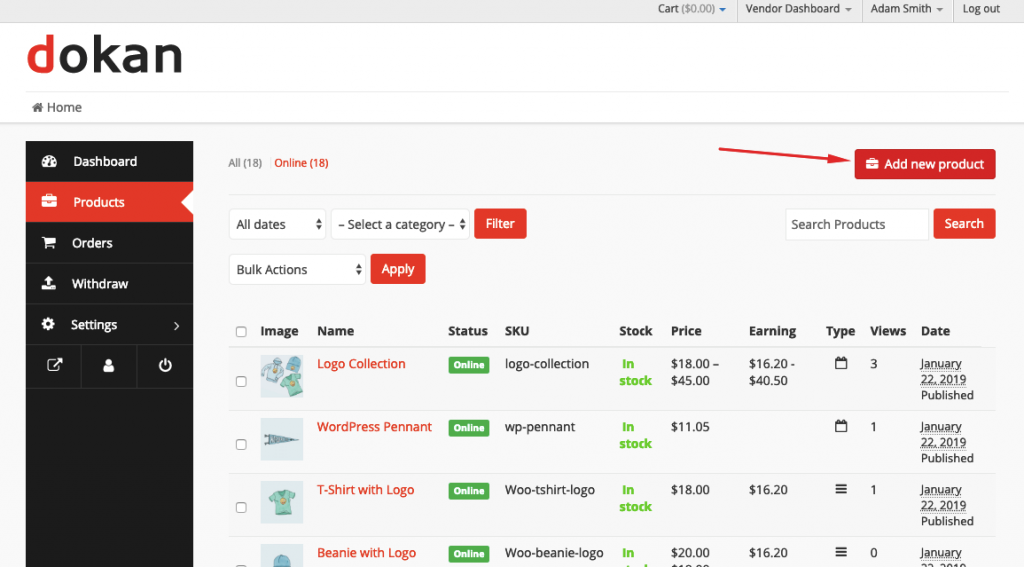 Step: 2
After that, you will get a modal window to add your courses where you will have to provide the course name, price, relevant image, tags, and description for the product. Next, you have to hit the "Create product" button.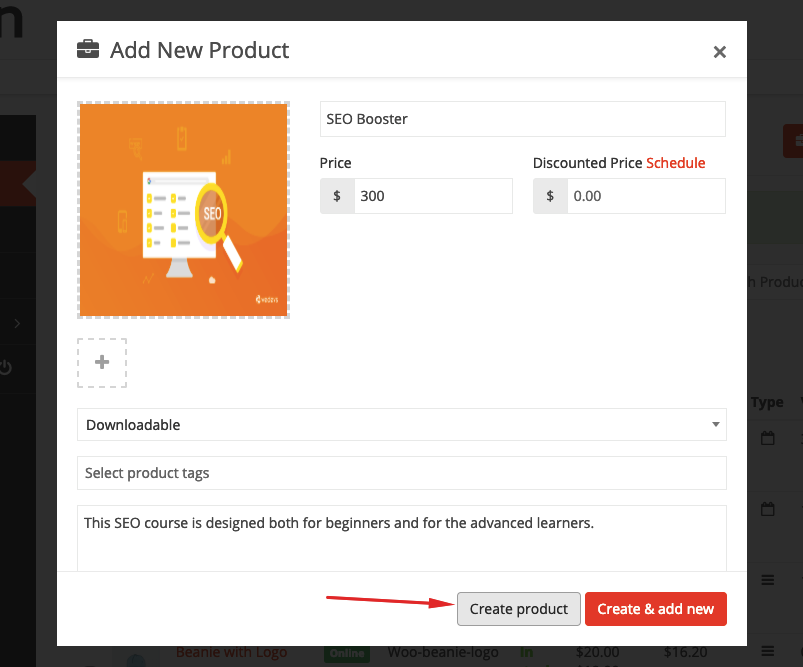 Step 3
After that, you will be redirected to the edit page of the product and you get all the options to configure the product here. All you need to do is check the Downloadable option, as we are going to upload a downloadable product.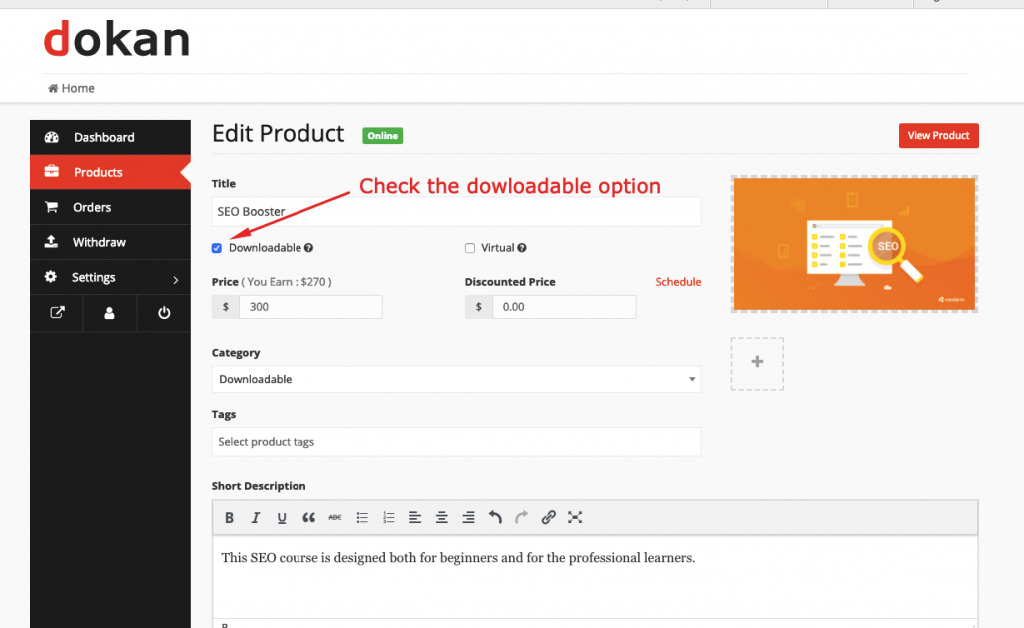 Step 4
Then, you will get options to upload your downloadable product. You just need to keep scrolling the page down until you get the following Add File button. Click on the Add File button to get the Choose File option. you can use the Choose file option to upload your course.

You can also use the Add File button with which you can upload as many files or course materials as you want.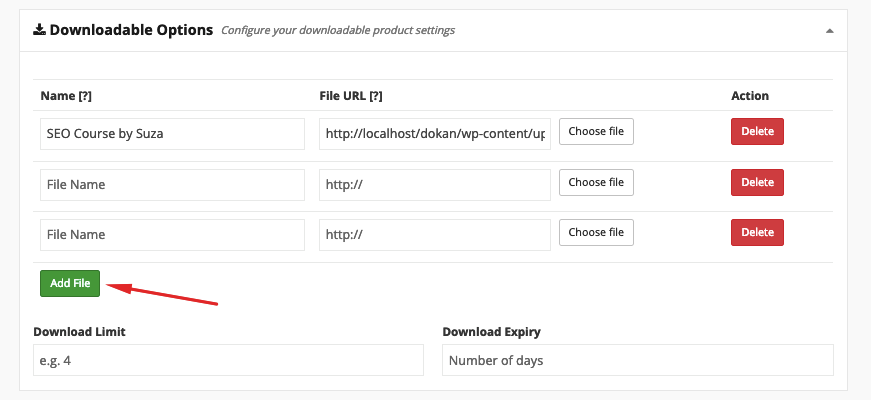 Luckily, with the Download Limit option, you can specify the number of times a user can download the product. You can also limit the number of days your course is going to expire. For now, we are keeping them empty for simplicity.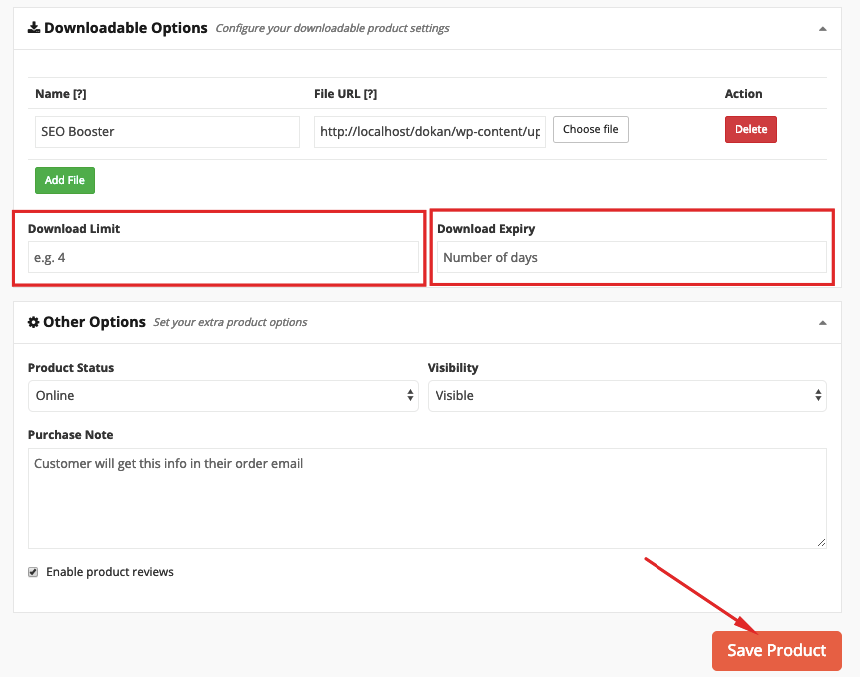 Step 5
When you are done, click on the Save Product button to complete adding this course.
Now, you will be able to see your course in your store: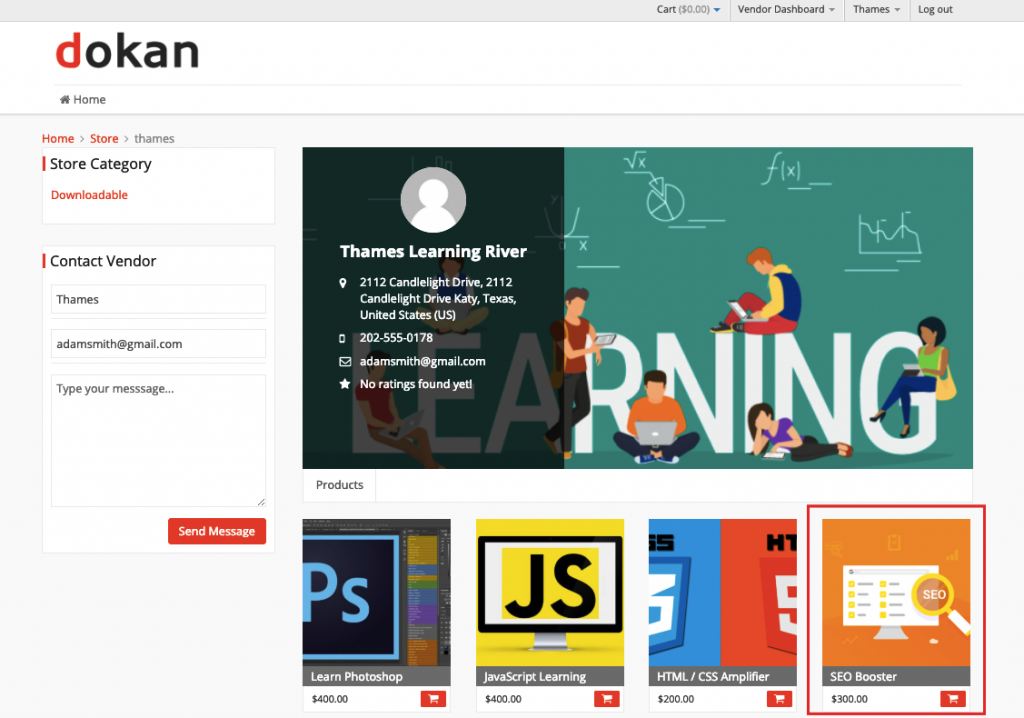 Using Affiliate File Links
It's also possible to showcase the store with affiliate links if you are unwilling to upload the files. Here is how you can do it.
Add a new product the way we did on step 4 above. Now instead of uploading a downloadable file we will use the link of a file from another website.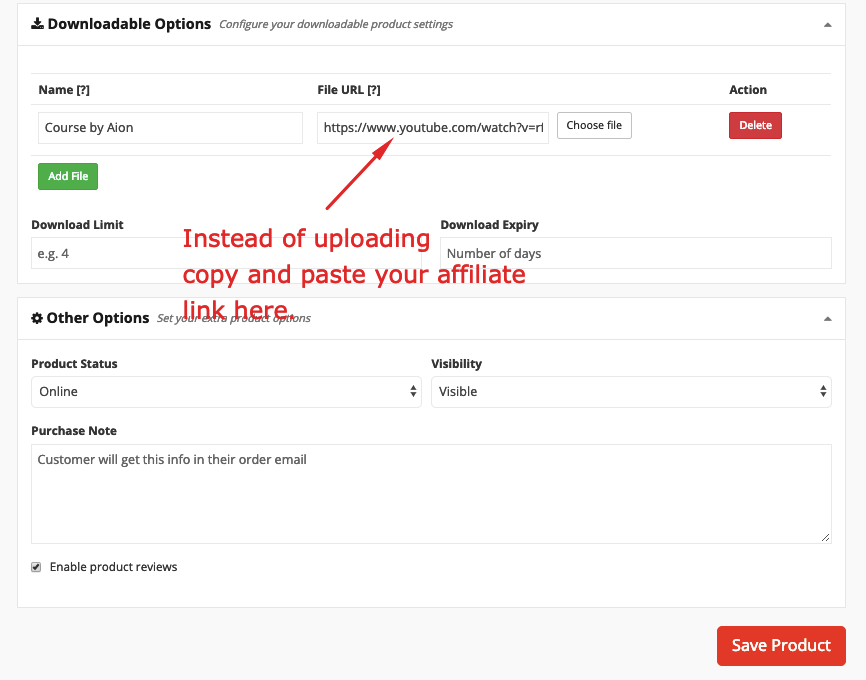 Finally, hit the "Save Product" button and you are done with adding your affiliate link.
How a Customer Will Download the Course?
To get the course, one has to buy the course from the frontend of the website like a regular WooCommerce digital marketplace. Once a customer buys the course he or she will get it as downloadable files such as zip, pdf, mp4 or any files you upload.
For example, after purchasing a course the customer has to go to "My Order" option.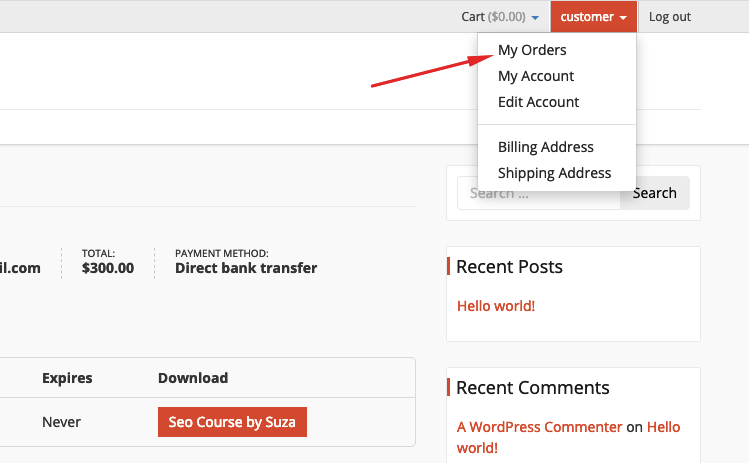 After that he or she will be able to see the purchased courses in a list view. However, to download the course, the customer now has to click on the 'View' button.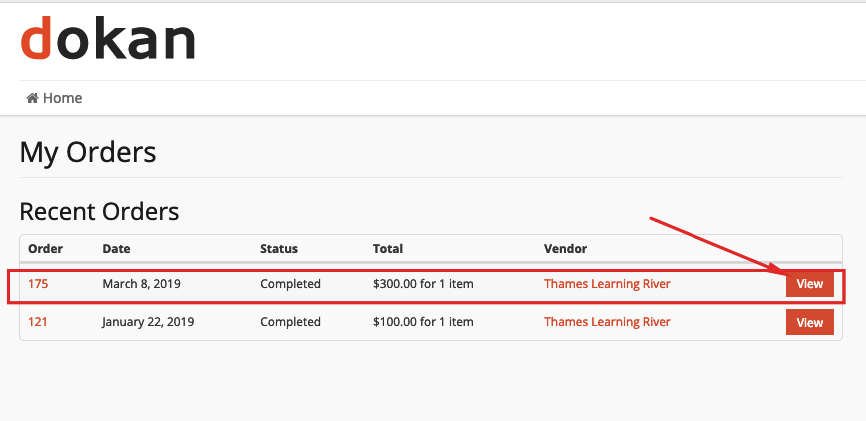 Next up, the customer can get the download option.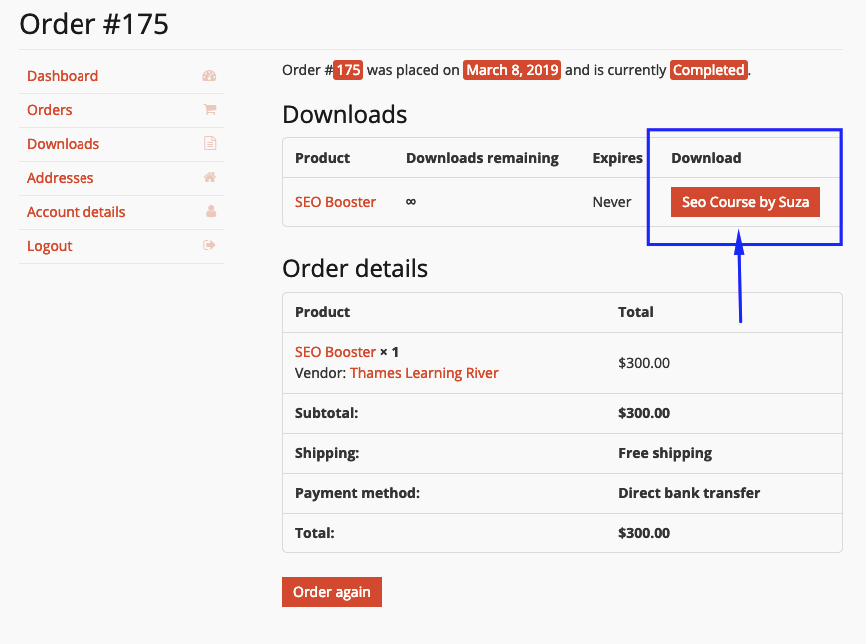 On clicking the download option, the customer can save the file in his / her desktop.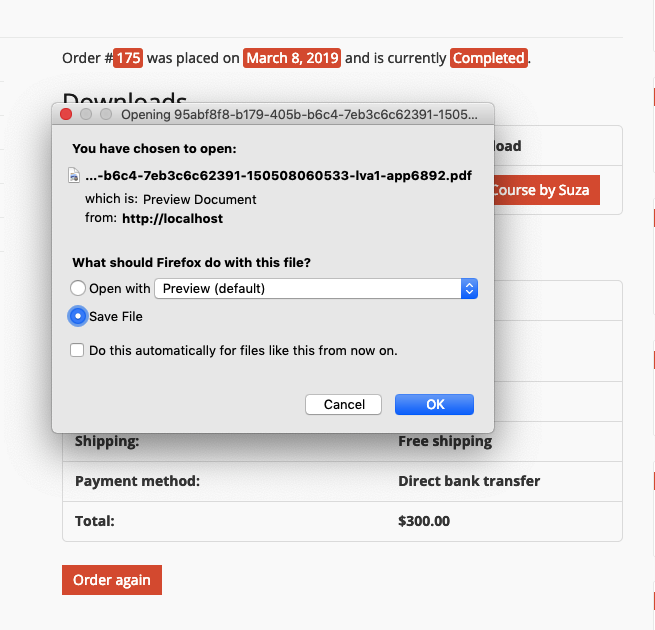 Note: If you want your customer to follow the second method (using affiliate links), he or she will get the URL and can visit the vendor's LMS website while viewing the course after payment.
Although the free version of Dokan supports the standard PayPal, bank transfer etc [non-adaptive payment gateways], the pro version supports adaptive payment solution like Stripe Connect and MOIP.
Example of a Real-life Digital Course Marketplace Using Dokan
If you are not convinced yet regarding the potential of Dokan as the platform to sell digital courses then you can simply visit the 'Practity'.
Practity sells courses on graphics and various programming languages. Here is a screenshot, taken from their website: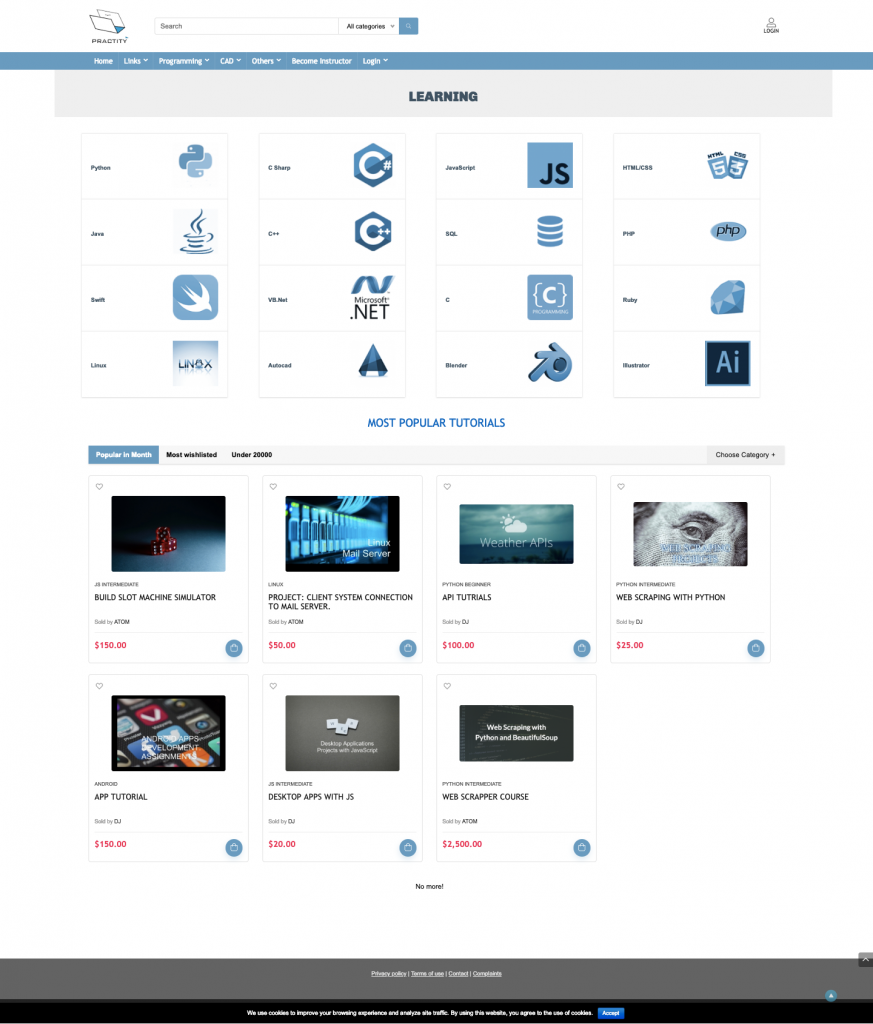 Please note that the frontend view of the website may differ to the customers depending upon the theme you use.
The Big Picture
It's a foregone conclusion that as an admin you will lose a lot of vendors just because of using an expensive digital course store platform. However, with the trio combination of WordPress, WooCommerce, and Dokan, you can not just let your vendors sell your digital courses in hours but in minutes.
Since Dokan is scalable, you can also extend is functionalities with the Pro versions at your disposal. So, what are you waiting for? Give Dokan a shot now and build your online course store right away!