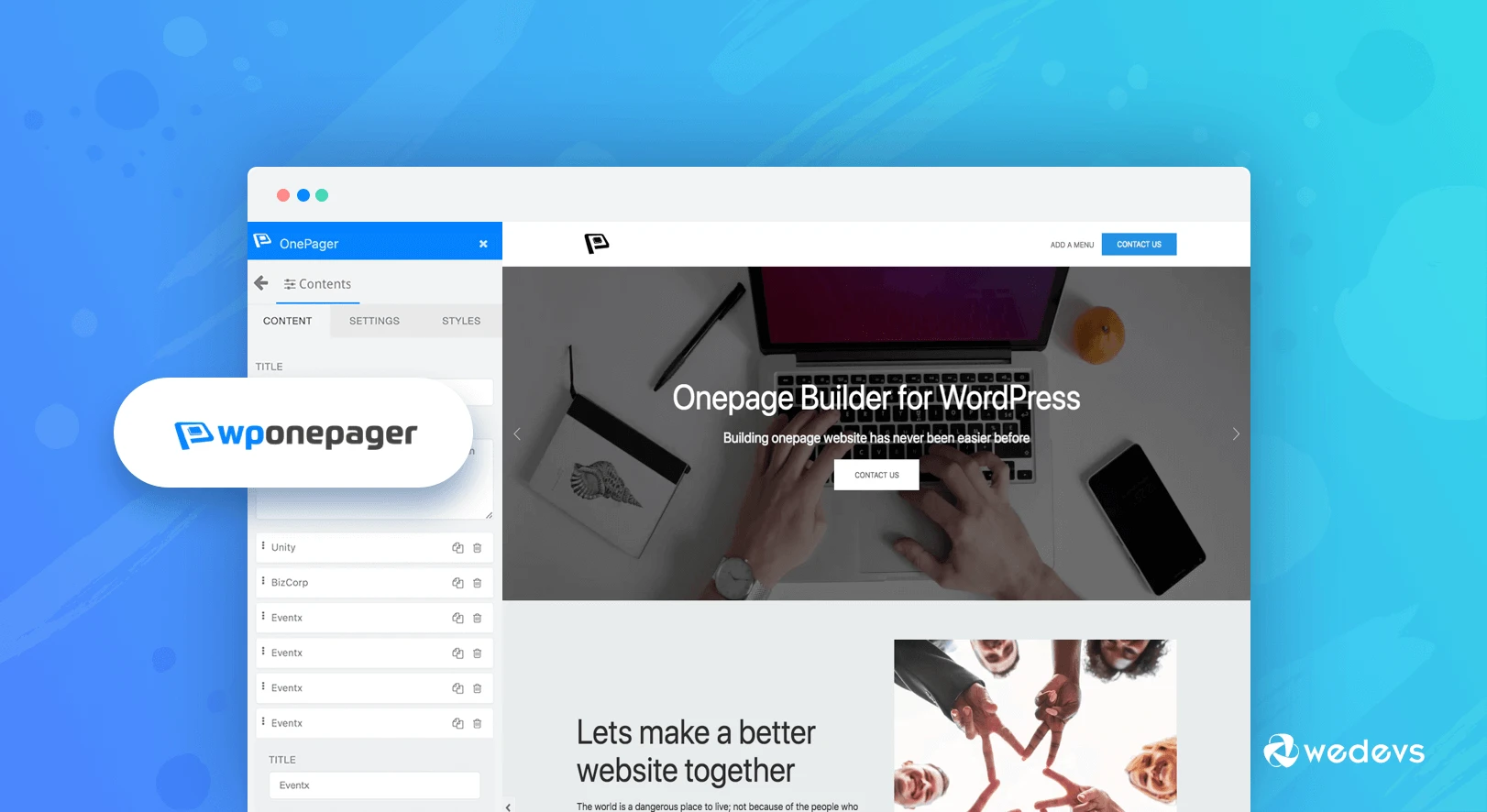 WPOnepager- The Easiest Landing Page Builder For WordPress
If you are thinking about building your site's landing pages on your own in a faster way, then page builder plugins could be your easy choice.
Else you have to be an experienced coder or hire a web developer and of course, you have to invest a good amount of money. If you are not this person, then choose any page builder that will allow you to fulfill your needs.
Finding such a page builder is tough because none will provide you all the facilities at once. Besides, it might be a little bit harder for you to get familiar and get used to with a new plugin. Then, what's the solution?
Well, I have found such a WordPress landing page builder plugin that will let you develop any pages and websites in minutes. Give a check to this video.
You will need not to hire any developer, invest any extra money, learn any language, write any code, or go through any complexity. It's that easy and simple with WPOnepager plugin.
I am going to review this plugin for you today. Then you will decide whether it's worth your time or not.
Features that WPOnepager Provides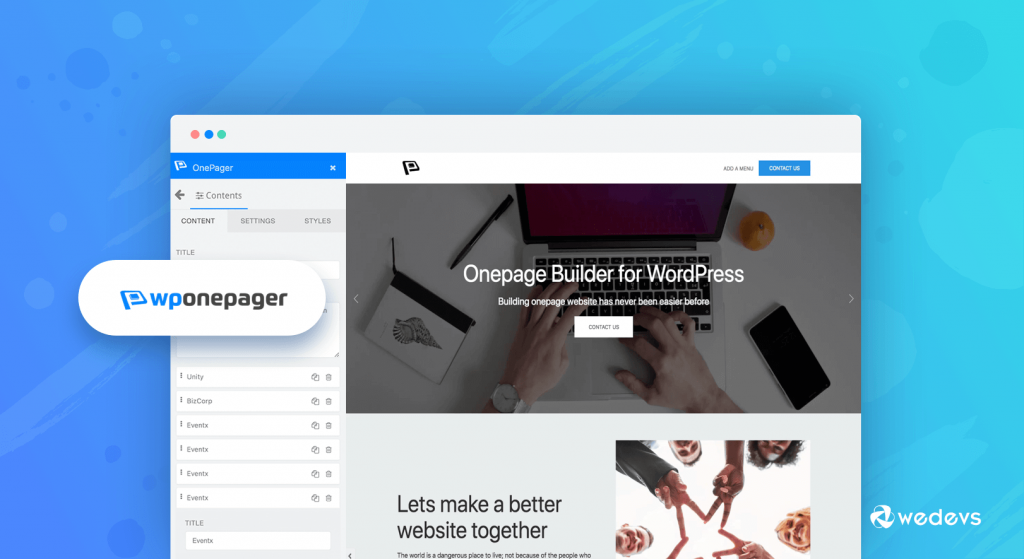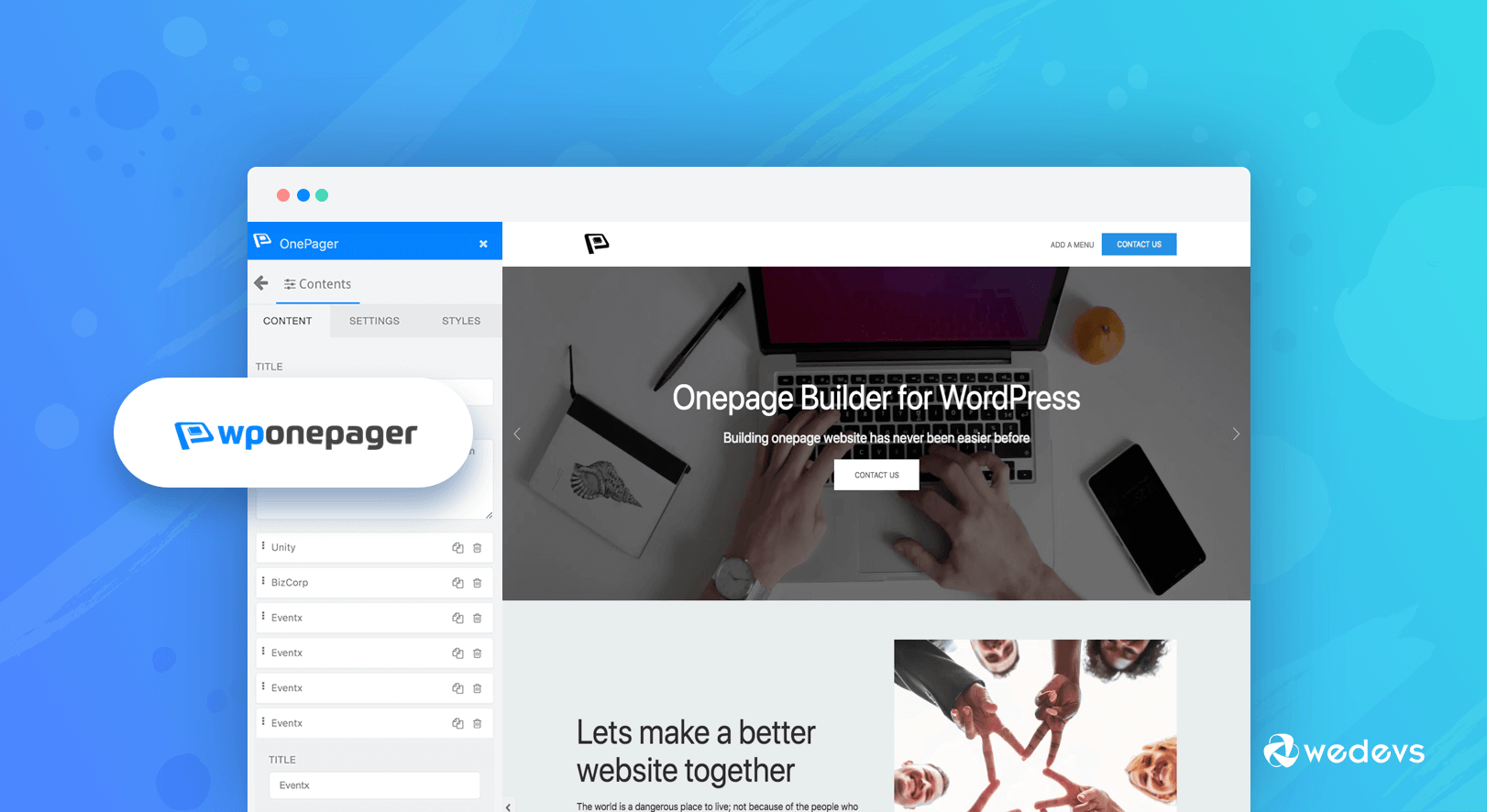 Any Page Creation in The Shortest Time
WPOnepager plugin allows you to edit or create a new page within your editorial area. Write the title and enable WPOnepager to start developing your landing page.
Now you will be able to add any blocks to your page. If you look at with set structure and you'll find a website consist of Navbar, slider, features section, testimonial, about section, and the footer.
Click on any blocks you like to insert and it will be inserted automatically. Afterward, change the images and contents.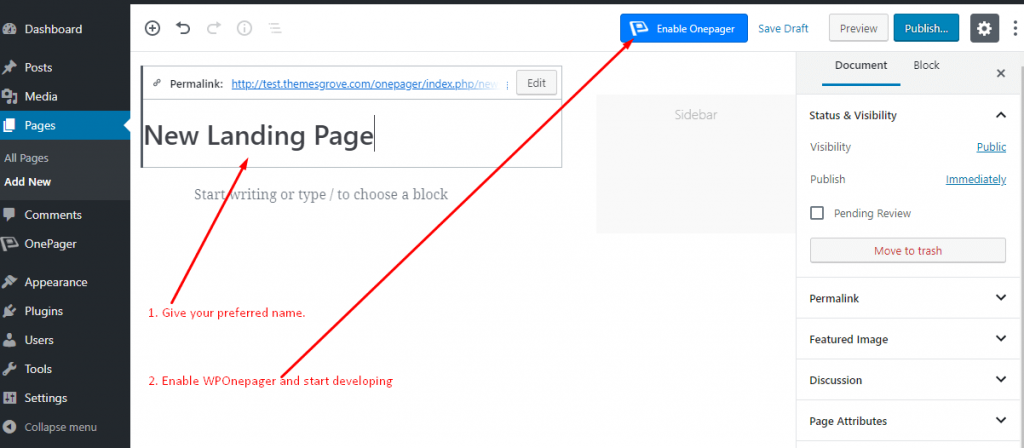 You might be thinking of settings with WPOnepager, but no need to. The blocks of WPOnepager designed in a way that you don't need to reposition the contents.
Now all you have to do is inserting blocks and replacing the contents of your website.
The WPOnepager doesn't ask for column size like any other place winter plug-ins. You can pager blocks and templates are pre-customized so that you can create your website in the shortest time
Time Saver
WPOnepager comes with the time-saving templates that let you create landing pages instantly.
The dashboard you find a collection of templates of different categories just made for you. Templates let you create your own site in thing, therefore take the preview first and then click the import button.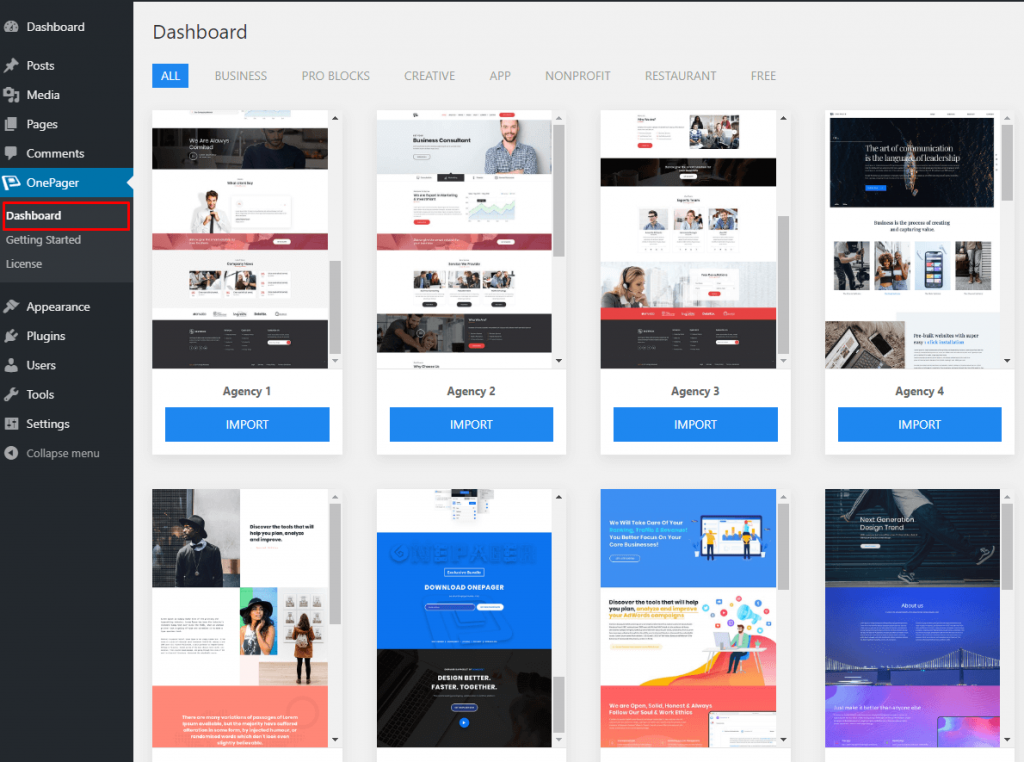 After the template importation is done click on the text and images to replace it. Your new page will be done in minutes not hours. If you wish to do a little customization, do it with WPOnepager.
100+ Templates & Blocks
There are more than a hundred plus templates and blocks come with WPOnepager.
Each template and blog are very elegant and entirely different from one another always find the best template for your site including – Magazine, blog, corporate, portfolio, creative, education, business, non-profit, e-commerce, apps, charity, retail, technology, waiting, real estate, miscellaneous, etc.
Robust Customization Options
More is always not good, sometimes it could even be bad.
WPOnepager comes with the minimal customization options so that you face zero complexity. Without which your site cannot be perfect.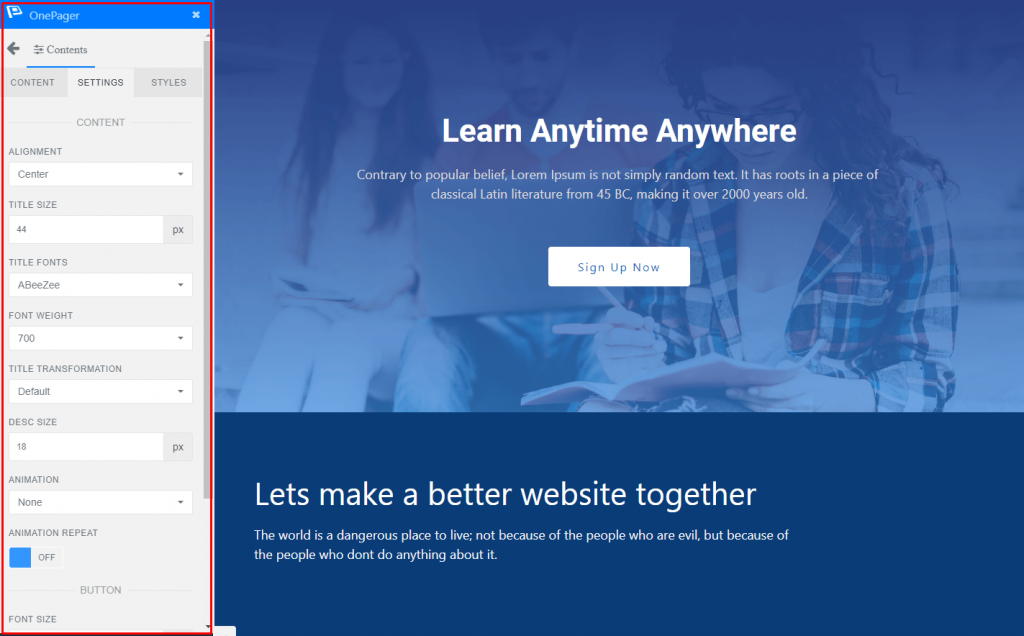 To change the settings and options of the content, just click on it and make your desired change.
Lucrative Animations
Animations always increase the attractiveness of your site and it changes the entire look of it.
The WPOnepager comes with smooth animations that don't have any impact on your website's performance. WPOnepager is developed in a way so that you get the best visual output of your site with uncompromising performance.
What Do Their Clients Say?
If you talk about the ratings WPOnepager comes with 4.5 ratings out of 5 in WordPress repository. All the users who have used this page builder plugin are satisfied with it.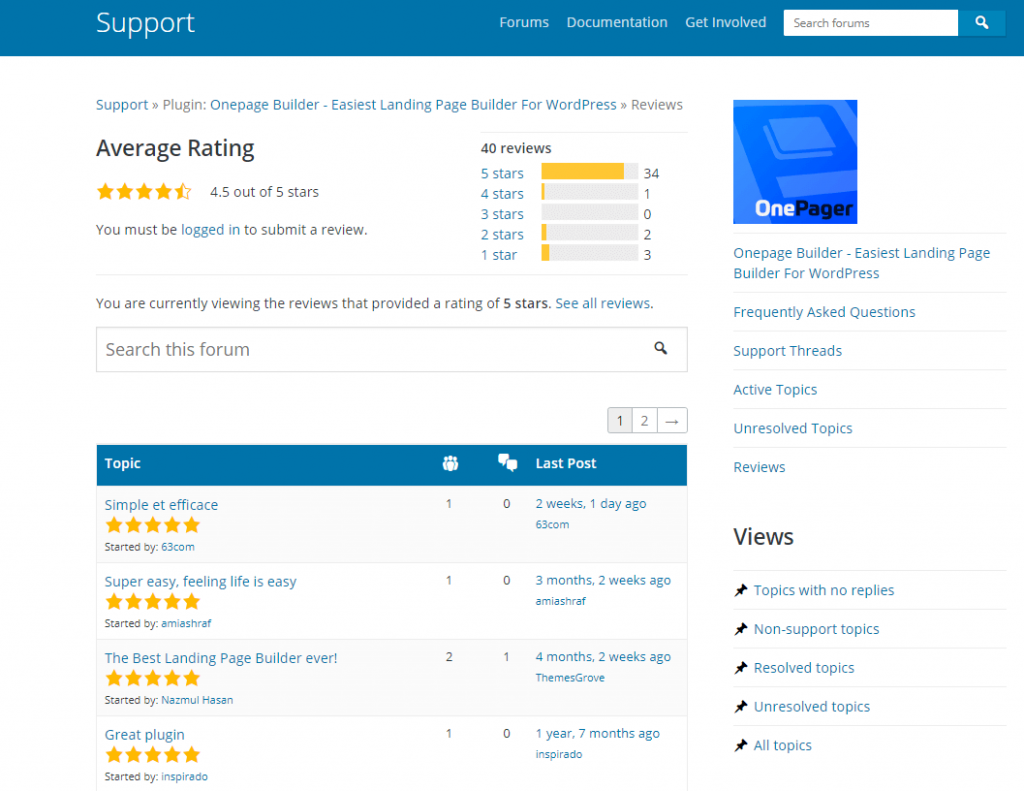 Pricing and Support Options
The WPOnepager comes with the pro version and also a free version. If you like to get the free version you can download it from the WordPress plug-in repository.
The pro version of this plugin has 3 different pricing plans. $39 for Personal, $99 for Agency and $199 for Unlimited Sites. And you have the opportunity to use this awesome solution for free. Go and grab it now!
If you would like to experience the ultimate page developing experience in minutes, try WPOnepager.
Client Satisfaction
Using WPOnepager doesn't require to go through a big book of a guideline. Therefore everyone who used it finds WPOnepager very easy and very useful.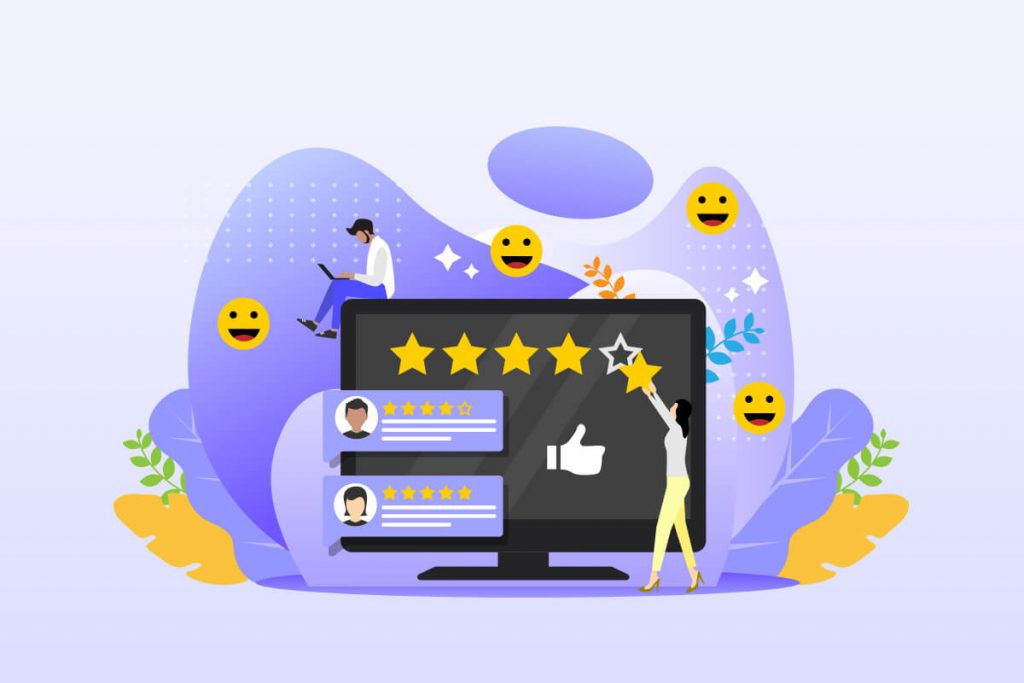 Other page builders will ask you for coding knowledge or previous experience, but WPOnepager requires none. Everyone including your grandma can build a website all by herself.
There are a lot of people who have use WPOnepager but no one has complained against it. You are guaranteed to be satisfied.
So, is this really one of the easiest landing page builders?
There will be always choices, but finding the best one is tough. If you are a guy who wants his landing page in the shortest time with zero complexity than WPOnepager will be his choice for sure. Try WPOnepager and start developing yourself.
Feel free to have any queries.