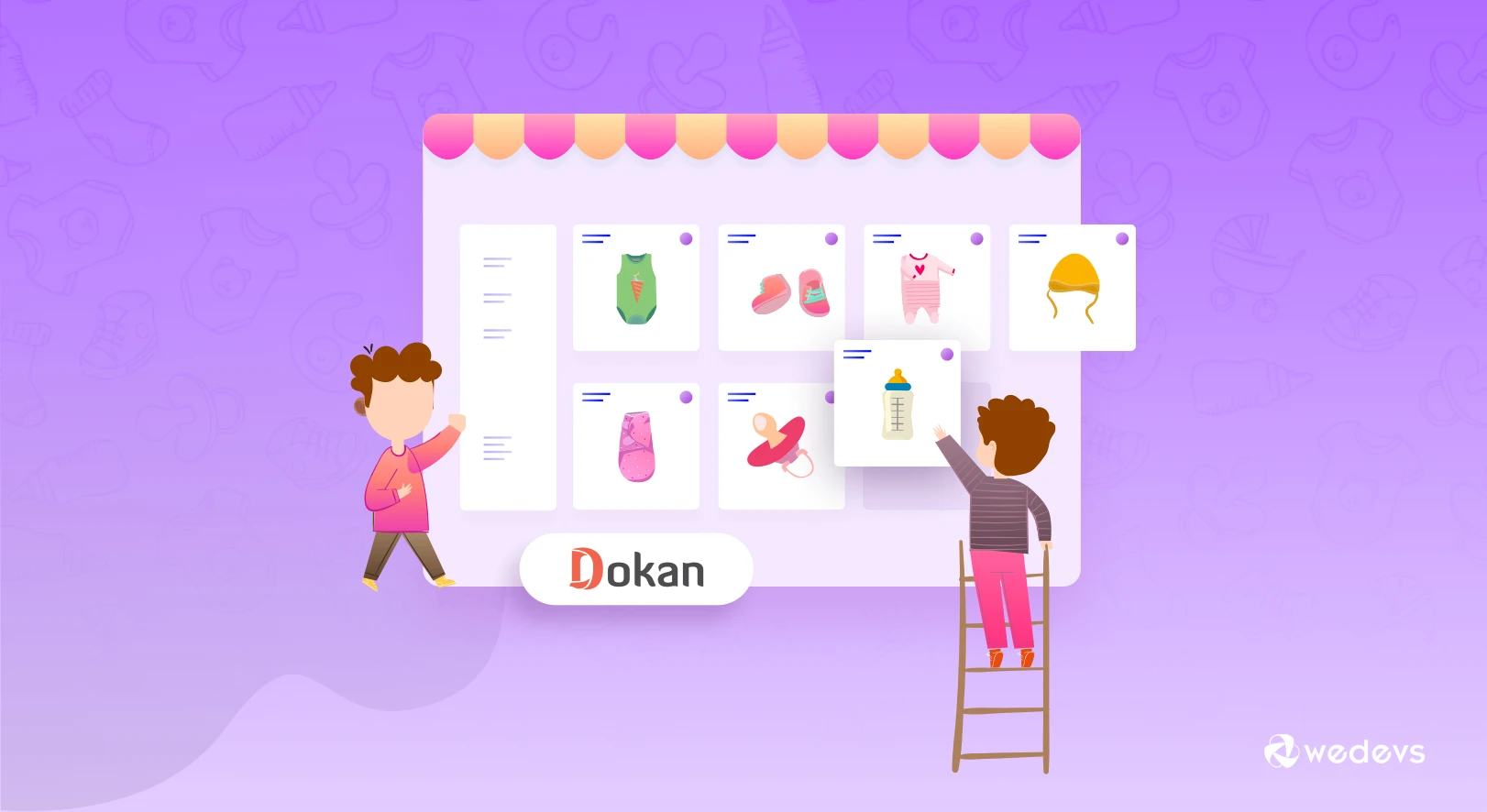 How to Create a Baby Product Marketplace Online Using Dokan for Free!
What if you become able to earn while you sleep? How would it be if you earn while you virtually have no products? And how would it feel when you earn while you are on leave or hanging out with friends and families?
Well, you can effortlessly start earning in these ways if you only possess an online multi-vendor marketplace. And guess what, you can start earning just like the way the successful entrepreneur, Leisa Papa is earning from her Little Kids Business.
In this article, I will be showing you the ways to create baby products online marketplace with the help of the Dokan multivendor marketplace.
Now, let's begin!
How to Create & Sell Baby Products for Free with Dokan?
Showcasing and selling baby products in WordPress requires the following:
Requirements
We assume that you have your WordPress site up and running and you have installed WooCommerce on your store.
However, if you do not know how to install WooCommerce, you can take help from this WooCommerce Tutorial.
Let's see how to create baby products online marketplace step by step:
Step 1: Configure Basic Settings
Now that you have installed WooCommerce, you have to configure some basic settings. Follow these steps:
Make sure to check the "Anyone can register" option from the WP Admin > General > Settings > Turn anyone can register on.
Save changes.
Next up, set some product categories like lotion, soap, diaper, apparel, etc. from the WP Admin Dashboard → Products → Categories.

Save your newly created categories.
Step 2: Install & Activate Dokan Plugin
Navigate to the WP Admin Dashboard → Plugins → Add New:
Now, search for "Dokan". Then click on "Install Now":
Hit the 'Activate' button to take an effect:
Read our full official documentation or go through the following video tutorial to configure Dokan successfully on your website.
Step 3: General Setting of Dokan
After installing Dokan, now you have to do some basic configuration to personalize your marketplace features and activities. Here, you get the complete flexibility to configure all the options as per your operational rules and regulations. The entire process requires only a few seconds to go and is extremely easy to execute.
Navigate Dashboard→Dokan→Settings. Check this documentation to learn how to configure Dokan step by step.
Following we show the basic setting options, have a quick look indeed: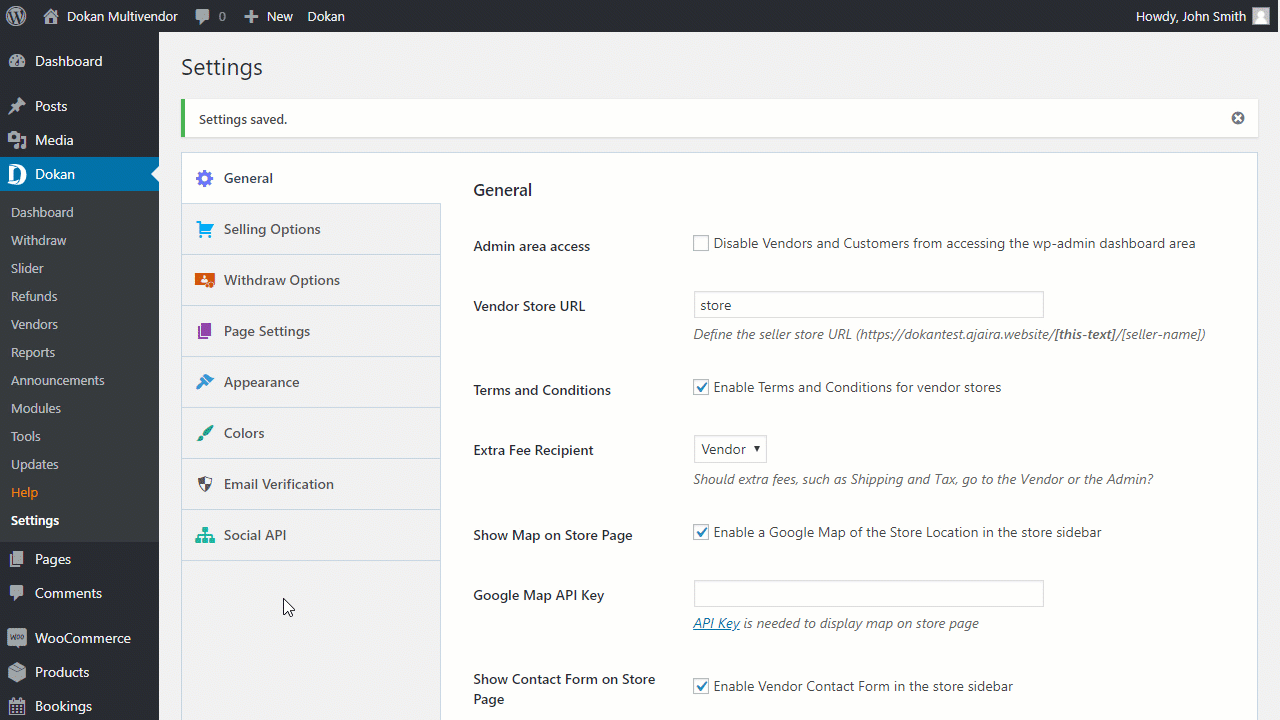 Let's go to the next step and show you how to customize your online marketplace to sell baby products and earn quick money with commissions.
Step 4: Set Selling Options & Define the Commission Rate
For each sale, you can earn from commissions. To set a commission, you need to go to the WP Admin Dashboard → Dokan → Settings:
By default, the selling option is set to 10. However, you can set any amount you want.
Step 5: Install & Activate Dokan Theme
Now, to get the best appearance of the Dokan plugin, you have to use a professional-quality theme. Fortunately, you can avail of the Dokan theme for free!
Click here to get the free Dokan theme right now!
However, there are many more premium themes in the market. Check out some of the most popular Dokan themes from here.
To install the Dokan theme, go to the WP Admin Dashboard → Appearance → Themes → Add New → Upload theme → Choose the Zip file. That's it!
Marketplace Configuration for Vendors
Register as a Vendor
You can either register vendors manually or vendors can also register on their own. Now, let's get registered as a vendor:
Upload Products on Your Baby Products Marketplace
Now, it's time to upload some products. To upload products, as a vendor, you need to navigate to the vendor dashboard → Select "Product" → Add new product. You will get a popup like this: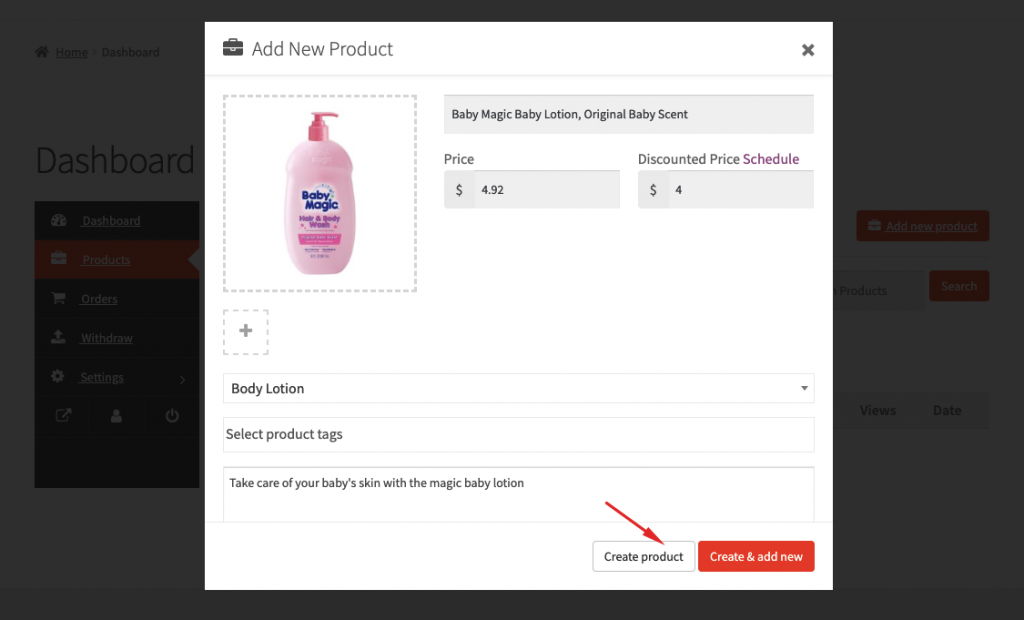 Finally, hit the Create Product button to add the product.
Unfortunately, in the free version of the Dokan theme, your vendors can not publish products on their own. Therefore, you will need to publish them manually.
To publish the products of the vendors, you will have to go to the WP Admin Dashboard → WooCommerce → Products → Edit → Publish.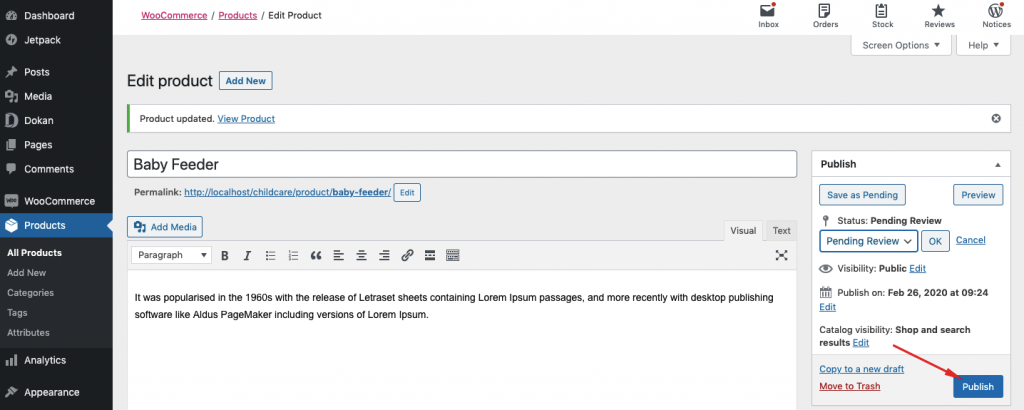 Advanced Tips: Adding Slider to Your Online Marketplace
If you want to run a campaign on certain products or if you want to showcase the best-selling products on your home page then the Dokan slider can take you to the rescue.
To add Dokan slider, you have to navigate to the WP Admin Dashboard → Appearance → Slider → Add New Slider.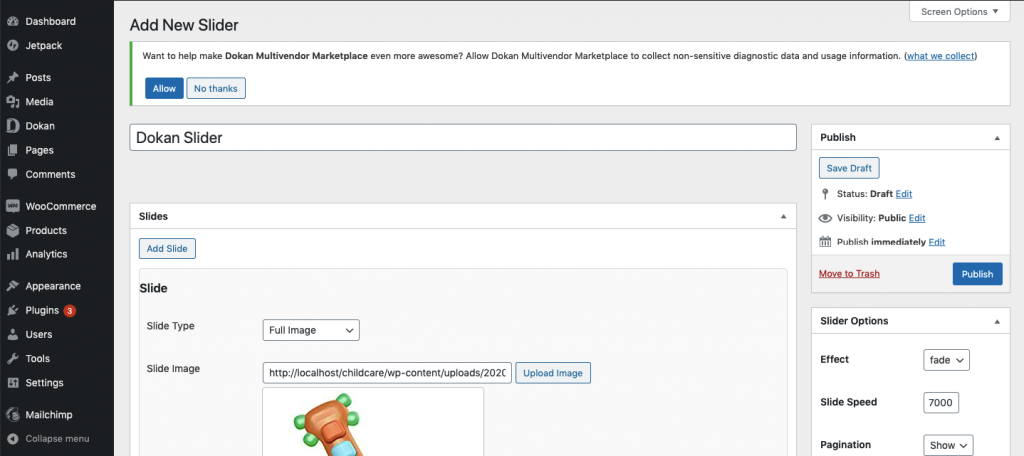 Here, you will have to give a name to the slider. Next up, add two or more slides.
Please note that when you are uploading images for the slider make sure to click on the "Insert into Post" button.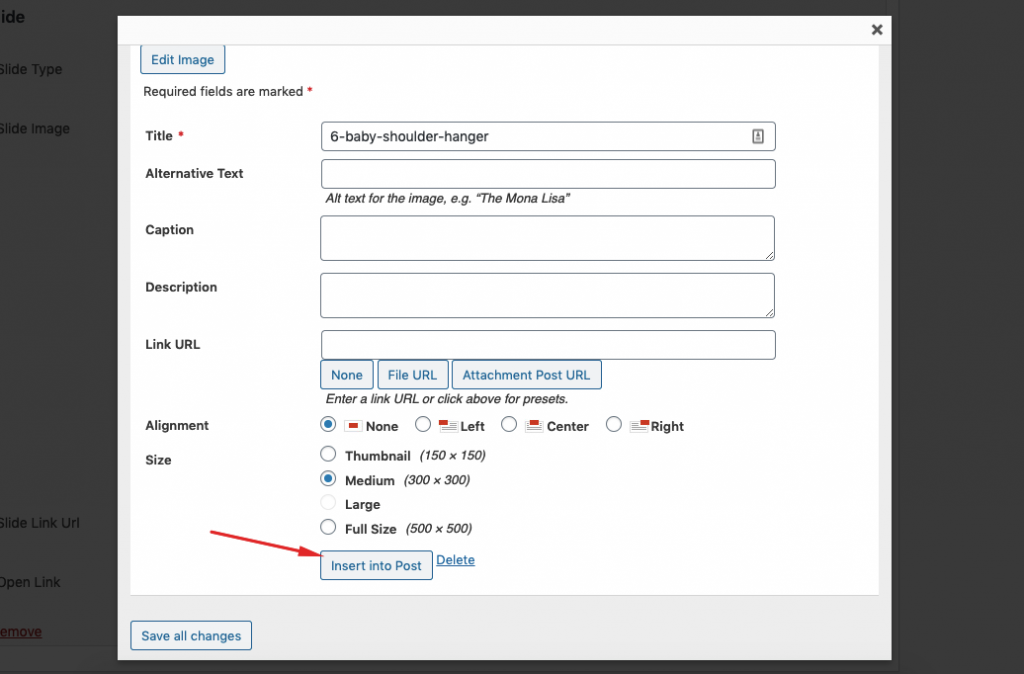 However, the slider will not show up automatically. Thus, you have to go to the WP Admin Dashboard > Appearance > Customize > Theme Settings > Now, select your newly created Dokan Slider.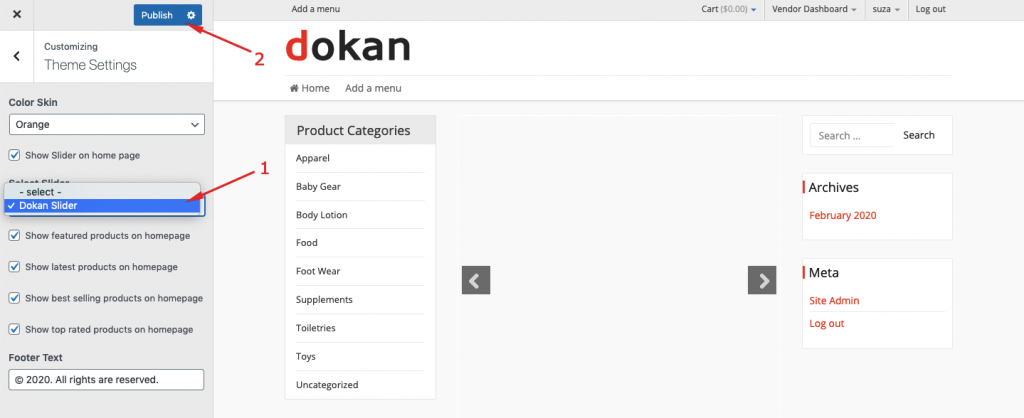 From the same theme customizer location, you will also have to check the "Show the Slider on the home page".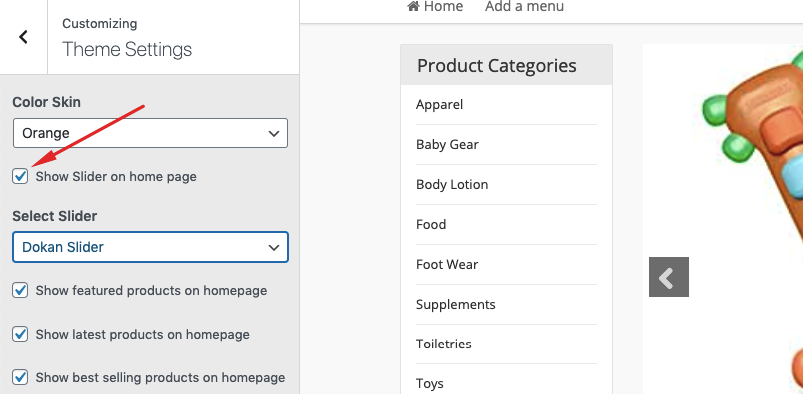 Voila! The slider will now take an effect like the following: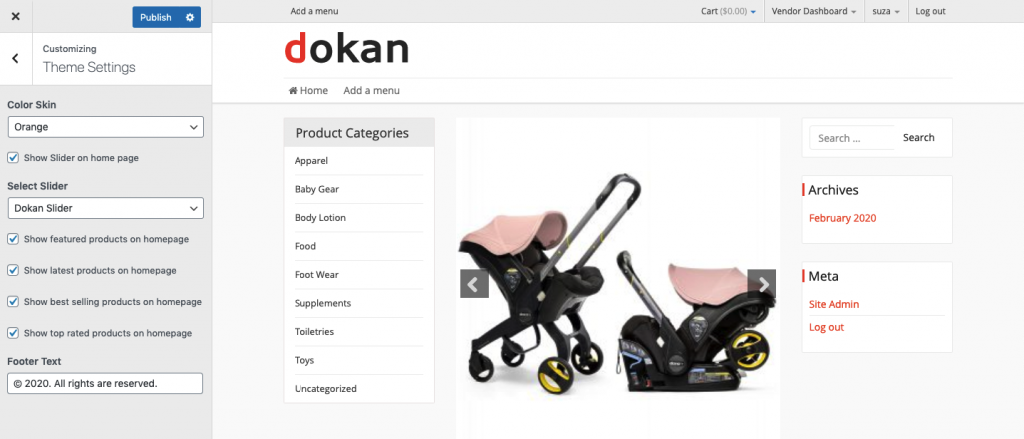 How the Customers will See Your Marketplace
When you have vendors and their products up and running on your website, customers can sign up and purchase from your store.
As a customer, you need to sign up like the following:
After registering on your website as a customer, you will be able to see the marketplace like this: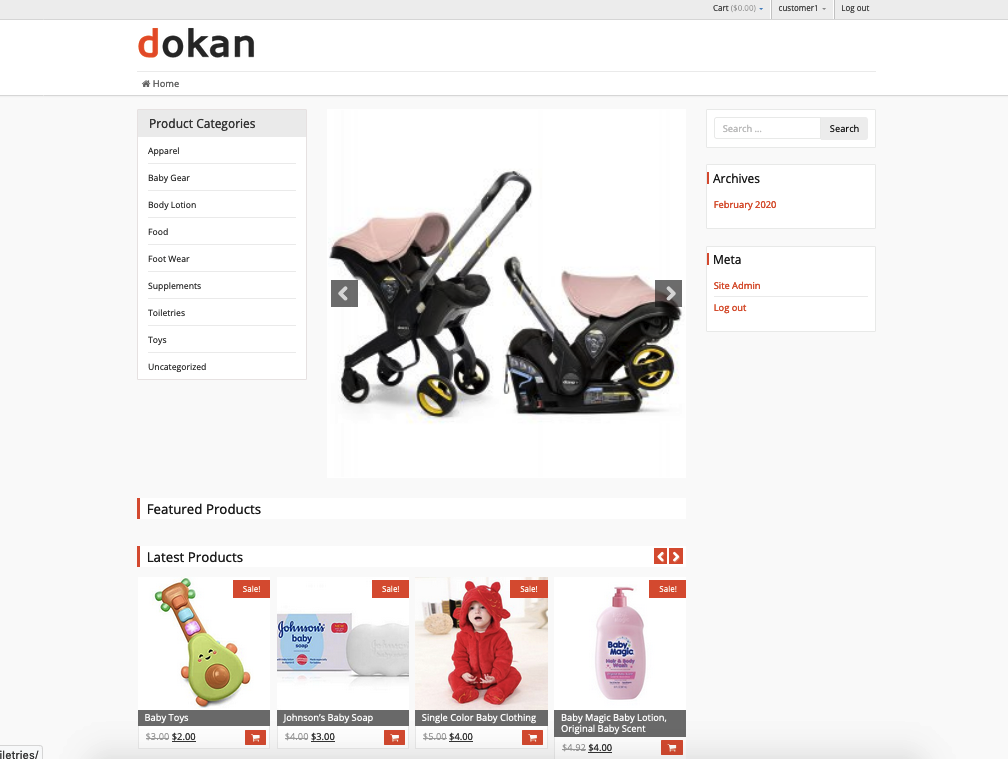 Start Earning from Your Brand New Marketplace
Now, you are all set to make money from your marketplace. As far as the payment system is concerned, you may use any payment system that WooCommerce supports. You can find the payment methods from the WooCommerce → Settings → Payments.
Next, set the shipping rate from the WooCommerce → Settings → Shipping → Shipping Zones → Add Shipping Zone.
You can also set the shipping charge from the dashboard.
Related Article: How To Build An ECommerce Marketplace With Dokan & Elementor
Looking Forward
This is how Dokan can help you create baby products online marketplace for free! However, with the pro version, you can extend it's functionalities very easily.
If you are new to online business, we suggest you primarily use the free version. After that, when you gain a good number of vendors, you can go for the premium version.
Finally, if you are already using Dokan, let us know your experience in the comment section below.