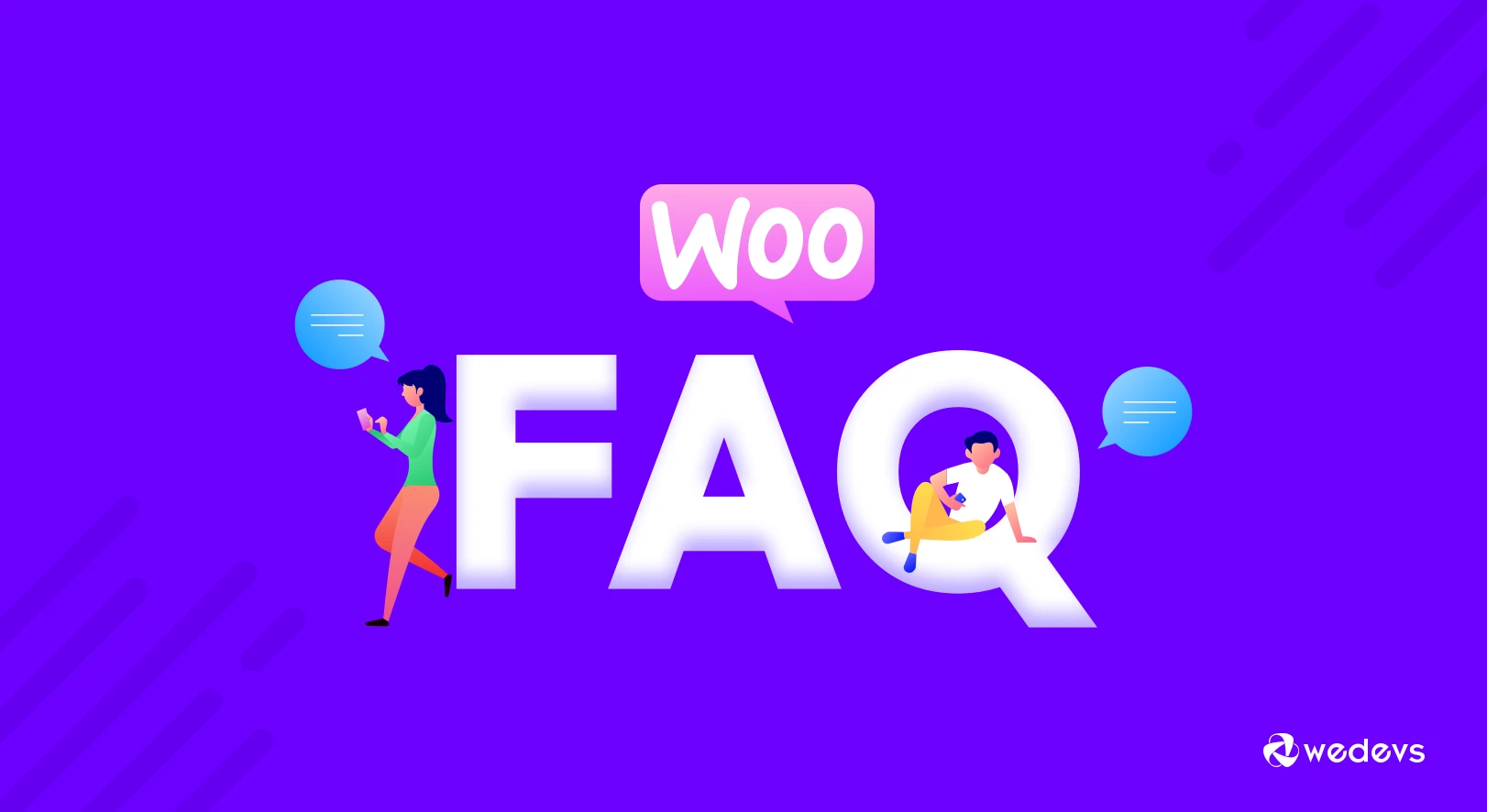 Learn Everything about WooCommerce in Under 20 Minutes
Are you looking for answers to your burning questions about WooCommerce? Well, look no further! In this blog post, we've got you covered with a comprehensive WooCommerce FAQ to address all your queries.
Whether you're a beginner starting your first online store or an experienced user seeking clarification, we'll provide you with the information you need.
From understanding what WooCommerce is and how it works to exploring its features, integrations, and customization options, we'll dive into the nitty-gritty details. Want to know if WooCommerce is the right choice for your business or if it can handle both physical and digital products? We'll answer that too!
So, without any further delay, let's get started with the first question-
1. What is WooCommerce?
WooCommerce is a completely free and open-source eCommerce plugin for WordPress. It is dedicatedly designed to create any type of small to large-sized online store. This plugin was first introduced in the year September 7, 2011.
WooCommerce was founded by three young innovators named Adii Pienaar, Magnus Jepson, and Mark Forrester. Initially, it was launched under the name WooThemes. Later, in May 2015, another tech giant called Automattic acquired WooThemes and changed its name to WooCommerce.
According to Statista, WooCommerce is the most popular eCommerce platform with more than 38% eCommerce market share.
2. How Does WooCommerce Work?
WooCommerce lets you set up and run your own online store effortlessly. With WooCommerce, you can sell physical or digital products without any hassle. Setting it up is an easy task, as you can quickly configure payment options, shipping methods, and taxes.
With options to showcase images, descriptions, and inventory details, you can seamlessly upload products to your WooCommerce store. Customers can easily browse and buy from your store, thanks to a smooth shopping cart and secure checkout process. WooCommerce also offers features like order management, refunds, and shipment tracking.
In short, WooCommerce empowers you to create and manage a successful online store, all within the familiar WordPress environment.
3. Is WooCommerce Free?
WooCommerce itself is completely FREE as we've said earlier. You'll get all the basic features to run a small eCommerce store with the WooCommerce free version. But once your online store starts to grow, you'll need a few more WooCommerce extensions to manage the increased traffic and sales smoothly.
To use WooCommerce extensions, you have to pay as per your needs. Also, if you want to turn your eCommerce store into an online multivendor marketplace, you will have to invest in a multivendor plugin.
That means WooCommerce is a free plugin, but if you want to expand the functionality of your eCommerce store, then you have to pay for it.
4. Can I Use WooCommerce with Any WordPress Theme?
Yes, you can use any WordPress theme with WooCommerce. Just install a free or premium theme for your WooCommerce store and customize it as per your need to seamlessly run your online store.
That being said, there are themes that dedicatedly designed for WooCommerce. These dedicated WooCommerce themes often provide better integration and styling options for your online store.
When selecting a theme, it's a good idea to check if it explicitly mentions WooCommerce compatibility or eCommerce support. This way, you can ensure that the theme you choose will provide a visually appealing experience for your customers.
5. How to Install WooCommerce on a WordPress Website?
Installing WooCommerce is as easy as installing a WordPress plugin. Basically, WooCommerce itself is a plugin for WordPress. Follow these below-mentioned steps to install and activate WooCommerce on your WordPress website:
Go to your WordPress Dashboard > Plugin > Add New.
Search for "WooCommerce" in the search field.
Then install and activate WooCommerce from the search result.
Note: We have a dedicated blog post on WooCommerce installation and customization. You can check this blog to know more about it.
A Complete Guide To WooCommerce Customization Tutorial
6. What Happens if I Deactivate WooCommerce?
There are two things to understand when uninstalling or removing WooCommerce.
If you deactivate and delete the plugin from WordPress, you only remove the plugin and its files. The settings, orders, products, pages, etc… will still exist in the database.
If it needs to remove ALL WooCommerce data, including products, order data, etc., you need to be able to modify the site's wp-config.php file before deactivating and deleting the plugin.
So, before deactivating WooCommerce on your site, make sure you know everything clearly. And don't forget to take a backup before removing WooCommerce.
7. How Do I Add Products to My WooCommerce Store?
When you're using WooCommerce for your online store, adding products to the store is super fun and easy. Even if you have no experience in uploading products before to a WooCommerce website, still you can do it in no time by following some easy steps.
Here are the steps:
Step 01: Add New Product with Name and Description
Step 02: Select a Product Type
Step 03: Add Product Data
Step 04: Add Product Image
Step 05: Add Product Gallery
Step 06: Set Category and Tag
Step 07: Publish the Product
You can check this blog on How to Add Products to WooCommerce Store to get a beginners friendly tutorial.
8. How to Use WooCommerce Shortcodes?
WooCommerce comes with several shortcodes that can be used to insert content inside posts and pages. Shortcodes can be used on pages and posts in WordPress.
If you are using the block editor, there is a shortcode block you can use to paste the shortcode in. And if you are using the classic editor, you can paste the shortcode on the page or post.
Focus on this image, you can see a "Shortcode" area. There you can write or paste your shortcode to get your job done.
9. Can I Sell Both Physical and Digital Products with WooCommerce?
Yes, you can sell both physical and digital products with WooCommerce. One of the strengths of WooCommerce is its flexibility in handling different types of products.
For physical products, you can set attributes like weight, dimensions, and shipping options. Customers can add these products to their carts, provide shipping information during checkout, and complete the purchase.
When it comes to digital products, WooCommerce allows you to offer downloadable files to customers. Whether it's ebooks, music, software, or any other digital content, you can upload the files. After a successful purchase, customers receive secure download links to access their digital files.
10. What Payment Gateways Does WooCommerce Support?
WooCommerce supports a wide range of payment gateways. Some of the commonly supported payment gateways by WooCommerce include:
PayPal: WooCommerce offers native integration with PayPal, allowing you to accept payments through PayPal accounts or major credit/debit cards.
Stripe: Stripe is another popular payment gateway supported by WooCommerce. It enables you to accept credit and debit card payments directly on your website.
Amazon Pay: WooCommerce integrates with Amazon Pay, enabling customers to use their Amazon accounts to make purchases on your website.
Authorize.Net: This payment gateway provides secure transaction processing, allowing you to accept credit card payments.
Braintree: Braintree, a PayPal service, offers seamless payment integration, supporting multiple payment methods and currencies.
2Checkout: 2Checkout allows you to accept payments globally, supporting various payment options and currencies.
And a few more.
11. Can I Offer Discounts and Coupon Codes in WooCommerce?
Yes, WooCommerce provides built-in features that allow you to offer discounts and coupon codes to your customers. This functionality gives you the ability to run promotional campaigns and provide incentives to encourage purchases.
12. Are There Any Limitations on the Number of Products I Can Sell with WooCommerce?
WooCommerce does not impose any specific limitations on the number of products you can sell. You can list and sell an unlimited number of products with the platform. Whether you have a small inventory or a large catalog, WooCommerce is designed to handle varying product quantities and scale with your business needs.
13. Can I Integrate Third-Party Plugins with WooCommerce?
Yes, you can use any third-party plugin with your WooCommerce website. If it's a free plugin, you can install it directly from your WordPress dashboard and use it. And if it's a premium plugin, you have to upload it to your site to use the plugin.
14. Is WooCommerce SEO-Friendly?
WooCommerce is SEO-friendly and offers features to optimize your online store. Its clean code structure facilitates search engine crawling and indexing. You can customize permalinks with relevant keywords for improved search engine visibility.
WooCommerce seamlessly integrates with popular SEO plugins like Yoast SEO, providing advanced optimization options such as meta tag customization and XML sitemap generation. The platform also adds schema markup to product pages, helping search engines understand and display product information accurately.
By utilizing these SEO-friendly features, you can enhance your store's visibility, attract more organic traffic, and improve your search engine rankings.
15. Can I Sell Internationally with WooCommerce?
Yes, you can sell internationally with WooCommerce. The platform supports global selling by offering features like multicurrency support, international shipping options, and localization capabilities. You can display prices in different currencies, set up shipping methods for various regions, and customize your store to cater to different languages and local preferences.
16. Can I Use WooCommerce without WordPress?
We know this is a silly question. Still, many people want to know the answer of this question. The direct answer is NO, you can't use WooCommerce without WordPress. Because it is a plugin, so you can't run it without WordPress.
17. Is It Possible to Create a Membership or Subscription-Based Website with WooCommerce?
Yes, you can create a membership or subscription-based website using WooCommerce. WooCommerce offers plugins and extensions that allow you to incorporate membership and subscription functionalities into your online store.
With these tools, you can set up different membership levels, restrict access to exclusive content, offer recurring subscriptions, and manage payment renewals and cancellations.
18. Does WooCommerce Support Multi-language and Multi-currency Functionality?
Yes, WooCommerce supports multi-language and multi-currency functionality. You can create a multilingual store by using compatible WordPress multilingual plugins such as WPML or Polylang, which allow you to translate your store's content and provide localized experiences to customers in different languages.
Additionally, WooCommerce provides extensions like WooCommerce Multilingual that help synchronize product information across different language versions. Regarding multi-currency support, WooCommerce allows you to display prices in multiple currencies through extensions or plugins, making it easier for international customers to shop and understand product prices.
19. Can I Offer Product Variations and Attributes in WooCommerce?
Yes, in WooCommerce, you can offer product variations and attributes. This means you can create different options for your products, such as size, color, or material variations. Each variation can have its own price, stock availability, and SKU. Customers can easily select the specific variation they want to purchase from a drop-down menu or radio buttons on the product page.
Additionally, you can define attributes for your products, which are characteristics or properties shared across multiple products, like brand or style. By utilizing product variations and attributes, you can provide more choices to your customers and tailor your product offerings to meet their preferences and needs.
20. How Can I Handle Returns and Refunds in WooCommerce?
In WooCommerce, handling returns and refunds is facilitated through its built-in features and settings. To effectively manage returns and refunds, you should clearly communicate your return and refund policies on your website, providing detailed information about conditions, timelines, and procedures.
This helps set customer expectations and avoids any confusion. Additionally, you can offer product support to address customer concerns and resolve issues promptly. WooCommerce provides a user-friendly interface to process returns and refunds, allowing you to manage these requests efficiently and maintain customer satisfaction.
21. WooCommerce vs Shopify – Which One is Better for Creating eCommerce Store?
WooCommerce vs Shopify is like Messi vs Cristiano. Both of them have multiple strengths and can possibly be the perfect solution for you to build an eCommerce store.
And the best part is that you can do everything on your own, without any help from professional designers and developers. To make it more understandable, now we will take a closer look at the pros and cons of WooCommerce and Shopify.
Pros of WooCommerce
WooCommerce comes with powerful features like built-in user reviews and ratings. This brings transparency and reliability among users by letting them vote/rate for any products they like or dislike.
It has a well-organized reporting system. Specific category filters, such as sales by date, product, category, and coupons display in a much-systematized manner in WooCommerce reports.
The WooCommerce plugin is absolutely free. There's no opportunity for the hassle of payments. Simply download, install, and start adding your desired products from the WordPress dashboard.
Cons of WooCommerce
WordPress might be free but the hosting in WooCommerce isn't. So the user will need to spend separately for hosting.
Setup of the WooCommerce plugin might look simple but needs a good amount of care when setting it up on the WordPress site.
To run and use WooCommerce, you need to have a WordPress powered website.
Pros of Shopify
Hosting in Shopify is totally free. This means setting up Shopify is easy and fast. The user simply requires opening an account and can start using it right after adding the products.
It comes with a number of SEO options and social links helping the user to promote their products and website.
The admin dashboard of Shopify is intuitive and up to date. The user gets a very user-friendly vibe from it.
Cons of Shopify
The default product attributes on Shopify are limited to just three. All products can be described by their size, color, and material. For each of these parameters, creating new ones isn't possible.
Our Verdict
WooCommerce and Shopify are both capable of taking care of your eCommerce site. But different clients will prefer different platforms based on their preferences and business needs. So it won't be fair to single out any one of these specific platforms right away without knowing about their eCommerce business requirements.
But if you see WordPress Growth and users stats of WooCommerce over the last few years, you should prefer WooCommerce over Shopify.
Bonus: Build A Free eCommerce Marketplace Using WooCommerce
You can build a FREE eCommerce marketplace using WordPress. You just need to have 4 things available before jumping into configuring stage. These 4 things are:
Your own domain name & hosting
WordPress
WooCommerce
Dokan Multi-Vendor Marketplace Plugin
Buying domain name and web hosting will cost you some money. The rest of the required things are absolutely free to use.
You can use Dokan multi-vendor pro for unveiling more premium features. Anyone who wants to create an online multi-vendor marketplace without much hassle is welcomed to visit Dokan.
WooCommerce FAQ- Have You Any Further Question?
We have researched and collected the most asked question about WooCommerce in this blog and tried to answer all of them. We hope, after coming this far, you have already got your answer of your question.
Having said that if you have any further query, feel free to ask us through the comment box below. We will answer your query at our earliest convenienc.
One more thing, if you like our blog, feel free to share it with your community. And you can subscribe to our newsletter to get regular updates from weDevs. Thank you.