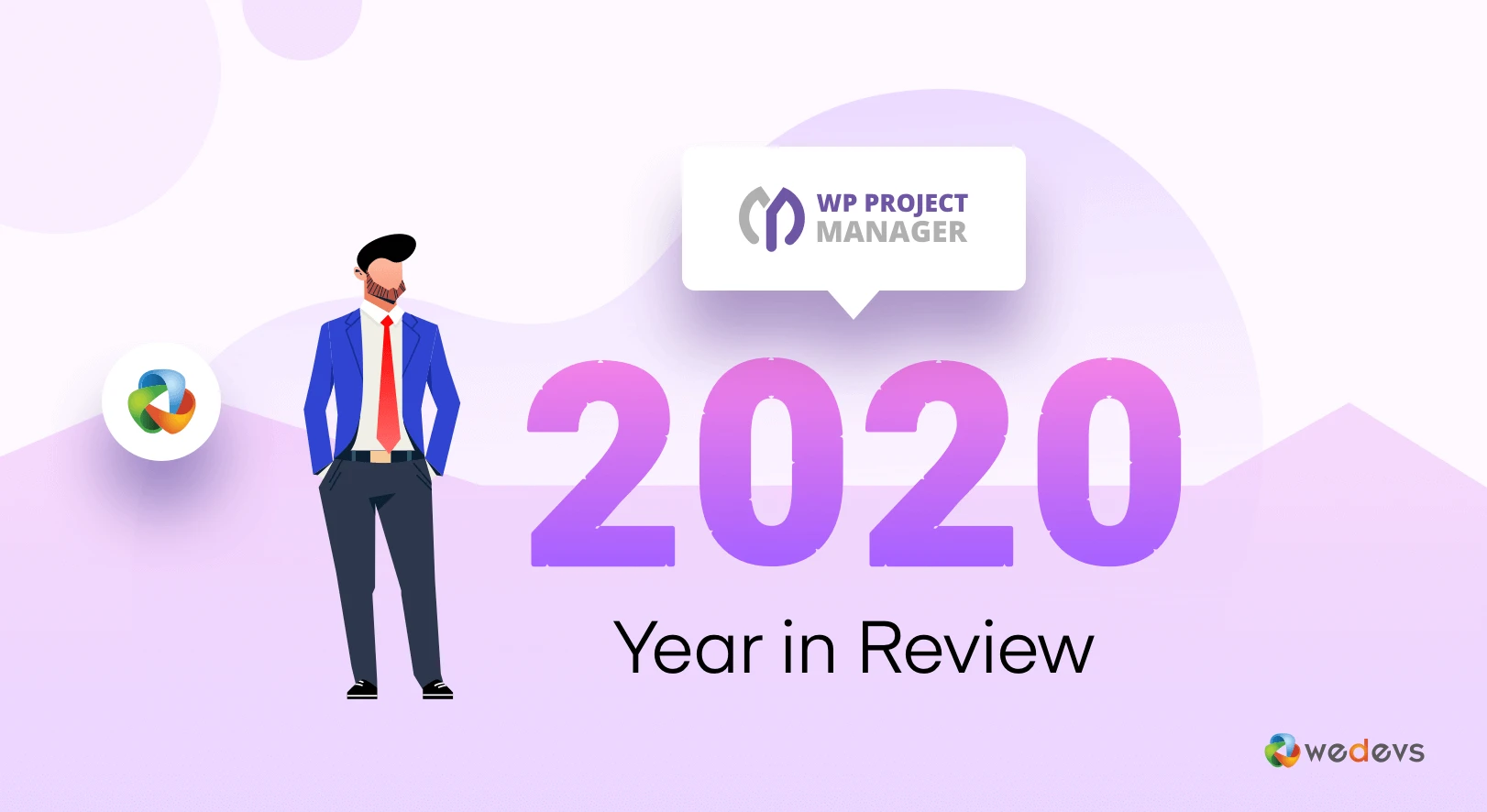 WP Project Manager Pro Year in Review 2020: Looking for Something Great Ahead
You may have heard the name of WP Project Manager Pro. Yeah, that's the magic! With all the advanced task management features, it has become the top solution to simplified a project manager workload on a large scale.
Basically, we launched WP Project Manager Pro with a masterplan-
We want to give people the flexibility to create, organize, and assign projects, tasks, to-dos; faster than ever before and possibly within minutes.
As WP Project Manager Pro launched, we have been showering with love from our beloved users. The feedback from our users makes us believe that we're on the right track to reach our milestones.
And to touch the milestone, it's time to constructively review and discuss how we have passed the year 2020. So, let's start our discussion right away.
WP Project Manager at a Glance
WP Project Manager was launched back in 2012. With these years of journey, it has completed more than 10,000+ active installations.
Besides, it has already been downloaded more than 3,00,000 times and got 76 five star review. With all these achievements WP Project Manager already proved how relevant it is for managing projects.

The WP Project Manager Pro has been introduced with 9 modules and 5 integrations yet to date.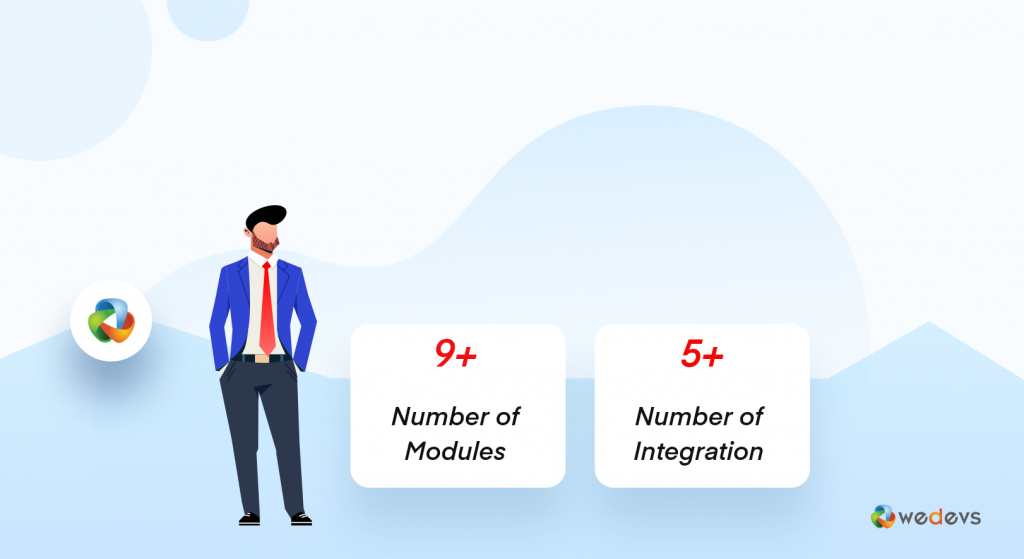 Sub Task: It helps to manage your to-dos in more detail and break them into small tasks.
Kanban Board: It lets you see all the tasks of a project and organize them in different boards according to their status.
Time Tracker: Helps to track every single task that you assign.
Gantt Chart: You can visualize all tasks on one page with online project management Gantt Chart.
Invoice: You will get invoicing facility, billing feature, partial payment, PDF download, and much more.
BuddyPress: It helps to maintain connections between users.
WooCommerce Order: Automate project creation and task assigning process when an order or booking is processed with this module.
Stripe Gateway: It helps you to receive payment from anywhere in the world.
Recurring Task: No need to create routine tasks manually. Simply auto-generate unlimited tasks that you perform regularly.
Apart from all these modules, WP Project Manager has 5 more integration to make your project management task easier.
WooCommerce Integration: Bring projects and tasks to the frontend of your site using this integration.
BuddyPress Integration: It helps to create profiles, make connections between users, manage groups, and private conversations.
Slack Integration: Simplify your team's communication and collaboration more effectively.
Pusher Integration: You can get real-time notifications of your task activities like assigning team members, mentioning in comments, and creating tasks with this integration.
Github and Bitbucket Integration: You can save valuable time and handle your issues more efficiently with this centralized system.
How WP Project Manager Started 2020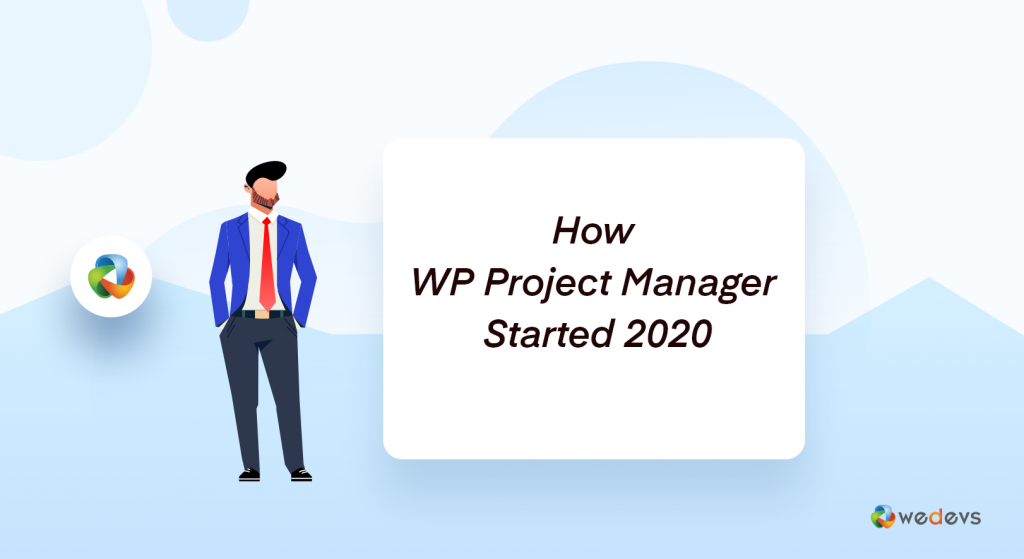 Yeah, it's indisputable that this year hasn't been a great year for all of us and we'd love to forget this year as much as we can. But then again, we did some great works to keep WP Project Manager rock and roll. However, before putting light on the year 2020, let me give you a quick round-up of how was WP Project Manager at the starting of 2020.
Long story short, on the eve of 2019 and the start of 2020, WP Project Manager had more than 9000+ active installations along with more than 200 thousand total downloads. Apart from this, it had gained an average of 3.7 ratings till then.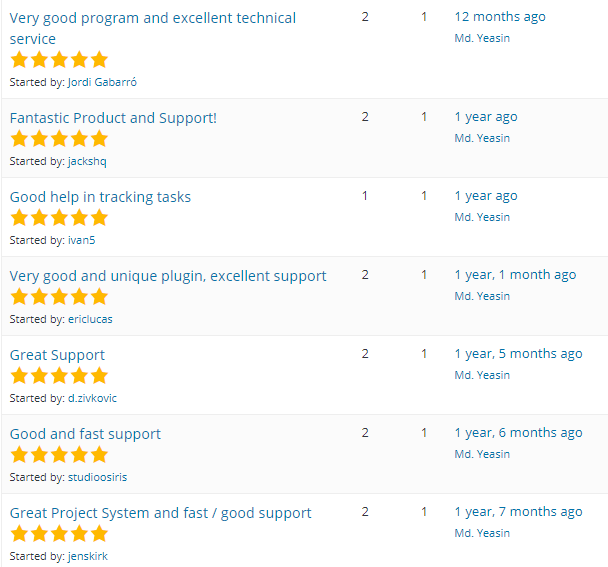 During 2019 and before starting 2020, we have
Launched 16 releases
Committed 330 times
Added 94,454 lines of code
Wrote 90+ documentations
Replied more than 20,000+ tickets
It's needless to say that we started the year 2020 with a long checklist to accomplish. But, the outbreak of the Covid-19 pandemic forced us to accelerate in a different direction. We have had an immediate and exceptionally dedicated plan to execute so that we can help project managers to manage their team from home using our WP Project Manager.
Let's talk about that now!
How WP Project Manager Pro Encourages People to Fight Against Covid-19 Pandemic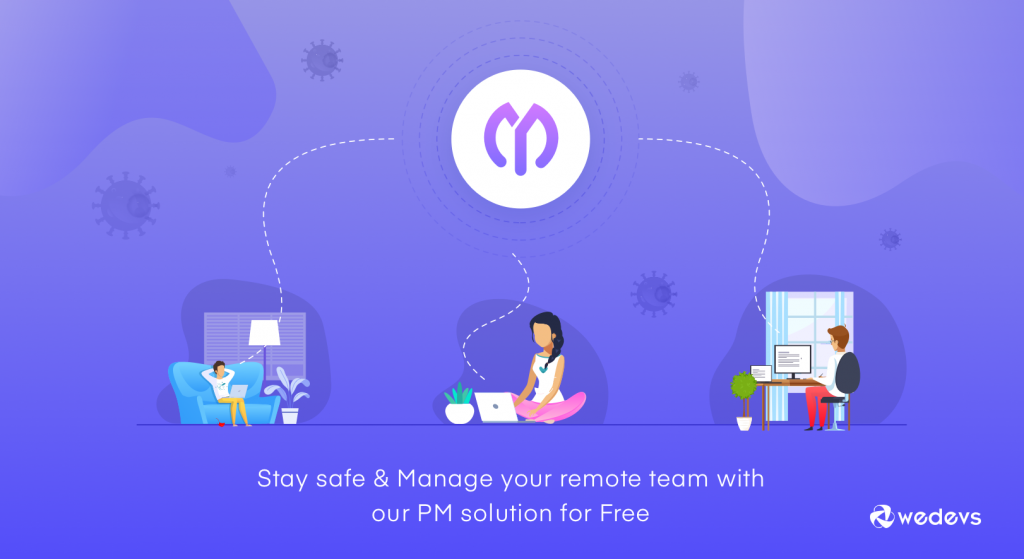 People all over the world were bound to lock themselves in their homes, so were we for the outbreak of the Covid-19. Businesses from startups to enterprises level were gasping to manage their teamwork as people were working remotely from different places.
At that moment, we took a revolutionary decision that we would set WP Project Manager pro FREE during the Covid-19 outbreak.
As a goodwill gesture, we're offering the WP Project Manager- Business Plan for Free to use for till June 2020. So that they could manage their team even if their team members are from different places.
You opened the following facilities FREE for 3 Months with the Premium Business Package:
Kanban Board
Gantt Chart
Time Tracker
Frontend
Recurring Task
Interactive Calendar
Slack Integration
With Other Premium Features And Modules
During this emergency, it was vital for everyone to stay at home. And try to keep their work on track without failing to meet the deadline. WP Project Manager helped them to plan, manage, and track their projects like a pro.
It's undeniable that we have got nothing but an immense pleasure to help them out with this idea.
And we have also made an oath that we will be helping people in the future like before if situations ever go out of control like this time.
WP Project Manager Key Features That Released in 2020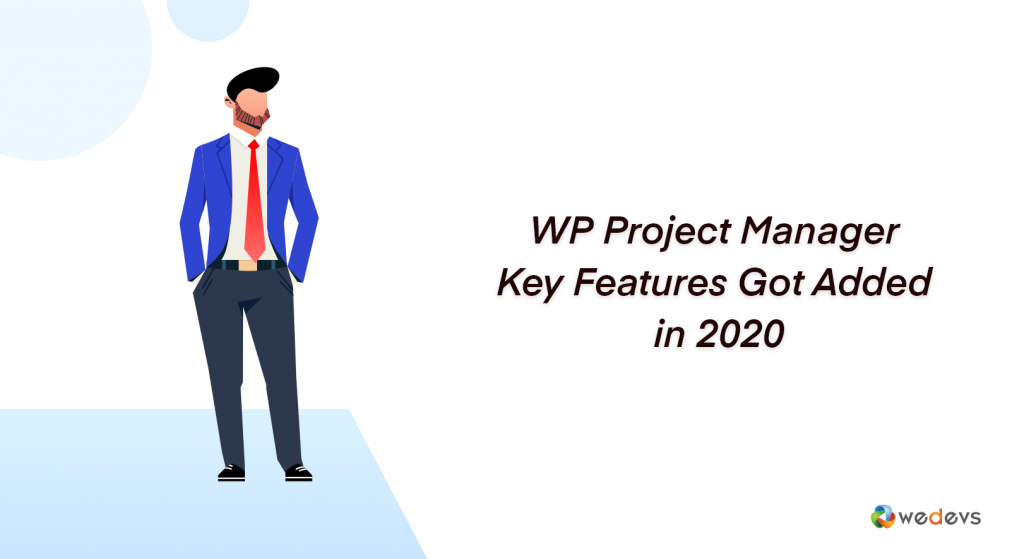 WP Project Manager is a perfect tool for organizing and managing projects, its interface is designed in a simple way but yet sophisticated. To make it more user-friendly and let people manage and distribute tasks in moments, we have launched a few key features in 2020 for both the free and premium versions. Let's talk about the free version first.
Key Features of WP Project Manager Free in 2020
We put the same effort into our free version as like as the pro version. A bunch of free yet effective features has been implemented by our developer's team to make your project management journey magical. Some of those magics are mentioned-below;
Multisite compatibility
Redesigned task-create form- more friendly now
Task duplication from task-list
New date picker in all forms
Code optimized to ensure security
Introduce new library simshaun/recurr to have better experience in recurring task feature
New email template with attractive design
Added help tooltips to make your usages easier
Major Improvements & Bug Fixed in 2020
Apart from adding new features to the WP Project Manager Free version, we have also fixed some major and minor bugs as per our users' suggestions. Let's take a quick look at the bug fixing list.
User can not access their reports from my-task
Could not download files from the project
Email footer logo is not appearing
Pagination back button is not working for project page
Task assigned all users can change the task type
Co-worker can not be deleted in self-created task comment
Optimize code for security issue
Key Features of WP Project Manager Pro in 2020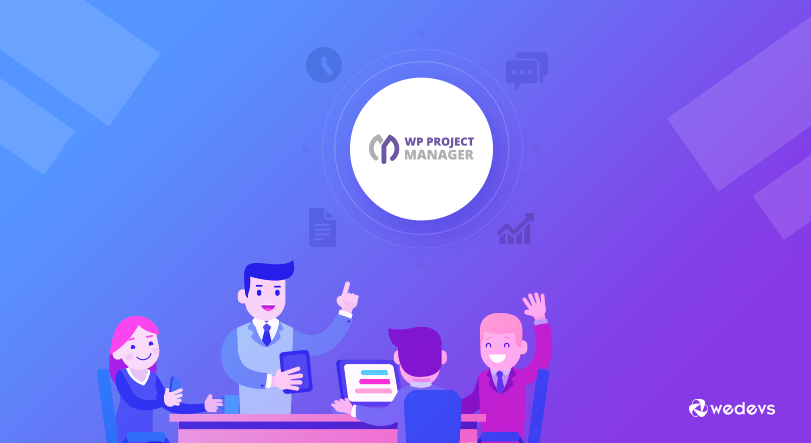 WP Project Manager is always coming up with new features as per your demand. This year, we have already added some exciting new features for you, that will help manage your project even better.
WP Project Manager is all about streamlining your work process and simplify it to get your job done as smoothly as you can. To make it more and more user-friendly, here is the list of new features that we have dedicatedly implemented for the Pro version.
Updated BuddyPress integration
Distraction-free appearance in frontend
Added option to move a file from one directory to another directory
Added Importing bulk task option in the kanban board
New reports in my task section
Added custom user permission
New subtask form design to have a better experience
Added a feature to convert a subtask into a task
More UI and codebase improvements for your better experience
Major Improvements & Bug Fixed in 2020
Besides, we have fixed some bugs as well for making the WP Project Manager stronger than ever before. Let's go through the major bug fixing list that's the result of our support and developer team's hard work.
After upload file need to refresh for others activity
Product search is not working while setting a Woo project
Task filter from kanban board, progress bar continue loading
Pusher notification is not working for private task
After moving subtask, task estimation time does not update in real-time
Logo is not updating from settings
Our Teams Contribution for WP Project Manager Pro in 2020
We always prioritize producing quality content for our readers. Contents can massively help our audience to extract what they are looking for. Apart from blogs, we have also published and updated numbers of documentation to guide our users to use the project Manager easily.
We have also published numbers of tutorial videos on our YouTube channel. So that, those who are new at WP Project Manager can easily understand how to make it works.
The content and video marketing team has passed a great year to remember. Combinely they have produced a total number of 26 new blogs, 39 new and updated documentation, and 13 video tutorials for WP Project Manager.
Seems a great year, right?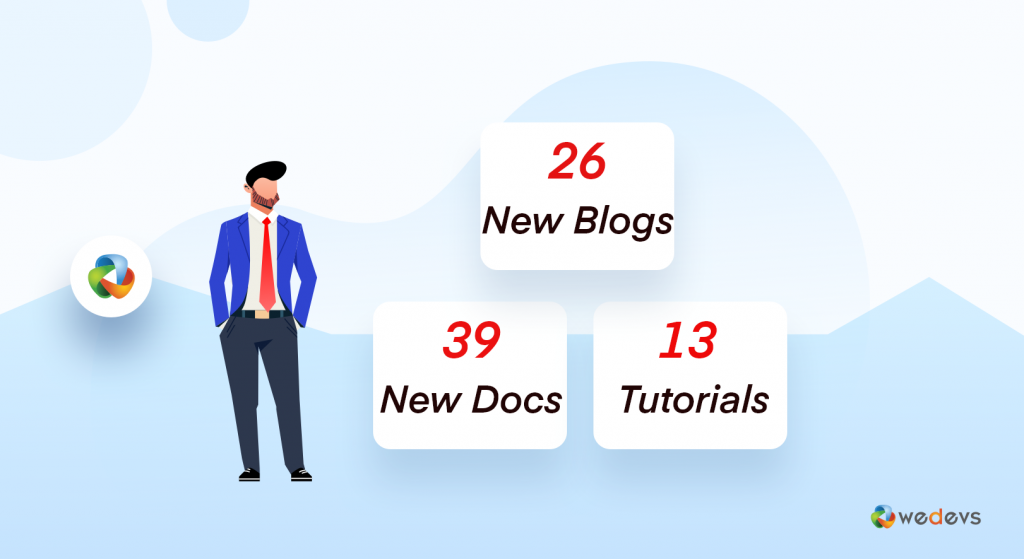 Our developers' team works really hard to keep updating the WP Project Manager as per the market demand. That is why they keep releasing new versions so that our users never feel backdated. These releases are not only for the pro version but also for the free version as well.
This is the contribution for WP Project Manager Pro from our developers' team-
Number of releases: 11
Number of commits: 376
New lines of code added: 2712 +/-
And this is for the WP Project Manager free version-
Number of releases: 14
Number of commits: 365
New lines of code added: 2668 +/-
Combinely we have done a great job, ain't we?

When it comes to the support team, they are the real rockstar behind keeping every client satisfied. Every day they receive numerous requests and serve those smoothly.
They have received a giant number of 3700+ messages from our clients, fixed 1065 total issues, and served a total of 2000+ customers. Let's cheers for our support team!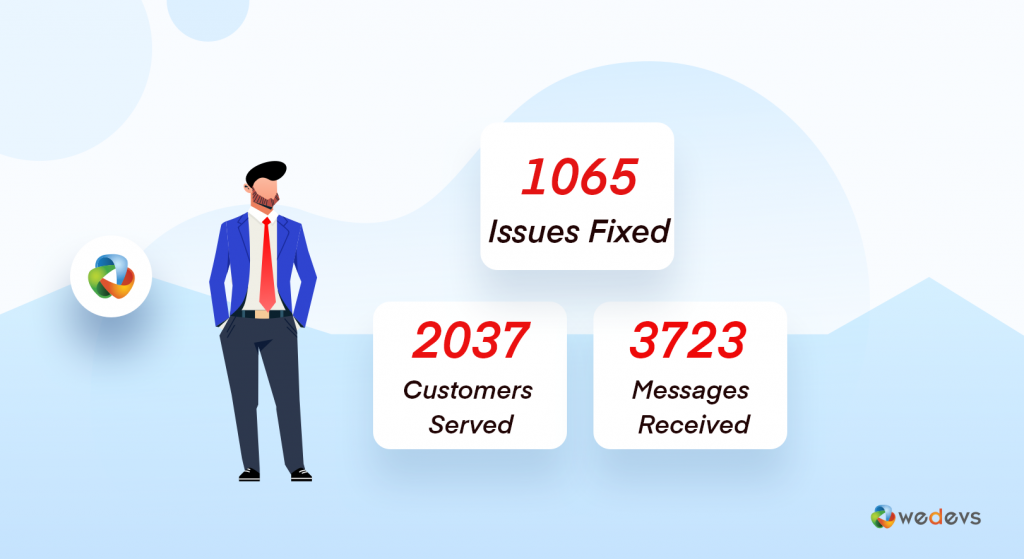 How Promising Is WP Project Manager Now
Basically, we have designed the WP Project Manager for businesses of all sizes, it's a web-based task management solution that helps manage work order deadlines, set milestones, track progress reports, and more.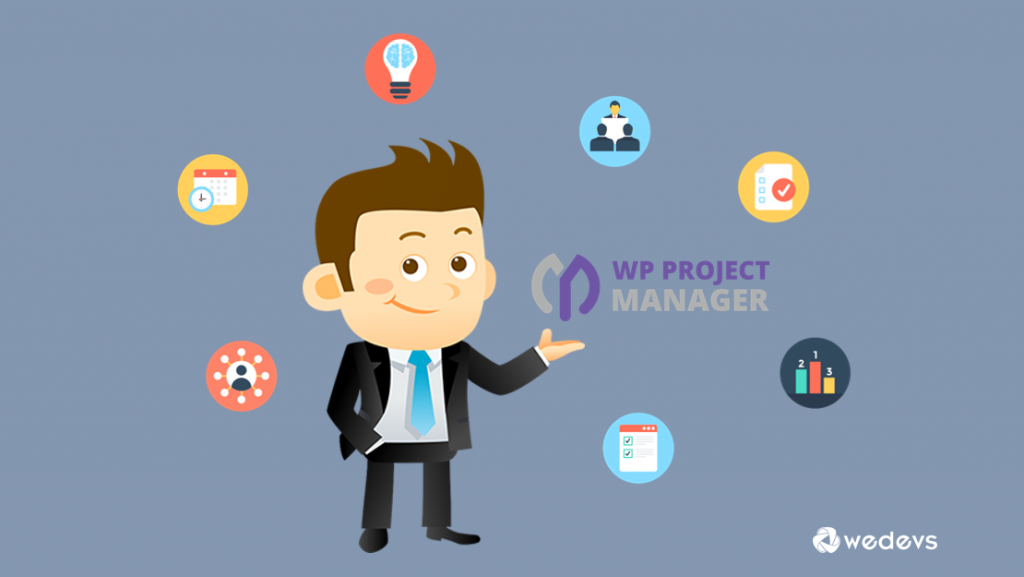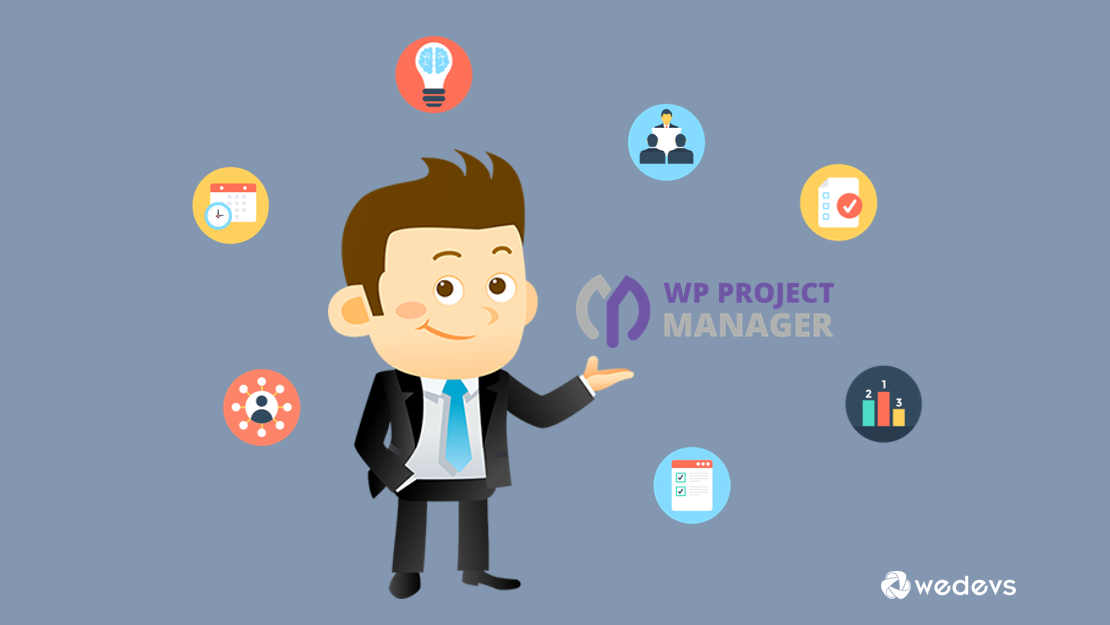 Team Efficiency: When you are working as a remote team, you would expect your team member never to miss a deadline, keep communication to every member, on track to complete his distributed tasks, and so on. Missing any of these points can collapse your remote team. To ensure this facility, choose a project management tool that can help you in this situation.
Remote Team: While building a remote team one of your first concerns is perhaps that you would have to be very technologically dependent to make this teamwork. With the WordPress Project Manager, you can dismiss this fear because this plugin seamlessly integrates with your WordPress dashboard and is interactive enough for someone not so tech-savvy to run it smoothly.
Productivity: It is essential to be productive in the workplace as it would contribute to the growth of output, revenues, and living standards. More importantly, being productive means, you are efficiently using the available resources such as time, money, and labor in order to maximize your output. WP Project Manager enhances productivity in the workplace.
WP Project Manager helps you –
Manage multiple projects at once
Grantt chart and Kanban board for better task management
Manage time with its advanced time management tool
Get a detailed report of all your projects and tasks
Personal dashboard for all users
Effectively utilize all your resources and time
Distribute different tasks under a project among the employees
What We are Planning for WP Project Manager in 2021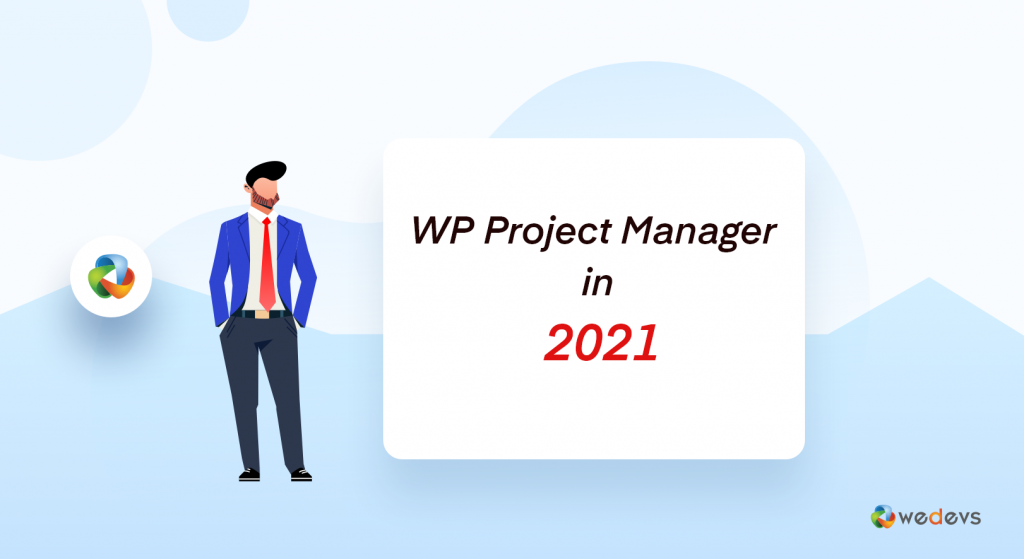 We separated the WP Project Manager Free and WP Project Manager Pro for a long while back. Since then we have been preparing different checklists for different versions.
WP Project Manager Free in 2021
As like every year, this year too we have made a separate plan to implement several amazing features for WP Project Manager Free version.
This year, we have specially planned for making the WP Project Manager free version more user-friendly and faster than it was before. So that. non-profit organizations and startups don't need to go for the pro version.
Our vision is to make the free version in a way that they can manage and distribute tasks from a single WordPress dashboard. And, here is the features list to reach that milestone-
Project sample template
New task single view
Task due date reminder
Birds eye overview dashboard for the Project Managers
Real-time notifications
Better report with new UI
And more to come
WP Project Manager Pro in 2021
WP Project Manager Pro is one of the most sophisticated projects and task management tools in WordPress. User-friendly interface and web-based task management feature have turned it into the best open source project management software. But our journey doesn't stop here.
The sky is our limit which is why this year we have made a list of feature that we are going to implement throughout the upcoming year.
Better invoicing with new design
Export-Import feature
Subtask time tracker
Frontend mobile optimisation to have better experience
Smooth pusher notification based on the events happening on a project
Reusable file content
Google App integration
And more to come
Which Features Do You Want Us to Implement in 2021
We always love to share our journey, the experiences we had, experiments, additions we brought in the system with the customers. This takes us closer to our audience and we feel more connected this way.
That is how we have done our part. Not it's your turn to let us know what are your expectations from us. Especially which features and services you want us to implement in 2021? Or, are there any suggestions that you want to share with us?
You're highly recommended to share your idea with us. You can either take the comment section to let us know your idea or send us emails to our support team.