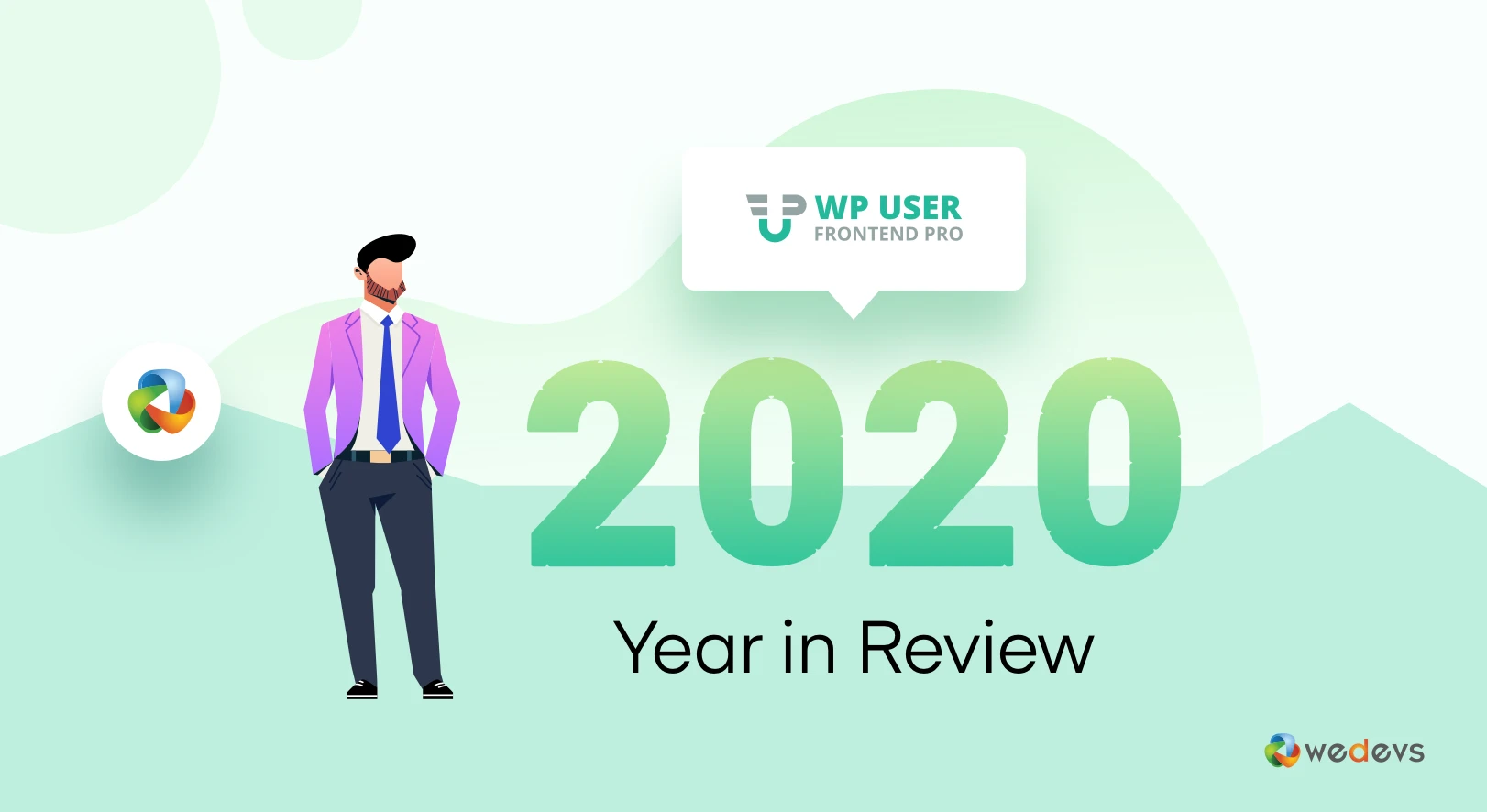 WP User Frontend Year in Review 2020
Did you know it's been one heck of a party?
Yes, you heard it right! It's 2020 and the WP User Frontend finished another successful year. And not to mention, it has already been a new standard to manage your WordPress website from the frontend or perform tasks like content submission, event registration, and many more with an amazing dashboard from the frontend.
Now, it will not be an iota of exaggeration if we claim it to be the industry leader to carry out the aforementioned tasks the easy way by controlling almost every aspect.
So, what basically happened in 2020 with WP User Frontend? This blog explains WP User Frontend Year in Review. Well, before dig into any further, let's have a quick sneak peek at the numbers: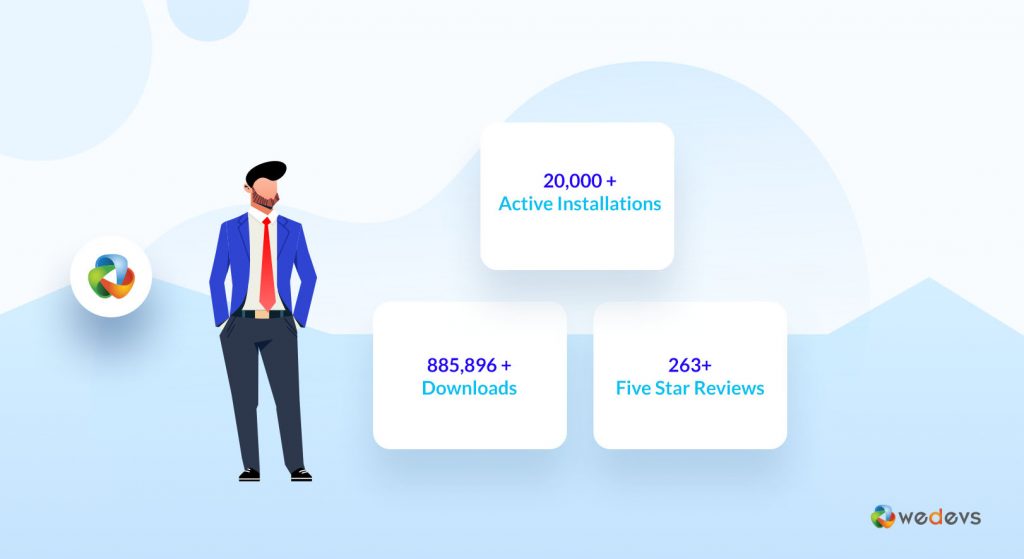 Active installations 20k+
Total Downloads 885,896
264 five-star reviews, and counting…
11 new features and improvements release with three tweaks, with over 90 new feature updates.
Only 1 WordPress plugin so far to manage your website from the frontend.
Commits: 395
Lines of Code: 48651
Total Releases: 25
In Case You Did Not Know What WP User Frontend Is All about…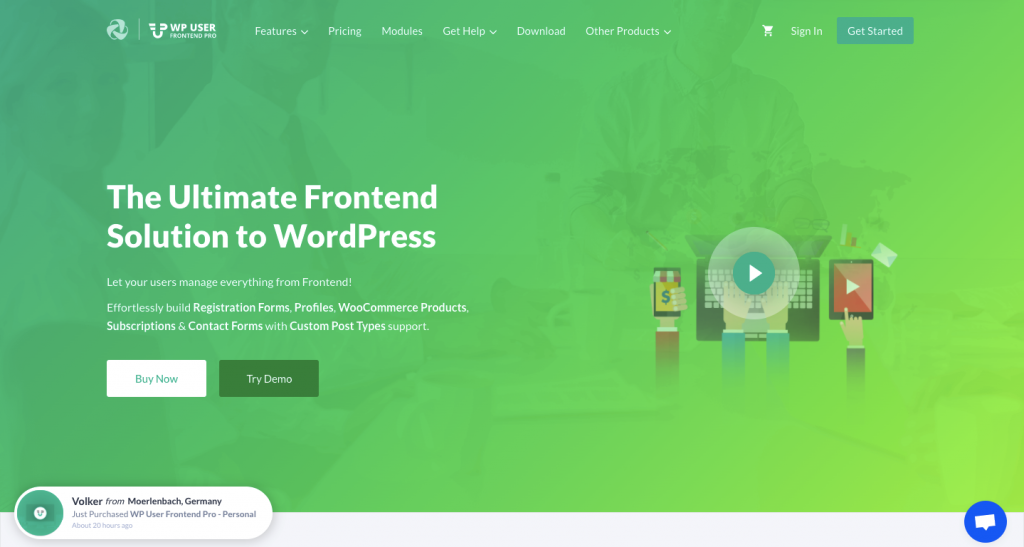 As we mentioned earlier, it is used to manage your WordPress from the frontend. You can do a fleet of tasks like you can restrict your users to submit content, let them register for an event, build membership sites, manage subscriptions, and the list goes on.
The best part is that you don't have to give your users access to the backend every time they want to submit contents – Which eventually makes your WordPress more secure.
WP User Frontend is an effective plugin for interactive websites. It keeps non technical users away from the WordPress backend. This way you can keep your website safe and secure.

Colin Spencer
And as an admin you can also manage your tasks from the frontend, you don't always have to go back and forth from backend to frontend or vice versa.
The philosophy of managing everything from the frontend is what makes the tool unique and exclusive.
Latest version: Pro 3.4.4 & Free 3.5.9
Last updated: 29 NOVEMBER 2020
5 Star Rating: 264
Updates: 25+
Throughout this (2020) year, we have released more than 25 updates, free and premium versions combined. We have also fixed a number of bugs and added several tweaks.
WP User Frontend is scalable via its premium modules too! As of today, it has 20 modules that are ready to boost its features. The free version will always remain free. The basic premium plan starts from $49.
You can also check the entire changelog to see all the twists and turns.
The pricing of Happy Addons starts at $39/year which unlocks 50+ widgets, 500+ line icons, exclusive features like Live Copy, Display Condition, Preset, etc., and one year of updates with 24hr support response.
When & How WP User Frontend Started Its Journey
WP User Frontend is the maiden plugin of weDevs. Thus, it was back in 2012 when it was first released and the pro version came later in 2013 just after the previous year. Since its release, it has gained popularity steadily.
Here is a recent active installation graph for WP User Frontend: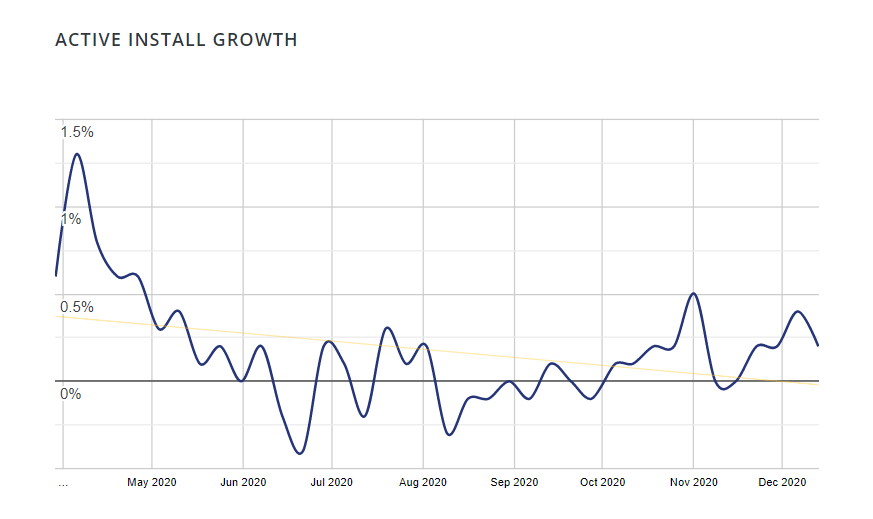 Here is another graph for downloads per day: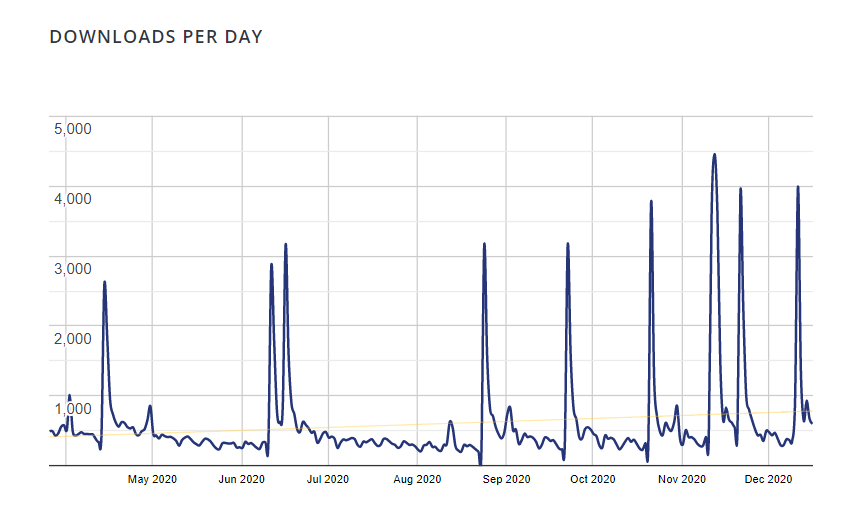 Now, the tool has 20 modules such as:
Motivating People throughout the Pandemic
2020 will remain unforgettable particularly due to the COVID-19 pandemic. Many offices and brick-and-mortar stores were closed throughout the world. And so, people were encouraged to manage their offices virtually and eCommerce businesses saw a boom.
This was not an exception for us. It all started from our own office. We allowed our employees to work remotely from their homes.
Moving forward, we inspired people to start online businesses to stay well-off throughout the pandemic. With WP User Frontend people built their own membership site, alumni site, and used it to monetize their existing websites.
Thanks to our all persistent customers who are keeping the graph consistent even in such a global crisis.
As owners, we knew kindness and positivity will long be remembered. Thus in the COVID-19 pandemic, we considered the safety concerns and so we let our employees do their job from home.
WP User Frontend Year in Review 2020: New Features
We've dished out the following features as hot as ever from January 2020 to December 2020:
Pro features added in 2020:
Pro enhancements added in 2020:
View profile link didn't show
No message is seen after sending the reset password email
Gracefully handle the Google Map field if no Google API key is found
Add default value for an email address and name settings
View profile link didn't show
No message is seen after sending the reset password email
Gracefully handle the Google Map field if no Google API key is found
Add default value for an email address and name settings
Add shortcode support to display post information in the Post Expiration Message.
Free features we bought this year:
Add character restriction feature
Add post edit link for post authors in single or archive pages
Apart from these features and enhancements, we have added tweaks, improvements, and fixed a number of bugs.
WP User Frontend Year in Review 2020: Resources to Educate Users
We know how much irritating it is when a user can not find necessary documentation or a manual from the vendor's official website.
This is why, we love to help our users and visitors with all the essential docs, FAQs, articles, and other resources like video tutorials.
We are so happy to announce that this year we have produced the following resources for you guys:
13+ Videos Produced
15+ Blogs Written
30+ Docs Updated
Let's shed some light on our social media performance for the last year-
Building Connection among Different Social Media
Though our audience is from all across the world, we felt the need to bring them all under the same roof. In the COVID-19 pandemic, the need was felt even more.
In 2020, we have given a tremendous effort in connecting with our customers, fans, and all the well-wishers through Facebook, Twitter, and YouTube.
The following data indicate our strong social media presence throughout the year 2020:
Achieved 1.2k likes on our Facebook page
Around 1500 members joined our weDevs Community
1.52k YouTube subscribers
You can also be a part of our Facebook or Twitter community by checking out these profiles:
Don't forget to subscribe to our YouTube channel to get the latest news & update and detailed tutorials on different aspects of the tool.
On joining these channels, you can expect a quick response not only from our team but also from the other users or followers.
WP User Frontend Grand Giveaway
We have always strived to give our best at the holiday deals. As a continuance, we have given up to 50% off on our deals this year once again.
We offered a flat 50% discount on the Black Friday deal.
Not to worry! If you missed the opportunity, you have another one covered on this very Christmas holiday!
Check out the 50% off Deal Right Now!

Dedicated Artists behind WP User Frontend
First of all, we have succeded due to the love and trust of our customers. However, we have a huge team behind the development and customer support.
As of Now, we have 20 engineers, 10 support ninjas and 12 documentation team for the development of the tool.
In 2020, we helped 1463 of our customers by replying their queries. (13 replies perday).

In total, the total number of replies we sent was 4826.

However, every cloud has its silver lining, that is, we have a lot of areas to improve. For example, we got an almost 90% customer satisfaction rate. Thus, we are working hard 24/7 so that we can satisfy our customers even more.
Let's See What Our Customers Say
Customer reviews are the reflection of the quality of a product.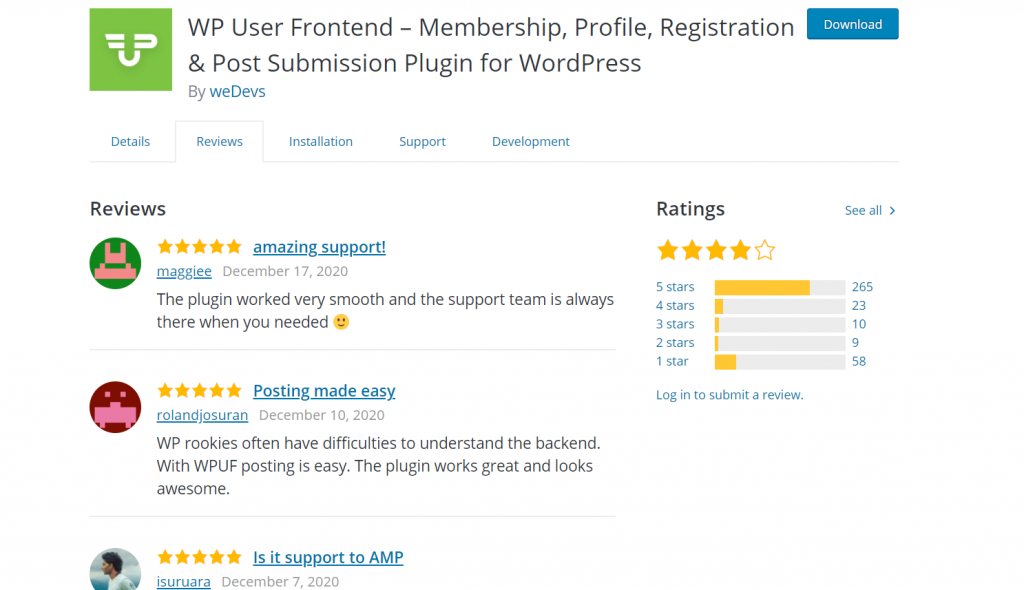 To date, we have earned 265 (5-star) reviews on WordPress.org. out of a total of 80 ratings with an average of 90% customer satisfaction.
Our research and development team takes all the reviews and recommendations to their book seriously. This way the tool has become such cool!
What We Are Going to Bring in 2021…
We hope the darkness will be gone and we will see a new dawn in 2021. And so we would like to entertain you with newer features. Here is a sneak peek to a few of them:
More advanced gutenberg custom block integration
Two factor authentication
Smarter account page
Theme integration
Page builder integration
Theme integration
Overall design improvment
New Year Oath: 99% Customers Satisfaction
On the eve of the new year, we would like to make our tool more attractive, more user friendly and last but not least we want to be the most responsive to our beloved customers.
This is just a short WP User Frontend Year in Review for our beloved clients, prospects, and well wishers.
To this end, we expect your support, trust and love for us throughout the journey.
Finally, we would like to thank all of our valued customers and well-wishers for being with us even during in the pandemic!
Enjoy the holidays with your friends and family. Happy new year! 🎄🎉