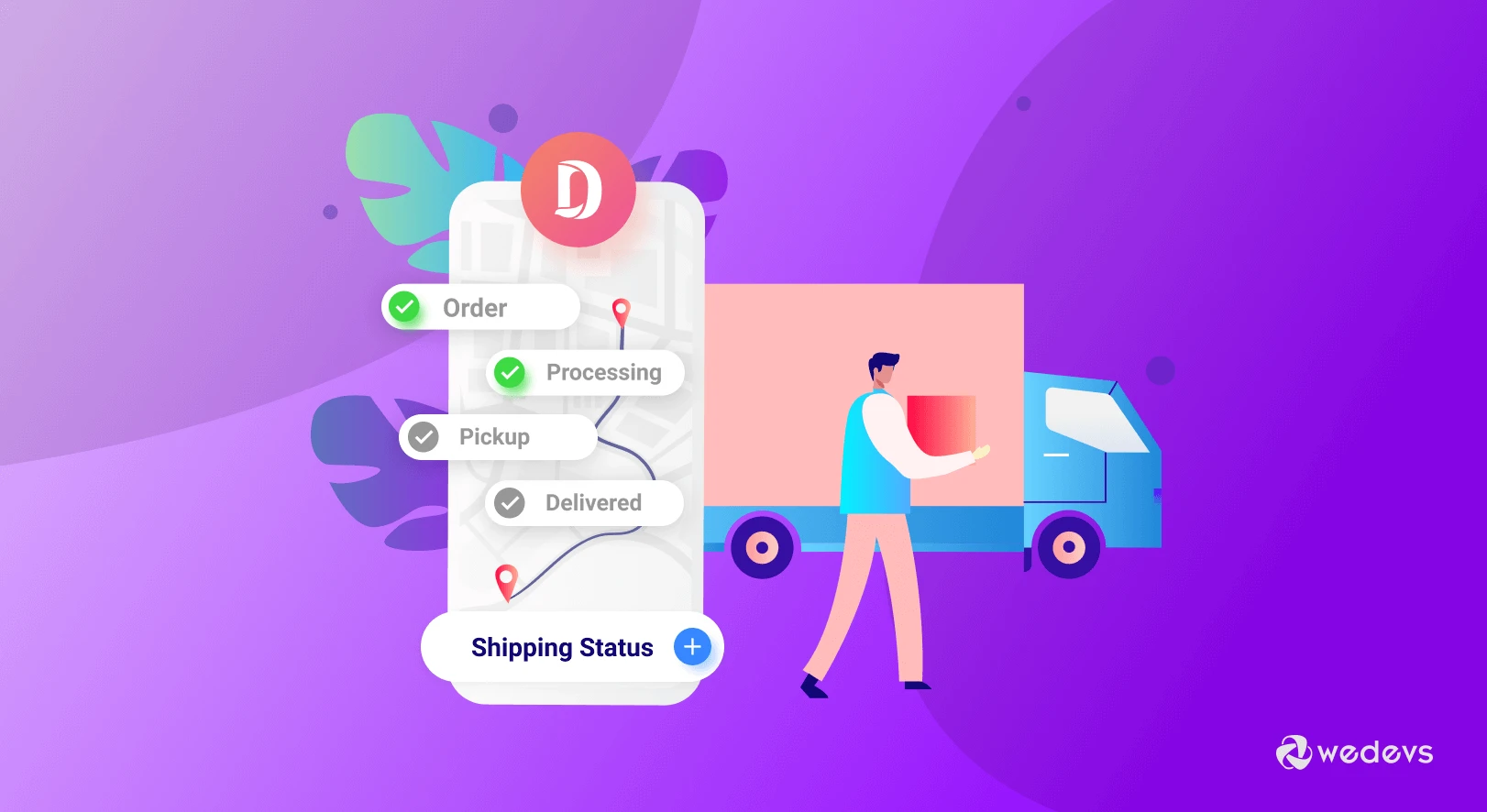 Dokan Shipping Status: The Easiest Way to eCommerce Shipment Tracking
Having an eCommerce shipment tracking system ensures a seamless shopping experience, as it is essential to deliver the product promptly to the customer.
93% of consumers find shipping options to be an important factor in their overall shopping experience!

Businesswire
That is why having an online shipment tracking system is one of the most important factors in the eCommerce industry. Providing customers with accurate shipping details will create a sense that the business is trustworthy and dependable.
Dokan has added a new shipping status feature in its latest release. That will surely take creating/running a multivendor marketplace to a whole new level. This new shipment tracking system will help the customer track their order and relieve the pressure from your customer service. Which will otherwise be busy dealing with phone calls and inquiries regarding the status of their product.
In this article, we will shed some light on this new shipping status system while also talking about the impact of the shipment tracking system.
How Does the Dokan Shipping Status System Work?
Dokan has a huge user base. And there are marketplaces all over the world. Although Dokan had a shipping system, there was no way to know about the shipping status. Customers were getting confused and were constantly inquiring about it. So the marketplace owners were requesting us to add a shipping status feature.
Related Article: How to Create an Online Grocery Store
So, we listened to our users and added a shipping status feature to the Dokan Pro version. And we made sure to add the essential features including,
1. Customizable Shipping Status
Other than Delivered and Cancelled, you can create any kind of shipping status. Also, there is no limit to how many statuses you can create. So, customize your shipping status in a way so that your customer understands the situation as soon as they see the status.
However, don't create too many statuses as it might confuse you and your customer.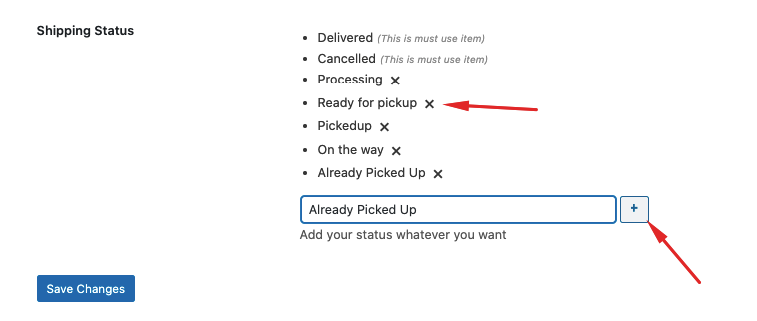 2. Third-party Shipping Providers
There are countless shipping providers available globally. However, we have tried to add as many providers as possible. But you can add any shipping providers outside of the list manually. After creating the shipment, just add a tracking number from your shipping providers and Dokan will dynamically redirect to the shipping providers tracking system upon clicking on that number.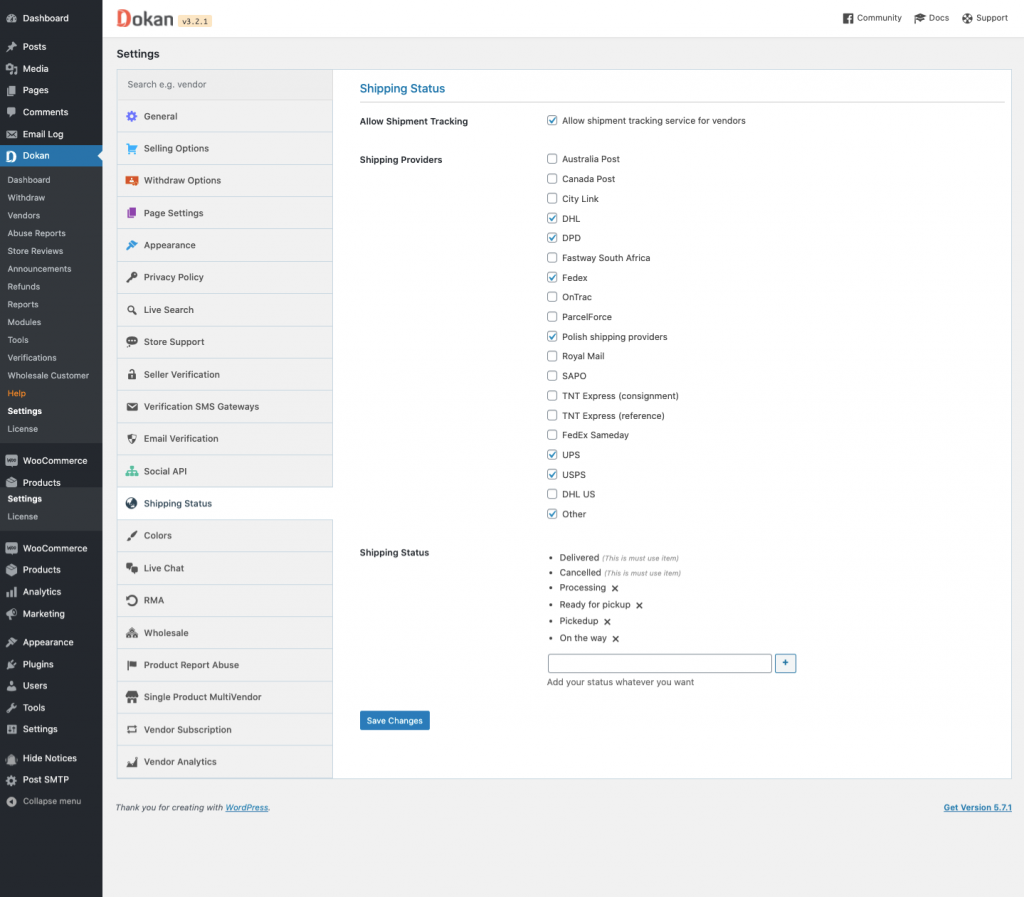 Make sure to add the right tracking number.
3. Shipment Status Types
When a vendor creates a shipment, he/she will see 4 shipment statuses,
—: No shipment data is added for this order. Initially, all new and old orders will have this status.
Not-shipped: When shipment data is added for an order but none of the shipment data is with the delivered state then the Shipment Status will be Not-Shipped. Note that canceled shipment status will not count.
Partially Shipped: If there are multiple shipments (partial shipment) added for an order (say 4) and if any one of the shipment data has been delivered then the status will say Partially Shipped.
Shipped: When all the product has been delivered to the customer.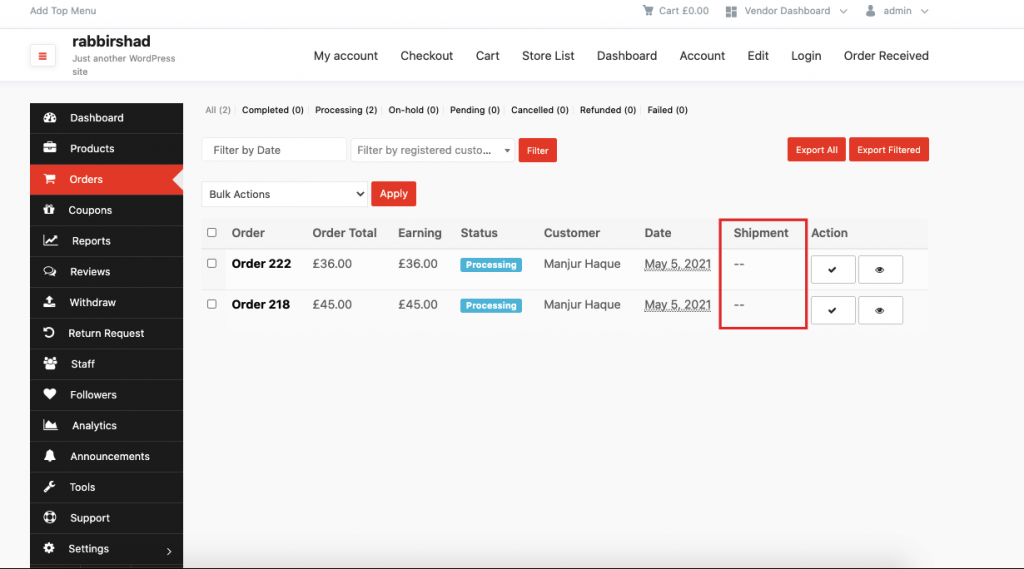 These are different from shipping statuses.
4. Partial Shipment Option
There are a lot of shipping providers who can only ship a particular number of products at a time. So, what will you do if you have an order that exceeds that product limit? Cancel the order? No.
Suppose you have an order for 100 t-shirts. But your shipping provider can only carry 50 at a time. You have the option to split the order and ship the delivery in parts.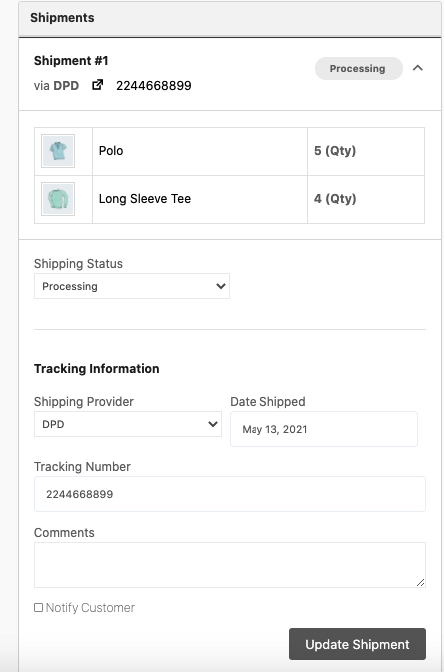 5. Shipment Notification
We have added a checkbox under the shipment tab. If you enable it then the customer will be notified via email as soon as the shipment is created.
This way the customer will know that their order is picked up and on its way. To know the live update, he/she can always check the shipping status.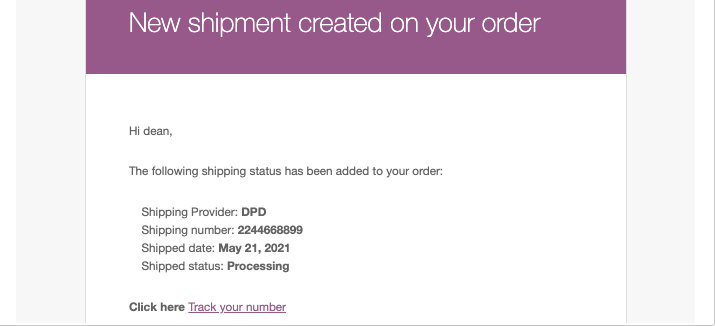 6. Update & Cancel Shipment Option
If somehow you enter a wrong tracking number or shipping provider, then don't worry. You can update the shipment details at any time. Your customer will get a notification about this update as well.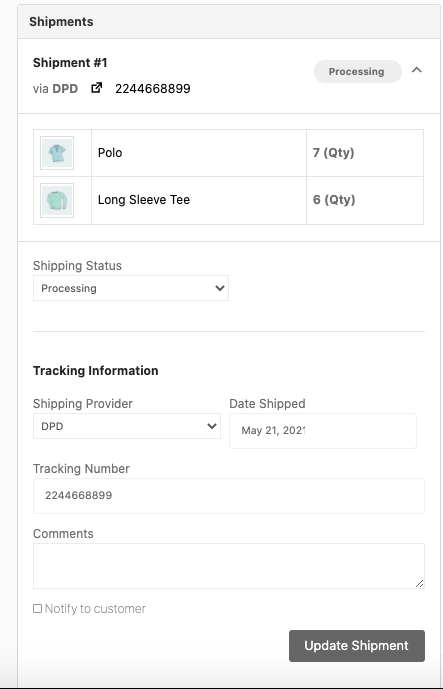 And if the customer cancels the order or you have a shortage of products, then you can cancel the shipment as well. And after you cancel the shipment the customer will get notified.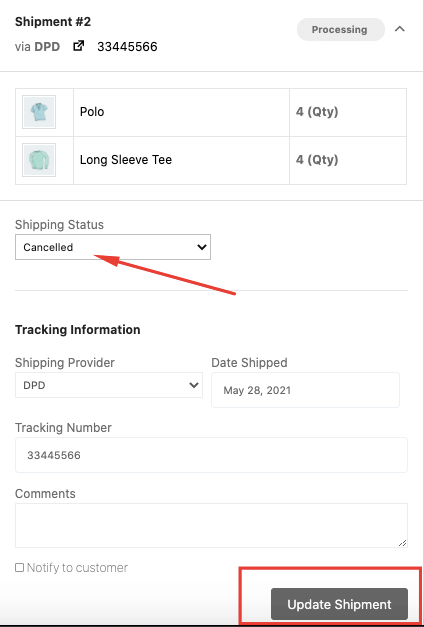 7. Shipment Details & Invoice
Last but not least, after the shipment is completed the customer will receive an invoice with all the shipment details. Moreover, the shipment status will be changed to shipped.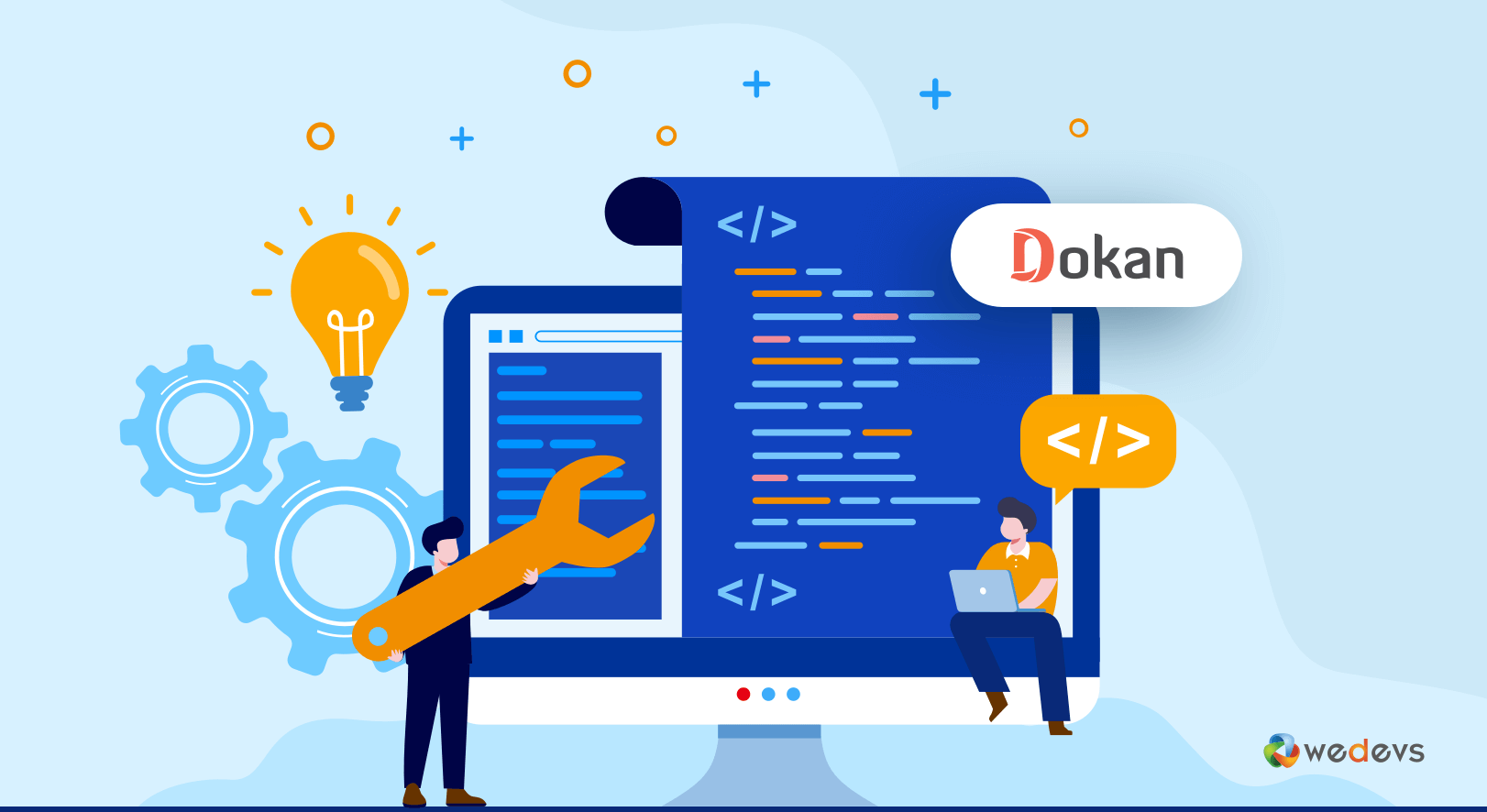 So you can see how this eCommerce shipment tracking system of Dokan can make your life easier and take your multivendor marketplace to another level.
Want to know how to set up the Dokan Shipping Status feature? Click here to read the documentation.
eCommerce Shipment Tracking System for Business, Why it is Important?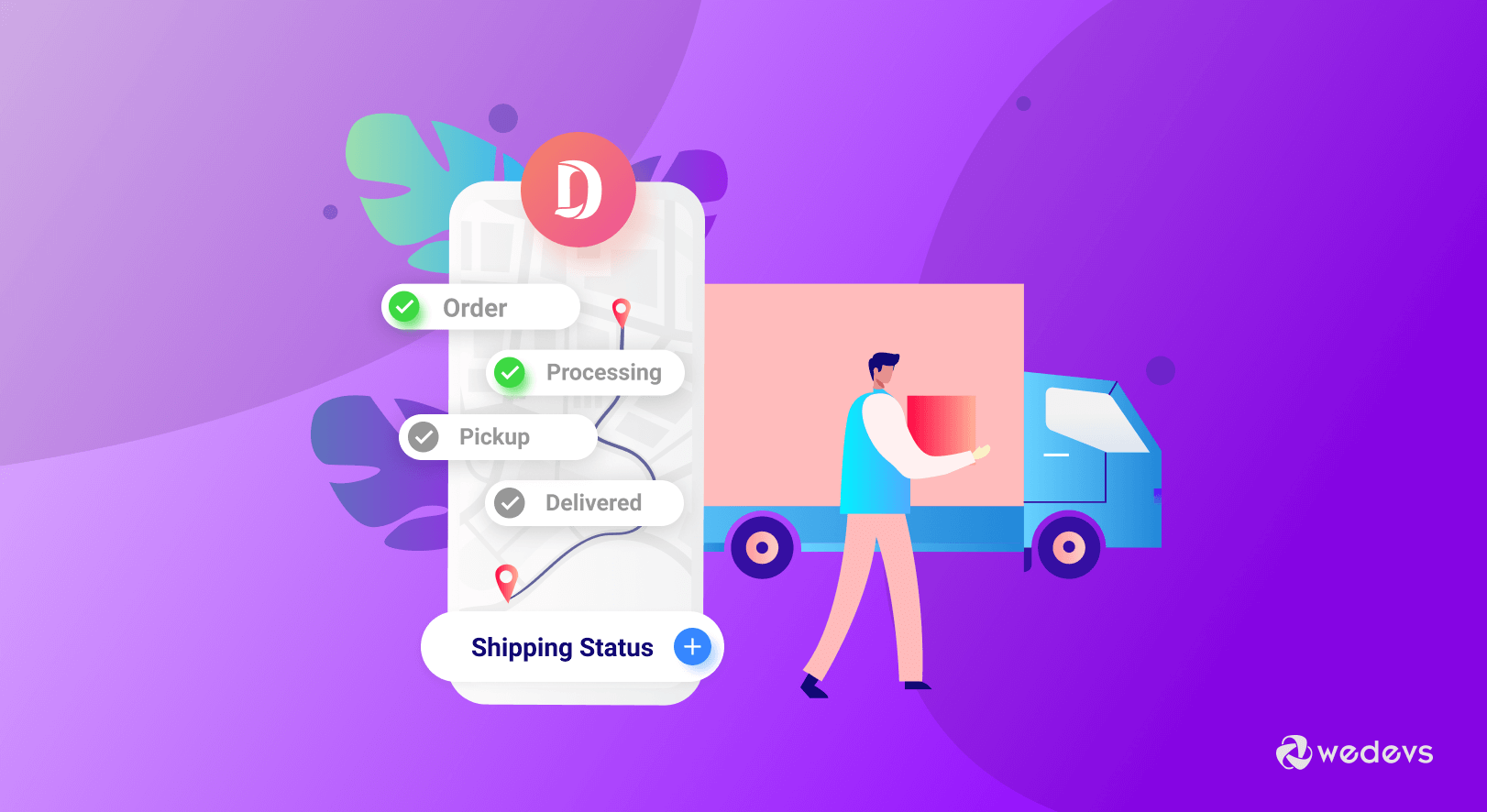 When a customer visits your online store, they initially look for an efficient delivery/shipment system. If your business can provide them then you will have a loyal customer for life.
On average, 41% of US consumers receive 1-2 Amazon packages per week.

walkersands
An efficient delivery tracking system will help an eCommerce business organize its regular operations, enhance customer experience while eliminating extra steps. Moreover, an eCommerce shipment tracking system will ensure transparency and accountability from both sides (client and owner).
If we look at some points regarding shipment tracking system's importance from the owner's point of view you will find it will,
1. Reduce Costs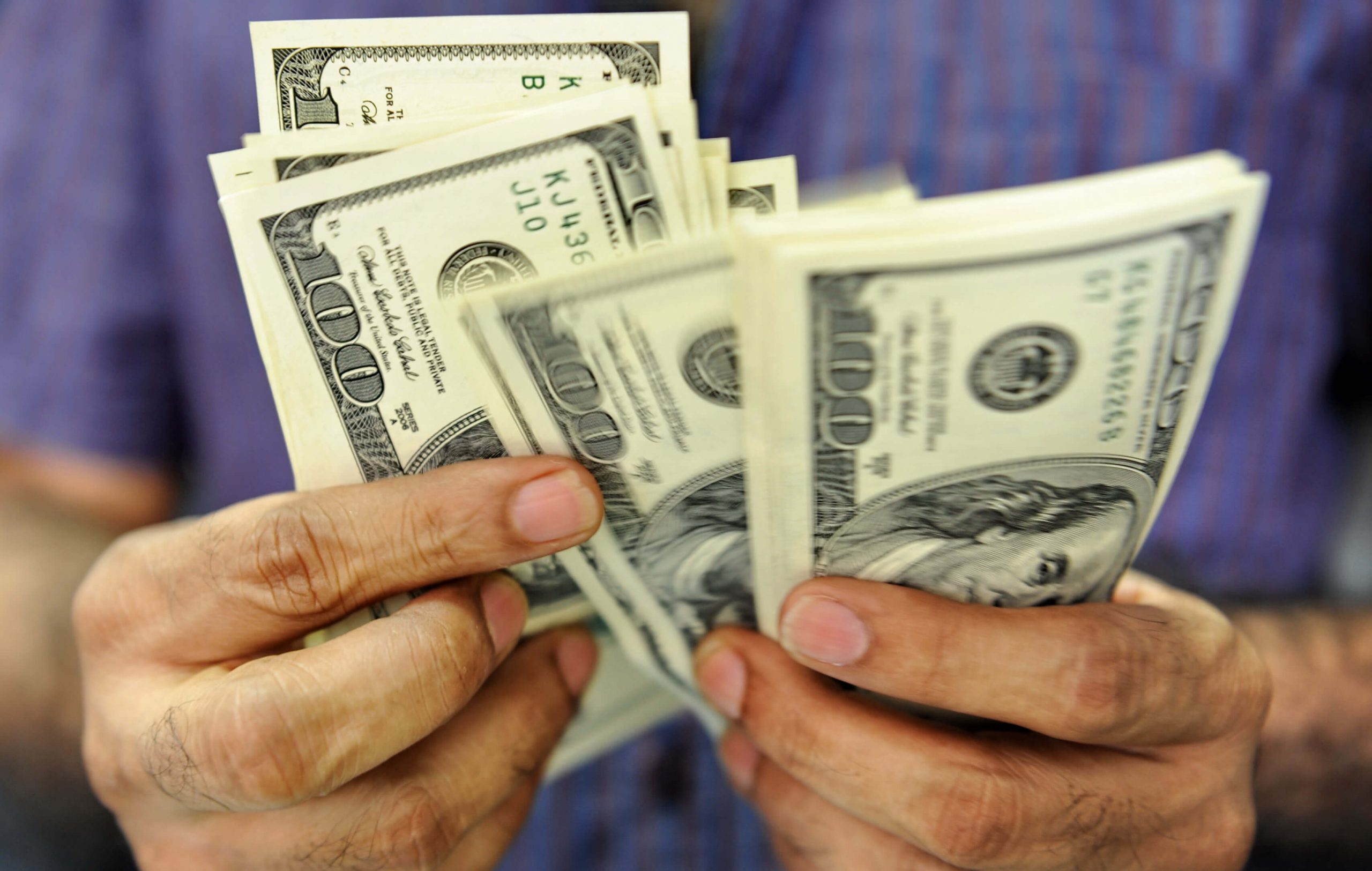 You probably know that dealing with customer inquiries or their complaints is very expensive in the long run. After some time you may have to hire someone, outsource customer service, or add a bot to respond to each request. All these options are expensive and will definitely alter your budget.
Moreover, you know that chatbots are high in error rate and may lose potential customers. However, with the eCommerce shipment tracking system, the number of inquiries will be less than normal. Because once you implement the system the customer will automatically know the status of the product.
This shipment tracking system will automate the work without putting extra pressure on you. And if you do have a customer support system, they will focus on solving more technical and complex problems. Thus building trust in your brand.
2. Fulfill Customer Expectations
97% customers expect the ability to monitor their orders throughout every stpe of the shipping process.

ShipBob
In this age of retailers like Amazon and eBay, customers expect to have the ability to have complete visibility on their orders. And keeping in mind the competitive landscape of eCommerce business, having a delivery tracking system is essential for every online store.
Moreover, if you fail to provide this certain expected service, then you can't compete with the big eCommerce sites. Also, you will have the risk of losing potential customers and their loyalty. When your customers are getting the up-to-date information they want, their expectations are met and you are likely to get good reviews and loyalty.
Think about it, it would be great to answer that you know the status of the shipment rather than answering " I don't know about your package". Because it is possible to lose track of any package as it may exchange hands a few times. Keeping the customer in the loop will ensure preventing any confusion.
3. Give You More Control
When the package is wrapped and leaves your store your job is 90% done. But with the shipment tracking system, you will have more control over the delivery process. You can address any issue at once when it arrives and customers will know about it as well.
Otherwise, orders will pile up and it will result in a backlog. And the right shipment tracking system will minimize the issues and maximize sales.
4. Keep a Digital Proof
This is one of the most important points of having an eCommerce tracking system. At the end of every shipment, you will get a detailed report as well as your customer. It will work as digital proof that the delivery is completed and also all the steps are recorded.
5. Status Updates
With the eCommerce shipment tracking, customers will get the recent updates. He/she will see a status like "Delivered, Processing, On the Way, On-hold", etc. That way, for any unfortunate reason, if the shipment is delayed the customer will know right away rather than waiting for the delivery and getting frustrated.
Hopefully, now you know the importance of having a shipment tracking system for your eCommerce store.
Fortunately, if you are running a Dokan powered marketplace then you can use a shipping status system and provide that extra service for your customers. Here is a short overview of this new feature.
Provide a Better Customer Experience with Dokan
eCommerce shipment tracking has become a standard feature for any WooCommerce business. And offering an efficient shipment tracking system will create loyal customers for life.
Because knowing where your products are and when the order will arrive will ease the tension of the customer while enhancing the experience and impact of your store. If you are running an online store in this digitized era then you must implement this system on your website.
And now it is more simple for Dokan users. If you are still using the older version of Dokan Pro, then quickly update to the latest version and enjoy this new feature.