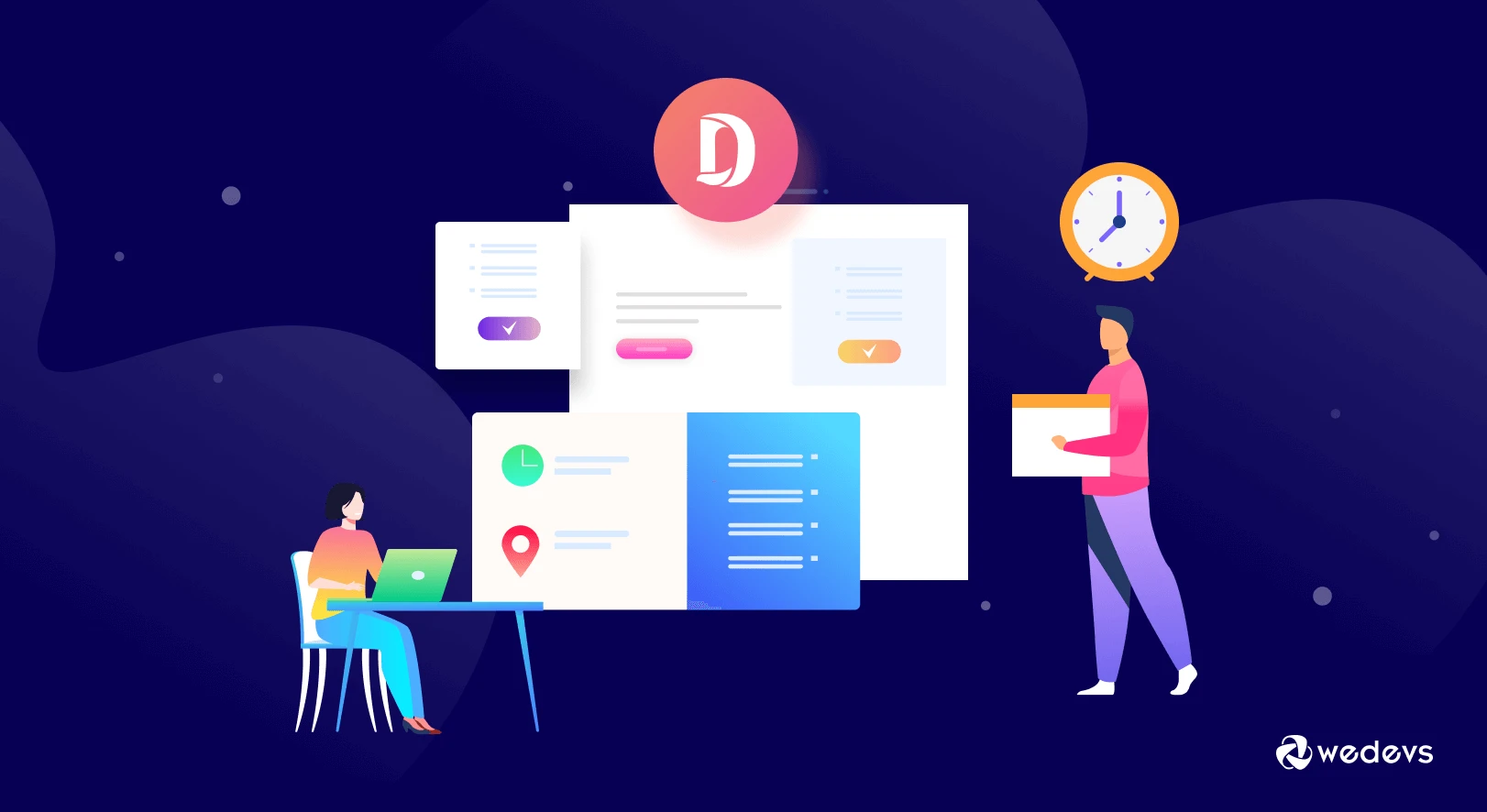 How to Allow Your Customers Choose Desired Delivery Date & Time on WordPress Marketplace
After placing an order on the online store, a customer expects the delivery within a certain period of time. Almost 88% of customers are willing to pay for faster delivery services. The standard time is maximum, 5-7 days in the country, 28 days outside of the country. However, failing to deliver products in time can be a massive downfall for any online store.
Average cost of failed delivery is €14.37 in UK.

ecommercenews.eu
The best way to ensure maximum success in delivering products is to let your customers choose delivery dates on their own. This technique will not only help you provide a better customer experience but also lighten the burden of deliveries. Because the last thing you want is a pile of failed deliveries.
As you know, Dokan is the ultimate multi-vendor marketplace plugin with more than 60000+ active marketplaces. With its extraordinary list of modules and out-of-the-box features, running a marketplace is smooth as it comes.
Recently Dokan has added a new module Dokan Delivery Time, that will help the marketplace owners with creating a more transparent delivery system where customers can choose the delivery times and date on their own.
Today we will show you how the new Dokan module actually works step-by-step. Also, talk about the advantages you will get if you add a feature where customers can select delivery date and time.
How Dokan Makes Your MarketPlace Delivery System Flawless
As we said earlier, Dokan is a powerful multivendor marketplace plugin with a huge user base. It has some amazing modules that elevate the whole running of a multivendor marketplace experience.
We have introduced the new Delivery Time Module because our users were requesting a feature to create an effective delivery system. And in the Dokan Pro version 3.3.0, we have added this module to the list. The module has many features including,
Customers can select the delivery date and time from the checkout page
Vendors can select individual Opening time, Closing time, Time slot, Order per slot for each delivery day to increase delivery and logistics efficiency
Buffer system. Vendors can specify the time they need to deliver the products. And the delivery date and time will appear taking this buffer time into account
Same day delivery option is also available
Time slot and order per slot system. Vendors can specify a time slot and also select how many orders they can receive in that time slot. After the time slot is filed, that time slot will disappear
Delivery time calendar. Vendors can easily know the timing of each delivery so that they don't miss out any
Vendor vacation support. So when a vendor is on vacation for a specific time period, then the dates won't show up in the delivery slots.
As you can see this module has all the necessary features to add a flexible and efficient delivery system to your multivendor marketplace. Now, let's see the steps to set up this module, shall we?
How to Setup Dokan Delivery Time Module
We are assuming you already have the Dokan pro version installed. If you haven't you can see the article here to install the plugin. Now, to enable the Delivery Time module, you need to visit Dokan–> Modules.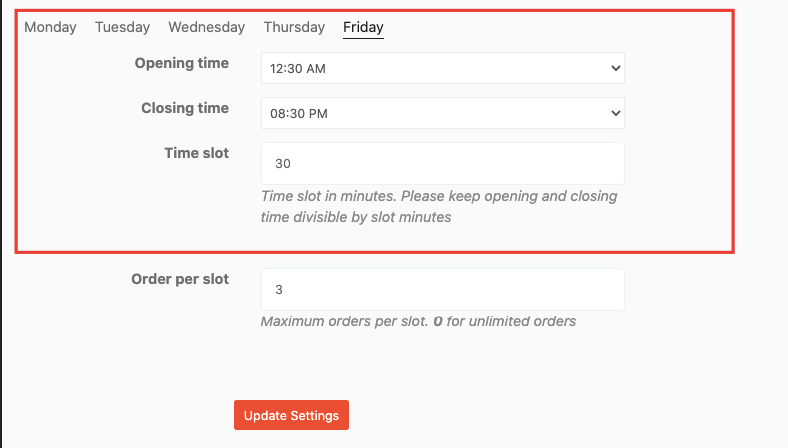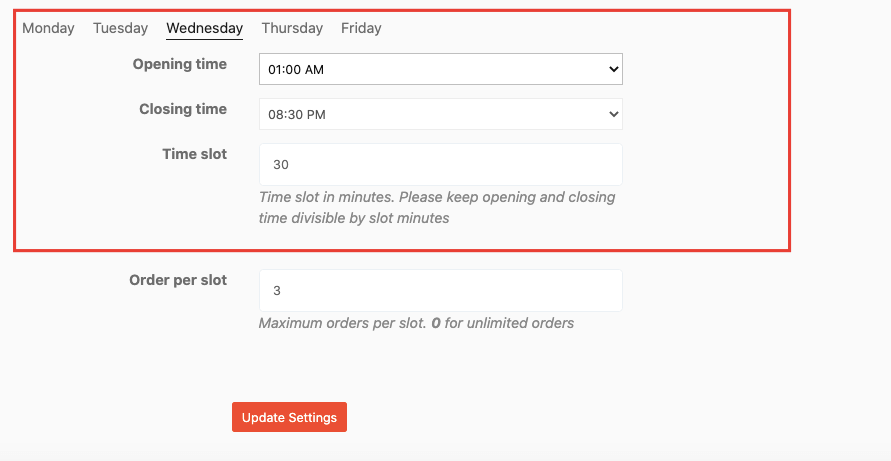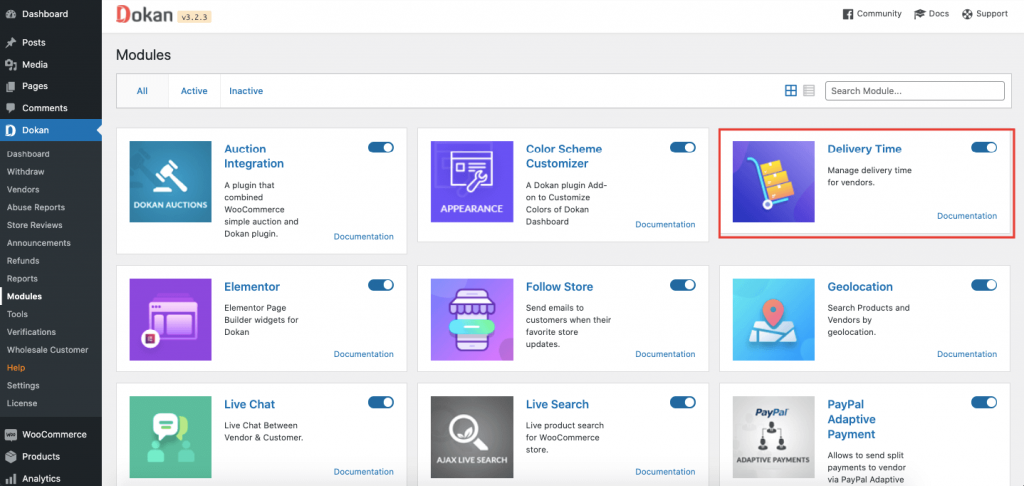 This is the overall settings page. Here you will find all the options to configure all the customization for this module. Navigate to Dokan–> Settings–> Delivery Time. This is your part as the admin of the marketplace.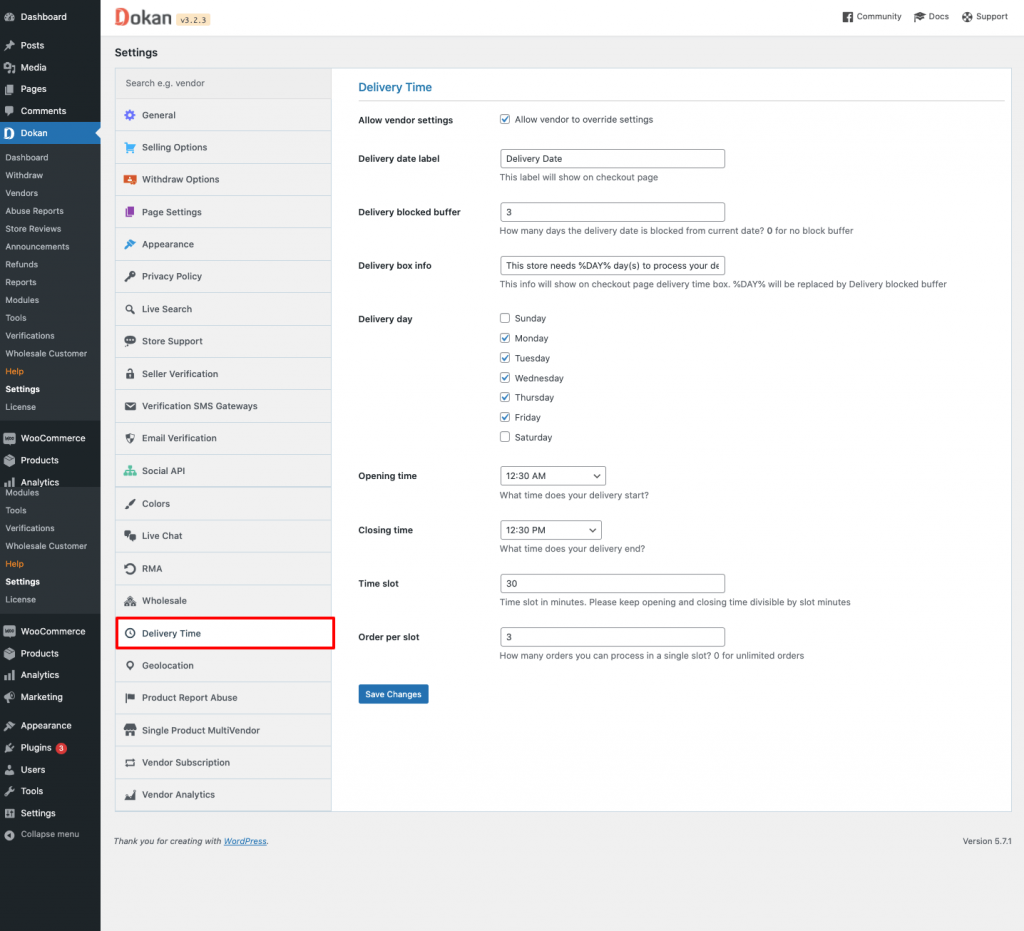 Lastly, hit the Save Changes button to finish configuring the settings. To allow the vendors to customize their own delivery time settings, you need to enable the first option from the settings " Allow Vendor Settings".
You can find out all the details of the other settings from this article.
How Vendors will Setup the Module
Now, if vendors have the power to customize the Delivery Time Module settings, they can find all the settings in Vendor Dashboard–> Settings,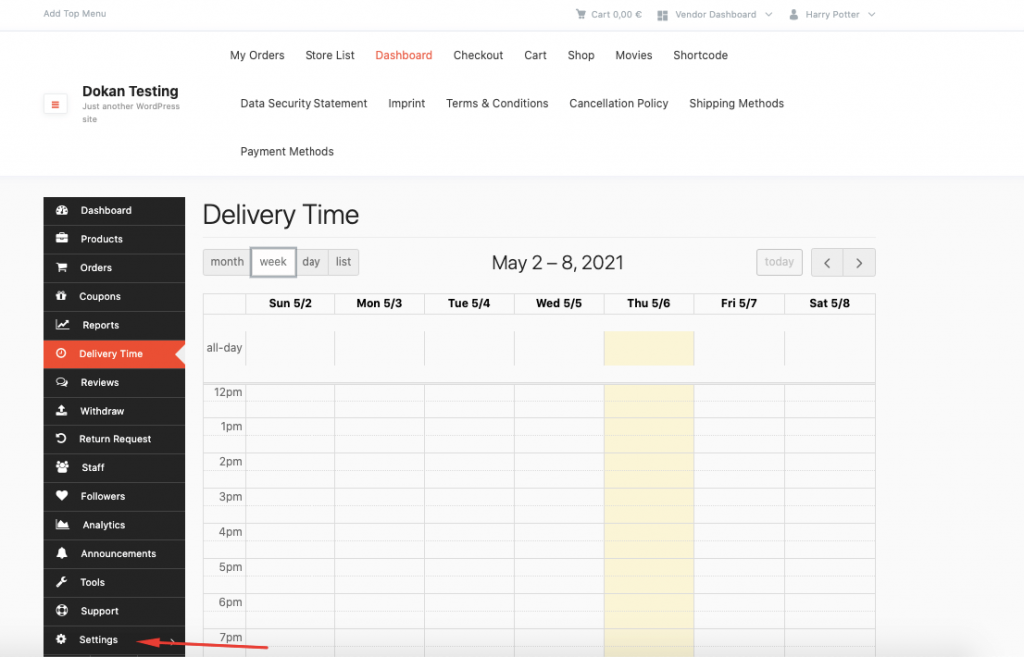 There the vendors will find all the necessary settings to configure their own delivery schedule. The Vendor setting is exactly like the Admin settings so, we are not explaining this further. Moving on,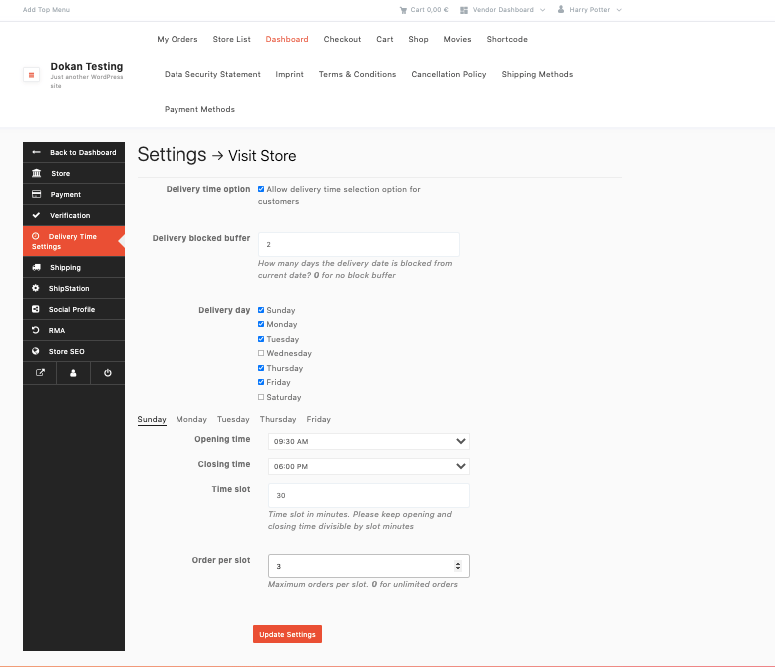 However, there is a slight difference. Vendors can select individual Opening time, Closing time, Time slot, Order per slot for each delivery day.
Lastly, the vendors need to click the Update Settings button to finish configuring.
How Customers will Choose Delivery Date & Time
It is very easy for the customer to use this module and choose the delivery date and time.
After purchasing a product and proceeding to checkout, on the right-hand side of the checkout page they will see the option to select a delivery time.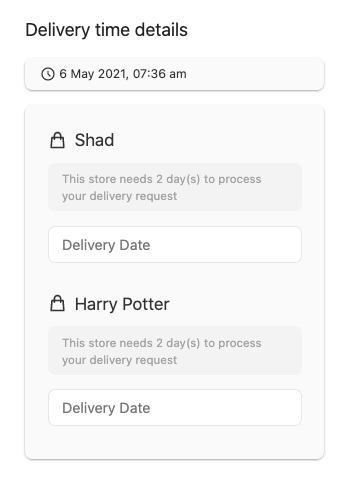 Customers will only see the available dates that are available plus it will take into account the Delivery blocked buffer time. From the available dates, the customer needs to choose one.
Note: Delivery Time module has Vendor Vacation support. So, if the vendor is on vacation then the vacation dates won't show up either in the delivery date selected option.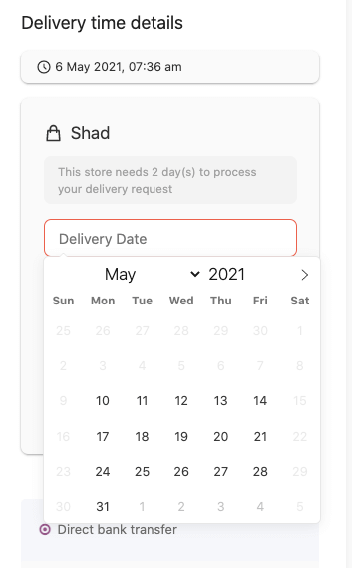 After selecting the delivery date, the customer needs to select the time slot as well,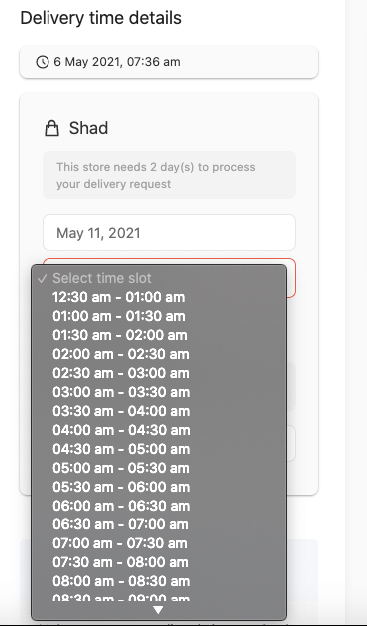 After confirming the order, they can visit My Account–> Orders and see the details of their delivery time.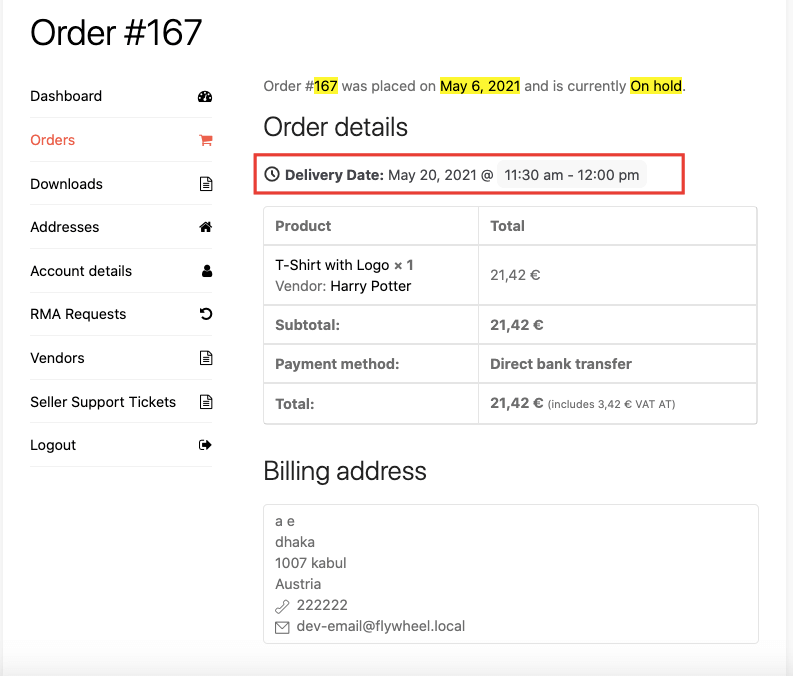 Details of Delivery Time for Vendors
There is a point in the features list of the Dokan Delivery Time module that it provides a delivery calendar of the vendors. This calendar helps them to find all the scheduled deliveries in one place.
Vendors need to select the Delivery Time option and they can see all the details.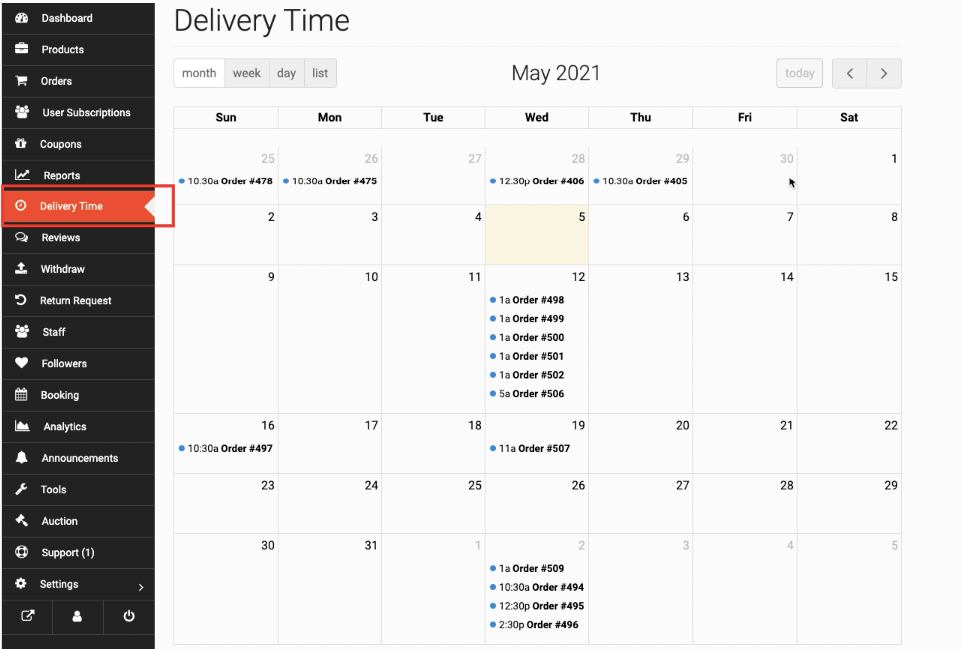 Vendors can also filter the orders by month, week, day. They can see the list view as well,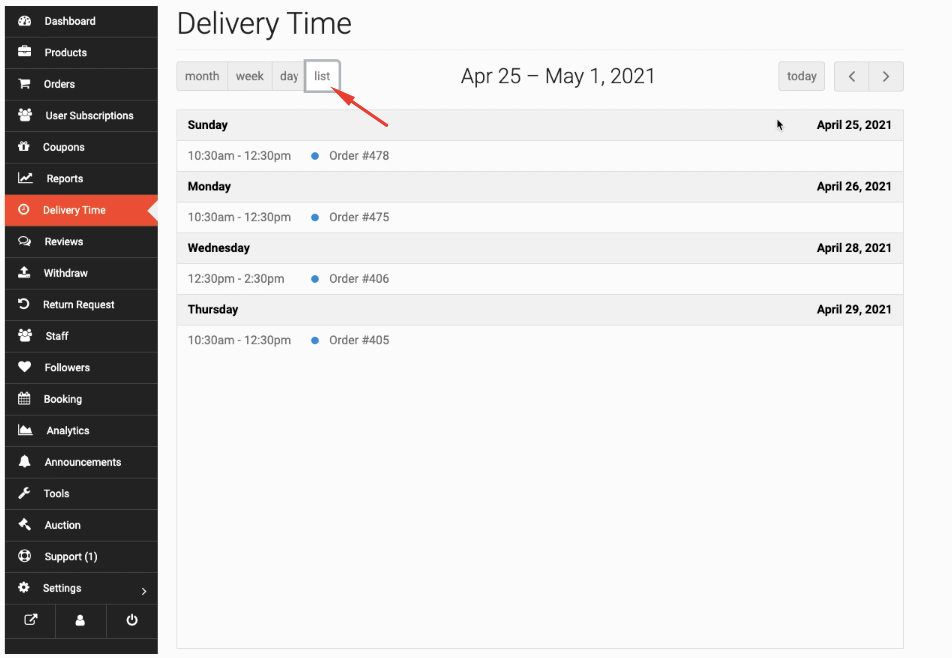 And when they click on an order they can see the order details as well.
Vendors Can Update Orders
Vendors can update the Delivery Date and time slot if they want. After updating, it will be added to the Order note.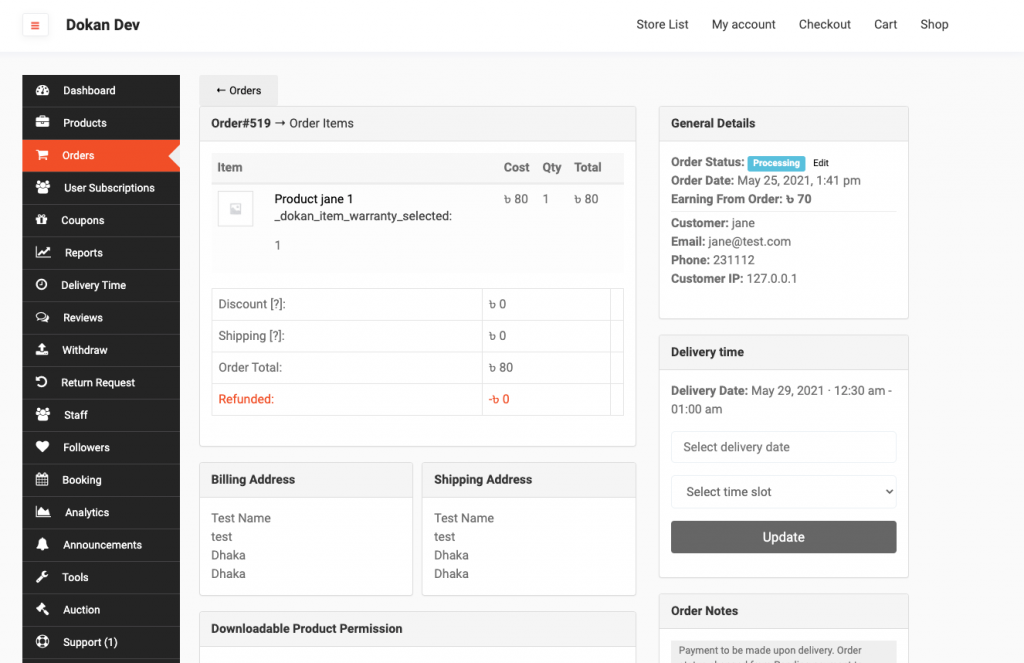 Delivery Time Details for Admin
As an admin, you have full control to view and update the delivery time details as well. You will find all the details when you Navigate to WooCommerce–> Orders. And click on an order to see details.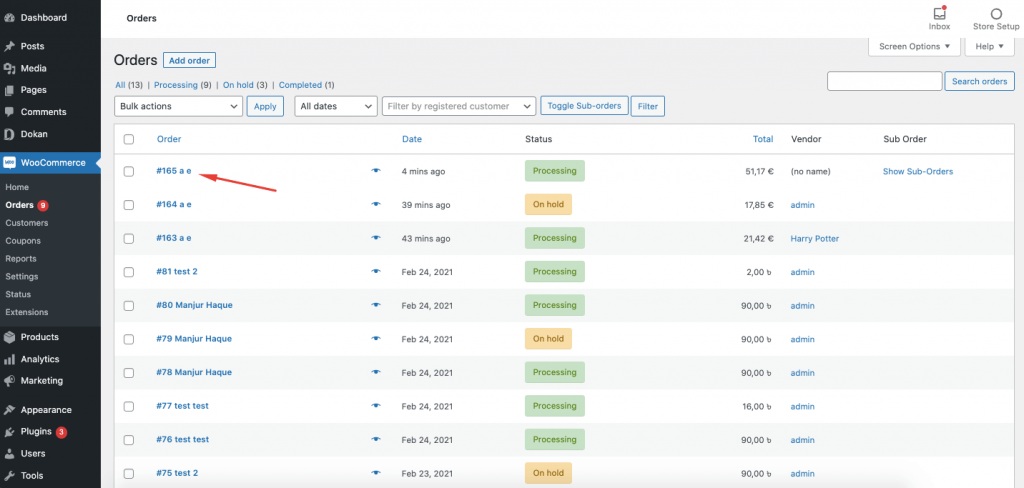 In the order details, they will find a meta box with the delivery time and date.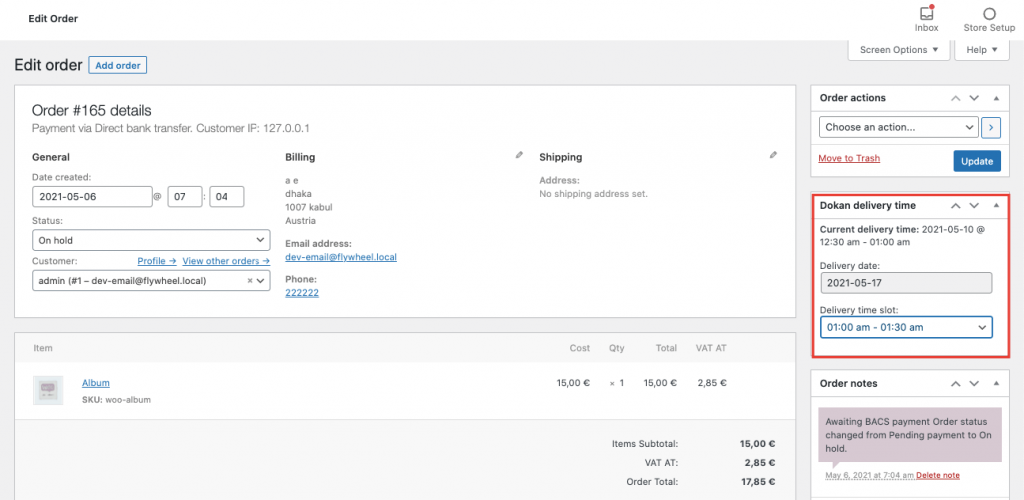 You can also update the Delivery Date and time slot. After updating, it will be added to the Order note.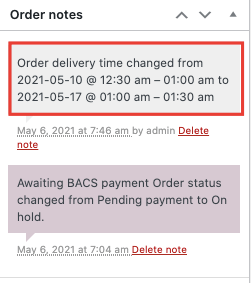 That is how users can easily set up and use the Dokan Delivery Time module and take their marketplace to another level.
Note: This module will not support Downloadable or virtual products.
Advantages of Allowing Customers to Choose Delivery Date & Time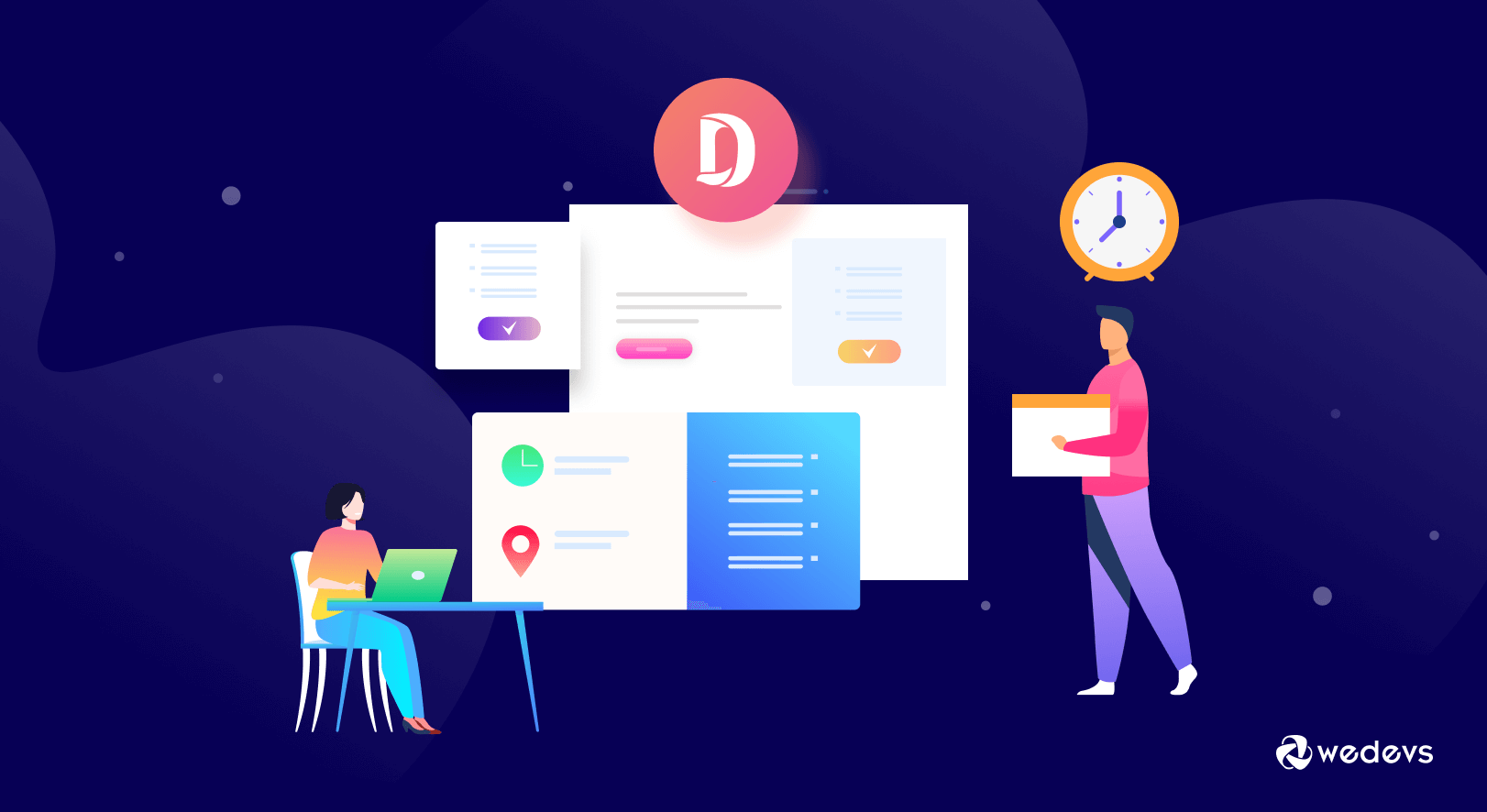 Meeting customer's expectations and delivery requirements has to be a priority for every business, be it online or physical. Otherwise, it will not only produce heavy losses but also the public will lose its trust in the brand. That is why it is very important to have an effective delivery system for your eCommerce business.
If you look at most online stores, customers aren't allowed to choose delivery dates and times on their own. They have to follow the store policy. And when they fail to deliver on time, the frustration can cause your downfall.
You probably heard about the abandonment cart right? Look at the screenshot below,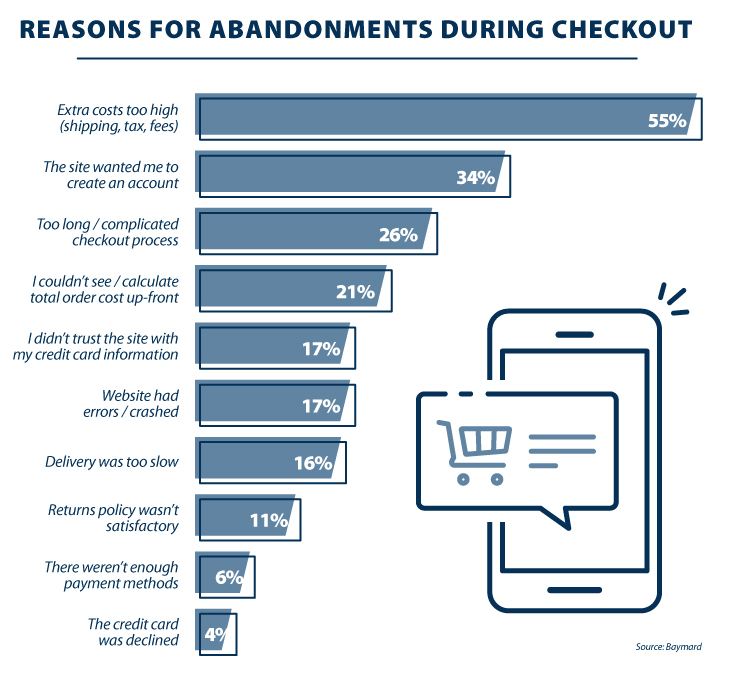 You can see that almost 16% of customers abandon their cart due to the slow delivery system. Regardless of other reasons, when you can't ensure a fast delivery system, that is your own fault as an eCommerce marketplace owner. Because it is one of the fundamental elements of an online store.
It's not as if selecting their own delivery date will only benefit the customers. When customers select delivery date and time it will make your job easier.
Here are some advantages of letting the customers choose their own delivery date.
Ensuring Great Customer Experience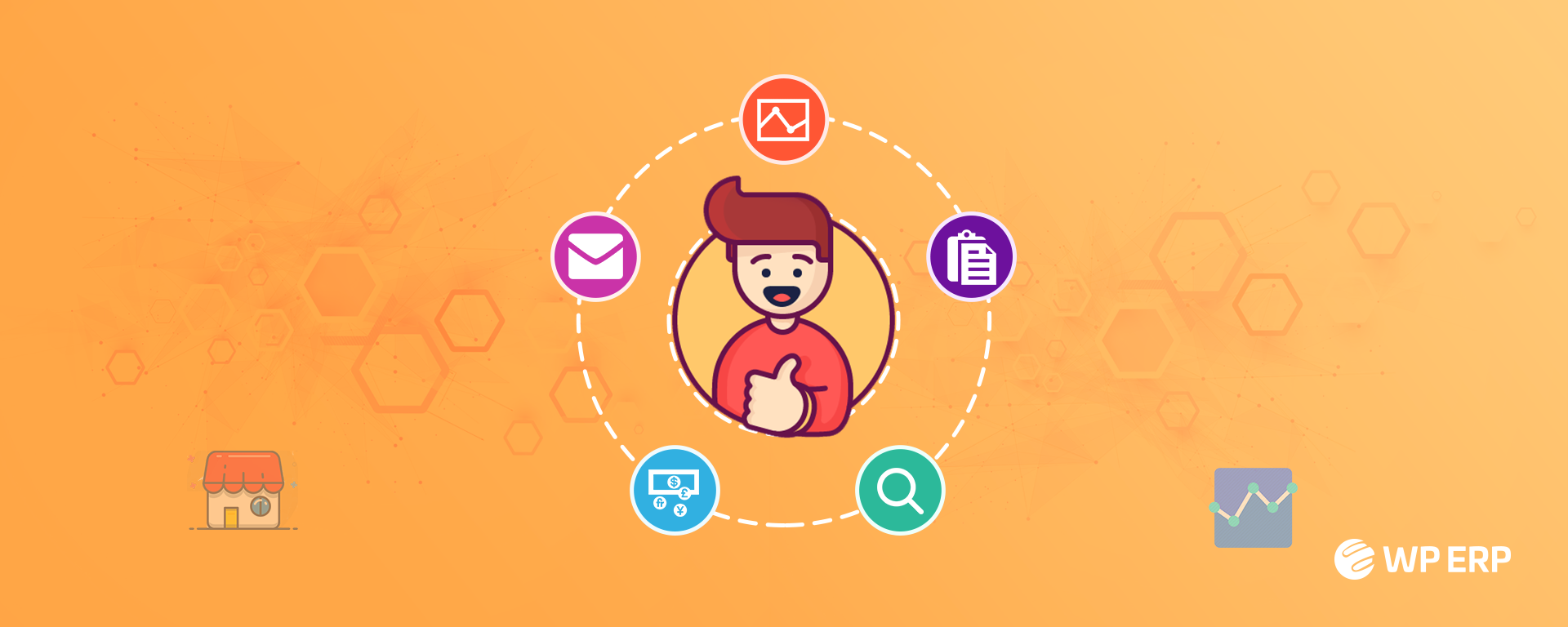 One of the benefits the online stores provide to the customers is that they no need to go out to stores and buy their products physically. They can have their products delivered to their doorstep.
But think of this scenario. The customers need some products to arrange a barbeque in 3 days. Now your store might have the ability to deliver those products in 3 days. However, you have written that "Any delivery will take place between 5-7 days" on your delivery policy to be on the safe side.
After reading that and due to the lack of control of choosing their own delivery date, customers will then go out and purchase those products from the super shops. That will lead to poor customer experience and in the process will hurt your brand reputation.
So, to avoid that problem you need to install a feature where customers can select delivery dates and times that fit their personal, professional schedule. Thay they don't have to worry about missing the delivery or missing their work to receive the delivery.
Reducing Overall Costs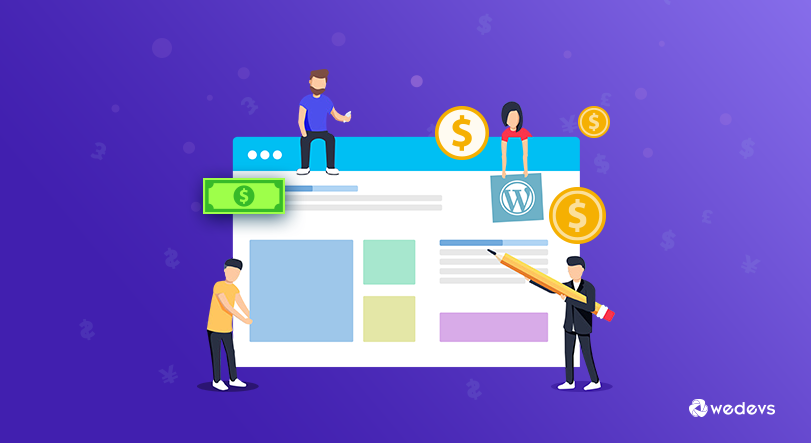 Delivery adds to your overall expense. You need to pay the delivery driver and cover the fuel expenses. Also, if customers can't choose delivery dates on their own, you run the risk of multiple deliveries to deliver the package.
It will only add to your expenses and it might even lower your profit margin. But if you know that at the time of delivery the customers will be at home, you need to make that delivery once. It will save time and money. Reducing overall costs.
Increasing Brand Value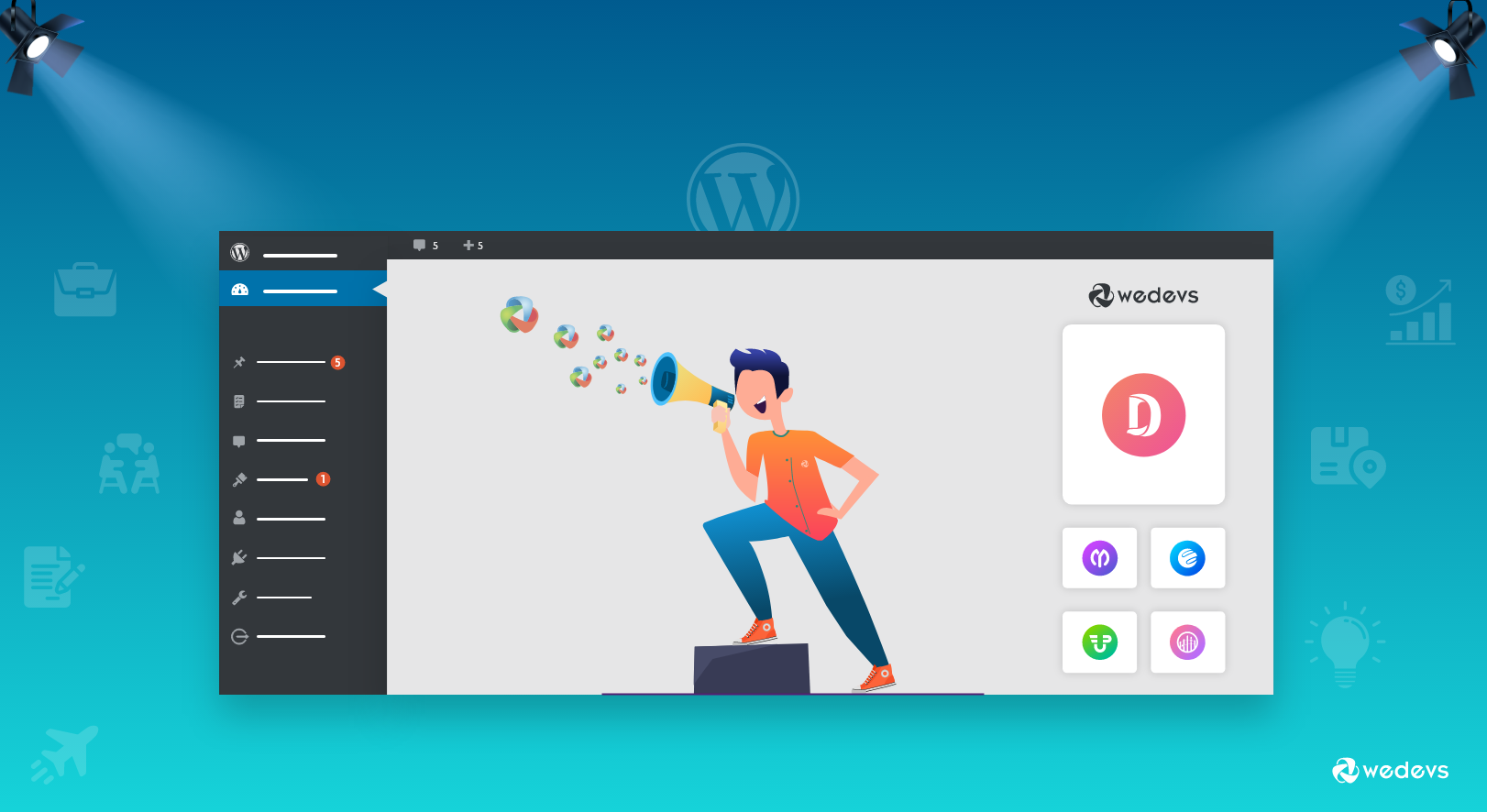 That is obvious. If customers can choose the delivery date, and getting the product on the selected date, they will know that your company caters to every need of the customers.
It will increase customer satisfaction and build brand trust. Your customers will become loyal and come back for future purchases. They will also spread the word to their family and friends while leaving your online store with positive reviews.
Lowering the Number of Repeated Deliveries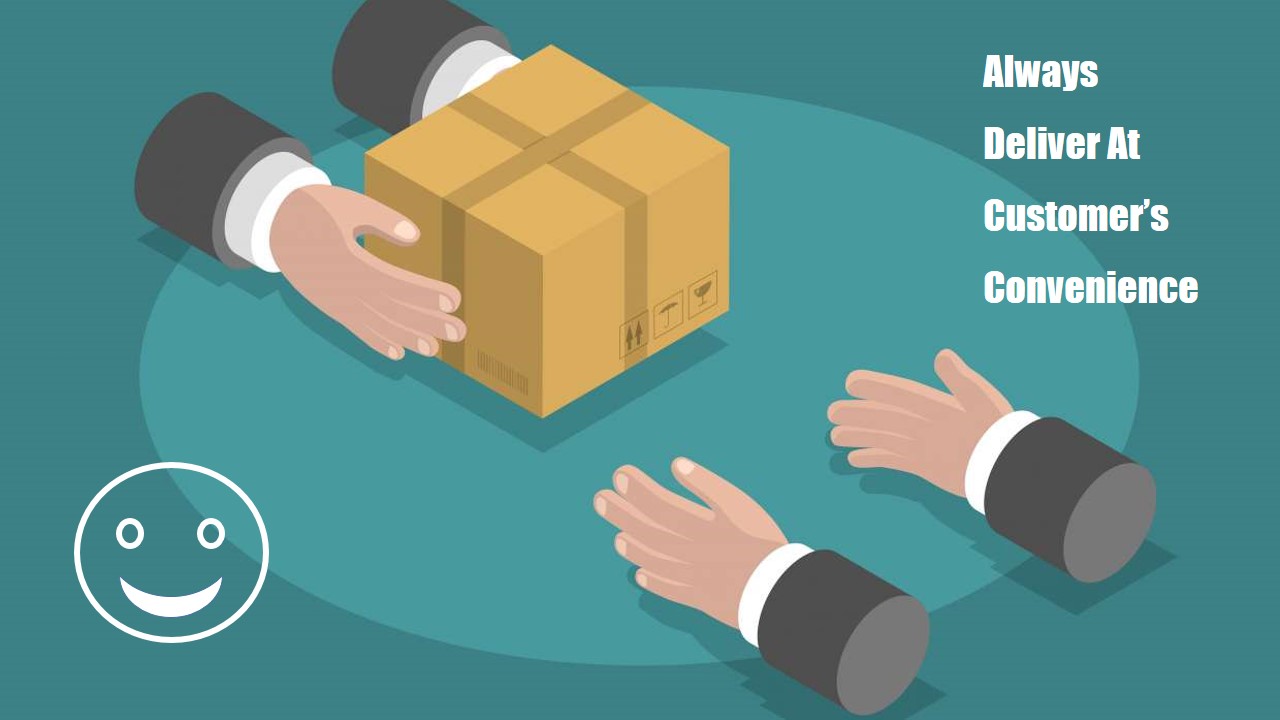 When a customer places an order it is your responsibility to deliver the package. Without scheduled time, you will not know whether the customer is ready to receive the package or not.
And if the customer has not made any arrangements to receive the package then you may need to reschedule the delivery again or risk losing a potential loyal customer.
However, you can avoid repeat deliveries if the customers choose the exact time and date of their delivery that is convenient for them. You can easily reduce the number of repeated deliveries.
Scheduling Special Gifts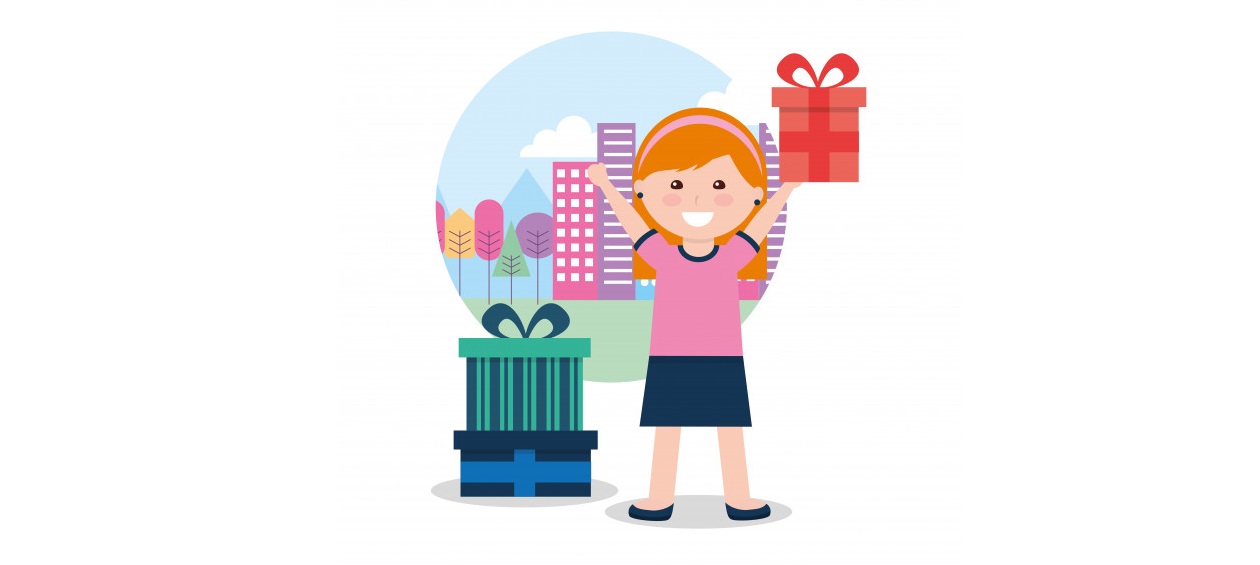 Well, this one is for the benefit of customers as well. When customers know they can pick their own delivery date and time, they can easily order special gifts for their loved ones and have them delivered to them.
With not many online shops offering flexible delivery options, they have to place the order in advance to make sure it arrives in time.
When you make it easy for the customer to choose the exact time and date, they will rest assured that their package will arrive on time.

So, you can see how having a flexible delivery system will bring many advantages to your store and your customers as well.
Common FAQ(s) Related to eCommerce Delivery System
1.Why is timely delivery important?
Ans: Timely delivery service is important to drag new customers. Because punctual delivery will be marked as a key feature of any online store and it will increase brand value. Delivery is also the first communication between customers and store owners.
2. Do customers want fast delivery?
Ans: Almost 57% of customers want fast delivery. So, yes of course customers want fast delivery. Also, fast delivery ensures a better customer experience and an increased conversion rate.
3. Do customers want same-day delivery?
Ans: Almost 88% of customers are willing to pay for faster and same-day delivery services. With that stat, you can easily understand that customers want same-day delivery.
4. How can I improve my delivery time?
Ans: To improve your delivery time you need to,
Maintain realistic deadlines
Manage your stocks in the right order
Real-time order tracking
Predict production demand
Ensure healthy relationships with your package carrier.
5. How long are customers willing to wait for delivery?
Ans: According to research by ShipStation in 2019, consumers are willing to wait a maximum of five days for delivery. However, at the time of the pandemic, the timeframe grew to 8 days.
Ensure an Efficient Delivery System for Your Users!
Letting your customers choose delivery dates and times might seem frightening at first. But hopefully, after reading our article, you can now understand that if the customers select delivery date and time, it will benefit you more.
With proper maintenance and a systematic process, delivering those orders will be a piece of cake. And the new Dokan Delivery Time Module will ensure that.
If you have any questions regarding the delivery process and how Delivery Time Module works, do let us know.