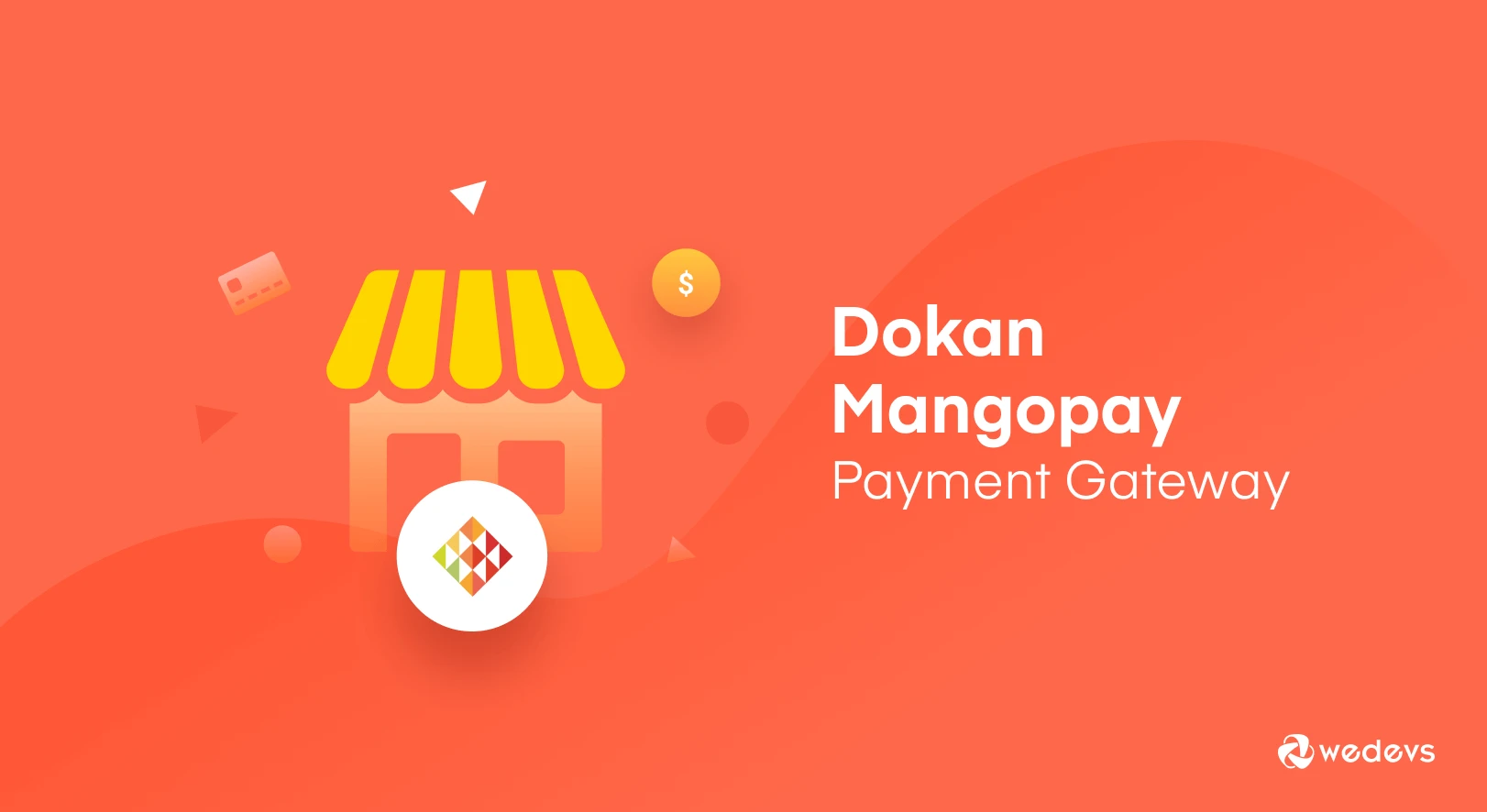 Accelerate Your eCommerce Transaction with Mangopay Payment Gateway for Dokan
Research says that 40% of the customers cancel their purchase if the payment gateway is complex or tedious. Ensuring a smooth purchase process is necessary for every eCommerce store and marketplace. Otherwise, it doesn't matter if you have great products, you are going to end up losing almost half of your customers.
By 2025, more than half (53 percent) of all ecommerce spend is expected to be carried out with digital and mobile wallets.
Mangopay Payment Gateway for Dokan will make the transaction process smooth for your WooCommerce marketplace. In this article, we will go over the process of how to set up the Mangopay Payment gateway with Dokan and we will also discuss the benefits of using Mangopay as your payment gateway. Let's start.
Get Introduced to Dokan Mangopay Payment Gateway Module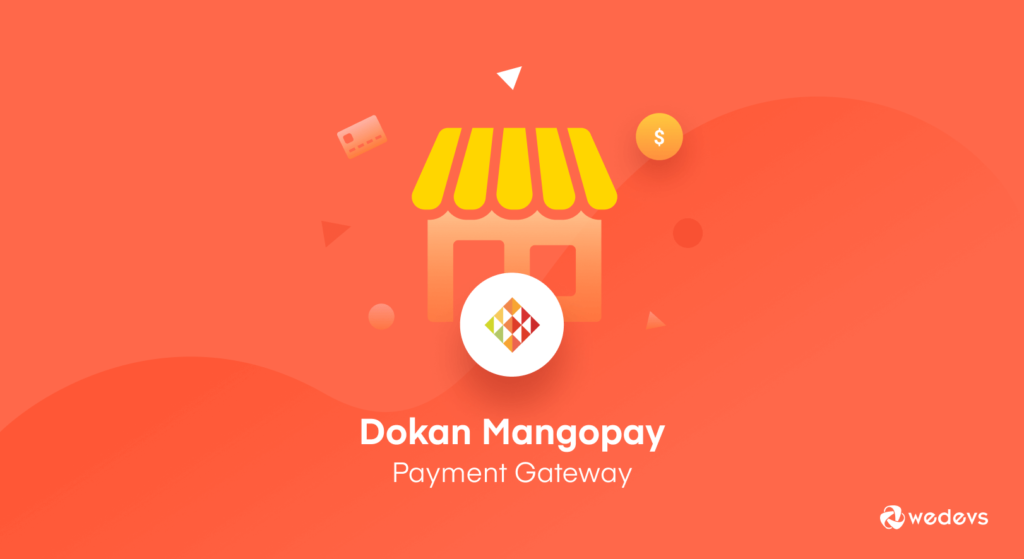 Dokan is a powerful, feature-enriched multi-vendor marketplace plugin powered by WooCommerce. Along with great features and modules, Dokan also provides integration with payment gateways that will make the transaction process simpler.
That is why the Dokan Mangopay Payment gateway module has been introduced to the diverse payment gateway collection of Dokan with features like-
1. Split Payments and Commissions: The payment gateway automatically handles the split payments and commissions. Moreover, the refund amount will also be adjusted between the vendor and admin.
2. Diverse Credit Card and Payment Flexibility: Customers can choose international credit cards like Diners, and Maestro. On the other hand, they can enjoy the benefits of using local credit cards. With the likes of Przelewy24, Bancontact, PayLib, iDeal & Masterpass for trouble-free payments.
3. Dynamic Direct Payments: Direct payments provide hassle-free transactions. With the help of bank wire, customers can complete the payments from anywhere. Sofort & Giropay are the best local alternative for direct payments.
4. Comply with All European Union Regulations: This payment gateway provides security systems like PSD2, GDPR, and PCI DSS. As a result, customers can share all their sensitive data like card details and user identity without any hesitation.
As a multivendor marketplace owner, you have to be very careful with your payment gateways. Your users are third-party vendors and you have to provide payment methods that are suitable for all types of customers. Otherwise, you will not find enough vendors signing up on your marketplace to sell.
How to Integrate Dokan Mangopay for Your Online Store
Let's see how to set up and use this module on your marketplace.
We are hoping you already have a marketplace with WooCommerce, Dokan, and Dokan Pro set up.
Now you need to follow these steps,
Step1: Activate the Mangopay Payment Gateway Module
Step2: Configure the Mangopay Settings
Step3: Collect Mangopay API Credentials
Step4: Connect Vendors Account with Mangopay.
Step 1: Activate the Mangopay Payment Gateway Module
First and foremost, you need to activate the module from WP-Admin–> Dokan–> Modules. Find the Mangopay payment gateway module and toggle the button to activate it.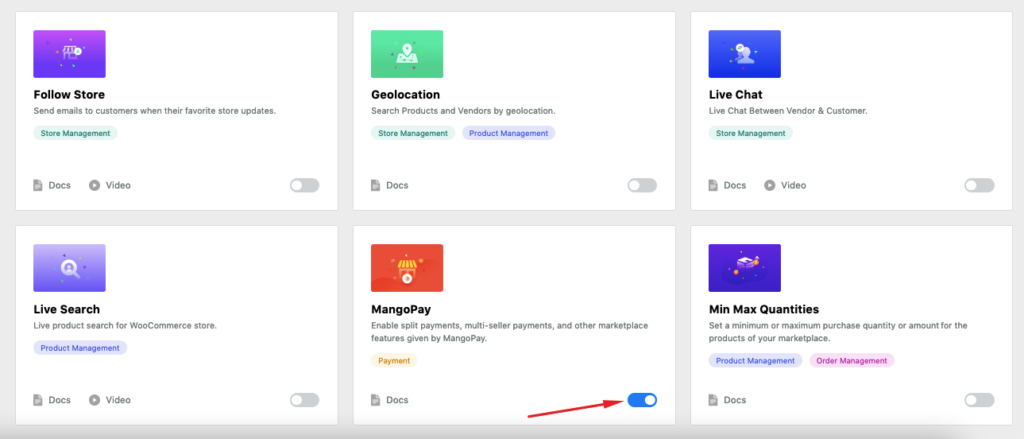 After activating the module you need to configure its settings from WooCommerce–>Settings–>Payments.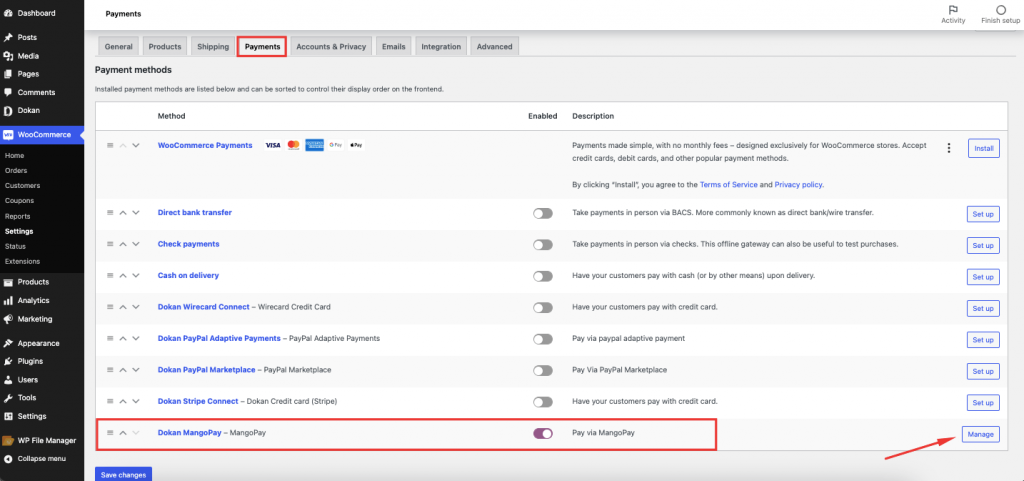 Step 2: Configure Mangopay Settings
On the settings page, you will find options to configure the payment gateway. Options like API Credentials (we will show you how to collect in the later steps), Payment options, Fund transfers and payouts, Types and requirements of vendors, etc.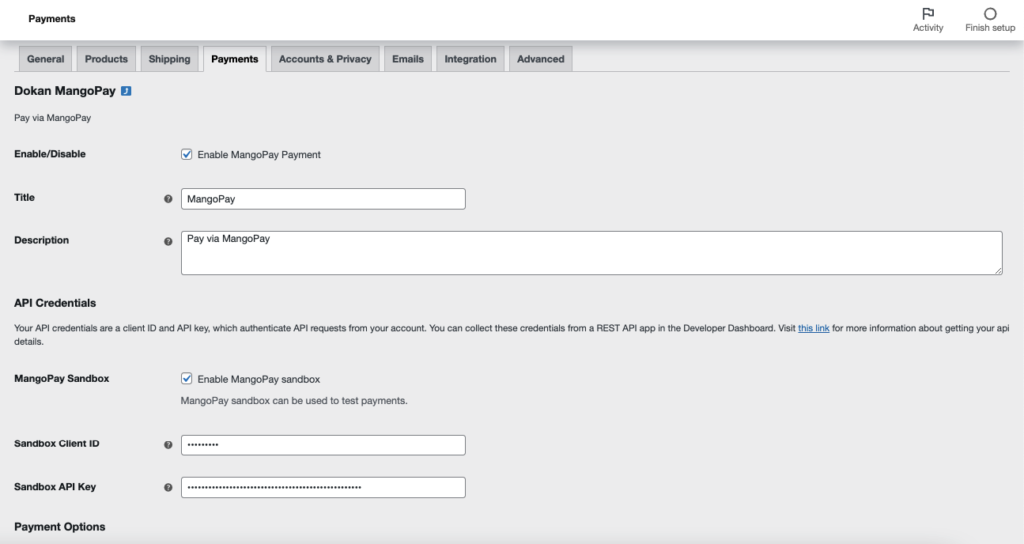 Step 3: Collect Mangopay API Credentials
To collect the Client ID and API key, log into your Mangopay client hub and collect your IDs. However, as we are using the Sandbox environment, you will find the IDs under the live account. But if you wish to use the Live Client ID and API key, then you need to activate your production account.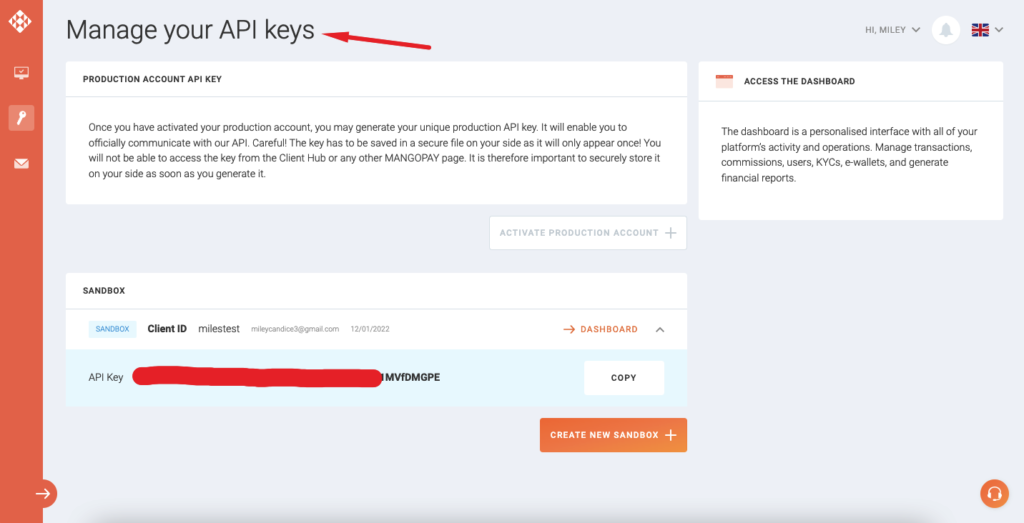 Now copy the keys, go back to WooCommerce–>Settings–>Payments, and add the credentials. Then hit the Save changes button to finish.
Step 4: Connect Vendors Account with Mangopay
You are almost there. Now you need your vendors to connect their accounts with the Mangopay payment gateway.
At first, you as the admin need to enable the Dokan Mangopay gateway from Dokan–> Settings–> Withdraw,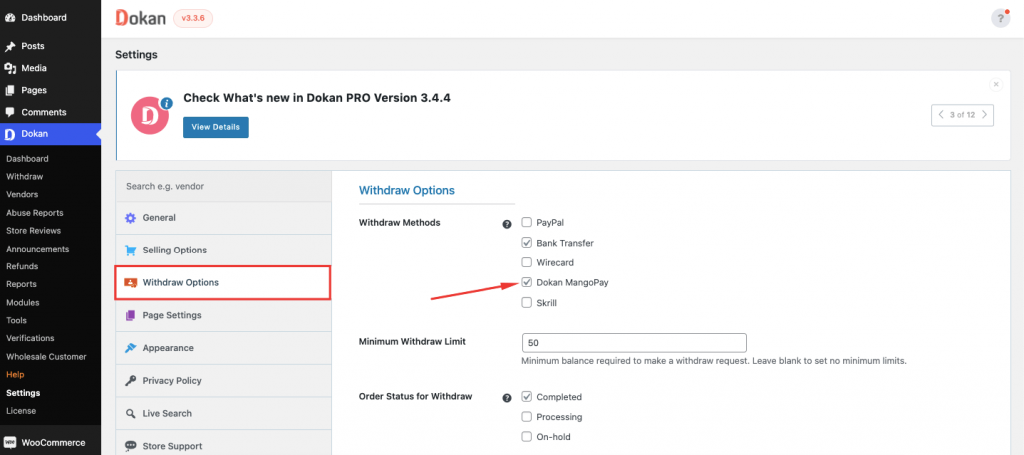 After that, the vendors will see the option to "Connect to Dokan Mangopay" account when they navigate to Vendor Dashboard–> Settings–> Payments. They need to hit the Sign Up button to create an account in the Mangopay payment gateway.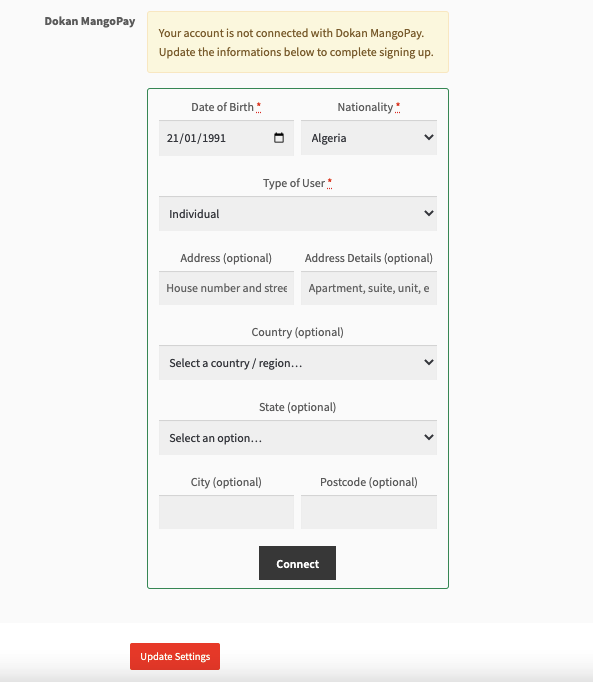 In order to connect their account, vendors need to provide their details like the type of business, vat number, company number, etc.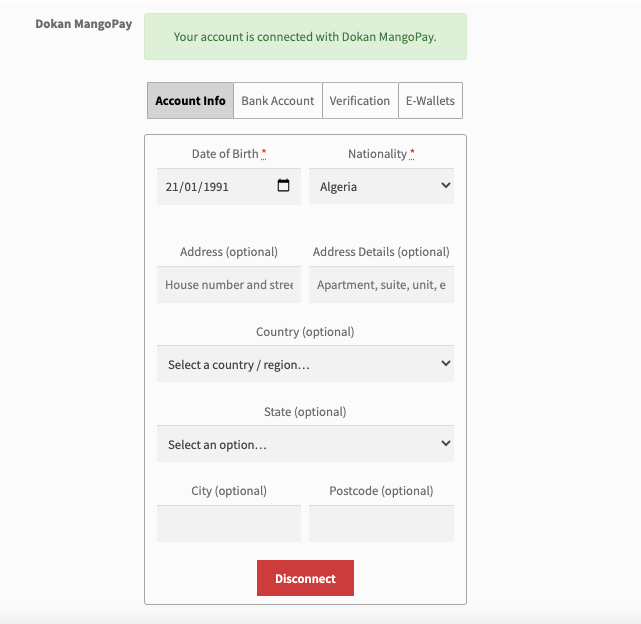 This is how you can configure the Dokan Mangopay payment gateway. If you want to know more, then do visit the documentation of this module.
How to Complete Payment Using Mangopay
When a customer completes a purchase and moves to the checkout page, he/she will the option to pay with Mangoapay. Either they can use Credit Cards, Direct Debit Web Wire, or Registered Cards to pay. They need to click on Proceed to Mangopay for the next step.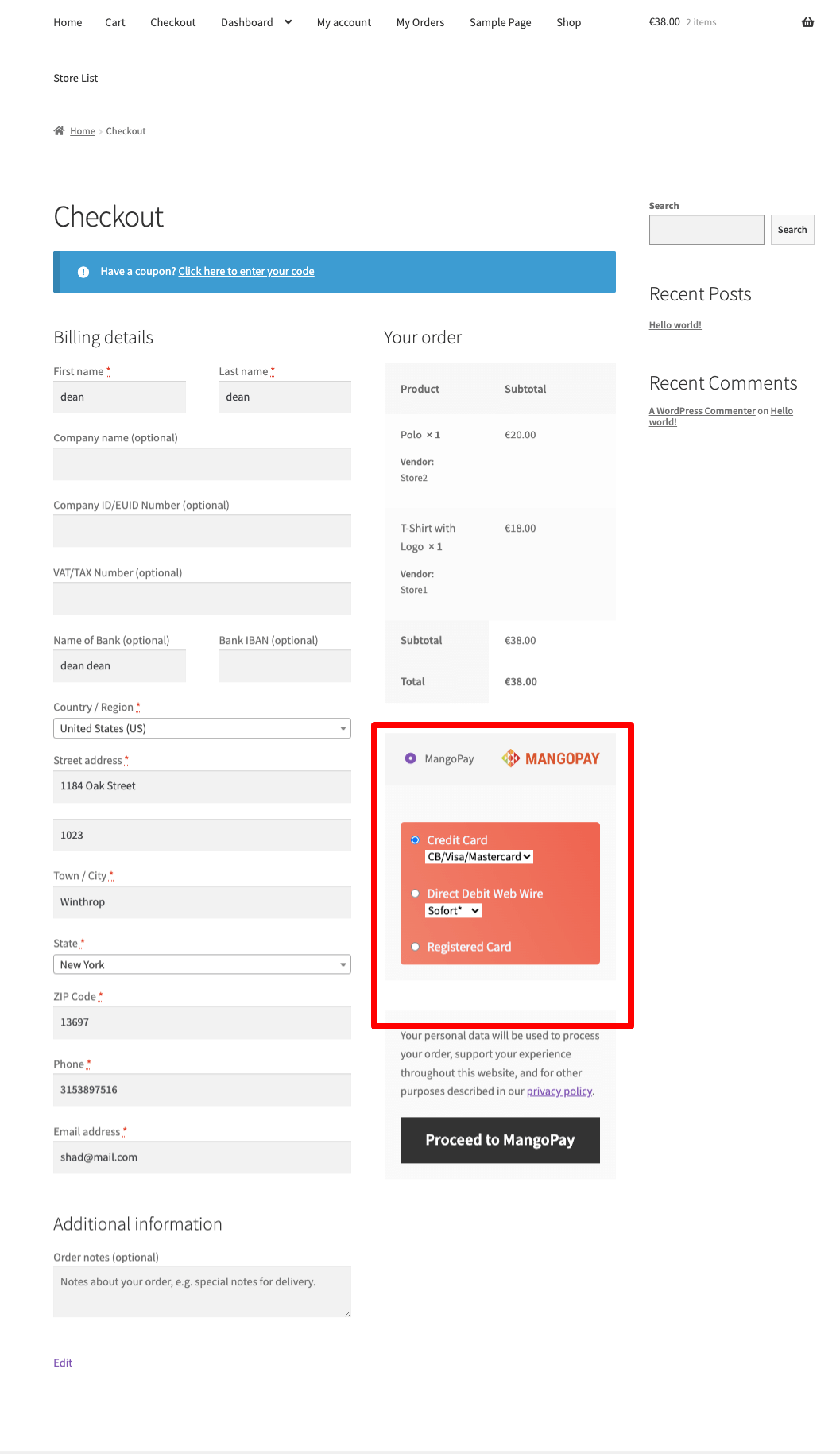 Then, they need to add their card or relevant information to finish the payment,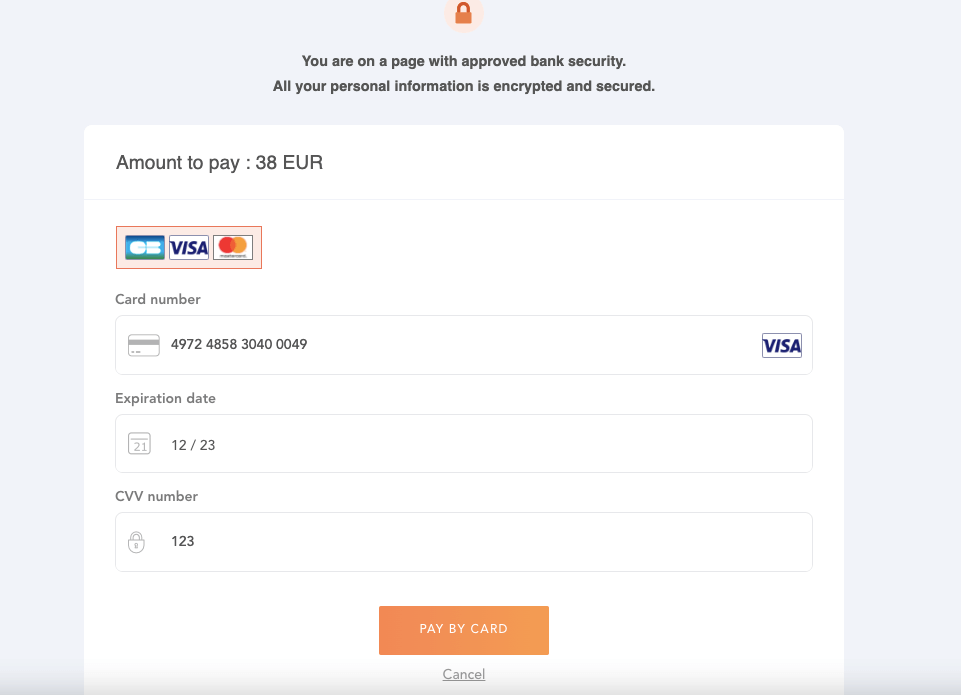 The customers will get their order details like this,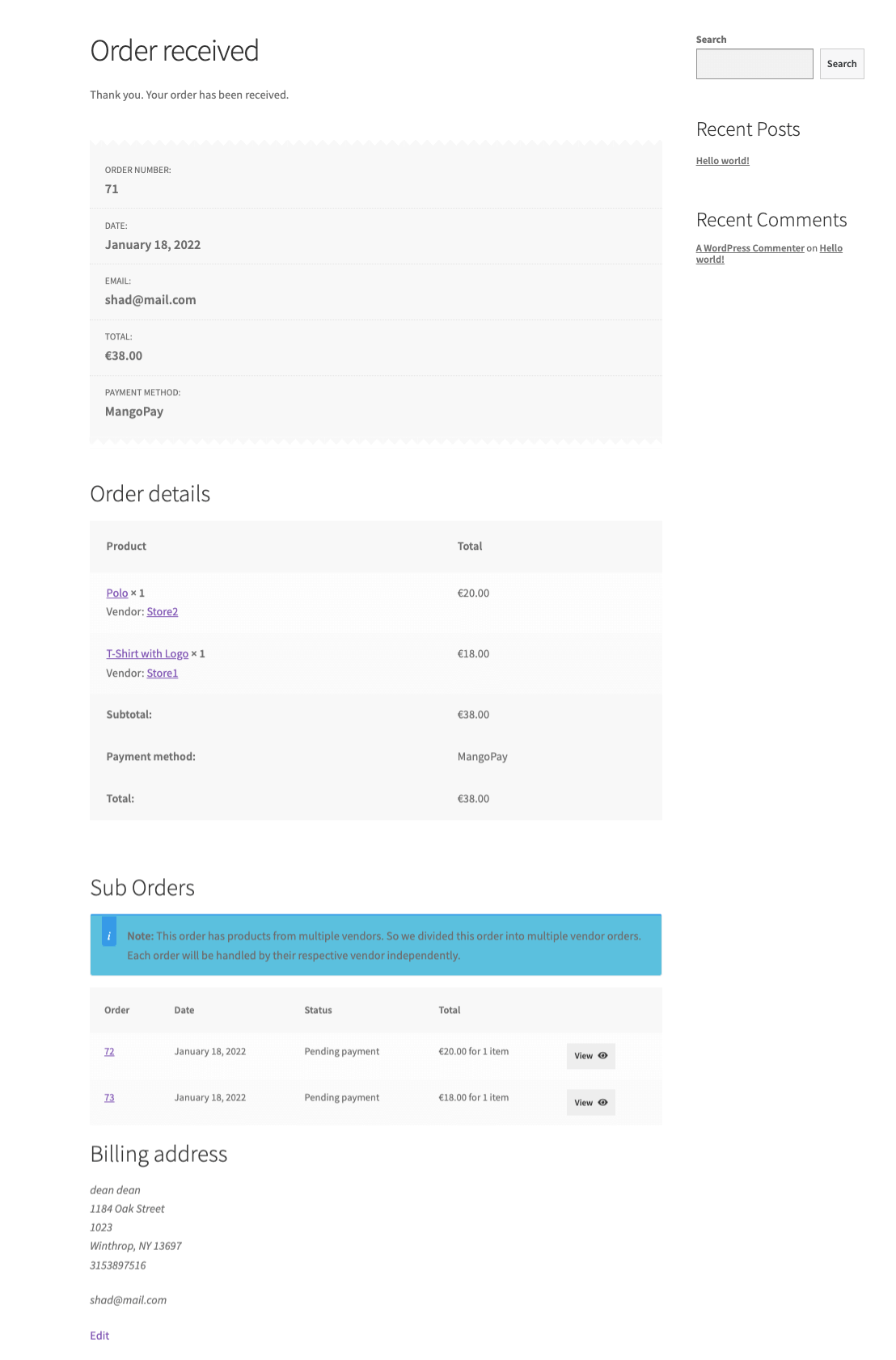 However, If any of the vendors are not connected with Mangopay, then the customer will get a notice that can't get add that particular product to the cart as the vendor is not connected with the Mangopay Payment gateway.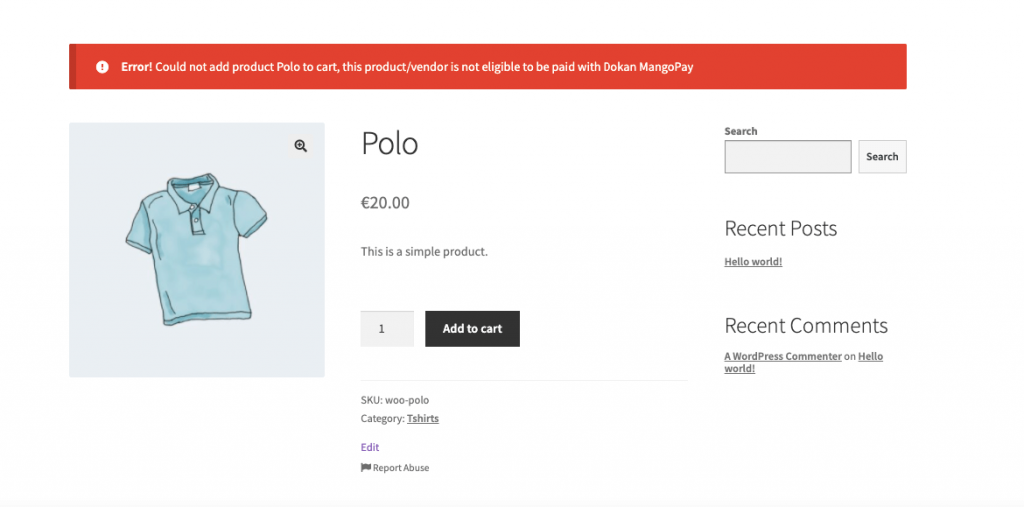 Moreover, Mangopay handles the split payment system of a multivendor marketplace efficiently. If the customer buys products from two vendors at a time, the money will be automatically split between the vendors minus the admin commission.
If you look at the orders after a transaction, you will find all the details in the note section of a sub-order. Here are the order notes,

How to Handle Refunds Using Mangopay Payment Gateway for Dokan
You can't use Mangopay to refund orders from the main order, which means when there are sub-order you have to refund them individually.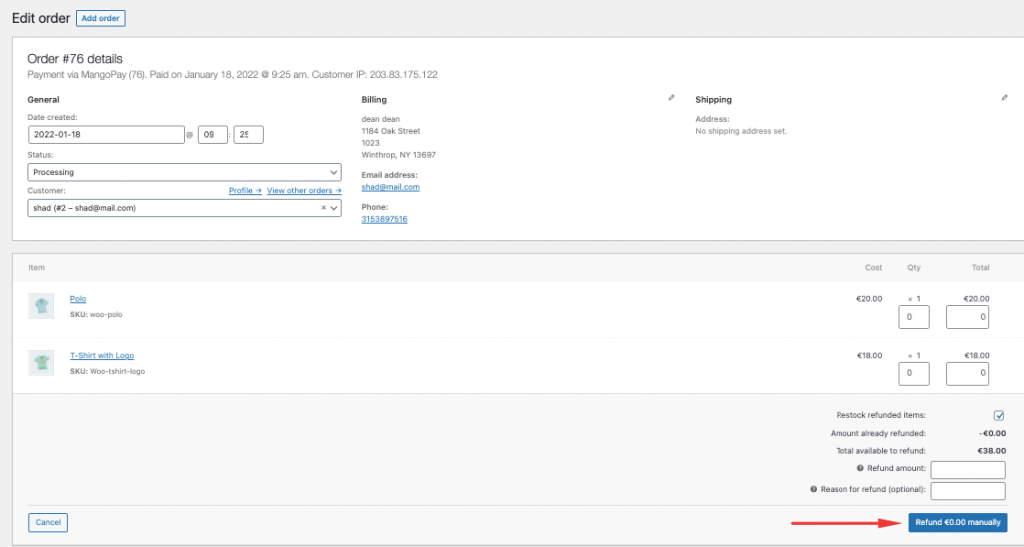 You can use the Sub-orders to refund the orders.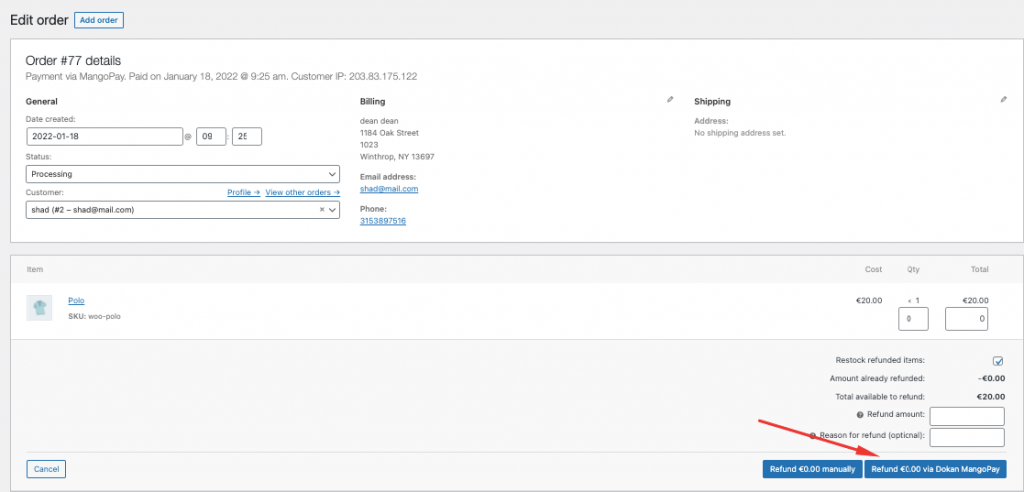 For vendors navigate to Vendor Dashboard–> Orders and select any order. Click on the Refund $X via the Dokan Mangopay button to refund an order. The order has to be complete in order to refund.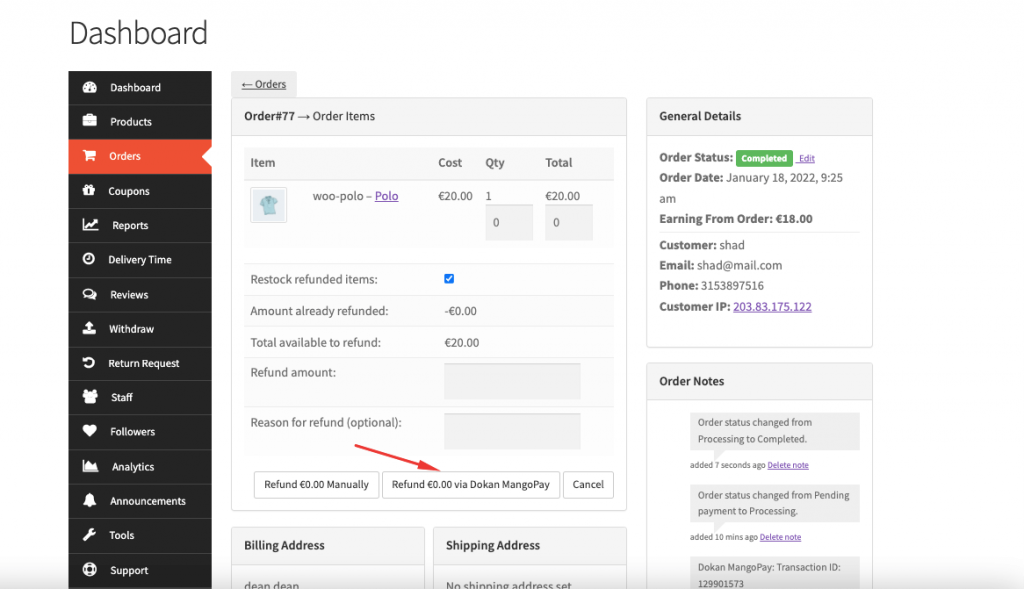 Admin will be able to view the refund order in the order notes.
Admin can view the refunded order details in the Mangopay dashboard as well,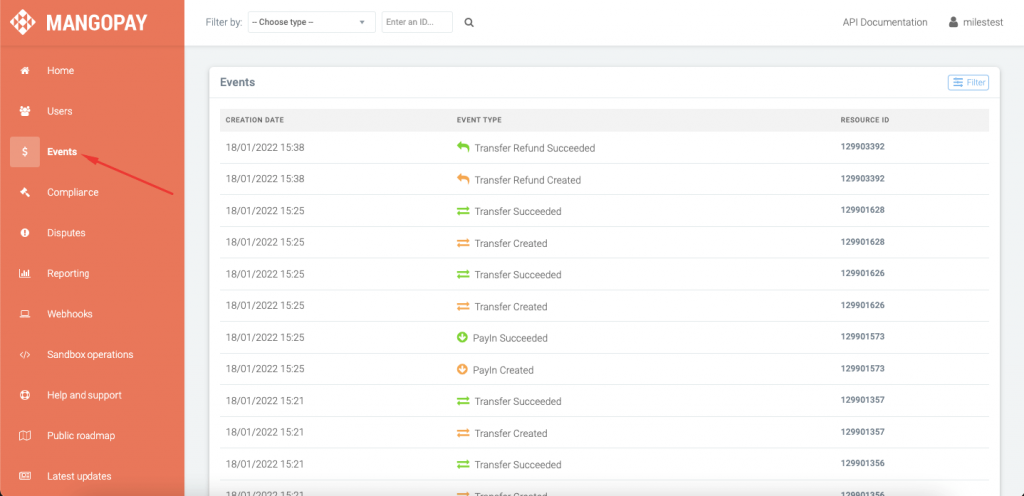 Or if you want you can complete the refund process from the Mangopay dashboard as well.
The Benefit of Using Mangopay As Your Payment Gateway
Now that you know how to integrate Mangopay, let's see the benefits you will get with this payment gateway.
Here are some reasons why you should include the Mangopay payment gateway on your marketplace,
1. Seamless Payment Processing
Using Mangopay, you can easily process recurring payments and even set up a global payments platform. Whether you are running a marketplace, a crowdfunding platform, or a FinTech business, this payment gateway allows you to accept payments in multiple currencies over a variety of methods without any issues.
2. Customizable Payment Flow
You also have the option to create your own integrations and map out your own payment flow with Mangopay. So you can make sure that the solution complements your business model, your preferences, and how you choose to interact with your customers.
All this is possible because Mangopay has developer-friendly API and white-label capabilities. These are essential capabilities and features of payment gateway software.
3. Security
Of course, this is one of the major pain points for every online business. They need to make sure that all transactions and data are secured. Mangopay addresses this by implementing anti-fraud and anti-money laundering features that safeguard both the payor and the payee. It has several verification steps that are all in compliance with European regulations.
4. Real-time monitoring
Finally, you can also oversee all transactions through Mangopay's dashboard. This allows you to automatically track earnings, commissions, e-wallets, customers, and financial reports.
All in all, you are not losing when you are integrating Mangopay into your eCommerce store. And in a multivendor store where most of the users are third-party, Mangopay provides the perfect support.
FAQs
Is Mangopay regulated?
As a regulated entity, Mangopay needs to conduct some due diligence regarding its business relationships.
Is Mangopay secure?
Mangopay implements the appropriate security measures in order to guarantee the protection and confidentiality of your Data.
Is Mangopay a bank?
Mangopay is an electronic money institution focused on providing end-to-end payment solutions.
Integrate Dokan Mangopay Payment Gateway Today to Smoothly Handle Your Transactions!
Having a smooth transaction process will give you an upper hand in the eCommerce business. And integrating the Mangopay payment gateway will provide you with
Easy Checkout
Impulse purchase
Fraud management
Faster payment processing
Split payment management.
Hopefully, after reading this article you will be able to use integrate the Mangopay Payment gateway into your Dokan-powered marketplace. If you face any issues, do let us know in the comment section.