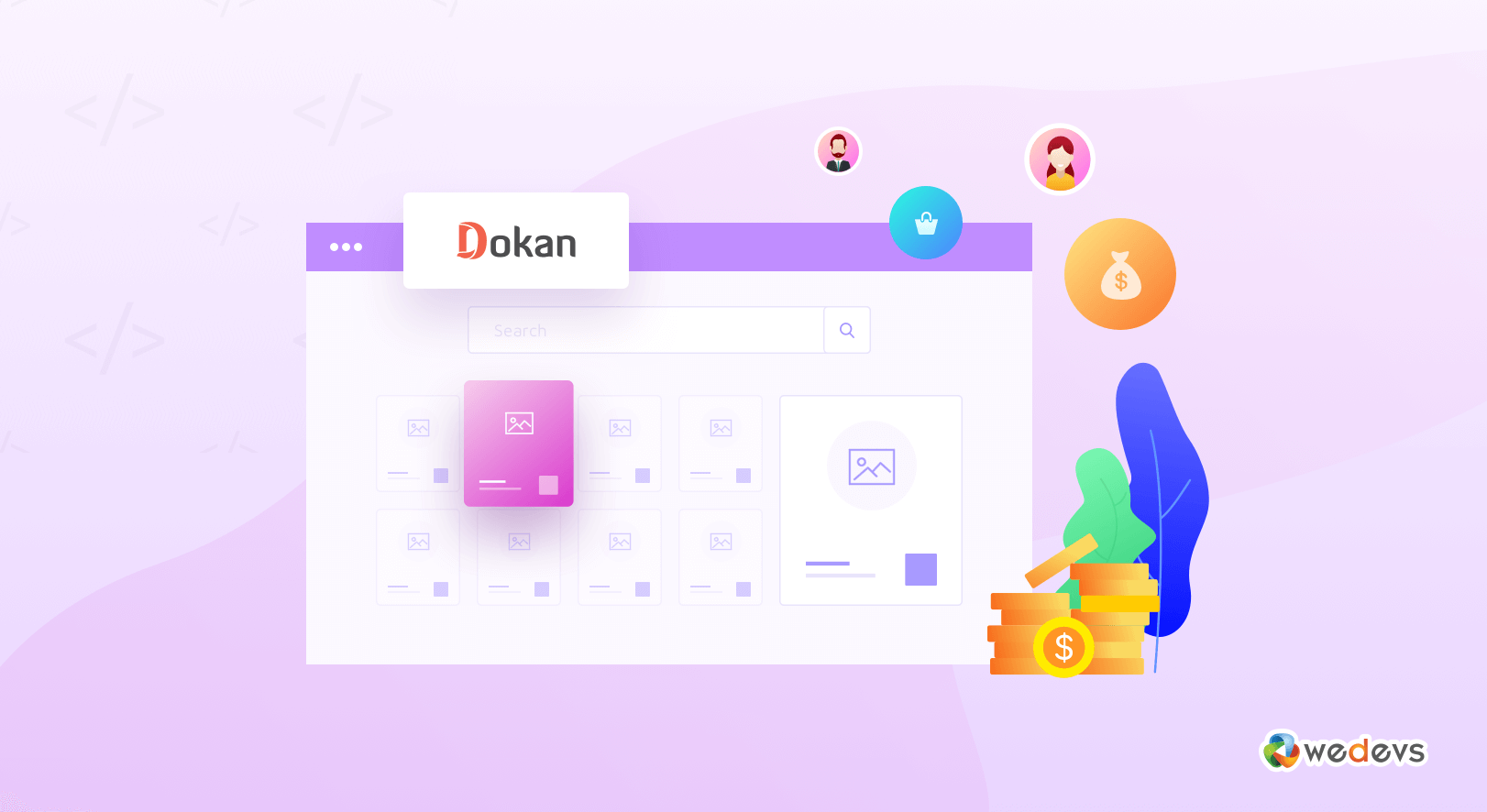 How To Create Envato-like Software Marketplace In WordPress With Dokan
Do you want to build a new Software Marketplace like Envato in WordPress? Then you are in the right place.
In this article, we will show you how to create a Software Marketplace using WordPress in less than 30 minutes. It demands a simple procedure to follow spending only a few bucks.
An online marketplace allows multiple vendors to sell their products or services. Here, they can set up their individual stores on a single eCommerce platform. It's an open space to connect the buyers with various traders.
Indeed, the marketplace operator will manage all the background setup. S/He will streamline the whole transaction process smoothly. As an admin, you can earn money from each transaction of your marketplace.
However, you can easily build a marketplace on your WordPress site. All you need to install a suitable multi-vendor marketplace plugin. And, it will help you to make a huge profit shortly. Due to low overhead costs, it becomes a popular online income source over the last few years.
Let's dive deep to build a Software Marketplace With Dokan Multi-Vendor Plugin following few steps.
Prerequisites for Launching a Software Marketplace
A marketplace allows its visitors to select the best products for them. Here, they get a chance to compare among a wide range of available deals.
Apart from this, buyers also prefer to purchase from a marketplace instead of a single store. Since they get several types of products from different brands under one roof. Therefore, there is a high chance to draw your audience's attention easily through a well-optimized marketplace. You can also sell Digital Courses Online with Dokan & WooCommerce for Free.
However, you need the following tools to set up your online multi-vendor marketplace:
Everything is free here apart from the Domain and Hosting. At first, select a suitable domain name for your Software Marketplace. Then buy the domain and hosting from a reliable source.
Let assume you have already got your domain name and hosting and configured your business WordPress site. Now, activate the WooCommerce plugin on your site. It will make your site an online store in minutes. However, it consists of all store facilities like the product listing, cart, checkout, payment, and others.
After that its time to convert your single store into a wide marketplace.
Turn Your WooCommerce Store into a Multi-vendor Software Marketplace
First of all, you have to install and activate the Dokan plugin on your WooCommerce site. This marketplace solution extends the functionality of your WooCommerce store. It will turn the single store into a multi-vendor marketplace.
Installing Dokan is similar to any other WordPress plugin. You need to install the lite version first which is FREE. Here, you will get all the basic features of the marketplace. In order to uncover all the advanced features and frontend capabilities, you can download and activate the Dokan Pro Version.
You can check our step-by-step guide to build a free eCommerce marketplace using WordPress.
General Setting of Dokan
Now according to your Software Marketplace's needs, you can configure the general setting of Dokan.
In addition, you can set the commission rate for an individual vendor. You will get a percentage of each transaction. In this way, you can Earn with Dokan Plugin Using Different Vendor Commissions.
Configure Your Shop for Admin
After configuring Dokan and WooCommerce your marketplace is ready to go. Now, its time to promote your business and invite the sellers. As an admin, you can allow your vendors to sell any software on your marketplace.
Most amazingly, you need not configure anything for adding downloadable products on Dokan. Dokan has this advanced feature built-in into its system.
Now, you have to create the following two categories in the product category of WooCommerce :
To do this, go to Products > Categories > Add New Category. Here we have created those two categories mentioned above.
These categories will let your vendor categorize their products easily.
Configure Your Shop for Vendor
Dokan Vendors can sell their software in two different ways. They are:
Uploading the software
Using affiliate file links
Uploading the Softwares
A vendor can set up his/her own shop with a unique URL on your marketplace. At first, s/he needs to register him/herself on the site filling a frontend registration form.
Now, vendors can add products into their shops after login to the site.
Step 1
In order to add new products into the store navigate to your Dashboard > Add New Product.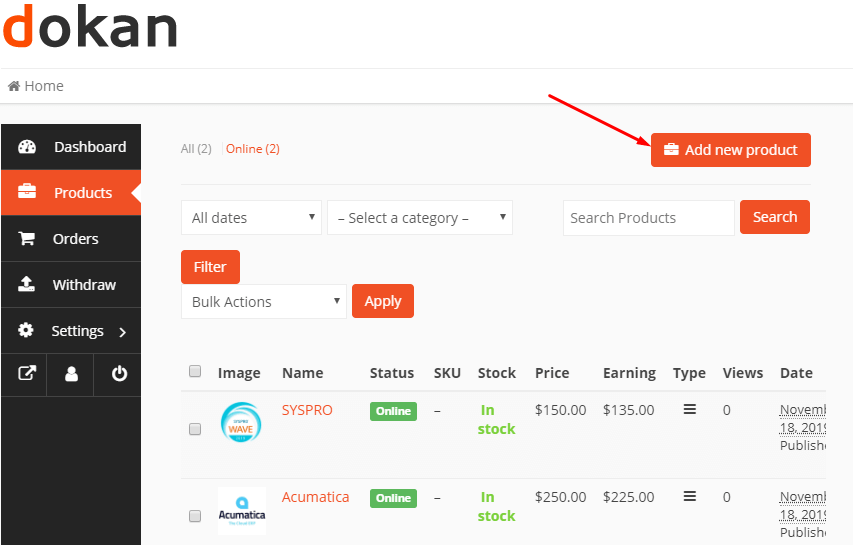 Step 2
Then, you will get a modal window to add your Software details. You should update the software name, price, relevant image, tags, and description there appropriately.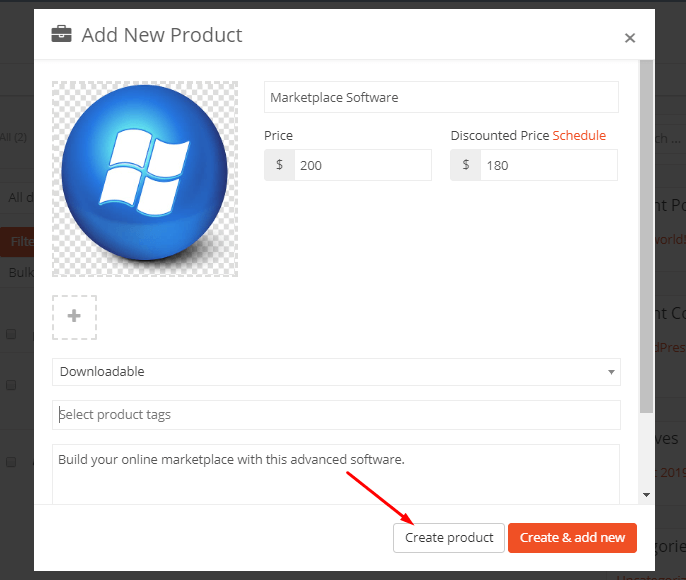 After adding all the information, you have to click the "Create product" button.
Step 3
After that, you will be redirected to the edit page of the product. Here, you get all the options to configure the other software details.
At first, you have to check the Downloadable option. It will let your users download the software instantly.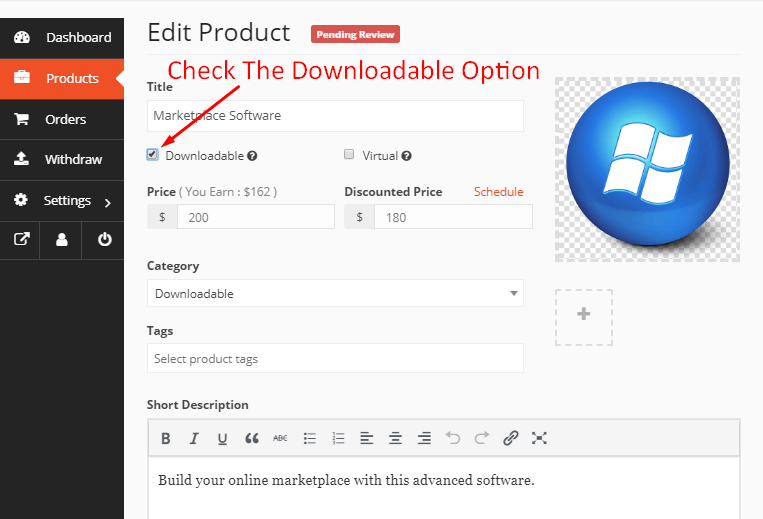 Step 4
After scrolling the page down you will get options to upload your downloadable software. Firstly, hit on the Add File button to get the Choose File option. Now you can click on the Choose file option to upload your software.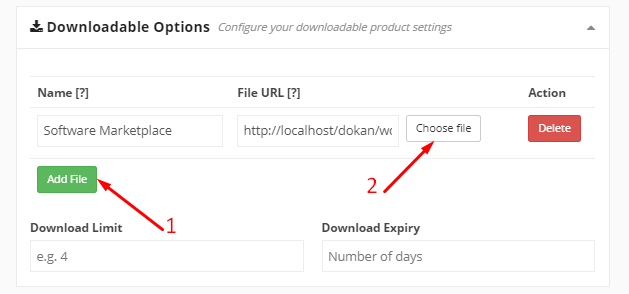 You can click on the Add File button again to upload more related files as many you want.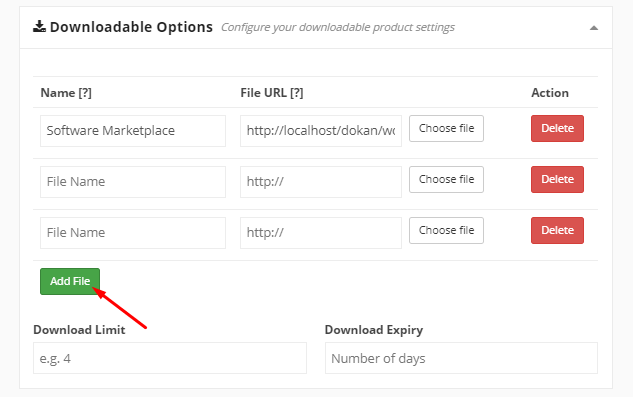 Furthermore, you can specify the number of times a user can download the software. Input the number in the text box of Download Limit. Also, you can set the number of days for your Software expiry with Download Expiry.
After completing all the required modifications, click on the Save Product button.
Well Done! you have successfully added a downloadable Software on your store.
Step 5
Now, you can check your shop. You will get the added software there.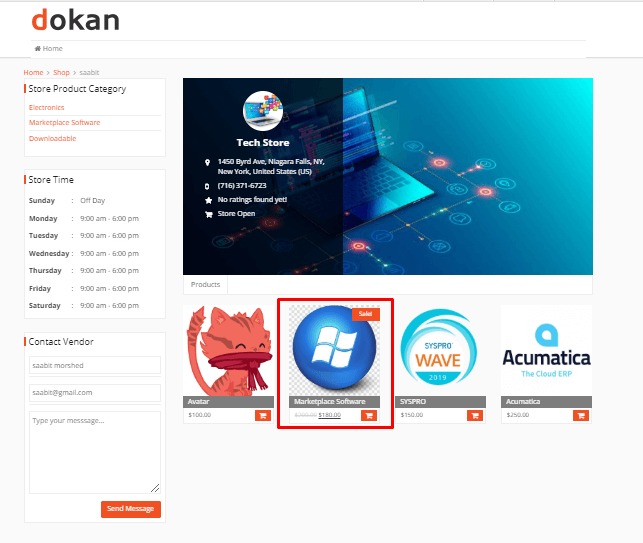 Using Affiliate File Links
However, if you don't upload your Software directly to the shop, you can share the affiliate link only.
In order to do this, follow the above steps to add a product accordingly. Now instead of uploading a downloadable file, you should use the link of a file from another website.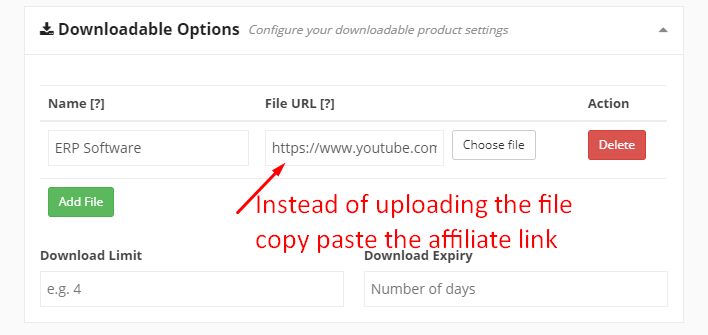 At last, click on the Save Product button to publish the Software details on your shop.
How a Customer will Download the Software
Now a customer can buy the software from the frontend of the marketplace site. The buying process is the same as a regular WooCommerce site.
A buyer will get the downloadable file after completing the buying process completely. After that, they can download the file in the format you have uploaded them. For instance, the file type can be zip, pdf, mp4, and so on.
After purchasing Software a customer should go to the My Orders option from the navigation menu bar.
After clicking on the orders he or she will be able to see the purchased software along with the total amount and other details.
In order to download the software, the customer now has to click on the 'View' button.
Now, the customer will get the download option.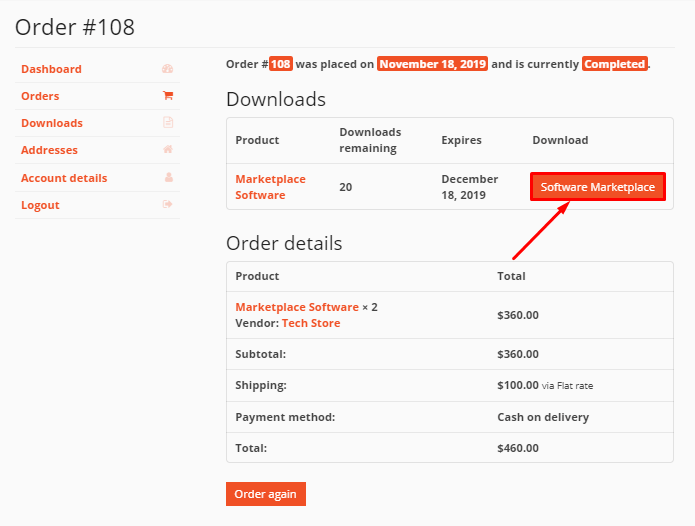 Finally, you can get the software by clicking on the downloadable file. Now save the software on your desktop/laptop.
If you have used affiliate links on your shop then your customers will get the URL. They can visit the vendor's LMS website while viewing the software after payment.
Software Marketplace: Simplest Way to Make Money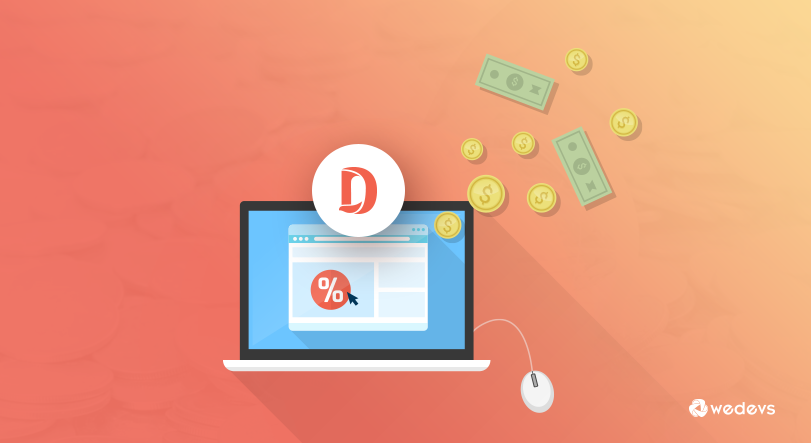 Sofware business is the fastest growing business for the present time. You can spread your brand voice loudly tying up with other companies. A wide marketplace with multiple vendors will accelerate your business revenue rapidly.
However, without owning any business or products you can still build a software marketplace with Dokan. It will allow third-party software companies to sell their products or services on your marketplace. Also, you can add unlimited vendors to build their own stores and run them from the front-end dashboard. Moreover, you have all the managerial power in your hand.
As an admin, you will get a commission for each transaction on your site. Besides this, you can sell your own products by creating an individual store. Therefore, it increases the opportunity to expand your business vastly.
Most importantly, you may not handover the backend access of the WordPress dashboard. In this way, you can ensure a secure and private online experience for your users. You will get a commission for each sell on your site. It is the easiest and simple way to make your pocket rich.
Shipping, Tax and other Required Things at a Glance
Dokan Pro has all the required elements to run a wide Software Marketplace smoothly. Let discover some advanced functionalities you will get with Dokan Pro:
Shipping Method: Dokan is bringing the WooCommerce shipping system to the frontend. Now, vendors can set the shipping rate for their stores independently. They can configure everything on their own with Zone Wise Shipping and Product Wise Shipping system.
Tax System: Dokan has a built-in support system for WooCommerce taxes. Therefore, the admin can configure taxes from the backend for the vendors. After that, vendors can select those tax classes while creating or editing the products for their stores.
Payment Gateway: Dokan Light supports the standard payment systems like PayPal, bank transfer, etc [non-adaptive payment gateways]. And the Pro version supports adaptive payment solutions like Stripe Connect and MOIP.
Coupon Management: Dokan has an intuitive coupon management system for your vendors. You can let your vendors showcase their coupons on the storefront. However, registered merchants can boost their sales by offering tempting discounts and coupons. With Dokan it requires only a few minutes to handle the coupons accordingly.
Thus, Dokan Pro has many more outstanding features to create a big possibility with little price.
Its Time to Think Bigger
There are thousands of opportunities float on the web. This is the time to grab the best one that fits you. However, with the trio combination of WordPress, WooCommerce, and Dokan you can set up your Software Marketplace within an hour maximum.
Dokan diminishes all the complexity to manage an online marketplace indeed. Since Dokan Light is scalable you can extend the features by getting Dokan Pro.
Are you still in any dilemma? Give Dokan a shot now and build your online software marketplace right away!