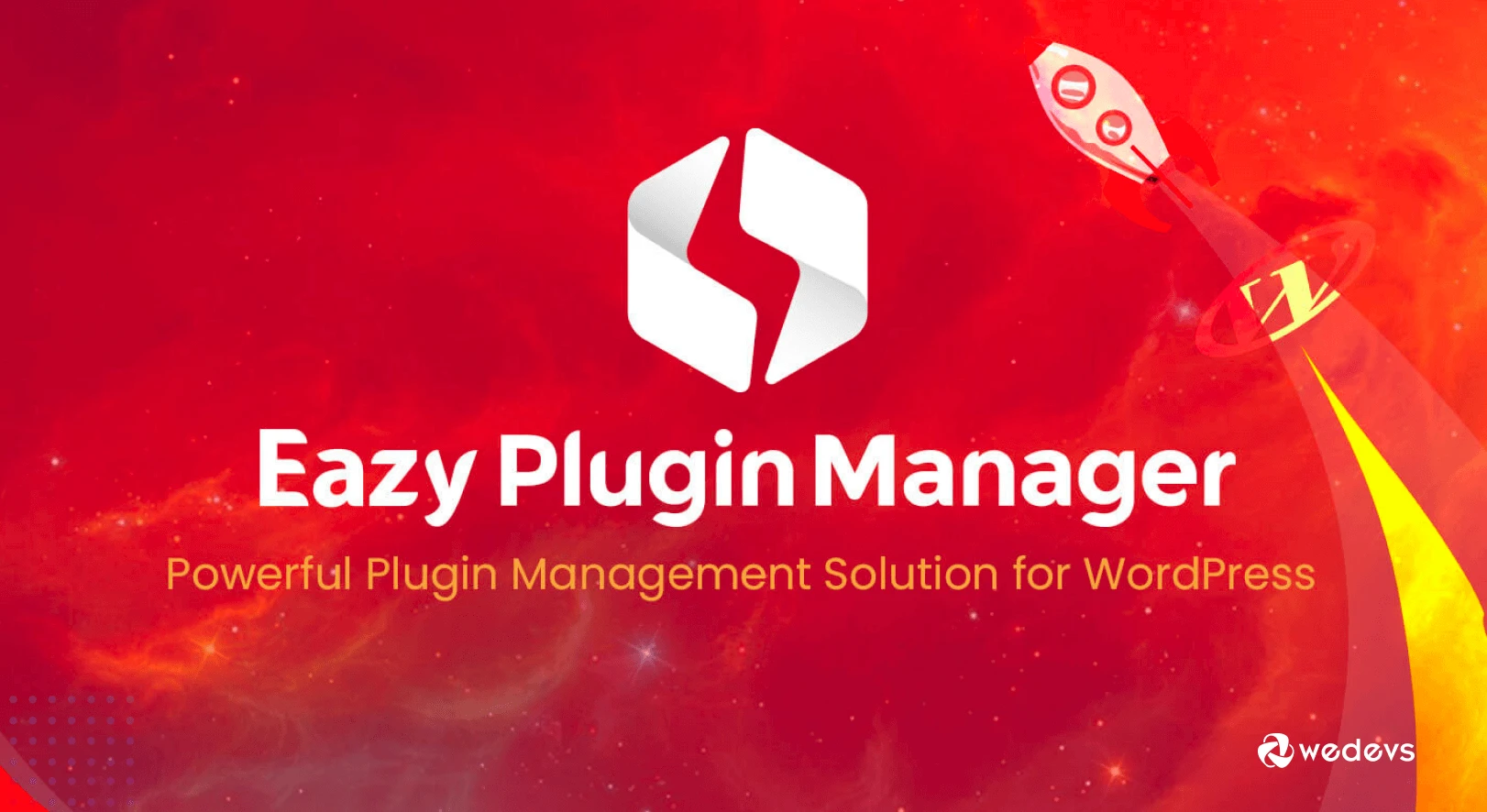 Introducing Eazy Plugin Manager: The Easy Way to Manage WordPress Plugins for Admins and Developers
Eazy Plugin Manager is an administrative tool, which can make a difference in all of the WordPress site owner's daily usage. Organizing a large number of plugins properly is the fundamental concept of this must-have tool.
Plugin developers always focus on the plugins' functionality, feature, and optimization. With time the plugin gets more efficient and effective.
But at the user's end, they pick up new plugins and install them in their never-ending plugin list. As a result, a slow site issue occurs. Not only that! Modifying or removing an essential plugin sometimes creates a disaster for the visual of the website too. All of these issues were noticed and solved by the developers of EPM.
This blog will introduce the plugin and show the user-friendly use cases.
Why Should You Consider Using a Plugin Manager?
Using a plugin to maintain other plugins may not sound that much excitement for many reasons. But there are many advantages of using a plugin manager in your WordPress dashboard which are:
Monitoring installed plugins
Check installation, activated/deactivated status anytime
Bookmark any needed plugin
Download plugins
Preserve exclusive plugins in a separate place
Block plugins
Restrict admin access to the dashboard for multi-admin sites
On-Demand Plugin Asset Optimization
Take notes of your plugins
Read more: Must Have Free WordPress Plugins For Your Site In 2022!
What is Eazy Plugin Manager?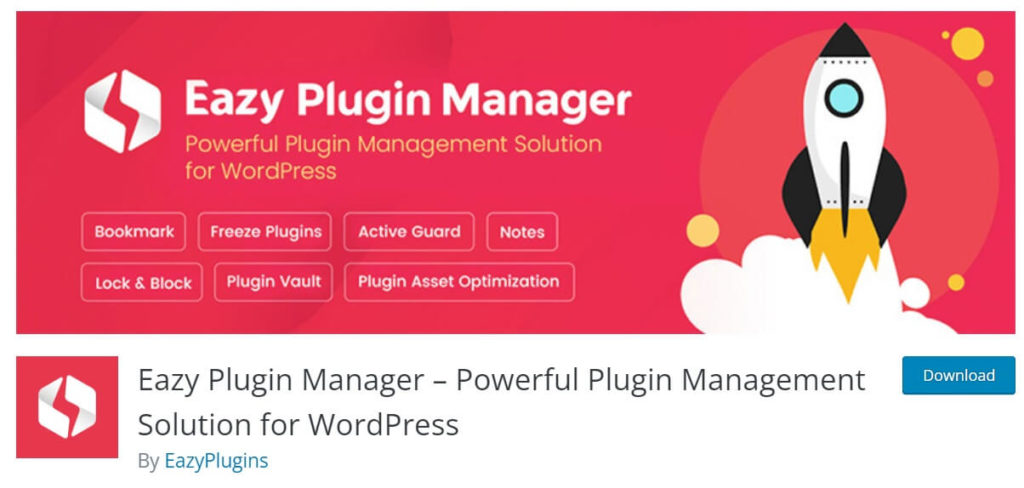 Eazy Plugin Manager is an all-in-one plugin management system that offers users overall control of their installed plugins. It helps users keep plugins balanced so that their sites never face issues like page breaking or so.
This WordPress plugin organizer will help bookmark and categorize installed plugins, keep 3rd party, premium, or modified plugins in a safe vault, manage activation, and deactivation listings, optimize pages with useful plugins, and more.
This plugin manager offers unique features like a note-taking option for each plugin, locking plugins to avoid changes by other admins, allows using any version of valuable plugins.
Features of Eazy Plugin Manager
Eazy plugin manager offers a ton of exciting and effective features that can help you to maintain a WordPress site. Some of the features are –
Get a visualization of your installed plugin
Bookmark any plugin straight from the WordPress plugin store
Monitor installed plugins activity
Preserve plugins on the local drive
Click once to install a bundle of plugins
Get secured on vulnerabilities all the time
Save plugins in a vault
Plugin asset optimization
Block plugin or freeze plugin page
All of these features can not be a cup of tea for every user. But a few of them can be extremely important for your site, depending on your needs.
Here we are describing some of the premium features of Eazy Plugin Manager–
Bookmark the Plugins You Wanta and Keep Them in Separate Lists
Bookmark any plugin that you may use in the future, and never get afraid to forget about it. Eazy Plugin Manager's free feature offers you the option of bookmarking any plugin you want anytime. You can also organize and separate your installed plugins with pro version EPM.
Observe Plugin History
Always observe critical information about your installed plugin with Eazy Plugin Manager. Essential information like plugin installation, activation, update, and deactivation with date and time can be seen instantly on this feature.
Download the Plugin on Local Drive
Please choose your favorite plugin's most comfortable version and download it on your local drive. So that you can install it even if it's not available on the internet anymore. With this WordPress plugin organizer, feel free to make your reserver of essential plugins.
Single Click for Bulk Installation
Install a stag of plugins for separate websites just with a single click. Save your time and energy from installing the same plugins for different WordPress sites you own, and install them all with just one tap. Eazy Plugin Managers' pro version offers you this golden opportunity as well.
Save Plugins in the Vault
Specially modified plugins, third-party plugins, or premium plugins might be more essential than free and general ones available at the store. To keep the special plugins safe, EPM brings a vault for you. Here you can store useful plugins and keep them safe from vulnerabilities.
Stay on Surveillance of Active Guard
Forget worrying about website plugin vulnerabilities as EPM pro covers this one for you. The active guard feature of this plugin organizer can check your plugins for vulnerabilities. And if any issue is found in your installed plugin, it will report you and notify you instantly.
Block Unwanted Plugins
Not all plugins can be suitable for a specific site. These problematic plugins can damage the interface of a multi-admin website even if someone installs them accidentally. You have to block those plugins for good to stop it from happening. With the Block Plugins feature, you can blocklist any plugin to prevent installation.
Take Notes About Plugins
Remember all the essential features of specific plugins with this unique note-taking feature offered by EPM Pro. Take short notes about your installed plugins and go through them when needed.
On-Demand Plugin Asset Optimization
Keep your WordPress website blazing fast by cutting off unnecessary assets. This feature allows you to choose which assets to load on specific pages, posts, etc.
Freeze Whole Pages of Plugins
Freezes the entire plugin page of your website, so no one remains able to make any changes to any of the plugins installed in it. Freeze Plugins is offering this freezing cool feature. It can minimize the risk of unwanted plugin installation, update, deletion, or modification.
How to Get Started With Eazy Plugin Manager
The EMP installation process is super handy. Have a look at how you can grab the plugin on your website.
Step 1: Installation Process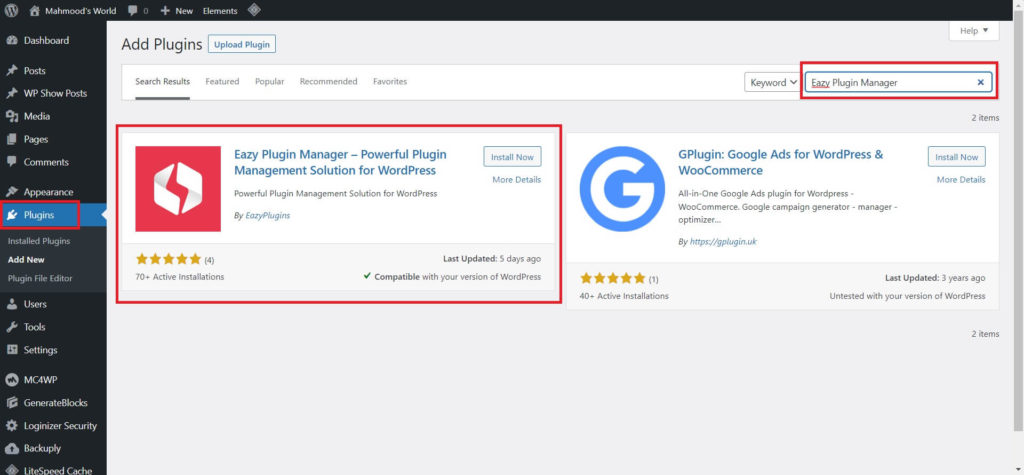 First, open the Wp-admin dashboard by logging in with your credentials. From there, choose the Plugins option. Then tap on the Add New button. Right after that, type Eazy Plugin Manager on the search option. When the plugin gets visible, simply click on the Install button. Finally, press the Activate button to permit the plugin to start its magic.
Step 2: Register to Eazy Plugin Manager
Soon after the plugin gets activated, scroll down and click on Eazy Plugin Manager from the left menu. A new page will appear, where you can see the Sign in/Up button in the top right corner. Press that button to open the portion where you will be asked to enter your email ID and password to sign in.
After completing your Signup formality successfully, a sub-menu will open on the left sidebar. You will get Features, Bookmarks, Active guard, Vault, Optimization, Support, and an Account there.
Let's Explore the Stunning Features of Eazy Plugin Manager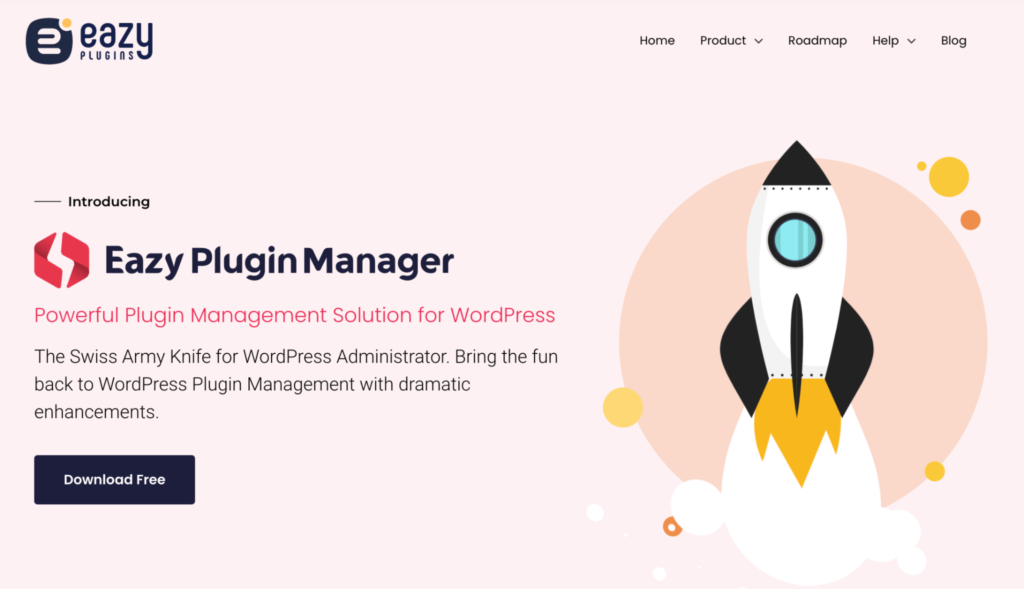 Bookmark Essential Plugins Instantly
To bookmark any plugin, if you go to Plugins and then Add New from the left menu after installing Eazy Plugin Manager you will find a Bookmark button underneath the Install button for each plugin. Click the button to bookmark any plugin.
When the bookmarks get saved in the bookmark tab, you will see options like install, categories, bookmark or unbookmark, and version. These clickable options will manage bookmarked plugins the way you want.
Analysis Installed Plugins History Anytime
Here you can see the current status of your installed plugins. Information like when they are installed, activated, deactivated, and updated is documented here. With the dedicated search option, you can instantly find the exact plugin from a long list to check the overall history.
Secure Your Site With Active Guard
If you don't have any threat, It will show just a line saying that you have no plugins related vulnerability. But the status will change if your website gets any threat because of any plugin. This active guard will warn you with a notification and show you the vulnerability result.
Preserve Valuable Plugins in the Vault
Here, you can save and protect your modified plugins, third-party plugins, and pro downloads. Not only that, you can get access to this valuable box of plugins wherever you want just by logging into the Eazy Plugin Manager account.
Make the Site Faster with Plugin Asset Optimization
With the help of this feature, You can selectively load assets on any specific pages or posts on your website. You can see all of your installed plugins from Plugin section.
Select Item Type and choose which posts you want to load on them. This feature will make your website pages remarkably faster than before.
Support and Account
The last two options on the left-side menu are Support and Account. These two are not features. Both of them are part of the Eazy Plugin Manager system.
In the Support, you get the contact option. Account will show which plan you are currently using and which sites you own. You will have the opportunity to deactivate your sites from the Eazy Plugin Manager here.
Final Notes On Eazy Plugin Manager
The engaging and promising plugin discussed above is created by the powerful developing team of HappyMonster.
This superb administrative tool will help you in multiple ways even if you are a single WordPress site owner or a multi-site owner. Most of all you will learn the simplified and easiest way to maintain your WordPress site, that's for sure.
From weDevs team, Good luck and best wishes to the creators of Eazy Plugin Manager.