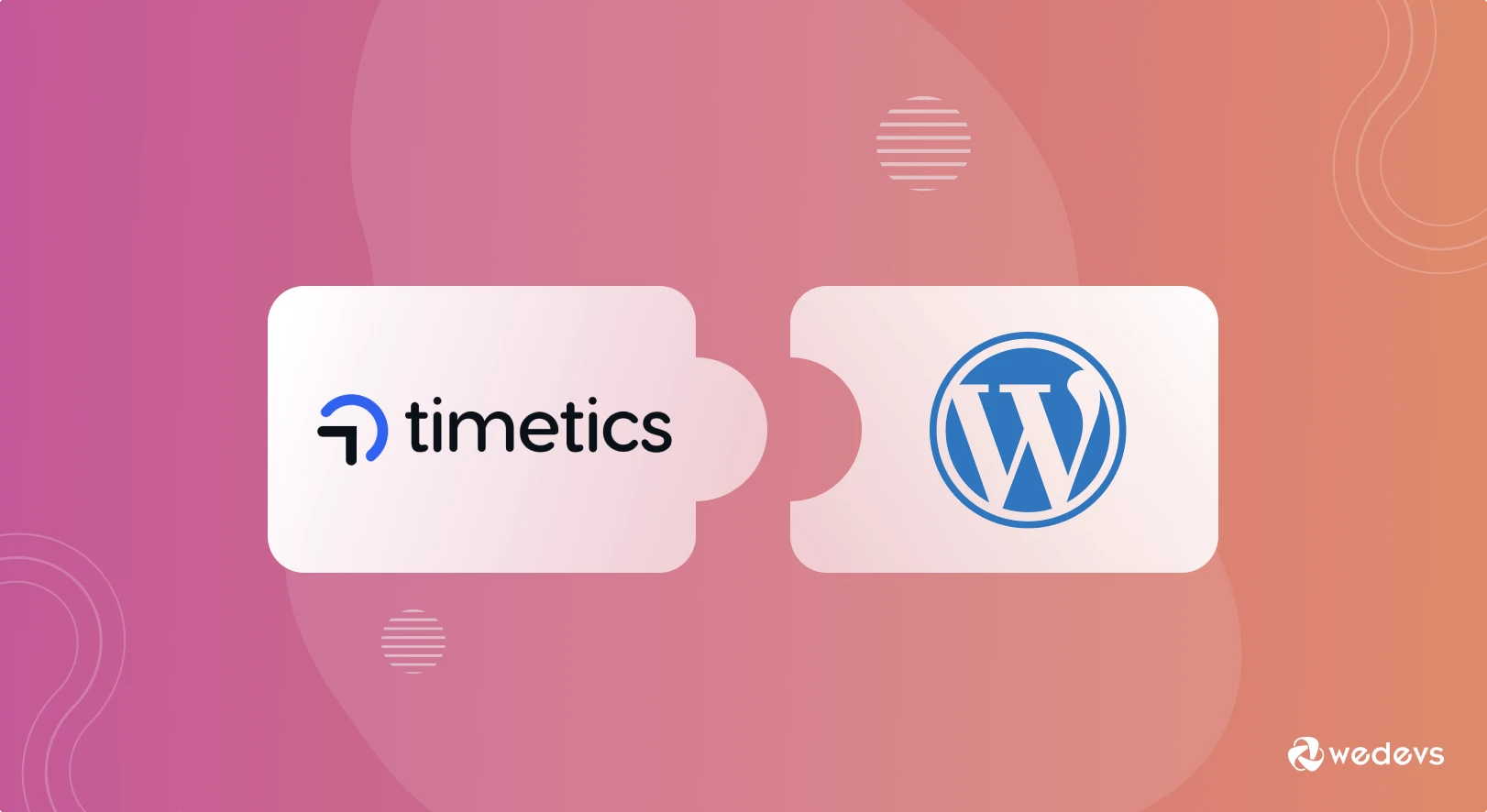 Meet Timetics: The Perfect WordPress Appointment Booking Plugin to Ease Your Life
Regardless of the business we want to do, we always want to grow the business in a hassle-free way. We want to make the best use of technology that will increase our productivity and make the best use of our time.
If you run a WordPress website for your business and if it relies on appointments, using a WordPress appointment booking plugin can be the best solution for you. But there are already a lot of plugins out there and searching for the right one is too overwhelming.

So, we are here to introduce you to Timetics, an advanced WordPress appointment booking plugin with Seatplan that will change the way you operate your business.
Why Do You Need a WordPress Booking Plugin?
A good appointment booking plugin for WordPress can make your overall business operation very smooth. It can even help you grow your business further if you use it correctly.
Easy to Collect Business Insights
With a good appointment booking plugin, you can easily check out which one of your staff members is receiving more clients, which service most people are interested in, or at what time you're getting the most bookings.
Getting such insights will help you make the right decision for your business.
24/7 Booking Support
Since you will be adding this plugin to your website, people can easily book an appointment at any given time. All you have to do is check out the next appointments, confirm your clients at any time you prefer, and everything is done.
This reduces a lot of hassles, and you will be free of pressure.
Reduce Human Errors and Admin Hassles
As everything will be maintained by the plugin, there will be zero to a few human errors. You won't have to continuously give your staff members reminders on meetings/appointments, no clashing between booking times; and most importantly, there will be no complaints from clients about not getting their desired personnel for the meeting!
Easy to Receive Payments
Receiving payments will be much easier and smoother if you use a good booking plugin. The whole payment process can be automated with payment gateways, and you won't need to worry about a thing.
Introducing Timetics: Making WordPress Appointment Scheduling Easier than Ever
Timetics is an advanced WordPress appointment booking plugin with seating plans that can help you automate and grow your business. With a plugin like this, you can reach new heights with your business.
You can literally run most of your operations using Timetics. From creating meetings and bookings, adding staff members and providing them with a personal profile, managing the availability of staff members, and drawing seat plans for your venue to receive payments, all of these can be done by using Timetics.
Here in this table, you will find all the Timetics WordPress booking plugin's current helpful features, which can assist you in your day-to-day life:
| | | |
| --- | --- | --- |
| Unlimited meetings | Email notification | Availability management |
| Unlimited bookings | Google Meet integrated | Customized date and time format |
| One-to-one meetings | Google Calendar integrated | Addup additional note |
| Seat plan | Strip payment gateway | Booking status shown in booking list |
| One-to many meetings | Unlimited staff member management | Booking cancel notification |
| Sales analytics | Addup shortcode | Booking reminder notification |
Explore the Exclusive Features of Timetics in Details
Although this is a new plugin, it actually has a lot of great features that can be very handy when you use them. The core features of Timetics that you will surely love are listed below.
Booking Unlimited Meetings and Events
With Timetics your WordPress booking plugin, you can conduct unlimited meetings at once, also customize them at the same place.
One-to-One Meetings
In case anyone is up for a one-to-one session (i.g. Doctors appointment, interview session, yoga practitioner, etc) Timetics booking plugin can do that in just a few clicks. Just choose a date, time, and payment gateway (if needed) and you're all good to go!
Booking Meetings with Seat Plan
If you are about multiple meetings including seat plans Timetics booking through the WordPress plugin will allow you to do that as well. Timetics booking service makes appointment bookings more fun and in less time.
Sales Analytics
With Timetics, you will be able to get data on your total sales, your total number of customers, the total number of bookings, and the total staff count. These are the initial stats that Timetics can help you with but there are a lot more to come.
Booking Email Notification Staff & Customers
Like another appointment and booking plugin Timetics also provides email notifications to its users. Soon we will also be integrating WhatsApp for live message appointment notifications.
Google Meet & Calendar Integration
With WordPress Timetics, Google Meet and the calendar have been swiftly integrated. Now with Timetics appointment booking service, anyone can easily conduct a one-to-one and/or group meeting. 
Stripe Payments Integration
Online payment gateways are one of the essential features of a booking calendar. Stripe gateway is there and soon Zoom integration will be active. 
Staff Members Management
Timetics WordPress appointment booking plugin allows you to manage as much stuff as you want. With this booking meeting feature, anyone can add and provide accessibility to your designated team member.
Meeting List Shortcode
If you want to add a little personalized touch to your WordPress booking plugin, then this adding-up shortcode will give you the benefit of creating a unique touch to your appointment form.
Date and Time Format Support
Timetics your WordPress appointment booking plugin will allow you to confirm the date swiftly and convert the time accurately.
Eventin Integration
Eventin helps to create and manage events from your WordPress website. With Timetics booking plugin Eventin is integrated. Which provides you the wings to create and manage events on your WordPress website without any hustle.
There are multiple features under development. They are releasing new features following the agile methodology.
Timetics vs Other Plugins
Let's look at what Timetics brings to the table compared to the other appointment booking plugins for WordPress.
| | | | |
| --- | --- | --- | --- |
| Feature | Timetics | WP Amelia | BookingPress |
| Unlimited Bookings | ✅ | ✅ | ✅ |
| Unlimited Meetings | ✅ | ❌ | ✅ |
| Unlimited Staff Members | ✅ | ❌ | ❌ |
| Language Translation | ✅ | ✅ | ✅ |
| Google Meet Integration | ✅ | ✅ | ❌ |
| Shortcord | ✅ | ❌ | ❌ |
| Multiple Meeting Types | ✅ | ❌ | ❌ |
| Seatplan | ✅ | ❌ | ❌ |
| Ai Integration | Coming soon | ❌ | ❌ |
| Fluent CRM | Coming soon | ❌ | ❌ |
A lot of the features are in progress and the Timetics team will add those features sooner than you think. So, don't miss out on this plugin. Because in the near future, this plugin might be the best companion for your business.
How Timetics Can Help You Grow Your Business
As you've seen until now, Timetics really packs a punch when it comes to features. But how can they benefit you? This might be a valid question from your end. Let's look at the benefits, shall we?
Create and manage seat plans and let your customers book seats wherever they want
Do virtual meetings on the go
No additional cost to create new meetings and bookings
No additional cost to add new staff members
Significantly lessened workload
Clients will always be up-to-date with your meetings
Let's explore a few real-life use cases to see how Timetics can be used to solve different users' pain points. We have added digital marketing agencies, health clinics, and cinema halls, but there are way more categories that can use Timteics.
Digital Marketing Agency: If you run a digital marketing agency, your clients can book a consulting session with any of your consultants according to their needs. You can also track which one of your consultants is getting more clients, and according to that data, you can make better decisions.
You can also use the sales data and show it on your website to attract more clients.
Health Clinic: Running a website for your health clinic isn't easy, but Timetics can help you. Just like with the digital marketing agency, patients can also book appointments with their respective doctors.
Cinema Hall: The seat plan feature of Timetics can really come in handy if you run a Cinema Hall. Customers can book their preferred seats and pay for them through the payment gateway. This will make your work easier than ever.
How to Get Started with Timetics
Starting with Timetics is easy. You will need to follow four basic steps. If you are already on WordPress, it's a matter of moments. We are assuming, you already have a ready WordPress website. If not, you can check out the basic WordPress setup.
Install and Activate Timetics
Even if you are a beginner, installing and activating Timetics won't be a hassle for you. You just need to follow three simple steps.
Go to the WordPress dashboard and then Plugins→Add New.
Go to the search box and type 'Timetics'
In the search result, you'll see the Timetics plugin. There just click install and after it is installed there will be a button to activate the plugin. Click the Activate button.
After you've activated Timetics. This is what the dashboard will look like –
And that's it, you have successfully installed the Timetics Plugin.
Add Team Members
To add new team members, go to Timetics→Staffs→Add New. You will be served with a form. Just fill up the form and click Invite Staff Member.
An invitation email will be sent to your staff member. If he/she accepts the invitation, give him a warm welcome.
Setup Your Availability
To set up your availability, go to Timetics→Staffs. Just beside your profile, you will see two buttons – Manage and Remove. Click on Manage then you will see your profile information. From there go to Availability.
As you can see here, there are two options – Use Default Availability and Customize Availability. Choose any one of them, set your availability, and then click on Update Availability.
You can find a step-by-step guide to everything in the Timetics Documentation.
Upcoming Features of Timetics
In this section, we would like to talk about the upcoming features of this plugin. As Timetics has been released with MVP features, upcoming features are also under consideration.
Artificial Intelligence (AI) Integration
The era of AI (Artificial Intelligence) has begun, and they won't fall behind in this new fast-paced era. They will integrate AI features very soon with Timetics Pro, and you will be gifted with the kind of convenience you never thought you wanted, but you deserve it. They are already doing R&D to come up with a better solution.
CRM Integration
Regardless of what business you do, email marketing plays a huge role in generating more sales these days. We always want our customers to expand their businesses, and that is why we will quickly add CRM integration for you to automate your email marketing. At this time, they are researching the best CRM that we can integrate for managing your future leads.
WooCommerce Integration
We already have a Stripe integration, but we never want to limit our customers to only one option. That is why we will very soon give you the option to sell your ticket through WooCommerce as well. WooCommerce is hugely popular in the WordPress industry. And we want our users to have the flexibility to use it on their appointment management website.
Business-wise Template
Tiimetics is the type of WordPress plugin that goes with any business requiring appointment booking operations. So, for example, if you run an online coaching center, you would naturally want the name of each meeting to be "class" or the name of the staff members to be "teachers" or "coaches,", right? That's why the team will very soon give you the option to set up the Timetics environment according to your business theme.
Final Verdict
In a nutshell, Timetics has and will have every possible feature you need to grow your business. It has a lot of potential. So, if you think that your business needs to be automated, get started with Timetics.
Is there something we can help you with or any questions that have on your mind?… Don't hesitate to ask in the comment section below!