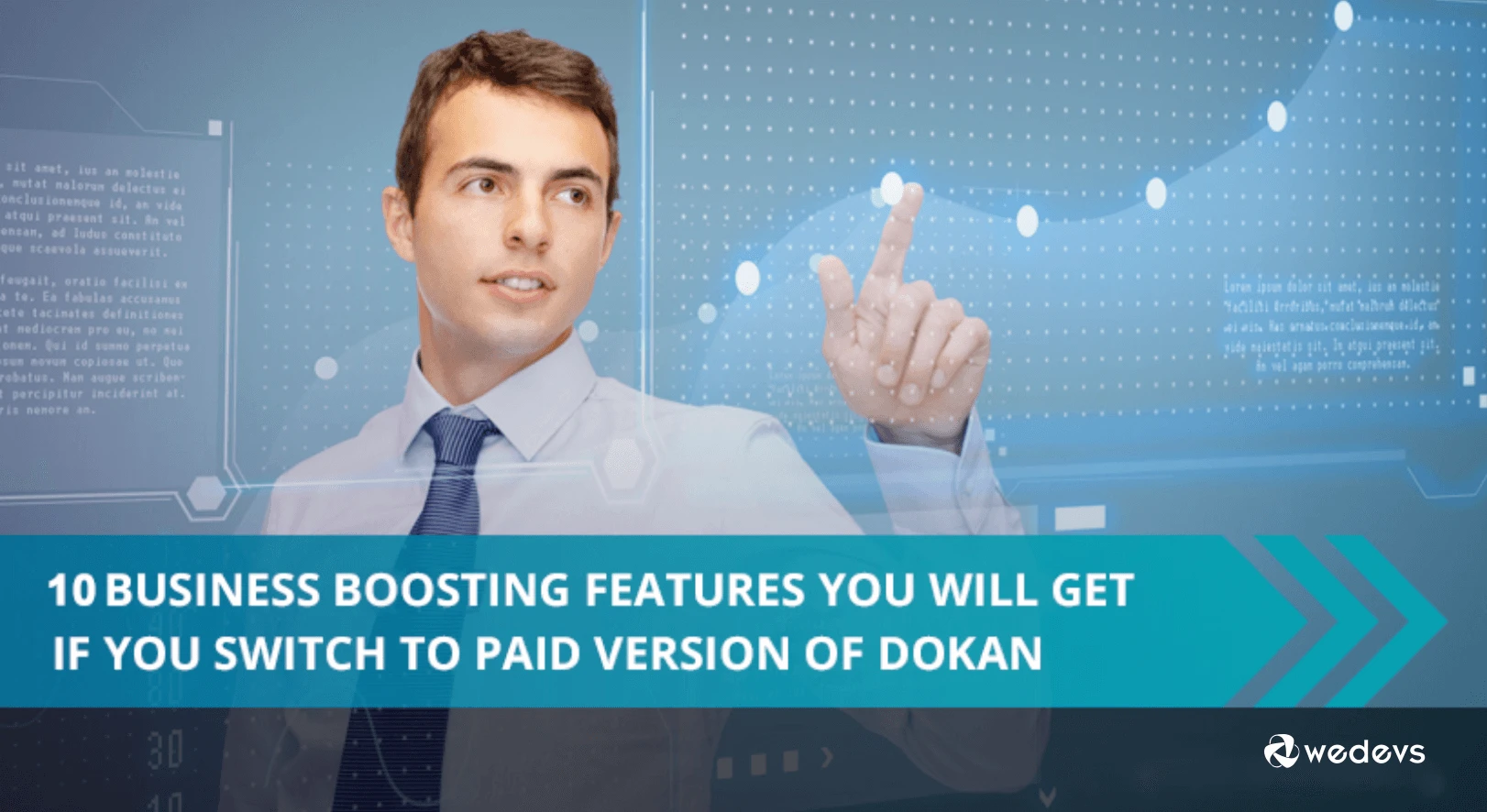 10 Business Boosting Features You Will Get If You Switch To Paid Version of Dokan
Dokan comes in two different sizes, Dokan Lite (free) and Dokan (the full and paid version). We created Dokan Lite so that you can have a sneak-peek of the features of Dokan Multivendor Marketplace. To do that, we had to curb and disable many features from the original. But if you have liked it, chances are you will love Dokan in full.
Dokan "Pro", which we casually call among ourselves at weDevs aimed to make it a software that can greatly empower market admins and vendors for a fast growing e-commerce space. Dokan has a long list of features and is a highly customizable marketplace builder.
Unlike WooCommerce, WC-vendors, BigCommerce, Volusion, or other markets, Dokan does not restrict you with only a few features and personalizations. Buying a Dokan license unlocks to you the possibility to manage your business with the flexibility and features that make a business winning. Dokan gives you the edge.
Switching to full version brings you several advantages, here are some to mention:
Updates
Dokan is a constantly expanding plugin with innovative feature add-ons and tweaks the market standard tools. We rarely update Dokan lite. So, if you switch to the pro version of Dokan you will get all the recent updates and tweaks instantly.
There is nothing cooler than staying ahead in the market with the latest features. You can check out our Bitbucket repository for our upcoming developments to Dokan.
More Features to Manage Your Sellers
Dokan lite does not have a seller management system. Here you do not get to check up on individual sellers you have, make customized settings for them like making a vendor featured, enabling selling or pending product status or suspending a vendor from the admin dashboard.
So, in Dokan lite you cannot control the quality of vendors or the products they are uploading automatically. You would have to go through the wp-admin >products page to manually check products and review them, which is very time-consuming & painstaking.
You can read about the seller management system of Dokan from our Docs site.
Detailed Reports for Sellers
Dokan lite also does not offer any seller reports. Selling products and not getting any analysis of your trade's ins and outs can become a great setback. In Dokan, your sellers will get a fully detailed report with orders review, product review, product status, daily sales graph etc.
Switching to Dokan will greatly increase the efficiency of your sellers because they can now finally have statistics of their business.
You can check out how Dokan seller reports look from here.
Better Product Management
Dokan adds more parameters to your product details in the seller dashboard and allows the site admin to review products before publishing them. With Dokan lite, you cannot add variable products and creating a new product for a variant each time is not only time consuming but also illogical.
If you see that your sellers are doing this to add their products, it is a high time you switched to Dokan to solve their problem. It means they are facing trouble and their business is growing. Since their growth is your growth, so make it as smooth as possible.
Learn how to add variable products very quickly with their flat style interface.
More Gateways, Coupons and Announcements
Dokan Pro has more built in gateway support than Dokan lite. So, you can have the full set of basic gateways which you need to start off with your business. There are always add-ons to expand to more. Switching to Dokan also will allow you to add coupons to your marketplace to run promotions. Promotions gives your business the extra boost during social occasions like Christmas or just to keep the sales up in the off seasons.
Or suppose you have teamed up with a company who just wants their special customers to get a discount with their coupon. You will also get an announcement feature that will allow you to make announcements to all your vendors on their dashboard. So, getting the full version of Dokan will get you to do these interactive marketing business features.
A Better Storefront
Dokan will let you add contact forms, social profiles, a sidebar containing information like most sold products etc to your seller's storefront. You can switch to the paid version of Dokan to make your storefronts look richer and filled with information. Dokan seller dashboard also has a bar on top to indicate your profile completion.
Look on how to create a complete storefront on Dokan.
Multiple Product Category and SEO
Setting product taxonomy is greatly helpful not only organizing your market's product listing but also they keywords help you get search engine hits. Dokan Lite is currently does not allow product tags or category. Dokan also has a built in social profiles and SEO feature. Switch to the paid version of Dokan to get these.
Checkout how Dokan Store SEO works.
Social Profiles

Dokan lets you add social profiles to seller store front. Your vendors will be able to add social accounts like Facebook, Twitter, Google+  etc to their contact information. Socializing with customers carry a positive vibe almost every time and that's why it has become extremely popular now a days. Customers would even go to the vendor's Facebook accounts to check out if they have a good reputation. So, if you want to roll with the trend, you can switch to Dokan.
Dokan Shipping
Dokan lite only allows you to configure shipping through the prerequisite WooCommerce plugin. The shipping features inside WooCommerce are largely inadequate to meet up with the vast features of Dokan in full. For the better, richer and to configure your shipping with a simpler interface you should switch to the paid version of Dokan.
We have a detailed tutorial on how to setup your Dokan shipping.
Mail Notifications

The paid version of Dokan will allow the admin to receive email notifications when ever a new order is placed or cancelled, an order is processing or completed, refunded, a new seller joins or requests invoice etc. Getting email notifications for actions going inside your market is very handy to track specific activity of your vendors and keep a history.
You may not be at your computer, but you can always check on your market from your portable device through mails. Dokan sends emails to the market admin and the vendors for specific predefined events. This greatly advantageous feature only comes with the paid version of Dokan.
Put Your Thinking Cap on!
Though these are not the only things which you are going to get, as we dig deeper we always find Dokan to be better in every way from other market rivals. So, if you are already using Dokan lite, you are one step closer to Dokan. We hope you will consider Dokan as the best solution for your marketplace.
And when you think you are ready, Add Dokan to your Cart!