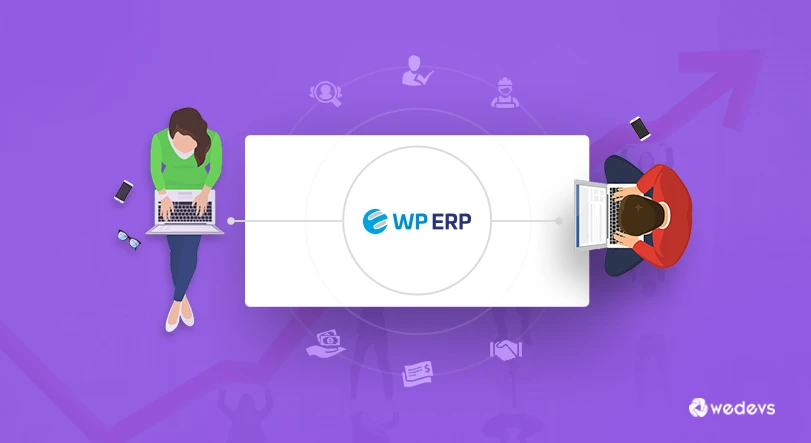 How We are Using WordPress ERP Here at weDevs – Part 1
Every company needs an automated solution to manage their day-to-day business operations. Without such solutions, it becomes really difficult for the management to successfully operate the company. Being the same, weDevs also requires a powerful tool for managing their 50+ employees and also daily business operations.
You may already know, we are the makers of WP ERP, the first WordPress Enterprise Resource Planning (ERP). So, we thought why not use our own solution for managing our company?
This is a great approach to make sure we are delivering the most usable and functional solution to our end users. You may ask- How's that?
Well, the thing is- when we are using the solution, we are solving our own problems. Please note that- every company faces almost similar problems every day and they have to deal with them properly. As a result, when we are solving our problems using the solution, we can guarantee that our users will also be able to solve theirs.
Sounds really complex, right?
Don't worry, we have prepared two long enough blog posts to explain this approach. We are also going to show you how we are using WP ERP for our own use.
Solve your own problems to solve others
Just like any other successful company, weDevs has to deal with basic business operations including –
Managing Employees
Handling Finances
Marketing our Business
Working with Technology
Maintaining Orders
Customer Support
Stock Management
Managing our Asset
Recruitment of new employees
Besides these, there are hundreds of operations that need to be managed every single day.
WordPress ERP, How it All Started
Actually, we wanted to create something that could help us to manage our company in the first place. After extensive research and hard work of our COO and Co-Founder, Md. Nizam Uddin, we decided to create our very own ERP system for WordPress.
Our CTO and Founder, Tareq Hasan, realized the importance of having HR, Accounting and CRM modules in our business. As a new company weDevs didn't have many resources and manpower to handle overall business operations. They didn't even know how to manage a company! So, what will new companies or start-ups do to solve such problems?
Keeping this in mind and figuring out there was no complete ERP suite for WordPress, Tareq Hasan promptly began working on the solution. From the start, weDevs, most importantly, Tareq Hasan, believed WordPress is not only a CMS, rather it is a platform where anything can be built and deployed.
If you could manage your office within your WordPress dashboard, why wouldn't you want it?
Bam! The idea was born and after two years of hard work and coding, Tareq Hasan and Md. Nizam Uddin successfully launched WP ERP on 16 March 2016.
You can read all about the beta release of WP ERP from here.
How are we managing our office now?
weDevs is a family of almost 50+ members now. Its a quite big team for a WordPress company. Managing all these people is not an easy task. It requires both strict supervision and considerate understandings. We intended to use WP ERP as the management software of our company because we love WordPress.
Now, let us show you how we are using WP ERP to manage our day to day business operation and also our office. Managing a company is really difficult and very complex. As there are so many tasks to manage, it may take so much of your time to go through the whole post. Thus, we have planned to create 2 parts (episodes) for this interesting post. In the first part, I am going to show the journey of an employee, actually myself, how I came here and how the management of weDevs operated everything. Mainly, the Human Resource (HR) operations will be demonstrated here. Let's get started then.
So, I first hear about weDevs on the web while learning WordPress back in 2015. I saw their Job circular on a renowned newspaper and followed the given link. I ended up landing on their recruitment page and from there I applied for a suitable position.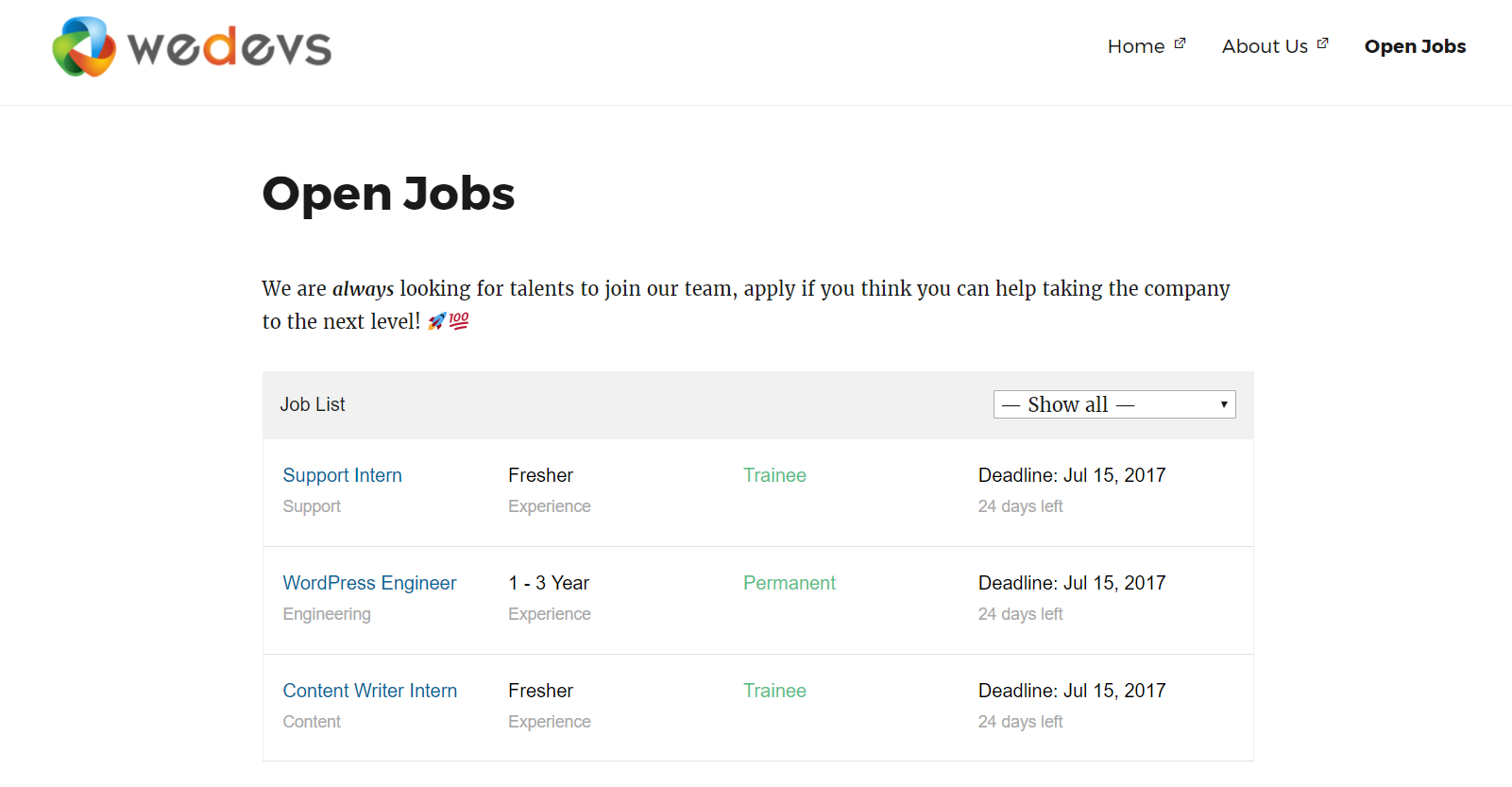 After filling up the application directly from their website, I received a notification email of a successful application. It seemed really easy.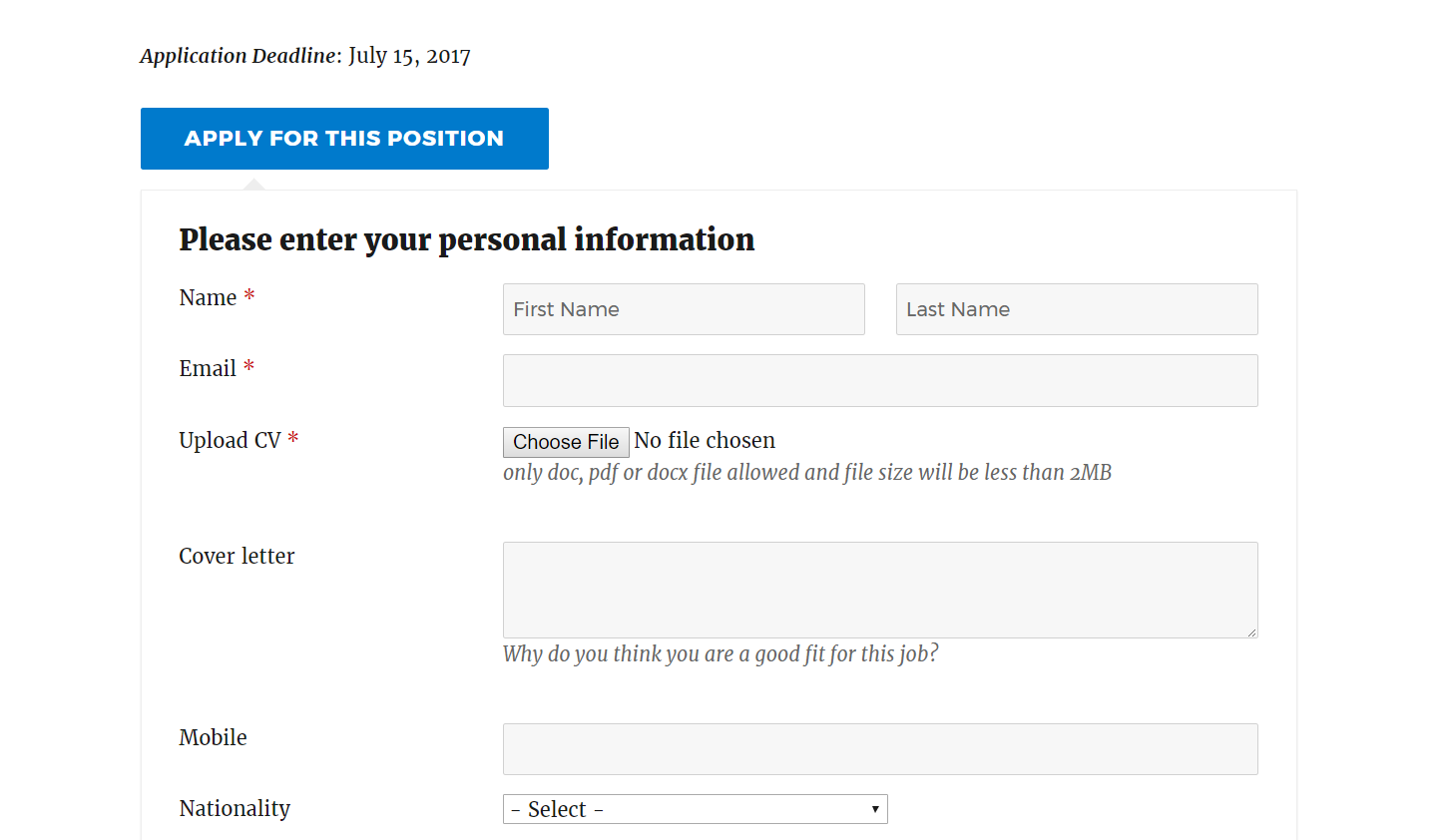 When I applied, my application was received by weDevs team and they –
Evaluated my application
Scheduled Phone Interview
Took Online Exam
Placed Face to Face Interview
Appointed me for the position
All these steps along with the application and application process were managed using WP ERP Recruitment Plugin. All employees of weDevs had to go through these stages to get their respective positions.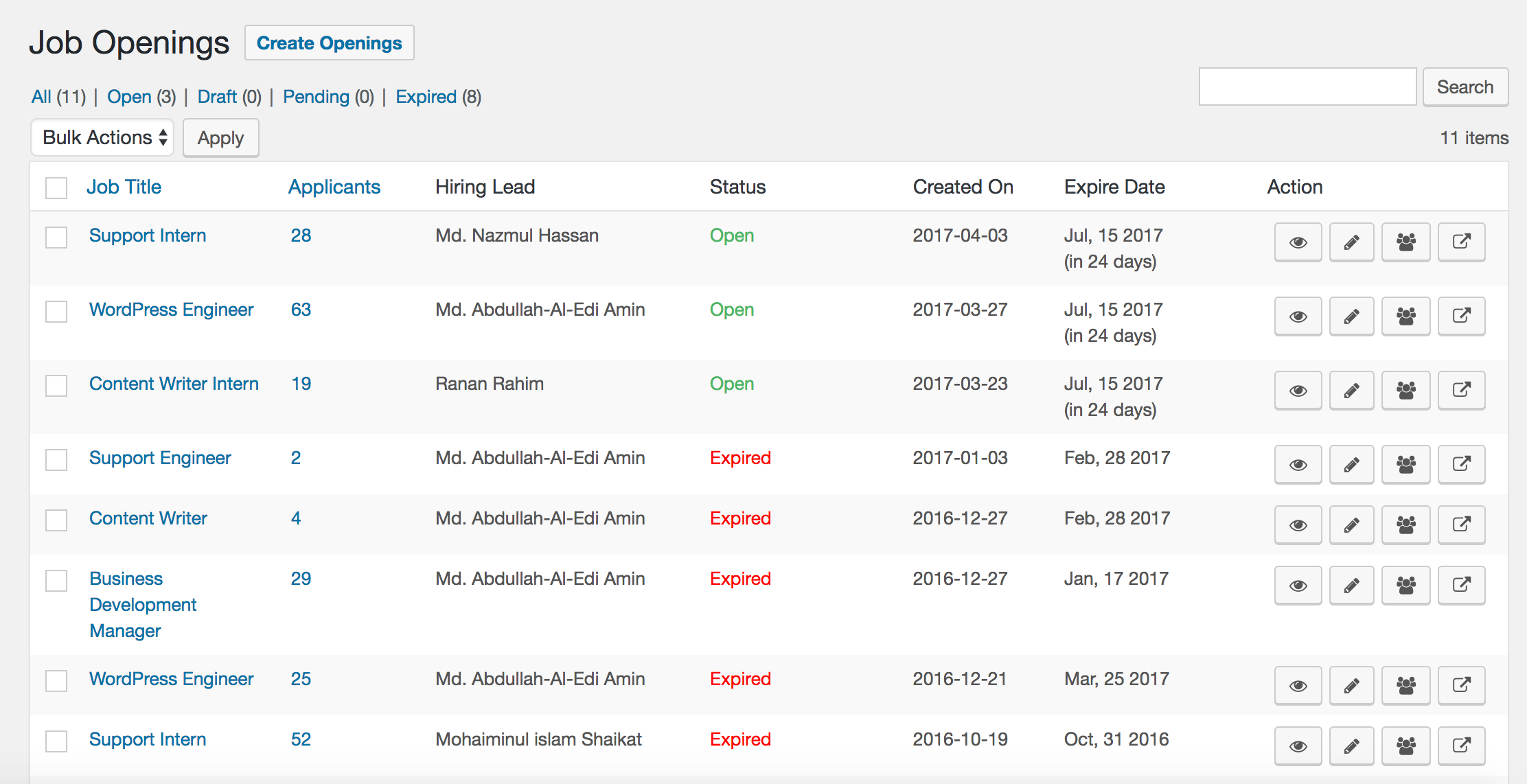 Here at weDevs, we manage the information of our candidates properly. We follow step by step workflow to make the recruitment process effective.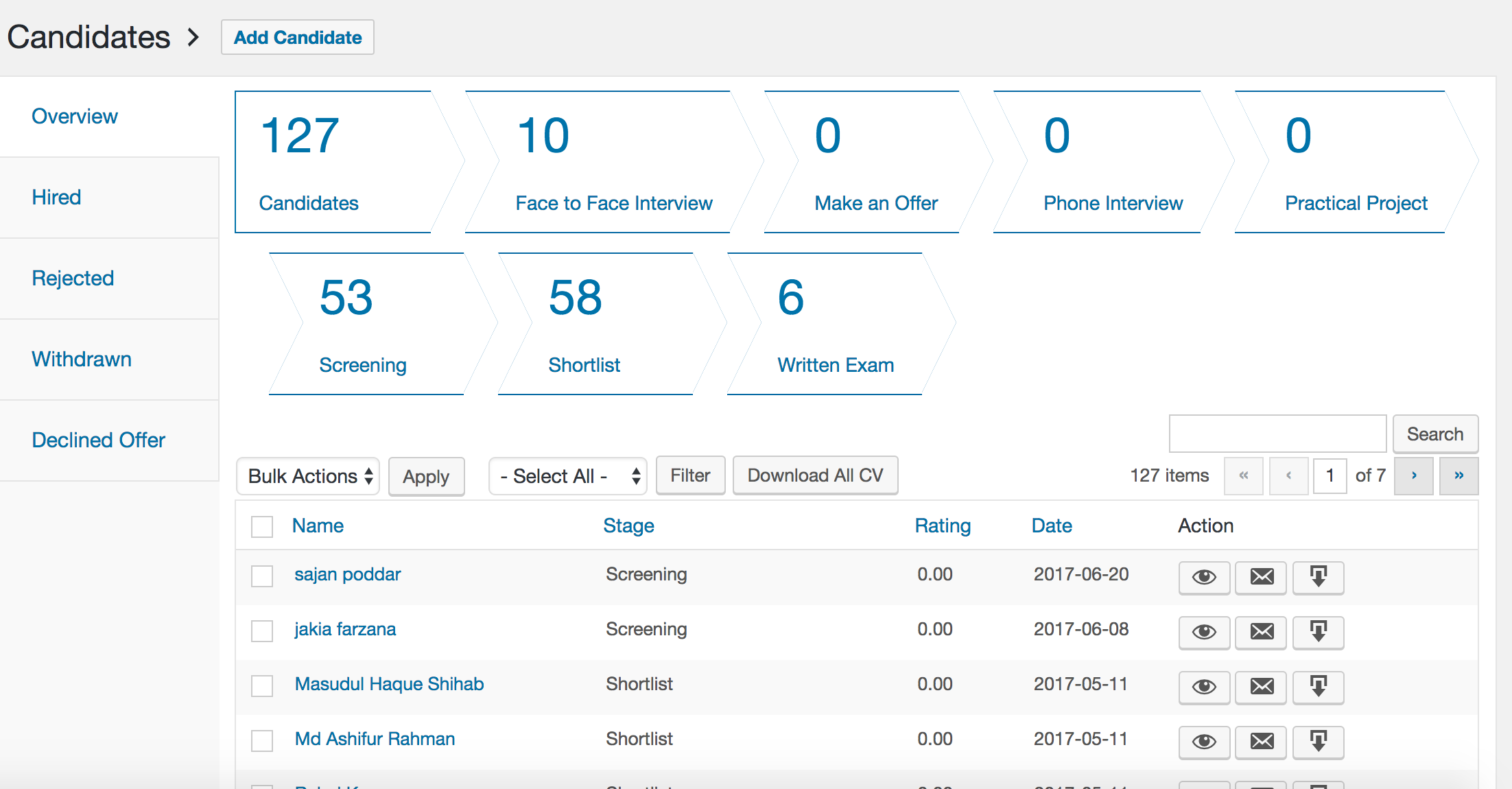 We judge each of our candidates with proper criteria so that we can acquire the best people from the list. And the Recruitment plugin helps us to do all these things easily.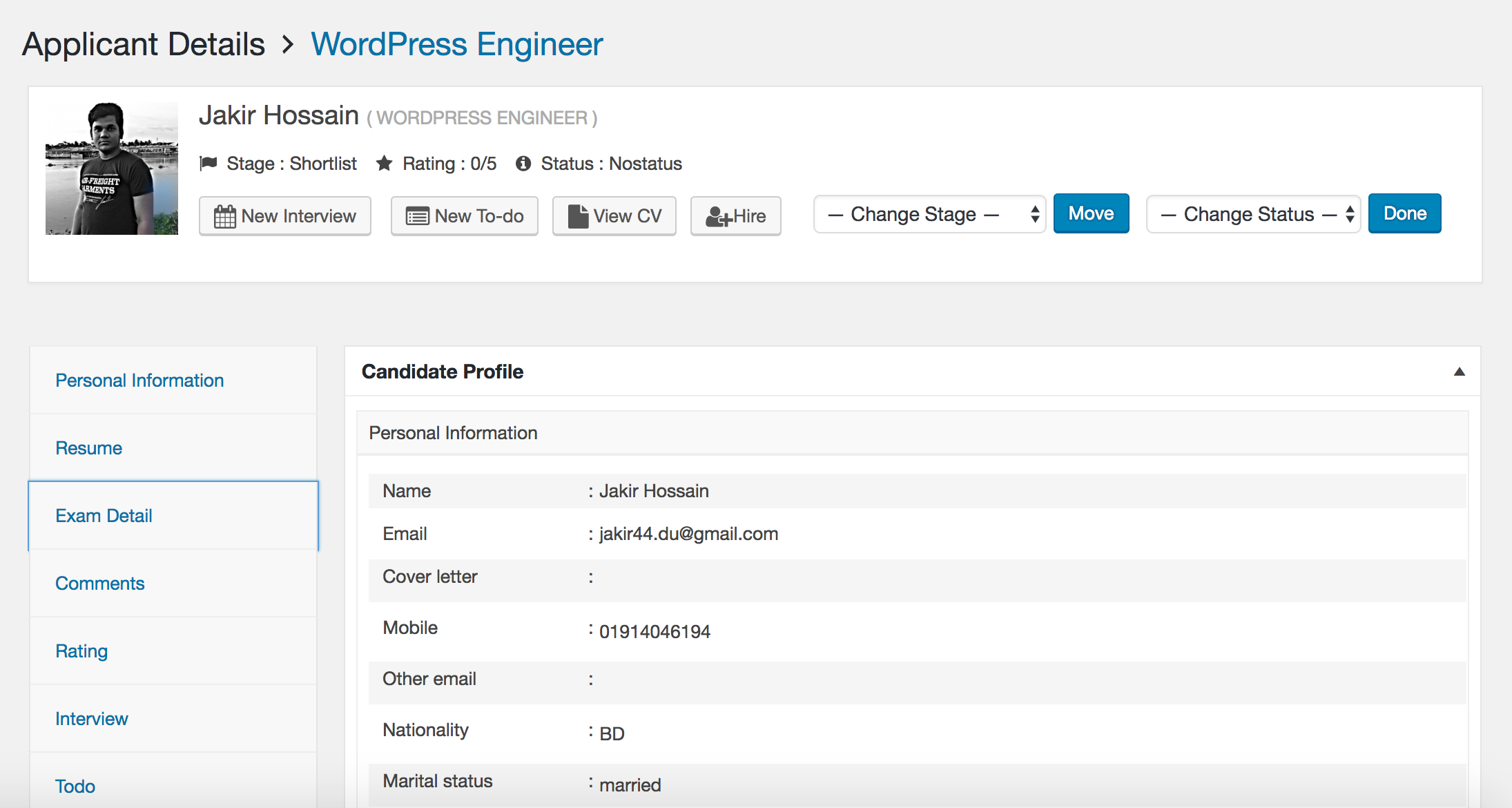 Keeping Employee Information & Managing them Using HR Module
The Head of HR and Admin of weDevs manages all employee data, departments and designations using HR module of WP ERP. He can get bird's eye view of the HR departments status from a single page and this makes his work easy and also reduces the error margin.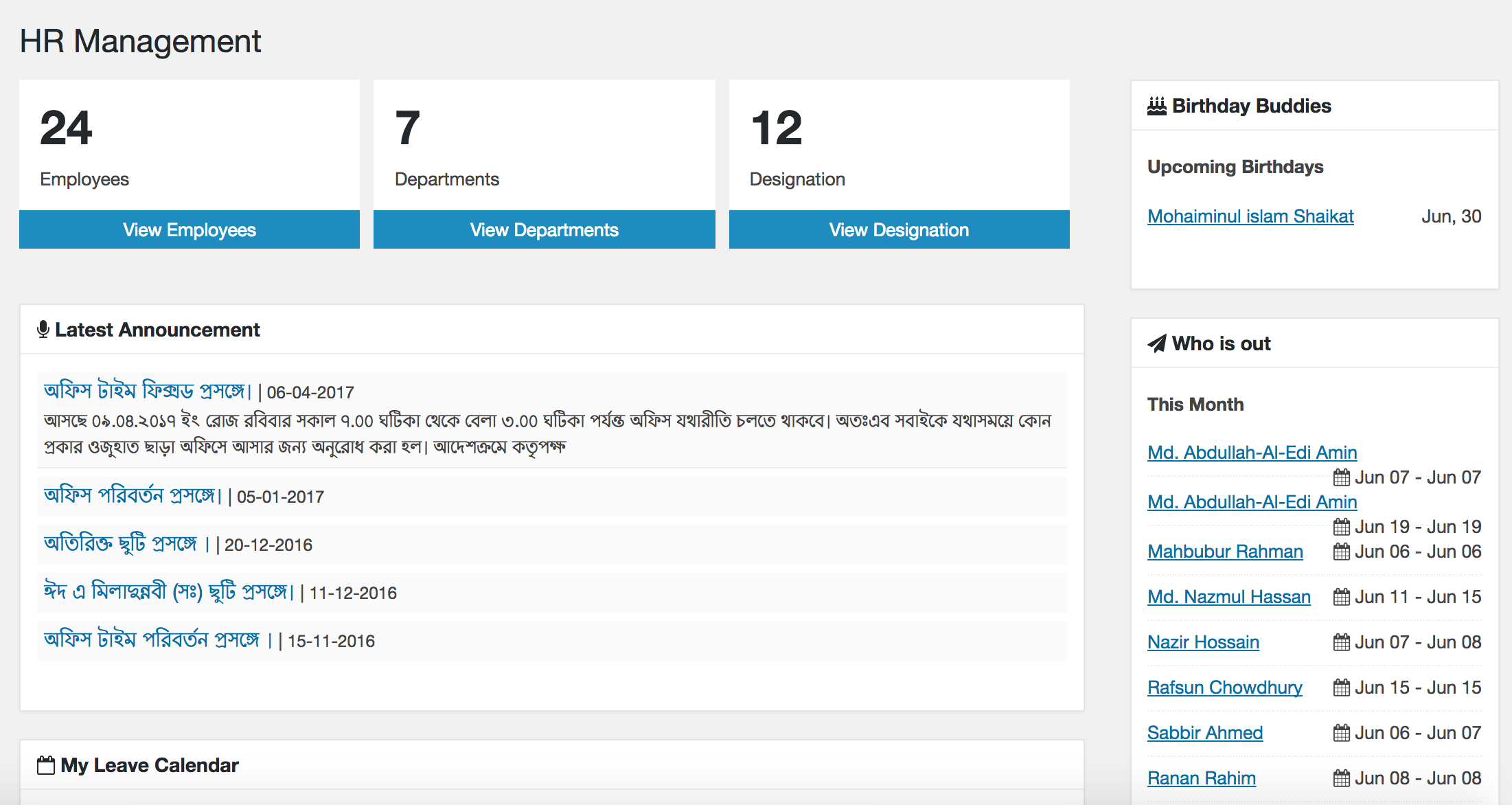 WP ERP HR module is capable of creating individual profiles for each of the employees. We can log in to our own profiles and update data if necessary. Besides the data, there are many other functionalities that help both employees and management to work in harmony.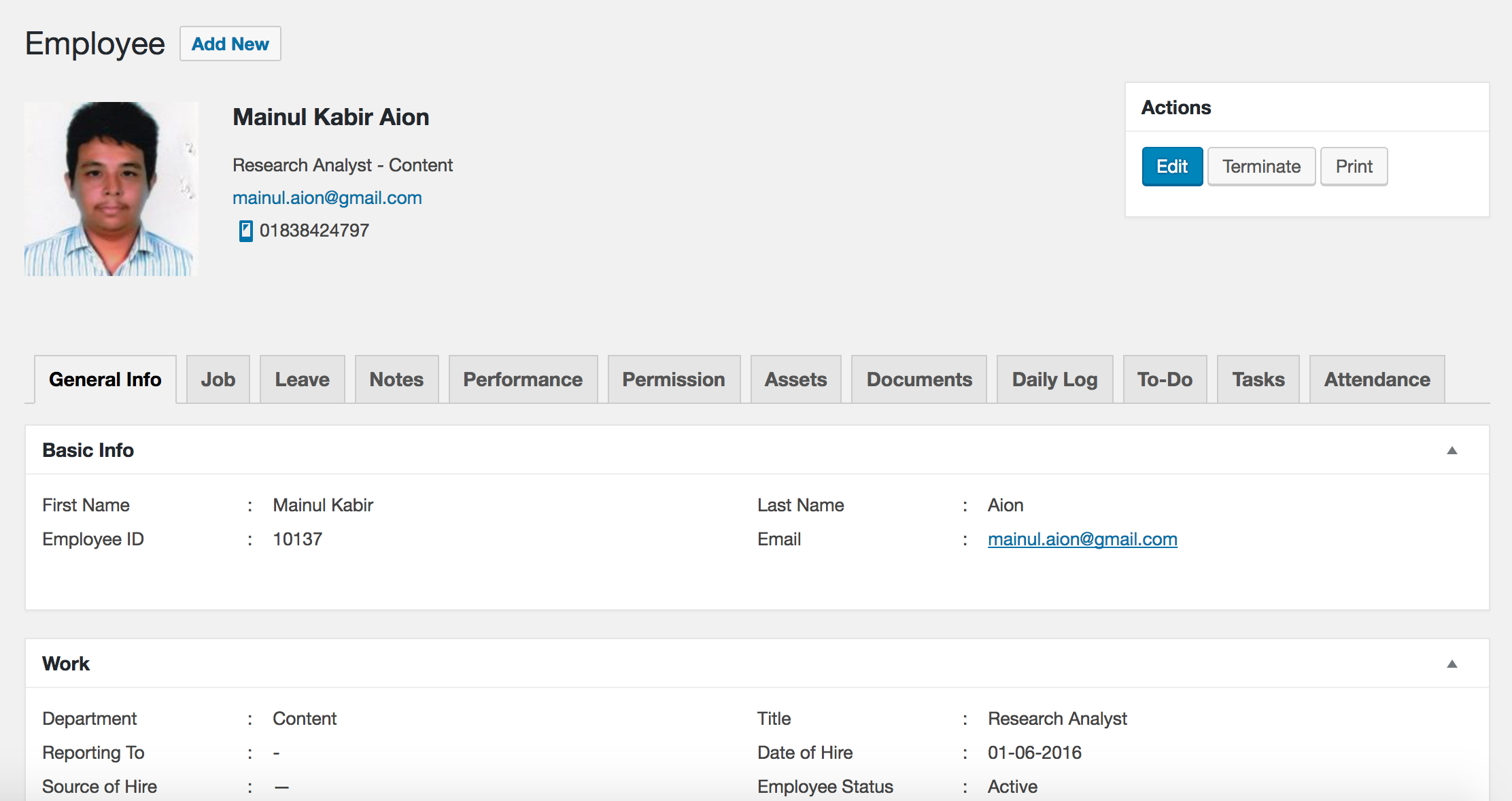 All our job related information is available here. We can also view basic information of our colleagues.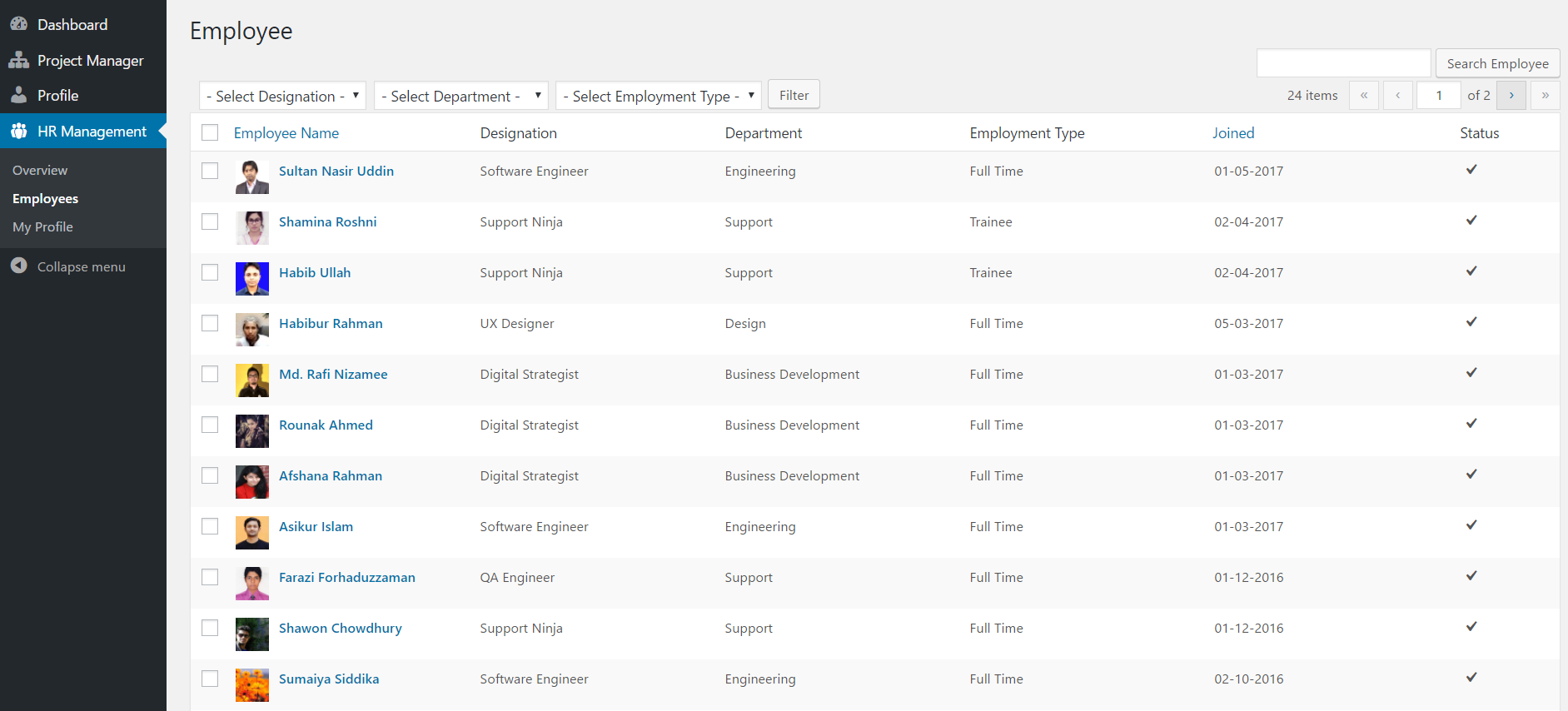 Most importantly, we can access different HR services including Leave, Attendance, Asset, Payroll etc. Besides that, we can generate quality and meaningful reports with our HRM solution. It helps the weDevs management to take important decisions when necessary.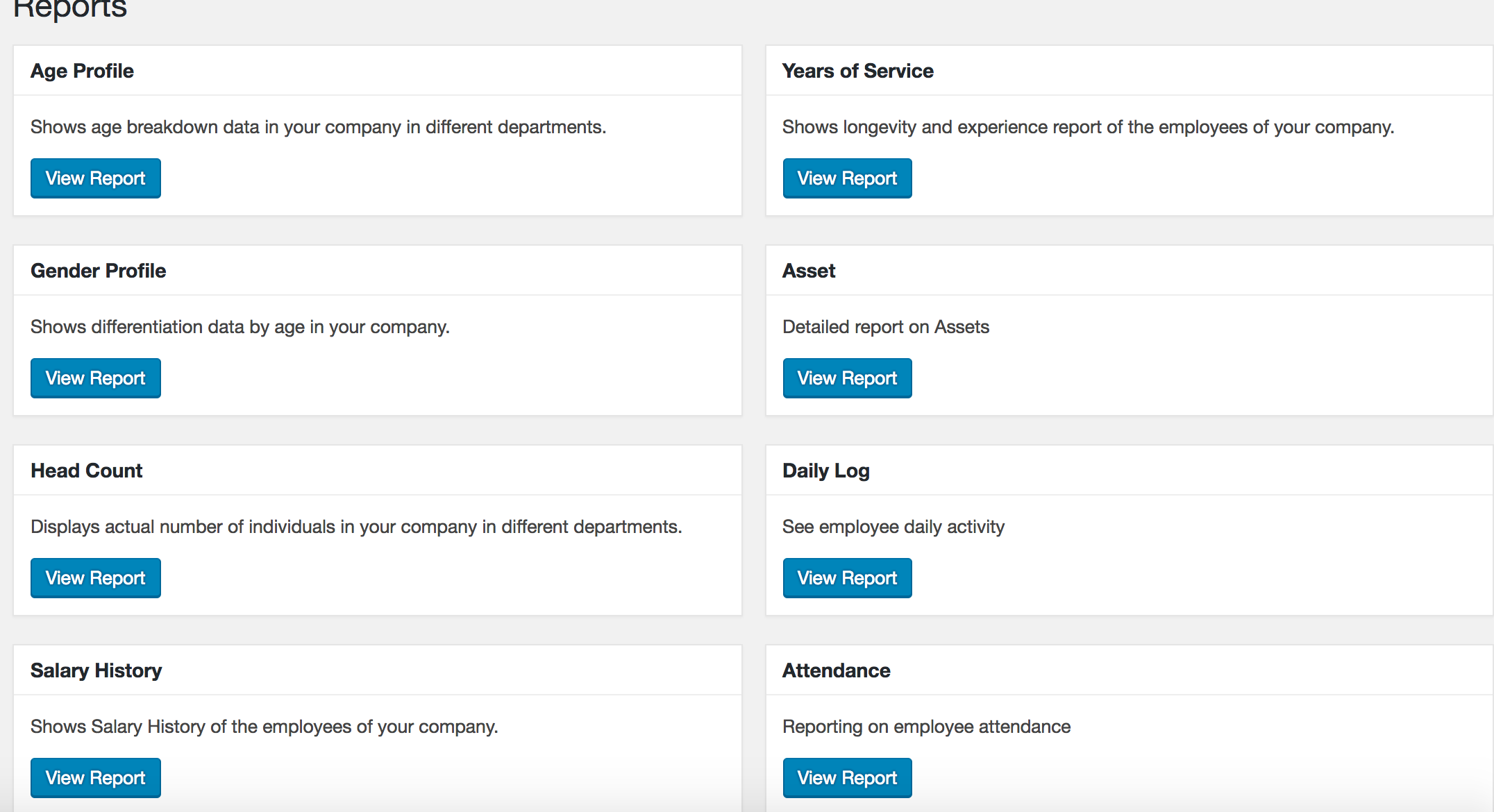 Here, I am showing just a single report of head counts. This shows the growth of the team by months.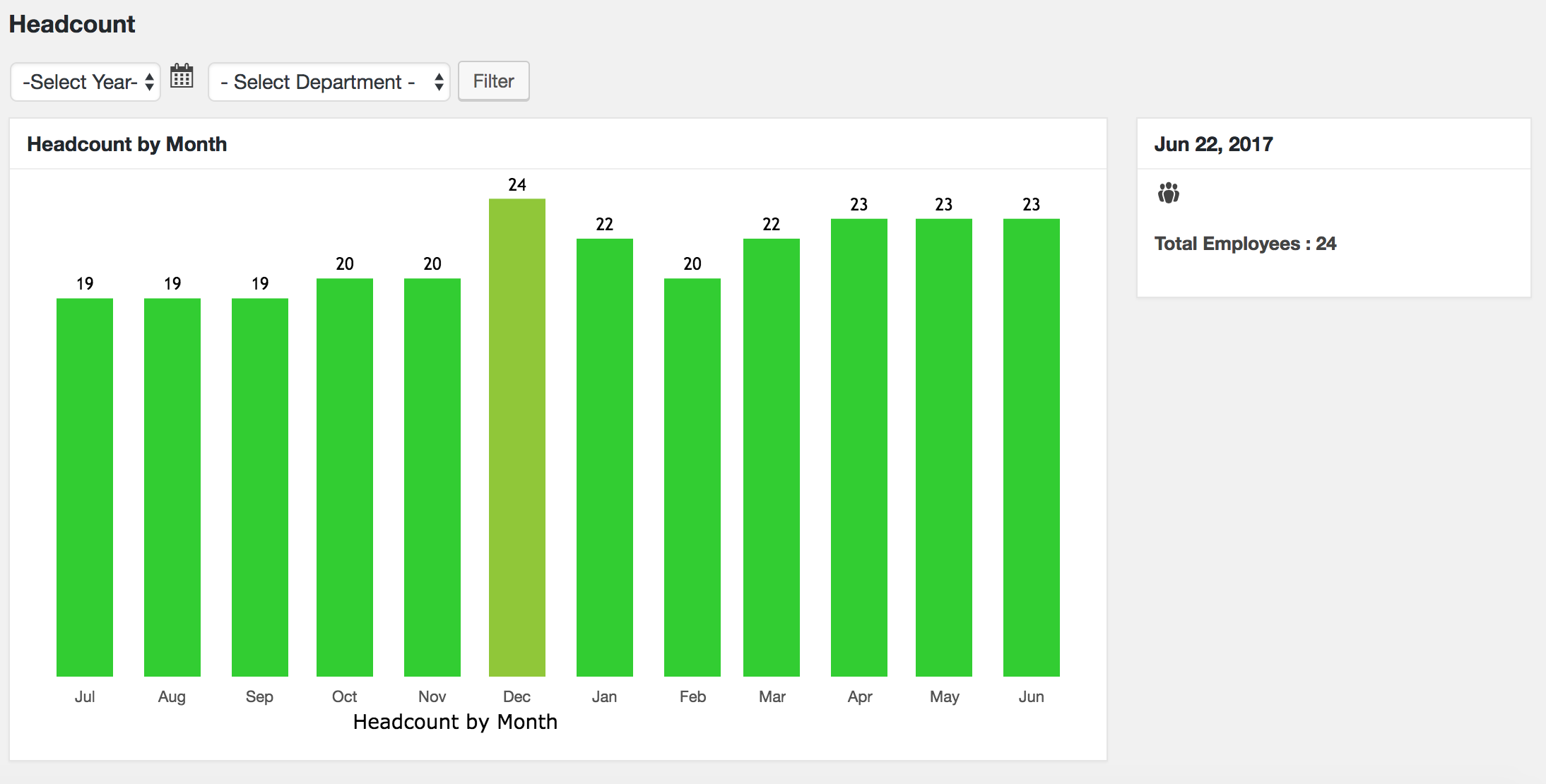 Now, comes one of the most important activities within a company, Attendance. Yes, managing employee attendance is really important because you cannot just make sure your company is running smoothly without finding out whether everyone is coming on time or not. Thus, we have our own WP ERP Attendance to make sure everyone is attending everyday office regularly.
The management team of weDevs can create attendance record sheets for each day and the overview page shows the attendance status of the whole weDevs team at a glance.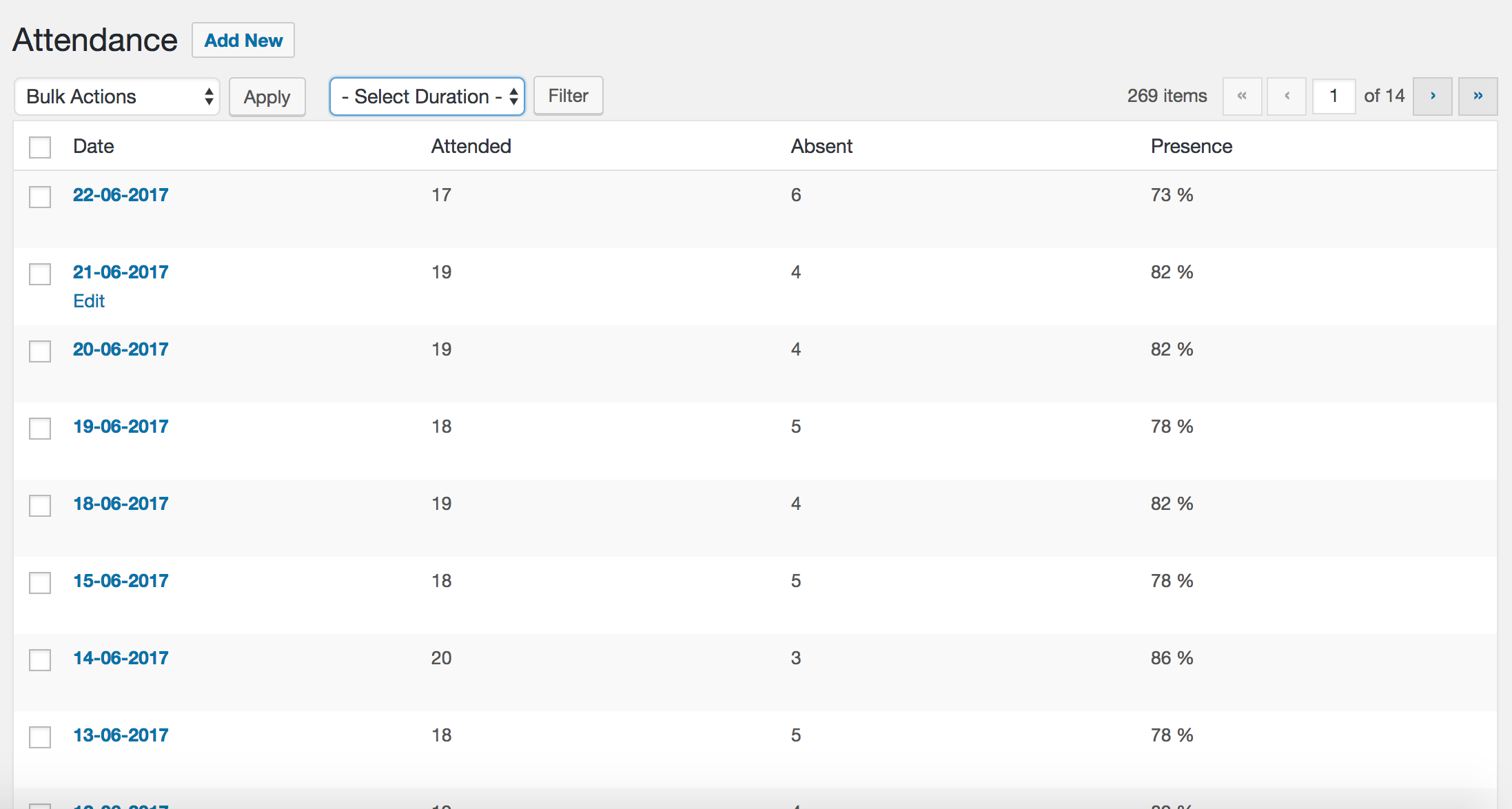 We have to follow two-way attendance process. At first, we have to punch our cards on the bio-metric machine to enter the office. The machine records our attendance time and we can import it into our Attendance system. We also use the self-attendance feature of WP ERP to check in and check out.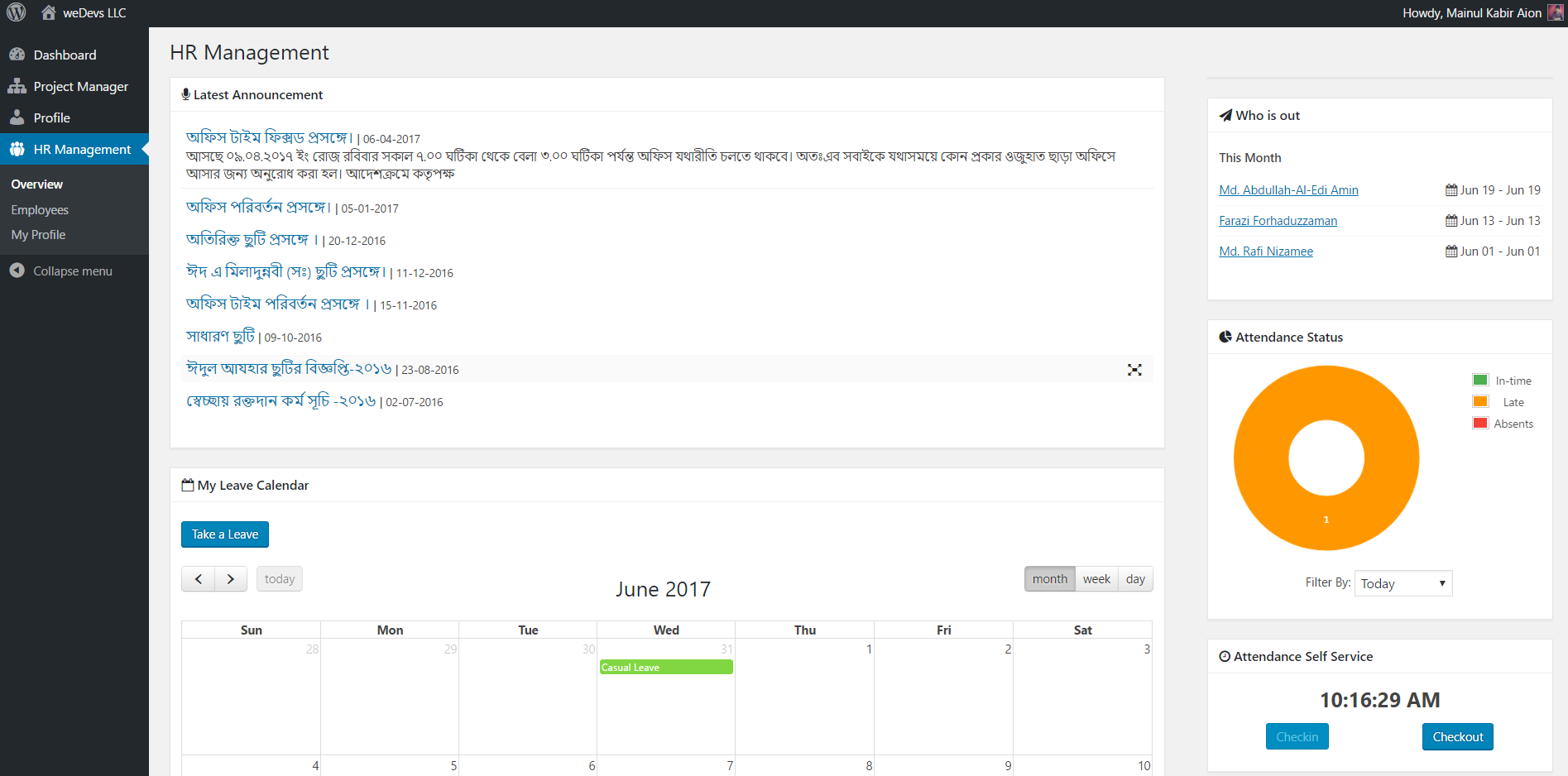 The management team can view the attendance details of every employee. We, the employees, can also view our own attendance information from our HR profile.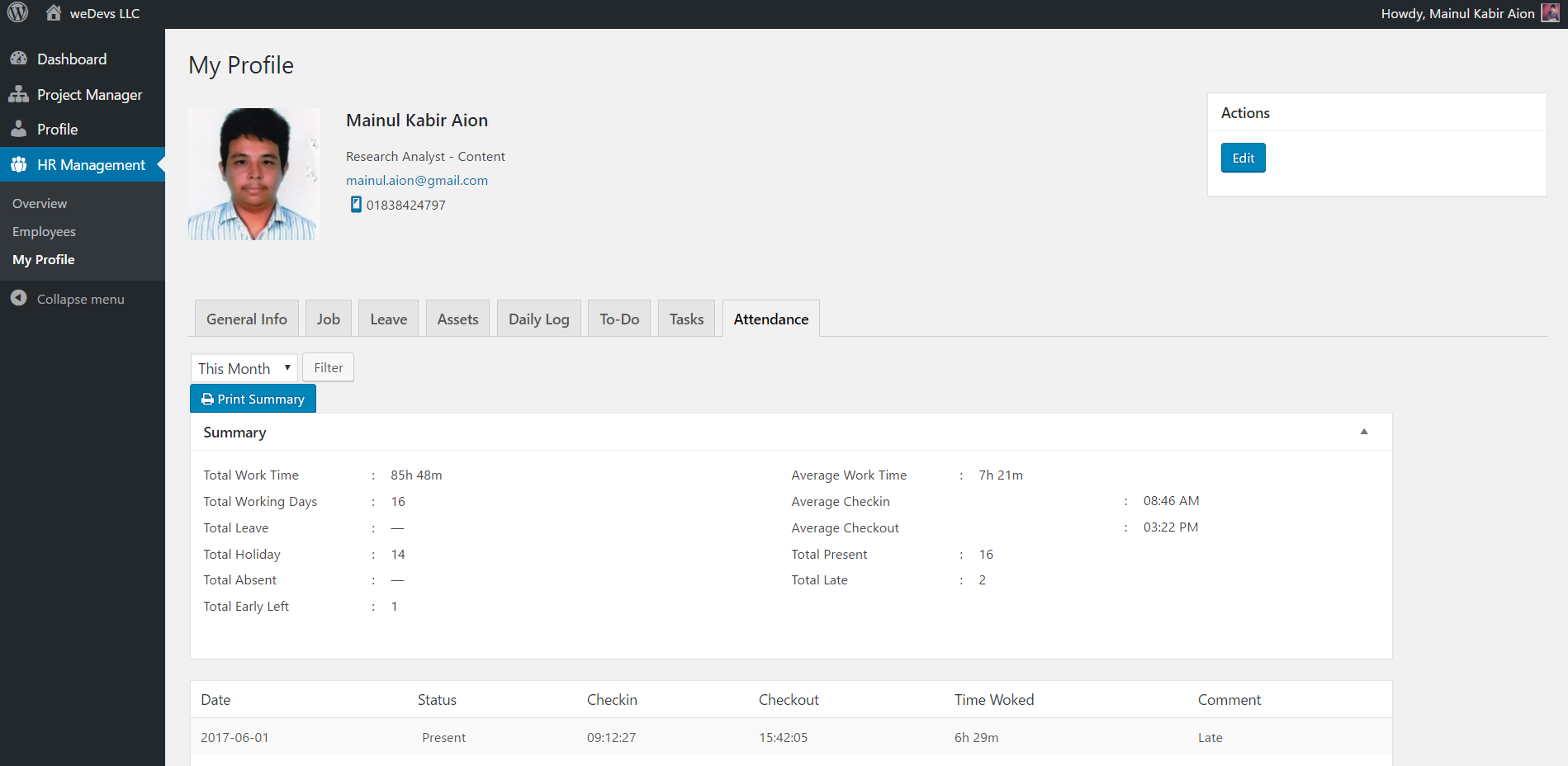 When attendance is taken, the management team can view details from the attendance sheets.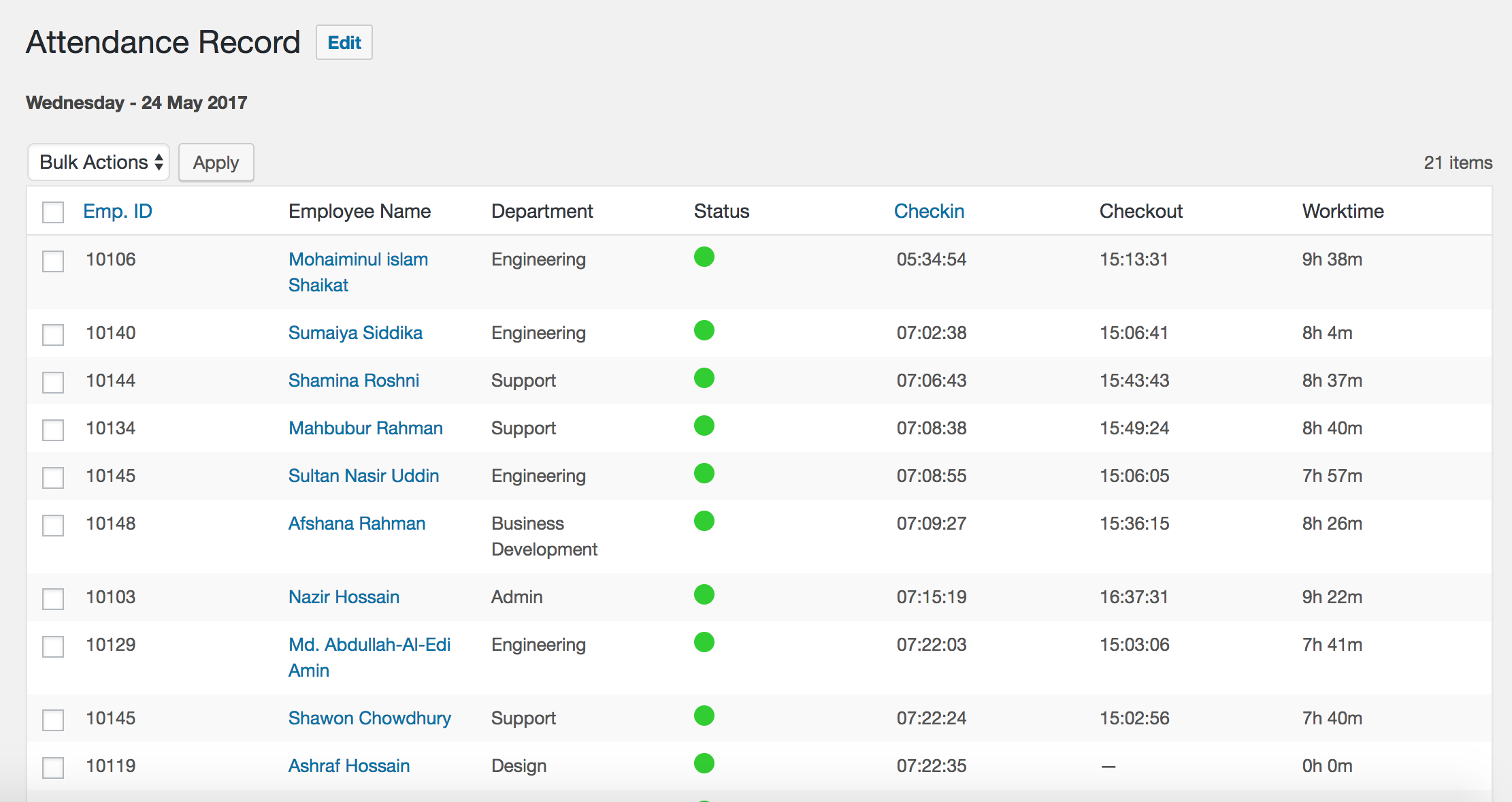 Holiday and Leave Management is Easier than Ever!
Requesting and approving leaves is another important task within a workplace. We also do the same. Managing paperwork for this task is really difficult and maintaining all leave records is complicated. Our HR module has a built-in leave management system. So, we use our own solution. Our employees send leave requests using their own HR profiles and management evaluates. Finally, they approve or decline leaves depending on their priority.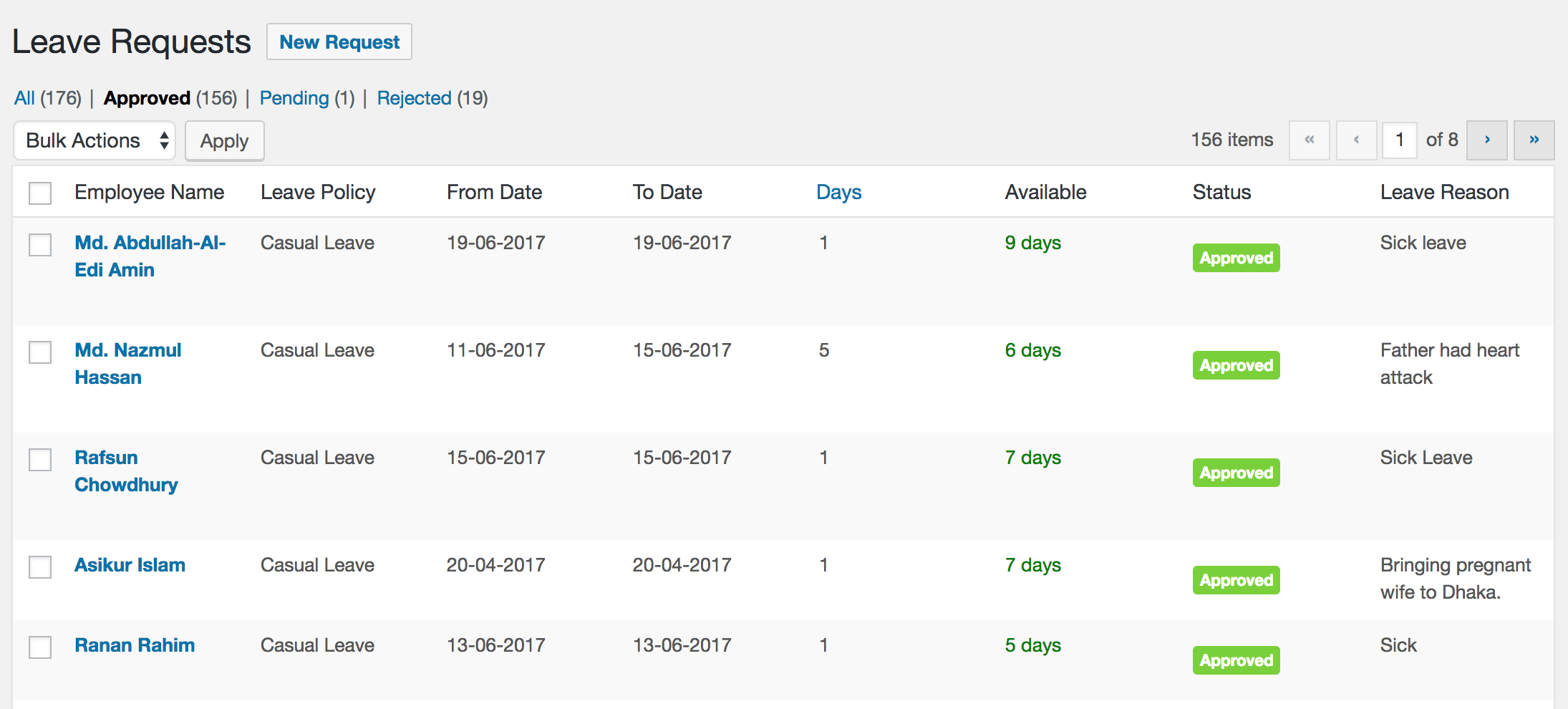 weDevs management also gets to view the leave calendar which shows all approved and declined leaves of every employee for a certain time period. It is possible to manage then directly from the calendar as well.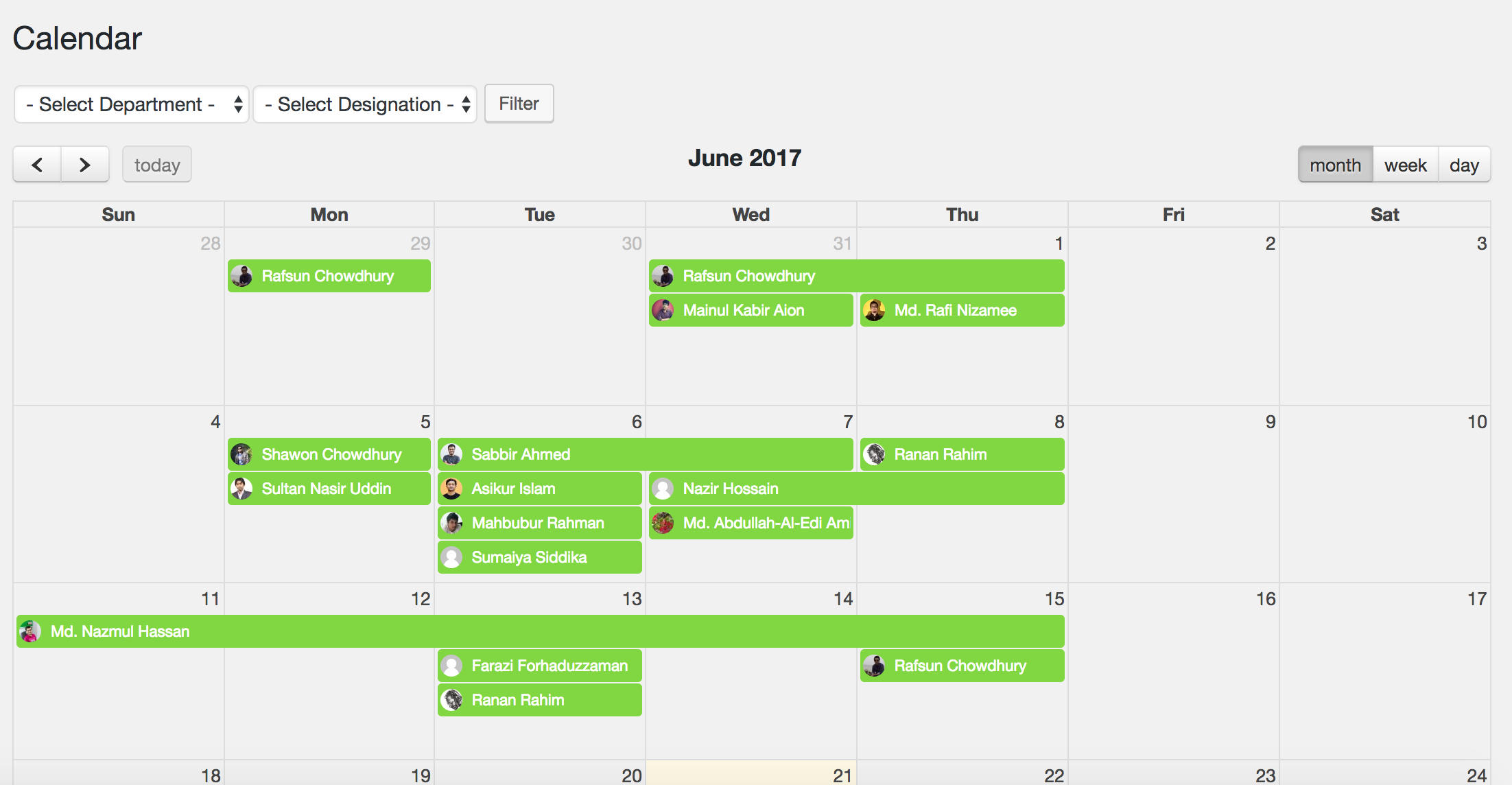 weDevs lists all government holidays inside WP ERP Leave Management system. This automatically integrates with HR module and employees get holiday notifications on their dashboard.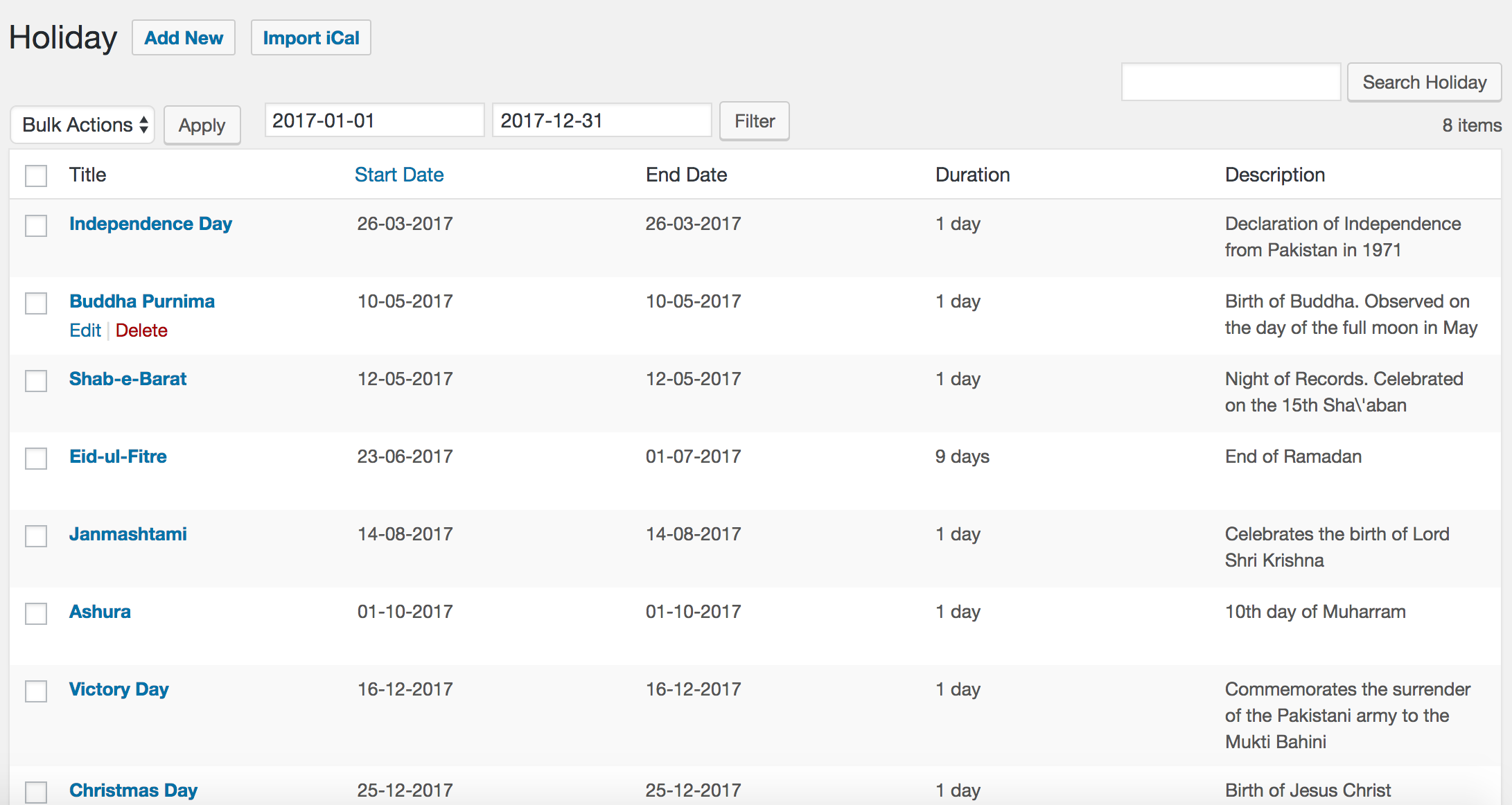 There's also a Frontend Version!
WP ERP has a premium module called 'HR Frontend'. It lets your employees to access their HR profiles from the frontend. It's a one-page app that loads very fast and gives smooth user experience. Here's how it looks –
Our employees mainly use the Frontend version because of its beautiful interface and fast experience. You can read all about this amazing app from the post below.
Related: Introducing All New WP ERP HR Frontend
Company Assets are managed Properly Using WP ERP Assets
weDevs has many assets that are used by employees such as laptops, desktops, projectors, car etc. For managing these and allot them to the employees, we use our own Asset Management system. WP ERP can store the assets virtually and keeps record of the allotments. Even employees can request an asset from their HR profiles.
We create assets virtually within our WordPress site and keep track of their allotments.

All assets have important details including their item code, registration date, given date, expiry date etc. This makes things a lot easier for everyone to manage the assets within the company.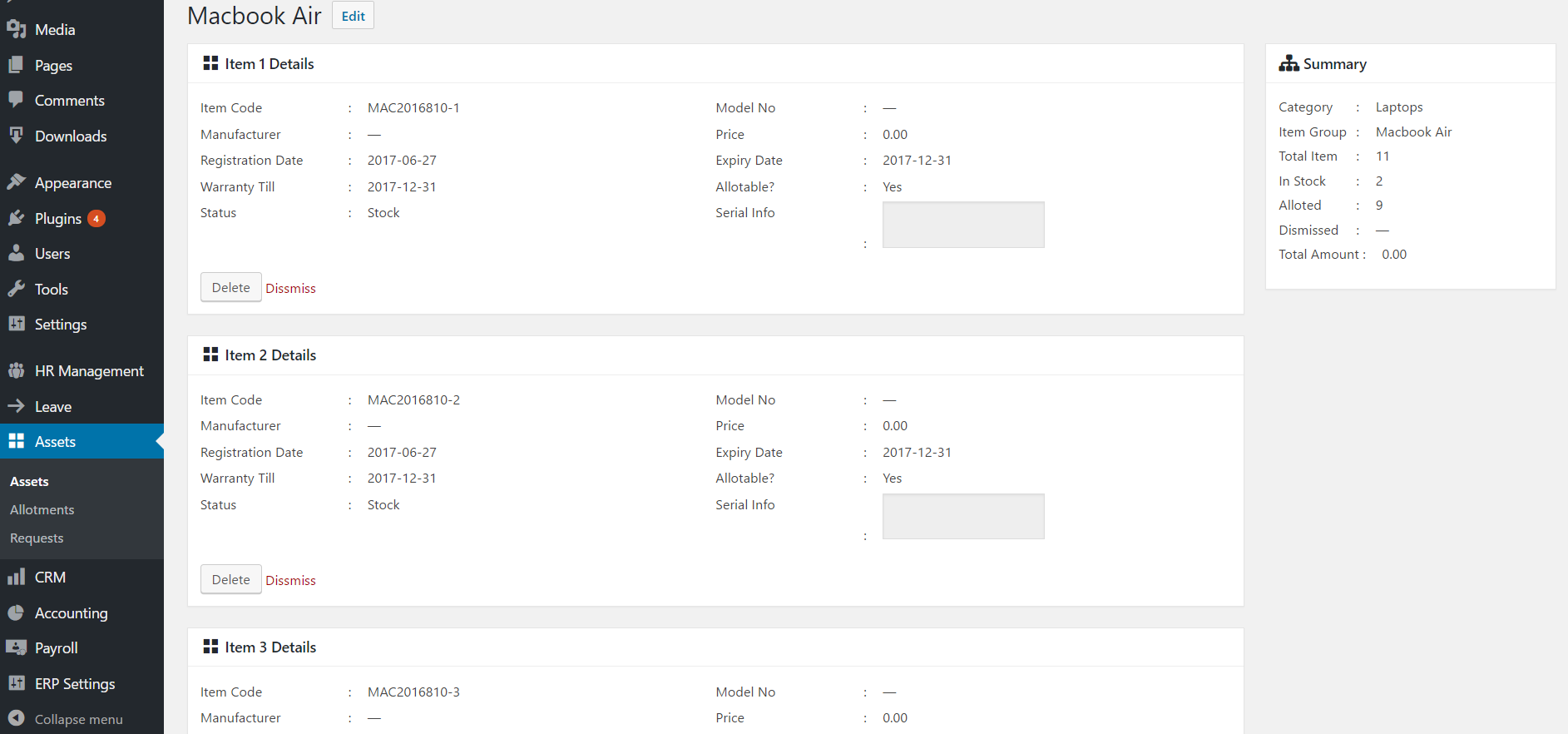 What's Next?
In this write-up, I have demonstrated how weDevs is using WP ERP to manage the complete HR operations. From employee recruitment to managing the whole team, WP ERP has shown its potential for making things easier for us, here at weDevs. While using our own solution, we are always finding new ways to solve our problems. Surprisingly, it is also helping our users as we believe their problem is also our own problem.
We will be publishing the next part where we will be showing you how we are managing our accounts, customers and also projects. Don't forget to comment below of what you think about WP ERP, a complete suite for managing your company.