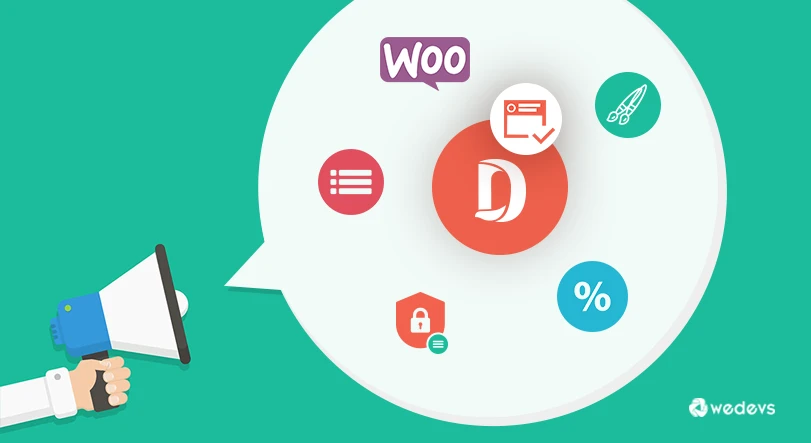 Upcoming New Features and Changes in Dokan Subscription v1.2.0
The best multi vendor marketplace plugin for WordPress, Dokan is becoming powerful and feature rich with every single update. Besides the Core and Pro version, it has excellent extensions that are helping our users for a long time. Dokan Subscription is one of them and also a popular one.
For giving you a better user experience and more functionalities, we have updated Dokan Subscription to v1.2.0. We have also released a hot fix update of Dokan v2.6.3. Please note that- you have to update your copy of Dokan to the latest version. Otherwise you won't be able to get the best out of Dokan Subscription.
Today, we will give you an insight of this update and how they are going to help your marketplace in the long run. So, let's dive in and find out more about the new features of Dokan Subscription.
What's New in Dokan Subscription v1.2.0
Configuring Different Commission Rates
Now, Dokan Admins can set different commission rates for different subscriptions. This feature allows you to set commission for individual subscription products. Your vendors will receive commissions that you will set using this new feature if they are using that specific subscription. If you do not include any commission, the global commission rate will be applied to that subscription.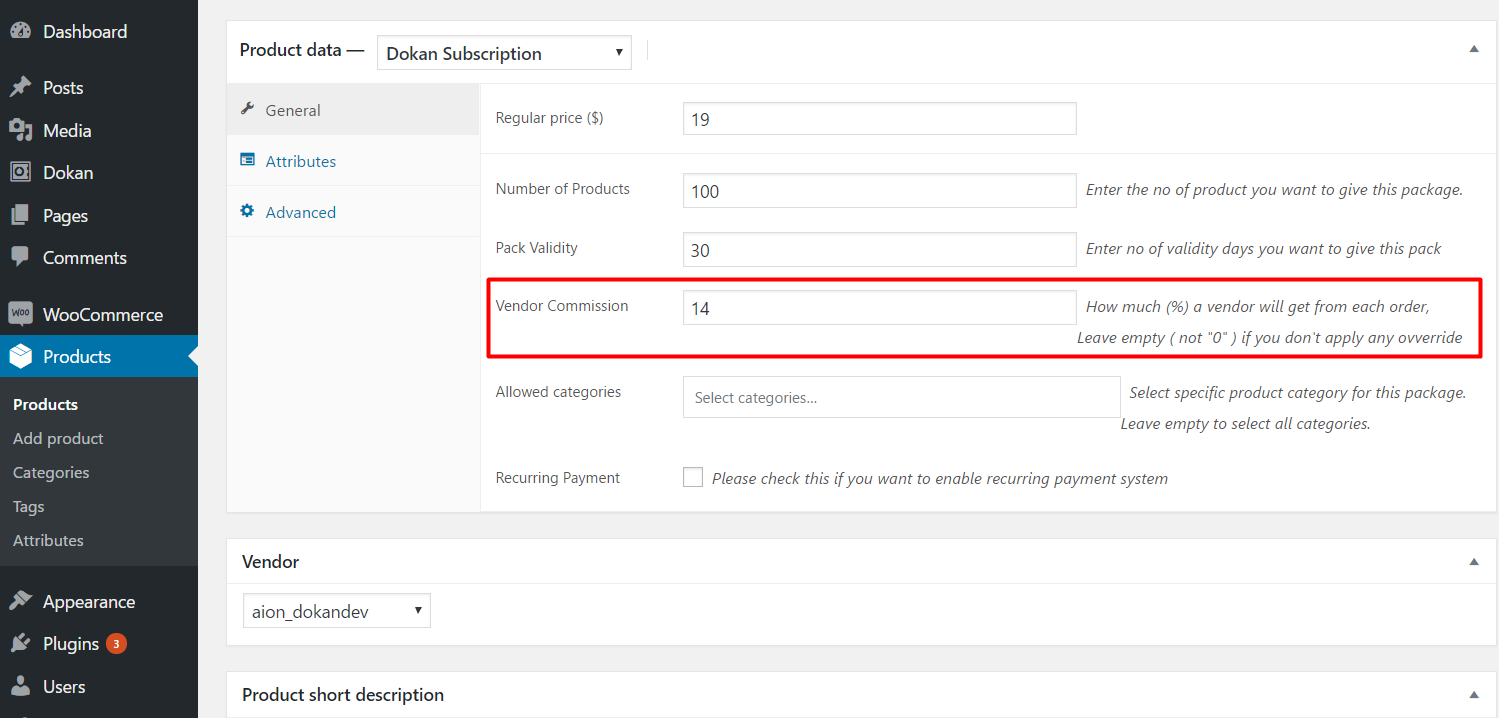 Menu Order Added to Vendor Dashboard
Your Vendors will view the subscription packs on their dashboard. Previously, the subscriptions were ordered according to their product creation order. Now, you can customize the menu order in the vendor dashboard from your Dokan admin panel. You can edit menu order for each subscription and rearrange them according to your requirements.
This option is in the Advanced tab of WooCommerce Product Creation page. You have to input the order number for each subscription to rearrange them.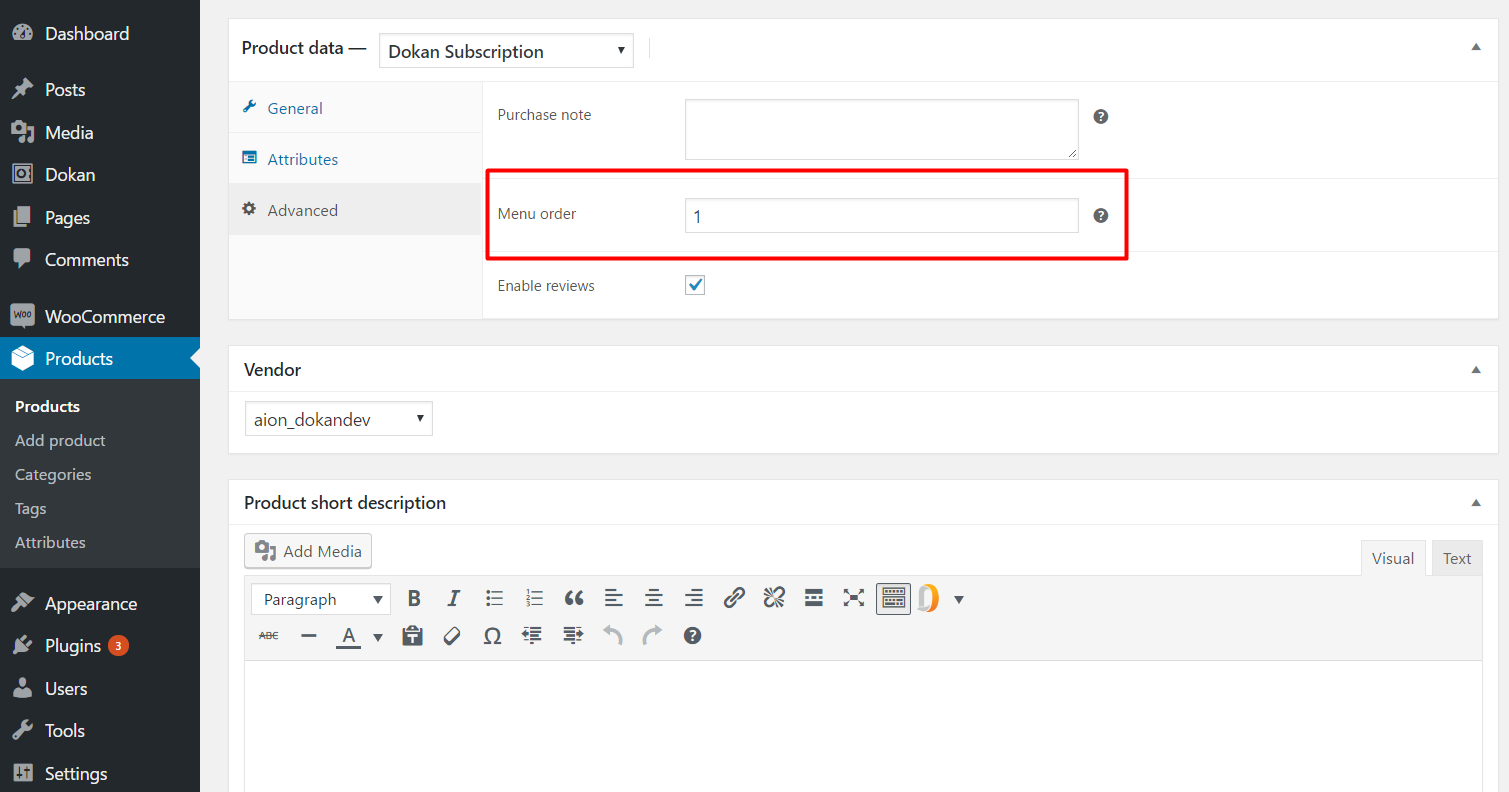 New Subscription Pack Design
This update will give you a new look to the subscription packs. Your vendors will get to see the interactive dynamic design of the packs in vendor dashboard. Besides that, you can always rearrange the order of subscription packs.
Your vendors can view their existing packs above the available ones with detailed information and also a button to cancel it. Please note that- your vendors have to cancel any previous subscription before buying a new one.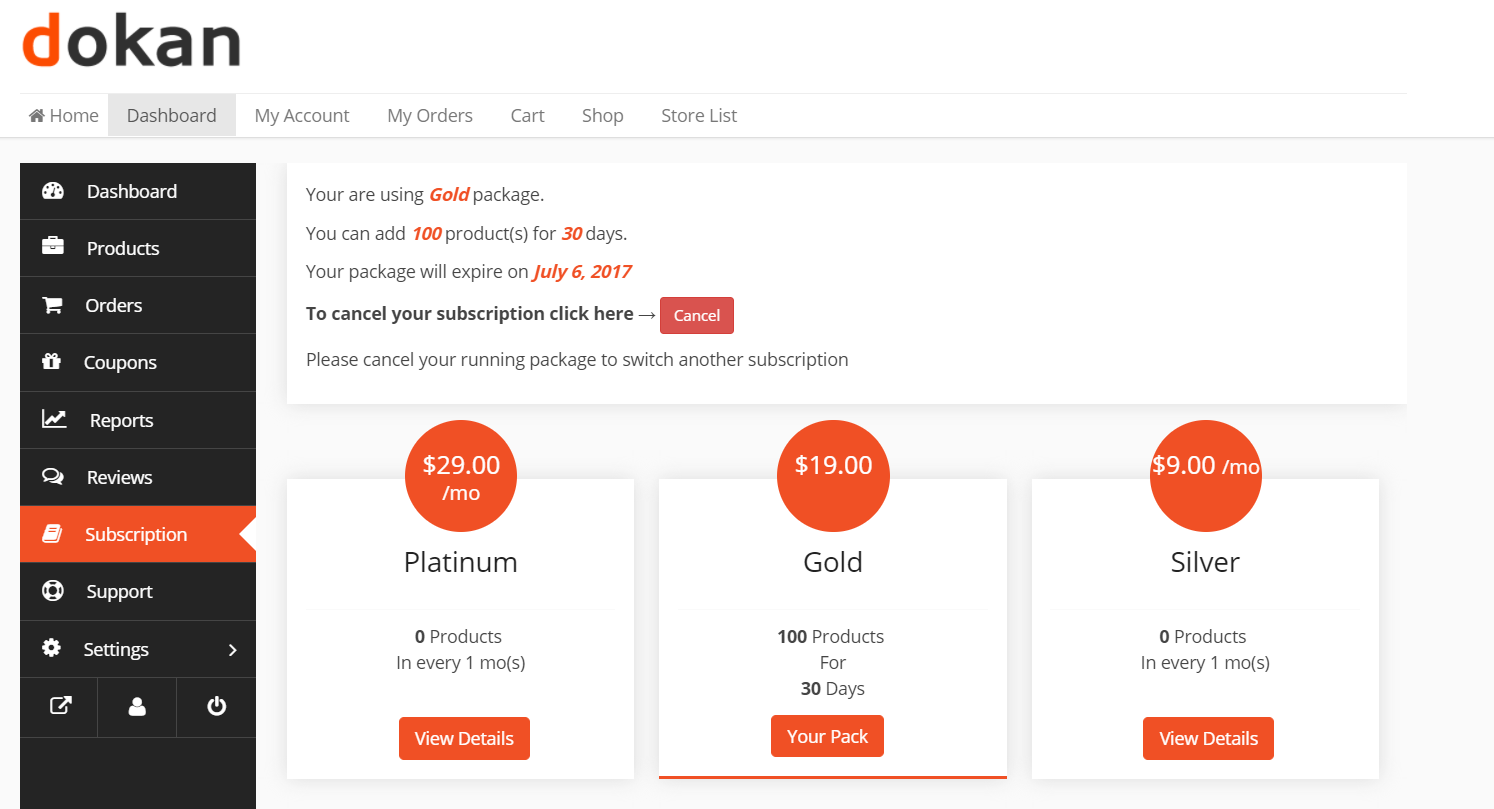 Category Restriction for Better Management
Wouldn't it be nice if you could create subscription packs only for specific categories? This might become really handy in some cases. The new update of Dokan Subscription gives you the ability to create subscription packs with allowing or restricting categories. This gives you a better management option. However, you can restrict categories by adding rest to the pack.
This option is under the Vendor Commission in the WooCommerce Product Creation page. You can select categories from the available list using drop down menu. While you are selecting categories, you are allowing this subscription packs for those specific categories. If you leave this field empty, all available categories will be selected.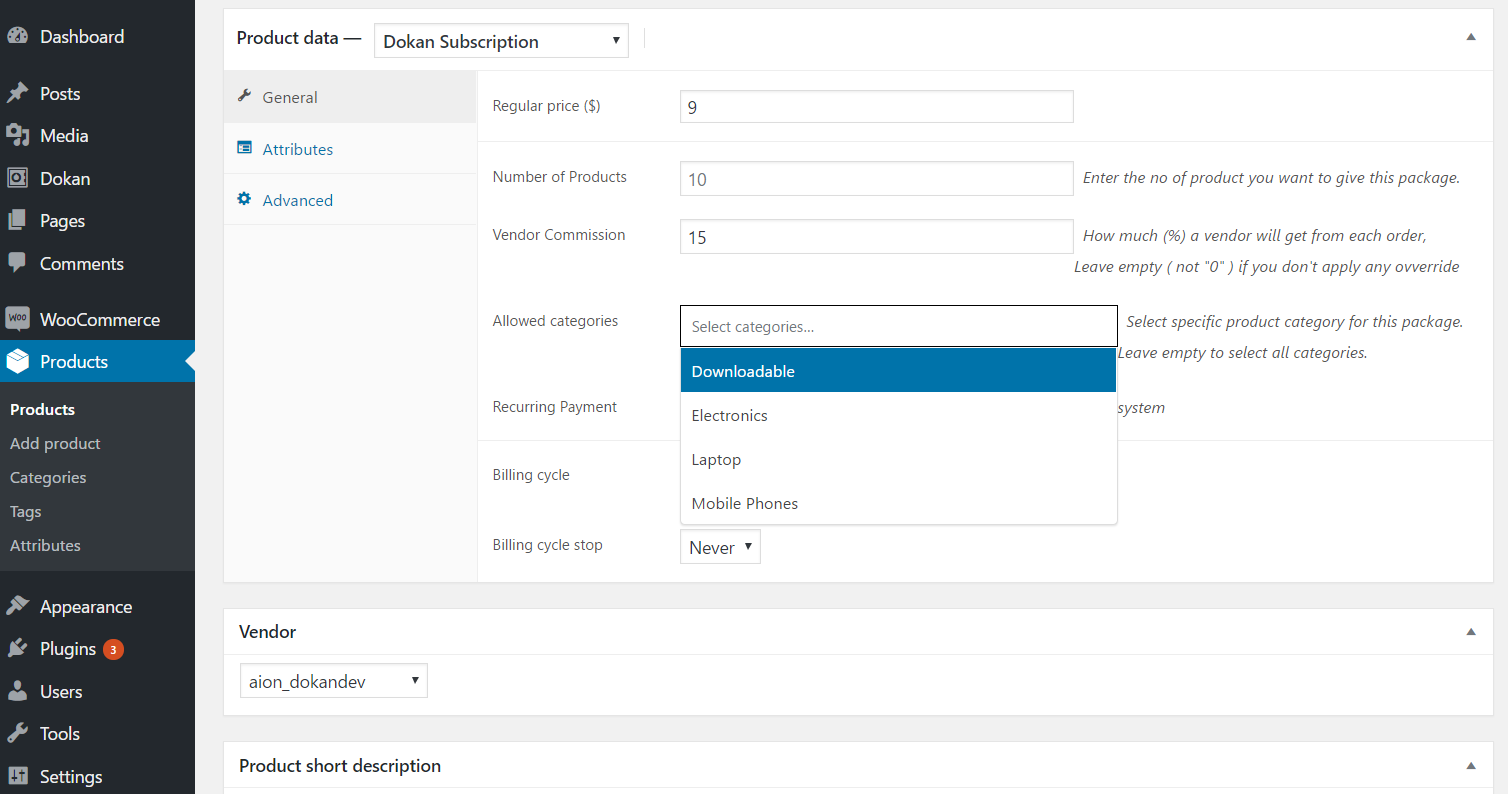 WooCommerce 3.0+ Compatibility
We all know WooCommerce has released their major update v3.0 this year and recently updated it to v3.0.8. You will be happy to know that Dokan and all of its extensions, including Dokan Subscription is compatible with WC 3.0+. This allows you to seamlessly work with WooCommerce without facing any problem at all.
Many Tweaks and Bug Fixes
Besides all the above exciting new features of v1.2.0 update of Dokan Subscription, many bugs have been fixed and some tweaks have been added. This has greatly improved the extension and made it more user friendly.
Bonus: Tips from Pro
Did you know? – You can also view the subscription details and configure them from your vendor's WordPress profile on your website?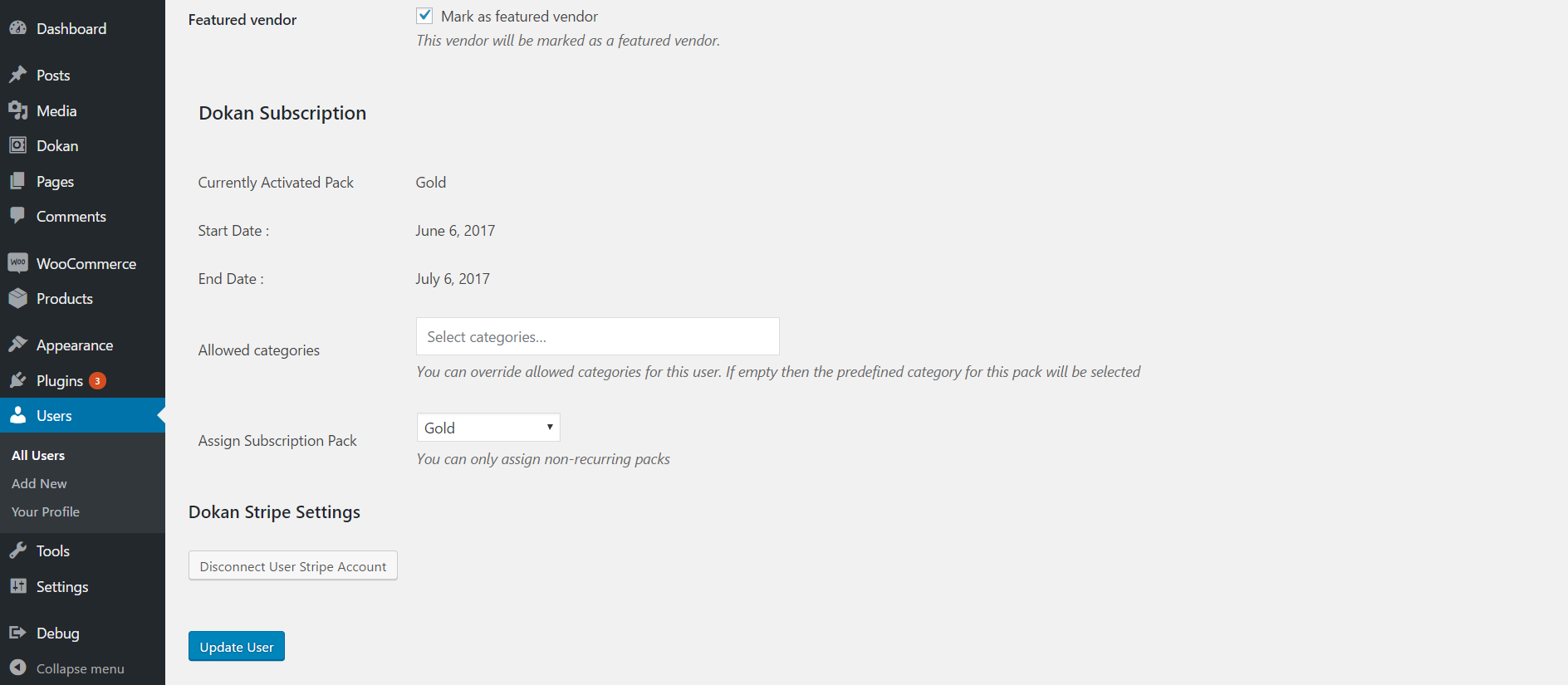 If you visit the default WordPress Profile of your vendor and scroll down to the bottom of the page, you will find a new section titled 'Dokan Subscription'. Here you will get to view necessary details about activated subscription and also add allowed categories for that specific vendor!
Wrapping Things Up
So, what do you think about this new update? Isn't it exciting?
Share your thoughts about this new update in the comments bellow.
Also view our detailed documentation for more information about this new update.