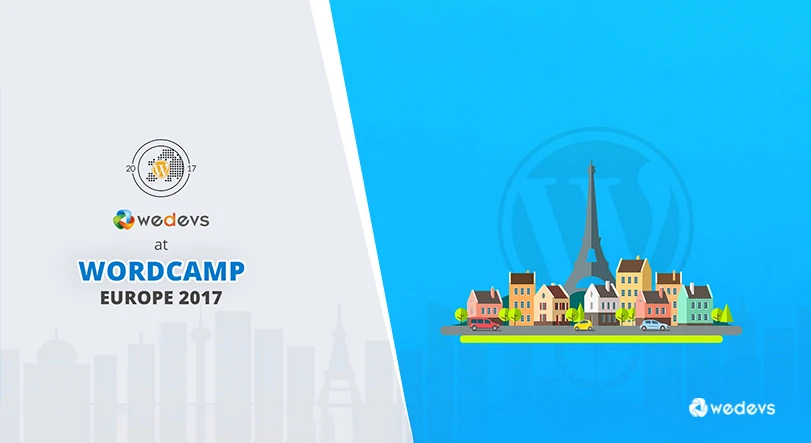 Our WordCamp Europe 2017 Experience: Is It Worth Sponsoring?
Bonjour! We are back from Paris. We had an amazing experience in WordCamp Europe. Though we sponsored and attended many WordCamps around the globe from weDevs, but this was our first time sponsoring and attending WordCamp Europe, and Paris made it very special. We will share our experience here and will do an analysis if the sponsoring was worth the money and time.
If you have not read our initial post about Attending WordCamp Europe 2017, read this one first.
weDevs is based in Dhaka, Bangladesh, and Paris is about 10,000 KM away according to Google Maps. It takes about 13 Hr+ in an airplane with the lowest possible transit (which you should never pick, keep reading for why). And yes, Visa is needed to visit France for Bangladeshi citizens. We have traveled even further in the past to sponsor WordCamps but in this event, we were amongst those very few who traveled from the furthest distance.
Uncertainty About Attending
I did not get my visa in my hand before June 14th at 5 PM in the evening. After that, I came back to the office, purchased an air ticket at 6 PM, booked the hotel at 6:30 PM, went back home, took shower, had a quick dinner, then headed out to the airport to fly on the same night. I don't know what could be more last hour for such an enormous event than this!
But why did this happen? The story is long but interesting. I have shared that separately on my blog to keep the focus of this post mainly on WordCamp.
Though I was very persistent about attending this WordCamp and finished all formalities regarding sponsorship a few months ago, we still weren't sure if we would be able to get on a flight on the 14th of June, while the event was starting the 15th. We even ended up missing all checked-in luggage, in which we were carrying all our goodies. But ultimately we got the luggage in our hotel delivered at 1 AM in the night.
And look at us below at 9 AM in the morning(16th June) in the event!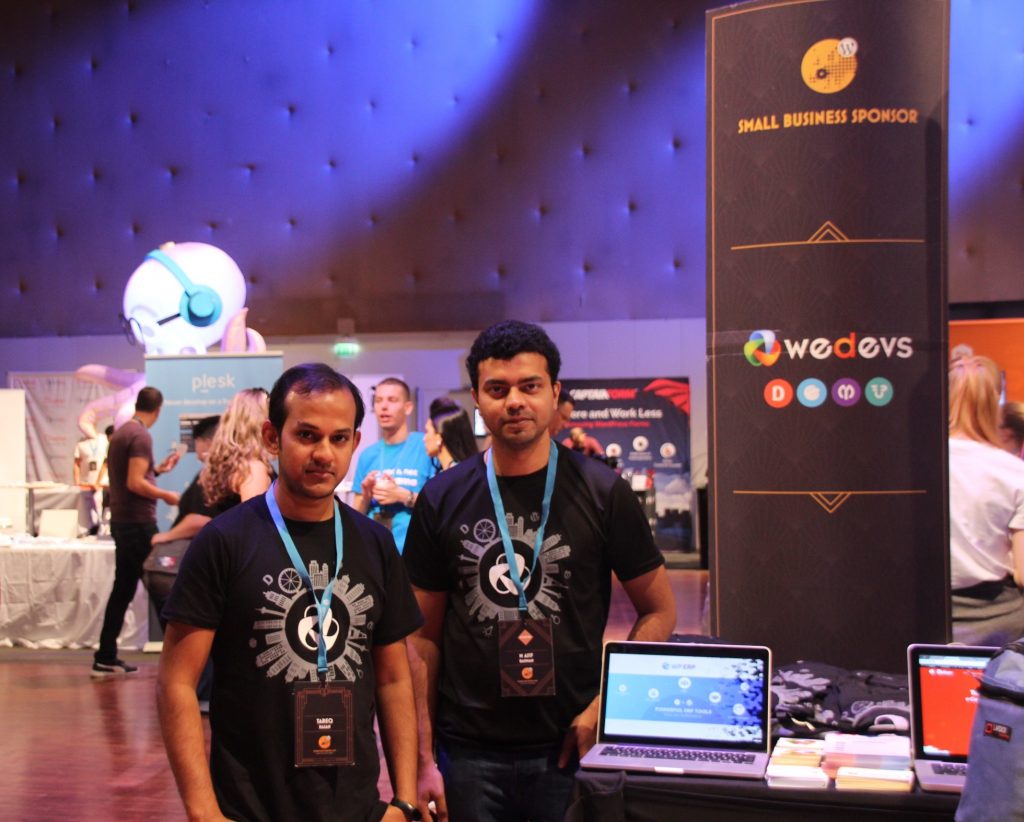 Me & Tareq in the weDevs Booth at WordCamp Europe.
WordCamp Europe Experience
WordCamp Europe venue was fantastic. It is so far the biggest venue I have come across in my 40+ WordCamp experience! Just look at the size of one main hall –
As it was just me & Tareq attending from our team, we were super occupied during the event. So much busy that I could not watch any single session directly. But that was okay for me, as I could always catch up later on YouTube or WordPress.tv.
During the 2 days of the event, we thoroughly enjoyed networking with people from all walks of life. It was refreshing to meet some super interesting people. Even friends and acquaintances whom we know and have been interacting with from ages but met in-person for the first time!
It was fun meeting Ionut Neagu, CEO of ThemeIsle. We had such a good conversation and found out we think and feel the same way about so many things of this WordPress ecosystem.
In the meantime, the special European Wapuu visited weDevs booth –
https://twitter.com/Asif2BD/status/875666638401568769
It was so refreshing meeting our dear friend Devin Walker of WordImpress and Rahul Bansal from rtCamp.
We had a long deep conversation with our old friend Vova & enjoyed meeting face to face with Jean Galea from WP Mayor.
It was nice to meet out fellow WP Community member Sakin Shrestha from Nepal.
The food was fun, it was nice that they arranged Halal food for us
The crowd was cozy
People loved our T-shirt so much. This time we created T-shirts in 2 types of fabric: one cotton, another with breathable fabric like jersey. The Jersey one was a smash hit, we ran out of sizes for S, M, and L within first 2 hours.
And our booth was always crowded
And after the event, the After Party was real fun
And we finished the party with a nice and long conversation with dear friend Matt Mullenweg!
Sponsoring WordCamp Europe
WordCamp Europe, and especially at Paris was an expensive event, so the sponsorship cost was high as well. You probably noticed we had such a small booth because it was Small Business level sponsorship. The other sponsors were Venture-backed or part of a Public Company.
We found out during the event that companies like SiteLock and Captain Form have a team of over 100 people. So, none of them are simple WordPress product companies, bootstrapped like us, under 40 people team. So, they could afford those higher tier sponsorship costs. And companies that are European, came with a large number of team members. A company like ManageWP, the main office based in Serbia came with 20+ members. But for us, the cost for each person is much higher. We have seen many attendees attended the event from different European countries via car or train. And it was very affordable for them to travel.
Let's look down at our cost for this event –
Sponsorship: €2500 = $2850 USD
Cost for 2 person: $1750*2=$3500
Swag: $1500
——————————–
Total: $7850
This cost involves airfare, hotel, and basic mandatory cost. So, we totally spent $7850 without considering the time value for 5 days for Me (CEO) and Tareq (CTO).
What Do You Expect From Sponsoring A WordCamp?
Do you expect to sell your software or service in WordCamps?
No, not directly. Most of the WordCamp sponsors are Hosting companies.
This time in Paris, they were the majority. Still few big names in WordPress were missing, like Pantheon, Fly Wheel or Site5. They usually sponsor most major WordCamps around the globe.
First, you need to understand the target audience who usually attend a WordCamp. Though it's very different from city to city and WordCamp to WordCamp, it's most likely never an average WordPress user that your plugin or service might target. It's not like they don't attend at all, but it's probably less than 10%.
So, who are actual target attendees?
It's people like me, or people like you who are reading this post, who care about the WordPress eco-system.
Like WordCamp SF back in the day used to attract core WordPress people, who are very involved with the community, and ticket used to sell out within 1-2 hours of release. I have seen the majority of creative people in WordCamp Los Angeles, who had some kind of experience in working closely with movie industry before, but now working as a solo designer or represent a web agency of fewer than 4 people. WordCamp Orlando is basically based on local people, it used to be a lot of IT people from local businesses or educational institute, but year by year event is seeing more plugin developer as well. And there are always some tourists from various part of US or The World, its Orlando, what do you expect! I could keep going, actually, after attending WordCamps in over 25 cities around the world, I could literally take a class to any newbie, just joining the league to attend WordCamp.
So, there could be diverse focus group but it's not directly average consumer. If it's mainly WordPress developer or design people, they obviously have a hosting already, so why do the hosting companies sponsor so much? Two reasons: 1) They have too much (either from venture fund or from the public market) money in hand, and 2) they want to create awareness and showcase to the community that leads the WordPress, that they exist.
They try hard to stay in the limelight, so those agency people, the developer would remember and recommend them later. Most hosting companies used to give absolutely free hosting in WordCamp, sometimes even for life (I still have one from WPEngine, since 2012). Why? They are spending money, not getting new sales, and on top of that giving even hosting for life for free! They just want your attention, they want the community that leads WordPress to notice them, try their service, and later on recommend. Many deals with plugin developer or theme developer recommending a hosting or hosting company trying to promote certain plugin happen in WordCamp. So, network, the connection is also another thing happens in WordCamps.
Is It Worth It?
Now let's discuss if it was logical for us to travel 10,000 KM, spend $7850 in 5 days to sponsor WordCamp Europe 2017. Did we get sales?
We have given 25% discount in the WordCamp, so we have better tracking, yes we sold few licenses. But that was never been the goal or focus!
So, what was the goal? Let's divide and discuss.
Branding:
We were present among about 3000 active attendees. We distributed about 400 T-shirts, which was very popular among the attendees. Most people came and specially asked for our Tees. We did very minimal branding on the T-shirt with our logo at the front and our website address on the back!
The quality of the tees, the design, and the fabric were able to capture the visitors' attention. It created massive brand awareness.
Additionally, we also distributed stickers, brochures and visited cards of weDevs.
Networking:
From existing clients to a well-wisher, to old friends to new people, the number of networking you could get from a WordCamp sponsorship is unfathomable. If you don't sponsor you have to speak to people one by one. Or need to know how to approach, and sometimes you will need some introduction. But when you have a stall, people are coming to you. Your friends are hanging out near your booth, so anybody coming to talk, then will eventually visit and speak to you as well.
One very important part here is to be approachable and have some existing connection. As I am a very well known face in WordCamp after attending so many of those in past 7 years, I have a huge circle already. And same is true for my fellow mate Tareq. He is developing in WordPress for many years, so his developer circle is big as well. So, we ended up keep talking for 8+8=16 hours straight for 2 days, plus all the after parties, dinner etc. So lots of conversation, that is, networking!.
Physically Meet Your User:
At weDevs, we are a large WordPress product company, we have a big user base. We meet so many satisfied users in Europe that came to meet us, just to say thank you in person. We got to hear their story with our product. It was such a good experience. We got some users with questions and feedback, and because we sponsored, they could directly talk to our CTO or give me a suggestion directly. This is something you can't have by spending money on AdWords or buying Ads.
Partnership:
As described a little before a lot of partnership happens in WordCamp. You get to talk to lots of fellow developers, agency people, hosting company or even solo-entrepreneur in WordCamp. For us, our all core products are very different and very important for most organizations. As Dokan helps you to create a marketplace, whereas ERP lets you handle everything in your organization. We have got many partnership proposals from the event. I already received several emails after the event, where they met us during the event, and now want to take the conversation to next level.
Lead Generation:
Even though attendees might not buy your product directly but you could get some leads depending on your product and service. We were even approached by few different representatives from the government and from big organizations, they were not aware of the kind of solution our company creates. And very interested if it could work for their organization.  
And they showed great interest in our products. We showed them our solution, they have shown interest, we exchanged business cards, now we will follow up those leads.
Awareness:
This is a big part of the main goal of sponsoring an event. You get to create awareness for your brand, products, and for you as a fellow member of WordPress Community. How this helps, one good example here is SiteGround. They exist in hosting business for over a decade, but almost none of us knew their name before 2012, and they started to sponsor WordCamps like crazy, now they probably sponsor over hundred WordCamps a year. So you get to see them all the time, you become aware of their service, you could become friends with some of their team member and now they are one of the biggest names in WordPress hosting, the market was very occupied but still they were able to create a place for themselves, mainly by sponsoring WordCamp.
So, Yes, it's Well Worth The Money!
When you put all the factors into the calculation, this is a good use of the money. We could not have gained those without sponsoring the event. If we could have sponsored in a higher tier or have more team members we could have gained more, but for a business of our size, that's the best we could have done, according to our budget and we tried to make most out of it. The journey is long, but for a person like me who frequently travel between Bangladesh to the US, it's ok. And when you add all the parks of attending a WordCamp, and especially in a city, magical like Paris it's worth the time. And we came back refreshed, with lots of new leads and partnership to work with. It's indeed a good trip! 
Are We Going to Sponsor Next WordCamp Europe 2018?
Probably no! Not because of any business reason or anything, it's just because of the timing. WordCamp Europe always happens in the month of Ramadan. We have spoken about this before, but nobody seems to care from the organizer. This time, it is was during the month of Ramadan, when we have to fast for a month. You can't really fast during travel, so this time we had to break our fast for 7 days straight during the trip, and right now I am making up for those.
Next WordCamp Europe will be on June 14-16. When June 14/15 of 2018 is already projected for Eid-al-Fitr. This is the biggest yearly event for any Muslim. You see Islam is the 2nd largest religion in the world, with over 22% population of the entire planet, so over 1 out of 5 people is Muslim. You would never see any WordCamp on Christmas or Thanksgiving. That will not be even a conversation, but nobody bothered about checking the date.
Last year we tried to raise our voice in WP Tavern, but soon people came with their racist voice (* just look at the comment section). So, I did not bother to write on different site's comment sections. But, honestly, if you simply think this is wrong. You don't need to be a liberal or follower of anything, but when you choose to ignore a large or even small portion of the community this is in a way direct racism. WordPress is open, a community that fights for making people's voices heard, we work to democratizing publication. Now, you could say maybe there is no Muslim in the organizer, so they did not know. That's true. I feel Muslims are very poorly presented in WordPress Community, so it's very possible, that they did not know, but when you are organizing a global event, you could have just Google Searched "major holiday on June 14-15, 2018" before fixing the date of such big event. It would have been very clear.
I will try contacting the organizer, and writing to a few people I know, if you are reading this and feel this is a valid reason, please raise your voice. If the event moves just one week, June 21-23 or something we, from weDevs and probably many other Muslim could attend the event. And you have to keep in mind, in Europe, and especially in that part of Europe, Muslim has a good presence.  So, it could have a really good effect.
Why This Post?
We love giving back to the community and helping the community in every way possible. So, we know and believe how WordCamps could be beneficial for businesses. But in every WordCamp, we see many businesses very capable to sponsor, choose not to, and this discussion is very common – what's the benefit of sponsoring. If you just attend and network with people that enough. We wanted to show with data, and in detail how Sponsoring is really beneficial, to those who are in doubt, so maybe other companies like us will consider sponsoring in future. If you look at WordCamp Europe's recently released a report on how they handle total finance you will understand the importance of Sponsor, sponsored bore litarally 80% of all costs in WordCamp Europe 2017!