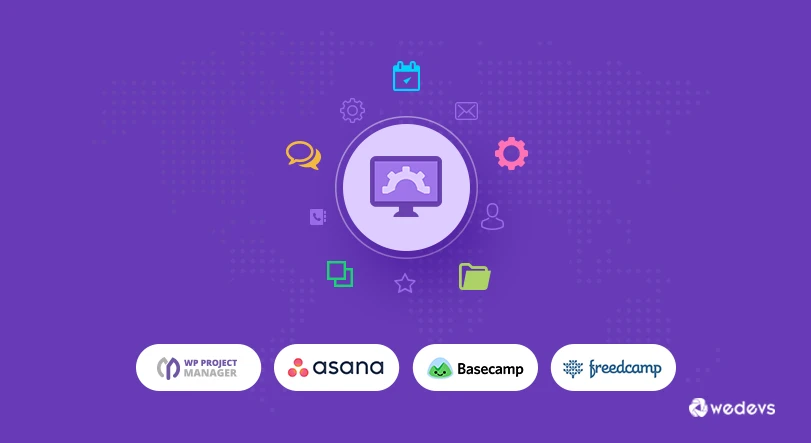 Best Project Management Software on The Web
There are numerous industry-leading and best project management software in the market meant for all types of company sizes. These solutions run differently on different platforms.
For example, there are hosting solutions, cloud applications and also self-hosted ones. So, how do you differentiate between these and how do you know which one is better than the other?
Cloud-Computing Vs. WordPress
While Cloud-Computing software can be cheaper in sense of hosting own servers, there are other platforms such as WordPress. It is now the number 1 CMS (content management system) and has a significant growth rate. Besides that, it is powering almost half of the world's websites.
While being fully customizable, WordPress has strong security because your data remains on your own hosting.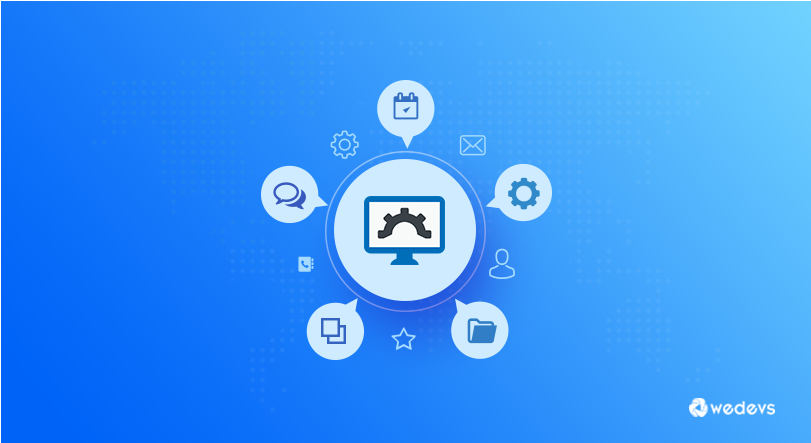 So Why are we Writing this
Cloud-based project management applications are much more numerous, established, and well-known than the ones in WordPress because they have been longer in the market.
However, this in no way means that WordPress project management solutions are not strong enough. WordPress solutions have recently emerged as competitive alternatives.
With that in mind, we compare 4 popular cloud-based solutions with one strong WordPress project management plugin.
Best Project Management Software in 2023
Here we come with a comparison of 5 Project Management solutions.
WP Project Manager Pro
Asana
BaseCamp
FreedCamp
Hubstaff Tasks
These top solutions have been selected based on:
Essential Project Management functions
Ease of Use and Interactiveness
Reviews
Relative "wow" level to the rest of the industry
WP Project Manager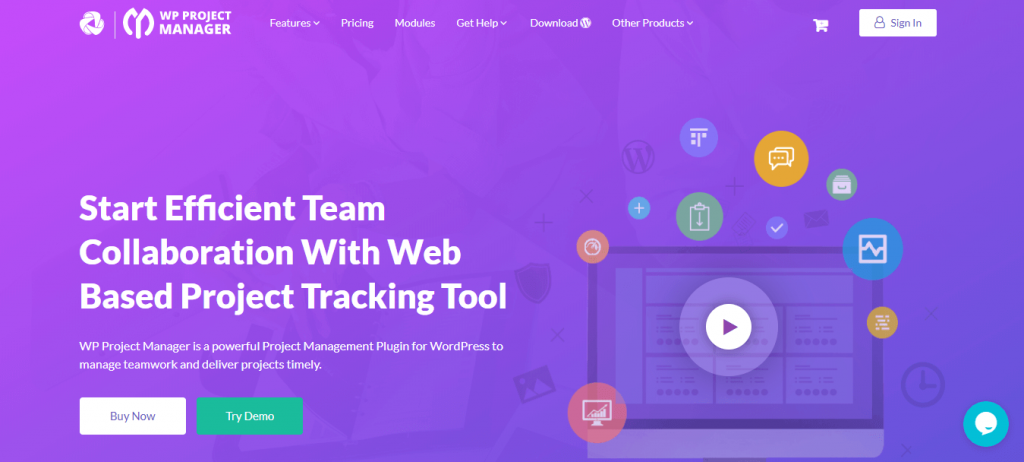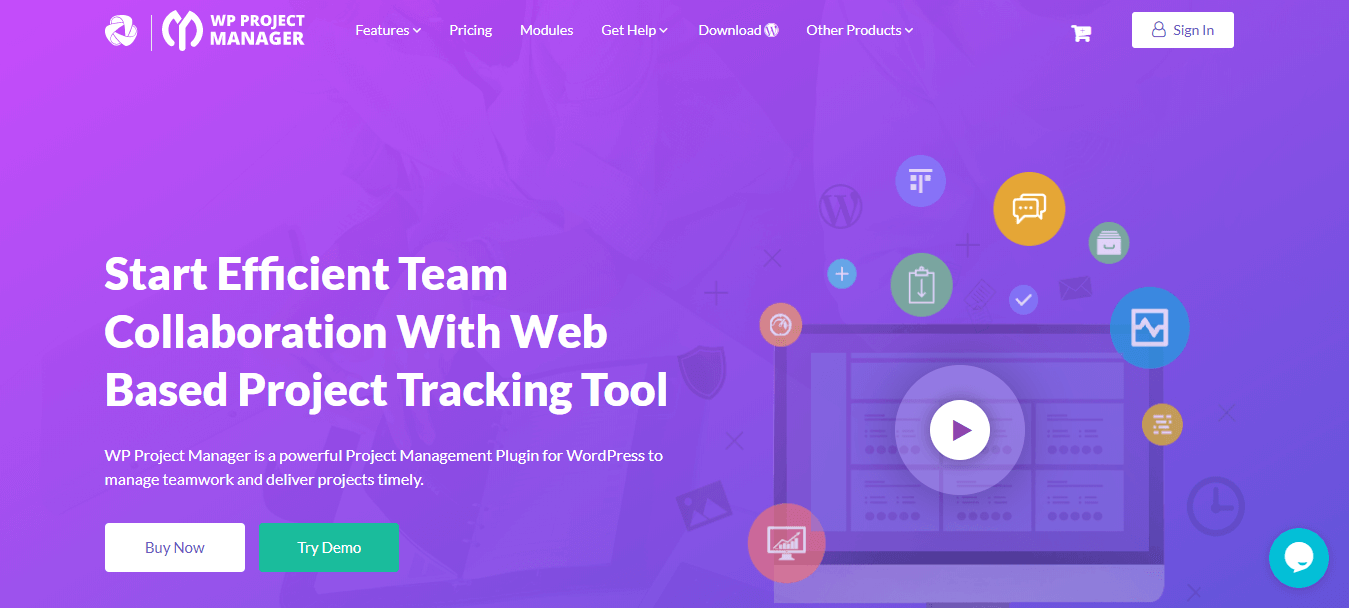 Though WP Project Manager started only in 2014, it runs faster than the other cloud-based solutions which have been in the market for long.
WP Project Manager is an Open Source WordPress plugin that comes in both free and pro versions. This means you can input your own coding and customize the software the way you prefer for your company's needs.
Moreover, since it's not hosted, users' data remain secure within their own systems.
The Pro version of the WP Project Manager has over 194,734 downloads and 10000+ active users. Of course, it requires you to be online, Therefore, WP Project Manager is an intuitive task-management system that works best for teams seeking real-time interaction.
The Pro version is an all-in-one solution ideal for any team's needs. Not only is it good for team collaboration and task management, but also for advanced reporting that gives details of each project and each member's activities.
WP Project Manager identifies each team as a separate "project", and takes you on a step-by-step process so you can visualize your project goals. The manager gets full control of a team's productivity without subscribing to any third-party site with limitations. Users can create unlimited projects, tasks and involve an unlimited number of people.
It covers every step of a task – from organizing, deadlining, task prioritizing, team-based assignments, chopping down work to the minimal bits and getting the work done with detailed progress reports.
Pros

:
The overview dashboard gives a bird's eye view of all the project and its associated team members. Users can manage assigned tasks, sub-tasks and personal progress from a single screen.
If you have a software team, they can quick task assign and break down tasks into smaller details.
Or let's say you have a marketing team – Deadlines and Milestone management will help your team to calculate and progress with blazing accuracy.
Check day to day, weekly or monthly progress of your projects on the calendar. Users can even drag and drop tasks to change due dates. The admin can also decide user roles and customize the access for each user associated with a project.
It comes with a built-in private messenger. It also comes with a file manager. Imagine if you have a creative team, file sharing and discussion with members allow will your team to achieve client outputs with much more clarity and reduce the confusion.
You can also privatize your tasks, to-do lists and milestones. You can also know every bit of the update from Activities. Aside from all these features, WP Project Manager also comes with advanced reports that include filters to narrow downtime, tasks and co-workers too.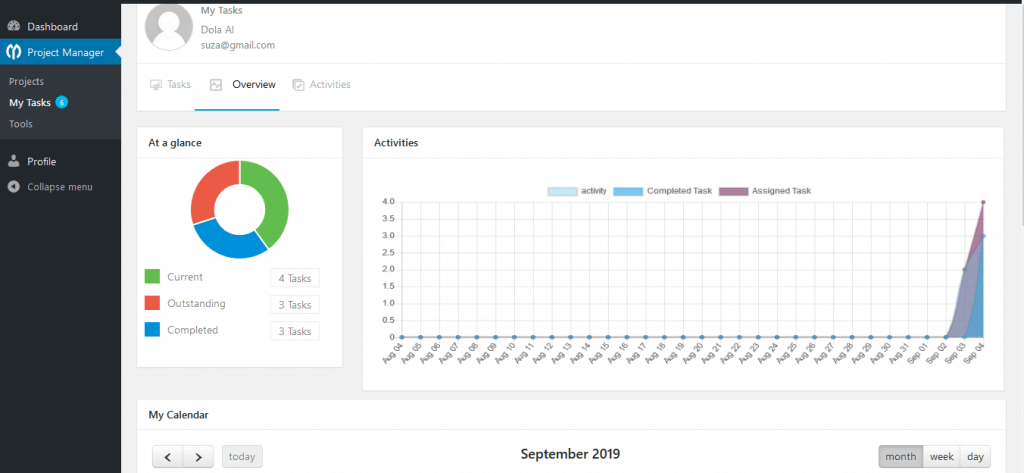 It also has a daily digest feature to send auto-emails to all users notifying about pending and upcoming tasks for the next day and also a summary of the day.
More advanced features include a progress report of all the teams across the company, time tracking for easy track time spent on each client or task, frontend compatibility, and integration with WooCommerce. Your support team can easily track the time spent on each client. Extensions like Gantt Chart and Kanban Board advance the features of WP Project Manager even more.
For a single site, WP Project Manager Pro costs $59 per year (unlimited User).
Cons
WP Project Manager is dependent on your own hosting server. Therefore, slow hosting can interrupt the flow of work. Though the features are intuitive, the user interface is still developing.
Asana
Asana started in 2008 and is essentially a cloud-based team-working software. It ensures its features come together to make teamwork smooth and effortless.
Asana is also one of the most popular project management apps available both on web and mobile, though the mobile version does not have many features. It has more than 140,000 customers and 1.4 million users.
Pros
From dividing tasks, handling multiple staff, tracking and managing projects, Asana claims to "break goals into actionable steps" and change disorganized tasks "from chaos to clarity". Asana maintains a high overall rating of 4.5/5 with 1,300+ reviews on Capterra.
It also comes with a host of apps and integrations that boosts the performance of teams, such as, Slack, Dropbox, Google Forms, Trello, and many more. Some are free and some are paid.
The Premium version comes with more advanced features. It allows its users to secure data, add more team members, customize searches with advanced filters, add unlimited projects, get premium templates and much more. But it doesn't allow full organization data control, custom branding, and other security features that ensure the safety of data.
The premium version starts with $9.99 per team member per month.
Cons
However, Asana is free for up to 15 users only. So you see even for small and medium enterprises, it can become a difficult option to run it for free for all team members. Apart from that, Asana does not allow offline use. In addition, reviewers sometimes feel that it's not user-friendly and support via customer service is not up to the mark.
Basecamp
Basecamp is another cloud-based solution like Asana. It started in 1999. This is how Basecamp describes itself:
Instead of having stuff scattered all over the place — strewn across separate products, lost in inboxes, or scrawled on stickies or notepads — Basecamp brings everything your company's working on under one roof.
Pros
Basecamp aims to be like a ubiquitous solution for all work management needs so you won't even require sticky notes and note pads. Basecamp comes with a single page view of all that's going on, i.e., all the teams and projects are in one place.
It includes: To-dos for tracking work, a Message Board for posting announcements and updates, a Campfire chat room for quick casual chats with the team, a Schedule for posting deadlines and milestones, and Docs & Files for organizing all the assets and notes. Again similar to WP Project Manager, Basecamp has Discussion boards that keep the entire conversation about a specific topic together on a single page and private/instant messaging built-in.
Automatic Check-ins in the premium version automatically ask people to write up what they worked on every day, every week, once a month. Reports are displayed in the software for every team and project and summarize key activity.
The Pro version of Basecamp starts with $100/month for business.
Cons
The software has limited features, non-customizable, no time tracking, no budgeting, no analytics, and a not very appealing dashboard.
FreedCamp
Compared to the other solutions, FreedCamp claims to be a planner for anything – wedding, camping, work from home or office work. It began its journey in 2010. FreedCamp is a companion for all types of events.
Pros
It comes with a task and subtask list, option to create personal tasks, Kanban board, and Gantt Chart. Moreover, like the other solutions mentioned above, it also has a calendar showing all the due and completed items, and that lets you create Events/Tasks/Milestones. It also has a discussion board for team members to figure out things between themselves, and Milestones that gives teams small goals/something to look forward to as they progress with a task.
It also has document storage called the Wiki, a social communication Wall for team members to hang out, templates, invoicing, a Time and an Issue Tracker.
The best part is that FreedCamp is absolutely free. Users can add unlimited users, projects, storage, and it comes with a superb design and innumerable functions. Freedcamp has also optimized its website for mobile use and offers an iOS app.
It's Pro version for small and medium businesses starts with $8.99 per month.
Cons
Admins cannot set or change user permissions. The solution is also not customizable. There are also some missing features, such as Gantt charts, task dependencies, and recurring tasks.
Hubstaff Tasks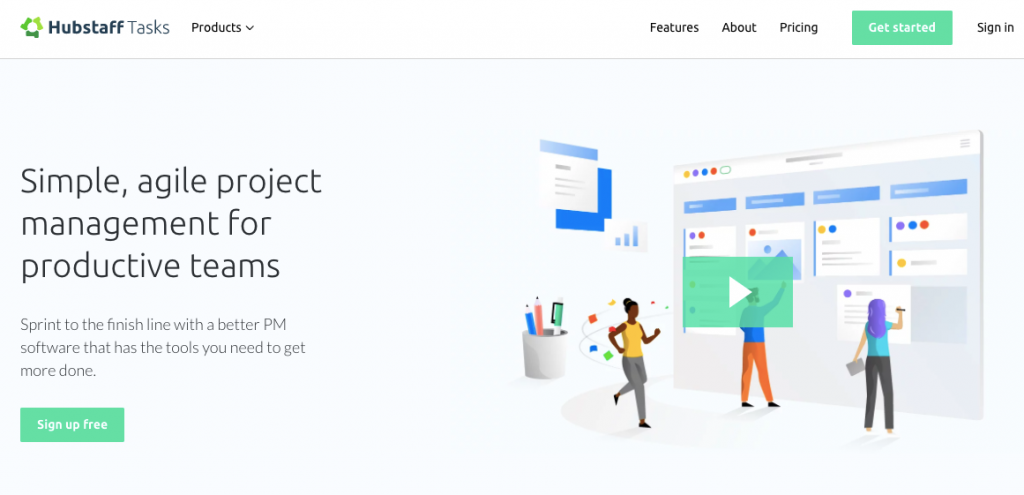 Hubstaff Tasks is an Agile collaboration tool that's designed to boost team productivity. It has a Kanban-style user interface that allows teams to easily stay updated on the progress in each project. Hubstaff Tasks helps you stay on top of all your projects and collaborate with your team to get things done efficiently.
Pros:
Hubstaff Tasks has several useful features built into its simple and intuitive interface. Its Sprints feature shows you current and upcoming tasks, as well as backlogs. This helps you budget your time on more important and urgent tasks so you can avoid missing deadlines and accomplish tasks at a consistent rate.
Task management with Hubstaff Tasks is easy. When you assign tasks to people in your team, they will automatically receive notifications so they don't miss anything.
You can also include other involved people in tasks as followers. Hubstaff Tasks keeps all task-related information together in Kanban cards. These include task labels so you can search for specific tasks faster, comments and mentions for quick updates, and task checklists and progress bars that eliminate the need to constantly ask for status updates.
Hubstaff Tasks' Kanban-style lets you move tasks from one project to another without any hassle. You can do this by dragging and dropping task cards to different columns, or you can create custom workflows that let you move tasks to the next phase with just a click.
Hubstaff Tasks' Premium plan starts at $4/user per month.
Cons:
Hubstaff Tasks is still new. It only integrates with one app, and its free plan supports only five users and a limited amount of storage.
It is useful for freelancers or small teams, but larger businesses will need to use its paid plan for it to be effective.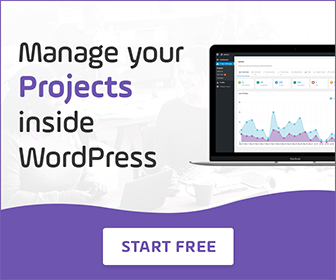 So, What are You Looking Forward to
These 4 are among the top within their own platforms and all are ideal for small to medium-sized businesses. While Asana, Basecamp, and FreedCamp are cloud-computing based software and are hosted, WP Project Manager is a popular WordPress plugin that also gives strong competition to the rest.
Tell us which Project Management application you are using. Share which one(s) you think is better than the others. Our comment box always welcomes your valuable response!