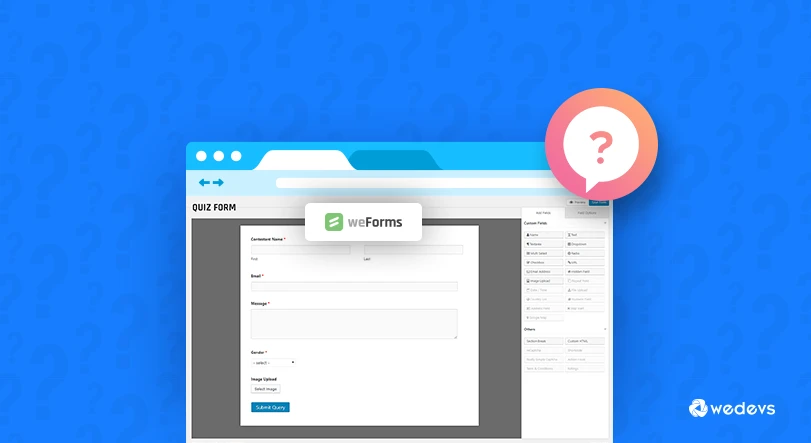 How To Successfully Create Quiz Using weForms
Content marketing is the most effective strategy in the world of digital marketing. These days marketers are increasingly engaging in the battle to make their content stand out from the crowd. As things get more digital and people become tech-savvy, a new challenge arises for the content marketers.
How to create contents that stand out in the crowd?
There are certain ways and approaches definitely. But we came across a surprising stat about the nature of the contents:
Engaging and interactive contents result in more than 4 times views than static contents.
The case for engaging content is supported by most of the content marketers. But this 400% gap between two types of contents felt a bit overstated. We were already doing enough resourceful content (static ones) on a regular basis. After a brainstorming session, we decided to do interactive content on a test basis and check how it turns out.
A New Way of Engaging Readers
We first started with this interactive quiz content for the readers of the weDevs blog. The questions were related to basic WordPress knowledge. The idea was to catch the attention of all WordPress enthusiasts, not just the coders. And guess what, the response from the participants was really overwhelming! We were flooded with Facebook and Twitter mentions from them. They also appreciated our efforts by commenting on the blog and reaching to us through email.
At that time, we used Playbuzz to create the quiz. Though it is a great plugin with awesome user-interface and support, we identified a few setbacks–
We could not track any data of the participants.
There was no option to add a collaborative account.
The interface is neat but it shows the white label of Playbuzz.
We could not execute few other plans as well. But the total campaign opened doors of new possibilities for us. The next time, when we started planning on quiz campaign for WP ERP, we were more prepared than before.
We Brought A Big Difference in The Next Quiz
The major difference was that instead of any 3rd party quiz plugin, we used our latest product weForms. It is a form builder plugin with plenty of free features and exclusive integrations. weForms is launched with a view to solving some major shortcomings in the form plugin market. Two common complaints from the users were- either they lack advanced features or they are outside the budget.
Quiz form is one among the many types of forms that can be built with weForms.
Preparing Question Fields
By using the right field options, the quiz content can be customized up to user's requirement. There are 20+ custom field options to select from. It covers all the required fields to create a survey form, quiz form, job application form, testimonial form, gallery form and many more.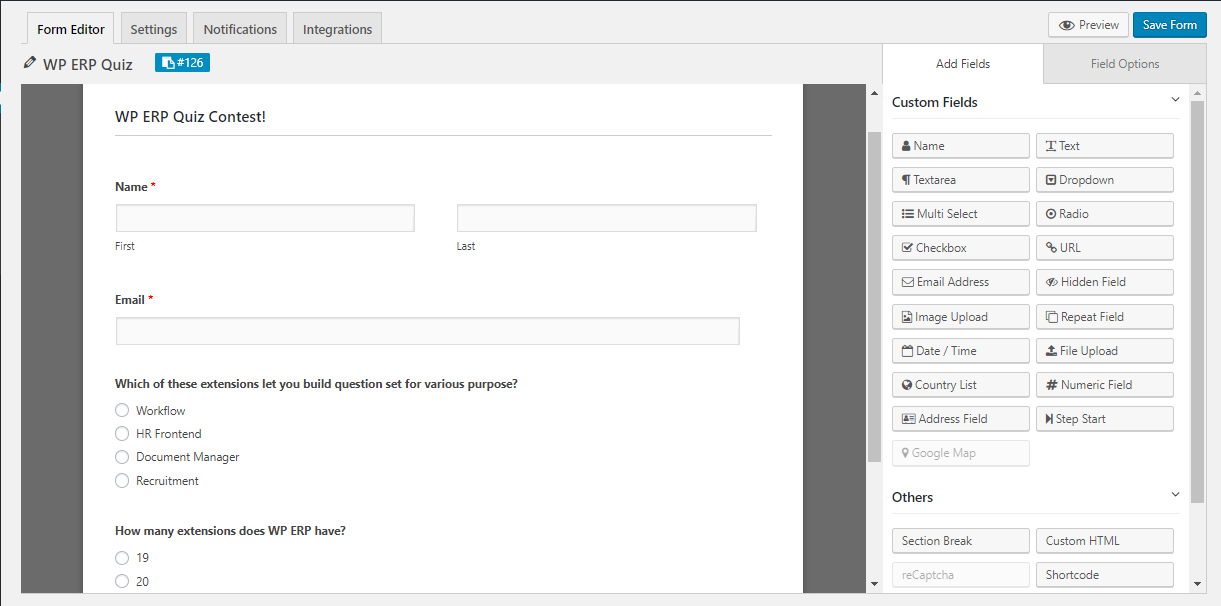 This is how the form looked when creating the quiz content. We only needed to drag & drop custom fields in the white space and edit the texts from the field option. The name and email fields were marked as required since we needed it for announcing winners and distributing prizes. The multiple choice questions were prepared from the radio fields.
Our participants had to answer 10 questions- all related to different modules of WP ERP.
Sending A Thank You Mail For Participating
It did not take me much time to set the question fields. "The Easiest & Fastest Contact Form Plugin" tag seemed pretty justified here. Anyway, after that, we were trying to find ways to send personalized messages to participants. weForms got it covered too. From the notification tab, we could easily automate a custom Thank You Mail to the participants.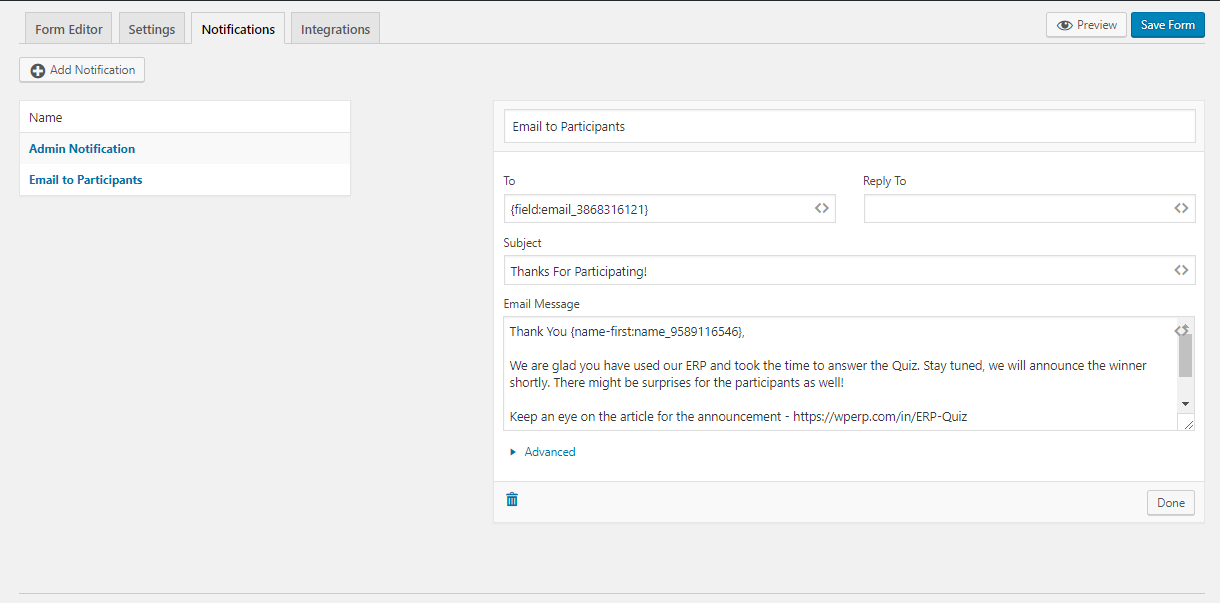 You can add other email recipients as CC and BCC. Then save the progress of your form. Anyone who submits an entry to your form will get this email instantly.
Getting Submission Data Straight To Mailbox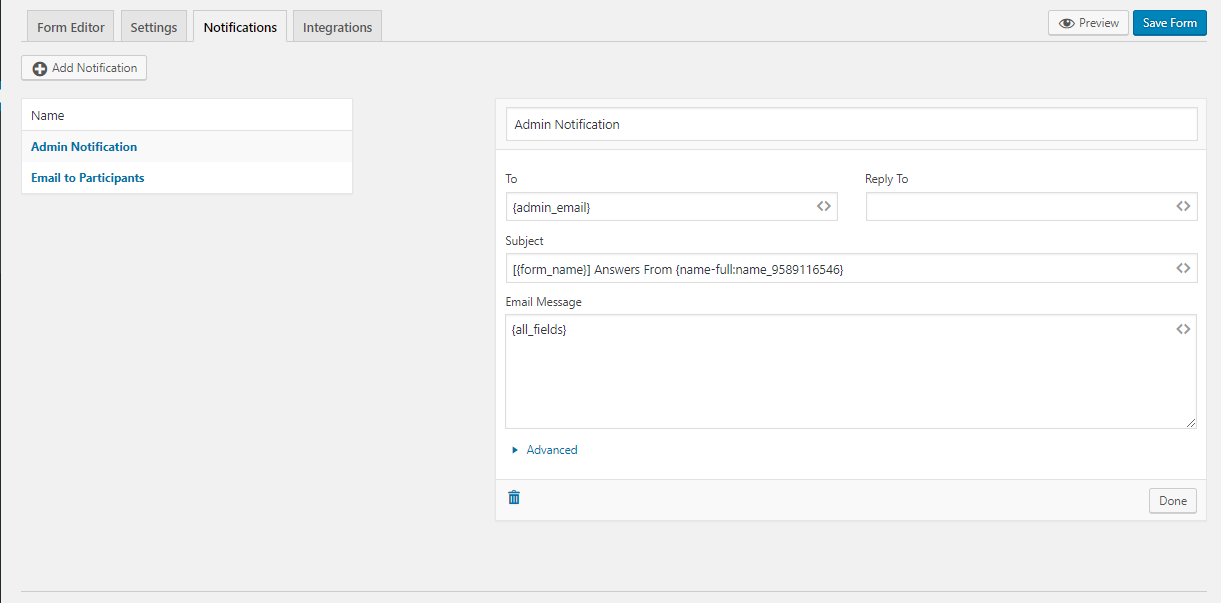 All the participant's data could be accessed from the admin panel, still, we thought about turning on the email notification. Every time someone takes the quiz and submits it, we will be notified through email. It is particularly helpful if you want someone to view the form submission without giving him backend access.
Export Entry to CSV Format
Form Submission data are stored safely in the backend of the plugin. As we can access them anytime and export to .csv conveniently. It also shows me the conversion rate as well by tracking the number of times the form has been viewed.
Integrate with Email Marketing Services
With weForms, you can integrate the form with all the major email marketing services like MailChimp, MailPoet, AWeber, Constant Contact, Email Campaign etc. Email Campaign is the built-in email marketing solution of WP ERP. We have synced the quiz form with this. Every time someone fills in the form and submits, s/he is automatically added to our "Quiz Participants" list.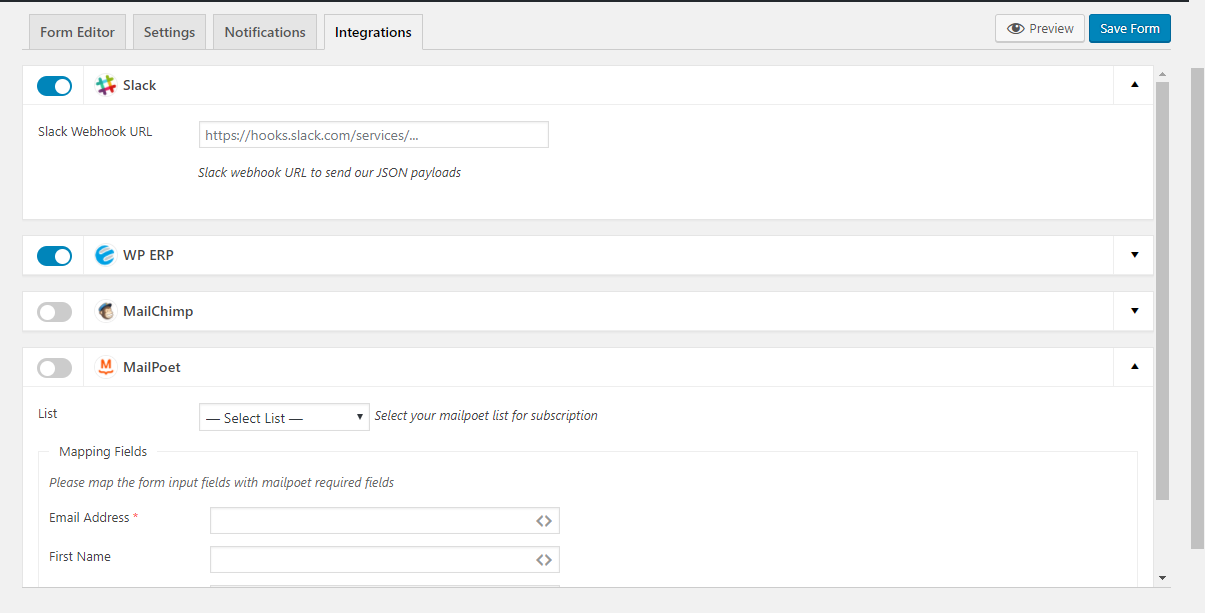 Understandably, it does not come with the Free version but you can get it for dirt cheap price. The personal package costs only $39 with which you can avail all these benefits.
The Final Outcome
The impact of the quiz content was far-reaching. Firstly, as expected, our blog engagement increased a lot. We had a healthy conversion from the quiz form. Most importantly, participants were taking an active interest in our products and the result of the quiz. Overall, it was a successful campaign for us. It made us confident about this one thing. If we have a feasible interactive campaign idea, weForms has all that it takes to implement it. Obviously, as long as it involves a form. 😀