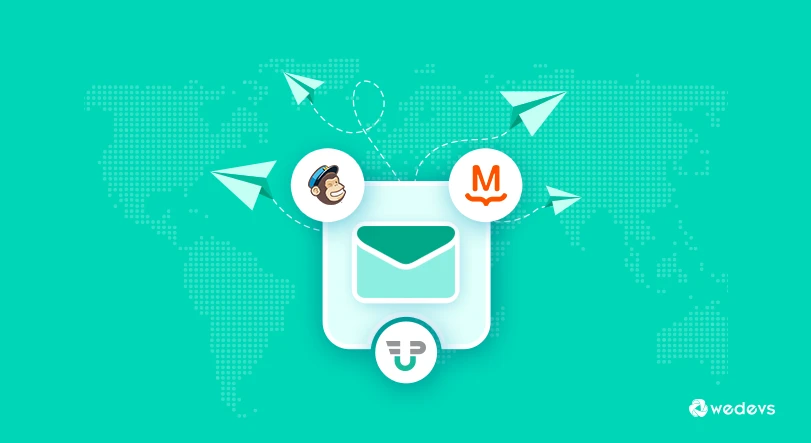 Boost Your Contact Lists with These Powerful Email Integration
Have you ever built a frontend post submission form for your websites? It can be any type of form which you use to accept write-ups from your contributors. Or it can be a profile form for registering members on your website. If the answer is yes, I am pretty confident that you have used or definitely heard of WP User Frontend.
All the vital data and credentials are stored in the backend of a website. Naturally, website owners are protective of it. That is where WP User Frontend comes into play. Website owners treat this plugin as a one-stop frontend solution for their business. From accepting posts, building profiles to making payments, and creating your own dashboard- WP User Frontend covers it all from the frontend. If you want to know more, read this customer story. It will guide you through some interesting use cases of the plugin.
Email Marketing Integrations with WPUF
It is already a proven fact that email marketing can effectively grow your business. There are interesting findings of HubSpot, a pioneer authority on Inbound Marketing.
Email Marketing still has a Return on Investment of 3600%
So, it is really important that you gather and nurture your email lists properly. You can use these data to maintain relationships with your contact and promote your offerings. You can save yourself a lot of hassle if you automate the process. For that, you need to integrate your email marketing service with other services.
WP User Frontend offers MailChimp and MailPoet Subscription addons. As you already know, MailChimp and MailPoet are two very popular email marketing solutions. They two alone occupy almost 50% of the total email service user market share. While MailChimp is the premium brand across all platforms, MailPoet is particularly popular among WordPress users. To date, the plugin has seen more than 400 thousand active installs and 6.5 million download counts. Take some time to think about the application ecosystem these two are contributing to!
Anyway, here I will discuss how you can use these two addons with WP User Frontend Pro to automate your subscription process.
MailChimp
Step-1: Install the addon
You can download the MailChimp add-on from here. Then install it like any other WordPress plugin from your website backend.
Step-2: Get MailChimp API Key & Connect to Server
Log into MailChimp, click on the Account Name at the left top side. Then go to Profile and click on Extras. A drop-down will appear, you need to select Extras from the menu. A table will appear with all the API keys you have used. Copy an existing one and enter it into the addon settings.

After a successful connection, you will get to see the list of subscribers from your MailChimp account.
Step-3: Configure Settings to Automatically Add Subscribers
Now you can automate the list-building process. For that, you need to configure some settings in your desired form.
You will find a new MailChimp menu while creating submission/profile forms with WPUF. Tick on the checkbox where it says "Enable MailChimp" and select your preferred list. You will find a double opt-in option in the menu. If you select it, the new form submitter will receive a confirmation email. This is a great way to make sure you have their consent on adding them as subscribers.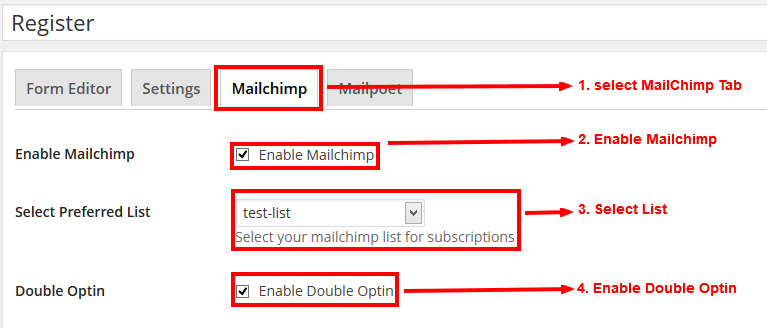 You have successfully connected MailChimp integration with your form. Now anyone who fills it will be added to your list. You do not have to manually add it or miss any valuable data. Just plan how you wish to use these data to take your business to the next level.
MailPoet
Step-1: Install MailPoet Integration addon
Download the addon from here. Install and activate it on your website.
Step-2: Download the Wysija Newsletter plugin
Our MailPoet integration is based on MailPoet 2 ( Wysija ) plugin. Download it for FREE and install on your WordPress website likewise.
Step-3: Activate MailPoet on WPUF and Configure Settings 
Go back to the forms you were working on. You will now find a new tab for MailPoet. Select the "Enable MailPoet" option to complete the integration. Just select the MailPoet list from the drop-down menu where you want to add the subscribers.

There is no option for double opt-in. That means anyone providing your email address with the form will be directly added to your defined list.
Wrapping Up
Profile and submission forms are crucial for collecting user-generated content in an organized way. Giving backend access for these purposes can be really unsafe and hazardous. So, consider using a frontend solution with which you can also restrict contents, collect payment and most importantly grow your email list. As one of the most important assets of your business, an email database can help you to maximize revenue and visibility.
So ask yourself, are you giving proper attention to your growing and nurturing email lists? If the answer is no, you should really be serious about it and start digging some valuable resources.
And if you want, you can also check out what you are missing in your frontend solution.