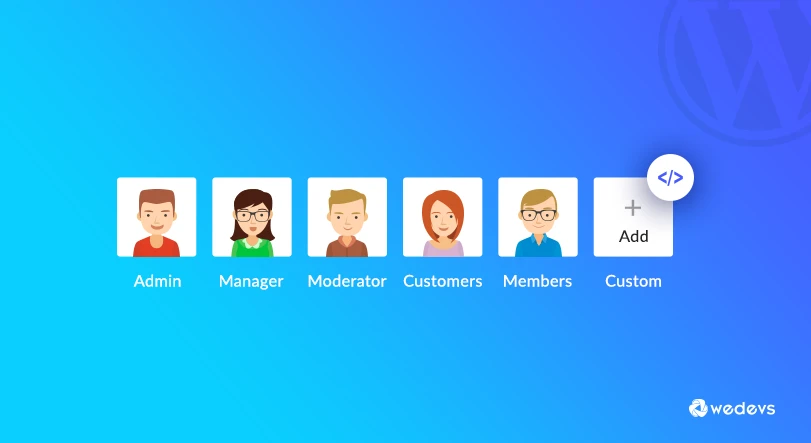 How to Add Custom User Roles on Your WordPress Site (Plugin+Code)
As your WordPress website grows and evolves, the default user roles provided by WordPress may not fully align with your requirements.
Whether you're running a membership site, an eCommerce platform, or a content-heavy blog, if you have the ability to create custom user roles, it can become a game-changer. You can easily manage user access and permissions effectively.
WordPress has six predefined roles: Super Admin, Administrator, Editor, Author, Contributor, and Subscriber. Each role is allowed to perform a set of tasks called Capabilities. That means capabilities for each type of role are different.
For example, the Subscriber user role has only read capability whereas the Contributor has different capabilities, such as read, delete posts, and edit posts.
In this article, We are going to discuss why a custom user role is necessary and how to add a custom user role. But first, you should be-
Understanding User Roles in a WordPress Site
Before you go and create any custom user roles, you need to know about the default user roles of WordPress. The user roles are-
Administrator: The Administrator role has the highest level of access and control over the WordPress site. Administrators can manage all aspects of the site, including installing plugins, creating and editing content, managing user accounts, and modifying site settings. They have full control over the site's functionality and can perform any administrative tasks.
Editor: Editors have the ability to create, edit, publish, and delete their own content, as well as content created by other users. They can manage and moderate comments, create categories and perform various editorial tasks. However, editors do not have access to sensitive site settings or the ability to install plugins or themes.
Author: Authors can create, edit, publish, and delete their own posts. They have control over their own content and can manage comments on their posts. However, authors cannot modify or delete content created by other users, and they do not have access to plugins or site settings.
Contributor: Contributors can write and submit their own posts for review but cannot publish them. Once submitted, their posts must be approved by an editor or administrator before they are published. Contributors cannot modify or delete posts created by other users and have limited access to site settings.
Subscriber: Subscribers have the most limited access among the default user roles. They can log in to the site and update their profile information. Subscribers can also leave comments on posts, but they do not have the ability to create or edit content. Subscribers are primarily used for user registration and membership purposes.
Check this article to learn more about WordPress user roles.
Creating Custom User Roles on Your WordPress Site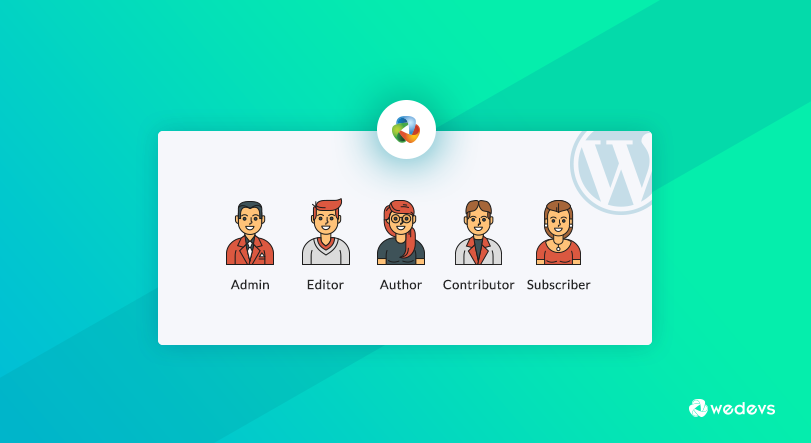 Suppose, you want to have a user who can only edit posts and read, but among the six default user roles, you will not find a single one who has only read and edit posts capabilities but more or less. In this case, what's the solution?
You may add edit posts capability for the subscriber by using add_cap(); function, but this is not a good practice. The best idea is to create a custom user role by assigning them capabilities.
There are two major ways of creating custom user roles in WordPress. You can do it by adding custom code or by using a plugin. We will discuss both approaches in this post. Let's see how they work.
How to Add, Edit & Delete A New User Role Using a Plugin
You may like to use a plugin instead of adding custom code. To create new user roles you can use Members plugin, it is a very popular user and role management plugin that was created to make WordPress a more powerful CMS.
You can easily install the plugin from your WordPress dashboard. Just go to WP-Admin–>Plugins–> Add New. There type the plugin name and activate the plugin. Now let's see how to add a new role using the Members plugin.
After activating the plugin, you can see all the available roles,
1. Creating a New User Role
After installing and activating this plugin navigate to

wp-admin → Members → Add New Role
Now,

enter the role title (e.g Comments Moderator)

Select the capabilities for this new user role (e.g. moderate comments, read)

Click on

Add Role

button.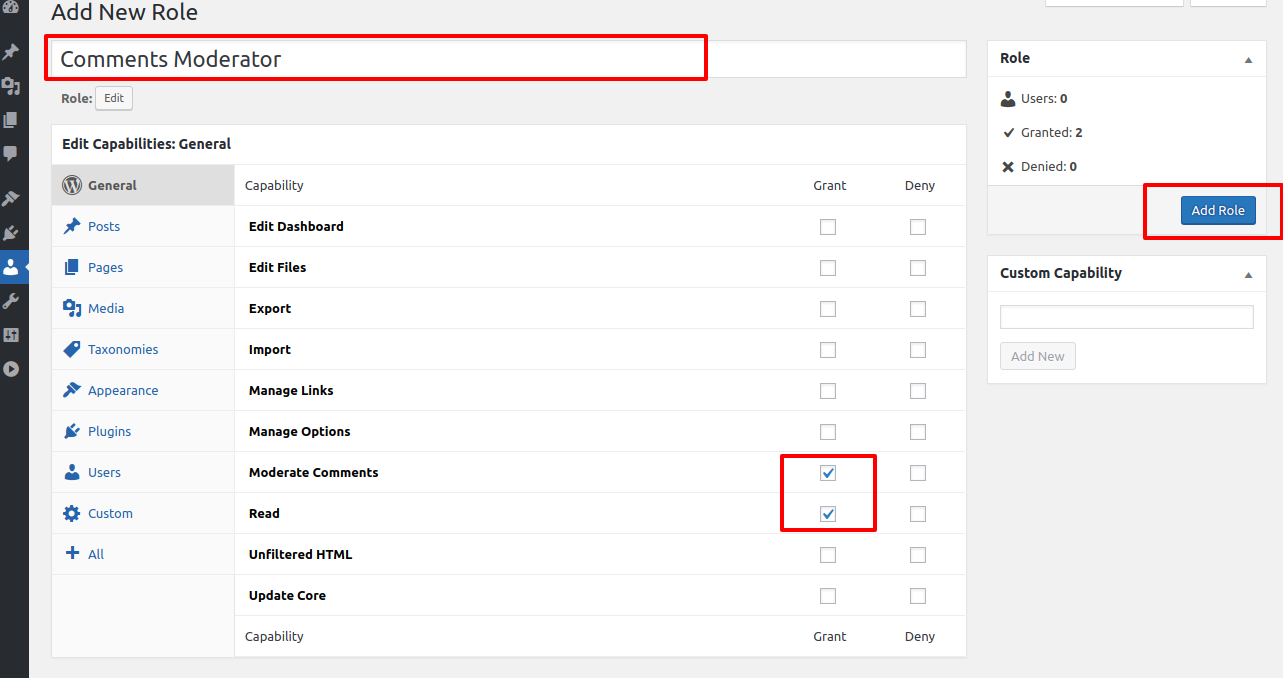 2. Assigning the New User Role
In order to assign a new user role, go to WP-Admin–> Users. Choose a user and assign the new role from the drop-down box,
3. Assigning the New User as Default User Role
Now, go to WP-Admin → Settings → General, and click on New User Default Role dropdown field. You can see and assign the newly created user role listed along with the default user roles.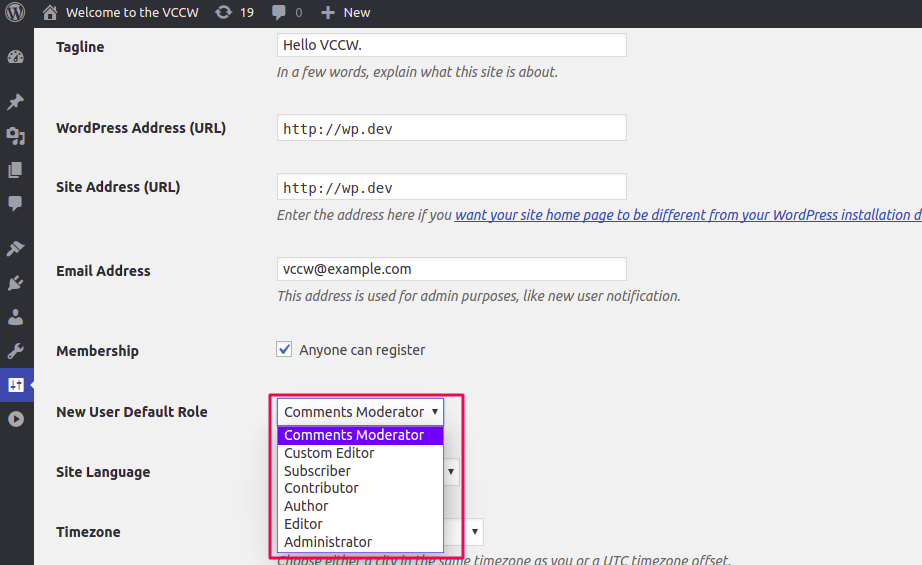 It's very easy, right? Using this handy plugin, we have created a WordPress custom user role and it took only a few steps!
4. Editing a User Role
With this plugin, you can edit an existing user role or the new custom role as well. Just go to WP-Admin–> Members. If you hover over your selected user role, you will find the Edit option.
Note: You can find the delete option as well if you want to remove any user role.
Now, check or uncheck the capabilities and then click on the Update button.
This is how you can edit or delete a user role using the plugin.

How to Add, and Delete a User Role Using Custom Code
WordPress is the number one CMS in the world and it is popular for its open-source nature. This means you have the opportunity of customizing WordPress the way you want and it's completely FREE. Just like that WordPress gives you the opportunity to create a custom user role by using a function called add_role();
The CMS provides five functions for managing WordPress roles and capabilities:
add_role(): For adding a custom role.
remove_role(): For removing a custom role.
add_cap(): For adding a custom capability to a role.
remove_cap(): For removing a custom capability from a role.
get_role (): Gets information about the role and its capabilities.
There are three parameters in add_role() function.
add_role( $role, $display_name, $capabilities );
$role

(

string

) (

required

)

: Unique name of the role

$display_name

(

string

) (

required

)

: The name to be displayed

$capabilities

(

array

) (

optional

):

Capabilities that one can access
Let's create a new user role named Moderator with read, create and publish posts capabilities. Include the following lines of code toward the end of your functions.php, which is located in your theme folder.
You can add the code by navigating to Appearance–> Theme File Editor.
add_role('moderator', 'Moderator', array(
'read' => true,
'create_posts' => true,
'edit_posts' => true,
'edit_others_posts' => true,
'publish_posts' => true,
'manage_categories' => true,
));
Here's how it looks like-
You will find the new user role in the WP-Admin–> Users section,
Now save the file, log in to your site with an admin account. Navigate to Settings → General. You can see the newly created user role in the user list.
That's all, you can assign a user to this role from the WordPress admin panel, also you can set this role as New User Default Role.
Removing a User Role Using Code
In order to remove a user role, just use the remove_role() function.
remove_role( 'subscriber' );
remove_role( 'editor' );
remove_role( 'contributor' );
remove_role( 'author' );
After that, click the update button,
You will see that the roles have been removed,
This is how you can add and remove roles using custom code.
We hope this tutorial will be very helpful for beginner users. If you have any suggestions or queries, please let us know in the comments.
FAQ(s) on WordPress Custom User Roles
What is the list of all possible Capabilities per user roles?
1. Super Admin–
create_sites
delete_sites
manage_network
manage_sites
manage_network_users
manage_network_plugins
manage_network_themes
manage_network_options
upload_plugins
upload_themes
upgrade_network
setup_network
2. Super Admin + Administrator–
activate_plugins (single site or enabled by network setting)
create_users (single site)
delete_plugins (single site)
delete_themes (single site)
delete_users (single site)
edit_files (single site)
edit_plugins (single site)
edit_theme_options
edit_themes (single site)
edit_users (single site)
export
import
3. Super Admin + Administrator
install_plugins (single site)
install_themes (single site)
list_users
manage_options
promote_users
remove_users
switch_themes
update_core (single site)
update_plugins (single site)
update_themes (single site)
edit_dashboard
customize
delete_site
4. Super Admin + Administrator + Editor
moderate_comments
manage_categories
manage_links
edit_others_posts
edit_pages
edit_others_pages
edit_published_pages
publish_pages
delete_pages
delete_others_pages
delete_published_pages
delete_others_posts
delete_private_posts
edit_private_posts
read_private_posts
delete_private_pages
edit_private_pages
read_private_pages
unfiltered_html (single site)
unfiltered_html
5. Super Admin + Administrator + Editor + Author
edit_published_posts
upload_files
publish_posts
delete_published_posts
6. Super Admin + Administrator + Editor + Author + Contributor
edit_posts
delete_posts
Is there a way to control whether an editor has access to only specific categories?
Yes, you can control and set your editors' capabilities.
There are some plugins in the WordPress repository to manage Editors' capability or you can fix the editor role from your dashboard by selecting the 'screen options' just below the boxes feature.