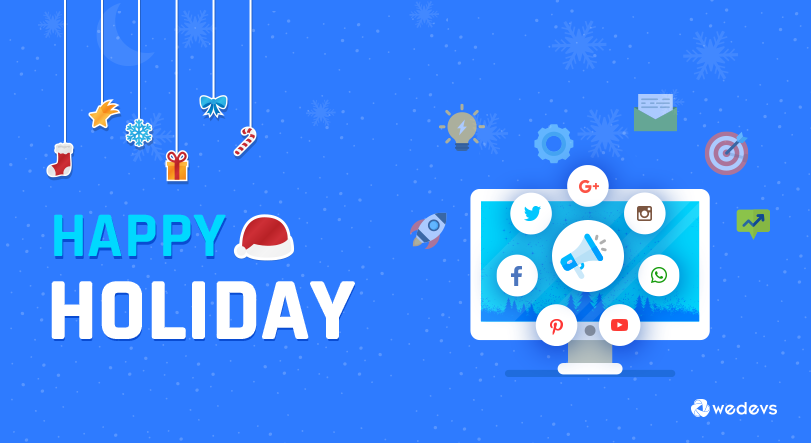 Strategies To Launch Social Media Holiday Marketing Campaign In 2017
You might not have the reindeers to help you prepare the upcoming holidays for your business, but you have social media. During the festive season, social media holiday marketing takes on a whole new role and let the brands create emotional connections with their consumers. ?
Perhaps you are owner of F-commerce or may be you run a small business using WooCommerce and you definitely have sales goal in your mind, but brand loyalty is something that you really need to be serious about. And brand loyalty has always been primarily driven by emotion. That's why, during holiday season, you won't just increase your revenue from social media, rather it's a great opportunity to create brand affinity among your consumers.
Since ours is a WordPress product company and one of our major products is a multi vendor marketplace solution, so we see lots of small businesses are actually trying to push their business on social platforms and social media holiday marketing plans can make their marketing effort a bit easier!
Clock is Ticking! Start Planning For Your
? Start With Last Year: Before you get started to work on your holiday marketing campaign, you need to visit the memory lane, walk through your previous campaign and your competitors' too! Did you launch any campaign on social media during any previous holiday season? What did your competitors do that time? What was the social reach and engagement from those? Find out the data and learn your lesson from that.
? Audience Targeting: To optimize your social media marketing, you need to set the potential target audience and which social networks they spend most of their times.
⚡️ Fix Your Goal & KPI: Using the outcomes from last year's campaign,  set a realistic goal for your this year's campaign. You need to decide what you want from it, either social engagement, social reach or lead generations.
? Choose Most Effective Social Media Channel: Based on your target audience, you have to select the most preferable social channels for your holiday marketing campaign. For some businesses, it can be common ones like Facebook or Twitter, but for food or clothing business, Snapchat or even Pinterest campaign could work like magic.
⏰ Set a Timeline: You should set a clear timeline for your holiday marketing campaign including a start and end date. Also you should prepare the schedule  for sending the social media post/message.
?️ Create Attractive Creative: You can easily enhance the brand awareness and go closer to your audience with a visually attractive creative. Well, you might need little bit of innovation and holiday flavor mixing up for doing so!
#⃣ Choose a Campaign Hashtag: Even if you don't like hashtags, the truth is they are actually effective in order to create engagement as well as to track the conversation from your specific campaign. You need to create a hashtag that will represent your brand, content and off course the campaign. P.S. You don't have to include your brand name all the time.
Data-Backed Social Media
So you have collected the data from last year and took the preliminary steps before start planning for the main campaign idea? Great, now we are ready to move forward.
To be honest, creating a holiday marketing campaign for social media is not that hard. Anyboday can do it with few Google search! Since you are reading this blog, you have already figured out that the hard part is creating a creative and strategic marketing plan!
But we are here to help you to inject creativity and launch an unique holiday marketing plan for your social media followers. Something that will ensure your brand gets noticed around the social platforms and fullfill your marketing goals for upcoming holiday!
Check out the social media holiday plans that we have come up with and feel free to mix-up the ideas and create your own unique one.
Create Exclusive
Don't you want to make your social media audience feel special during this holiday? This is your chance, mate! Apart from the social media, you definitely have other marketing plan for this holiday. No, you don't always need to allign everything, not all the time. You can walk through the same path but sometimes you need to explore sideways too!
It could be exclusive rewards, discounts or giveaways only for your social media followers. To pull it off uniquely, resonate the holiday flavour in it and create the announcement post mentioning that you care and value about your social media audience!
Create Campaign Using
If your holiday campaign goal is generating engagement and get connected to the followers, then its specially for you! You can just share few snap of how the company is preparing for Christmas or thanksgiving and ask them to share their stories. If you can use 'behind-the-scene' content right way, then it can genuienly create brand affinity.
People want to connect with other people, the real ones; not brands.
For creating behind-the-scene content during this holiday season, you might need to choose the social platform wisely. For example, Instagram or Snapchat is great for showcasing your fun side but don't share funny image on LinkedIn.
Host a Social Media
Social media contest is one of the popular way to generate community engagement. To include giveaway with it, you can get the most out of your holiday campaign. You can make the giveaway innovative using few tricks! Like you can ask them to share their holiday inspiration, snap, selfie, quotes with you and by uploading the content on your page, they will eligible to get the giveaway.
You can provide giveaway with every purchase they make during holiday season. Even you can create custom intentive which will be spiced up with that holiday theme and make people interested to participate in the content. Again, please keep in your mind that a visually attractive post will always get more engagement than a blunt one!
Run a
Campaign ?
You can show customers your thankfulness during this holidays by arranging a customer appreciation campaign. If you run e-Commerce website or any other customer service business, then you should take this chance to present the gratitute through a holiday campaign. You can do that by following ways:
Start A loyalty program during this holiday
Offer them to visit & spend with your brand
Spotlight customer on this special season
Send a gift to most engaged customer
Offer them to visit & spend with your brand
Throw a party & invite your loyal customer on social media
Launch a Holiday
For social media, holiday is a season for frenzy. To cut through the social media noise and actually engage with your targeted audience, a holiday hashtag campaign could be easiest and effective idea. You can easily track the engagement and generate brand awareness too.
Wrapping Up
Try out these holiday marketing ideas for your social media channel. Get best out of your marketing effort by trying to be creative about it, add elements that resonates with your brand or help your audience to connect with you!
Let us know, what are your favorite holiday Social Media campaigns and how was the outcome from it. Happy Holiday!