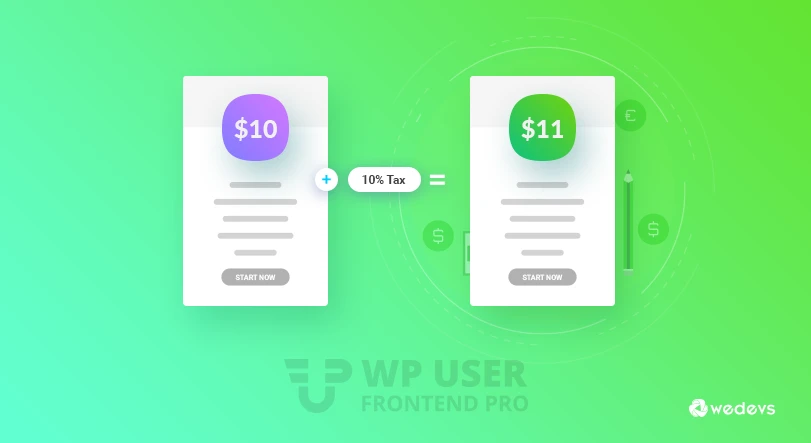 How to Set Dynamic Subscription Taxes Using WP User Frontend Pro
Do you have a PPP or Pay Per Post website or a Subscription Pack website driving a good number of traffics every day because of its good contents? If you have and are dealing with such kind of activities, you may need to set up taxes for your paid users. However, a fixed or static tax rate may not serve your purpose. You may also need to show or hide tax amount when the total price is viewed on the front-end.

This is where WP User Frontend moves the needle on by its dynamic tax settings feature. With this feature, you will be able to setup custom country and state-wise taxes with just a matter of few clicks. Guess what? You can also specify a certain amount of tax rates for those who do not belong to any countries and states listed in the plugin.
In today's post, we will show you how to set up dynamic taxes with WP User Frontend tax feature. No more fusses, let's see the procedure right now!
First off create Post forms and Subscription packs to use the Tax feature
In case you didn't know how to create posts then you can go through this documentation to get it done. When you are editing a post, enable pay per post by going to the settings. After creating that post form, you are ready to set up tax rates for it.
If you would like to set up tax rates for the subscription packs then you will have to create subscription packs first. You can do it by going to the subscription option. You can go through this detailed documentation to learn how to create subscription packs.
N. B. In either of the cases, you will have to set up the price for the service you are providing.
Enable the WP User Frontend Tax on Payments option
After installing the Pro version, navigate to the WP User Frontend Tax setting option. After that, make sure you have enabled the tax on payments option. It's super easy!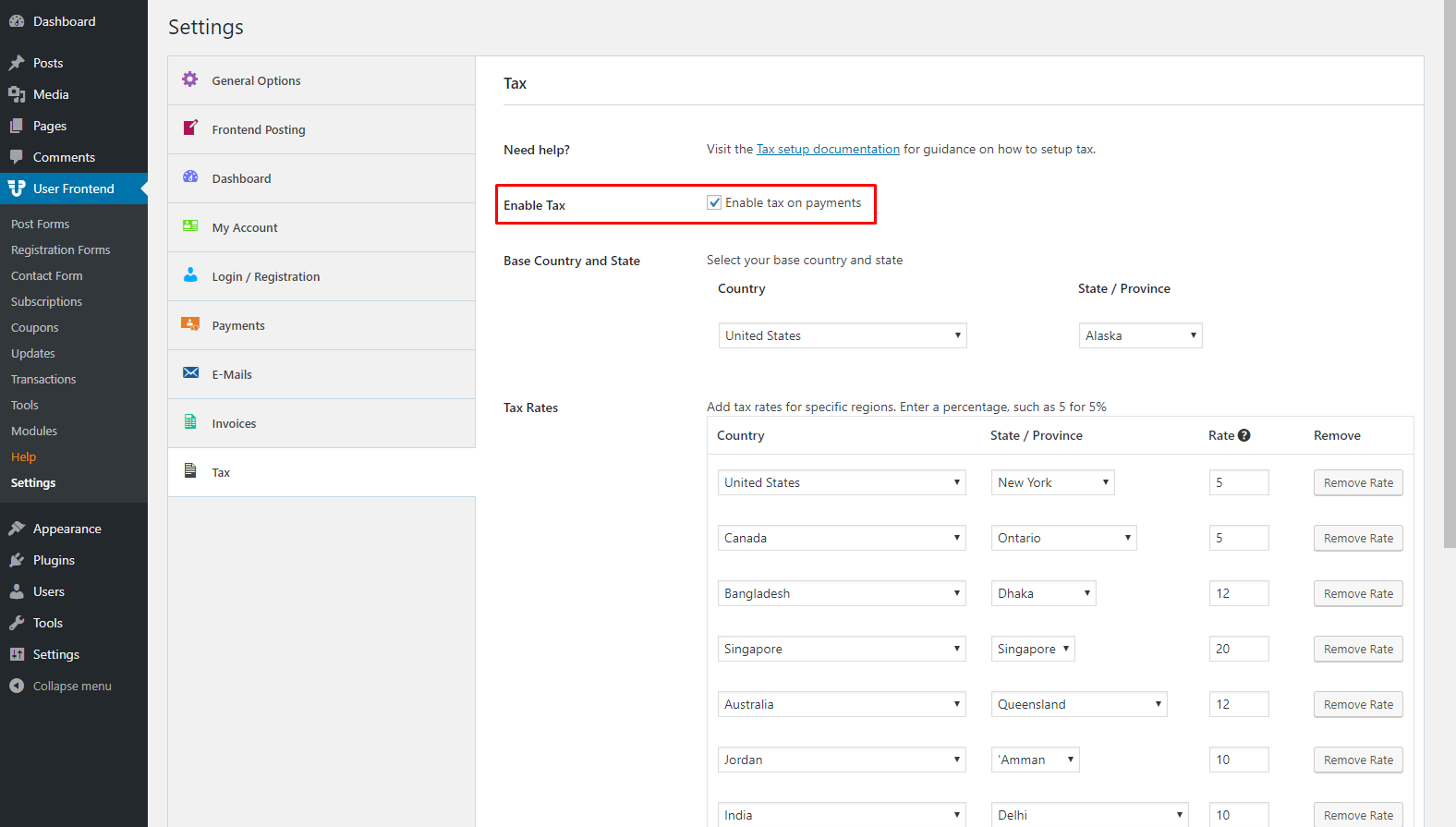 Feel free to select countries and states according to your need
Under the Enable Tax option, you will find the Base Country and State option. This option is important to define where your business or company is located. If you select a country, the state list will automatically be changed accordingly.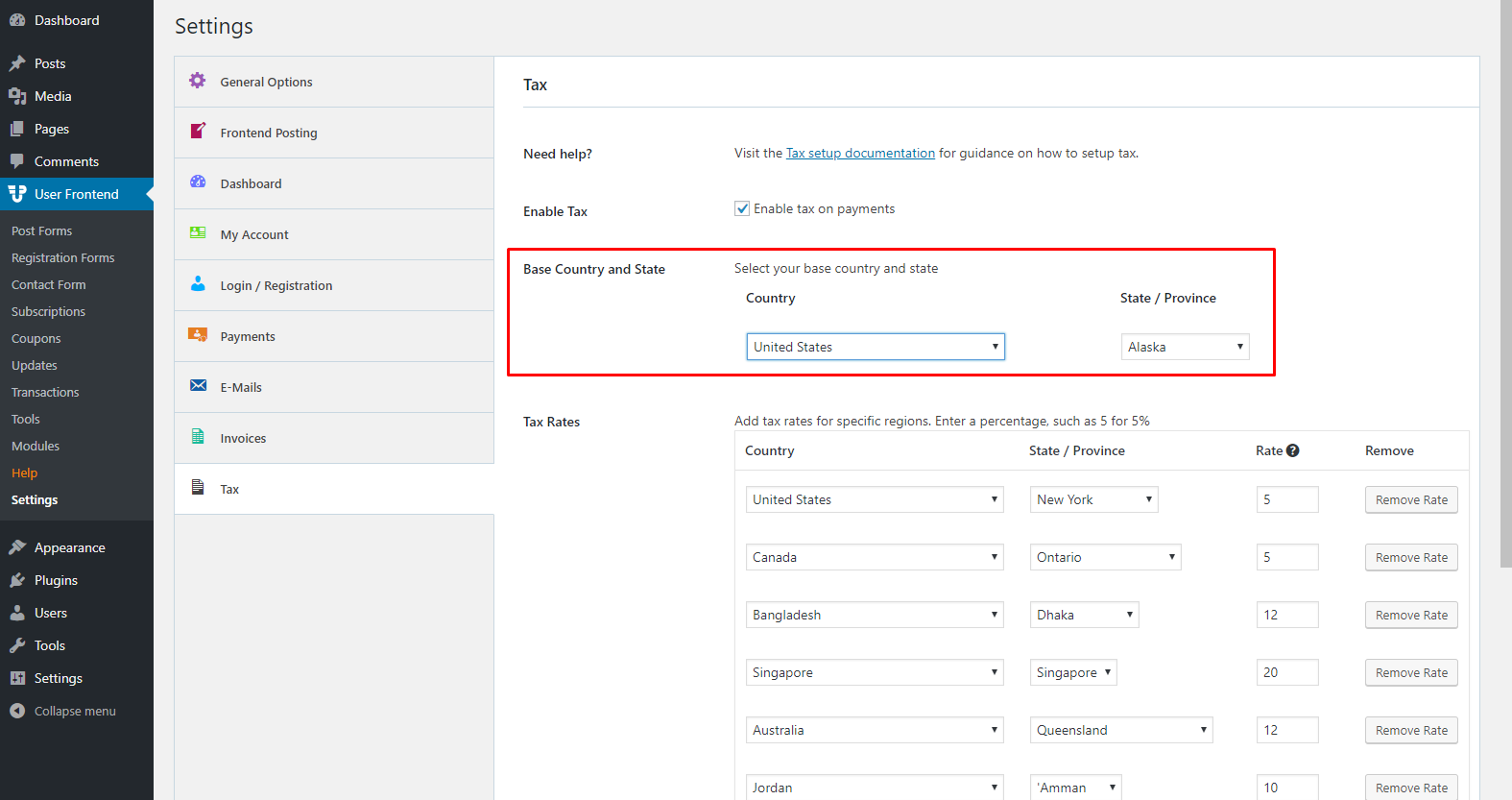 Specify the customized tax rates for the countries or states you selected
Now the real deal comes! Since different countries have different states and tax rates, our developers have added a drop-down option to select countries and state. After selecting your preferred countries, specify tax rates for them. In fact, setting up the tax rates is at your disposal because you can use the Add Tax Rate button to add as many countries as you need. You can also remove any unnecessary tax rates with the Remove Rate button.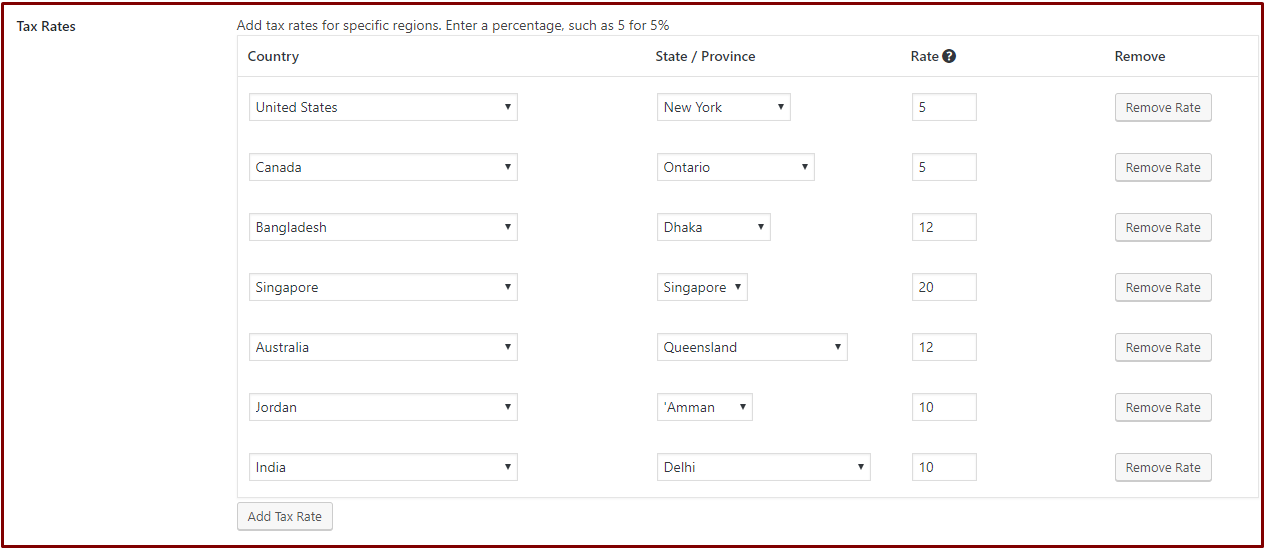 What if a user doesn't belong to any of the specified regions?
However, if your users do not specify his/her address in their profile or are not from any of the regions specified by the admin of the site then you can employ the Fallback Tax Rates.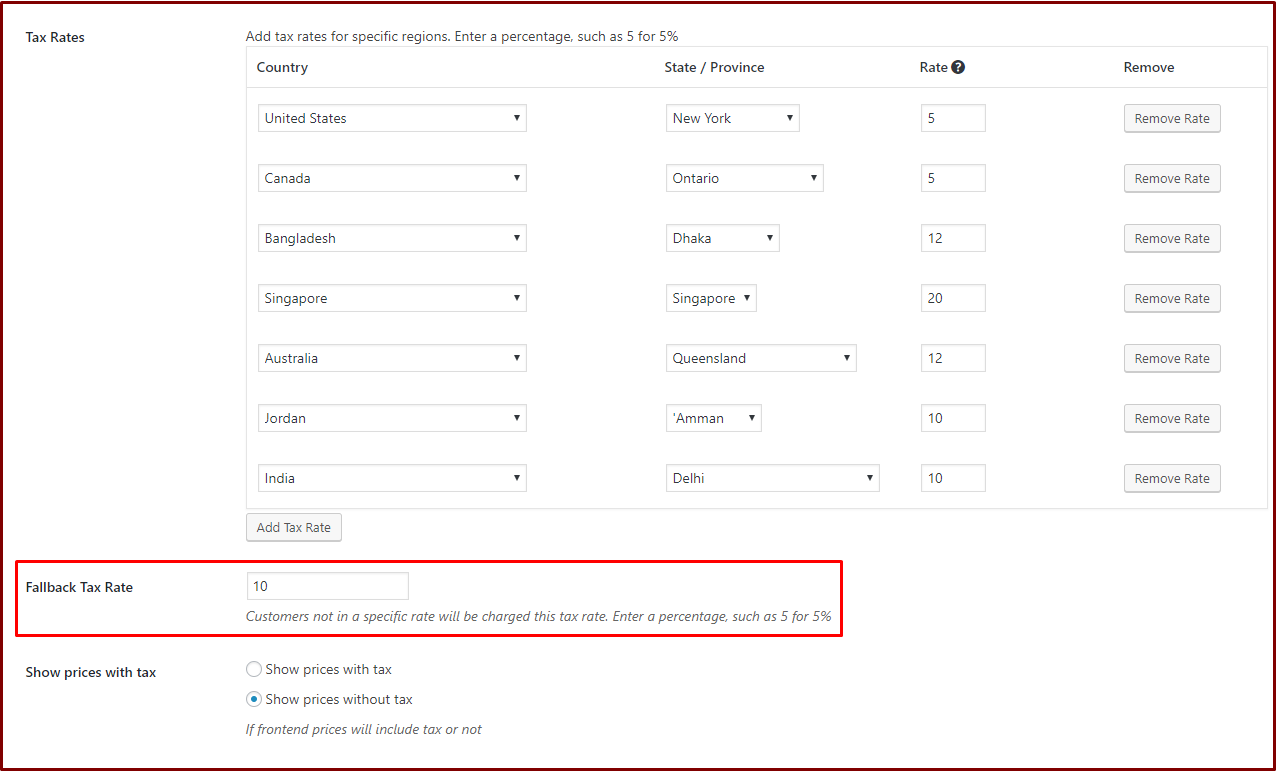 In the above example, any user who doesn't belong to the country or state that you set up will have to pay 10% tax rate.
Is it possible to show or hide tax rates?
Yes, it is possible! If you do not want to show the tax with frontend price then you can check the Show prices without tax radio button to hide the tax amount from the total price. Otherwise, check the Show prices with tax button to show prices including tax amount.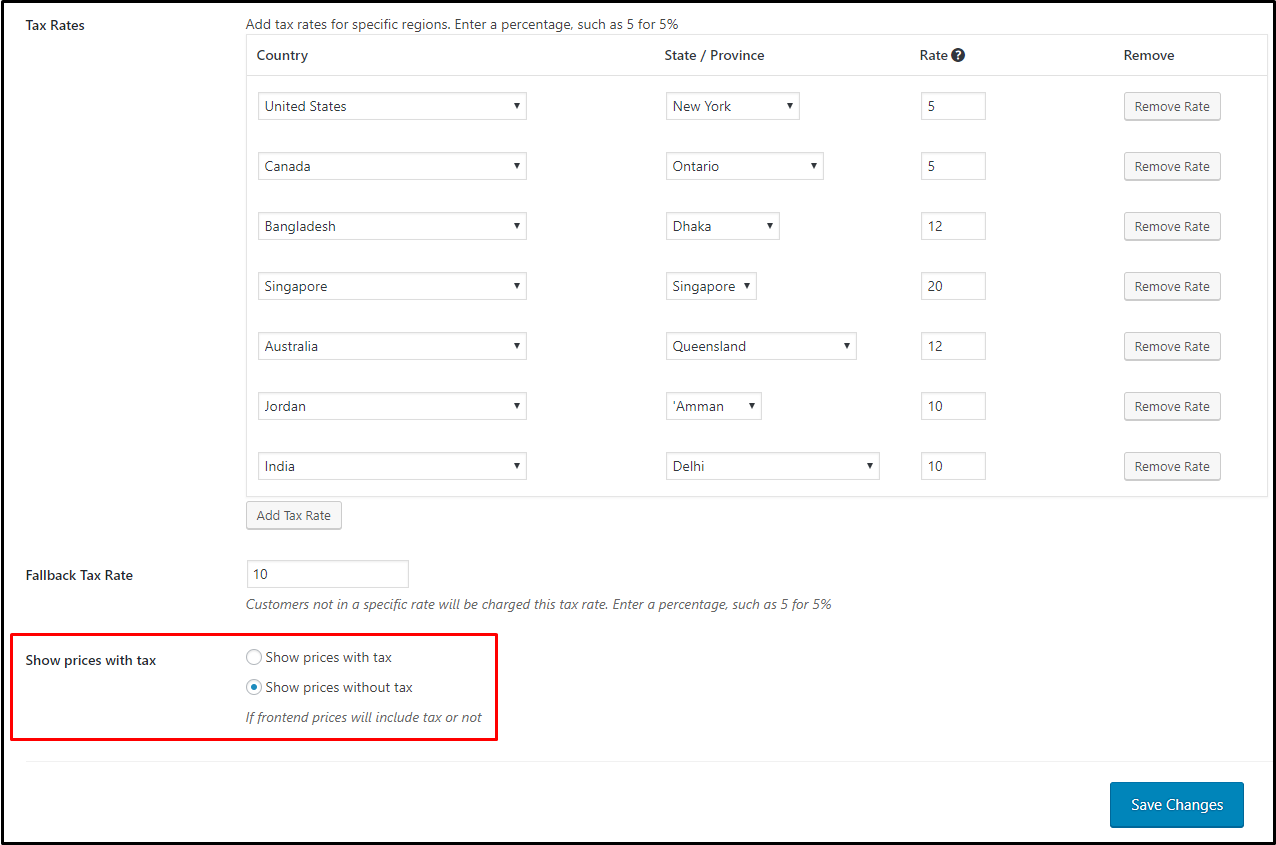 After having finished the configuration process, don't forget to hit the Save Changes button.
How will your users view?
For Pay Per Post Forms
After publishing your post form from the backend, set up the taxpaying rate. Now that you have published the post form, your users can see the form pretty much like this: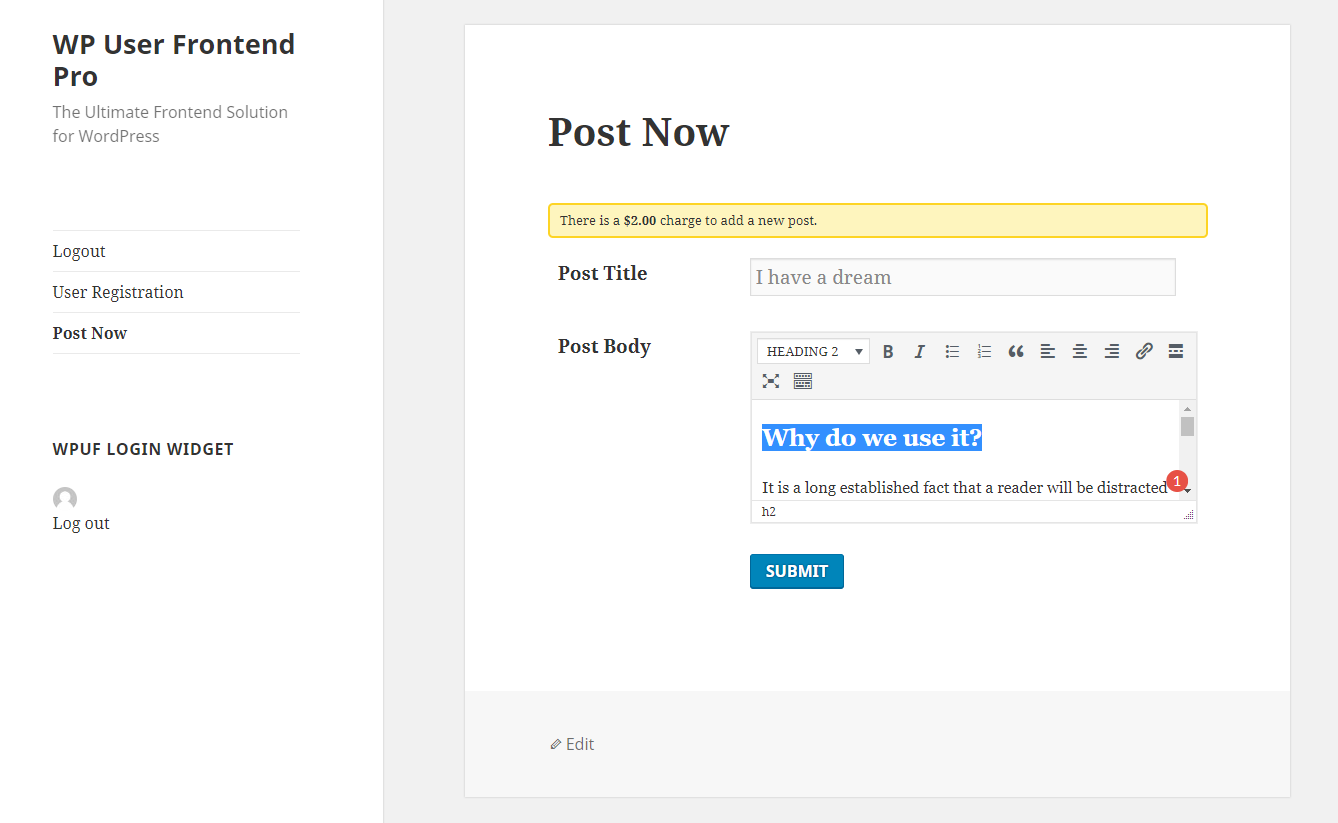 The above screenshot depicts the frontend view of the Post form without including taxpaying rate.
And this is the frontend view including taxpaying rate: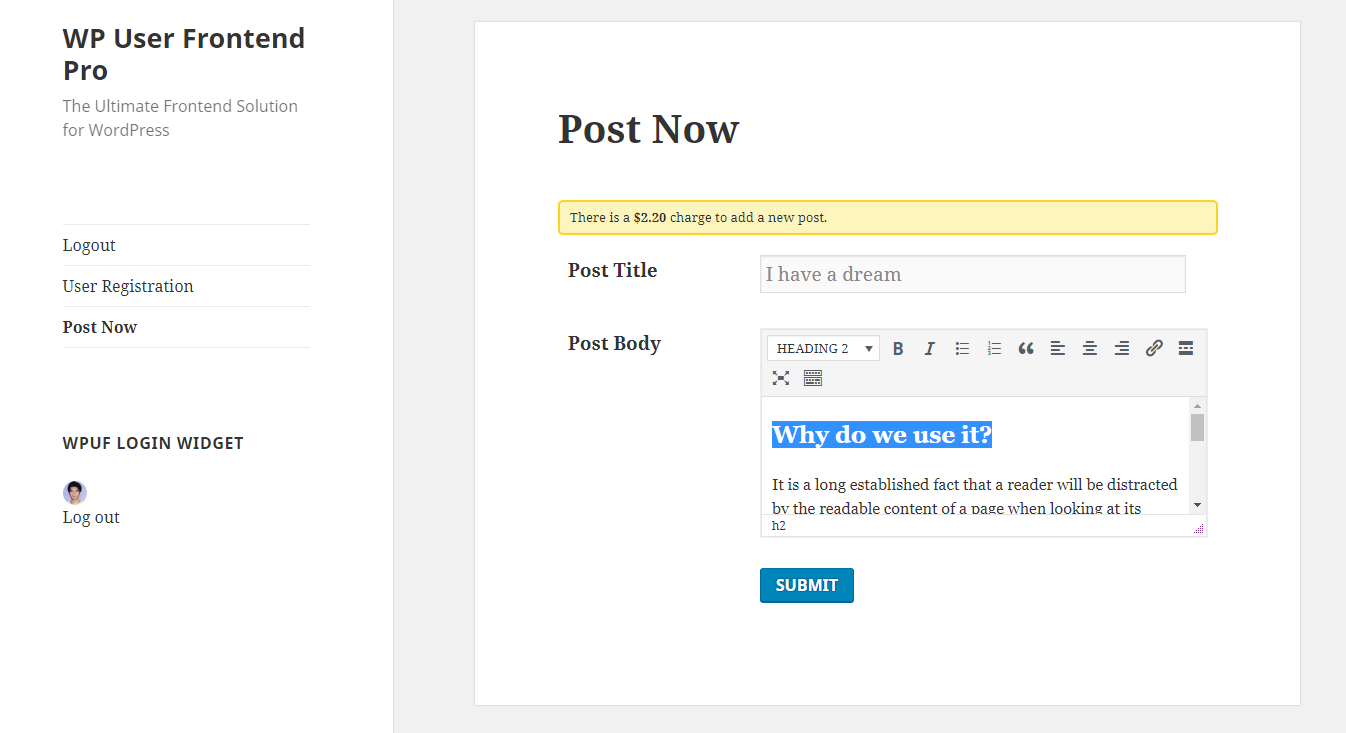 N. B. Though, in any case, the tax rates will be shown on the Checkout page. On submission of the form, the payment checkout page will appear to your user. Here is a preview: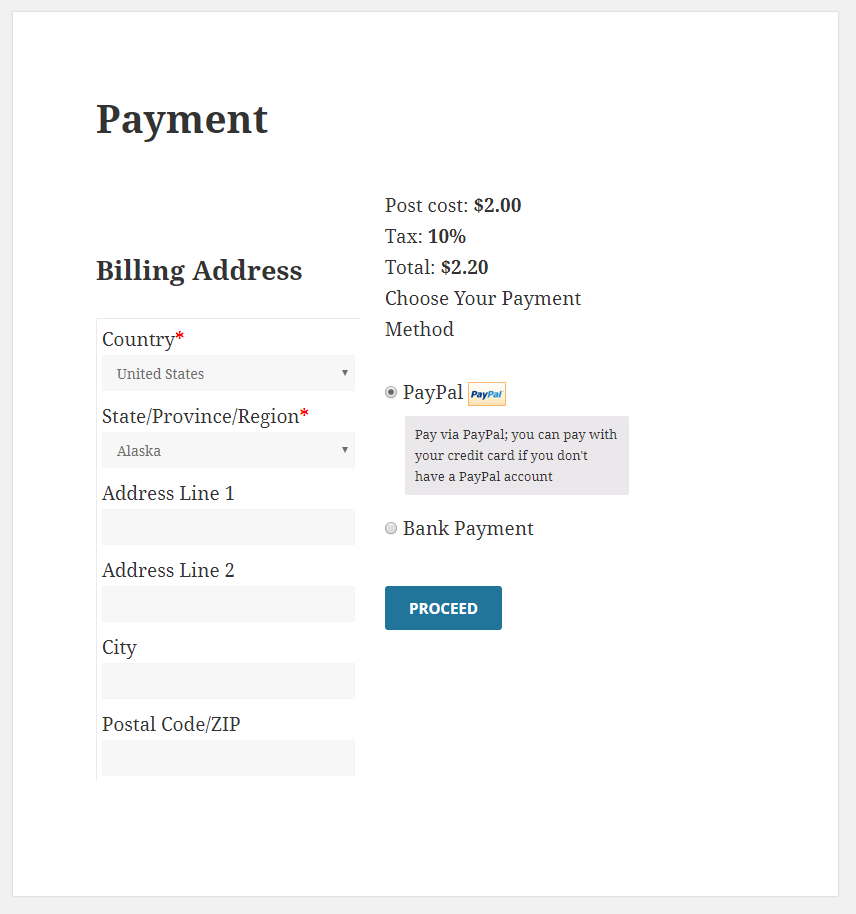 For Subscription Packs
Like Pay Per Post, Subscription Packs works the same. If you have enabled Show Prices With Tax, then your Subscription Packs will apply the tax rates to the prices according to your specified rates for the user's region or else it will apply the Fallback Tax Rate. Here is the front-end preview with taxes: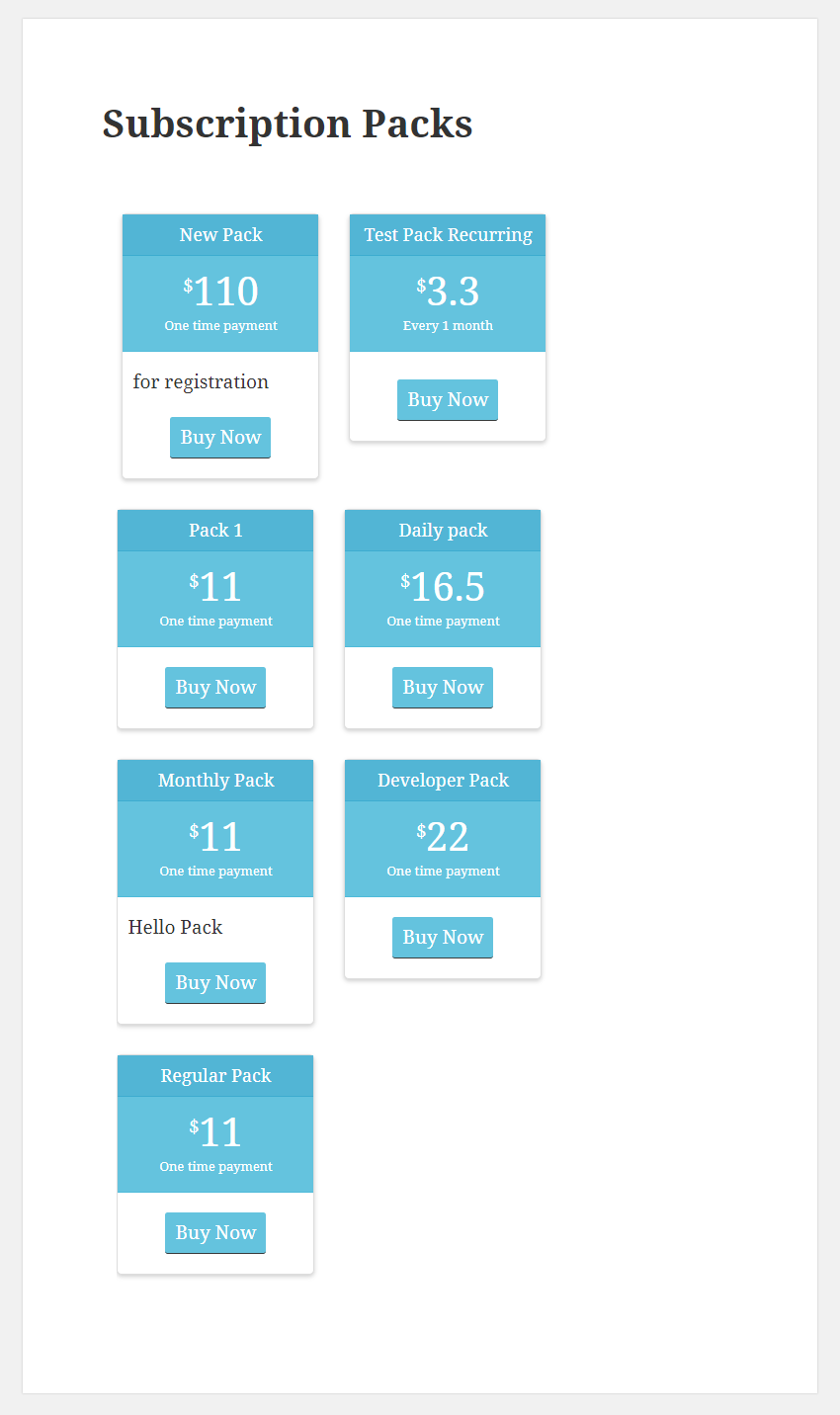 If you have enabled the Show Prices Without Tax option, then the regular prices of the subscription packs will be shown: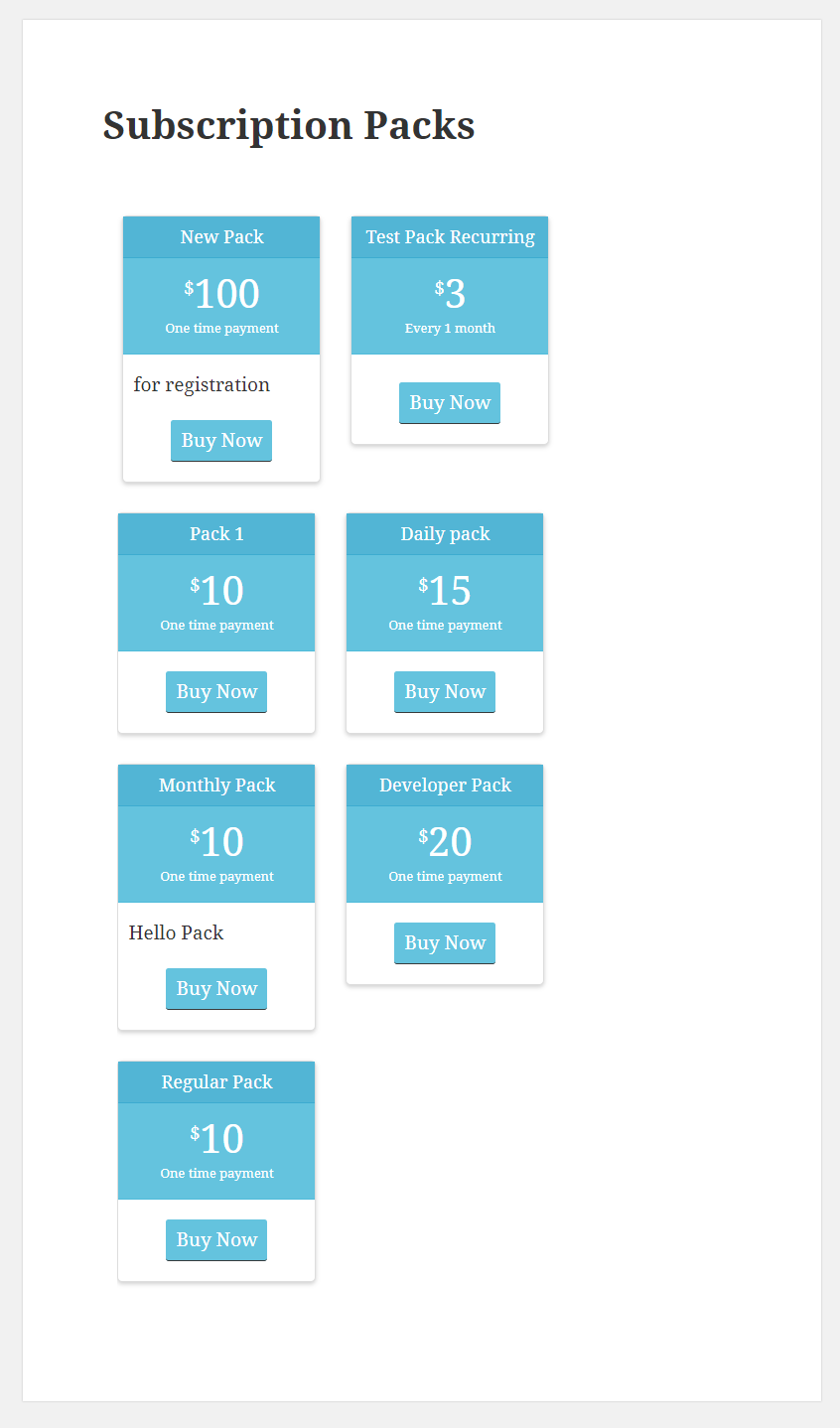 When a user completes the checkout process, he or she will be able to see the tax rate that has been applied to: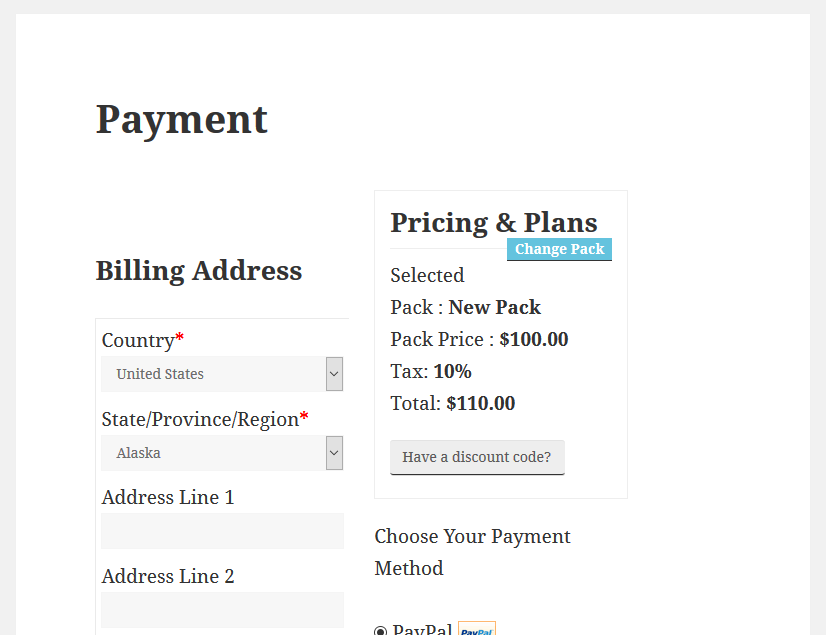 Points to Remember
Although anyone can use the plugin without having prior knowledge due to the simplicity of the feature, we always recommend you consult with a legal adviser or lawyer before applying any kind of tax rates. Otherwise, you might face legal issues.
Usually, tax rates vary from country to country or state to state. Even, tax rates also vary in different industries and are prone to change from time to time. So, without consulting with a legal adviser you may end up with an unwanted situation.
For example, in North America, most states require that you file a sales tax report even if you do not owe sales tax. However, if you do not file taxes, you could be subject to penalties. We always suggest you always check and double check the sales tax rates that you are charging with WP User Frontend Tax feature.
The Pros & the Cons
Pros:
you can select any country or state
show or hide tax rates
you don't require any additional plugin to avail this feature
very easy set up process with detailed documentation.
Cons:
You can not label the taxes (like

federal income tax, sales tax etc.)

You can not charge taxes separately for Pay Per Post and Subscription Packs due to the global settings. You can consider this con as a benefit because you don't have to spend extra time on the separate manual settings while you want to charge same tax rate for the Pay Per Post and Subscription Packs.
The Final Outcome
We work day (and sometimes night) to improve our plugins capability and we hope that this fresh feature will be really handy for you to set up dynamic and automatic tax rates. Previously, it would take up a few moments to calculate the tax rates manually which felt a bit disturbing for the users. This is why we have embellished this new feature with the plugin.
The most important thing is that the feature comes in free if you are already using the Pro version. Pretty cool, right? But before availing the feature make sure to upgrade the core version to 2.8.5 and the pro version to 2.8.1. 
However, there is also a demo link available from where you can check out the WP User Frontend Pro Tax feature right away! Click on the button below to get a real-life experience of the feature. We would love to hear your thoughts in the comment section.