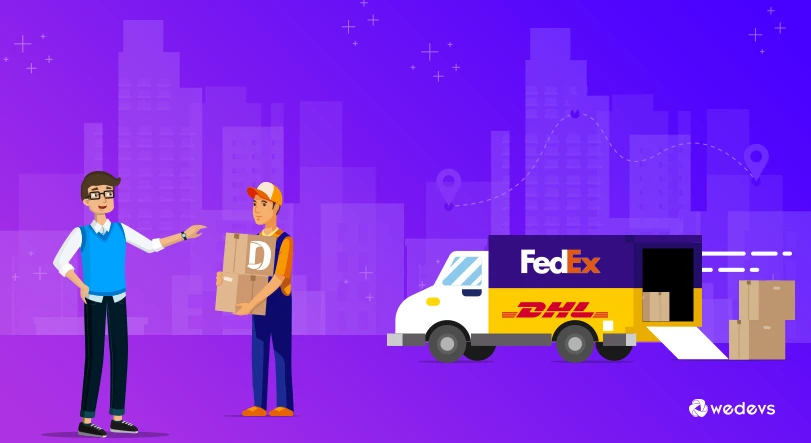 WooCommerce Shipping Plugins For Dokan Multivendor Marketplace
Shipping is one of the essential factors of completing an order from a WooCoomerce e-store. It is the free shipping that attracts the customer the most. In many cases, the price attached to the shipping deal affects the decision of the customer buying that product. If the cost of shipping is higher then it normally discourages a customer to get that product from that particular site.
So, therefore, every site requires a firm and convenient shipping policy. And in order to maintain that policy, you need to have a comprehensive WooCommerce shipping plugin that would effectively deal with your shipping regularities better. This would make the customer come to your site over and over again.
Don't you want to improve the WooCommerce shipping service of your e-store?
The answer should be easy right. So here are some of the most efficient WooCommerce shipping plugins for Dokan that can effectively enhance the shipping service.

Well, the plugin is developed by XAdapter who is one of the pioneers in the business of creating e-commerce extensions.
Now we all know how popular FedEx is for its shipping services worldwide. But when you want to use the same standard of shipping service with your WooCoomerce site then you need to install and activate this plugin in DOKAN.
This is a plugin that helps process the shipping of products in a WooCommerce based e-store through FedEx. The plugin helps its user to get detailed shipping rates based on the product's weight, location, and other related details.
This extension to WooCommerce e-store brings an effective yet powerful e-commerce shop to its customers. What makes it even more special is its ability to automatically identify boxes to pack the items and enable tracking.
It provides multiple vendors to sell their products through a catalog keeping the facility to ship anywhere through a trusted carrier like FedEx. This plugin is approved and endorsed by FedEx International (US) Ltd.
How It Works
After Installing this plugin with WooCoomerce for Dokan, you will require to input the FedEx account details in order to use your negotiated rates. Before placing an order a customer gets to see the FedEx shipping rate based on the product that they have added to the cart.
Within your WooCommerce order page, you then will have to Pay Postage, Print Label and Generate Tracking info for the goods to be shipped correctly.
Some Premium features
Print shipping label with postage.
Automatic shipment tracking while generating the label.
Weight-based packing & box packing.
Change the name of shipping services and add handling costs.
CoD, Third party payer, FedEx LTL Freight & Many more options.
Timely compatibility updates and bug fixes.
Premium support!
Download the WooCommerce FedEx Shipping plugin→

DHL is another popular shipping service platform from XAdapter that is loved by millions all over the world. And in the same way as FedEx, this shipping plugin also helps its user to process the shipping of their product in a WooCommerce site fast & easily.
This is a plugin allows a customer to buy from multiple vendors in the same order and ship it through a DHL courier service.
The plugin helps automate the process of shipping providing DHL express service. It shows the accurate rate of shipping that is preset for the different locations before getting to the cart and checkout page in your WooCommerce store.
This process also enables the tracking of shipment including automatic product packaging into boxes displaying the print label within WooCommerce. But this plugin only works for countries where the DHL Express service is available. And the whole process and this WooCommerce Shipping plugin have been verified & by DHL International (UK) Ltd.
How It Works
In the same way as FedEx, you need to install and activate the WooCommerce DHL plugin for Dokan by putting in the DHL account details, and enabling the DHL Express/Paket shipping method for WooCommerce. Since the shipping rates change based on the number and type of product you have carted before placing the order, hence it is essential to set the rate for shipping accordingly.
Make necessary adjustments in the settings page and then Print Label, Generate Tracking info and Pay Postage within the WooCommerce order page. This will let you ship the product to the desired destination without any trouble.
Some Premium Features
Print shipping label with Postage.
Return Label.
Commercial Invoice.
Archive Air Waybill.
Create & Delete shipments in Bulk.
Use the paperless trade feature and get a commercial invoice from DHL.
Auto Shipment Tracking: Tracking info will be available to the customer while generating the label.
Box packing with DHL boxes and Custom boxes.
Enable/disable, edit the names of services and add handling costs to shipping services.
Download the WooCommerce DHL Shipping plugin→

This is another wonderful shipping plugin to come out from Xadapter for WooCommerce. This plugin helps make the WooCommerce store user's shipping method totally automated. With your WooCommerce store, this plugin shows real-time rates in carts/check out page, postage payment & print label.
In the case of both domestic & international shipping, the plugin fetches rates from your UPS account based on the parcel's size, weight & shipping destinations. A customer can choose from the list of rates based on the postal codes and other related product measures.
Not only does the plugin automatically choose boxes and initiate tracking of the shipping product but it also provides you the international prices of shipping services. Choose the way you want your parcel to be packed & shipped. Not just that, with this plugin you get to edit the names, add costs and enable/disable the services very easily. You always feel in total control of your shipping method with this plugin.
How It Works
Just like the other two shipping plugins above, the UPS shipping plugin for WooCommerce is compatible with Dokan Multivendor Marketplace. So at first, you will be required to install and activate both the plugin in your WordPress.
Simply set up the Dokan Multivendor plugin and configure the commissions to allow the vendors to directly register for it. Based on the weights, sizes of the parcel UPS then calculates the shipping price once the vendor uploads and configure their product.
After that create a shipment order by choosing the parcel packing method to automatically send labels to your vendors. Once checkout is done, the plugin shares its tracking details for the customers, enabling the vendors to manage their product reviews.
Using the plugin
Here is how you can set up and use this shipping plugin with WooCommerce for Dokan Multivendor.
Some Premium Features
Shipping label printing with postage.
In-built live shipping rate in carts & checkouts.
Auto-shipment tracking while generating the shipping label.
Parcel with weight-based packing.
Enable/disable, edit the names of, and add costs to shipping services.
Prompt compatibility updates & bug fixes.
Full range of freight services.
Priority premium support.
Download the UPS WooCommerce Shipping plugin→
Observations
If you are selling physical goods then shipping is one of the basic necessities in your business plan. Keeping the cost of shipping at a reasonable range would boost up your conversion for sure. Not just that it would also change the perception of your e-store if you momentarily take off the burden of shipping costs from customers. It will definitely increase the number of orders from your e-shop.
Concluding Words
If you are using WooCommerce with Dokan then you will definitely find this post useful. Our sole intention of this write-up was to inform you about the necessity and use case of a powerful shipping plugin for Dokan to improve your WooCommerce website performance.
So we hope you have enjoyed this post and found the use case of these valid WooCoommece shipping plugins for Dokan useful in some way.
And if you are using WordPress and thinking about starting up a multivendor store on your own, then you may want to –
Do leave a comment if you have any queries regarding these shipping plugins for Dokan. We would be more than happy to assist you in any way possible.