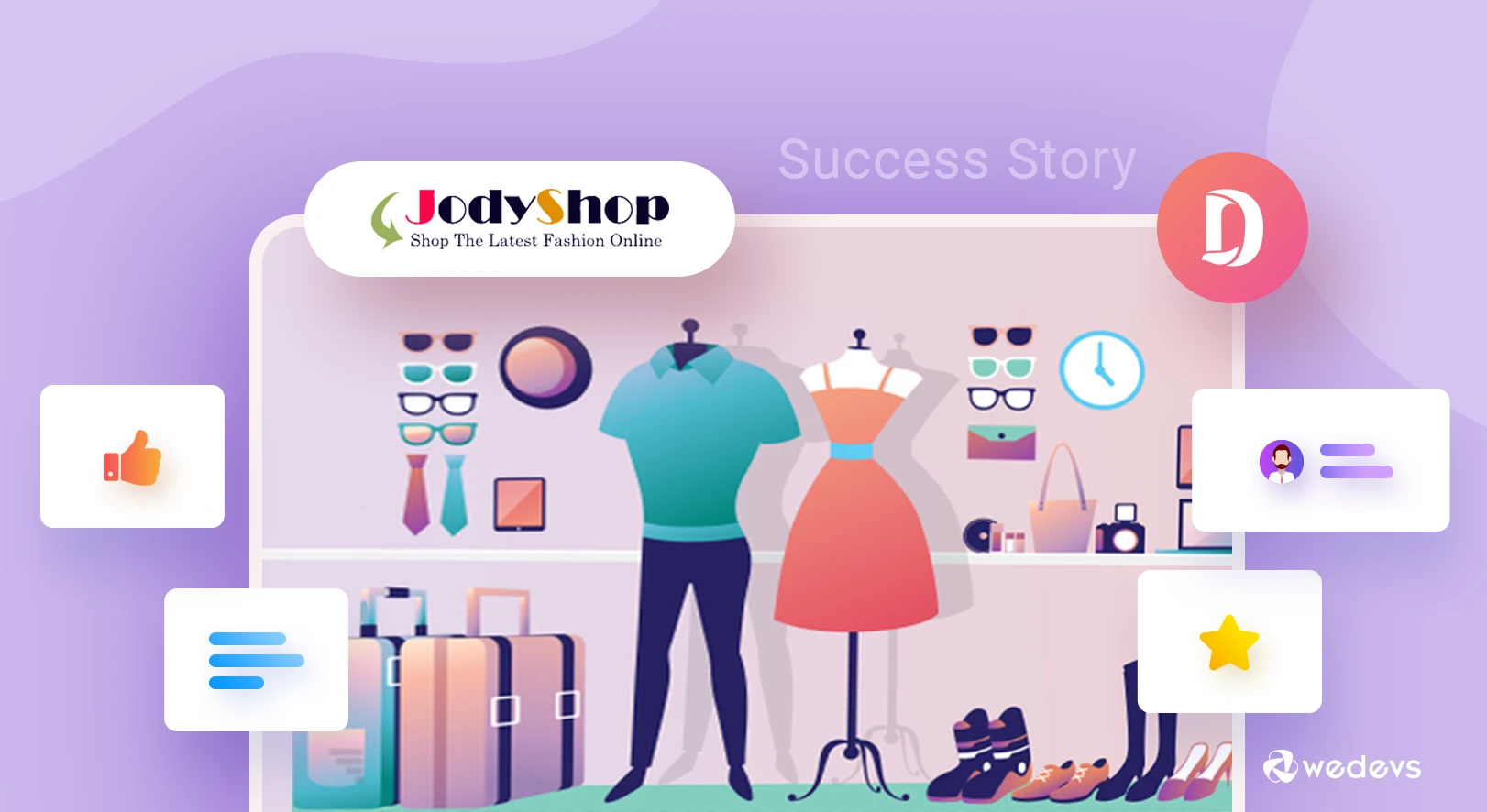 An Incredible E-commerce Success Story of a Fashion House Marketplace 'JodyShop'
The E-commerce success story has its own way of inspiring people to turn their business more towards online. Current stats suggest that more than 50% of the shopping takes place online. So, with the current trend of online shopping, more people are tilting towards building their own marketplace. One such online fashion e-store that decided to become a full-fledged marketplace is Jodyshop.com.
Through this write-up, let's find out some of the major insights and details about the amazing journey of JodyShop.com turning from a single seller e-commerce store into a complete marketplace for lifestyle & fashion.
Getting Started with Jodyshop & Its Journey with Dokan
I tried almost all the available free and paid tools but no one has convinced me as much as Dokan.

-Waleed Barakat, Founder & CEO JodyShop.com
JodyShop started its journey with very limited features and products in September 2016.
As an Associate of Amazon, Jodyshop earns from qualifying purchases. It is a participant in the Amazon Services LLC Associates Program, an affiliate advertising program designed to provide a means for sites to earn advertising fees by promoting and connecting it to amazon.com.
The products available in it back then were mostly from the Amazon associate program. Over time, slowly the website started to get noticed by vendors and customers mostly from the US and UK regions.
And soon after, more people started to visit the website from all over the world. This is when the owner of the site realized that JodyShop.com business needs to be expanded. So the founder of JodyShop, Waleed Barakat decided to expand the business in a way by which vendors and retailers are able to easily sell products from his site.
He started looking for a multivendor marketplace plugin for his website online. He was basically looking for a powerful and permanent solution to expand his business. So he tried out almost all the free and paid marketplace solutions available out there.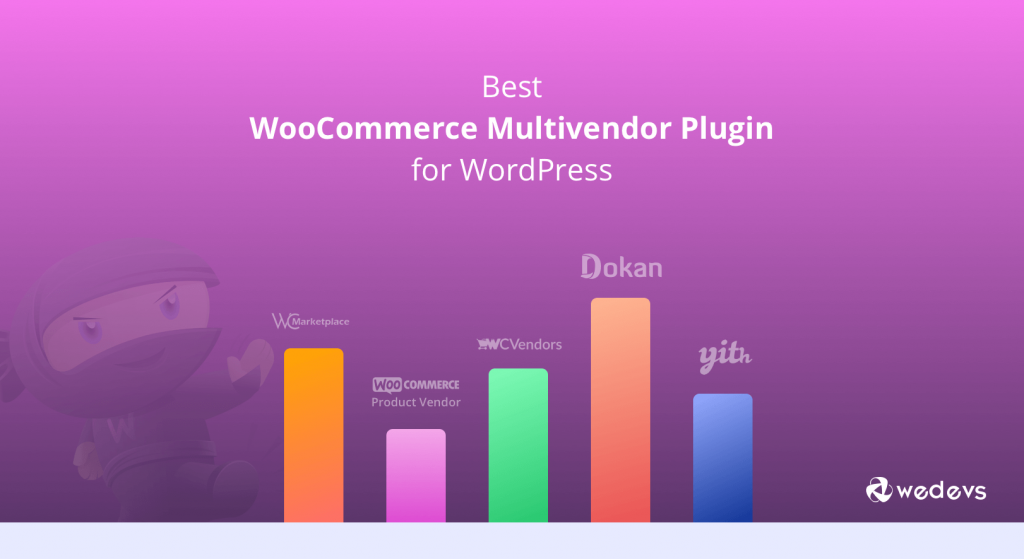 And finally, after trying out all the tools, he discovered Dokan and its awesomeness that fulfilled all his expectations and demands for introducing his e-commerce store as a multi-seller marketplace. And this is how Jodyshop began its journey with Dokan putting its foot towards the multi-vendor marketplace.
Turning Jodyshop into a Full-fledged Marketplace
I have more than 30+ registered vendors from around the world and they are all happy and satisfied with Dokan solutions.

-Waleed Barakat, Founder & CEO JodyShop.com
The CEO and Founder of Jodyshop also mentioned that turning his store into a complete multi-vendor marketplace has been quite profitable. And that Dokan has simply given him everything that he was actually looking for. It provided his store with basic marketplace features as well as advanced & powerful ones.
At the moment JodyShop marketplace has more than 30+ registered and active vendors around the globe, who are selling various items from the marketplace. Since all the vendors have expressed their satisfaction with the Dokan solution and recommend it to others whoever looks for a complete marketplace solution.
Jodyshop at a Glance
Jody is currently one of the largest shopping marketplaces in the US & UK. The marketplace consists of a number of popular categories where all the latest collections from the world's popular brands like Nike, Puma, Tommy Hilfiger, Adidas, etc. are featured. Here is a quick overview of the complete marketplace below.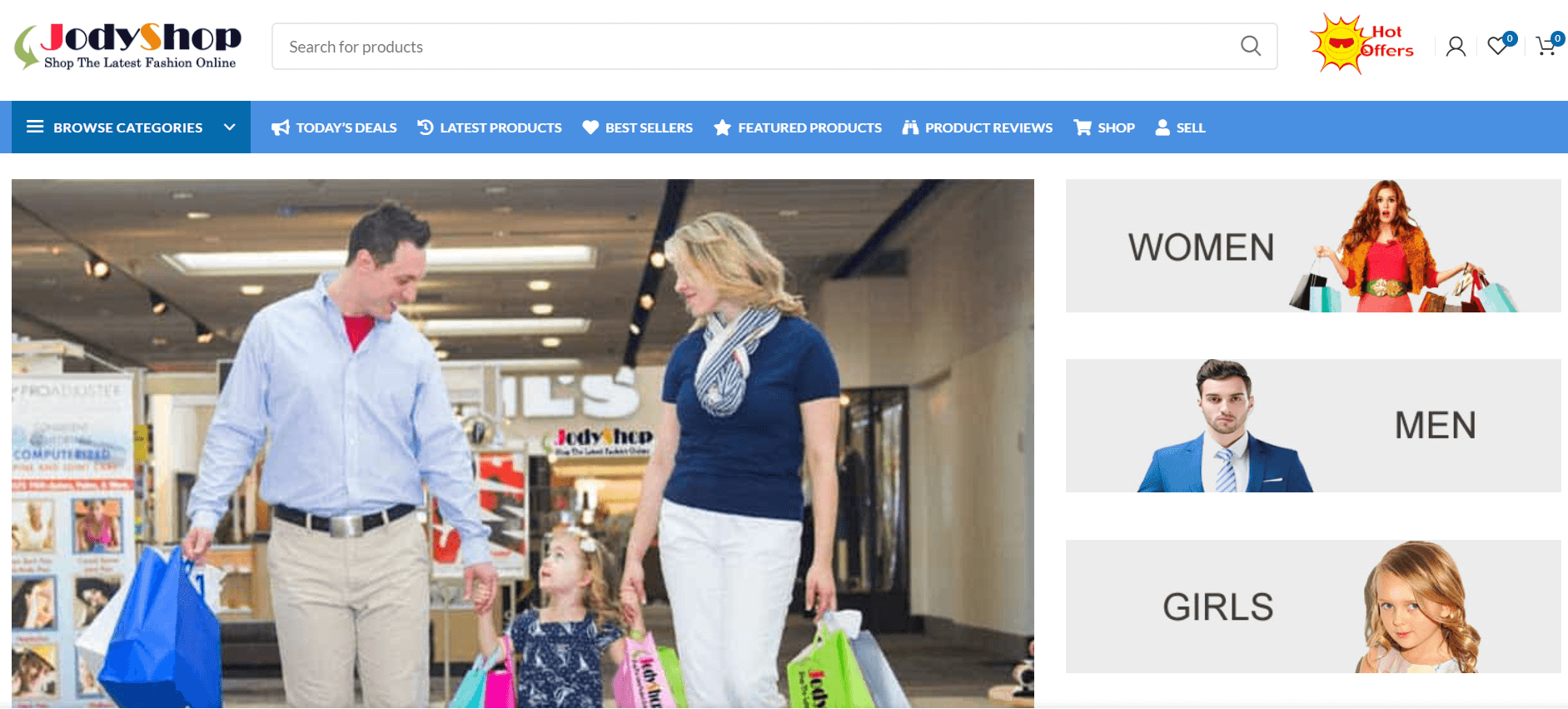 Discover the beauty of shopping from the comfort of your home. Get your most desired items using the most user-friendly and revolutionary lifestyle marketplace.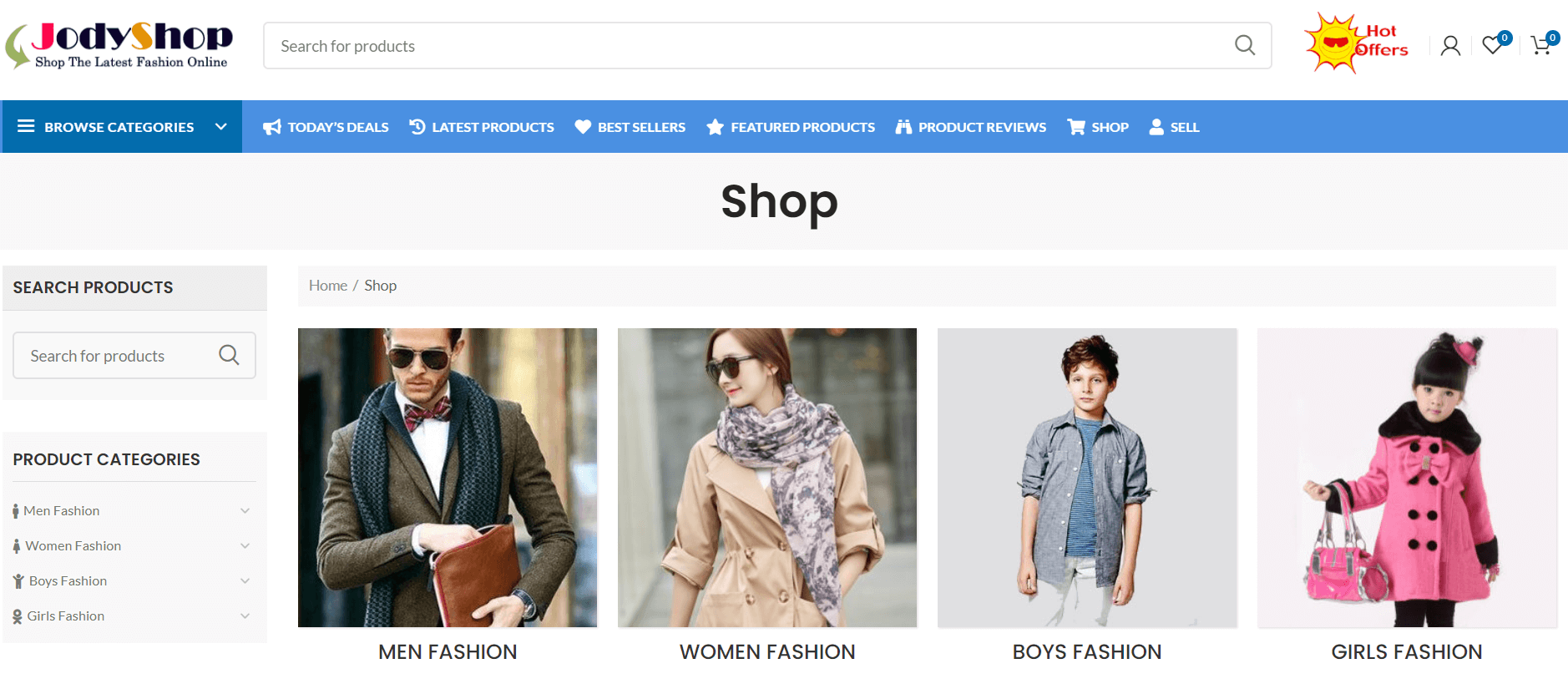 Cart your favorite & all the latest products with just a few clicks. The Jodyshop marketplace is known to be the most suitable and affordable marketplace for all.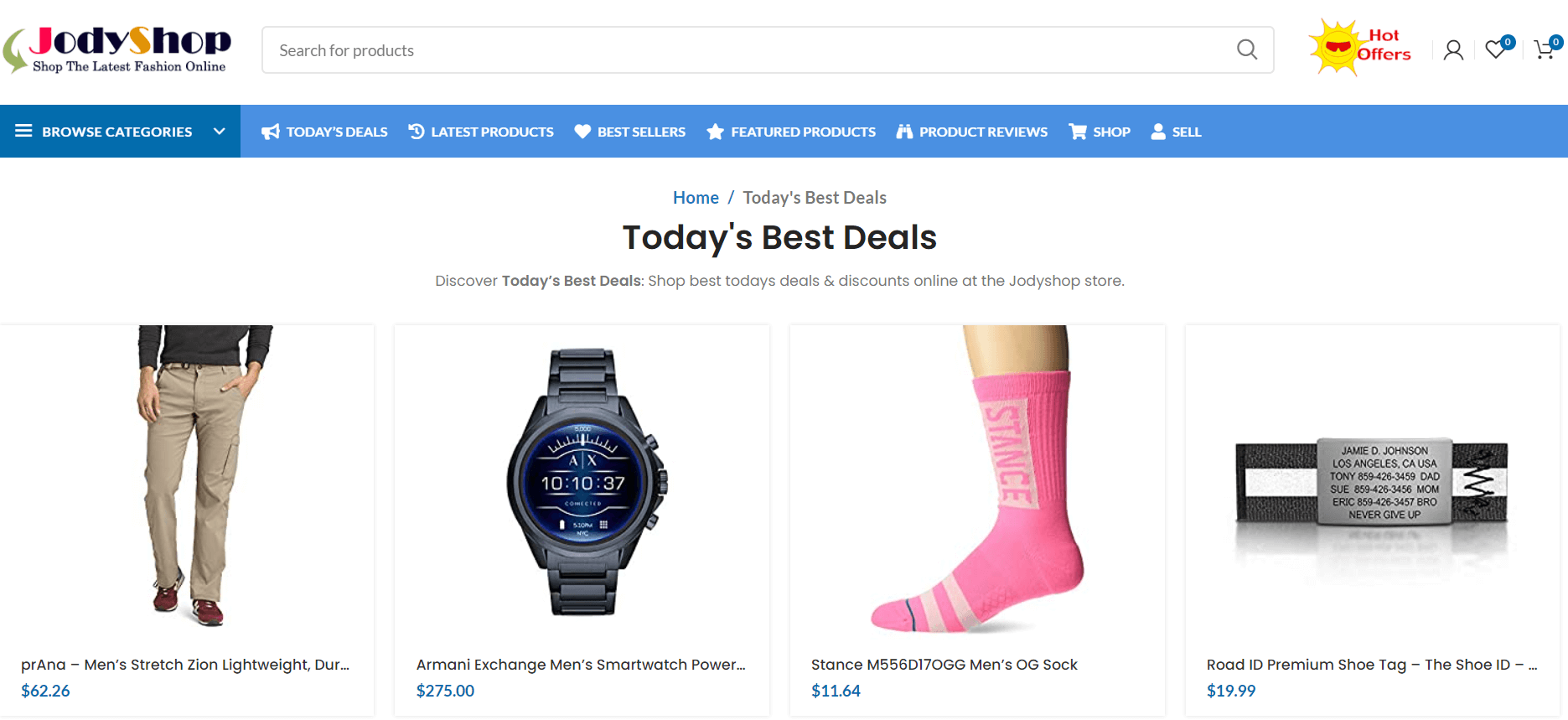 Get regular updates on the discounted products in the "Today's Best Deal" tab and order to save a fortune on your online shopping from the convenience of your home.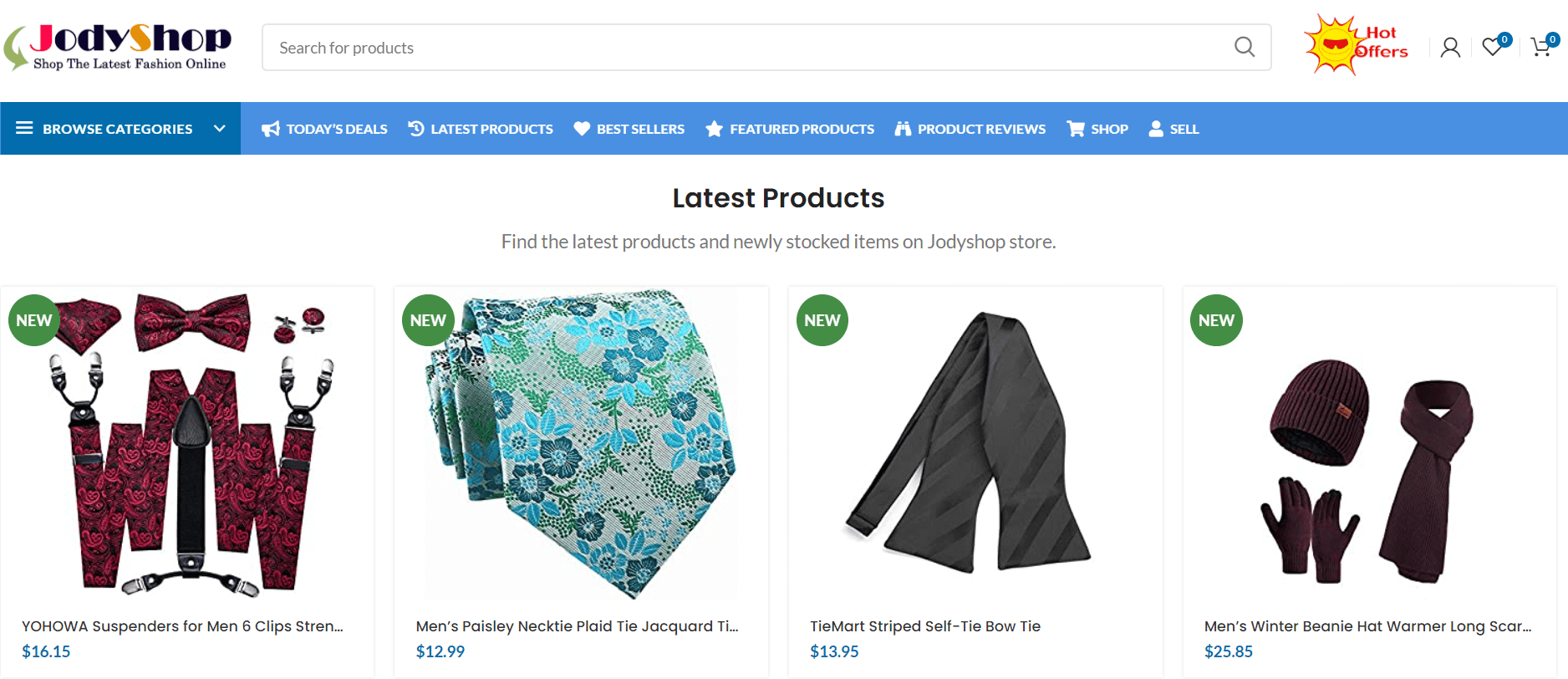 New items are updated regularly so explore Jodyshop to stay updated with all the trendy & fashionable products and become a trendsetter.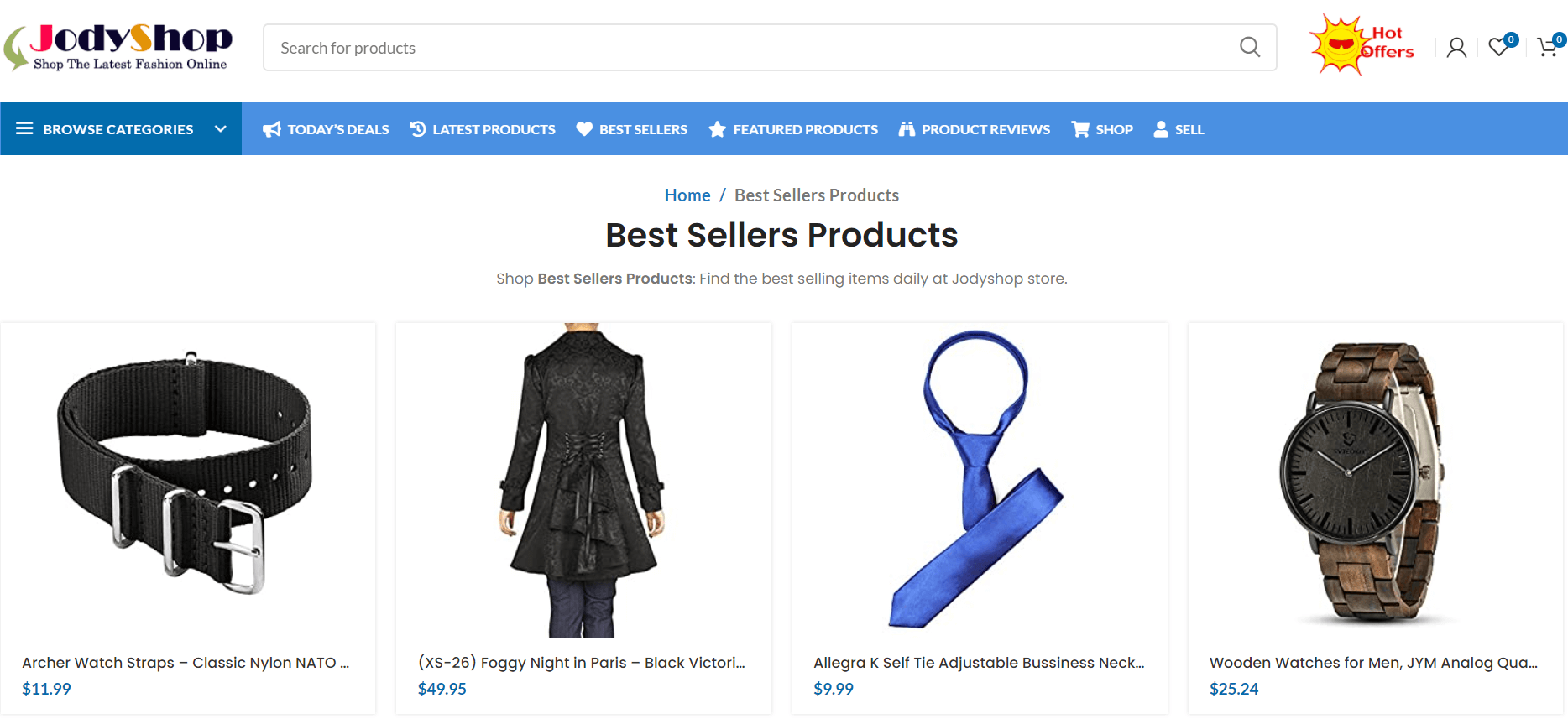 Get all the best selling items in the 'Best Sellers" tab and enjoy shopping to your fullest potential with the highest quality of product offered in Jodyshop.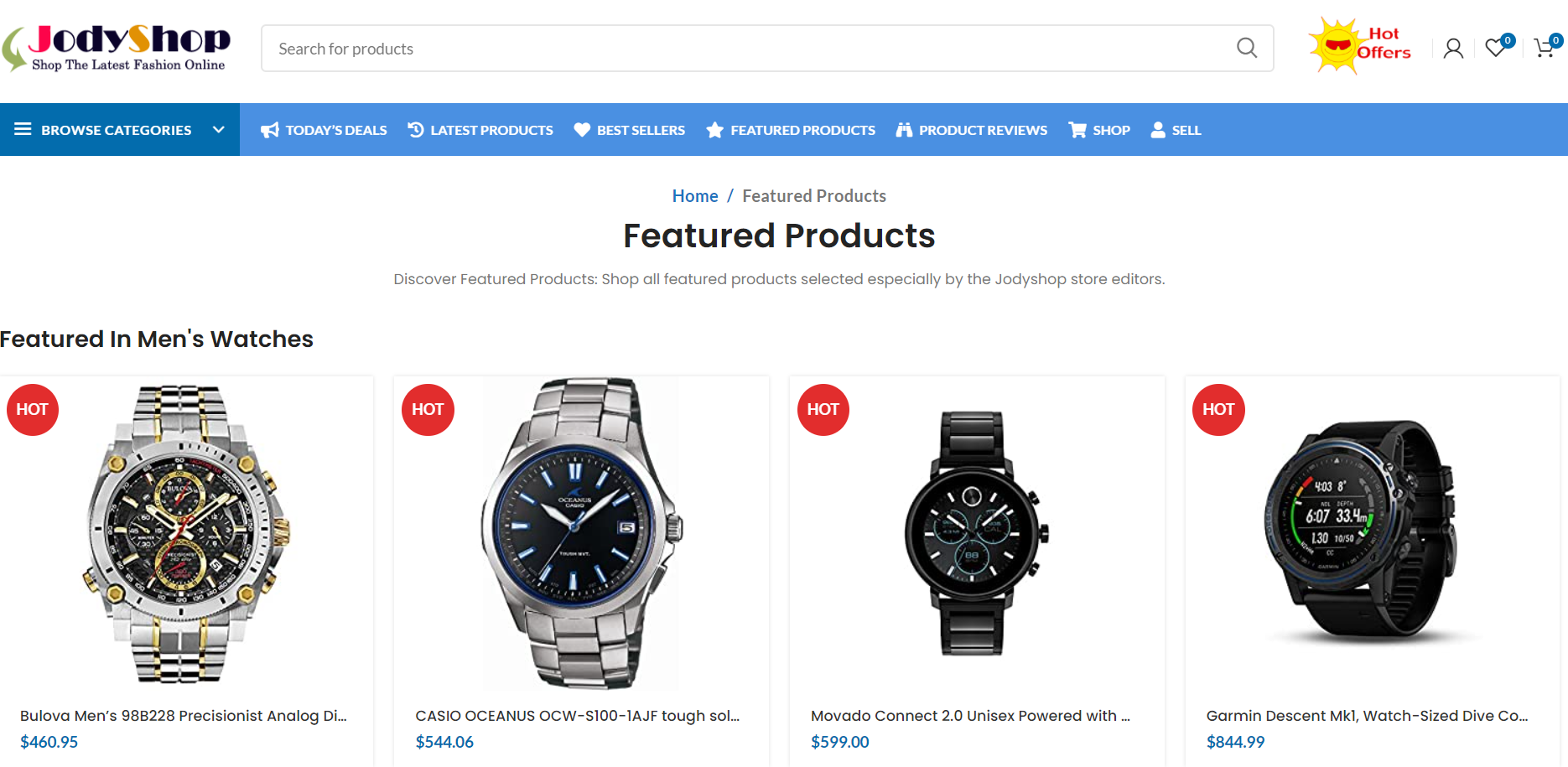 The number of unique products is compiled together in the 'Featured' tab. This makes your shopping enjoyable and fun-filled.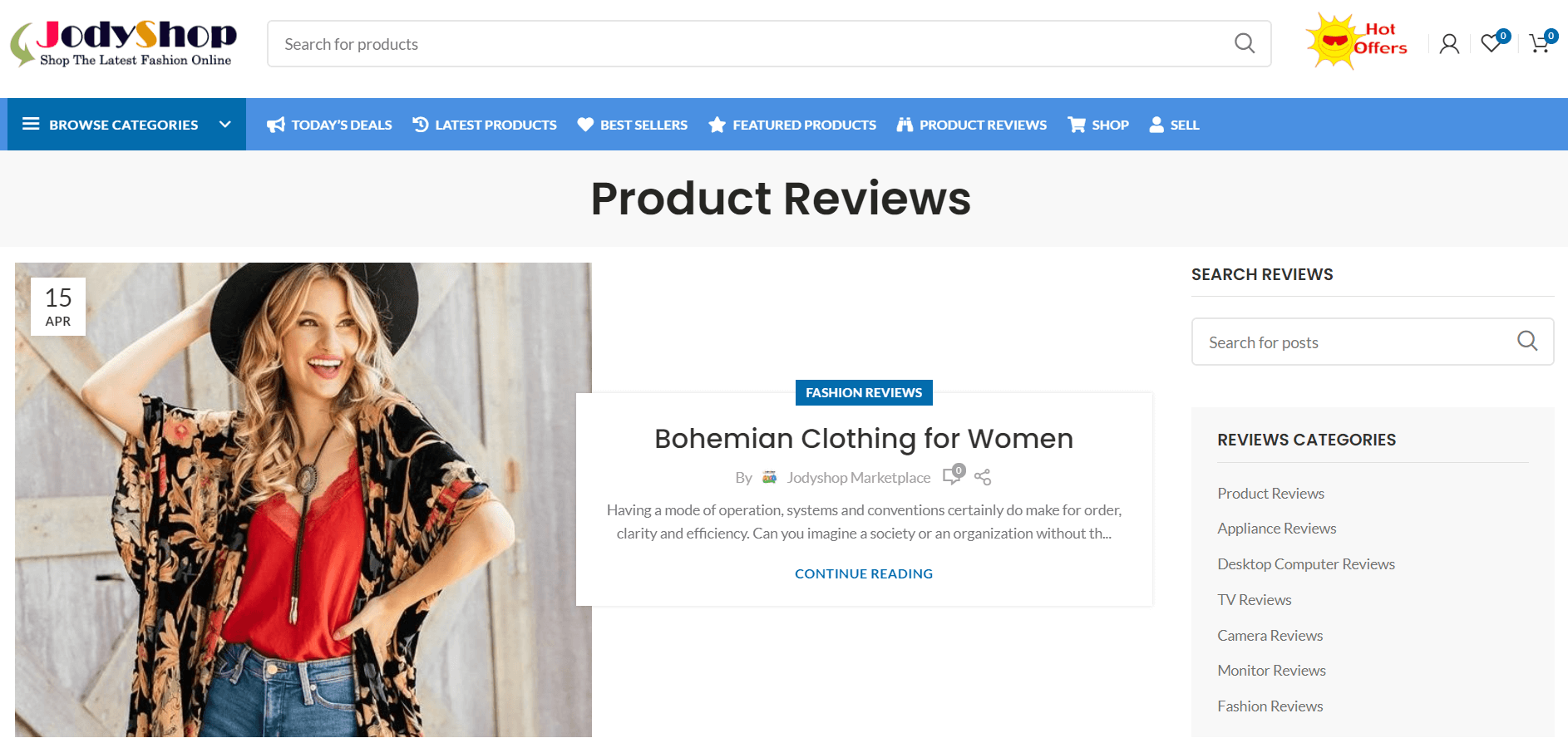 From the 'Reviews' section, you can read all the customer reviews. It helps visitors to buy the hot-selling & popular products offered by at least hundreds of the top brands of the world.
Recommendations & Feedback
Now everyone wants to have a pleasant experience with their marketplace. Both marketplace owner and their vendors look forward to having the best marketplace operational experience all the time. It wasn't anything different in the case of the Jodyshop marketplace either.
Especially the vendors feel that the Jodyshop marketplace is extremely easy for them in terms of creating a free and reliable online store. Also, it contains all the basic to advanced features to operate their store from anywhere. More importantly, they are able to quickly add, edit and customize their e-stores from any device now, and surprisingly enough they get to do all this absolutely free.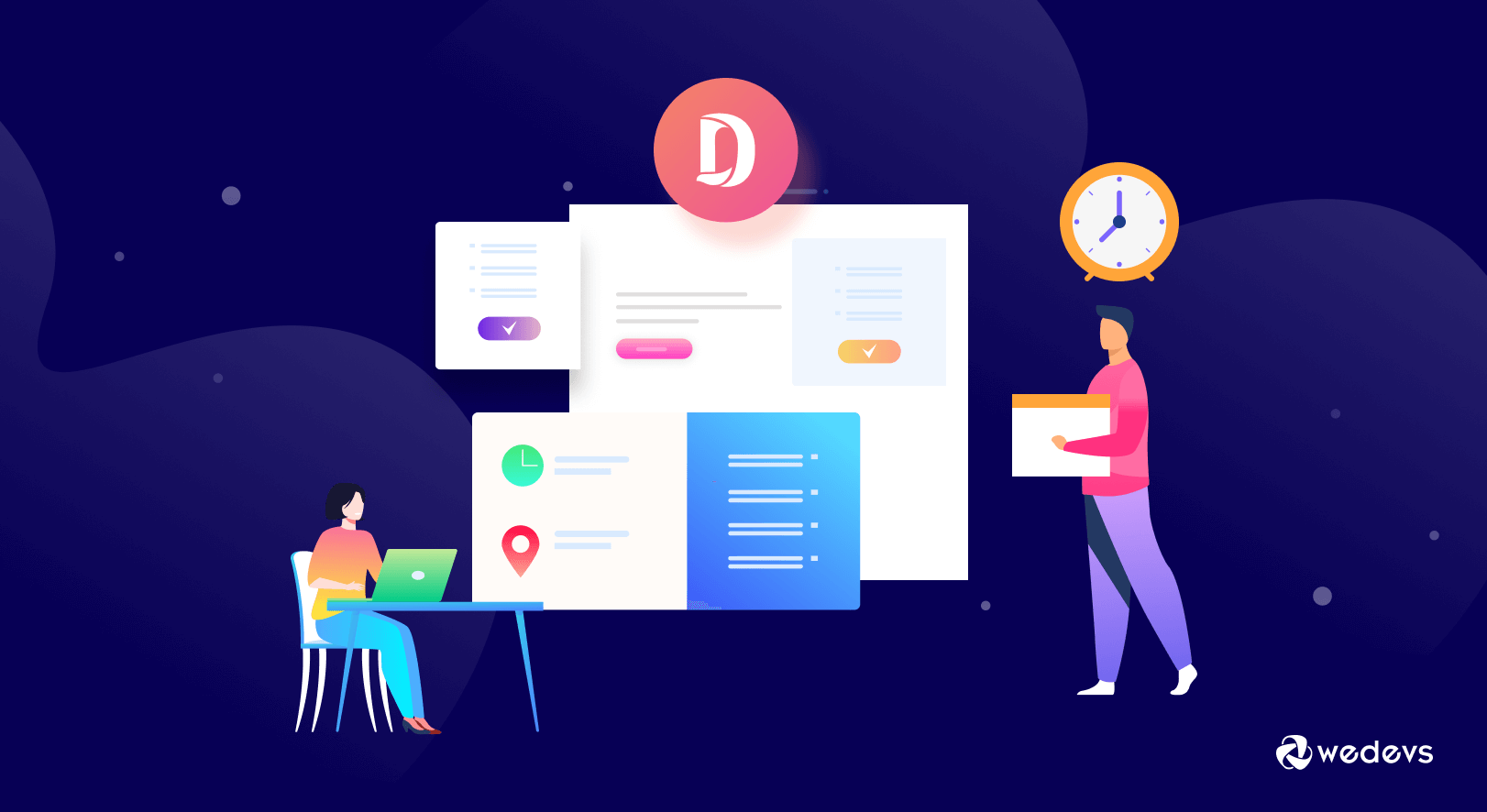 But from the owner's point of view, there might be a couple of recommendations that can improve the user experience of Dokan even better in the future. Some more features that could be added in the free version of Dokan are one of the recommendations. Also, the updates need to address all the bug fixes first rather than loading the new version with loads of less important features.
But overall, the experience of using Dokan has been really awesome so far and would recommend it to anyone looking to convert their WooCommerce store into a feature-rich multi-vendor marketplace in their WordPress.
Final Verdicts on Dokan
I think Dokan multi-vendor solutions is great, it's very easy to use & provides powerful tools.

-Waleed Barakat, Founder & CEO JodyShop.com
There you have it, the words from the mouth of a successful fashion and lifestyle marketplace owner said it all. Trust and reliability is the main thing that a marketplace owner looks for in solutions like this. And with Dokan, he got everything that was expected and asked for his e-commerce business expansion. The satisfaction level that it has provided him with Dokan's powerful tools and features further proves it.
Not to mention the option it offers for the most needed frontend and backend functionalities for its registered vendors, one can be certain that Dokan is the ultimate marketplace solution that anyone would desire.  
With such a high standard set by Dokan, now the expectation from Waleed Barakat is touching sky high. Now he only expects that everything in JodyShop.com will work smoothly with the help of Dokan in the future as well.    
Now, if anyone is curious to learn more about Dokan and its awesome features, then they may