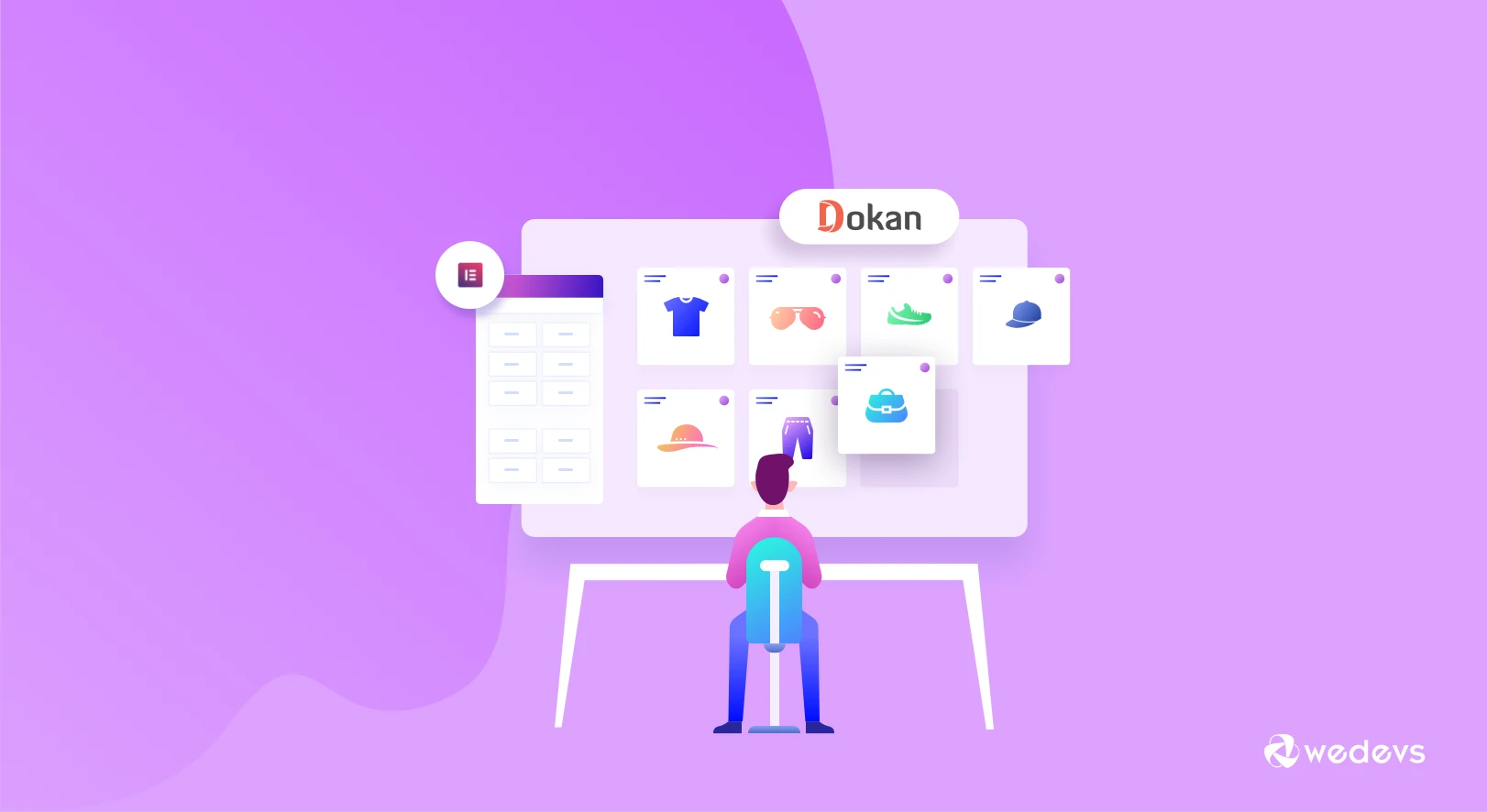 How to Build an Online Marketplace With Elementor & Dokan
Successful online marketplaces are inspiring people all over the world to build their own online eCommerce stores or marketplaces. Thanks to platforms like AliExpress, Airbnb, Fiverr, Etsy or eBay, the perception of doing business online has changed dramatically in this new age.
This is where the hype about building an online marketplace is coming from. Even I wanted to build an online business at some point in the past year! 
Why Create Your Own Online Marketplace Business?
In 2018, $2.86 trillion was spent on online stores by 1.8 billion people. There are 3 million online stores available in the world, but around 63% of them also sell in various marketplaces. Besides that, 501 billion USD was the retail eCommerce sales in the United States and it is forecasted that the sale will increase to 740 billion in 2023. [Source]
Most importantly, the eCommerce sector is growing 23% every year and this could be a great opportunity for any of us.
So, why wouldn't people want to start their own online marketplace?
Why Design Your Online Marketplace with Elementor?
Design is an integral part of building a website. When it comes to designing a website beautifully inside WordPress, the first solution that pops into our mind is – Elementor!
People want simplicity and want to achieve more taking less hassle. This is the reason Elementor could climb to the top position within just a year. Now, more than 3 million people are actively using Elementor Page Builder on their WordPress site and I am one of them 😉
Not to mention, Elementor has a 4.9 out of 5 Start rating on WordPress.org and it has been downloaded more than 34 million times to date!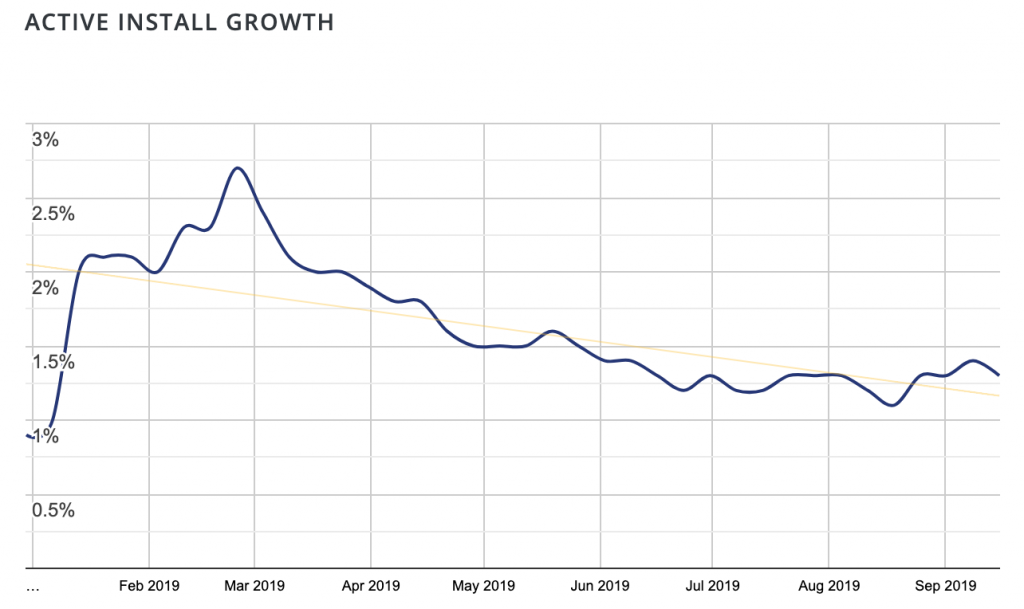 From WordPress.org, we can look into the active installation growth of the Elementor page builder. It shows a 1% growth in their active installation and for a tool with 3 million active users, this is pretty good.
Apart from that, Builtwith data shows that 1.63% of the world's top 1 million sites use Elementor to design their sites. This number is roughly 16,322! Only in the United States, there are around 900K sites using Elementor.
Elementor has a great drag-and-drop page builder where you can copy-paste sections and blocks. It is fully supported with WooCommerce, the best eCommerce plugin for WordPress.
Also, there are pre-built templates, animations, and query management inside Elementor.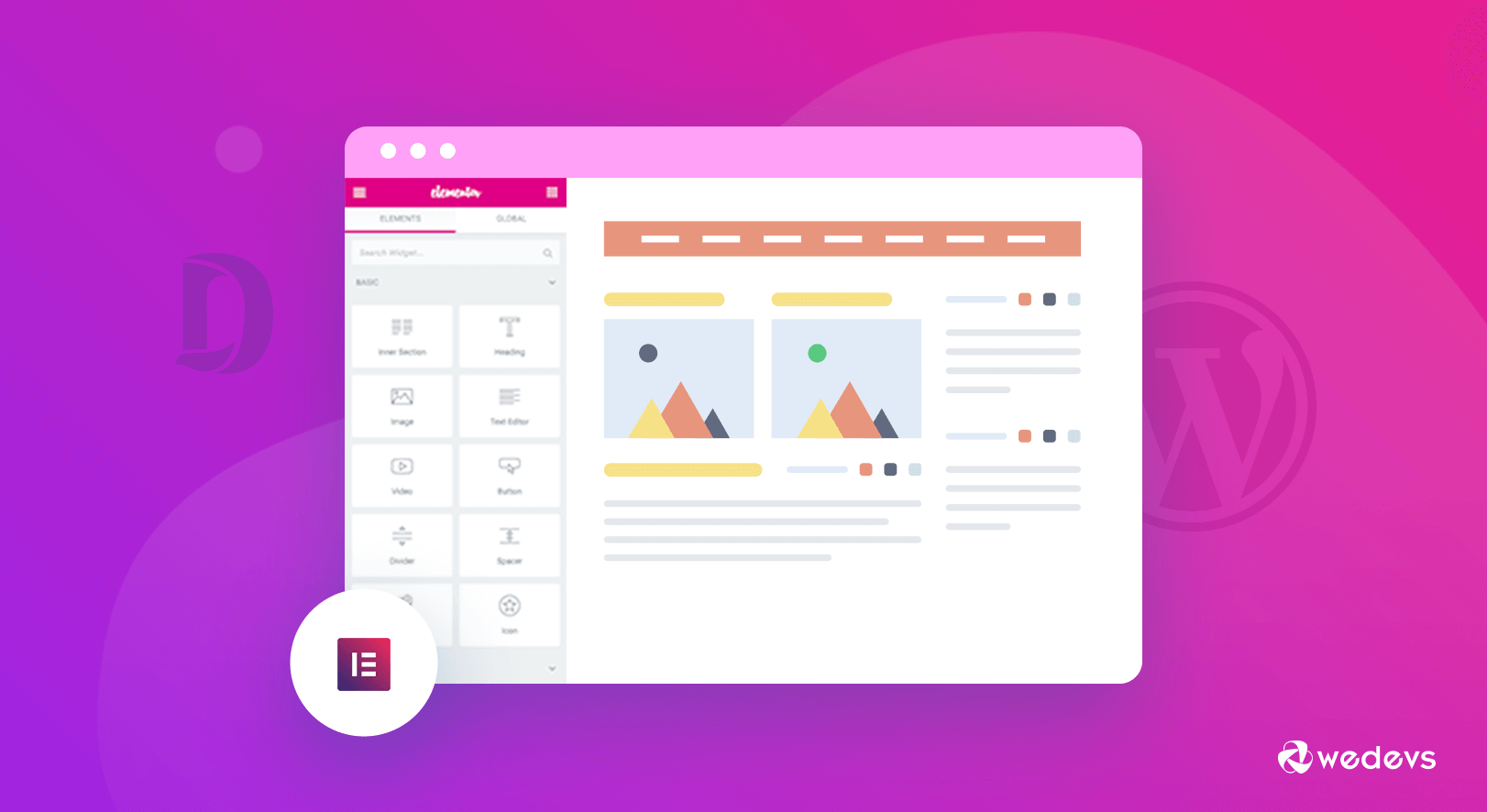 If you are still looking for a way to build your own online marketplace platform, then here is good news for you! 
You can now create your marketplace within a few minutes and today's article will guide you through the step by step process.
Create Your Own Amazon-like Marketplace in Minutes
35% of the world's websites are built with WordPress, a powerful yet easy-to-use content management system. You can create more than just a website thanks to the plugins and themes that WordPress has to offer.
That being said, you can create an online store with a few clicks with WordPress. You will require an eCommerce plugin like WooCommerce. Just follow my steps and you will be able to create a marketplace similar to Amazon, AliExpress, or eBay easily.
Step 1: Choose Domain & Hosting for Your Marketplace
The first thing that you will require to start an online marketplace is a live website. For that, a domain name and hosting is a must.
There are countless domain and hosting providers out there to choose from. Among them, GoDaddy, Bluehost, Namecheap, Kinsta, and Cloudways WooCommerce Hosting are the best.
You can get started with just $20 per year ($10 for hosting and $10 for domain). There might be discounts available to it might be less in that case.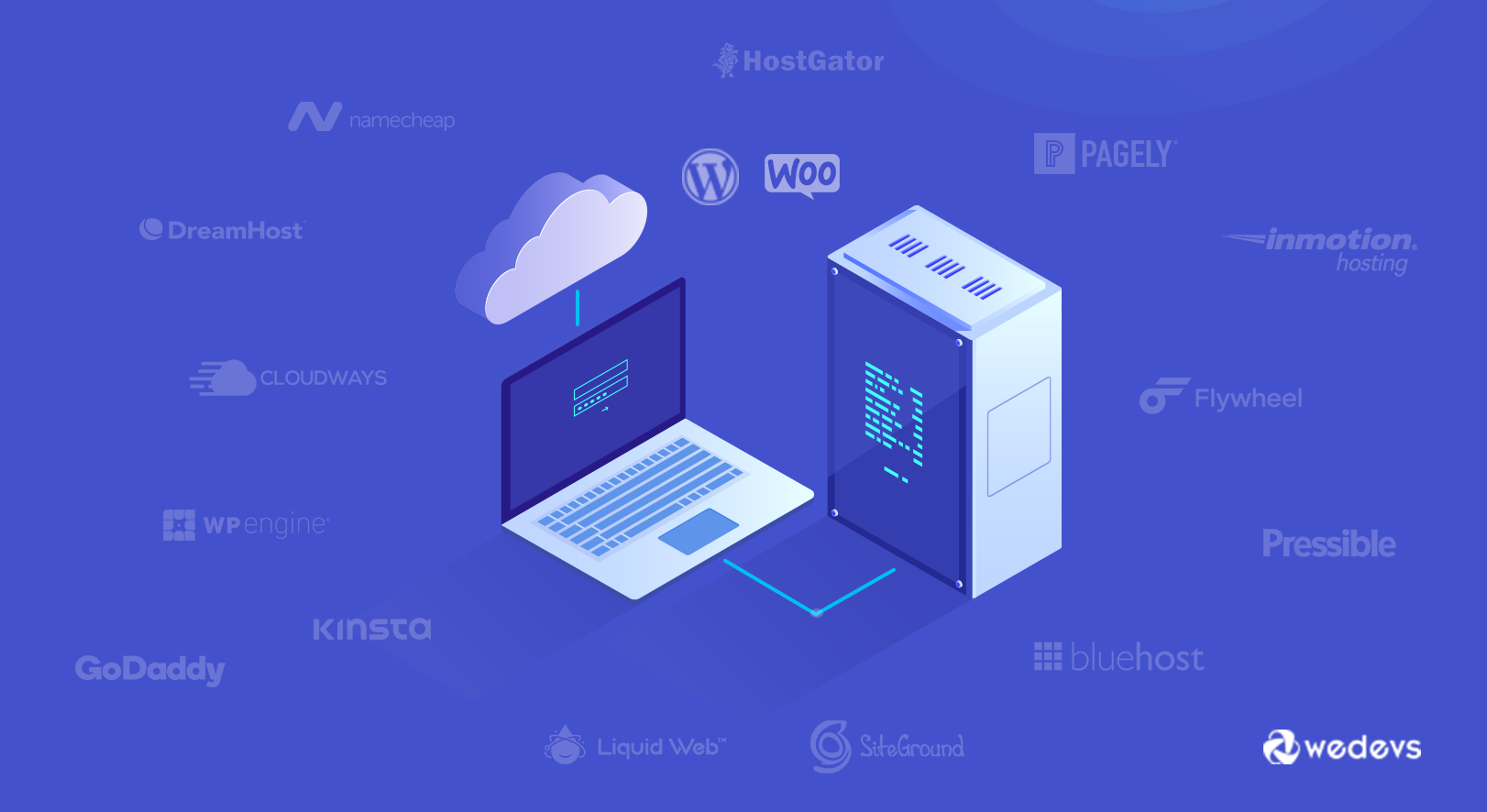 However, keep in your mind that an online marketplace will require strong hosting because when you start getting a huge amount of traffic, cheaper hostings won't be able to provide that much support.
So, you can look for marketplace hosting plans (they might cost a bit more!).
Step 2: Install WordPress
Now, comes the big brother of all CMS – WordPress.
It's very easy to install. You can install it directly from your hosting's Cpanel. You will only have to perform a few clicks to get done with this simple step.
You can go through this detailed tutorial on how to install WordPress in the right way.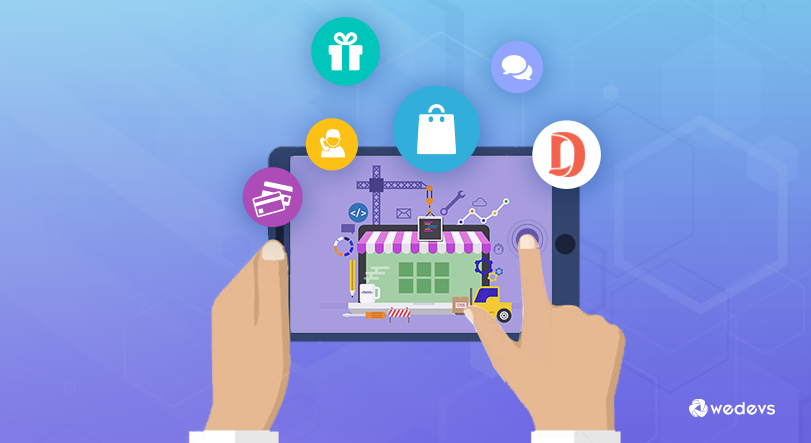 Step 3: Add eCommerce Features
WooCommerce is the most popular eCommerce solution inside WordPress with more than 5 million active installations and 90% market share. It holds more than 24% market share in the entire eCommerce industry!
See more WooCommerce Stats here →
You might ask why this eCommerce plugin is so popular?
Because it is completely free to get started with and the free version has many features that would be enough for you to start a fully functional online store.
To add eCommerce functionalities to your online store, log in to your WordPress Admin Dashboard and click on the plugins menu. From there, you can add plugins to your site.
Click on the add plugin button and search for WooCommerce in the plugin store. When you find it, simply click Install and then Activate. That's it.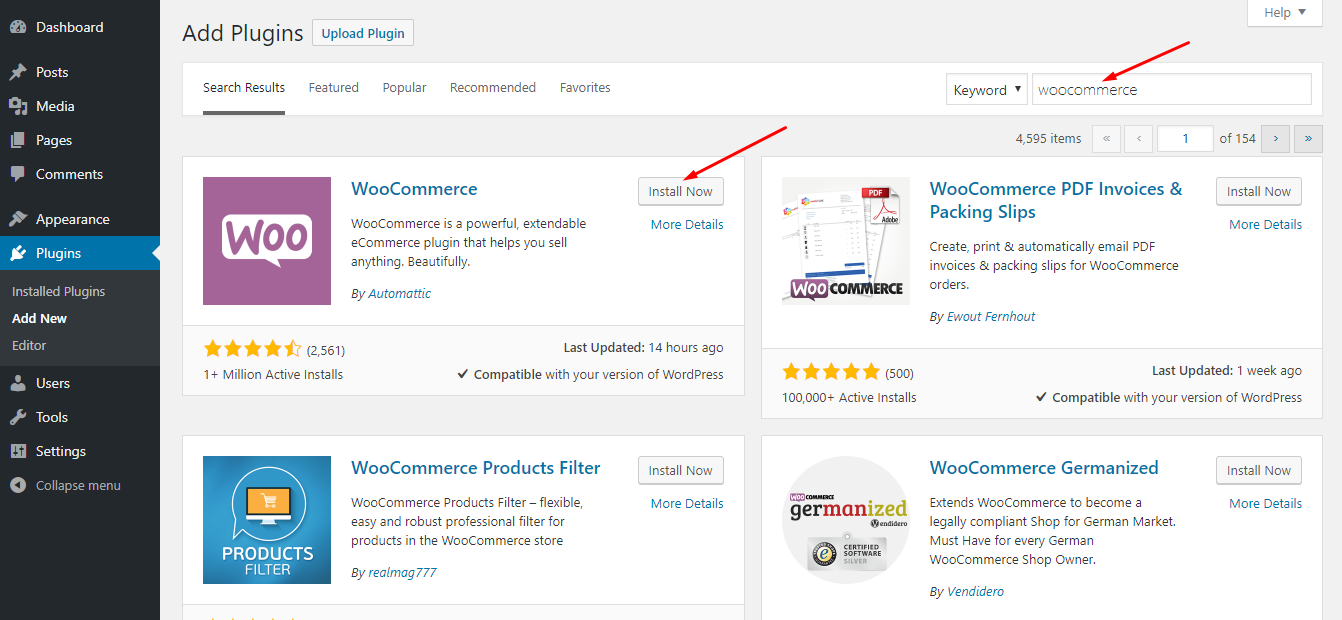 WooCommerce has an amazing setup wizard that will help you to set all the important settings after installation.
Add your desired payment gateways like PayPal, Stripe, etc. Create products if required and start selling! Check the tutorial below for further help.
Step 4: Turn Your eCommerce Store into A Marketplace
You have launched your own online store successfully with WooCommerce, but your goal is to create a marketplace. You will need an advanced solution for this type of complex job. Luckily, the shining knight of marketplace industry, Dokan Multivendor makes things easy for you.
With Dokan, you can create a fully functional marketplace within a few minutes. All you have to do is – install and active the Dokan plugin from the plugin page.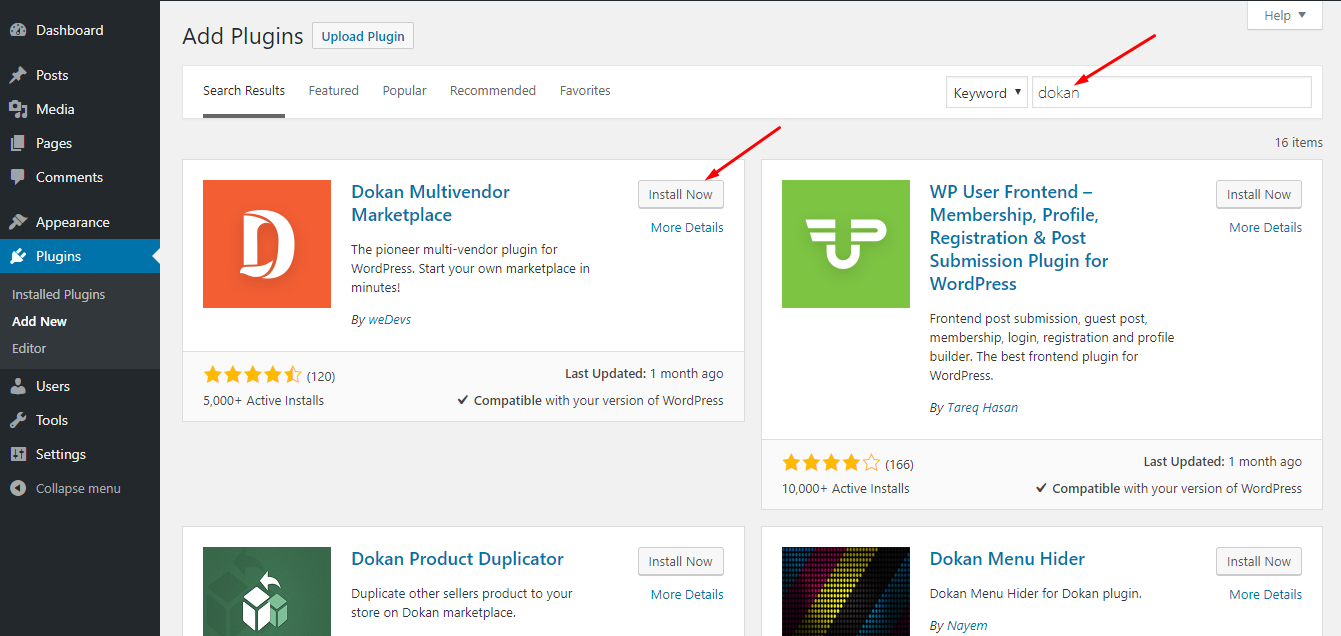 For advanced features, you will need the premium version of Dokan, which starts from $149/year. This is comparatively 60% more reasonable than other solutions in the market like Shopify, Magento, CS-Cart, etc.
After Installing Dokan, you will get a setup wizard similar to WooCommerce. It will walk you through the most important settings.
You have to enable registration on your site so that vendors and customers can come in and join easily. Dokan has built-in registration forms for both vendors and customers.
You can also set up vendor commissions using Dokan. When vendors sell their products, you earn commission from them. You can then set withdraw earning management for vendors from their dashboard.
Here is a detailed guide on how to create an online marketplace using Dokan.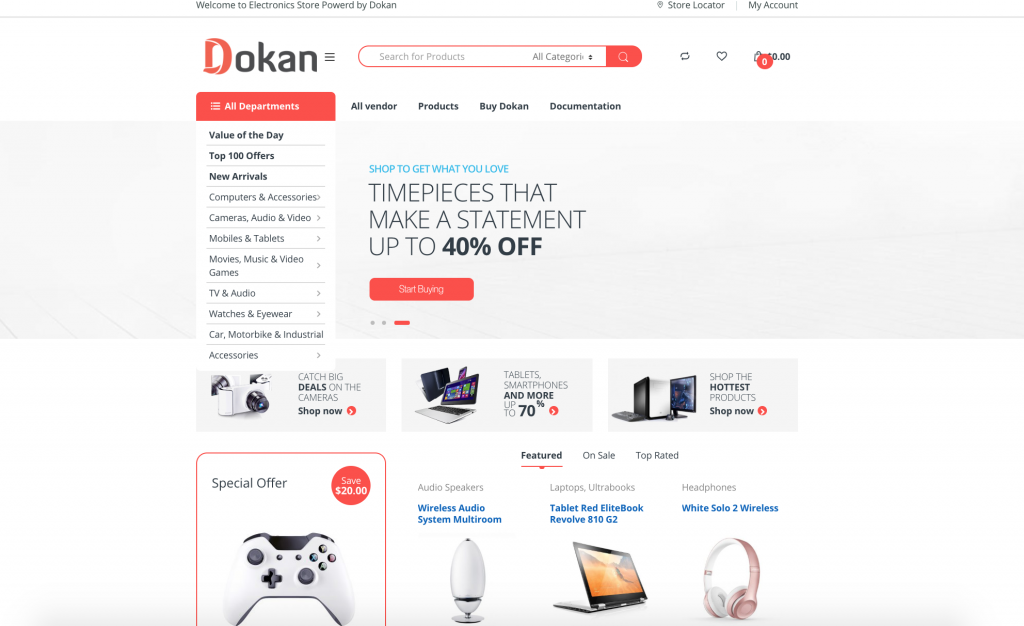 There are many themes available for Dokan. Here, I am using the famous Elector theme.
Step 5: Design Your Online Marketplace with Elementor
Now, the most important part of this blog.
You can customize your online marketplace with Elementor. To do so, you will require Dokan Elementor module, which comes with the Professional version of Dokan. You will also require the pro version of Elementor. With this combo, you will be able to edit the design and layout of the default Dokan store.
So, you need the following plugins to get started –
WooCommerce
Dokan Lite
Dokan Professional
Elementor
Elementor Pro
At first, activate all the plugins. Now, navigate to – WordPress Admin Dashboard → Dokan → Modules → Enable Elementor module.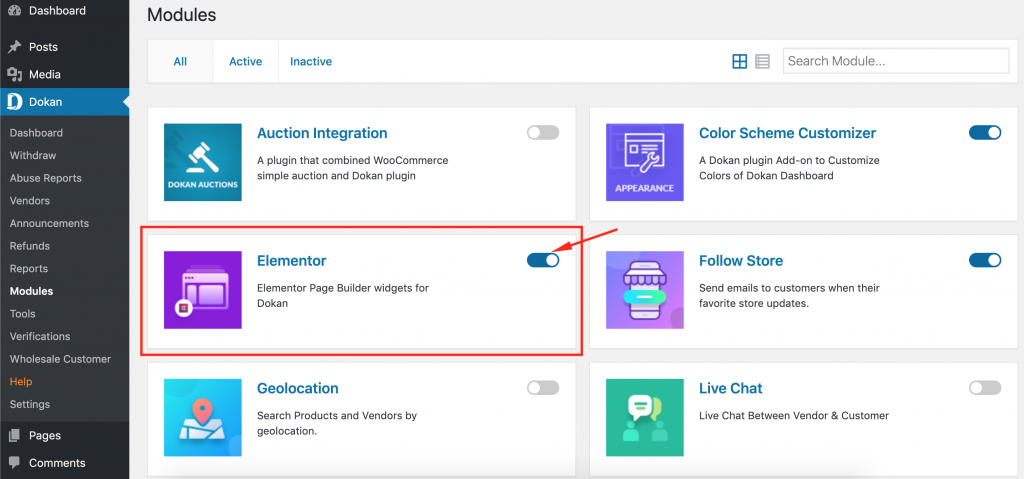 Now, navigate to – WordPress Admin Dashboard → Templates → Add New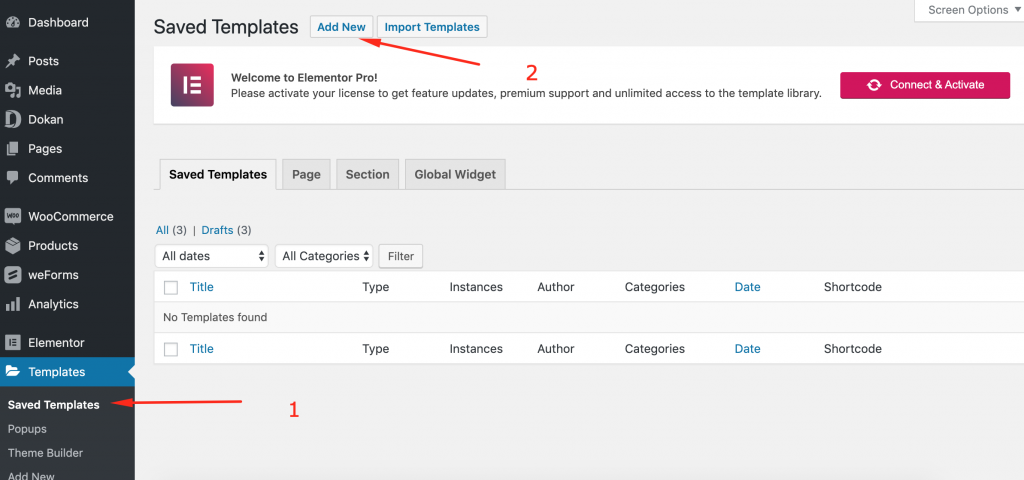 You will see the Elementor Template creation modal form. Select the type of template you want to create. For designing stores, you must select the Single Store type.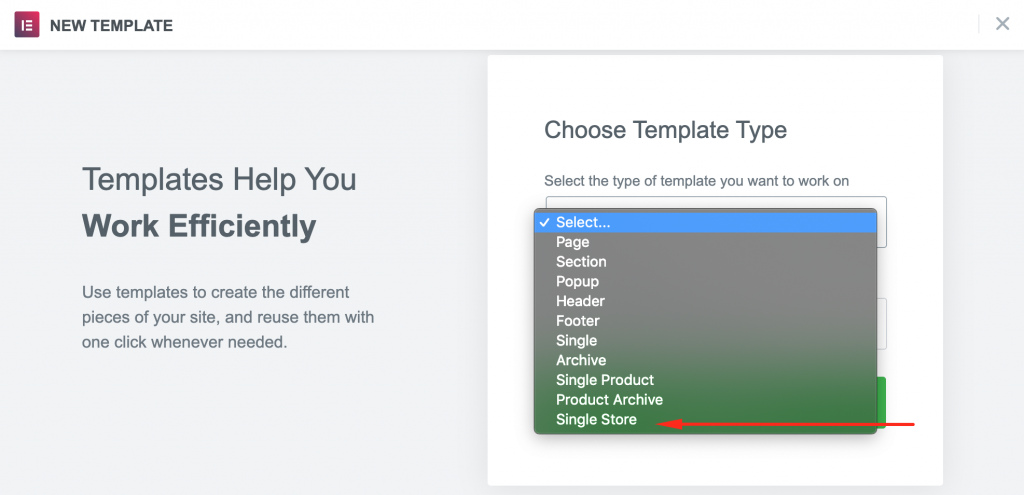 Type in a name for your template. Hit the Create Template button.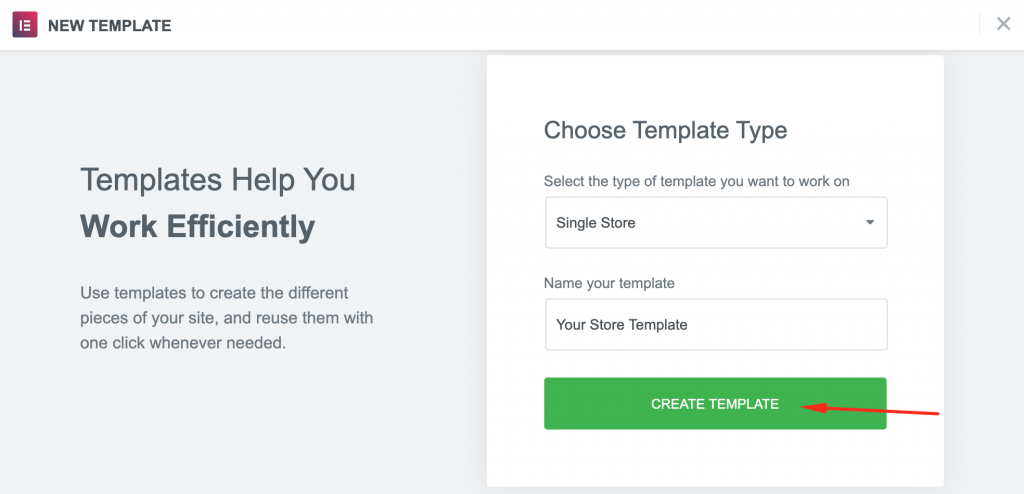 In this step, you have to choose the type of design or layout you want to customize your online marketplace with Elementor. Your stores' design layout will be transformed into the one you select from here.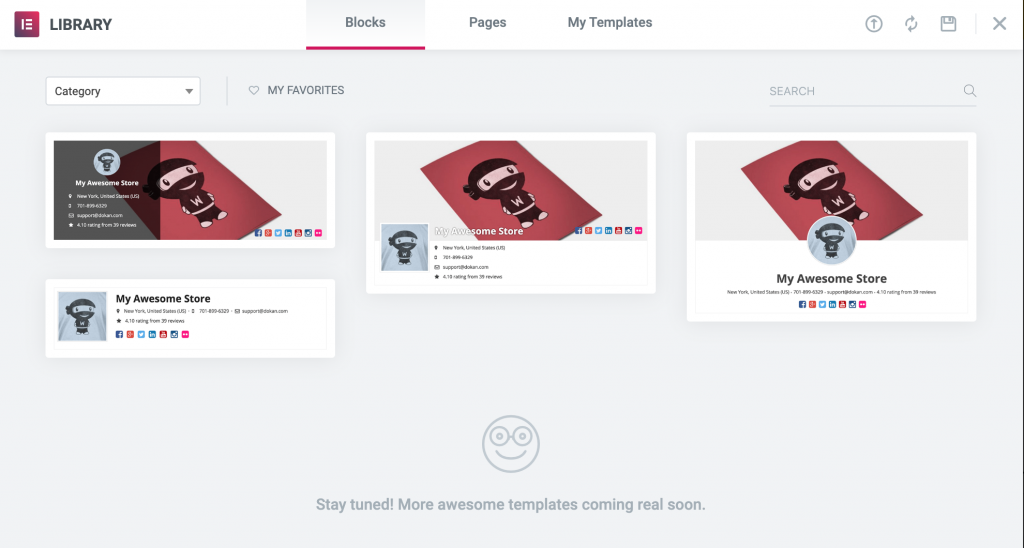 Hover over your chosen template and click on the Insert button. You will now see the stores' design editable using Elementor.
You can read the detailed Dokan Elementor documentation.
You will find all the elements that you need to design your store in the Elements section including –
Store Banner
Store Name
Profile Picture
Store Info
Store Social Profile
Tab Items
Share Button
Store Support Button
Live Chat Button
Store Follow Button
Store Vacation Message
Coupons
Also the regular elements of Elementor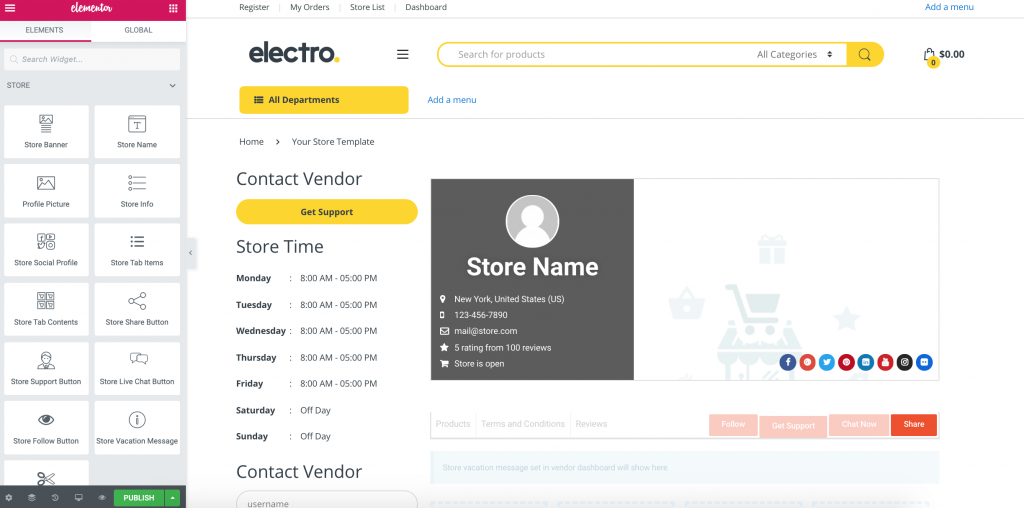 After editing, here is the store page that I have come up with. Its really easy if you are familiar with Elementor.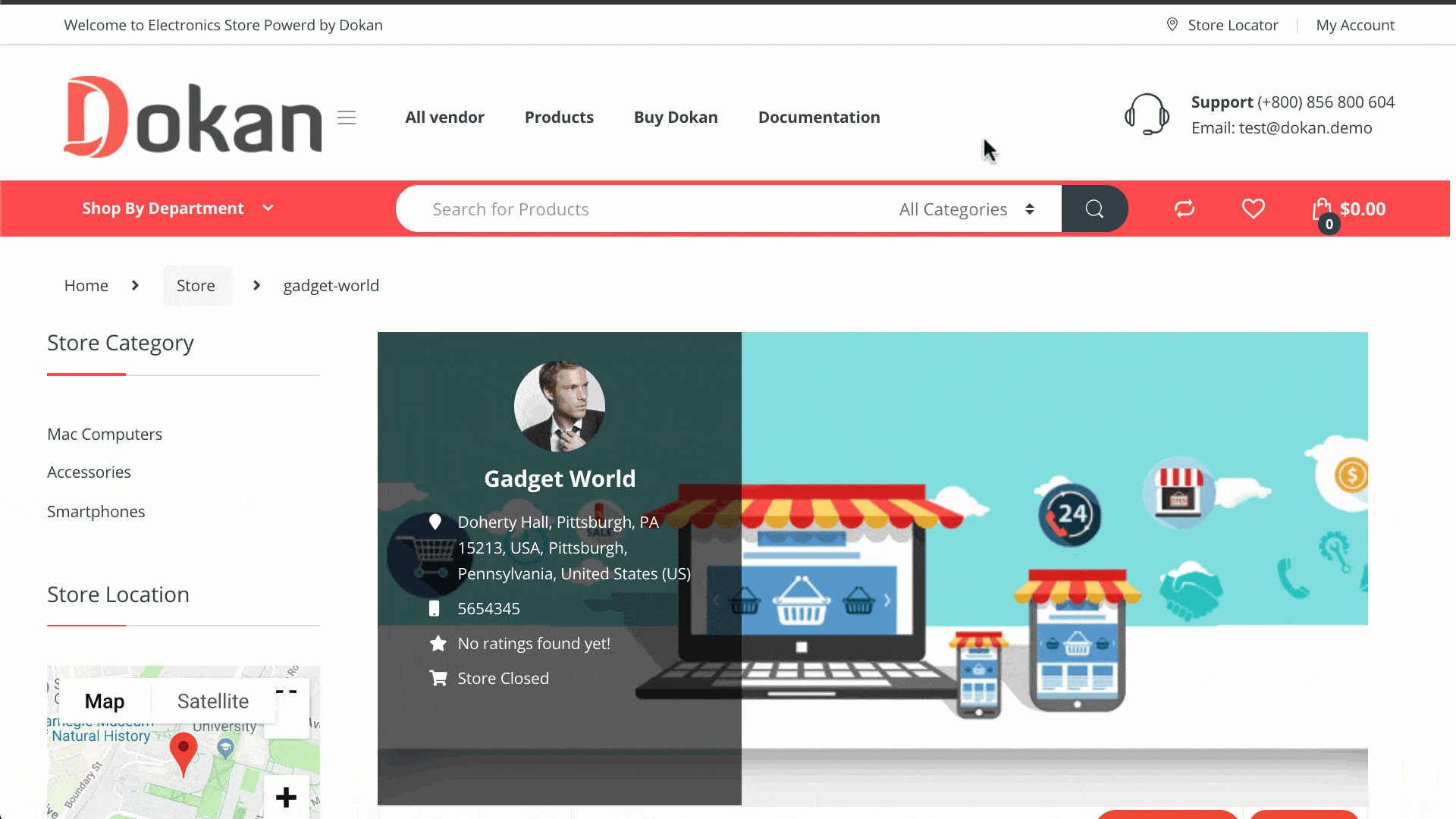 Step 6: Customize Your Marketplace with Advanced Features
Dokan has many amazing features and modules to let you create the ultimate online marketplace like Amazon, Alibaba, Aliexpress, eBay, Flipkart, etc.
Live Chat: This allows you to create a live chat system between vendors and customers.
Geolocation: Lets your customers search for vendors' stores by location.
Product Duplicator: Enable vendors to copy a product that another seller is already selling.
Return and Warranty Request: Let the admin manage vendors to offer a customized return and warranty system.
Seller Verification: Allow vendors to verify their stores using social profiles or ID cards.
Wholesale: Let you turn your marketplace have a popular feature of wholesale management.
Store Support: Get all the customer support features at the convenience of your frontend.
Subscription: Create highly customized subscription packs and charge vendors as you like.
and 15 more!
Now, you have successfully created your own marketplace and designed it with Elementor. You can launch your new venture this way and start earning from your vendors.
Wrapping Up
WordPress has opened a new door for general people like us to make our dreams of creating our own online businesses true. You can be the next Jack Ma with your very own version of Alibaba and AliExpress.
All you have to do is find an amazing marketplace idea and use WordPress, Dokan, and Elementor to make it a reality.
Dokan is evolving every day with amazing new features and integrations. The Elementor module is one of the integrations of this evolution. You can design your marketplace with the available themes and create your own store design using Elementor. The day is not so far when Dokan will fulfill every bit of requirement that you have regarding the design and development of online marketplaces or multi-vendor stores.