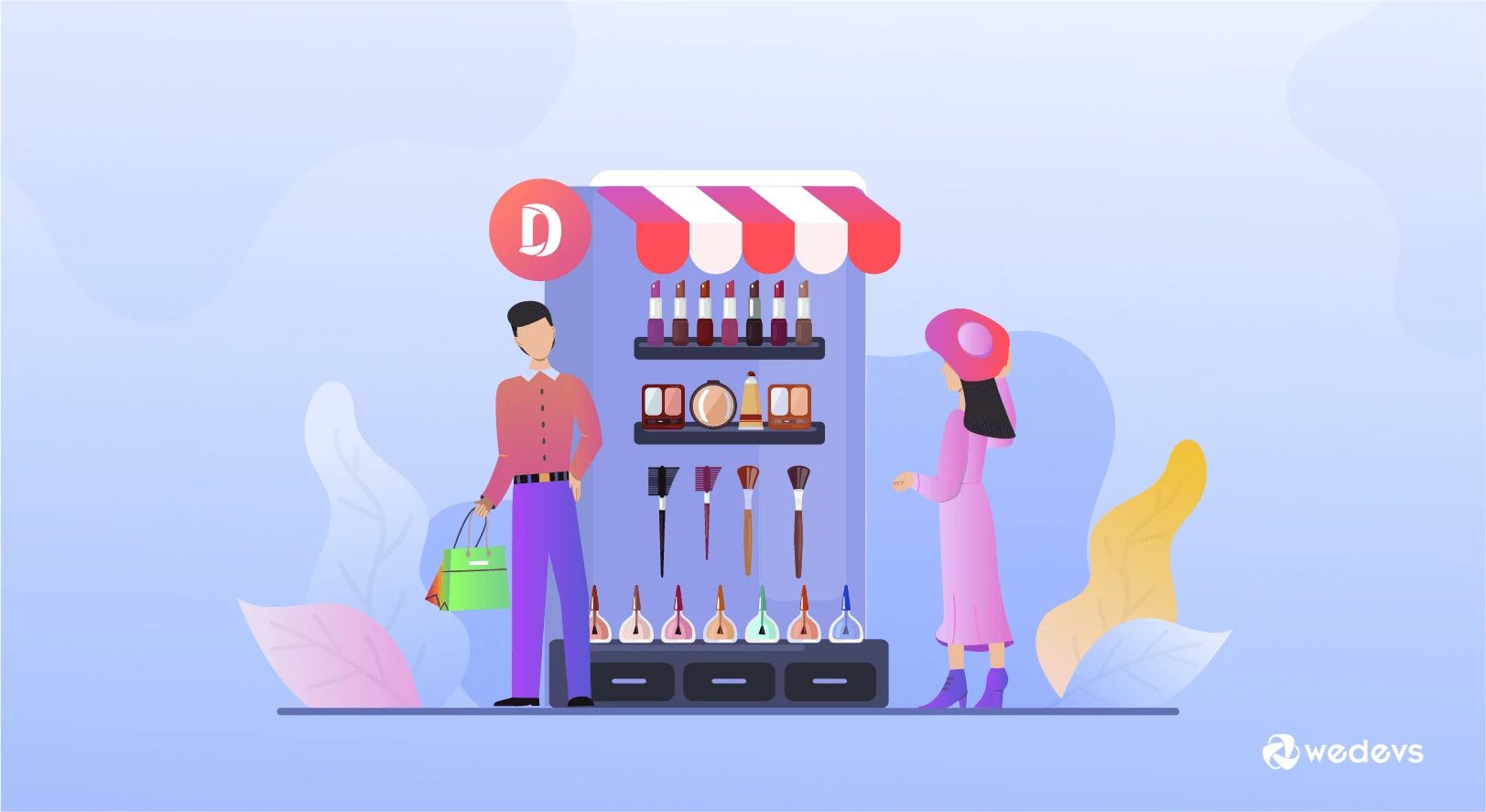 Build Your Own Marketplace Website for Beauty Care Items Using Dokan
Online business is growing at a rapid pace. It estimates that within 2021, over 2.14 billion people worldwide intend to buy goods and services online, up from 1.66 billion global digital buyers in 2016.
It clearly shows the massive opportunity of spreading your brand through a Marketplace Website.
Therefore, to make your journey smooth a ton of online store builder is available in the market.
If you are comfortable with WordPress, you can easily go with the WooCommerce to build your eCommerce business site.
In this article, we will show you how to build a marketplace website for multiple sellers to sell their beauty products on a single platform with the best Multi-Vendor Ecommerce Solution Dokan.
76% of USA Consumers Purchase Online
Yes, more and more people are starting to rely on eCommerce sites. And it's over 76% in the USA!
An eCommerce store is a great way to make money online.
Over the past few years, e-commerce business has a significant impact on traditional retailing and this will continue in the following years.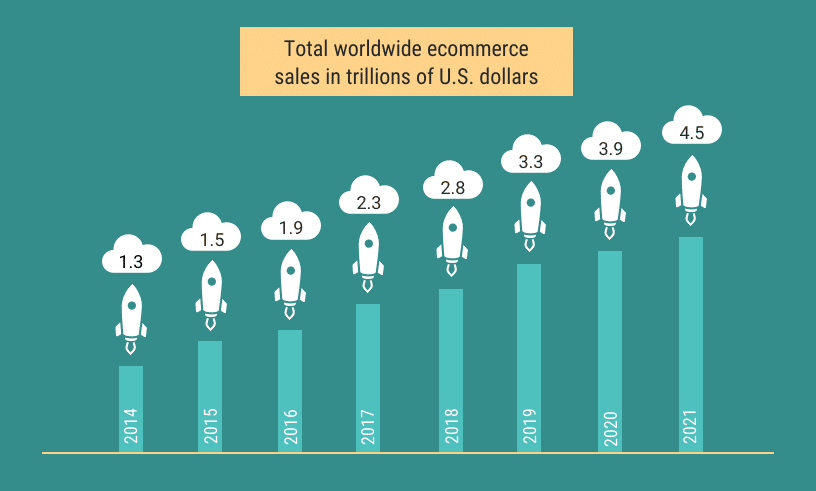 With WooCommerce it's very easy to start your own eShop without being a technical gig.
Beauty Business Opportunities across the World
Beauty products business grows very fast worldwide. The demand for all type of beauty and skincare items is increasing dramatically everywhere over the world.
This rising demand for cosmetics broadens the scope for growth and earn more revenue from the beauty shop.
Moreover, this business covers a vast array of business areas such as anti-aging clinics, aromatherapy, beauty salon, beauty spa, cosmetic store, hair salon, and even makeup artists are part of it.
According to marketresearch.com the global cosmetic market is expected to reach $429.8 billion by 2022.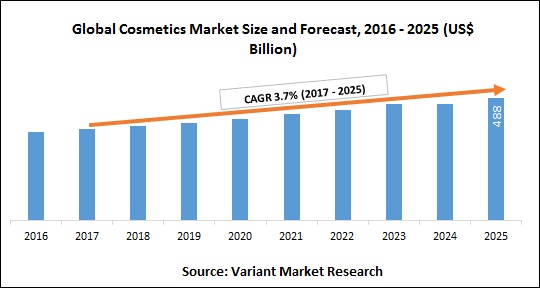 You can develop your own brand products and sell them online or build a platform where other manufacturers can sell their products.
How does an Online Marketplace Work & What Do You Need to Start with
The multi-vendor eCommerce site has gained massive popularity in recent days. And a marketplace website works as a digital platform to buy and sell products, any kind of actually!
In order to start your own marketplace website, you should go through an organized way.
Follow these steps to build your own marketplace website.
How to Create an Online Marketplace with WordPress (6 Easy Steps)
WordPress helps you to create the foundation of your site and WooCommerce transforms it into an eCommerce shop. And Dokan lets you turn it into a multivendor marketplace.
Now, follow the details process step by step to starting your online beauty store.
Step 1- Buying a Web Hosting and Domain Name
A domain name is the identity of your site by which someone will find you on the web like www.wedevs.com.
Well, you can easily get your perfect domain name from sites like GoDaddy or Namecheap.
Later you have to buy a hosting for the domain. Among many web host provider, some good ones are-
Bluehost
Host Gator
Dream Host
Find the details guide on Hosting for WordPress and WooCommerce Sites.
Step 2- Install the WordPress
WordPress becomes very popular among entrepreneurs due to its ease of customization, flexibility, rich plugins, and add-ons gallery.
Also, the CMS of WordPress is very user-friendly. WordPress opens a new door for nontechnical persons to set up their own websites by themselves. Referencing from W3Tech, around 31.3% of total websites are using the WordPress CMS.
Most of the hosting provider has a one-click install feature for WordPress.
So, it's easy to install WordPress on your website.
Step 3- Set up and Configure WooCommerce
Converting a simple website into an eCommerce site is easy and free in WordPress.
Consequently, you have to install and activate the free WooCommerce plugin in WordPress to set up your eShop.
Now, just follow the simple navigation and convert your WordPress site into eCommerce.
Admin Dashboard > Plugin > Add New >
Click Search and Type 'WooCommerce'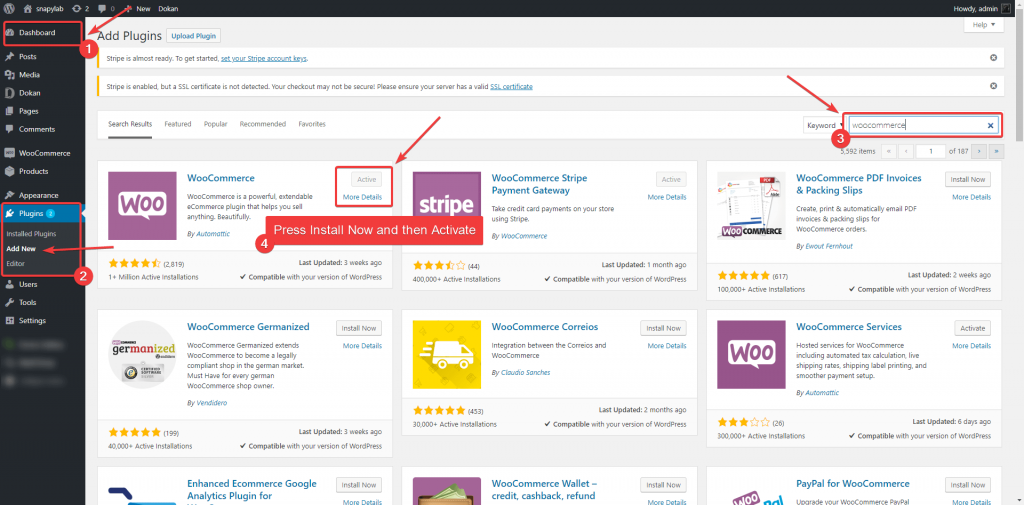 If you are a beginner, check out this complete and step-by-step WooCommerce Tutorial to set up your shop.
After installation, you have to configure your WooCommerce site as per your requirement.
Congratulation! your online store is ready to trade.
Turn Your Single Store into a Beauty Products Marketplace Website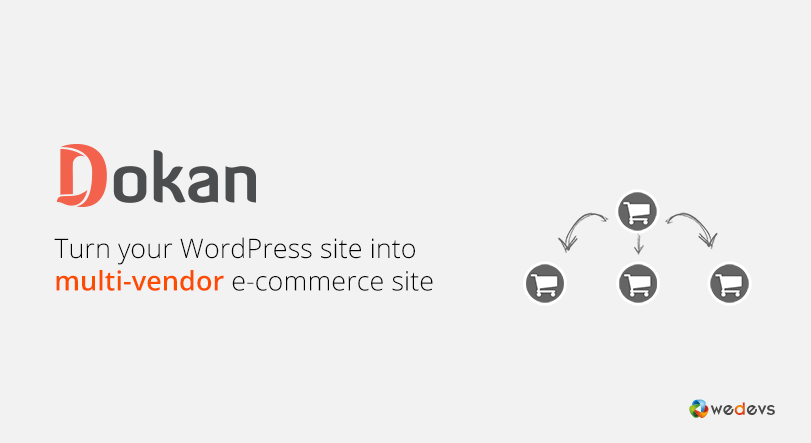 After configuring WooCommerce, you can sell your beauty products from your stock.
However, if you dream large you can easily convert your single beauty store into a multi-vendor marketplace website like cosmeticsmegastore.com or thebeautymarketplace.com.
A journey towards the biggest revenue starts from here!
Dokan fuels your further journey of transforming your single store into a broad marketplace website.
Plus, Dokan gives a unique URL and individual store page to each and every vendor. Vendors can customize their stores independently according to the admin's permission.
Therefore, you can easily ensure the security of your marketplace as you need not share the access of the backend WordPress dashboard to the vendors.
WooCommerce is the best eCommerce platform for WordPress. Dokan lets you turn your single WooCommerce store into a customized multi-vendor marketplace and earn with each sale!
How to Configure Dokan
You need to follow almost similar steps like WooCommerce to set up and configure the Dokan to transform your WooCommerce site.
The Dokan lite is free. Also, you can get the premium version of the Dokan Plugin to expand the flexibility and customization options.
Just follow the simple navigation and convert your eCommerce into a multivendor site.
Admin Dashboard > Plugin > Add New > Click search >
Type "Dokan" > Install > Activate
Configuring Dokan is very easy by using its own Wizard. For more clear idea, you can see the Step-By-Step Guide for configuring Dokan.
Earning from Your Beauty Care Product Marketplace Website
You can set the flat commission rate for all vendors and product categories.
Also, you get the flexibility with Dokan to set individual commission rates for different product sellers or special categories.
Here, you can define the commission rate at the time of configuring Dokan or later whenever required.
For a proper understanding of the commission system of Dokan, we recommend you to read the article How to Earn with Dokan Plugin Using Different Vendor Commissions at your expediency.
Step 4- Select A Suitable Free WooCommerce Theme for WordPress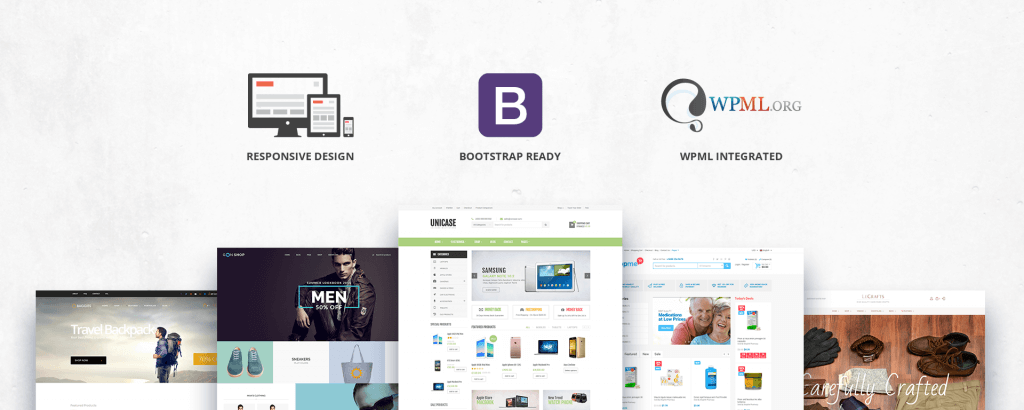 Now your marketplace structure is ready and you have to decorate it.
We recommend our Dokan Theme for your multivendor Beauty Product Marketplace to give an elite look to the site.
Also, you can choose any Dokan compatible theme from ThemeForest specially designed for the best multi-vendor marketplace builder Dokan.
Read the detail features of 30+ Fully Compatible Themes for Dokan Multivendor at ThemeForest
Setup Admin Shop & Upload 1st Product on Your Marketplace Website
You can establish your own shop in your marketplace and sell products just like a single WooCommerce store.
There are 2 ways to do this-
Register as a vendor
Enable yourself to add products
To make the admin capable to upload images from FrontEnd you have to follow the steps properly.
WordPress DashBoard>Users>All Users>Enable Adding Products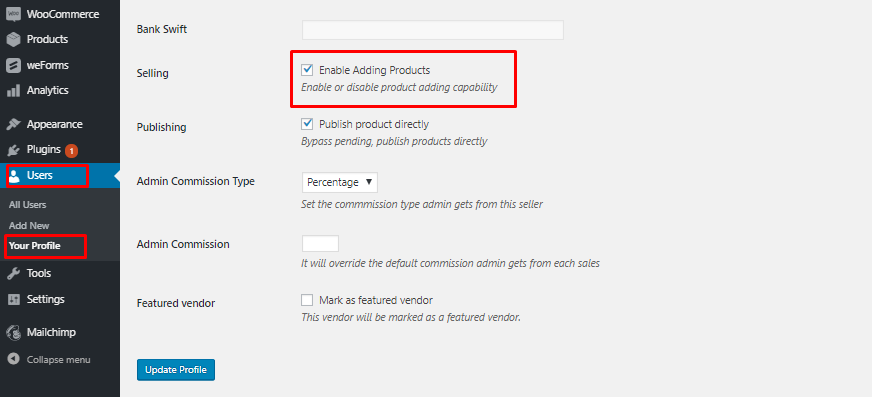 Now you can easily customize your shop by navigating:
WordPress Dashboard>Visit Site>Vendor Dashboard>Setting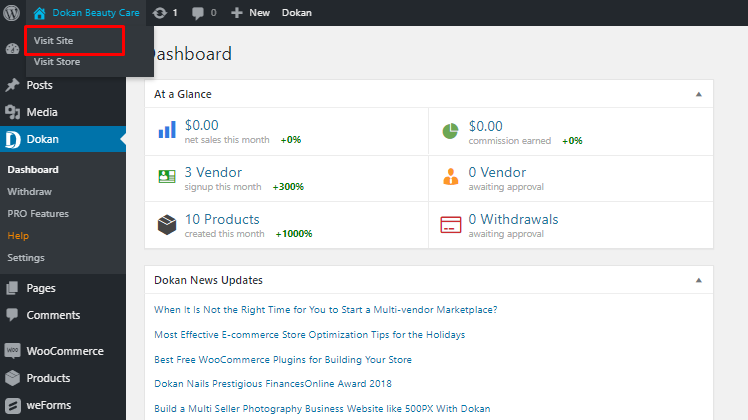 To add new product in your shop, click on the Products tab and upload product image and other information.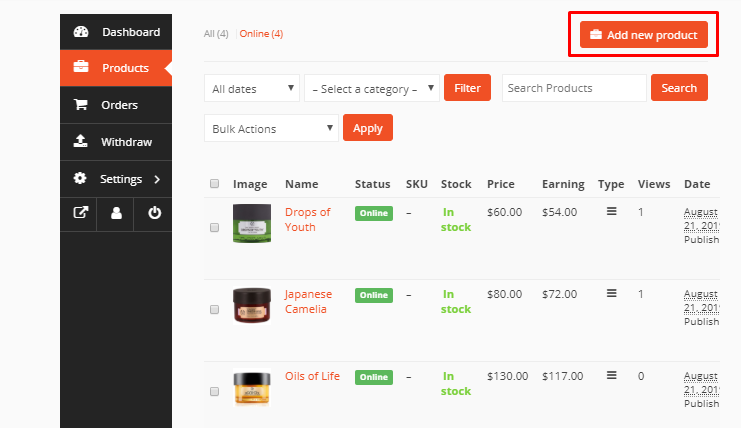 In this way, you can add product from the Shop Frontend.
Congratulation your shop is ready to go! It will look like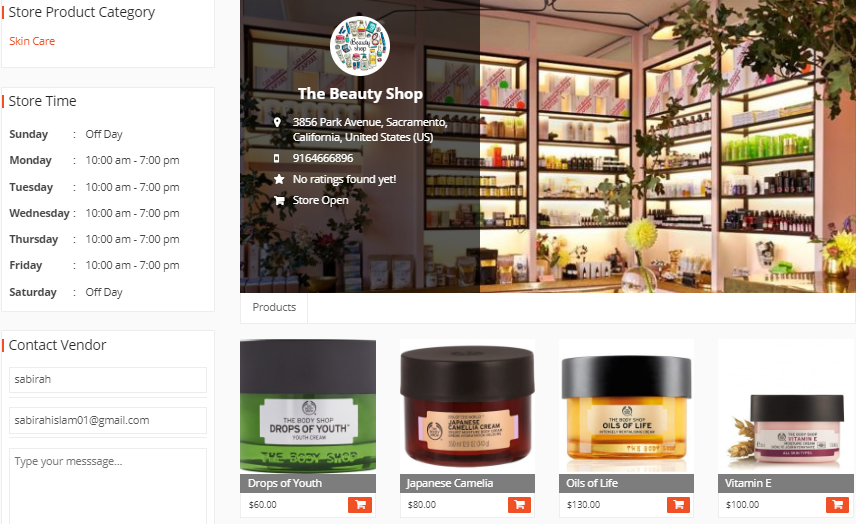 Special Note: It's not mandatory to set-up the admin's shop unless you intend to sell own products.
Admin can also add products from WordPress Backend>Products>Add New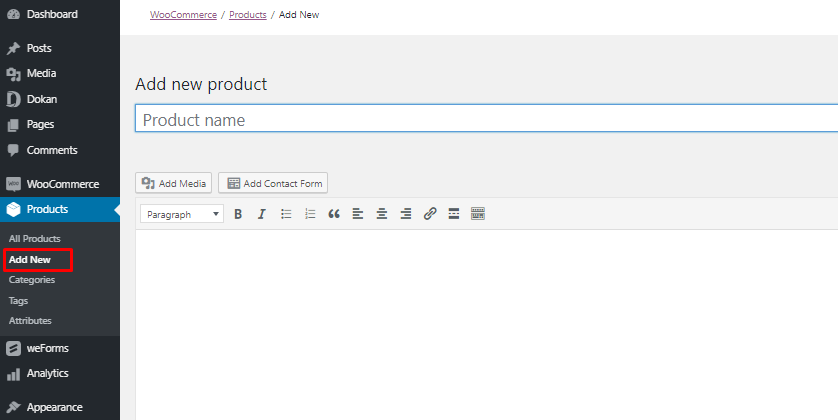 Step 5- Invite Vendors to Your Site
Amazing! You have created your own multivendor marketplace for selling beauty products.
Now the major challenge is getting vendors. Send invitations to your vendor community to register on your site and start selling immediately.
The vendor registration process is very easy.
How to Become a Vendor for Retail Stores to Sell Beuty Items
Just clicking on the sign-up button, anyone can register as a vendor submitting some basic information.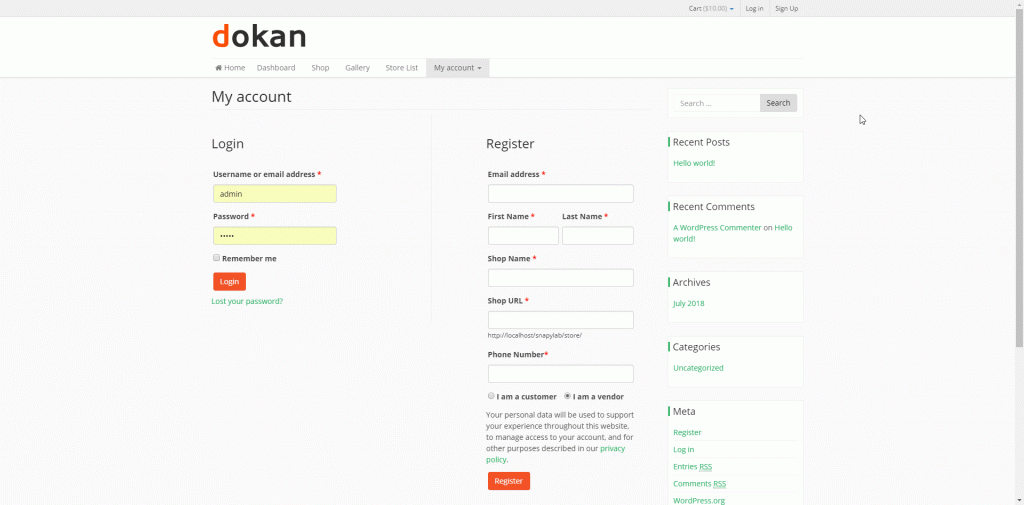 Then you will get a request for the approval of joining on your marketplace as a seller.
As the marketplace owner, you have to approve the application from the backend. Until then, the vendor cannot upload any product to the marketplace.
Therefore, follow the easy navigation to permit your vendor uploading their products.
Admin Dashboard> Users> All users>
Select the newly added vendor> Edit
Scroll down and select 'Enable Adding Products' from Selling tab> Update User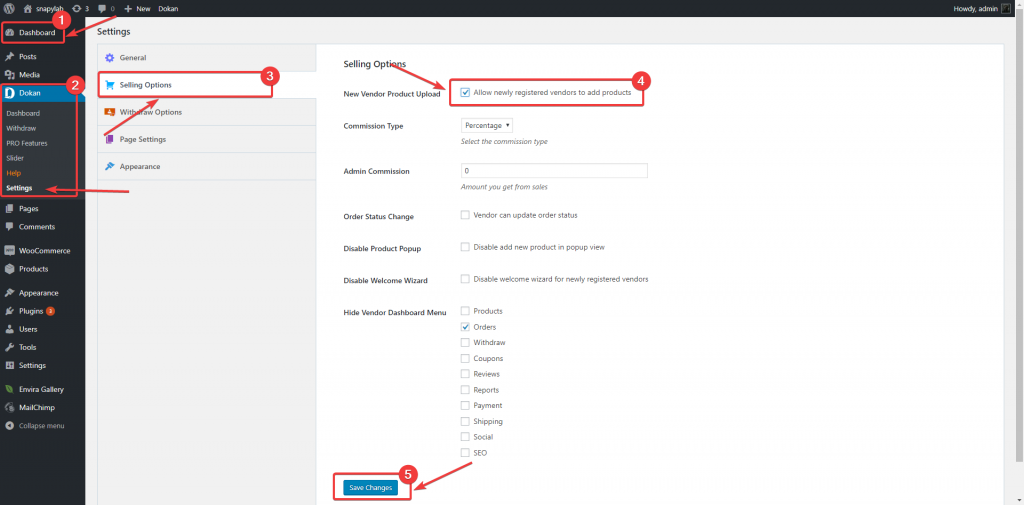 If you want, you can permit them to upload the product immediately, just after the registration on the marketplace.
So, it will make your market management easier. You can activate this feature from Dokan's Selling Setting Menu.
Hence, create a full-featured multi-vendor marketplace and give your site a new height with Dokan Pro using Powerful Advanced Functionality.
Step 6- How to Add Products to WooCommerce based Marketplace Website
As we mentioned before, Dokan facilitates each beauty seller with an individual eShop.
So, a vendor can arrange the shop as per his brand acquisition.
If you are the owner of the Marketplace, you get the power of managing and controlling the activities of the vendors accordingly.
After the admin's approval vendors can customize his beauty shop by login to the online beauty products marketplace.
Vendor Dashboard will show the following information. A vendor can get all the information at a glance regarding Sales, Earning, Pageview, Order Details, Product Status and so on.
This is one of the most amazing features of Dokan that makes it superior comparing to other marketplace builders.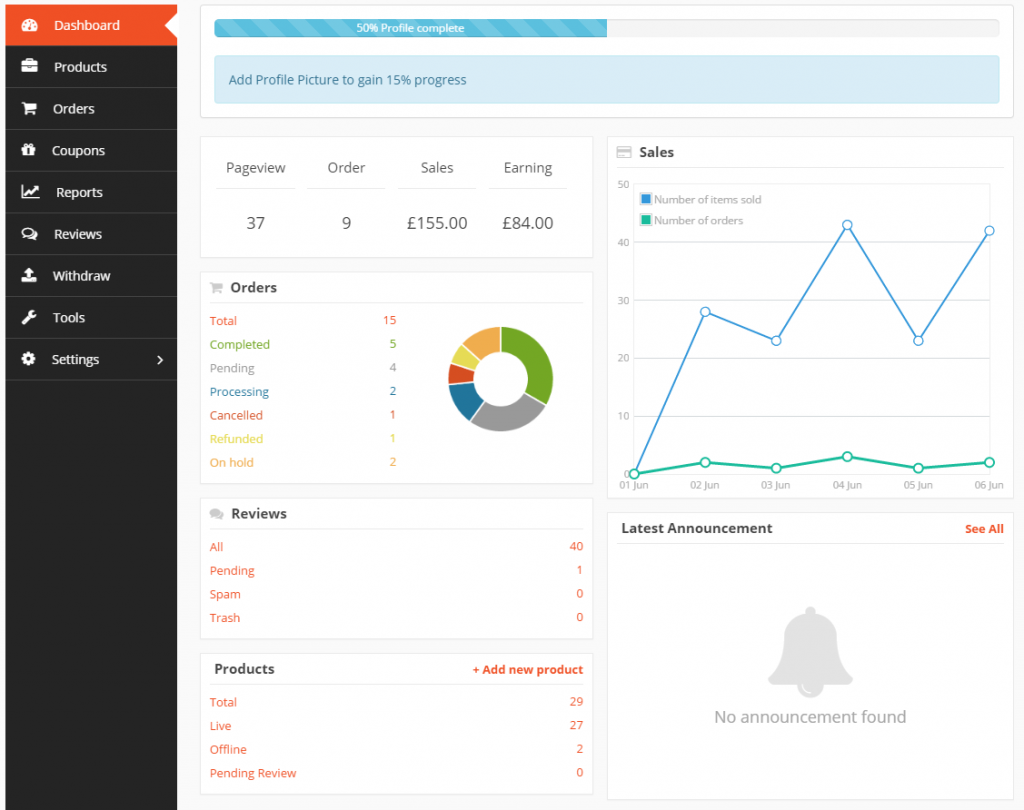 Here, vendors can set the banner, basic information and other details of their shop from the setting tab.
The product tab lets the vendors upload beauty products to their eshop.
However, the Vendor Dashboard has many more features to make the shop owner's activities easy.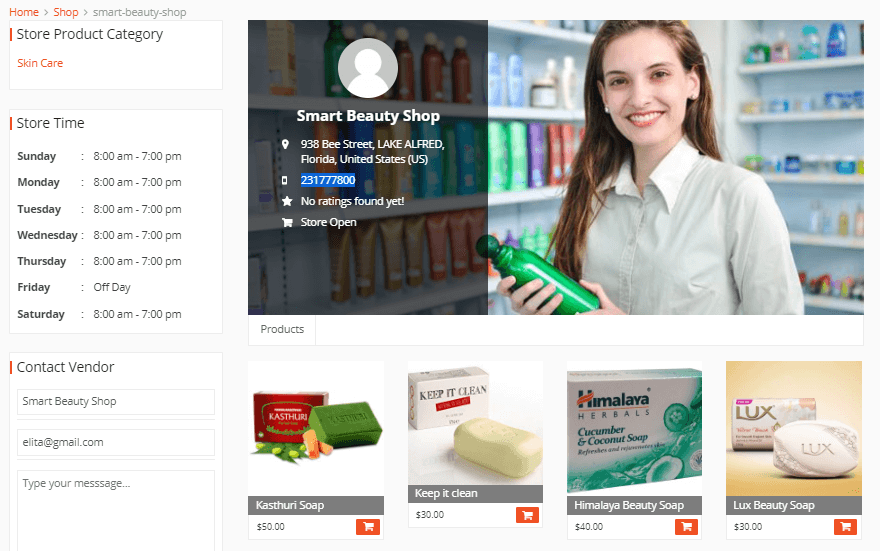 You can make the consumer's experience better showing the seller or store list on the menu bar.
With this privilege, customers can easily pick their required products or preferred sellers easily from the list.
To add a store list in the menu bar follow the below steps.
At first, go to your Admin Dashboard > Appearance > Menu
Select Store list > Add to menu > Save Menu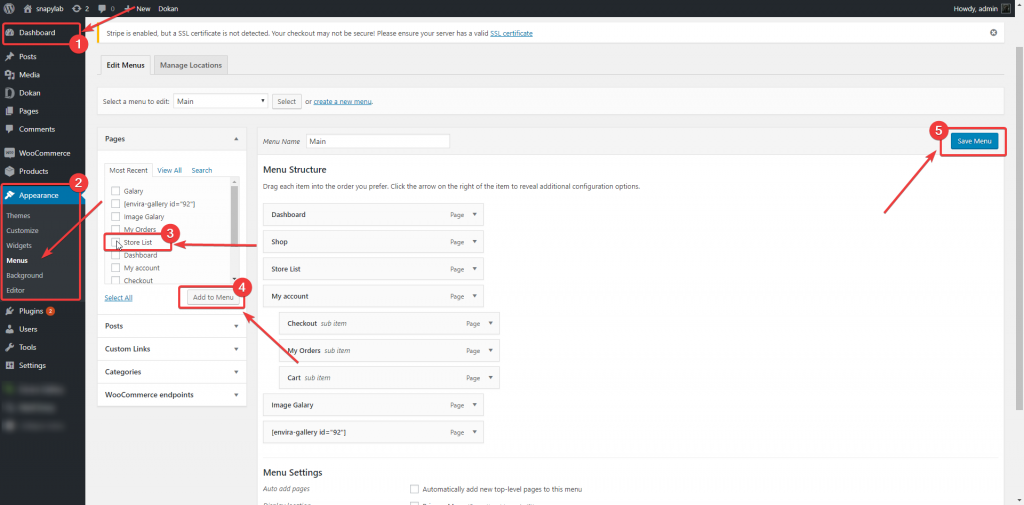 An admin of Beauty Product Marketplace can see all the stores of his marketplace by visiting the store-listing.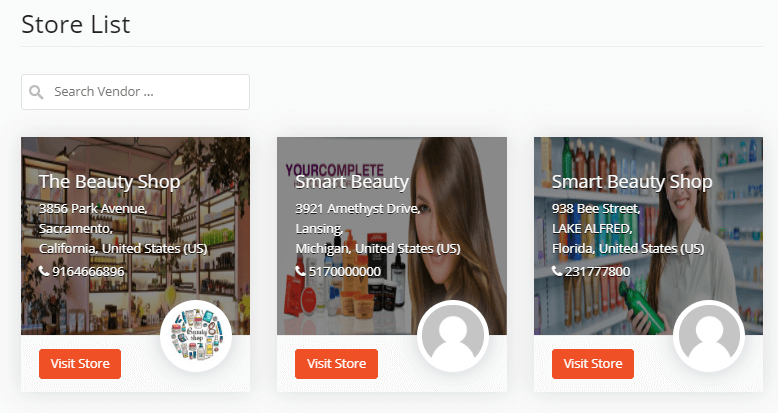 Cash Withdrawals from Multivendor Marketplace by the Vendors
After a successful purchase of beauty products, the amount will be shown on the vendor's dashboard.
A vendor can withdraw the money by sending a request to the admin.
However, admin can set the minimum limit of withdrawal for the vendors from the backend. You can manage all withdrawal request from the backend dashboard.
Furthermore, get all the information on Managing Withdrawal Requests regarding Marketplace Admins and Beauty Product sellers for a smooth transaction.
5 Experts Tips to Quickly Grow Your Beauty Products Marketplace Website
You should have a strong marketing plan to span your business widely. Here, we enlisted 5 advanced SEO tricks suggested by the experts for your business advancement.
Utilize a Blog for Your Beauty eShop
You can add a blog to your eShop and tell stories about your products. It's a proven effective way to convert your visitors into loyal advisor.
To rank, you need backlinks and you need to match the user's search intent. If someone is searching for the best white shoes for their wedding, product pages won't rank for that – articles will.

Bill Widmer, Content & SEO Expert, BillWidmer.com
eCommerce Entrepreneurs should prefer Content Marketing to maximize their revenue.
Social Media Marketing
Social media is the best crowd to scream your brand voice. Instagram Marketing is a proven effective way to promote eCommerce Marketplace.
Nowadays, customers want to know and interact with the brand at multiple touch points. They also want to know the brand's story.

Shane Barker, Digital Strategist, Shane Barker Consulting
Personalize Email Marketing
There are a lot of ways to segment in eCommerce (age, interests, gender, and so on) so use that data to only send relevant messages to your audience instead of sending the same message to everyone (as most eCommerce do right now)

Emil Kristensen, CMO and co-founder, Sleeknote
Expert Email Marketing Automation Strategies can help you to boost your Marketplace revenues
Update Your Marketing Approach
We have been able to increase website conversion rates from- 1% to 4% simply by interviewing customers who bought, those that didn't, and understanding our customers on a deep level

Eric Carlson, Co-Founder, 10xFactory
You should review your marketing strategy at least once per year to check all of your objectives, business goal, target audience, market research, and other activities still fit your business.
Add CTA Buttons to Your Marketplace Website
Add the Call-to-action button on your eCommerce marketplace to tell your visitors to take action.
Using a CTA, you can tell people what you want from them or encourage them to go forward to meet their needs
Adding CTA is the best practice to engage your audience in your marketplace.
Final Thoughts on Marketplace Website
In short, rising demand for beauty products and online purchases span the umbrella of the eCommerce business worldwide.
You can expand this opportunity by developing a wide marketplace where along with you other beauty product sellers will sell products collectively.
Accordingly, both you and the consumers will be beneficial from this incredible idea. Consumers will get plenty of options to get the right products for them. It increases the quantity of selling products.
As an owner, you can sell your own products and get a commission on each sale from other merchants.
Furthermore, Dokan is one of the best multi-vendor marketplace website builders powered by WooCommerce with 60,000+ active installations. And you don't need to spend a single penny to build your marketplace.
Hence it is the easiest way to set up a front-end Beauty Product Marketplace and earn money through commission.