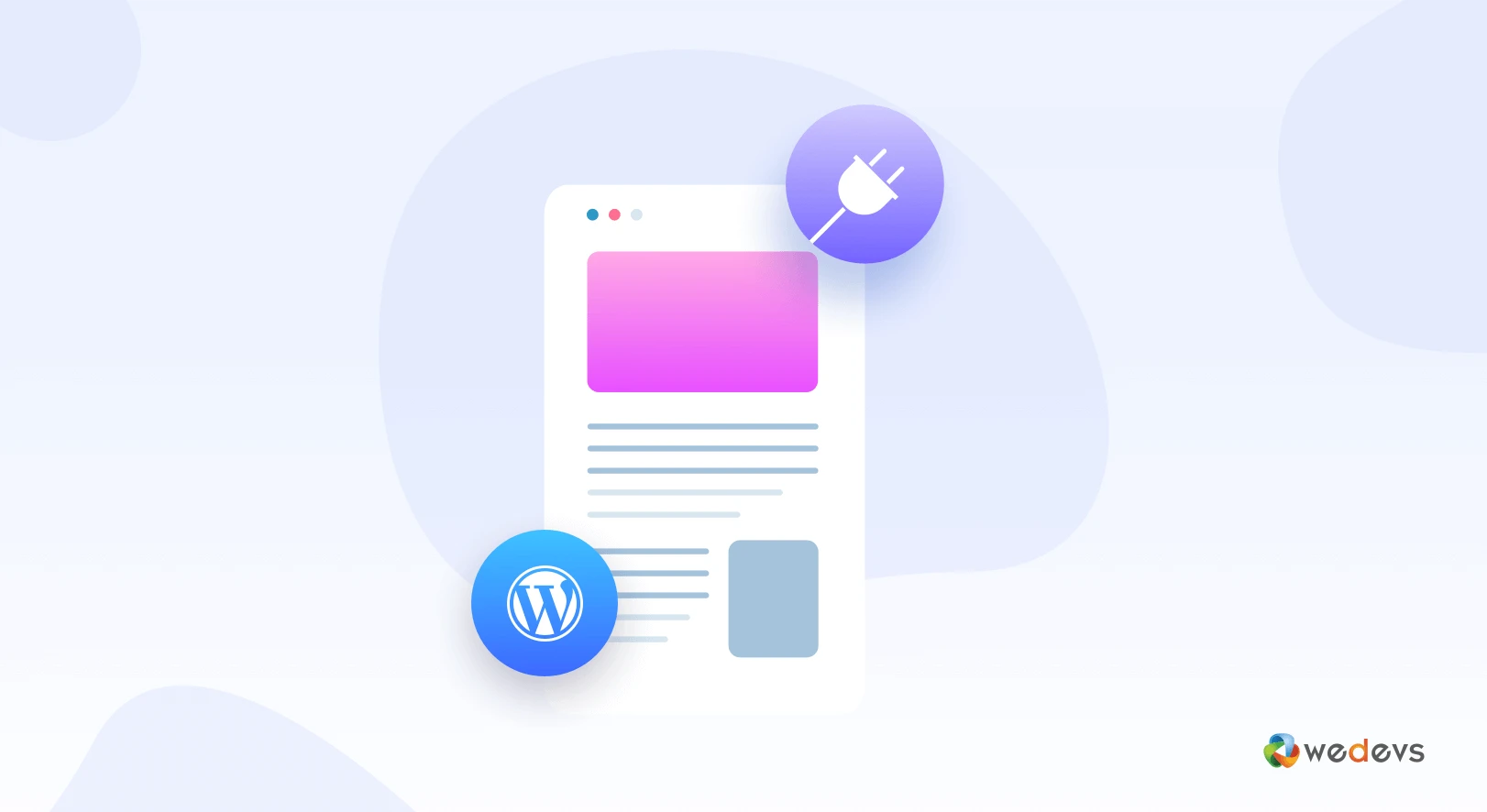 13 Best WordPress Plugins for Blogs in 2023
If you have chosen WordPress then you are on the right track as a blogger. WordPress is the best CMS (Content Management System) and rules over 42% of the website on the entire internet.
All this can happen due to its super user-friendliness and super-easy installation. You can customize your website without being a tech geek. Moreover, you don't need to know a single line of code.
Another unbeatable thing about WordPress is, that there are plenty of plugins in this community. Most of them are free and paid ones are not much pricy.
This article is specially organized for bloggers who are searching- for the best WordPress plugins for blogs!
So, try to read till the end, you won't regret it.
Best WordPress Plugins for Blogs at a Glance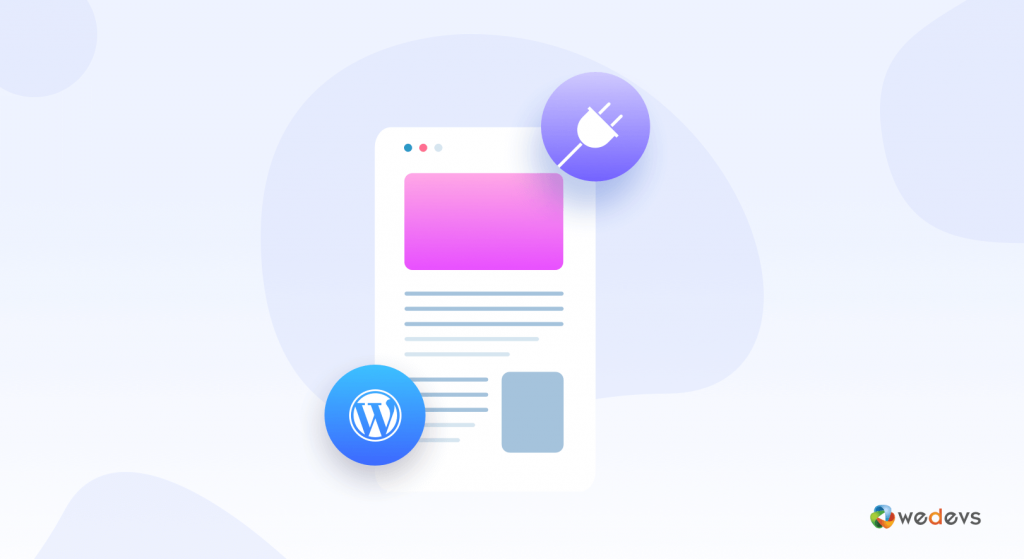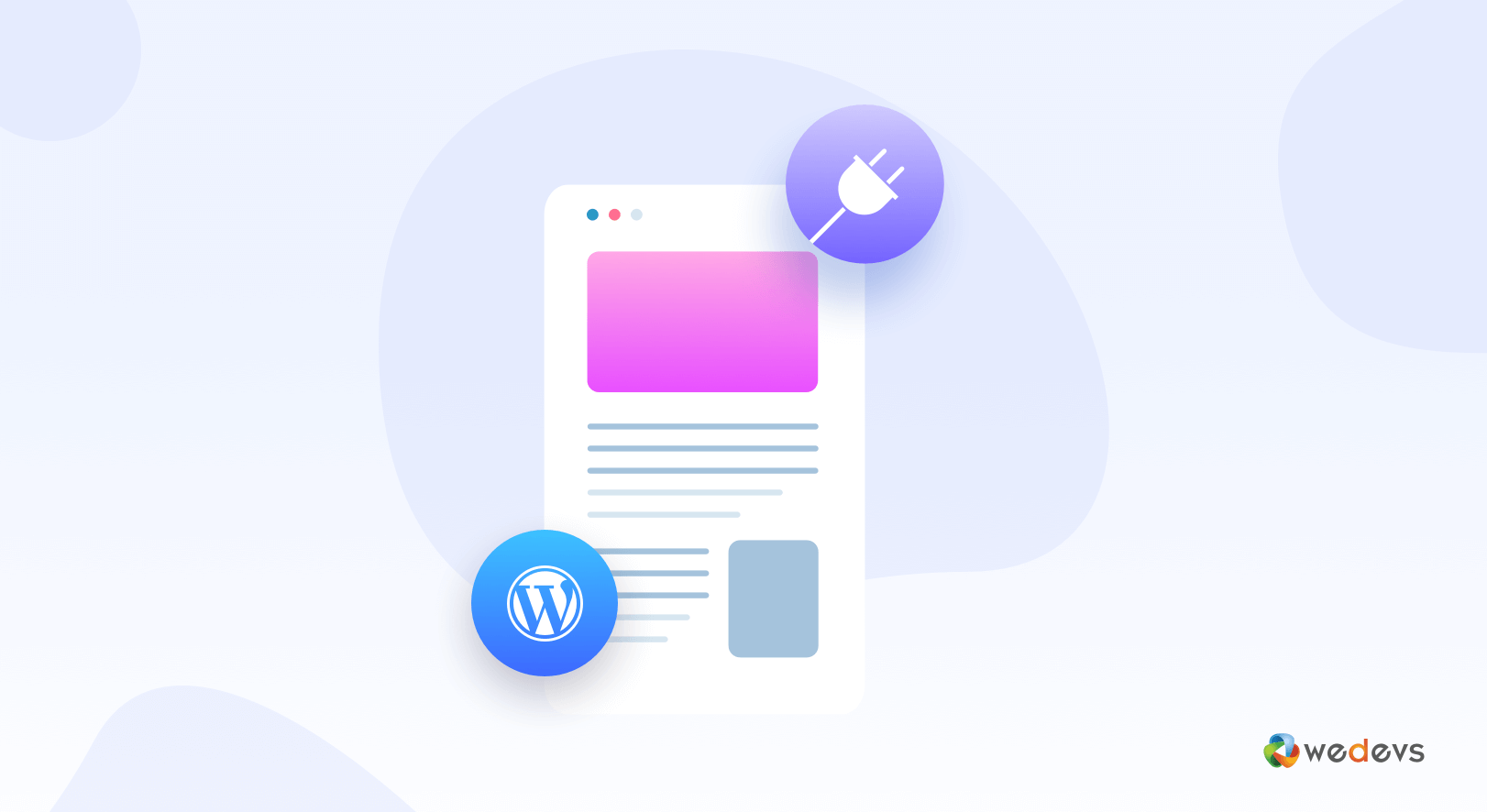 You will get a huge number of plugins in WordPress.org but the question is which one is the best for your blog? Which one will make it easy for your audience to check your content and navigate through your site? Well, here we have listed some plugins for you.
Yoast SEO
Akismet
Elementor Page Builder
Google Analytics Dashboard
Really Simple SSL
WP User Frontend
weForms
Smush Image Compression
Add To Any
Revive Old Post
weMail
WP Project Manager
Disable Comments
Let's check the details.
1. Yoast SEO- 5 Million Active Installation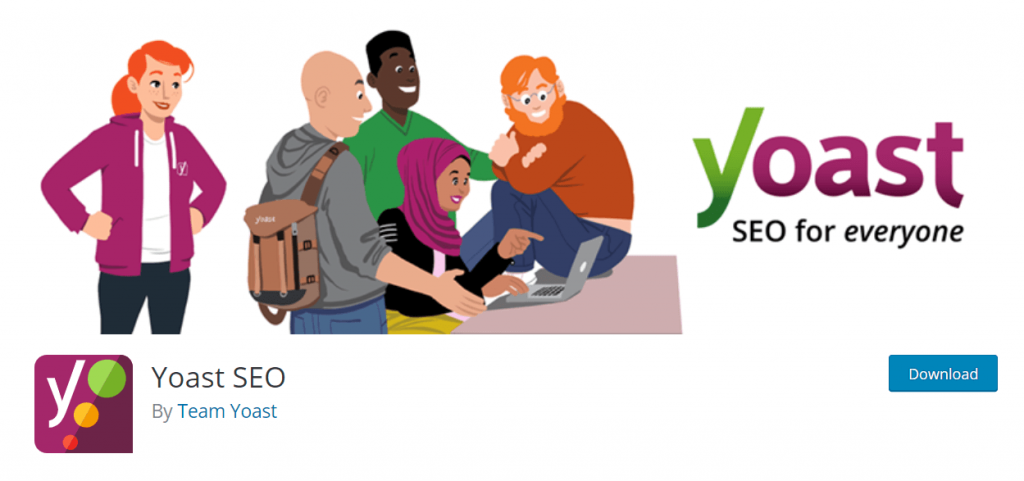 Yoast SEO is one of the best WordPress plugins for blogs to help your site rank high in search engine results. If you are a pro blogger, just skip it. The beginner site owner must read this. Here, some of its free version features are: 
Lots Of Traffic
You'll get more traffic from Bing, Google, and various social media platforms and increase audience engagement.
Optimization
Run a check and optimize synonyms, key phrases, keywords, and any other words to help your page rank.
Let Google Know What The Page Is About
Add schema.org code to your page to help relevant search engines and sites to understand your website.
Get a Preview Of Your Page
The snippet editor will show the page preview so you can improve your page to make it look appealing.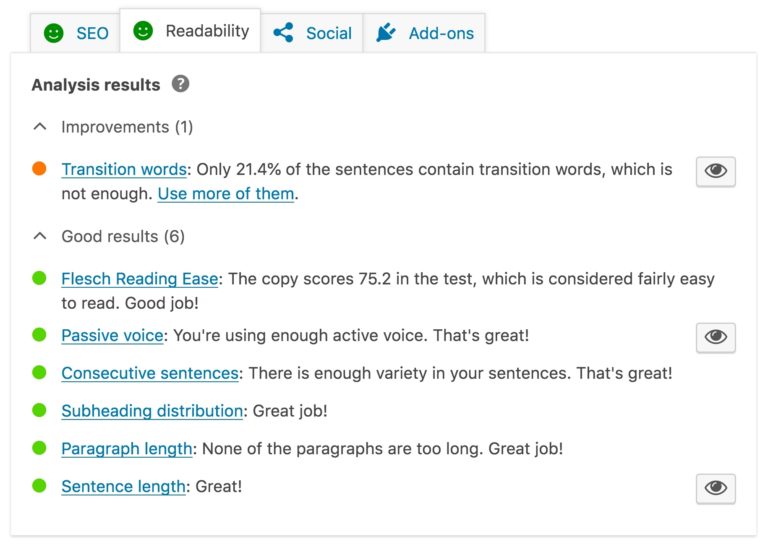 Readability Test
Achieve better readability based on scientific methods.
No More Duplicate Content
It sets automatic canonical URLs as well.
Complete Control Over Breadcrumbs
Set a primary category for your post and control the taxonomy for each page for the WordPress site.
Works on Every WordPress Editor
You can optimize your posts for the Gutenberg editor. It'll also help to improve the content for the classic editor.
Redirect Manager
Get the 'REGEX redirect' to indicate all these URLs with specific words with this plugin.
Regularly Updated
It goes through regular updates to ensure proper site optimization for Google's latest algorithm.
Bottom Line: There are more features in the pro version. But we must say the free one is quite efficient.
When you are running a blog, your ultimate goal should be to gain as much as traffic possible. Apart from Yoast, Rank Math is another best SEO plugin for WordPress blog sites with 1 Million active installations. It has stunning features like- 
Provide extra and related keyword info
Intelligent Recommendations
Create an innovative blog with Content AI
Internal and External link suggestions
Consist lightweight code
2. Akismet- 5 Million Active Installation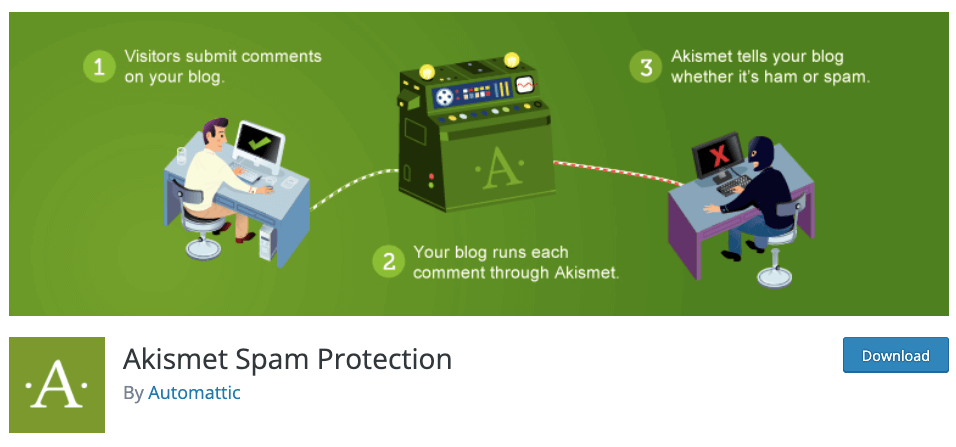 If you want protection from spam, then don't forget to download this plugin! For your spam protection, this is one of the best WordPress plugins for blogs. It comes with helpful features such as:
Automatic Checking and Filtering of The Spam Comments
Akismet makes a check comments and contact form submissions by using the global database of spam to prevent the posting of any malicious content on your site. 
Allows You to Check the Spam History
You'll know which comments were spam, caught by Akismet, and cleared off from your site. Plus, get to know which were marked and approved comments.

Reveals Misleading or Hidden URLs
Misleading or hidden URLs can hurt your site. Akismet will quickly uncover and get rid of them!
Get a Speedy Website Performance and Save Disk Space
Spam comments can take up a lot of space over time. This plugin will help to speed up your site through its discard feature to block any spam and this way you can also save disk space! To keep your WordPress site more secure there are some specific plugins.
Bottom Line: So, why wait, if you want instant relief from spam, all you need to do is to download it and activate it fast!
A trustworthy alternative to Akismet is Jetpack. It offers the best functions to make your site safe and fast! Also, you can grow your traffic, thanks to this plugin. For these reasons, it is on the list of our best WordPress plugins for blogs. Some features Jetpack will offer you:
Excellent Website Security 24/7
Hassle-free Site Shifting
Easy Site Maintenance
Keep Audiences Focused
Spam Protection
3. Elementor Page Builder- 5 Million Active Installation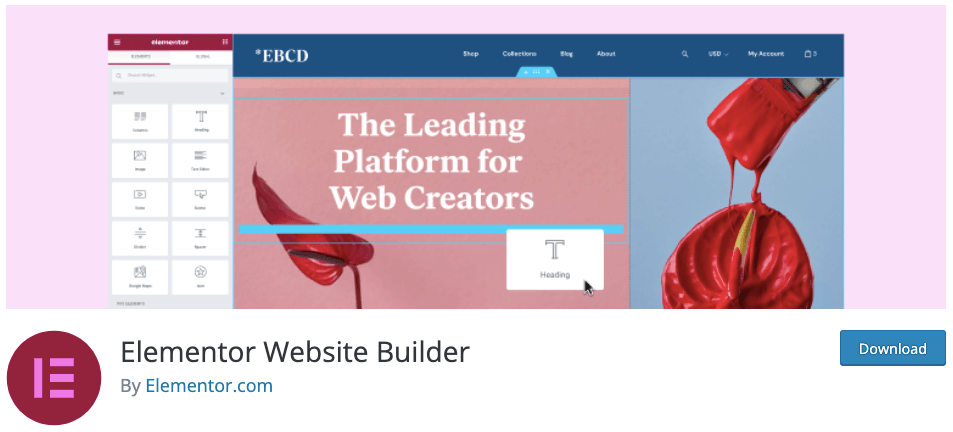 With this number one WP builder, create unlimited web pages without any effort.
No coding, only drag and drop!
Whether it's for your blog or eCommerce store, Elementor will offer you the best, and fortunately, it works on any WordPress site. Here are some reasons why it's so popular:
A Powerful Visual Design
Create a visually appealing design by using the drag and drop function. Upload or choose from pre-existing fonts, animate, and edit photos using the best available tools. This easy customization has made it the best WordPress plugin for blogs.
Speedy Performance
Create a fast-performing blog site (with faster loading time) within a short period.
Increase Traffic And Conversions
Design your forms and integrate them with any marketing tools and connect with your audience through different apps.
Get a Visual Guide to Build Your Site
The visual theme builder offers you the right tools to carry out the design task without any hassle!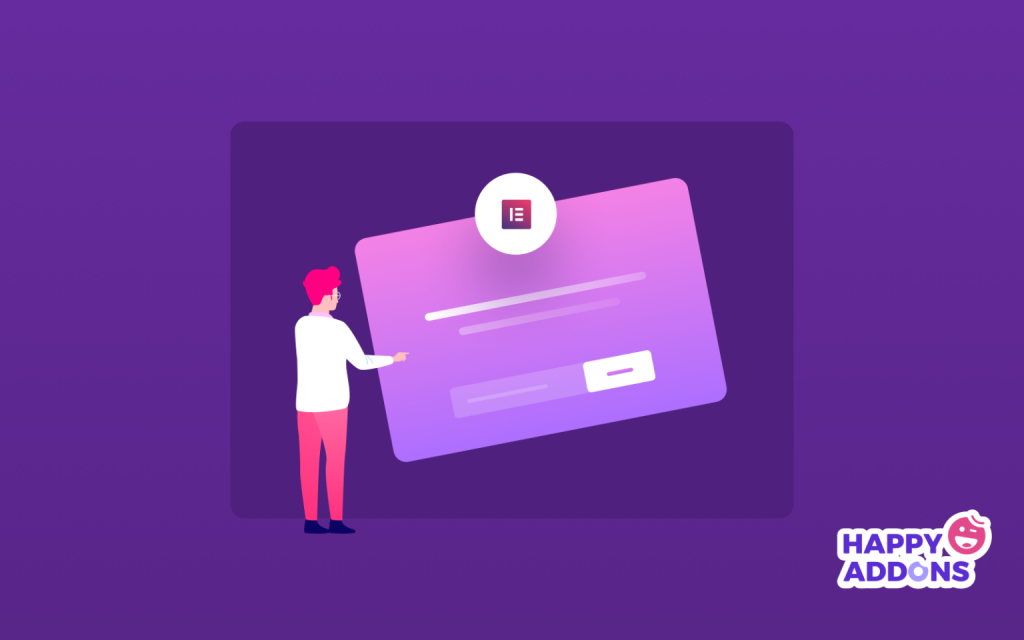 Build Stunning Site Pop-Ups
You can create pop-ups to be consistent with your site design and integrate content from WordPress.
Get Over 80 Elements for Design
You can find a widget for your site's every need. Also, you can use third-party ones or build a custom one!
Compatible With Any Theme And Plugin
No need to find the right match when using Elementor as this chameleon will work seamlessly with any theme or plugin. 
You can easily create visually appealing designs with third-party addons like HappyAddons, to design an interactive, fast, and scalable site to improve user experience! It will offer you-
Huge Preset Selection
You can select from over 400 presets to design your site.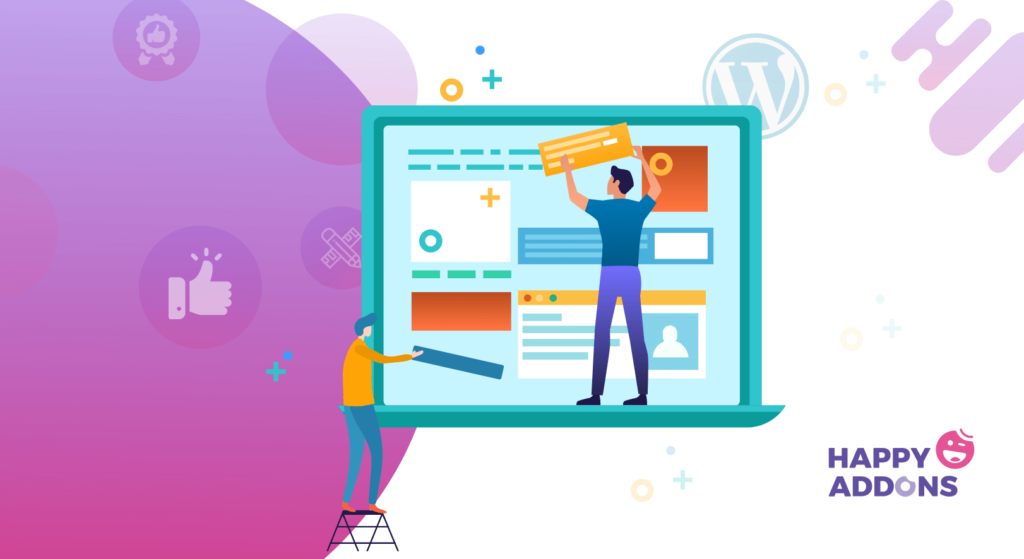 Lots Of Widgets.
Choose from 35 premium widgets and more to make your site interactive.
Get a Variety Of Features
Some features are section nesting, animation, template import, a unique library with over 500 line icons, on-demand asset loading, widget background overlay, etc.
Bottom Line: If you are searching for the best web page builder, then we must suggest no one is better than Elementor. Moreover, there are lots of addons that can create a new w
4. Google Analytics Dashboard- 2 Million Active Installation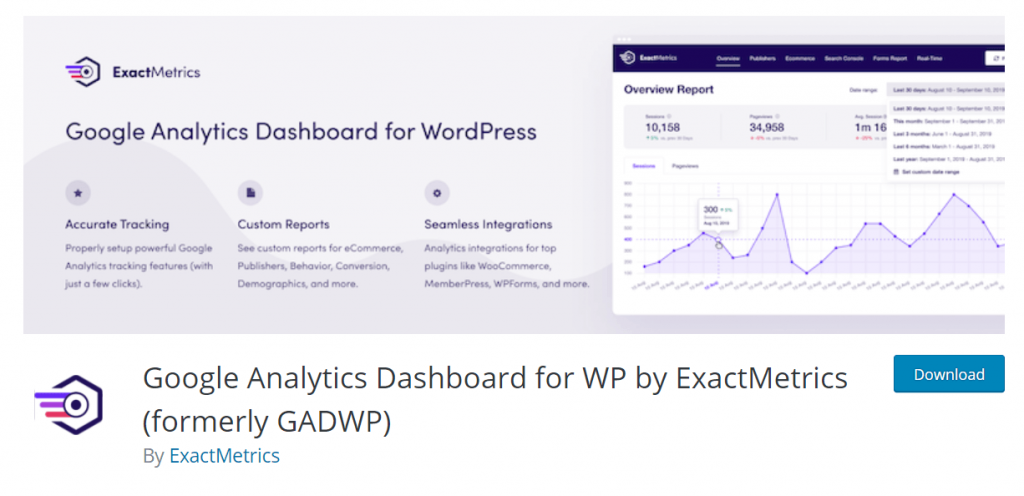 This plugin by ExactMetrics will give you the stats you need to increase your traffic and sales. You will get the information to make effective data-driven decisions to grow your business! For collecting site information it is renowned as the best WordPress plugin for blogs. Here are some of its incredible features: 
Easy Access
Check the actionable analysis reports directly through your WordPress dashboard.
Stay Updated and Ahead with Reports
There are various types of reports you can get, such as audience reports, behavior reports, eCommerce reports, Search Console reports, content reports, and many more!
Easy Set-Up
It will take just a few clicks to add it to your site! Plus, as it's always updated, you can get the latest Google Analytics features whenever possible!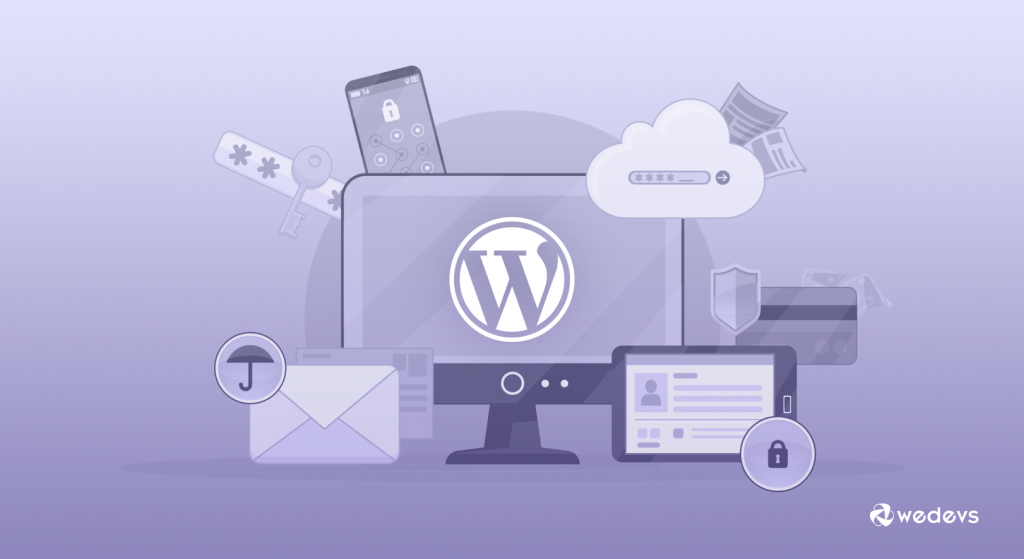 A Range Of Tracking
This WordPress blog plugin offers various helpful tracking Google Analytics enhanced eCommerce tracking, wooCommerce tracking, Google Analytics universal tracking, affiliate link tracking, Google Adsense Ad tracking for bloggers, event tracking, and more!
Easy To Track
It just takes a single click to enable conversion tracking for a variety of forms in WordPress.
Integration
Get effortless integration for the easy digital download plugin. With just one click, you can connect with Facebook instant articles.
Bottom Line: When you are worried about regular traffic, Google Analytics Dashboard can assist you by giving tons of efficient reports. Moreover, tracking your visitors is just a matter of time now.
Here is another plugin from Google for insights into how people find and use your site. Google Site Kit includes powerful features like:
Easy-to-understand statistics directly on your WordPress dashboard
Informative statistics from multiple Google tools
Quick setup for multiple Google tools
Detailed metrics for your entire site and individual posts
Granular permissions across WordPress and other Google products
5. Really Simple SSL- 4 Million Active Installation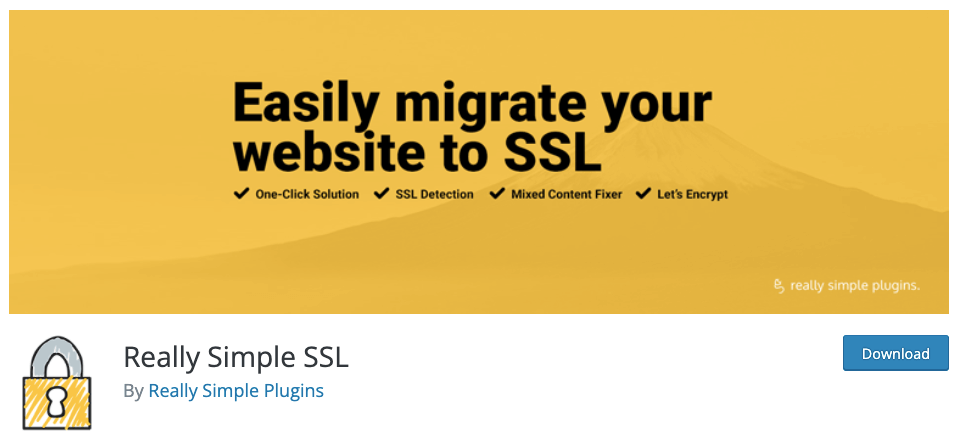 If you want to move your whole site to SSL, this plugin is your best bet! Really Simple SSL will detect your site settings automatically and configure it to run over the HTTPS. The options are kept to a minimum to keep everything lightweight. 
Here are some of its benefits:
Quick Set-Up
It's easy to set up! You need to get the SSL certificate, activate the plugin, and activate the SSL with one click. Now, You are all set to use this one of the best blogger plugins!
Extensive Scanning Function
This plugin offers a variety of features such as a mixed content scan to show you what to do if there's no secure lock yet. The extensive scan will help you check the source for the mixed content. You can solve it with the fix button.
HTTP Strict Transport Security For Better Safety
You will get the option to enable the HTTP Strict Transport Security and configuration of the site for the HSTS preload list. It will help you to protect your site and domain against any type of attack.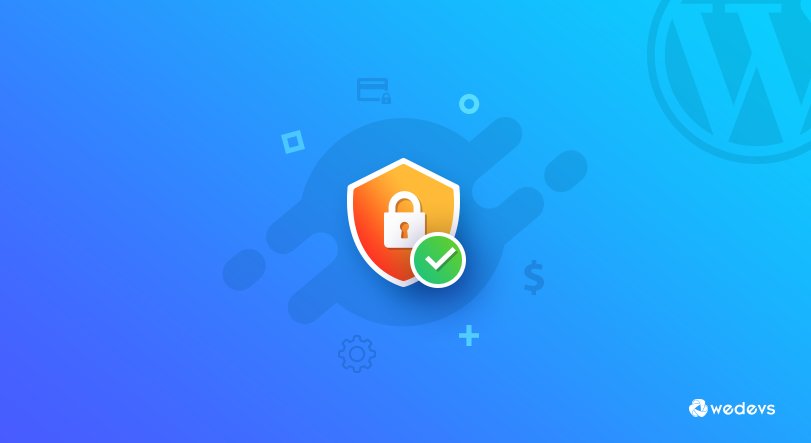 Solves SSL Issues
It will solve any issues of the WordPress site with SSL, replacing the http:// URLs to https://, except the unrelated site's hyperlinks.
Safety For The Cookies
After installing this plugin, your cookies will be safe by using secure flags and HttpOnly. Also, due to encryption, they'll be secure!
Hassle-free Implementation of The Security Headers
You can implement the security headers such as X-XSS-Protection, content security policy, certificate transparency, Expect-CT, and X-frame Options.
Premium Support
With WordPress, this plugin will offer you thousands of configuration options! Besides that, if you need expert support, this plugin will assist you tremendously!
Bottom Line: Well, for solving your security issues and moving to SSL, this plugin is best for blogs.
6. WP User Frontend Pro- 20,000 Active Installation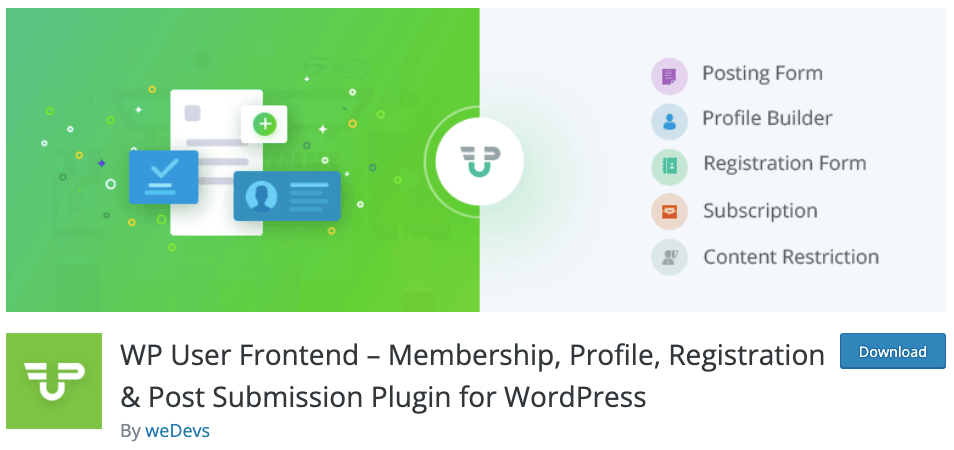 For the ultimate front-end solution, WP User Frontend can you out. After availing of it, you can effortlessly create any forms or profiles or perform any such task with ease. These best WordPress plugins for blogs will not only help the readers but also assist you to customize any form. Here are some tasks that you can carry out with it:
Get High-quality Blogs for Free
As a content marketer, it is a great opportunity for you, if you allow guest posts on your website. By accepting guest posts, you will never be out of content. Besides that, you will also post on your blog.
Your site will grow faster and Google or any search engine will start to love your website. And, your content will get speedy indexing.
You Can Create Sustain Connections
More possibilities are here if you can build plenty of connections with guest posting. As you are allowing guest bloggers to write on your website so in return you can post on their site as well.
Moreover, you can ask for backlinks for your content. Isn't it an easy way to push your website rank?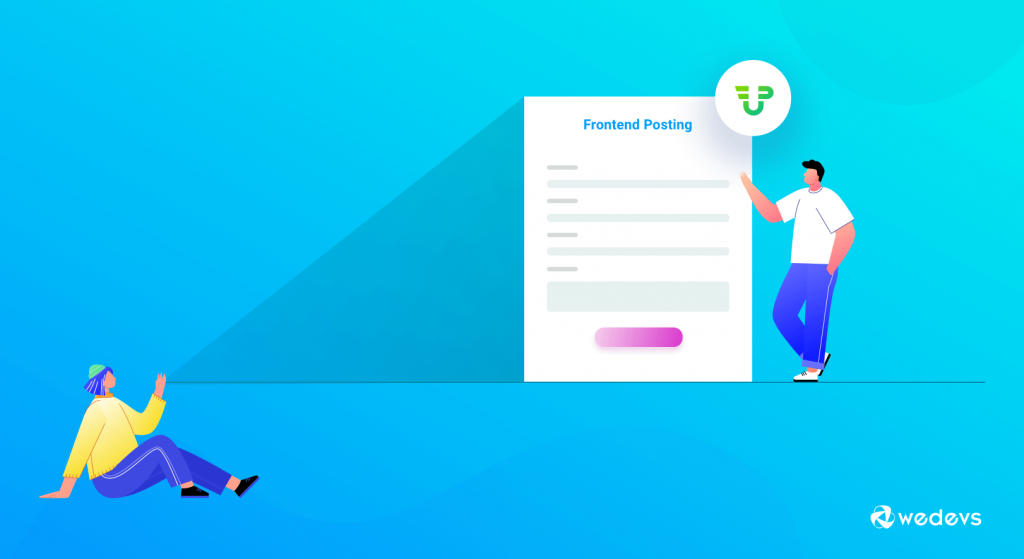 Set a Post to Expire
If you don't want to approve guest posts from the next month, there is an option to set the post-expiration date accordingly. This will stop automatically.
Frontend Posting
WP User Frontend allows the users to do front-end posting and create forms. Some features are guest posting, post form builder, custom field support, and post types and taxonomies. 
Frontend Dashboard
Give your registered visitors their dashboards, just by using a simple shortcode.
Content Restriction
By using a short code, restrict your content to your premium users only. No need for any troublesome process to do so!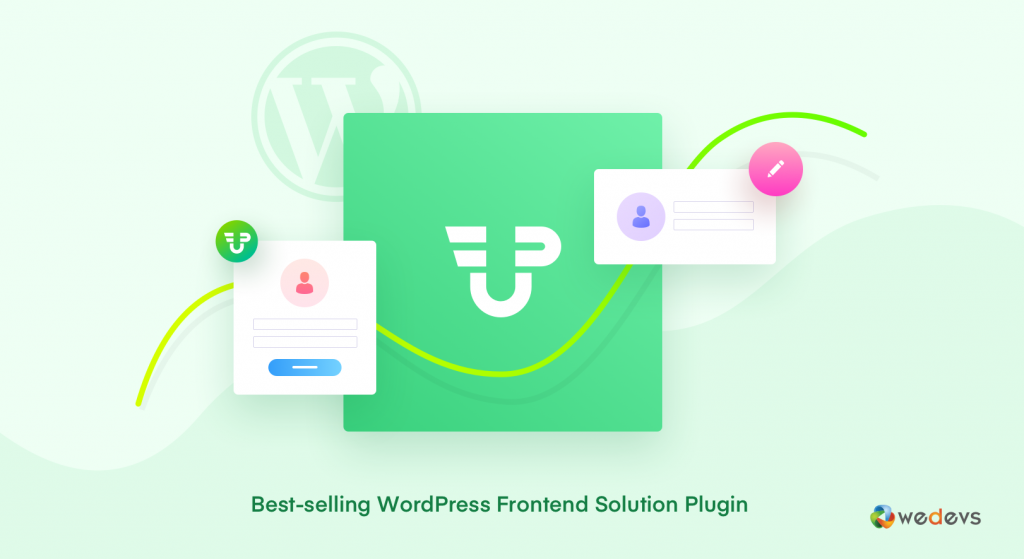 Form Templates
Just with a click, you can create any forms you want! Also, there's drag and drop functionality for quick work.
Subscriptions
Make payments with a built-in gateway, and earn from subscriptions based on postings from your website. It also offers content locking and subscription signup.
Registration and Profile Builder
Create forms and profiles just the way you want. It offers a user profile builder, registration form builder, database creation, etc.
Bottom Line: There are premium modules, and you can also choose from three different packages with the best features to make your site efficient. WPUF is one of the best WordPress plugins for blogs.
7. weForms- Easy Drag and Drop Contact Form Builder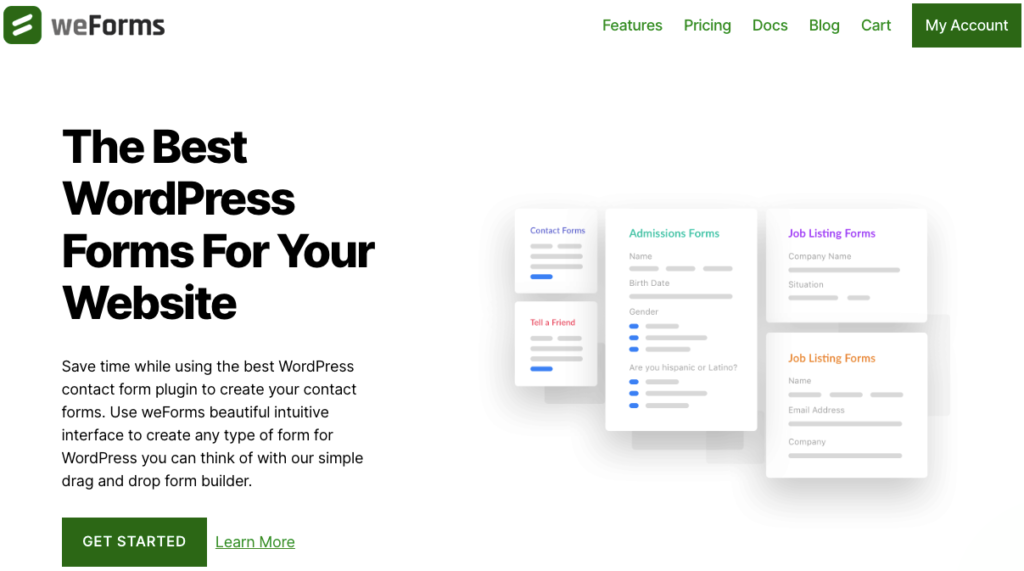 weForms assists you in create build WordPress forms within a few minutes. There are multiple templates including an easy-to-use drag and drop interface.  Plus, live preview functions enable you to watch what your users will see with a click of a button.
Predefined and Customizable Templates
You will find unique and customizable templates to create your desired form in a short time.
Field Customization Options
The predefined field may not match your requirement. By keeping that thing in mind, weForm has opened the place of the field to customize it according to the user's need.
Eliminate Spam with Anti-spam & reCaptcha
If you include reCaptcha in your forms, you can avoid the spammers. This feature is quite popular for removing malware attacks on your site and forms.
Form Submission Email Notification
With this feature, you will get email notifications whenever a user submits a form on your website.
Slack Integrations
Apart from the email notification, you will get notified in your Slack account whenever somebody submits forms using weForms.
8. Smush Image Compression- The Most Popular Image Optimizer

To speed up your page loading process, Smush Image Compression helps well. If your images are large in size then it may slow down your website plus, kill your spaces. It will assist to compress the image size without changing the quality.
Lossless Compression- Compress images and strip unused data without affecting image quality.
Bulk Smush- It can compress up to 50 images with just one click.
Image Resizing- If you set a max-width and height, large images will scale down as they are being compressed.
Incorrect Size Image Detection- It can locate images that slow down your website.
Process All Types of Image Files- Smush can process PNG, JPEG, and GIF files.
9. Add To Any- Share Buttons Plugin for WordPress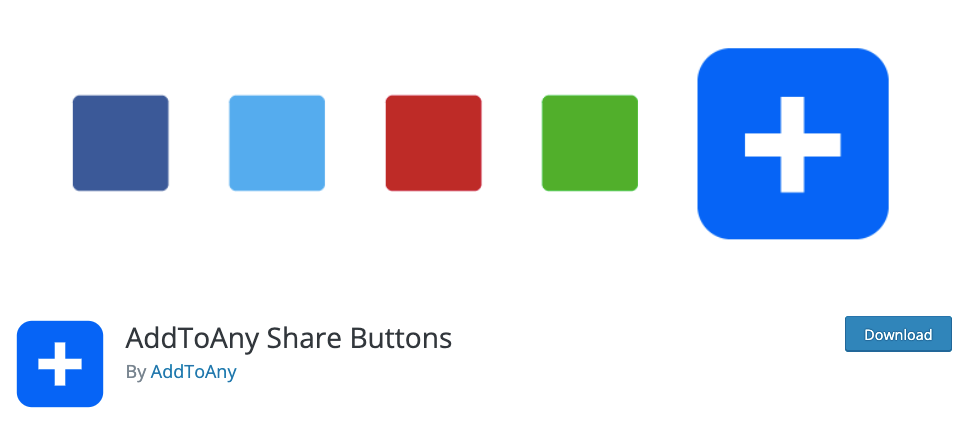 Getting more traffic for an article is easier when you use a social share button on your site. At the end of your article, it entices the readers to share it on their social channels.
Supports theme features such as HTML5, widgets, infinite scroll, post formats
AddToAny is free, no signup, login, and no need for accounts to manage
It is optimized with all types of device
The social icons are super-lightweight
Highly extensible for developers and designers
10. Revive Old Post- Social Media Auto Post and Scheduling Plugin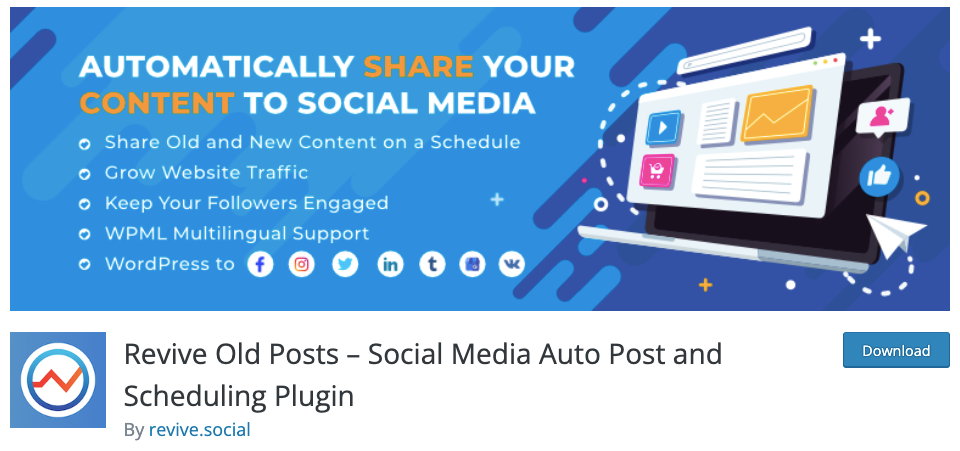 Sometimes we forget our well-written old articles. This is where content distribution matters. It's harder to remember to share all the content and ensure that it's shared on every channel. Revive Old Post WordPress plugin just do this job precisely. 
Share both old and new posts to Facebook, Twitter, LinkedIn, Pinterest, Tumblr, etc
Integration with URL shortener and Google analytics
Schedule the time and interval among sharing times
Share as many times as you want and select the preferred time
11. weMail- Beautiful Email Marketing Software for WordPress

Do you have a large email subscriber list but don't want to spend a lot of money? weMail is there for you. It is tightly integrated into WordPress to make email marketing inside the WordPress dashboard simple and easy and powerful.
With its eCommerce Integration, you can keep the mail address list from your WooCommerce/EDD & FastSpring store.
Collect subscribers each time anyone registers to your website.
Collect emails from blog comments.
Auto import WordPress users to weMail subscribers
You can collect emails from WooCommerce checkout
12. WP Project Manager- 10,000+Active Installation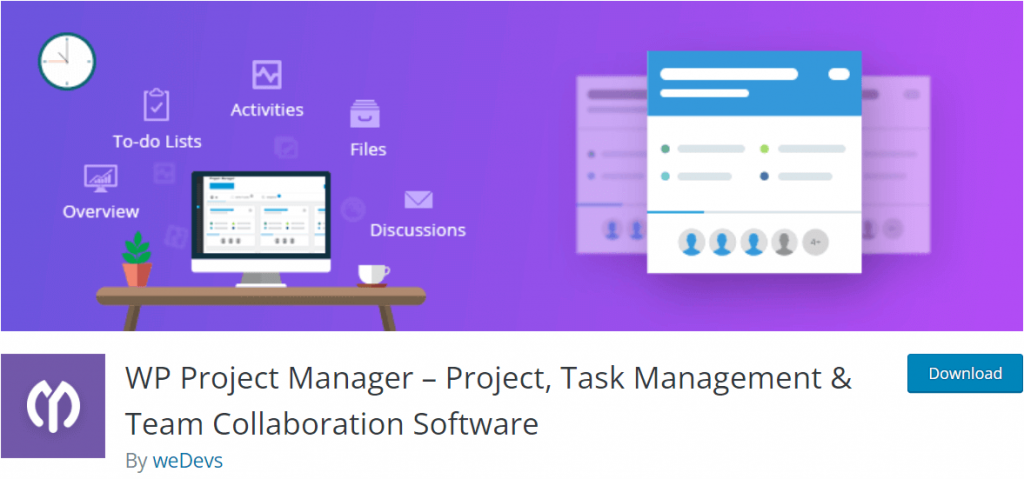 Blogging doesn't mean only writing and posting on the web. When you are leading a content marketing team, you have to be smarter than your co-workers. And, no one is better than the WP Project Manager to keep eye on your content team and increase team productivity. Let's see how it will assist you.
Discuss with Writers and Team Members
With WP Project Manager your communication will be seamless. Don't need to discuss through phone calls, SMS, and physical meetings, you can simply talk to each other by using the Team Discussion feature. 
Moreover, your conversations will remain saved, so you can check them again while needed.
Gantt Chart
With this feature, you can create unlimited projects, task lists, tasks, and sub-tasks. Basically, it redefines the way you handle your team, content, goals, and deadlines. In a nutshell, the Gantt Chart will give an illustrated view of tasks and project progressions.
Milestone
Every team must have milestones for team advancement. And, the WP Project Manager has designed a feature for you, named Milestone. Through this, co-workers can see your success map to achieve the milestone for a month or year. The milestones can be like this-
Starting and ending date of a project
Essential team meetings
Important idea presentations
Fundamental dates that may harm your project cycle
Recurring Yours Tasks
Recurring Task Management is one of the captivating modules of WP Project Manager. It can help you by scheduling your repeating tasks on a weekly, monthly, or yearly basis on your WordPress site.
Without this module, you will need to build every task and assign team members at all times. Isn't it time-consuming?
It is a great feature, as you can-
Schedule all your tasks effortlessly
Distribute workers to monitor assigned tasks
Stay alert about the milestones
Monitor and track the team's progress
So, setting a roadmap and assigning repetitive tasks can be done with a few clicks by the best WordPress plugins for blogs.
Kanban Board the
Kanban Project Management module can help you to maintain workflow as a team leads just the way you have planned. To simplify your workload, don't forget to use it. Kanban can-
Observe your progress and monitor all tasks
Determine priority, time duration, assignee, and other staff
Improve overall unit productivity
Reduce workload and provide mental relaxation
Tracking Time of Your Team Members
While you are running a content team, you should know each person's efficiency. And, it is impossible to do manually. In that case, the Time Tracker module can assist you by tracking the exact time a writer has spent on a particular article.
It will be the best choice for blog owners, who are paying a writer per hour. It is a perfect work hour counting clock for them. With this tool, save your time by not arranging it manually.
Bottom Line: If you can use advanced project management tools, you can get advanced reports which will provide full insight. Undoubtedly, collaborating with your blogging team will be more efficient with this plugin.
13. Disable Comments- 1 Million Active Installation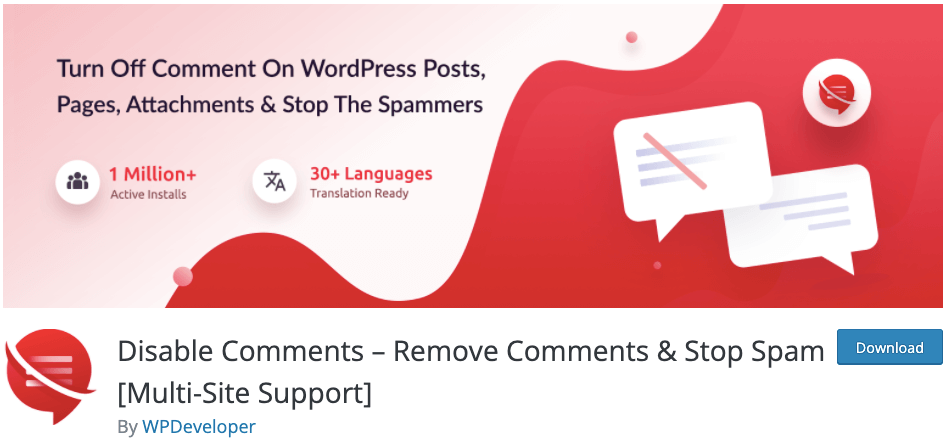 Are you bothered by unnecessary comments? Get this helpful plugin! It can assist you to turn off spam comments. Disable Comments comes with over 30 translation-ready languages. So, let's see the helpful features: 
Disable All Comments With Ease
It will allow you to disable comments on various types of posts and remove all the comment-related fields wherever possible on your site.
Disable The Commenting Function From The Admin Menu
You'll get the option to disable the commenting function, completely. When selected, all 'comments' links will get hidden from the admin menu and admin bar, along with the comment sections in the WP dashboard.
Disable To Hide Widgets And Redirect To The Parent Post
The comment widgets will get disabled. It will hide the discussion setting page, and disable the comment RSS/ Atom feed, outgoing pingbacks, and the X-Pingback header from the site.
New Delete Feature Advanced Configuration
A new feature will allow you to delete comments by type. It also comes with an advanced configuration, which the administrator can modify through coding.
Bottom Line: The functionality of this plugin is not only disabling comments but also makes secure your WordPress site.
Benefits Of WordPress Blog Plugins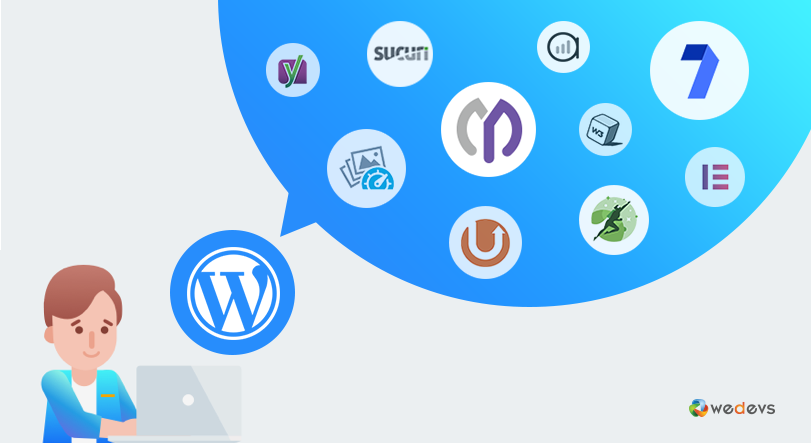 Whatever your requirements are, you will always get a plugin for it! The talented developers have kept in mind that there are vast requirements of the users, and they differ from one user to another. In the official directory of WordPress.org, you can find more than 54,000 Plugins to choose from. Let's check out the benefits of using plugins.
You can Optimize Your Blog Content for SEO
Some plugins will help you out with the ranking of your content and site online. The higher the rank in the search engine result, the better exposure it will get online and more audience will know about your site.
Hassle-Free Email Marketing
Thanks to the plugins, no need to manually set up anything when utilizing it on your site. Just get a reliable plugin, and you are all set!
Connect With Your Audience
Live chat is a great way to connect with your audience in recent times. Plugins have made it easier than ever to talk with your audience and help them out whenever you want.
Helps You With Data Backup
Backup is important. Believe it or not, without backup, you may end up losing a lot of data, accidentally if some issue happens with your site. And WordPress plugins can help you to skip this mess.
Free Of Cost
The most amazing part of WordPress plugins is, that you can avail of them free of cost.
There are both free and paid versions. Want to get one made only for your specific requirements? Well, the developers aren't cheap! You will need to shell out some money to get a good one.
However, nowadays you can get free plugins to meet your needs and requirements. If you go for the premium or freemium options, you will find that some basic features are free while to get access to other features, you will need to pay a certain amount to unlock them.
You Can Access All The Information About The Plugins Beforehand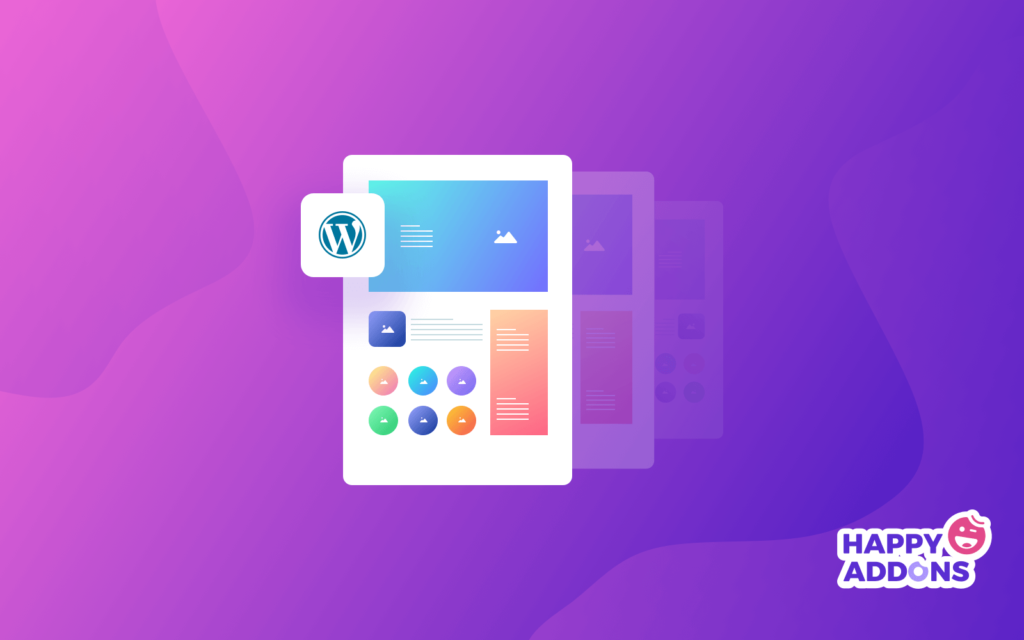 Wondering what the plugin will offer you if you get it? Well, all the information is available to the user before they download the plugin. It's easy to check if the best WordPress plugins for blogs meet all your requirements or not.
Also, you can find a few plugins and rank them to find the best one that suits your blog.
So, how do you check this info? Simple! For example, find any WordPress writing plugins. Then check the directory of the active installations of the plugin to know about it.
The more the active installation, the better the plugin will perform. If you find that the plugin offers fewer active ones, it's best to avoid it. It's because these will end up causing a lot of hassle in the end if you install them in your blog.
Another crucial piece of info you can find is the update for the plugin. A regularly updated plugin is more reliable than the one which isn't! Also, don't forget to check if the version went through appropriate testing. A newer version may run into problems, compared to the tested one.
You Can Easily Add the Plugin to Your Website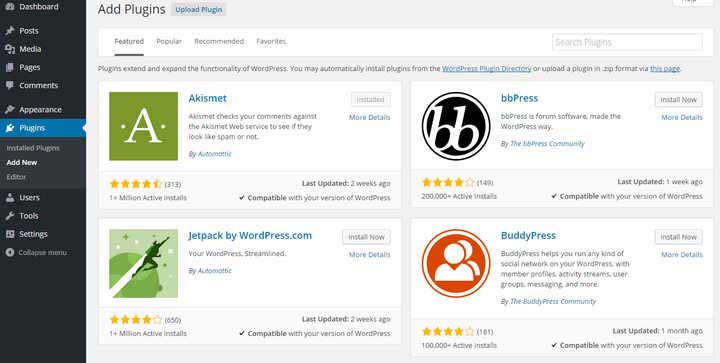 No, you don't need to spend hours after hours trying to understand and install the plugin. It's easy to add to your blog/ site. Now, there are two ways through which you can add any plugin for your blog site. 
Method 1
You need to find any plugins that you want to install. Check about it and then install it. As soon as the installation is complete, it's ready for activation. You can use it after activating it. The only time it will take is to get downloaded to your PC. The best way is to download the plugin directly from the WordPress directory.
Method 2
Head off to your WordPress dashboard. Then, find the plugin that you want to install. Select it and then click Add New. For example, to add a chatbot, you need to search for the plugin that offers you this. When you hit the search button, you will find a range of plugins to select and activate for your blog.
FAQs on Best WordPress Plugins for Blogs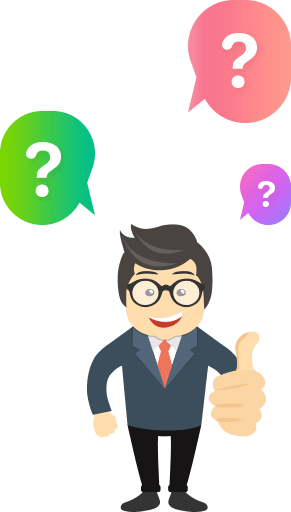 Question 1: What are the best WordPress plugins for blogs?
Answer: There are hundreds of options available for your blog! However, if you want the best features and functionalities, there are some best WordPress plugins for blogs you can install on your site. Such as Yoast SEO, Jetpack, Everest Forms, and Akismet anti-spam. 
Question 2: How do I select a plugin for my WordPress site?
Answer: There are various factors to consider to make the right decision. Always select the plugin that is regularly updated. Make sure to check the last update date for the plugin. Plugins that are not regularly updated come with security issues. 
Question 3: Can I use any WordPress plugin for my website? 
Answer: Yes, you can install any WP plugins for your website. However, you will need to enable it. Firstly, download and activate to install the plugin. 
Question 4: Will plugins slow down my site? 
Answer: Whenever you add a line of code, it'll slow down your site. Yes, plugins will slow down your site. And, this is why you need to choose well-built or lightweight themes and plugins for the best site performance. 
Question 5: How many plugins should I install for my site?
Answer: You can install as many plugins as you want for your site. Most business websites tend to have around 20 to 30 plugins installed on their website. You can use over 50 plugins, as there's no restriction! 
Gear Up with the Best WordPress Plugins for Blogs in 2022
For any blogger who wants to optimize their blog and increase its potential, a plugin is a must! There are various benefits offered by plugins.
You can get both paid and free ones, available in WordPress. For some, you will need to download and install, while for others, you just need to visit your dashboard and find the plugins to activate them.
These free best WordPress plugins for blogs will not only enhance your site, but you can carry out a variety of tasks efficiently and save a lot of time in the long run. So, why wait?! Download them and unlock your blog's potential!