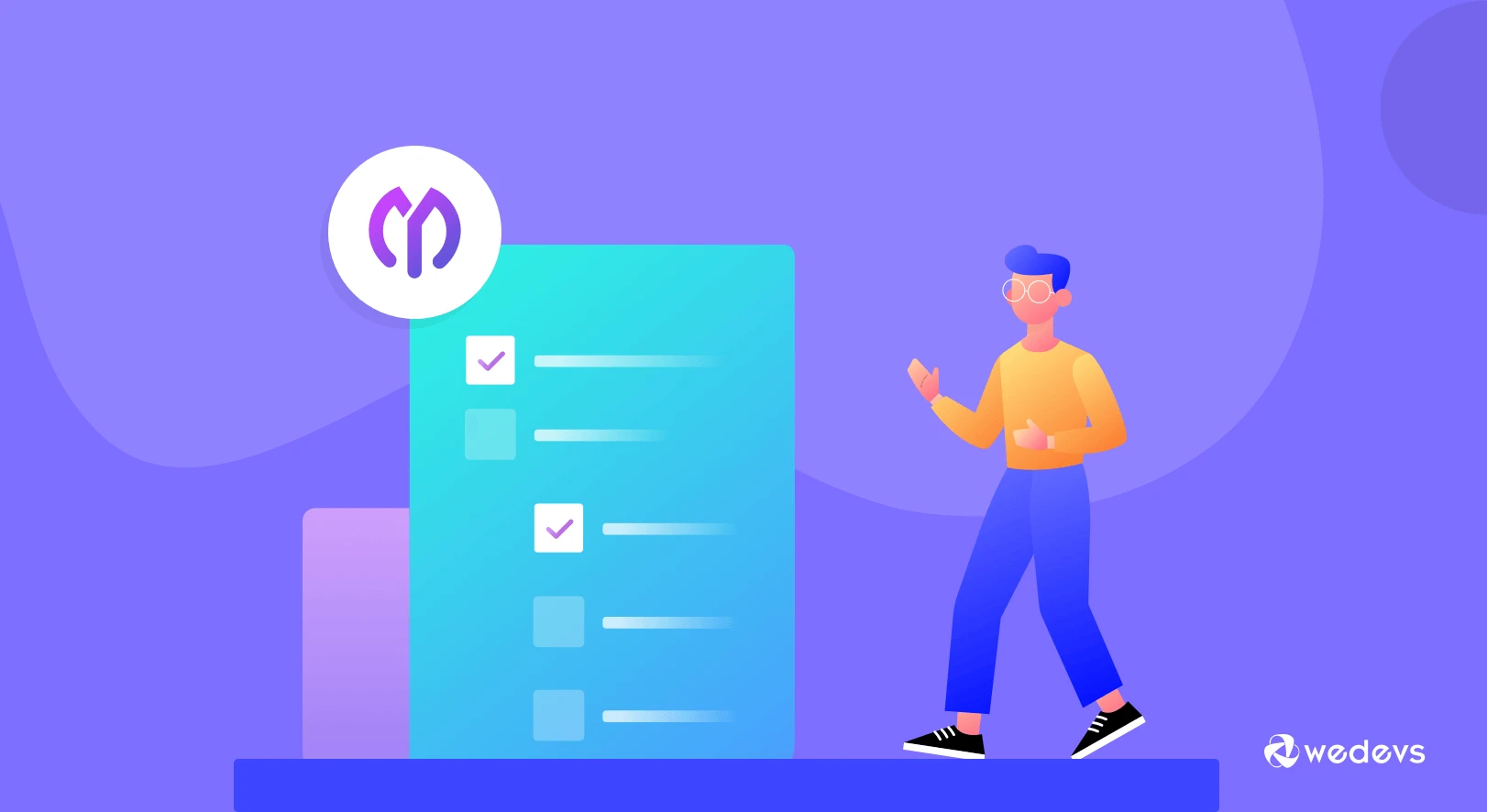 Easy Way to Manage Your Sub Tasks with The Best WordPress Collaboration Plugin
The success of an organization lies in the proper coordination of all individual tasks to consistently deliver effective results.
WP Project Manager can be the glue to hold all the resources, opportunities, planning, and company objectives align in a disciplined and strategic way.
This WordPress collaboration plugin will diminish the hurdles of a project manager to control all the complex and diverse activities of a business.
Today we will discuss a premium module of WP Project Manager named "Sub Task" to split the project into small pieces and assign them among the team members.
WP Project Manager Sub Task: A Small Preview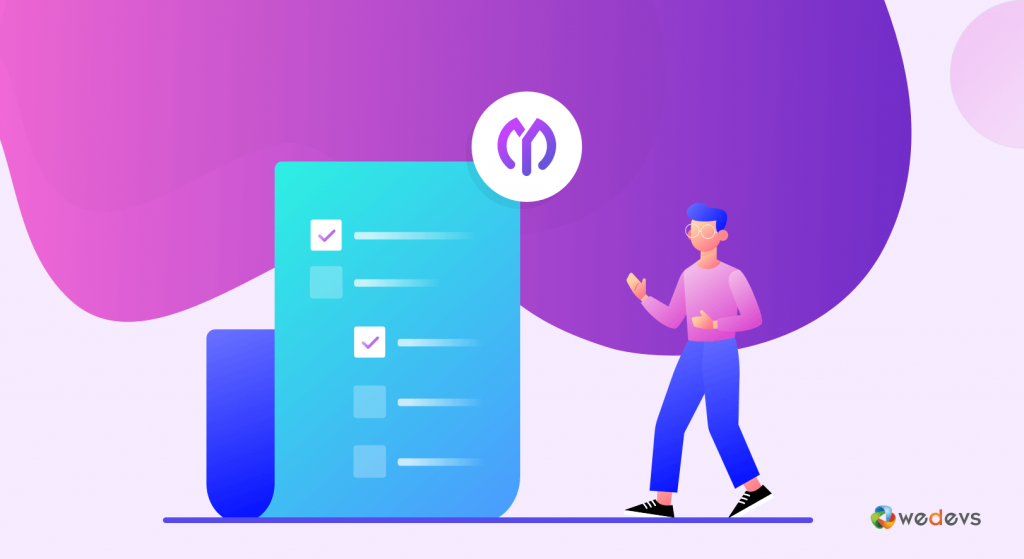 WordPress Project Manager Sub task helps you to chop the primary task into small parts that make things more specific. It is a pro feature and comes in the form of a module.
Before jump into Sub Task features, let's take a quick glimpse of WordPress Project Manager.
Best WordPress Project Manager Plugin

WP Project Manager is a simple yet powerful open-source Project Management tool to control and improve project results. It will increase your project efficiency, reduce risk factors, cut costs, and improve the success rate gradually.
Overall, it fuels the entire workflow and let the project manager control all the projects smoothly from WordPress and help the associated members to meet the deadlines accordingly.
As an admin, you can monitor the task list, responsible persons, progress, deadlines, reports, in short, the complete overview of how all your projects are going. Also, you can create a permission hierarchy for projects and add a milestone for an individual project.
Moreover, you and your permitted team members can easily create a project, assign tasks, add discussions and to-do lists in the project manager with a few clicks.
Another amazing module comes in called Sub Task!
How Does WP Project Manager Sub Task Work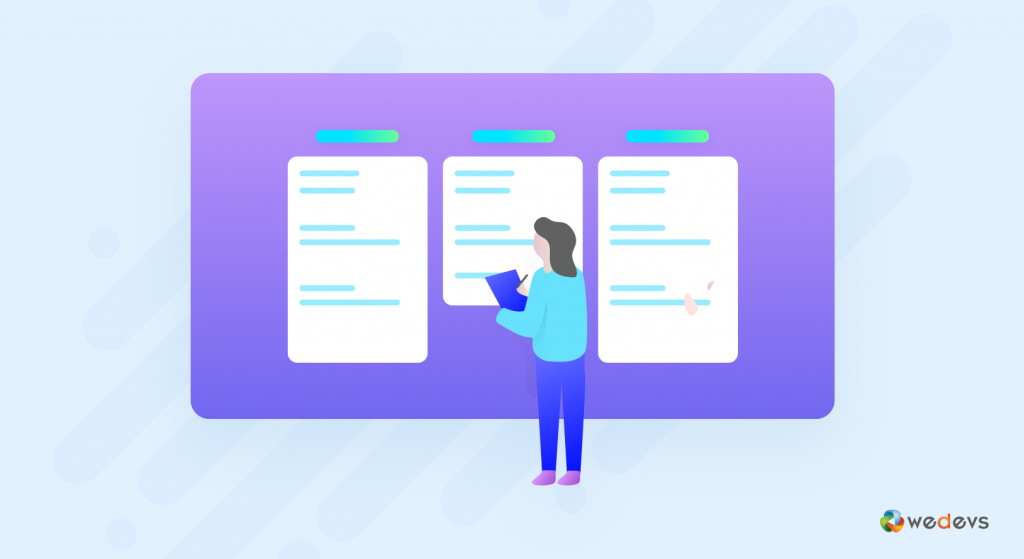 After adding a task under a project you can also break it into sub-tasks and assign a responsible person for each task. You can check the individual subtask after completion. Hence, it's a convenient way to measure you and your team member's work progress.
Moreover, associated persons can easily see their work progress, remain task list, deadlines for each subtask at a glance.
It's sometimes difficult to complete a big task individually. However, if you divide the whole task into small segments and set an individual deadline and responsible person for each task, it becomes easy to achieve the goal.
WP Project Manager Sub Task assembles this procedure simple yet effective for your project handling. It makes your task list more specific.
Furthermore, you can monitor your team members' daily working overview with the help of the WP Project Manager Subtask.
Why Sub Task Management is so Important
In WordPress collaboration plugin you can create small tasks under a parent task that is helpful to combine and track all the to-do list of a project.
You should avail the WP Project Manager Sub Task because you can:
break down the task into important segments
organize the work in a disciplined way
easily set priority, time duration, assignee, and others
accelerate the work procedure to meet deadlines
easy to keep track of work progress
make things more specific
reduce the workload and give mental relief
Hence, it will pay off your expenses in an advantageous way and you will earn great revenue for your business.
How Do You Create Sub Tasks Under The Main Task
For a WordPress user, it is very easy to handle WP Project Manager.
Now, we will show you how to configure and use Sub Task module for your project manager.
Pre-requisition
To get the best experience of WP Project Manager Sub Task, we suggest the following:
PHP 5.6 or later
MySQL 5.6 or later
WordPress 4.9.0 or later
WP Project Manager Pro 2.0+
Here, let assume you have already installed WordPress and WP Project Manager Pro. If not check the latest pricing list of the best WordPress collaboration plugin at 70% less cost compared to others.
Configuration
You need to create projects and task list first in the WP Project Manager. Therefore, you can easily create Task Lists with a few clicks on your Project Manager.
Now, to activate the Sub Task Module log in to your WP Admin Dashboard. Then, simply navigate Project Manager → Modules → Activate the Sub Task module.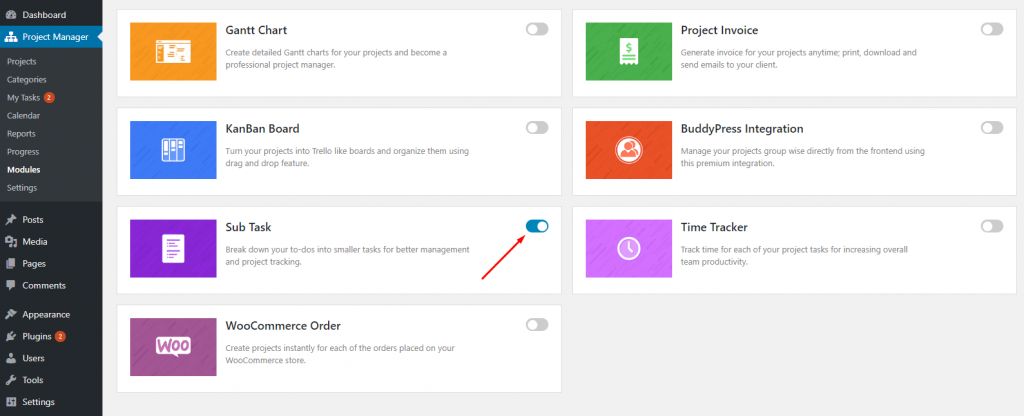 Add Sub Tasks
You can add Sub Tasks in two ways:
Selecting a task
Using the Kanban Board
Selecting a task
Go to WP Admin Dashboard and Click on the Project Manager. After that Select any project you wish to view → click on Task Lists tab.
After clicking on the Task Lists tab, you will get the following view: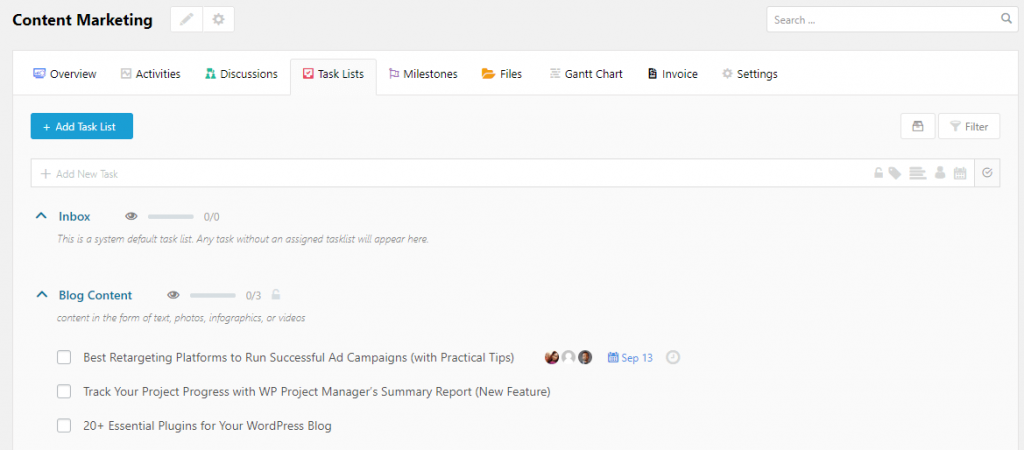 Now select a task by clicking on a task. For example, let's select the task, "Video tutorial" from here.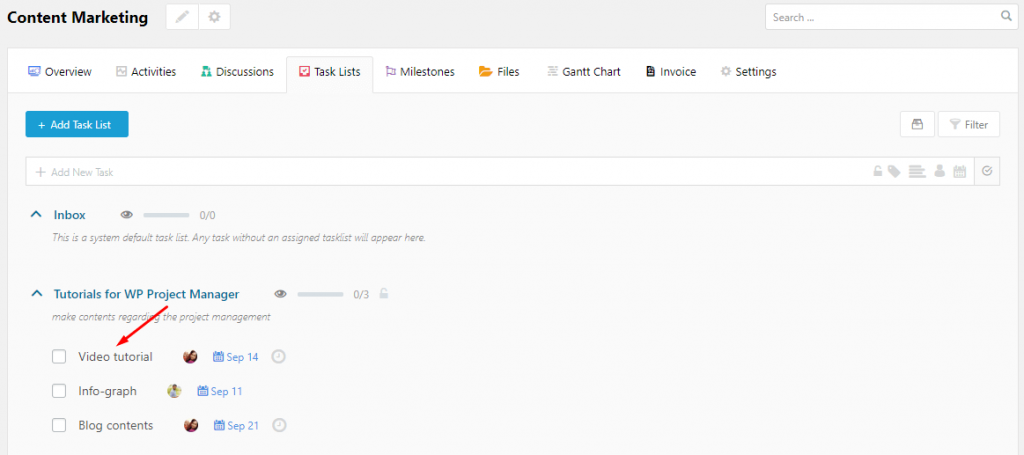 Now, a modal window will pop up and from this window, you can add subtask.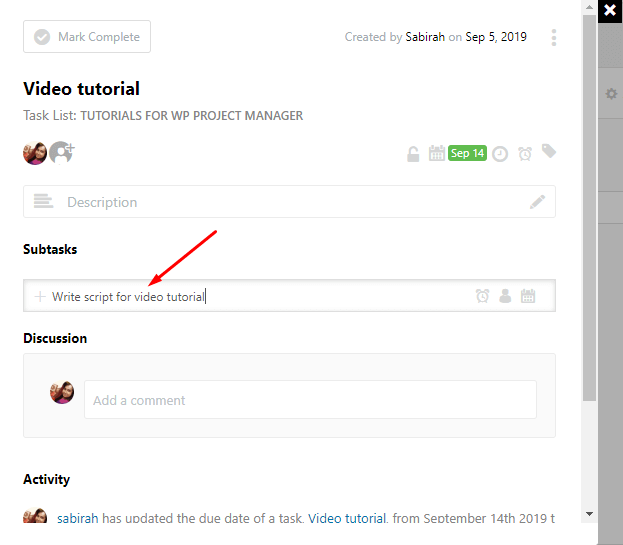 You can also add estimate time, assign a co-worker, and set a deadline for each subtask.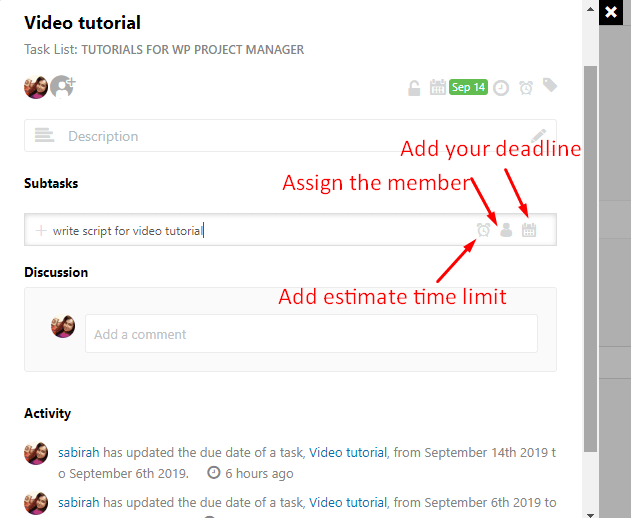 Now, click the 'Enter' button of the keyboard to save this subtask. On hitting the 'Enter' button, you will see the subtask has been created. You can also edit and delete the subtask from here.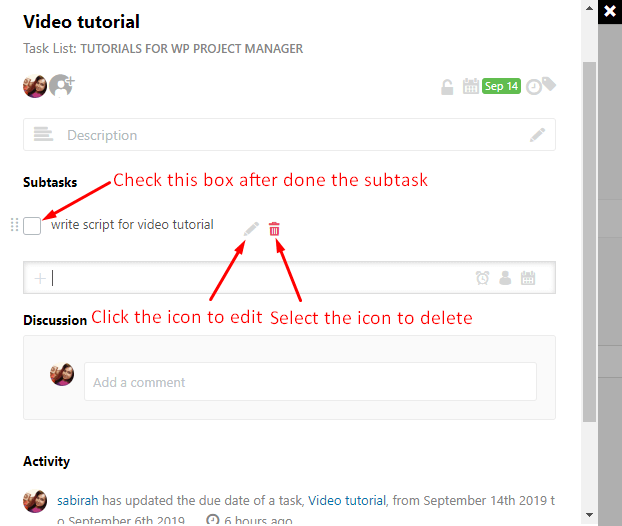 After completing a subtask you can check it to tell that the subtask is done.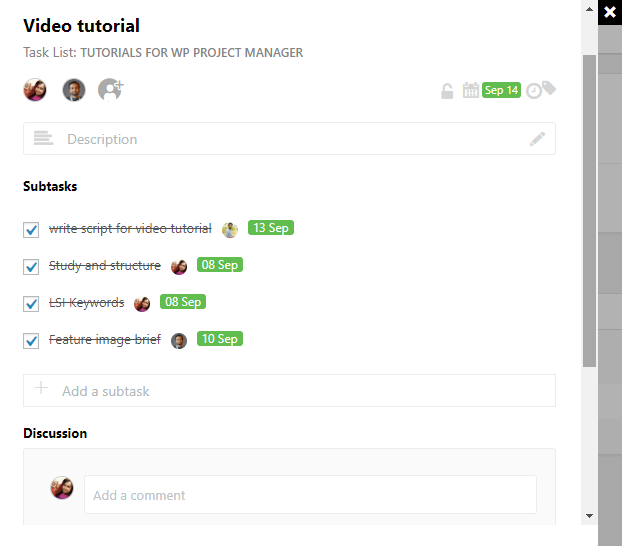 That's how you can create unlimited subtasks under a parent task and track them individually from your WP Project manager.
Using the Kanban Board
However, you can also add subtasks from the Kanban Board. In order to do so at first, you have to activate the Kanban Board Module from WP Project Manager.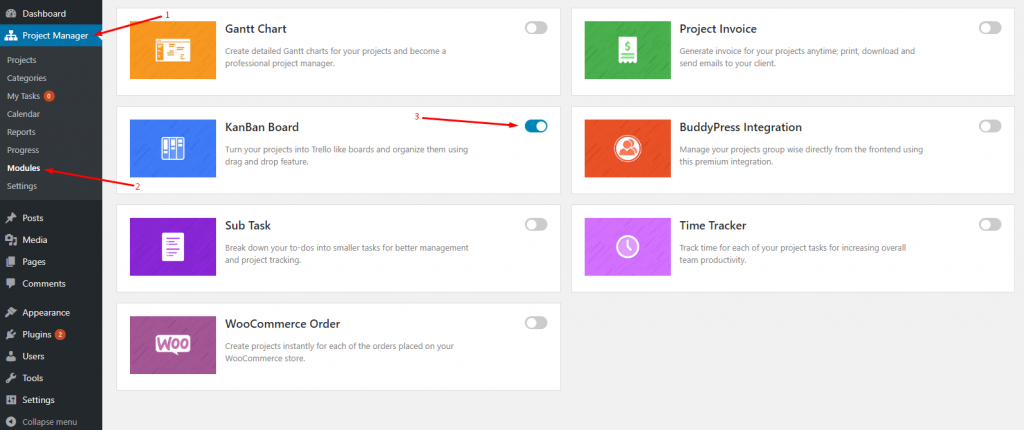 Now, to add subtasks in the Kanban Project Manager, navigate to board first. After that, click on any task you want to add subtask beneath. See the example below: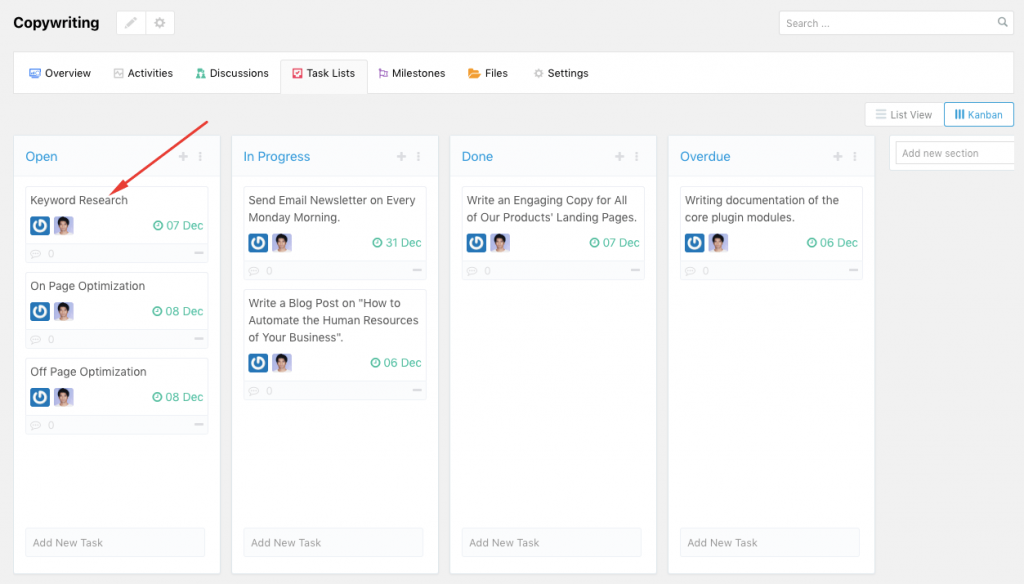 In this example, by clicking the "Keyword Research" task we get the window for adding subtasks same as selecting a task of the method 1: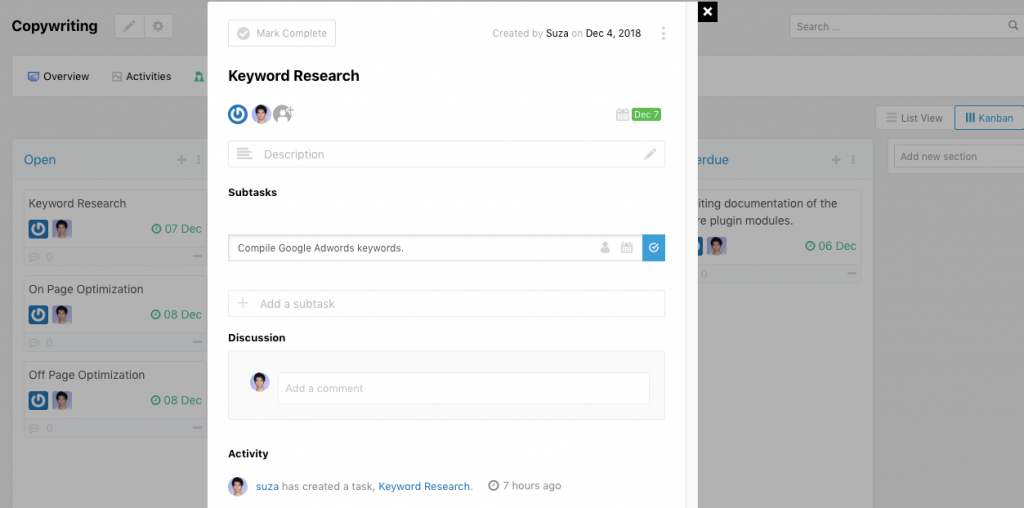 Now, you can add subtask and other details just like we have mentioned above in Method 1.
Final Thoughts
WP Project Manager Sub Task can be an efficient way to control your to-dos with more details and break them into small tasks.
No matter which type of business you have and how big it is, WP Project manager is fit for all types of organizations small, medium or big enterprises. While entrepreneurs feel a dilemma for big investment, giant organizations put their best effort to manage their time and resources efficiently.
This WordPress collaboration plugin is helpful for both types of companies to keep all the projects on track, control costs and monitor project progress. In addition, you can add unlimited users to your project manager and control a data warehouse regarding your company project with a few clicks.
Furthermore, Sub Task module will help you to track every tiny detail of your project easily.